Featured in this article (opens in new tab)
If you are ready to replace your old laptop with the best laptop for gaming, deciding which one to get can be pretty tough. While consoles are a popular option, PC gaming is far ahead and is the first choice for enthusiasts for many reasons. Gaming desktops offer the best performance, and they are also a more affordable option, but if portability is important to you, you'll go for a laptop.
Choosing a gaming laptop can be tough because you might often come across PC gamers suggesting that a desktop is always better. A full desktop setup could never be compared with the top best gaming laptops because of the amazing level of portability they offer.
Playing your favorite game at home, be it Fortnite or Overwatch is one thing but being able to do the same in an airport or the mall is an entirely different experience. Powered by the best Nvidia graphics cards, the best gaming laptops also allow you to do video editing and other GPU-heavy tasks on the go.
Be prepared to spend some money because gaming is an expensive hobby, as you might know by now, but it's worth it in the long run, especially when you can game anywhere without being constrained to a particular zone.
See also: Top Best Laptops For Business Users
Buying Guide
Gaming laptops offer a few advantages over other options like desktops and gaming consoles, primarily due to their portability. There are some specifications and features you should look for in a laptop for gaming purposes over the ones you find in the regular ones.
Graphics: For an immersive gaming experience, your laptop must have the best-in-class graphics card. Nvidia is the leader in this segment, and they have a whole range of graphics cards that the laptop makers fit in the gaming laptops. Find out which is best suited for your requirements while placing the order for the gaming laptop.
Processor and RAM: The processor plays a key role in ensuring you can play the game smoothly. Take a look at the processor and its clock speed. The higher the clock speed, the better it is. The RAM is another spec you must consider since high-end games will draw RAM power on the laptop during gameplay.
Display Size: The general preference gaming enthusiasts have for laptops is a larger screen. They enjoy the game that way. While the regular 15-inch+ display screens offer good visuals, a larger 17-inch screen has its charm. If you don't intend to carry your gaming laptop around too much, you should go for a larger screen.
Cooling Arrangement: Fast-paced games can lead to your laptop getting heated up quickly. Your gaming laptop must have extra cooling fans to keep the machine's temperature down. Some brands may add special cooling arrangements beyond just the fans. Check these aspects before ordering your gaming laptop.
Storage: If you intend to download games and then play them on your laptop, you will need considerable storage capacity. These large games occupy huge space. You will need at least 1TB of storage.
Best laptops for gaming
15.6-inch Display Screen Laptop with 1 TB Storage-Space Drive
Asus TUF F15 Powerful Gaming Laptop
Check Price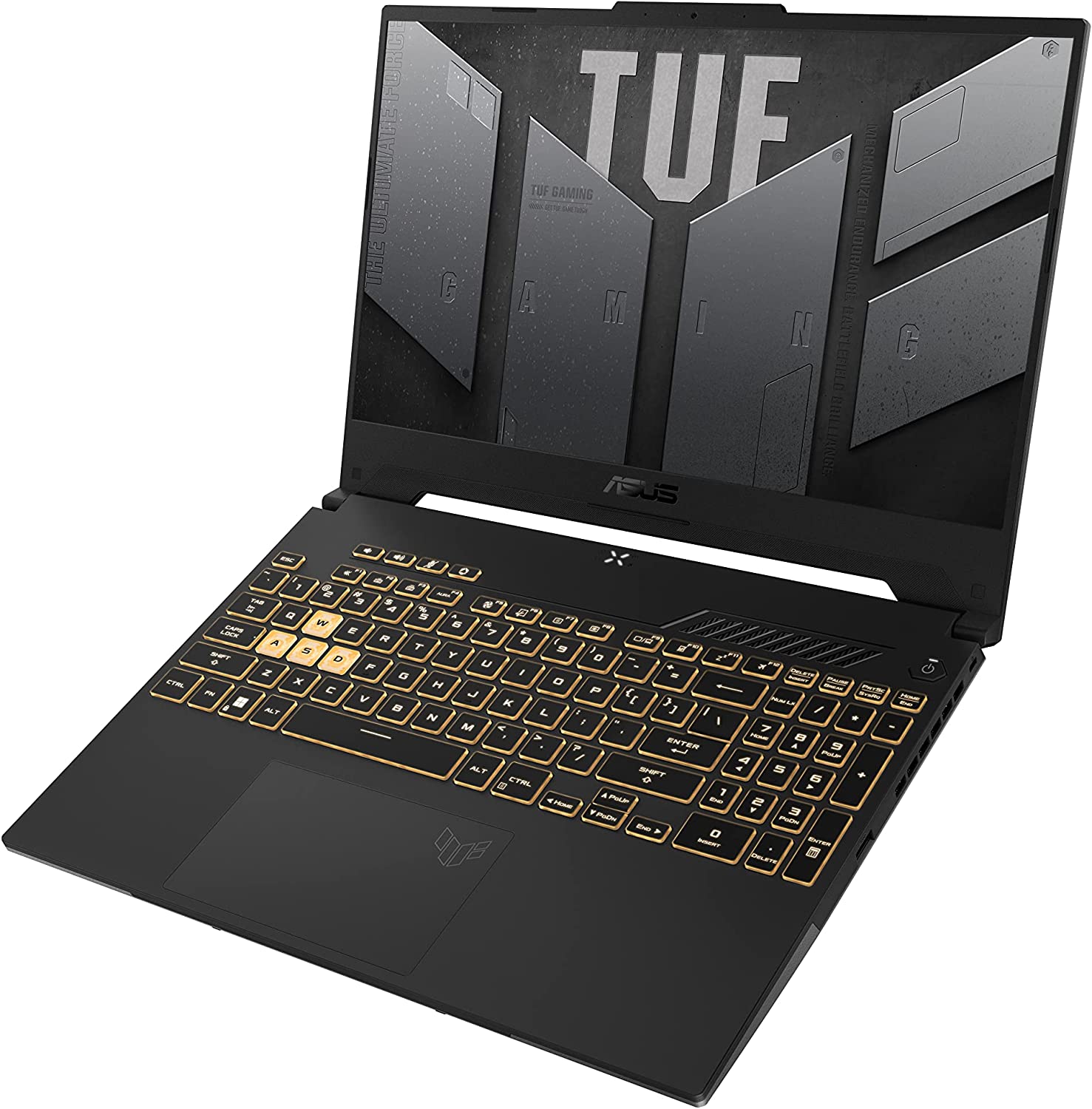 Compared to the model that came out last year, the Asus TUF F15 laptop has become smaller. However, it is as powerful a gaming laptop as it used to be. It has been designed as a proper gaming laptop, and you can't help but be enamored by its overall look and structure. Powered by the Intel Core i7-12700H processor, the laptop offers great gaming performance and superb efficiency. The device comes with an SSD drive that offers 1 TB of storage space. A 16 GB RAM comes pre-installed on the laptop.
The 15.6-inch display screen offers a resolution of 1920 x 1080 pixels and assures you of immersive gaming performance. The 720p webcam ensures a smooth video calling experience with your friends and colleagues. When you invest in a gaming laptop, you expect it to have a good thermal management system. While this laptop does not suffer from overheating, the fans get a little noisy. The RGB keyboard offers great backlighting effects and is very comfortable to use.
If you are an avid gamer and have been looking for a 15-inch laptop, this would just be the right device for you to invest in.

It is also recommended for those planning to invest in a high-end laptop with advanced features.
720p webcam

Adequate storage support

Comfortable RGB keyboard

Strong gaming performance
Noisy fans

Slightly expensive
17.3-inch Display Screen Laptop with Powerful Processor
Asus 2 TB Storage-Space Drive Gaming Laptop
Check Price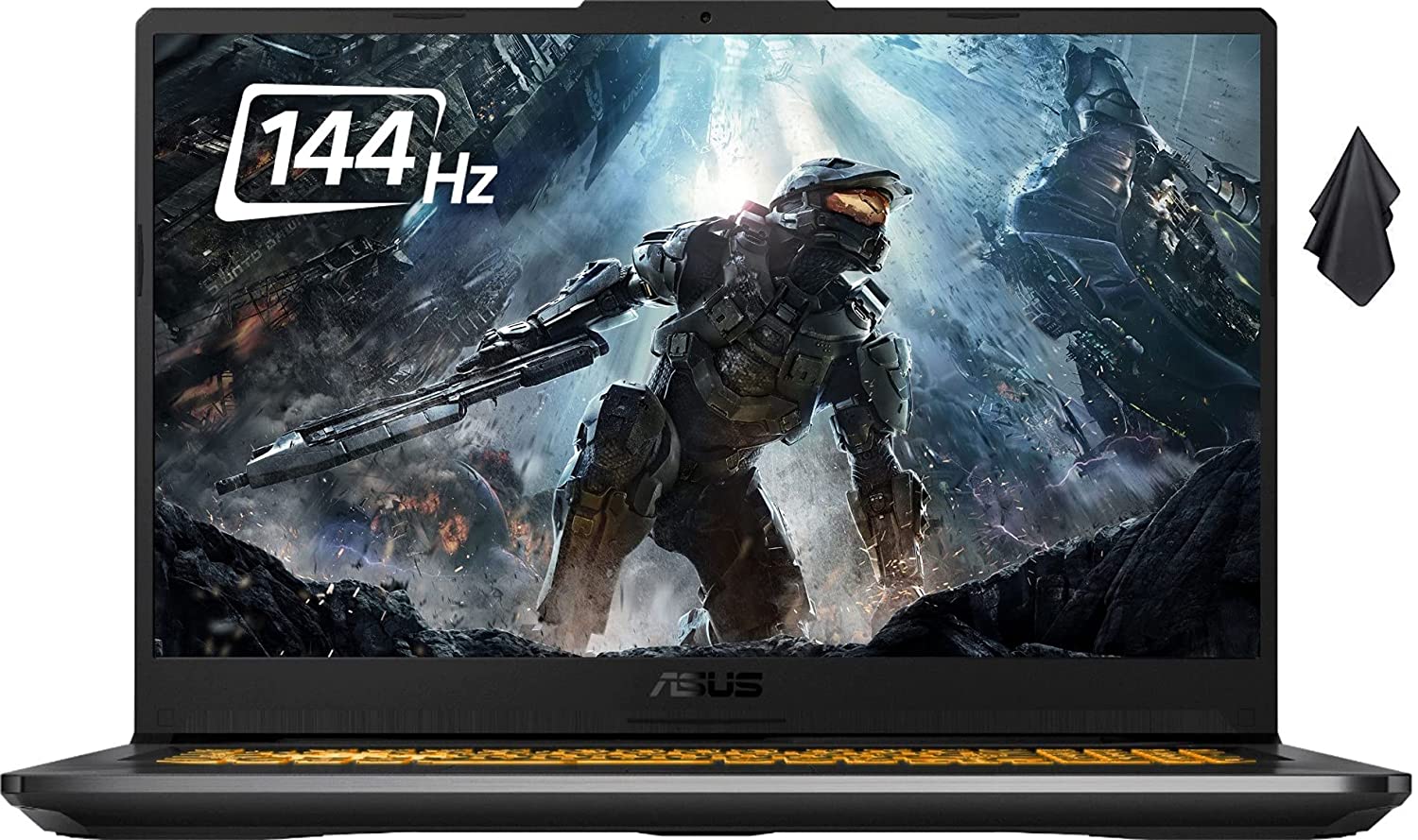 This laptop by Asus features a vibrant 17.3-inch display screen that offers a resolution of 1920 x 1080 pixels. Since it is a huge screen, you will truly enjoy your gaming experience. This is also an ideal screen for binge-watching movies and shows. The laptop comes armed with a herculean processor in the form of the Intel 11th Core i5-11260Hwhich operates at a processing speed of 4.4 GHz. The high-speed performance delivered by the laptop can also be attributed to the pre-installed 32 GB RAM.
The laptop has the most advanced connectivity options that can help you connect to any peripheral. If you prefer a sense of isolation while playing games, you can use the 3.5mm audio jack to connect to your headphones. There is also a multi-format microSD card reader, which many users would find useful. However, you will have to ditch your plans of using old games, CDs or DVDs as it does not feature an optical drive.
It comes with some of the most important features you can expect in a robust gaming laptop.

Also recommended for those who have been looking for a well-performing laptop with a large screen display.
Large HD screen

Durable structure

Super-fast processor

Features a headphone jack
Quite bulky

No optical drive
Well-Designed Laptop with a High-Quality Keyboard
Alienware M15 R6 15.6-inch Gaming Laptop
Check Price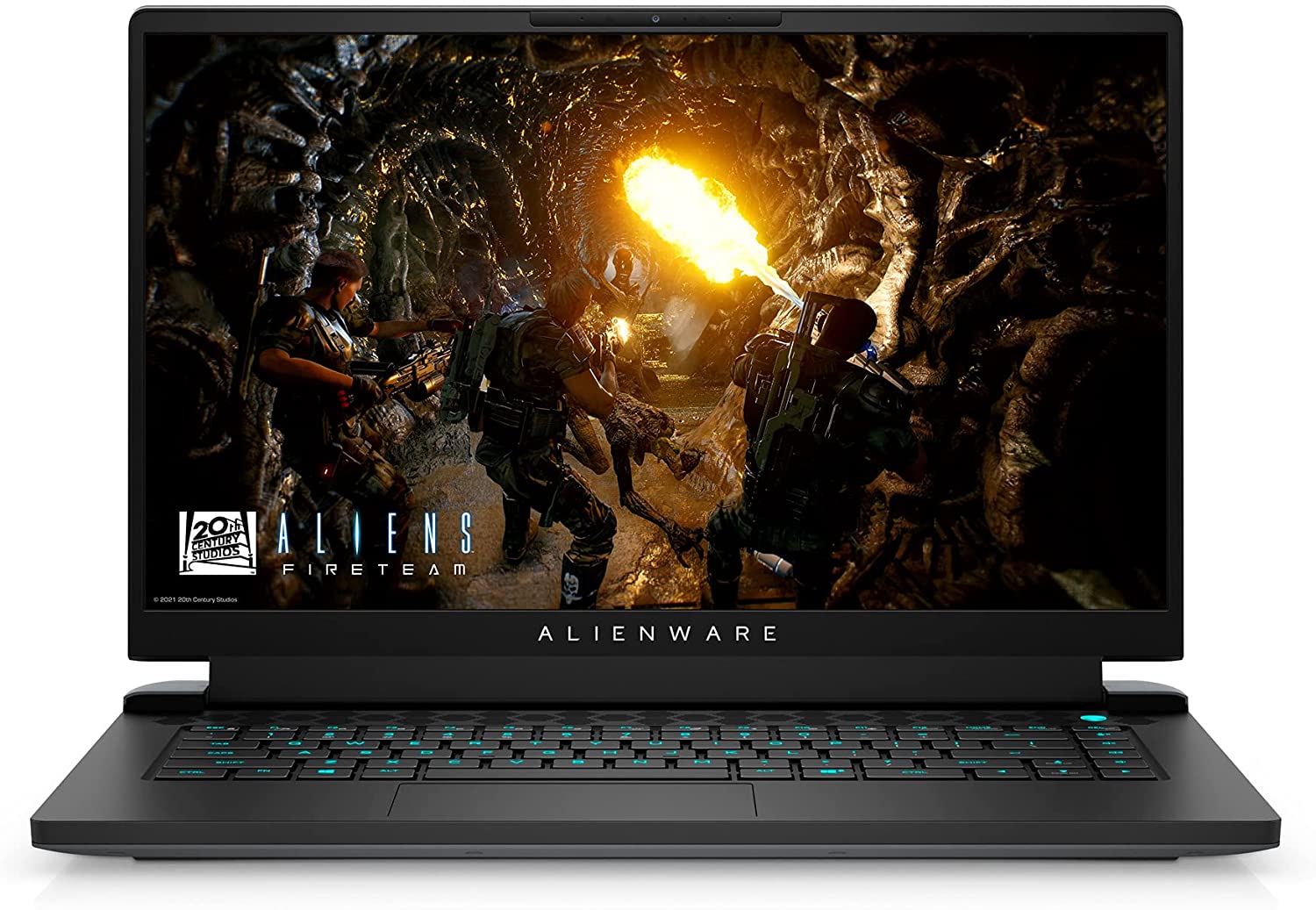 If you are planning to buy a gaming laptop, you cannot afford to buy a device that features a lackluster keyboard. The Alienware M15 R6 comes with a keyboard that boasts a highly luxurious and comfortable design and is exactly the kind a serious gamer would want to use. It features great lighting effects and contributes greatly towards making hardcore gaming feel effortless. The touchpad, which is located just below the keyboard, could have been of better quality.
The Intel Core i7-11800H ensures the laptop doesn't disappoint when it comes to its overall performance. The display screen of this laptop is one of its major highlights. It is 15.6-inches wide and offers a very high resolution of 2560 x 1440 pixels. Though the laptop doesn't offer you an optical drive, it has several other connectivity features. It also features very advanced cryo-tech technology that makes sure the device remains cool at all times.
A very good option for serious gamers who have been looking for a laptop that supports long hours of gaming performance.

It is also recommended for those who have been wanting to invest in a 15-inch laptop device with a great screen display and an extremely comfortable keyboard.
Ultra HD screen

Stable processor

Sturdy RGB keyboard

Good thermal management
Slightly heavy

No optical drive
17.3-inch Display Screen with Backlit Keyboard
Asus ROG Strix 64 GB RAM Gaming Laptop
Check Price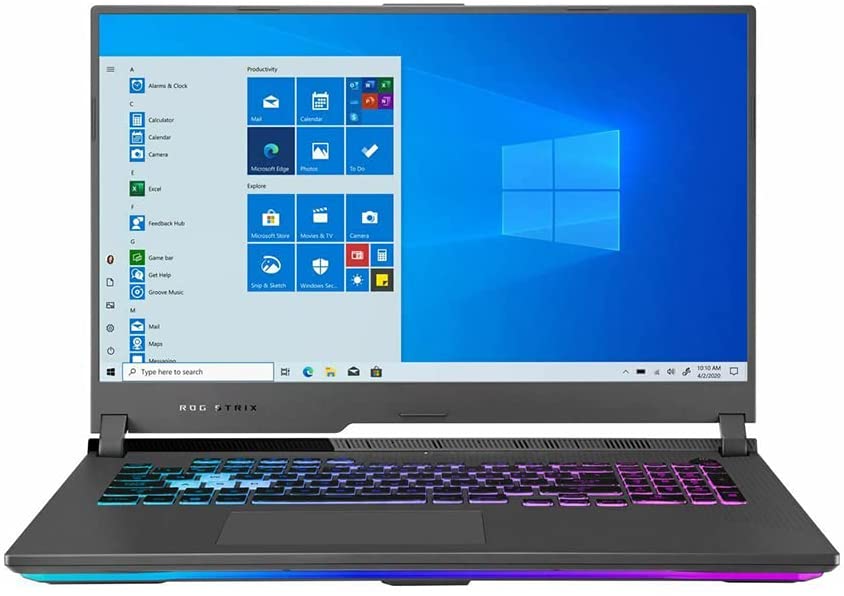 The Asus ROG Strix has a 17.3-inch display screen that can be described as a serious gamer's dream. The screen offers a 1920 x 1080 pixel resolution and promises a memorable experience. Another highlight of the laptop is its durable backlit keyboard, which provides you with a great amount of effort. The 2 TB storage-space drive ensures you will never have to complain about the lack of storage space.
The laptop runs on windows 10 and offers performance that would keep most users happy and satisfied. Since the device comes equipped with a high-bandwidth 64 GB RAM, you should not be surprised at how efficient it is. The device is made of durable components, marked with a 1-year warranty by the brand. There are multiple connectivity options on this laptop, including a 3.5mm headphone jack.
Why You Should Buy This?
Highly recommended for those who want to own a stylish laptop that offers powerful gaming performance.

It is also a suitable option for individuals who have been planning to invest in a laptop with a vibrant and large display screen.
Pros
Large display screen

Adequate storage space

Good connectivity support

Comfortable backlit keyboard
Cons
No Thunderbolt port

Average thermal management
15.6-inch Laptop with Multiple Connectivity Options
Asus ROG Strix Scar 15 Windows 10 Gaming Laptop
Check Price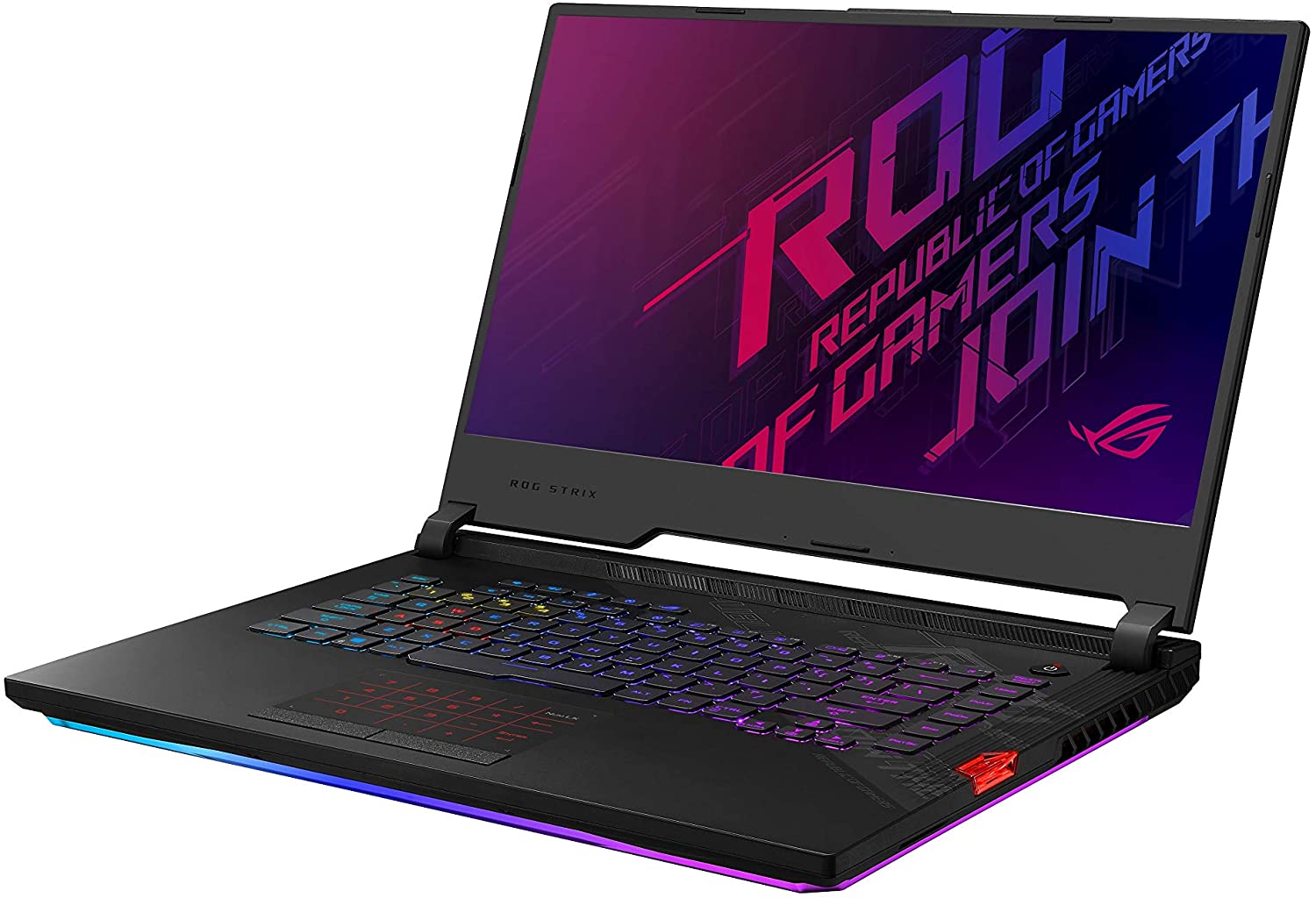 The Asus ROG Strix Scar 15 is a well-performing device with all the features you would expect from a gaming laptop. It features a 15.6-inch display screen with a 1920 x 1080 pixels resolution and is ideal for playing games and consuming multimedia content. The build quality of the laptop is very good, and it offers good software support. It comes with a 1 TB storage-space drive that enables you to save a large amount of data on the device itself.
The laptop does not feature an optical drive but offers you a bunch of connectivity ports to connect your peripherals. There are four USB 3.0 ports, and you can activate Bluetooth for wireless connectivity. While buying this laptop, you must remember it does not come with a webcam for making video calls. If you engage in video conferences regularly, you must invest in an external webcam device.
A suitable option for those looking for a gaming laptop with a 15-inch wide display screen.

It is also recommended for individuals who wish to invest in a premium-quality laptop with a backlit keyboard.
Vibrant display screen

Sturdy backlit keyboard

Adequate storage support

Good gaming performance
No webcam

Premium pricing
High-End Laptop That Offers Great Gaming Performance
Alienware x15 R1 15.6-inch Display Screen Gaming Laptop
Check Price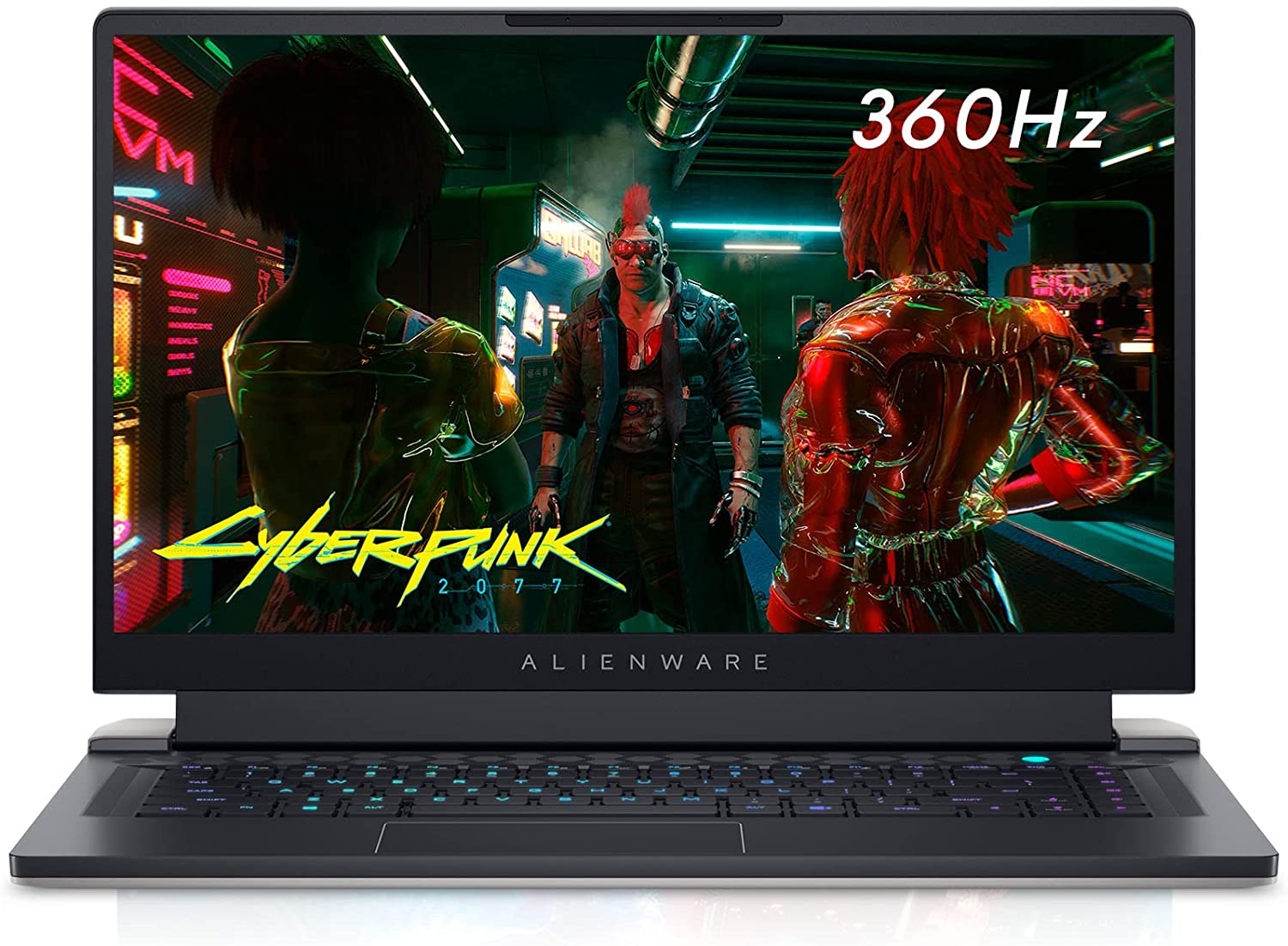 This powerful gaming laptop by Alienware features a 15.6-inch display screen with a 1920 x 1080 pixel resolution. Though the laptop doesn't come cheap, it offers the kind of features that make investing in it a good decision. The design of the device is highly attractive, and it works at a very good speed. The laptop is powered by the 11th Gen Intel Core i7 CPU that runs at a processing speed of 4.6 GHz and ensures that you have a smooth experience while playing high-end games.
The laptop features multiple connectivity ports and offers wireless Bluetooth connectivity as well. It comes with an SSD drive that offers a storage space of 1 TB. The quad-fan thermal management technology enables an all-day gaming experience without worrying about overheating the device. The RGB keyboard produces great lighting effects and is one of the highlights of the device.
Why You Should Buy This?
A very good option for those planning to invest in a premium-quality gaming laptop.

It is also recommended for serious gamers who wish to have a laptop with advanced gaming features.
Pros
Stylish design

Incredible RGB keyboard

Good connectivity support

Fast-performing processor
Cons
Expensive

Noisy internal fans
Best Gaming Laptop with Highest Level of Configuration
Alienware 17 (R4, 2017)
Check Price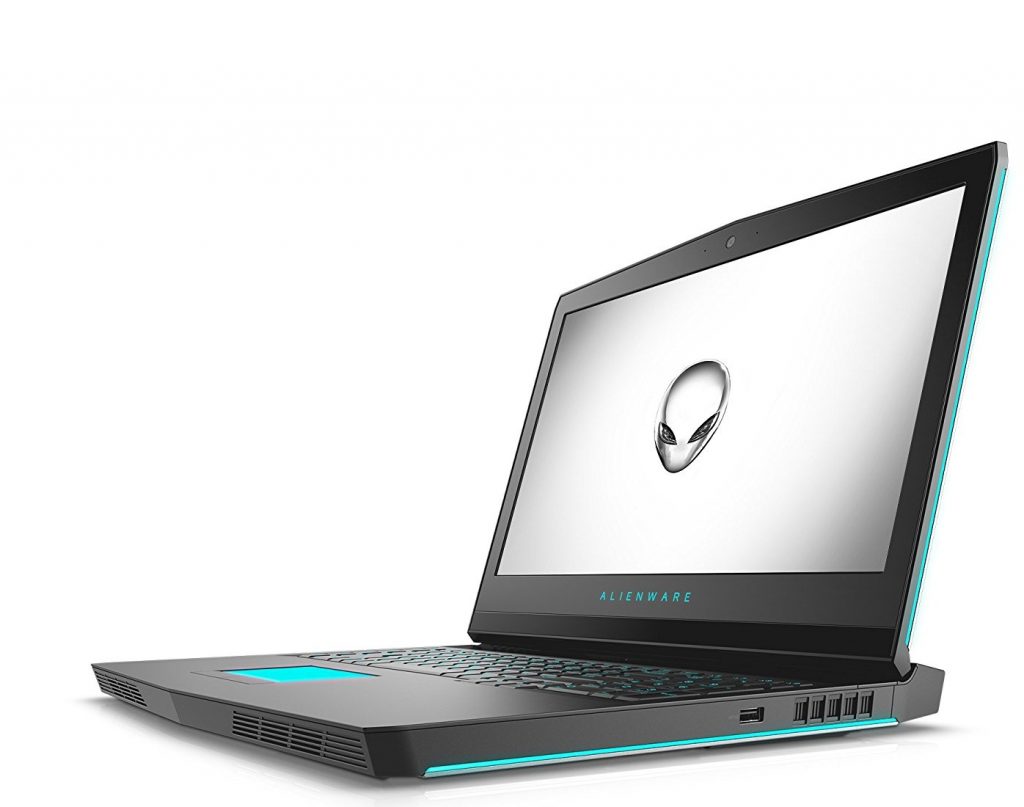 The Alienware AAW17R4 is a 17-inch laptop powered by the 7th Intel i7 processor with 8GB of RAM and 1TB of storage space. Alienware is synonymous with gaming, providing the best customization options and allowing buyers to choose from a wide range of configurations.
The laptop sports a 17.3-inch IPS display with a 1080p resolution which is pretty large and the device is quite bulky. If you are looking for something compact, this one may not appease you, but this is the best pick for hardcore gamers who play continuously for hours. The large build provides enough space for the internal hardware to cool down even during intense use, which should considerably increase its lifetime.
This Alienware product uses the latest Nvidia GeForce GTX 1060 graphics card with 6GB of DDR5 memory, which can comfortably handle all AAA titles at medium settings and 60 frame rates. You can pick up this great gaming laptop if you don't plan to travel much and would like a compact, portable gaming setup.
Why should you buy this?
Gamers who don't travel a lot and would like to have a laptop that they might often use more like a desktop setup
For those who want more life out of their device, expect the best cooling system to stop it from overheating during extended use.
Ideal for those looking for plenty of ports that offer the optimum experience
Top Best Gaming Laptop with Impressive Performance and Cooling Capacity
Acer Predator 15 Gaming Laptop
Check Price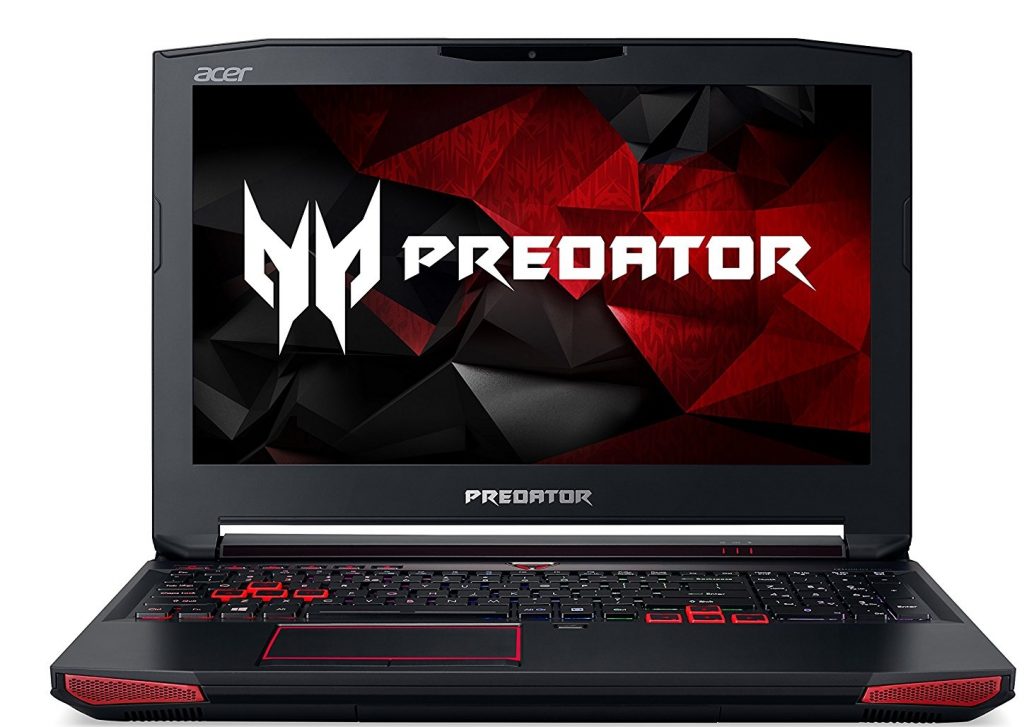 Acer has created a solid reputation for itself with its Predator lineup of gaming laptops. The new Acer Predator 15 is yet another feather in this cap. The team has somehow managed to bundle impressive hardware into a slim 15-inch laptop and skillfully handle its cooling capability so it doesn't overheat.
In terms of specifications, the Acer Predator 15 sports a 15.6-inch widescreen IPS display with a 1920 x 1080 resolution. The display is equipped with Nvidia G-Sync technology to reduce screen tearing issues. Under the surprisingly slim body, it runs on a 6th gen 2.6GHz Intel Core i7 processor with 16GB of RAM, 256GB SSD, and a 1 TB hard disk.
The combination of SDD and HDD should keep your laptop very responsive to every task you throw at it. It houses the Nvidia GeForce 1070, which is not only powerful enough to handle any AAA game in high settings but is also VR-ready. Just buy an HTC Vive or Oculus Rift, and this Acer laptop will support it. The best value for your money with uncompromised performance.
Why should you buy this?
Gamers looking to own the latest graphics card and expect less screen tearing
It's VR-ready and is a treat to own at affordable pricing if you plan to buy a VR headset shortly
Excellent batteries that run long enough to watch two movies.
Frequently Asked Questions
Do gaming laptops get unusually hot? How to handle it?
Gaming laptops do get more heated than regular laptops. Some video games tend to pull more out of the processor, which leads to heating up. That is why there are usually extra provisions for cooling in gaming laptops. Check if there are any special instructions in the user manual on the heating of the laptop. If you are still not happy, contact the customer care personnel at the end of the gaming laptop manufacturer.
I bought a gaming laptop with 16GB RAM. Can I expand the storage?
It depends on the design of the gaming laptop you bought. Some laptops have slots for the expansion of RAM. The processor's specifications should be checked for the maximum RAM support it can accommodate. If these two are in your favor, you can just add to the RAM. There are laptops where the RAM is soldered to the motherboard. In such cases, you cannot expand the RAM.
Do you get free games while buying gaming laptops?
The manufacturer or seller of gaming laptops doesn't need to include free games. Some brands may have marketing tie-ups with the developers or publishers of certain games and can offer them as a bundle. Check the details while placing the order. You must first be certain that the gaming laptop you are ordering has the right specs and features. Free games can come as a bonus, if at all.
Is the screen refresh rate important for a gaming laptop?
The refresh rate is the number of times the display screen refreshes itself. 60Hz was the standard refresh rate offered on most laptops, gaming or non-gaming. Now, with technology improving, you will be able to find 120Hz being the refresh rate advertised by many laptops. It does have a better visual effect when the refresh rate is higher. But it is not something you can easily distinguish while observing the monitor screen in a laptop.
Can you play all games on any gaming laptop?
If the manufacturer says the laptop is dedicated to gaming purposes, then you should be able to play practically all games. If you have doubts about a specific game, you can always check with the manufacturer or the game's developer on the compatibility.
Conclusion
The top best gaming laptops listed here have a bunch of pros and may have some cons, like increased size or sub-par battery life. When choosing your next gaming laptop, be clear about your usage. While Razer Stealth is the most compact laptop, the MSI GT75 is ideal to be used on a desk plugged into the charger.
Gamers who frequently opt for multiplayer games like Dota 2, Overwatch or PlayerUnknown's Battlegrounds can try a cheaper alternative. A gaming laptop with a 1050 TI Nvidia card can easily handle these games at high frame rates and will be much cheaper. Explore and find the best fit for performance and budget to get an optimal gaming experience.
These are some of the best gaming laptops. No matter your choice, you will enjoy excellent performances and an outstanding gaming experience. Happy gaming!