Technobezz is supported by its audience. We may get a commission from retail offers
It is pretty usual that you need to spend well to acquire a gaming console, PC, desktop or laptop whatever you
It is pretty usual that you need to spend well to acquire a gaming console, PC, desktop or laptop whatever you are planning. But what if you are on a budget of less than $500? Do not worry as there are options for that as well. Manufacturers are coming up with devices keeping in mind all. So, you will definitely get the things you are looking for on a strict budget. If you are planning to buy one of the Gaming PCs under $500, this article is for you.
You will be surprised by the number of gaming PCs available and that too below $500. Today's competitive market and cutting-edge technology leave no stone unturned to make your dream possible without burning a hole in your pocket.
However, there is no denying that you will have to compromise on some features to balance the cost. However, it won't stop you from pursuing your passion in a delightful way.
The following are the major factors that should be considered and weighed when you wish to buy a gaming PC:
Processor: This is the heart of the PC and thus, a major deciding factor. The processor regulates the performance of the PC whilst you're gaming.
Graphics card: This is the second most important factor and is in-fact almost as important as the choice of processor. A gaming experience is completed only when the visuals of the games are pleasing and realistic to the gamer. The job of graphics card is to just do this. It works to render beautiful graphics on your screen.
RAM: A good amount of Random Access Memory greatly contributes to the smooth running of your games. So, a certain amount of RAM is definitely a factor to consider.
You also have to make another major choice while buying a computer specifically for gaming and that is between a desktop and a laptop. Laptops give us the convenience of portability and occupy less space. However, when the computer is used for gaming, the processor needs to work at full efficiency which causes heating of the device. Laptop's cooling system is generally not equipped to handle such heat. Desktop, in such a case, works better and lasts longer. However, this choice varies from person to person. There are good options of strong laptops and desktops in the market. We will be listing desktops and laptops in separate sections.
With the above factors in mind let's cruise through the wonderful options of gaming PCs below $500.
See also: Best Lenovo gaming laptops
Best Gaming PCs Under $500
Desktops
Best PC under $500
Acer Aspire Desktop TC-780-ACKI5: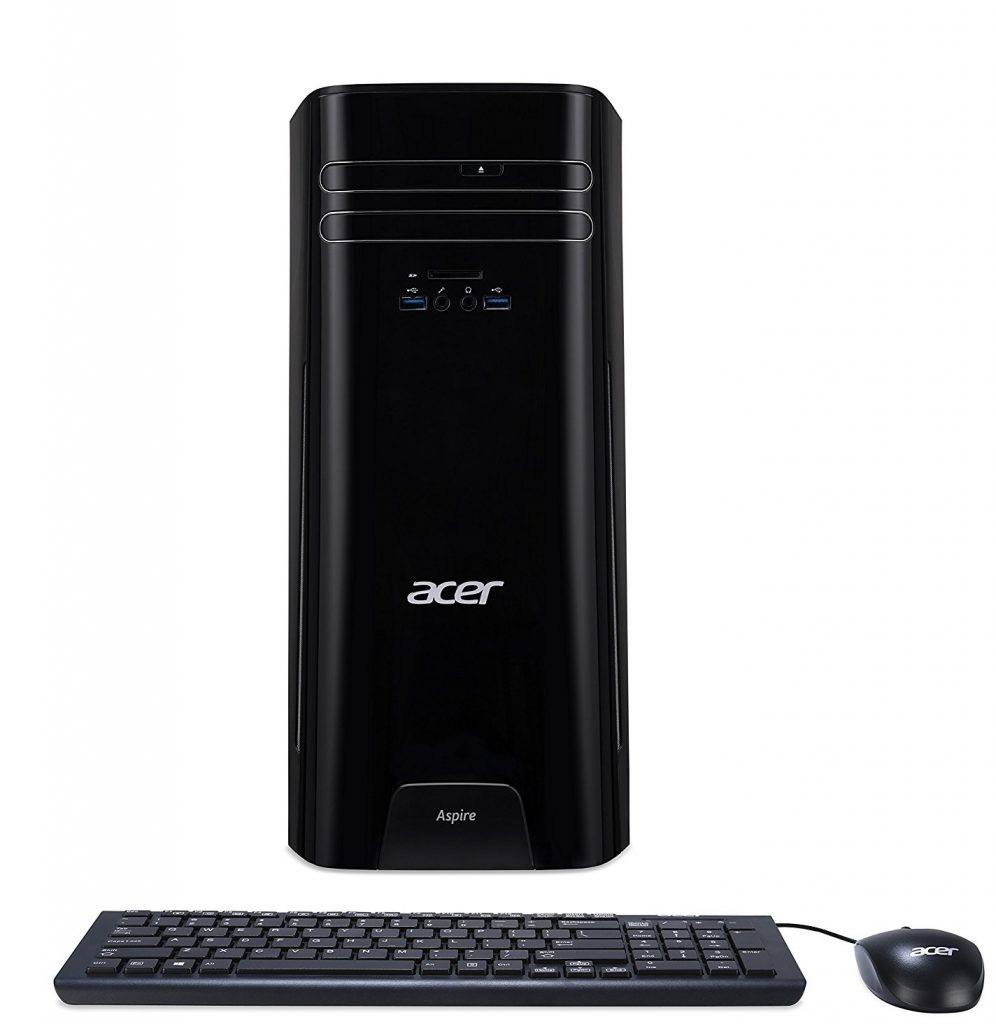 The Acer Aspire line of desktops is best suitable for your gaming needs and comes in your budget. The tower measures 15.6" x 6.89" x 17.4" (H x Wx D) and weighs around 8.3 kg. It does not take a lot of space and is suitable for a heavy duty user who has high processing demands.
The performance is powered by Intel Core i5-7400 processor with 12 GB RAM. The processor is quad-core and is an entry-level processor in the Kaby-Lake i5 processors. With turbo boost in the processor, it can also deliver additional processing when required. With 12 GB RAM, multitasking can be done with great ease without the machine getting slowed down. When it comes to the graphics card, it has integrated Intel HD 630 card and does not have a separate Graphics Processing Unit. Amongst the integrated graphics card, this offering from Intel is the best. It is highly capable of handling tons of older games. However, with the modern AAA games, the performance of the inbuilt graphics card degrades a bit. But all is not lost, as there is a slot provided to plug-in a dedicated graphics card.
Other hardware features include HDMI, USB, LAN and DVD R/W drive. There are two 3.5 mm jacks for plugging in headphones and microphones. The machine comes with 2 TB of storage.
This desktop from Acer is best for mid-range gaming and is great at multitasking. However, the inbuilt graphics card struggles with graphics-intensive applications.
Acer Aspire Desktop TC-780-ACKI5 comes with a price tag of $429.99.
Recommended for:
Entry-level to Medium level gamers
Anyone who plays older games that are less graphics-intensive
Stylish but Packed with Performance
Lenovo Ideacentre 310s: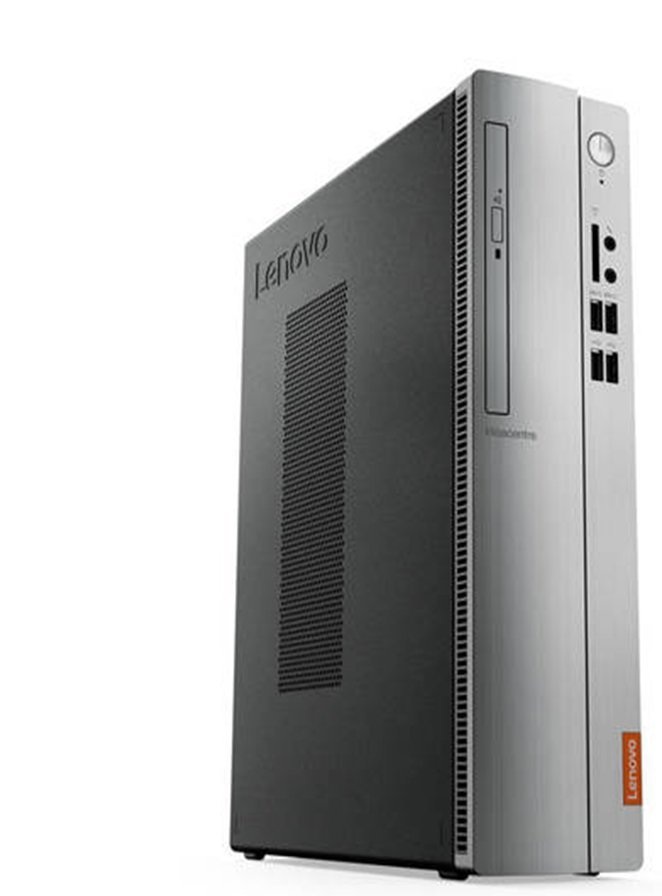 This desktop makes you believe in the saying, 'Don't judge anyone by their looks.' Measuring almost half the size of regular PCs, this device is packed with features. The dimensions of the tower are 13.54″ x 3.54″ x 11.69" (H x W x D) and the weight is only 4.3 kg.
The Lenovo Ideacentre 310s has a powerful dual-core processor, AMD A9-9430 7th generation with 8 GB RAM DDR4. The graphics card present in the system is that of triple-core AMD Radeon R5. The gaming performance of this chip in combination with the graphics is very good and beats even i3 and i5 processors. Other hardware features include two ports of USB 3.0, four ports of USB 2.0, HDMI, VGA, and RJ45 Ethernet. It also has an SD card reader and DVD R/W drive. The system consists of 1TB HDD Storage. The system heats up during intense gaming and this could be a concern for a few users.
Lenovo Ideacentre 310s comes with a price tag of $465.
Recommended for:
Casual gamers who need compact systems
Any gamers who play entry-level games
Best Performance-to-Price Ratio
Acer Aspire Desktop TC-780-ACKI3: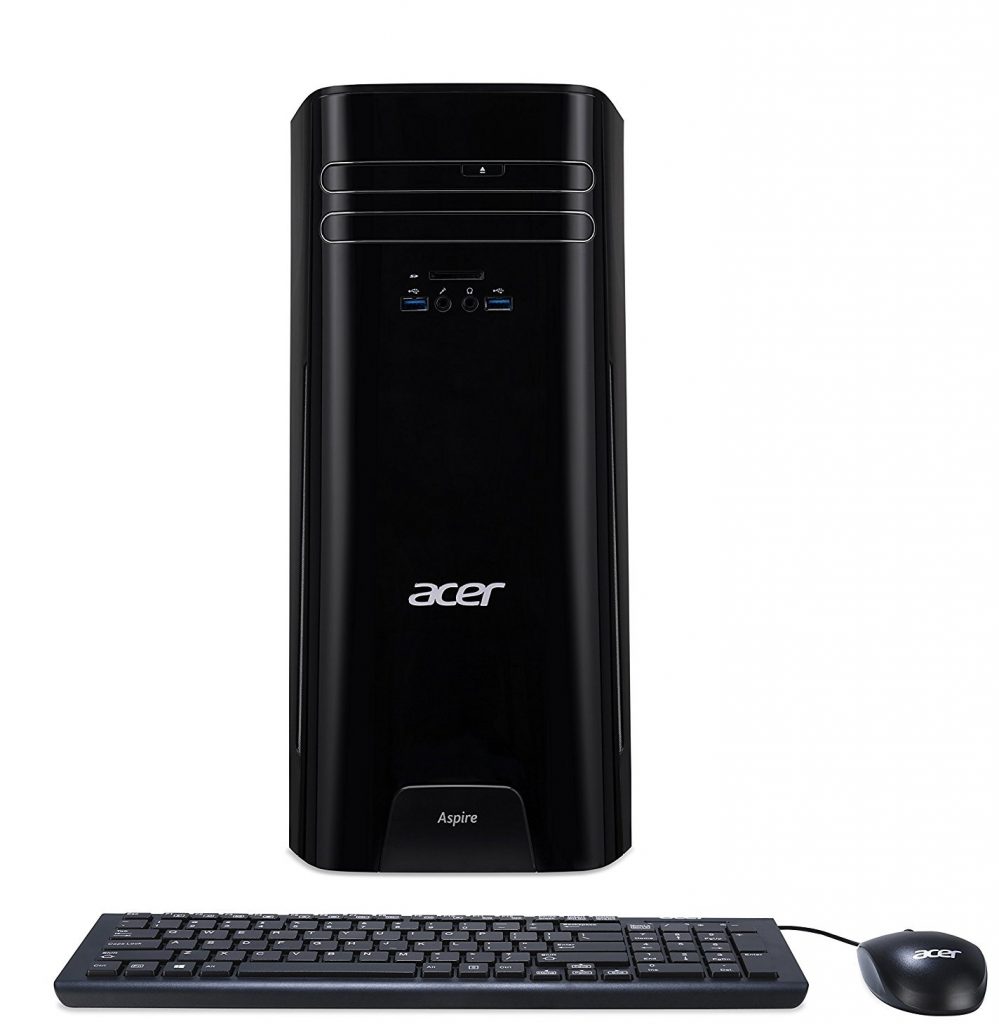 This is Acer's second appearance in the list. This system is the predecessor of Acer Aspire Desktop TC-780-ACKI5. In design, it is similar to the above machine with 15.6" x 6.89" x 17.4" (H x W x D) dimensions and a weight of around 8.3 kg.
The Intel Core i3 is a dual-core 7th generation CPU from Intel with Kaby-Lake architecture. There is no turbo boost, unlike the successor. The system has 8 GB RAM, but you can add additional RAM in the ports provided. It has an integrated Intel HD 630 graphics card and no separate graphics processing unit.
Other hardware features include 3 ports of USB 3.0, four ports of USB 2.0, HDMI and VGA outputs, and a DVD R/W drive. The storage is also a step down from the successor at 1 TB HDD. The system, however, is lackluster in 3D gaming due to lower RAM. The advantage of the price-to-feature ratio of the system is really great.
Acer Aspire Desktop TC-780-ACKI3 comes with a price tag of $359.99.
Recommended for:
Entry-level gamers since the processor is suitable only for less intensive games
Hobbyists who have a tight budget
Laptops
Best Gaming Laptop under $500
ASUS VivoBook F510UA: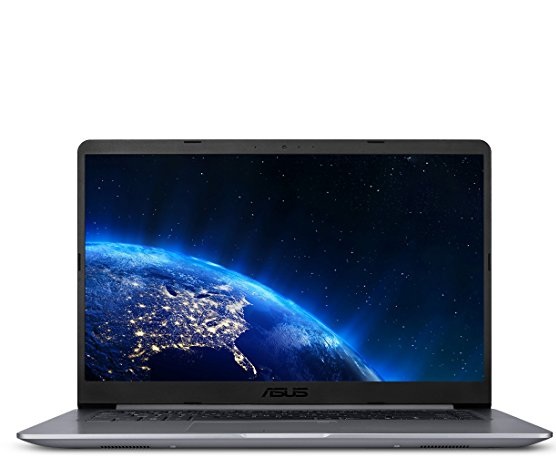 This is the latest entrant in the budget laptops category and is here to stay.
The design of the laptop is very sleek and is only 0.8 inches thick. It is also extremely lightweight and weighs only 3.7 pounds. The entire body is made up of plastic with a shiny exterior. The keyboard is quite big and comfortable to use. The mouse pad is accurate and sensitive.
Vivobook has an Intel Core i5-8250U processor with the latest Kaby Lake-R architecture with 8 GB RAM. It has a turbo boost as well, which supports in case of additional processing requirements. This 8th generation processor delivers a powerful performance. The laptop has integrated UHD 620 graphics. The graphics do not stand good for 3D gaming. Games that are not hardware intensive are good to be played on the laptop. There are Vivobooks which have dedicated graphics card and are more suitable for gaming, but they priced higher than this model. The laptop has 1 TB HDD storage drive.
The 15.6" display has a 1920 x 1080 pixel resolution. It is an IPS NanoEdge display with a stunning 80% screen-to-body ratio. The screen brightness is not very high. The speakers on the laptop are really good and manage high volume really well. The other hardware features include one USB 3.1 port (Type-C), one USB 3.0 port, one USB 2.0 port, and an HDMI port. It also has an SD card reader and 3.5 mm headphone and microphone jack. The battery lasts for 4-5 hours from a charge with medium use. If the usage is low and basic, the laptop can run throughout the day.
Asus Vivobook F510UA is available with a price tag of $479.
Recommended for:
Suitable for Entry level games that are not hardware intensive
Users who need strong battery power
Best for Light Gaming
Acer Aspire E 15 E5-575-33BM: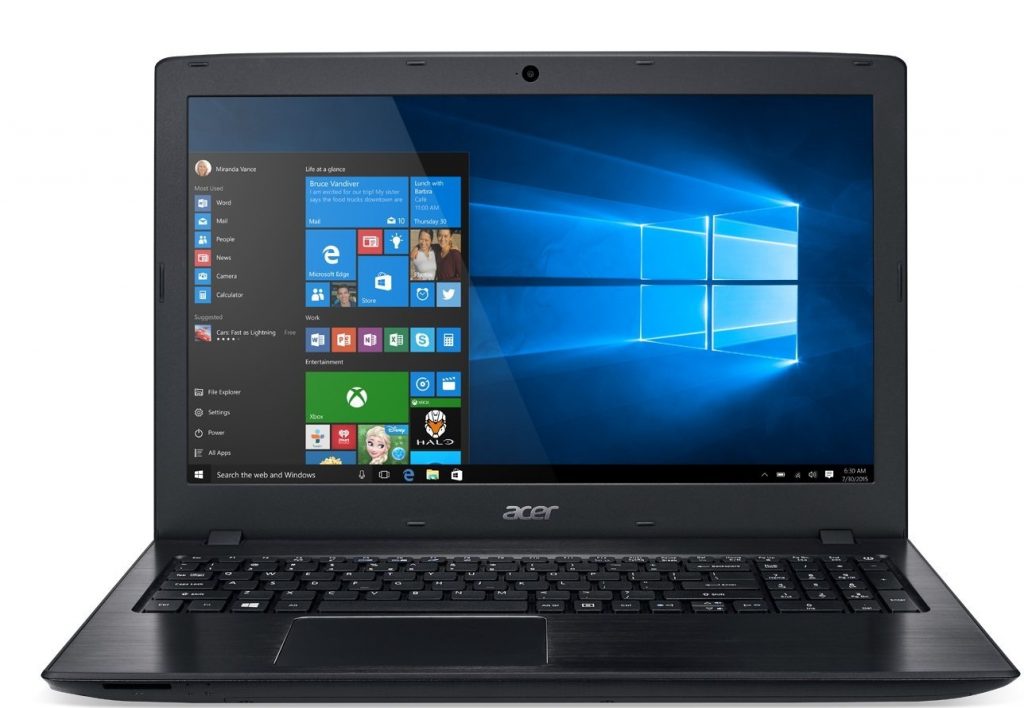 Design of this laptop is definitely sturdy. It is made up of black plastic and slight design on the lid and on the inside. The laptop is 5.06 pounds in weight and 10.2" x 1.5" x 1.2" are its dimensions.
The Aspire E15 houses an Intel Core i3-7100U processor with 4GB of RAM. The configuration is very good and the machine is suitable for light multitasking. The laptop comes with an integrated Intel HD Graphics 620 graphics card. The integrated graphics card is good enough to run games like Counter Strike Go in high settings. It has 1 TB of storage space.
Aspire E15 has a 15.6 inches screen with a screen resolution of 1920×1080 pixels. The screen color quality is moderate and has fair brightness limits. The keyboard of the laptop is backlit and includes a numeric-pad. The touchpad response is quite accurate and sensitive. It comes with a DVD-RW Drive. It has two USB 3.0 and one USB 2.0 ports, VGA and HDMI outputs, Gigabit Ethernet, SD Card Slot, and Combo headphone-mic jack. The Aspire E15's speakers offer output that's quite accurate and loud enough to fill a medium-sized room.
Acer claims that the battery lasts for 8 hours which is fair enough for the laptop with this configuration.
Acer Aspire E15 E5-575-33BM is available with a price tag of $359.99.
Recommended for:
Suitable for beginners in gaming
Games in which RAM requirement is not very high
The best gaming PCs under 500 dollars are listed down in the article. They are from different manufacturers and is powered with powerful configurations. Their high-end specifications ensure playing any kind of games on those PCs will really offer an amazing experience.
See also: Best portable monitors to buy in 2022
---