Featured in this article (opens in new tab)
Millions around the globe still use traditional Windows laptops, but when Google launched Chromebooks nearly seven years ago, people were baffled. A unique proposition was that even the best Chromebooks didn't have huge storage space or groundbreaking specs. It was totally dependent on the internet, and the majority of the apps were from Google's G Suite.
There has been a revolution in the internet world since then, as the average speed around the globe has significantly grown. With it, Google Chromebooks have become equally popular. Over 25 million users worldwide find their amazing all-day battery and premium build quality impressive despite the absence of traditional features.
Do you wish to own a Chromebook? For those who do not know exactly what a Chromebook is, then you must know that a Chromebook is similar to a laptop with only a slight difference. A Chromebook is the perfect solution for you if most of your tasks involve online transactions and you do not require much software support. The best part is that you can have the laptop feel at highly affordable prices. Chromebooks serve as inexpensive laptops. They can be used anytime to optimize social media platforms' usage and enhance web productivity. If most of your time is spent browsing the Internet, you must grab a Chromebook immediately.
Buying Guide
Here are a few points to consider while buying a Chromebook
Stylish appearance
Seamless multitasking experience
WLED backlight
Essential Accessories Support
Compact and lightweight
Good sound quality speakers
Battery life
Auto-rotation and finger touch
HDMI jack
Storage space
To optimize your search for the greatest models, we have prepared a list of some of the best Chromebooks. Here are some of them.
See also: Top best gaming laptops under $1000
Best Chromebooks
An Intel Celeron Processor Chromebook with Long Battery Life
ASUS High Bandwidth RAM Chromebook
Check Price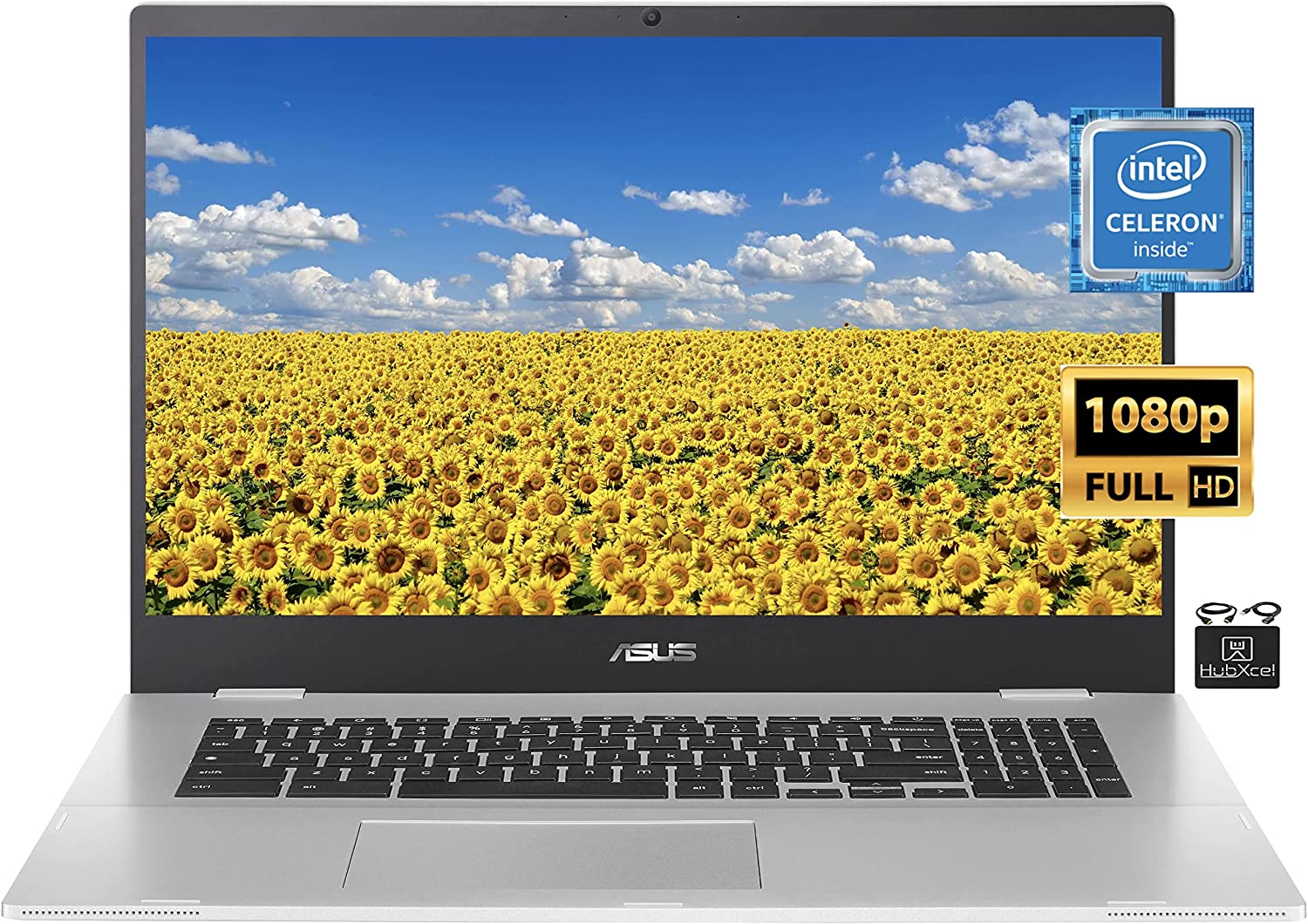 This ASUS Chromebook features a 17.3-inch FHD screen with 1920 x 1080 resolution and an energy-efficient backlight. The slim bezel Chromebook houses a dual-core 1.1GHz Intel Celeron N4500 processor that can be clocked up to 2.8GHz and an integrated Intel UHD 5000 graphics processor. The silver-colored laptop also has 4GB of high bandwidth RAM and 32GB of eMMC storage.
The Chromebook encompasses several ports, such as two USB Type C ports, a headphone/microphone jack, a microSD media card reader, and two USB Type-A 3.2 ports. The laptop is also integrated with a 720p HD webcam. It supports Bluetooth 5.2 and Wi-Fi 6 (2x2/160) connectivity options. The product is powered by a Li-Ion polymer battery with a long lifespan of up to 17 hours. The ultra-thin Chromebook has a horde of accessories comprising a mouse pad, a USB extension cord, and an HDMI cable.
The ASUS Chromebook has a large display which renders a memorable experience for those who use it for entertainment, such as watching their favorite movies.
The laptop allows you to view the contents stored in the memory card of your smartphone as it has a dedicated slot to insert the card.
The product offers cloud backup and frees you of the worry of accidentally deleting your important files.
Stylish appearance because of the silver frame
Smooth and seamless multitasking experience
It comes with essential accessories
It's not easy to carry around because of bulkiness
A 360° Convertible Chromebook with Touch Display
Lenovo Slim and Lightweight Chromebook
Check Price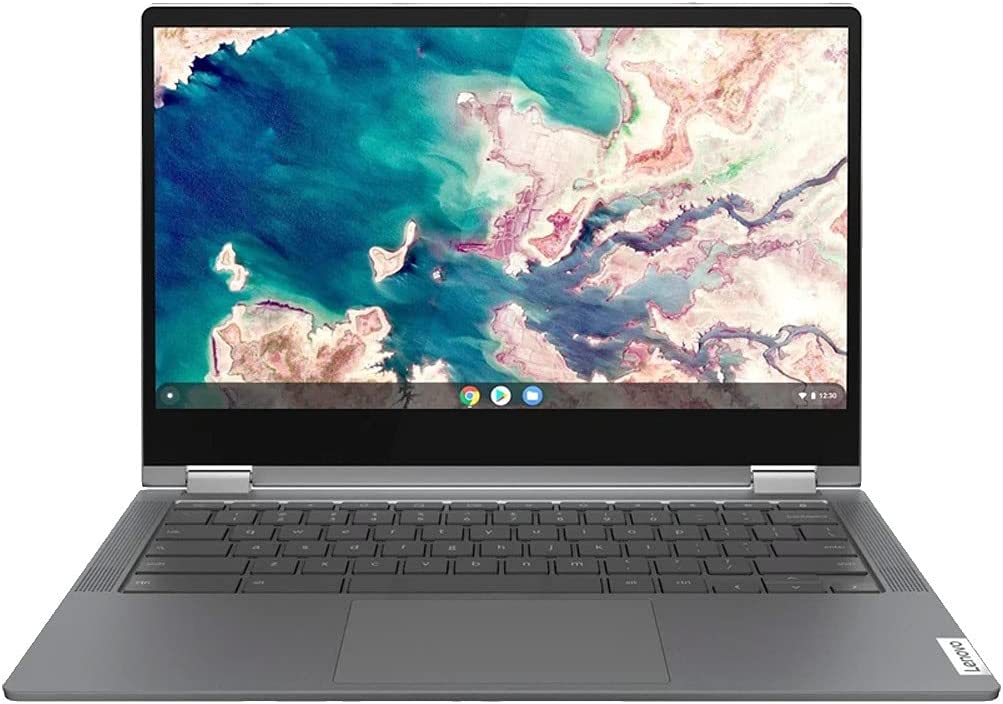 This Lenovo Chromebook has a 13.3-inch FHD touch display with 1920 x 1080 resolution. The Chromebook features narrow bezels that increase the screen and reduce distractions. The graphite gray laptop is fitted with a single-core Intel Core i3 processor, an integrated graphics processor from Intel. It also encompasses 4GB RAM and 64GB flash memory as storage.
The Chromebook can be positioned in different ways according to the user's comfort level. The laptop has two front-facing speakers, a high-quality webcam, and a microSD card reader. The lightweight product incorporates one USB Type-A port, an audio jack, and two USB Type-C ports. It also supports Bluetooth 5 and Wi-Fi 6 connection options. The Chromebook features an internal lithium polymer four-cell 51Whr battery with up to 10 hours of battery life. The laptop comes with a quick start guide and a 45W AC adapter.
The Lenovo Chromebook saves you the hassle of owning a laptop and a tablet because of the 360° convertible design.
The laptop is easy to use at night and in a dark environment because of the inbuilt backlit keyboard.
The product has touchscreen support that makes it ideal for those who want to enjoy an intuitive experience.
Compatible with Lenovo pen
Excellent sound quality speakers
Battery charging and data transfer with a single port
Flimsy hinges break easily
A Compact Size Chromebook with Inbuilt Antivirus
Acer Damage Protection Chromebook
Check Price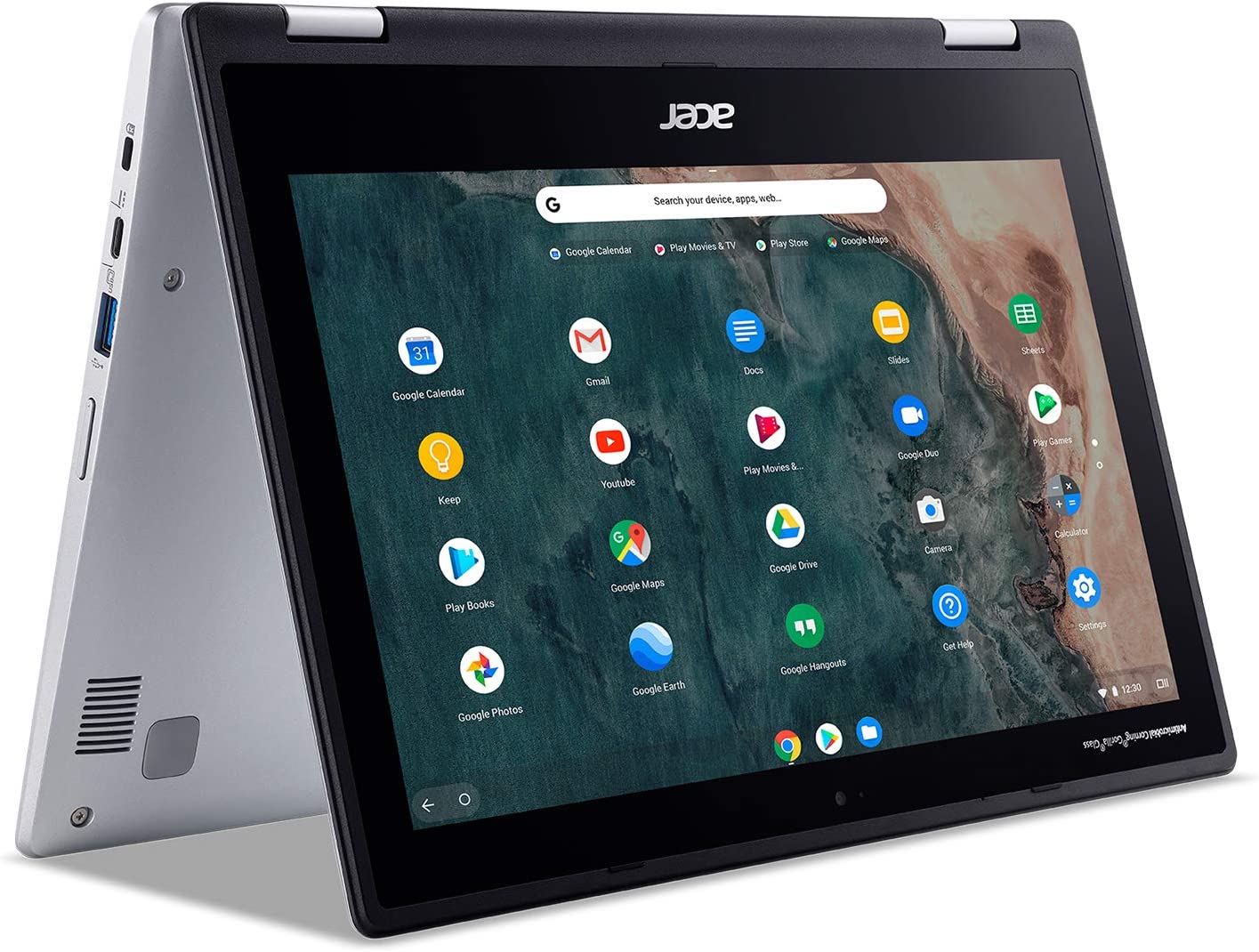 This Acer Chromebook sports an 11.6-inch IPS HD touch display with a 1366 x 768 resolution, 16:9 aspect ratio, and LED backlighting. The Chromebook features antimicrobial Corning Gorilla Glass for its touchscreen to protect it against damage. The laptop has 4GB of RAM and 32GB of hard disk storage apart from the 100GB of space offered on Google Drive. The Chromebook has an Intel dual-core processor that clocks in at 1.1GHz and supports Burst Technology to increase the clocking frequency to 2.8GHz. The laptop also has an integrated Intel UHD 600 graphics coprocessor.
The product has a 1280 x 720 HD webcam with an 88° wide angle lens and HDR support, apart from different types of USB ports and Wi-Fi and Bluetooth support. The laptop comes loaded with an inbuilt antivirus that updates automatically and keeps your content safe. It works with a lithium-ion battery that retains its juice for up to 10 hours when fully charged.
The Acer Chromebook is recommended if you want to store many files without worrying about storage.
The laptop is very lightweight and you can easily take it with you wherever you go.
The product can be used for long hours after charging it fully without fear of the battery dying out soon.
Multiple viewing modes
Supports image auto-rotation and finger touch
Enhanced video calling and face-to-face chatting experience
An Anti-Glare LCDChromebook with Huge Storage
AimCare High Clarity Chromebook
Check Price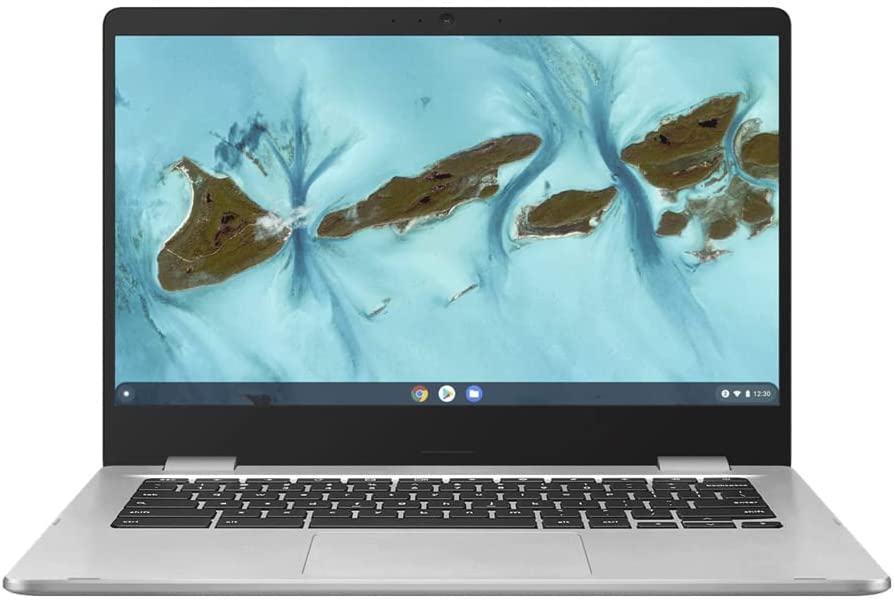 This AimCare Chromebook has a 14-inch anti-glare LCD FHD display with 1920 x 1080 resolution and 250 nits brightness, an anti-glare coating, and LED backlighting. The Chromebook has 4GB RAM and 128GB solid-state flash memory. The laptop comprises a two-core 1.1GHz Intel Celeron n4020 processor supplemented by an Intel UHD 600 graphics coprocessor.
The Chromebook has a two-in-one SD card reader, a 720p webcam, and a 3.5mm combination audio jack. The product also has two USB Type C Gen 1 ports and two USB Type C Gen 2 ports. It supports Bluetooth 5.0 and Wi-Fi 2 x 2 wireless connectivity options. The Chromebook works with a lithium-ion battery.
Why Should You Buy This?
The AimCare Chromebook is ideal for people who spend long hours working on it because of the anti-glare coating.
The laptop allows you to store all your favorite content with the huge storage available.
The product has multiple USB ports allowing you to connect it to several peripherals simultaneously.
Pros
No strain on the eyes
Massive storage space
Fast bootup process
Cons
A High-SpeedChromebook with Super Smooth Performance
Samsung GalaxyVoice Commands Supporting Chromebook
Check Price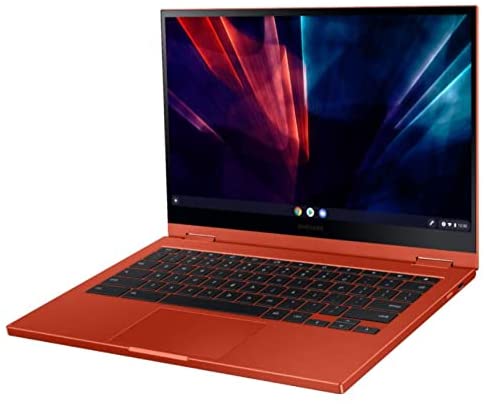 This Samsung Galaxy Chromebookhouses a 13.3-inch QLED display with 1920 x 1080 resolution. The display also supports touchscreen functionality apart from the keyboard interface input. The sleek and slim Chromebook has 16GB DDR3 RAM and 128GB hard disk storage. The laptop comprises a single-core Intel processor clocking at 2.1GHz and an Intel graphics coprocessor.
The Chromebook is powered by a four-cell lithium-ion battery capable of retaining its charge for almost the entire day. The laptop has two USB 3.0 ports and supports Bluetooth and Wi-Fi 802.11 ax wireless connectivity modes. It is integrated with Smart Amp audio surrounds that help you to enjoy loud and clear sounds. The product is compatible with Google Assistant. The Chromebook is available in two color variants: Fiesta Red and Mercury Gray.
The Samsung Galaxy Chromebook is suitable for people who want to use it for entertainment because of its high-quality video and audio.
The laptop offers a seamless multitasking experience because of the high RAM available.
The product is ideal for those who wish to work on it using voice-based commands.
Supports hands-free operations
Features optical DVD drive
Fast online experience
A Quick Boot-Up Chromebook for Education Purpose
HP Ultracompact Memory Chromebook
Check Price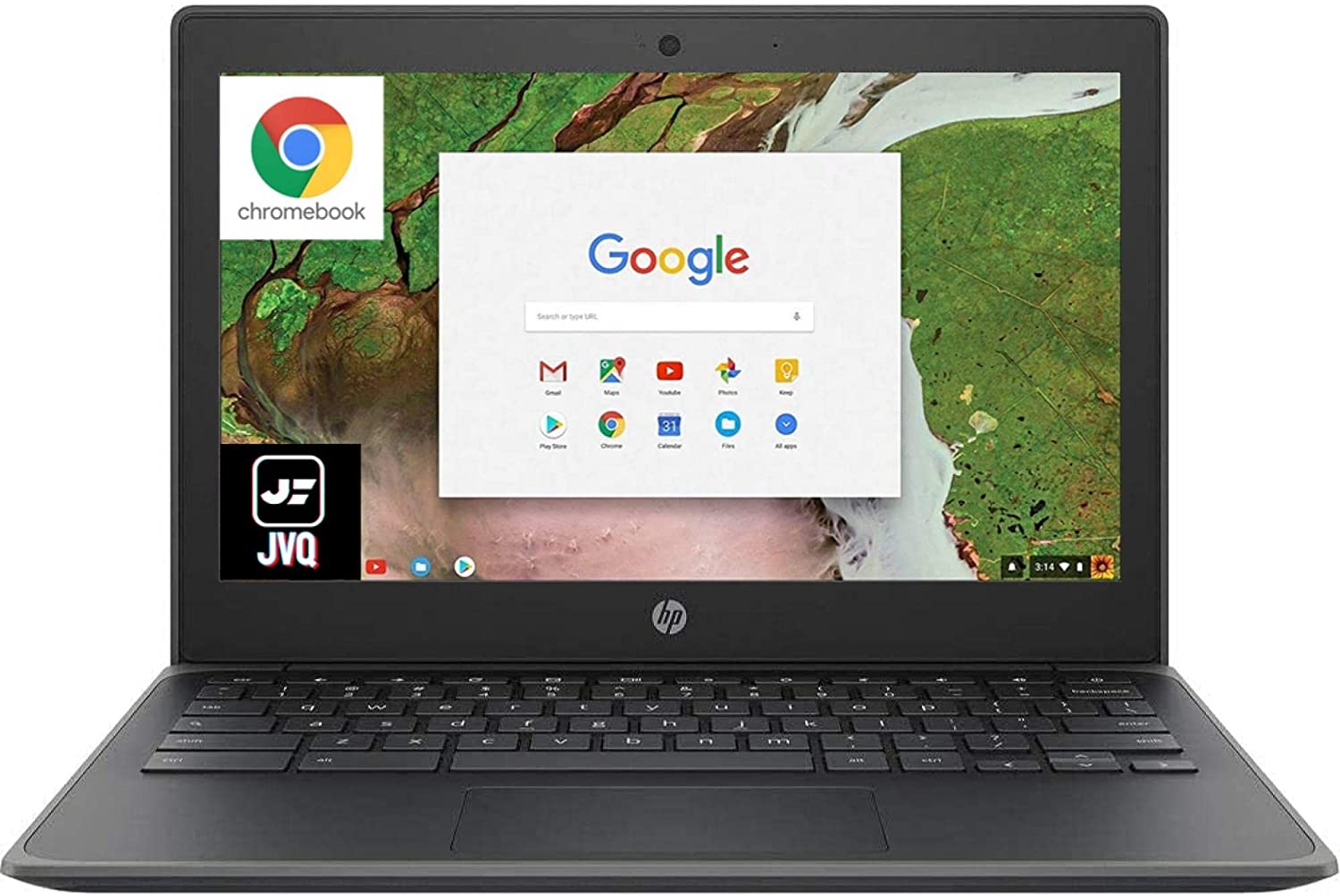 This HP Chromebook has an 11.6-inch widescreen HD display with WLED backlighting and 1366 x 768 resolution. The Chromebook has 4GB of RAM with high bandwidth and 32GB of eMMC flash memory. The ash black colored laptop uses a dual-core AMD A4 processor clocking at 1.6GHz that can be boosted to 2.4GHz and an AMD Radeon R4 graphics coprocessor with shared video memory.
The Chromebook is loaded with several apps and offers cloud backup and inbuilt antivirus protection. The laptop has a 720p HD rear webcam with a built-in microphone and a media card reader and delivers HD audio with stereo speakers. The fast booting product has a headphone jack, two USB 3.1 Type C ports, and two USB 2.0 ports. It operates with a lithium polymer two-cell battery that allows you to work up to 6 hours without needing an intermittent charge.
Why Should You Buy This?
The HP Chromebook is a good choice for students who have to multitask or open several browser tabs at a time for their studies.
The laptop renders a brighter display with high contrast ratio and intense colors because of the WLED backlighting.
The product offers the assurance of stored data being safe because of the inbuilt antivirus that gets updated automatically and cloud backups
Pros
Clearer than LC displays
Fast connectivity support
Supports Microsoft Office installation
Cons
No dedicated numeric keypad
Bottomline
The main purpose of buying Google's laptop is to enjoy a clutter-free experience within a budget. The best Chromebooks are the ones that are budget-friendly, easy to use, and have long-lasting battery life. Acer and HP Chromebooks can ideally meet your requirements, while the Google Pixelbook is an ultra-premium experience if you want the best.
Having a Chromebook is great, especially when you can avail yourself of top-notch laptop services and features at highly affordable rates. You can have one by going through the list of the best Chromebooks of the year and choosing one to suit your needs.