Technobezz is supported by its audience. We may get a commission from retail offers
Kindle Paperwhite Essentials Bundle
Kobo Nia 6-inch Glare Free Screen E-Reader
Kobo Sage 8-inch Water-Resistant E-Reader
Table of Content
An e-book reader is a mobile electronic device that is undoubtedly an avid reader's delight, especially during a trip.
It saves the reader from the hassle of carrying quite a few books with them.
Most e-book readers can accommodate a decent number of books in digital format. The biggest advantage of an e-book reader is that it is pretty compact, lightweight, and takes up very little space.
It bears a close resemblance to a tablet in terms of design. A basic reader displays content on an E Ink monochrome screen that gives you the same look and feel as reading a physical book. This also results in less strain on the eyes.
Moreover, you can change the brightness settings so you can read comfortably in bright and dark environments. Most e-book readers come with Wi-Fi connection support so that you can connect to the Internet and download your favorite books from various sources. The list below gives suggestions for some of the best cheap e-book readers you can buy if you are on a shoestring budget without burning a hole in your pocket.
See also: Top Best E-readers.
Buying Guide
Best Cheap E-Book Readers
E-Reader That Comes As a Well-Packaged Unit
Kindle Paperwhite Essentials Bundle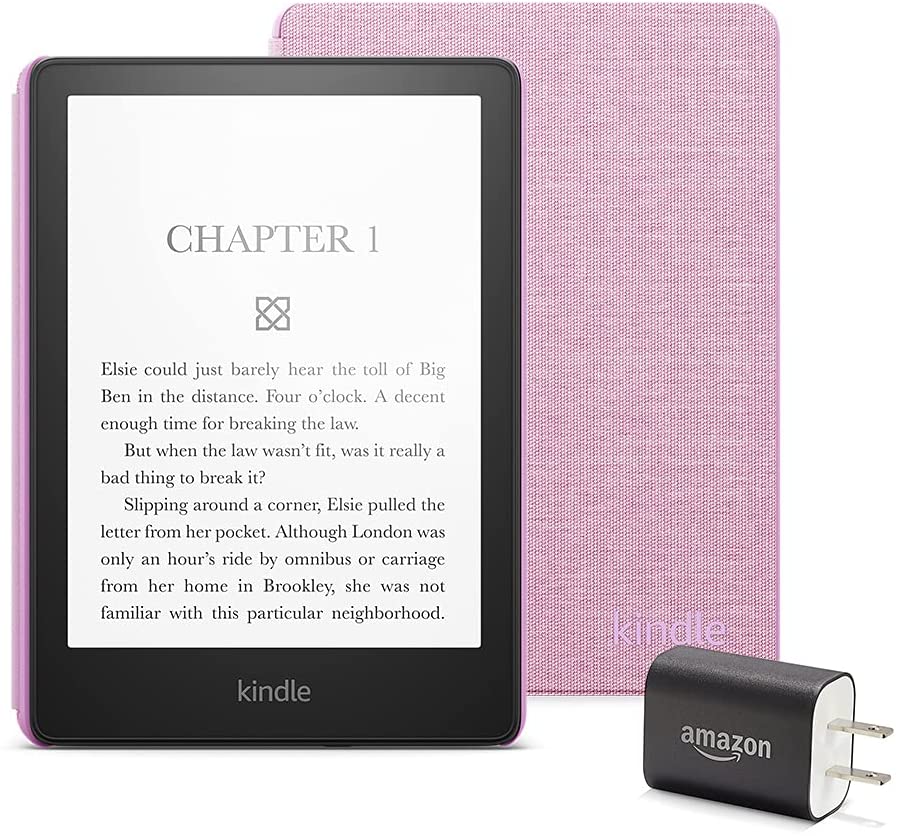 Available in three colors (fabric black, fabric lavender haze, and fabric deep sea blue), the Kindle Paperwhite boasts a sleek and stylish design that never feels outdated.
This e-reader is being offered as part of a packaged unit with an Amazon fabric cover and a power adapter. You would have bought a cover for the device anyway, so buying it as a packaged product at a discounted rate makes sense.
The device features a 6.8-inch display screen that exudes a warm light whose brightness level can be adjusted easily. The screen is very responsive, and you realize that while skipping through the pages. The bezels are pretty thin, and holding or managing the device with your hands is not difficult. The device's battery lasts nearly ten weeks on a single full charge. The device's durable and waterproof design ensures that it lasts for years.
An ideal option for those looking for an e-reader with multiple useful accessories.
It is also recommended for those who want to invest in a compact e-reader that proves to be highly durable.
Strong battery life
Waterproof design
Responsive screen
Compact and lightweight structure
Absence of page-turn buttons
Budget-Friendly E-Reader with 8GB Internal Storage Support
Kobo Nia 6-inch Glare-Free Screen E-Reader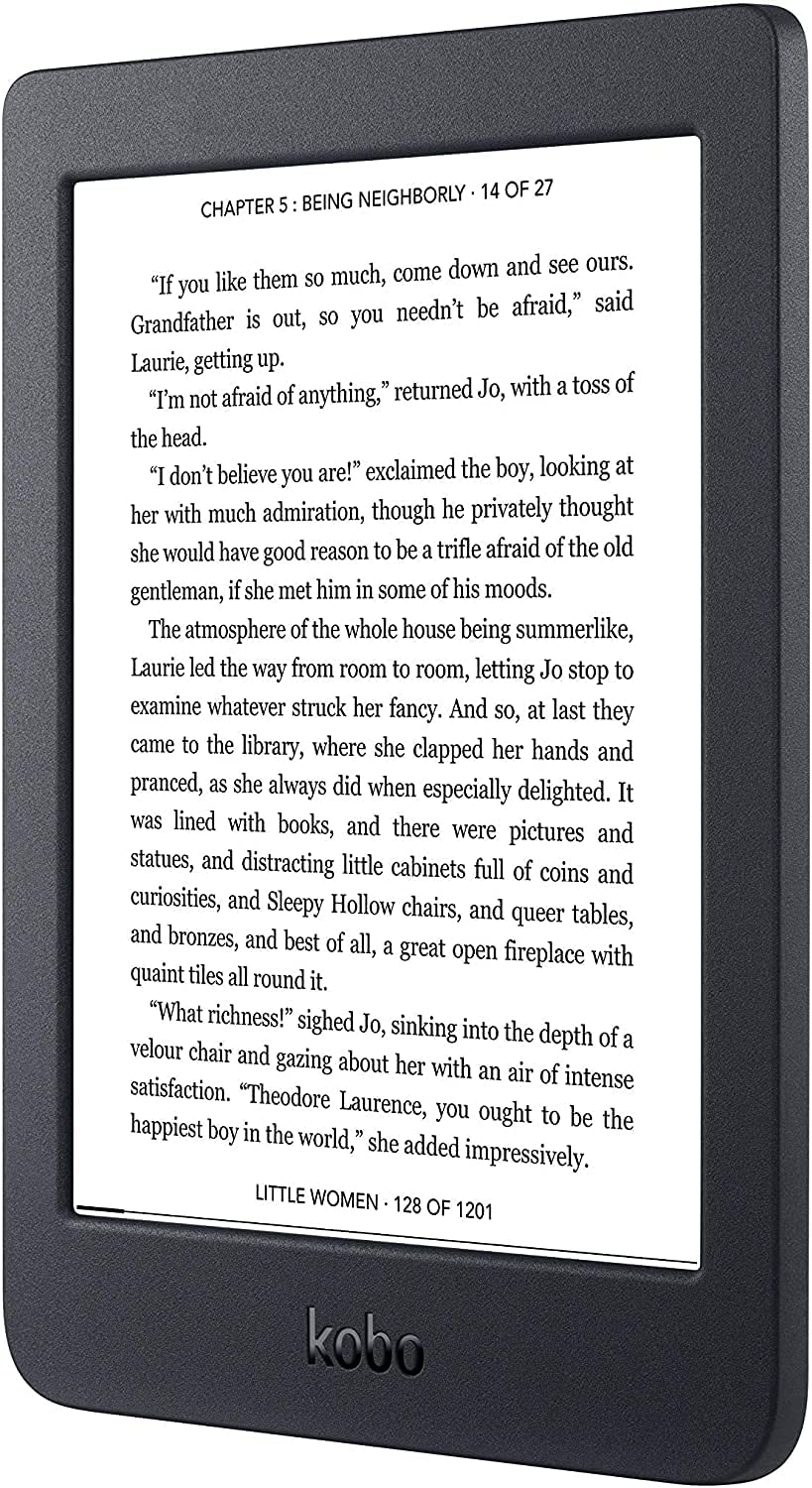 Kobo Nia features a sharp and responsive 6-inch wide display screen suitable for reading e-books. The 8GB of internal storage support is ideal for downloading and storing a bunch of e-books.
The 212ppi screen has been built with glare-free technology and should appeal to those concerned about their eyesight being affected by prolonged use. The device comes at an affordable price, contributing significantly to its widespread popularity.
The 1GHz i.MX 6 processor ensures that the device runs fast and does not suffer from lag issues. Once charged optimally, the e-reader lasts for several weeks and does not require additional power support. Since the e-reader does not offer Bluetooth connectivity, it is not the best device to listen to audiobooks. It does not provide USB-C charging support either. Since it is not waterproof, you have to be careful while carrying it to outdoor locations.
This would be the ideal device to invest in if you are looking for a compact and budget-friendly e-reader.
The device is very responsive and comes with all the features you need to look for in an e-reader.
Moderate pricing
Fast processing unit
Lightweight and portable
Glare-free display screen
Limited connectivity support
Not water-resistant
Glare-Free Screen E-Reader with 32GB Internal Storage Support
Kobo Sage 8-inch Water-Resistant E-Reader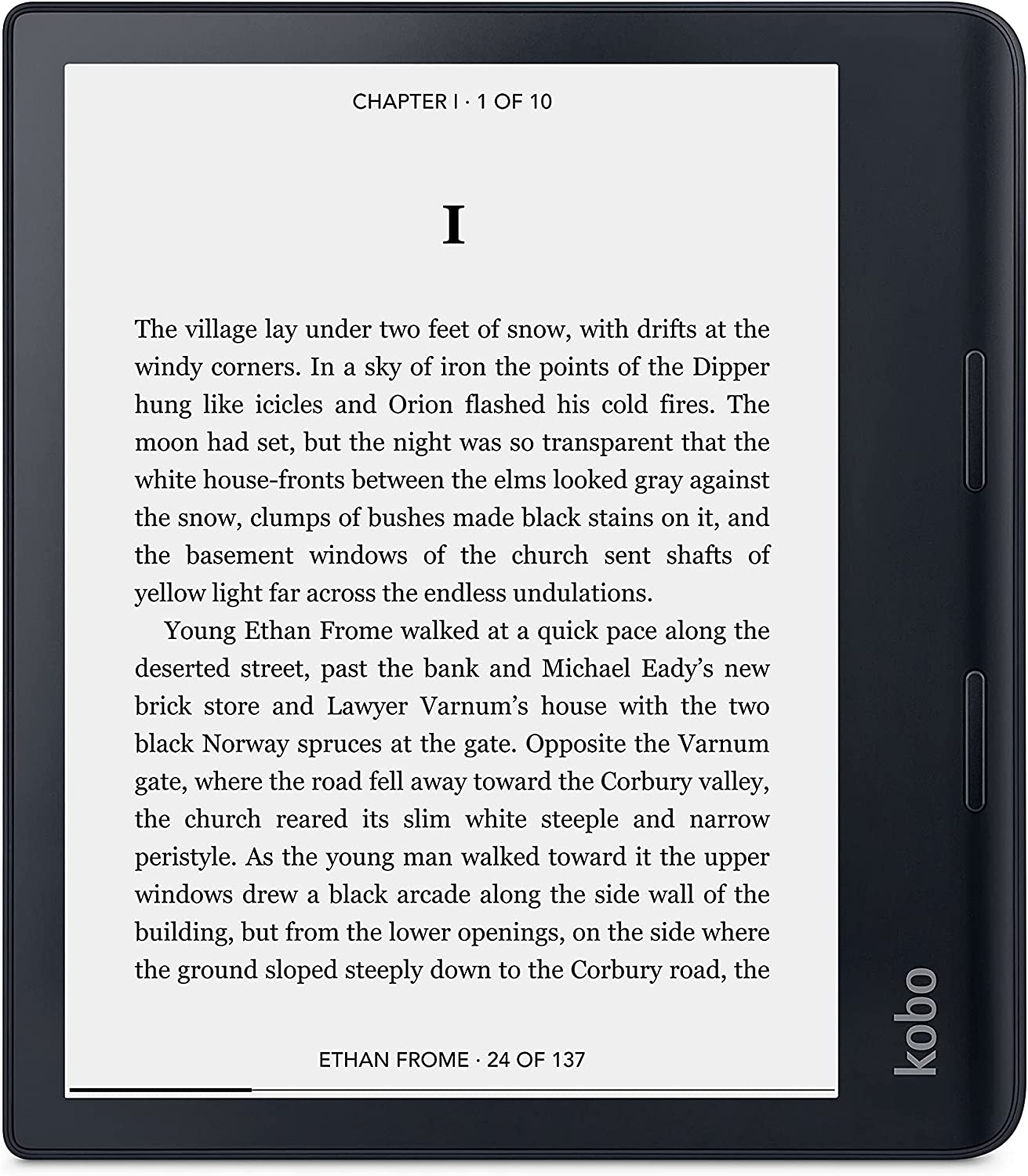 The 8-inch widescreen of this e-reader produces a resolution of 1920 x 1440 pixels and offers a good reading experience. One of its unique features is the color-changing backlight, which is very easy to regulate. The glare-free screen is ideal for indulging in several hours of reading activities. The quad-core processor ensures that the device never slows down while you are turning the pages or checking out its various features.
Since this device offers Dropbox support, you can drop in or upload several e-books or documents onto it. The 32GB internal storage support will never let you worry about running out of storage space. The e-reader also offers Stylus support which means you can take notes conveniently while reading an e-book.
The e-reader boasts a sturdy waterproof design, which is one of its big selling points. The 1,200mAh battery offers the device a runtime of 20-21 hours, which is just about average.
It proves to be a good purchase for those who want to own a sturdy e-reader that is built to last.
It is also a good option for those who wish to have an e-reader that supports the use of a Stylus pen.
32GB internal storage space
Offers Stylus support
Good quality screen
Water-resistant
Inadequate battery support
The design could be improved.
Waterproof E-Reader with 7-inch Glare-Free Touchscreen
Kobo Libra 2 Easy-To-Hold E-Reader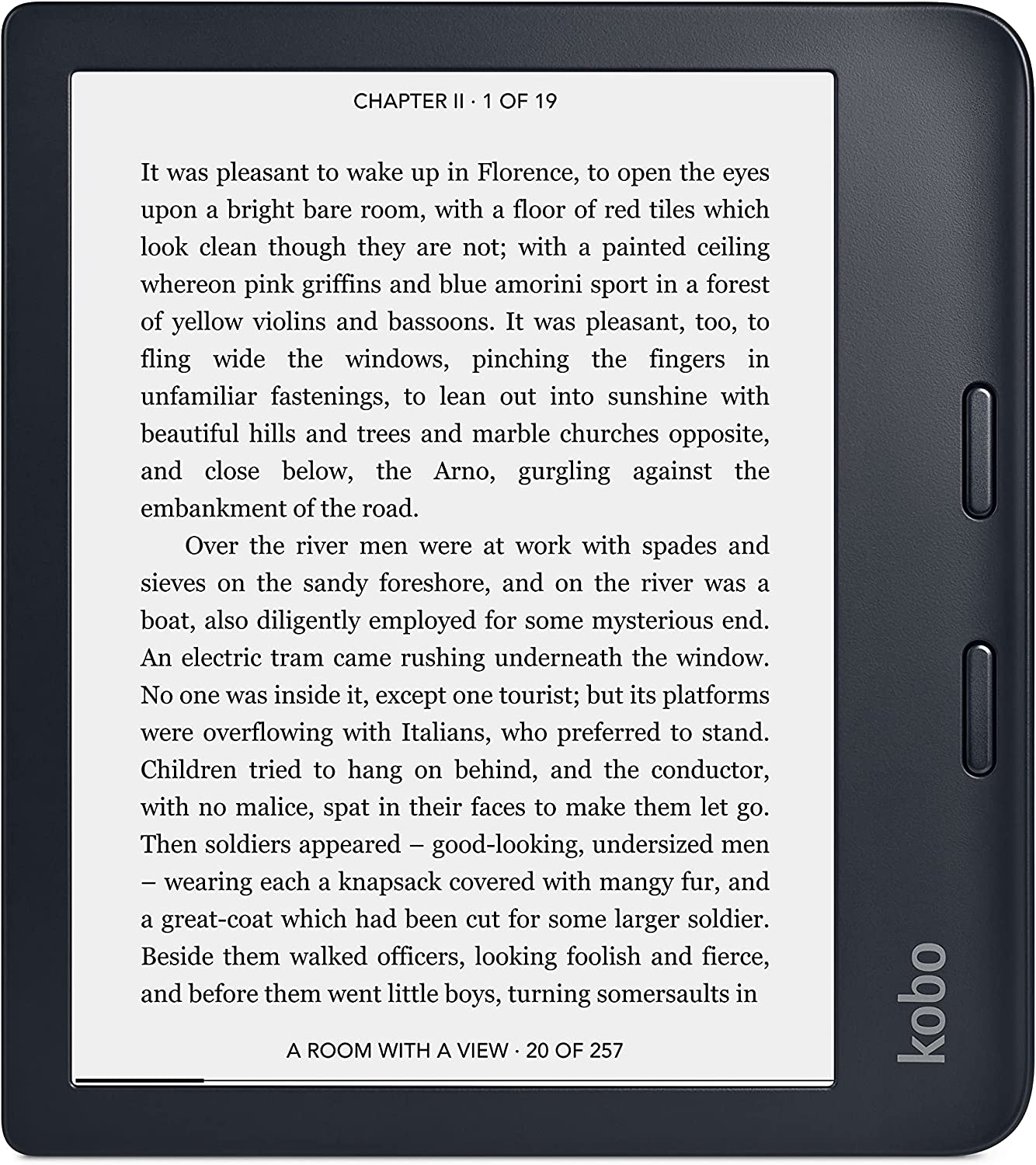 The Kobo Libra 2 features a sophisticated and thoughtful design. It is available in two color options, black and white. The buttons are strategically positioned, making the device very convenient to manage. Weighing just 0.37 grams, your hands will never feel a sense of fatigue even after holding it for several hours.
The device is equipped with several advanced features, including blue light reduction technology that ensures the user does not feel any strain on their eyes while using it. The 32GB of in-built storage space is sufficient for storing around 24,000 books and several audiobooks. If you use this e-book in an outdoor space and it starts raining suddenly, you will have nothing to worry about, courtesy of its waterproof design.
Why Should You Buy This?
An ideal device for those looking for an e-reader that can accommodate many e-books and offers convenient usage.
It is also recommended for those who prefer using compact and lightweight technological devices.
Pros
User-friendly design
Lightweight structure
Waterproof design
Sufficient storage space
Cons
Connectivity support could be stronger
Long charging process
Compact E-Reader with Adjustable Settings
Kobo Clara HD 6-inch Screen Tablet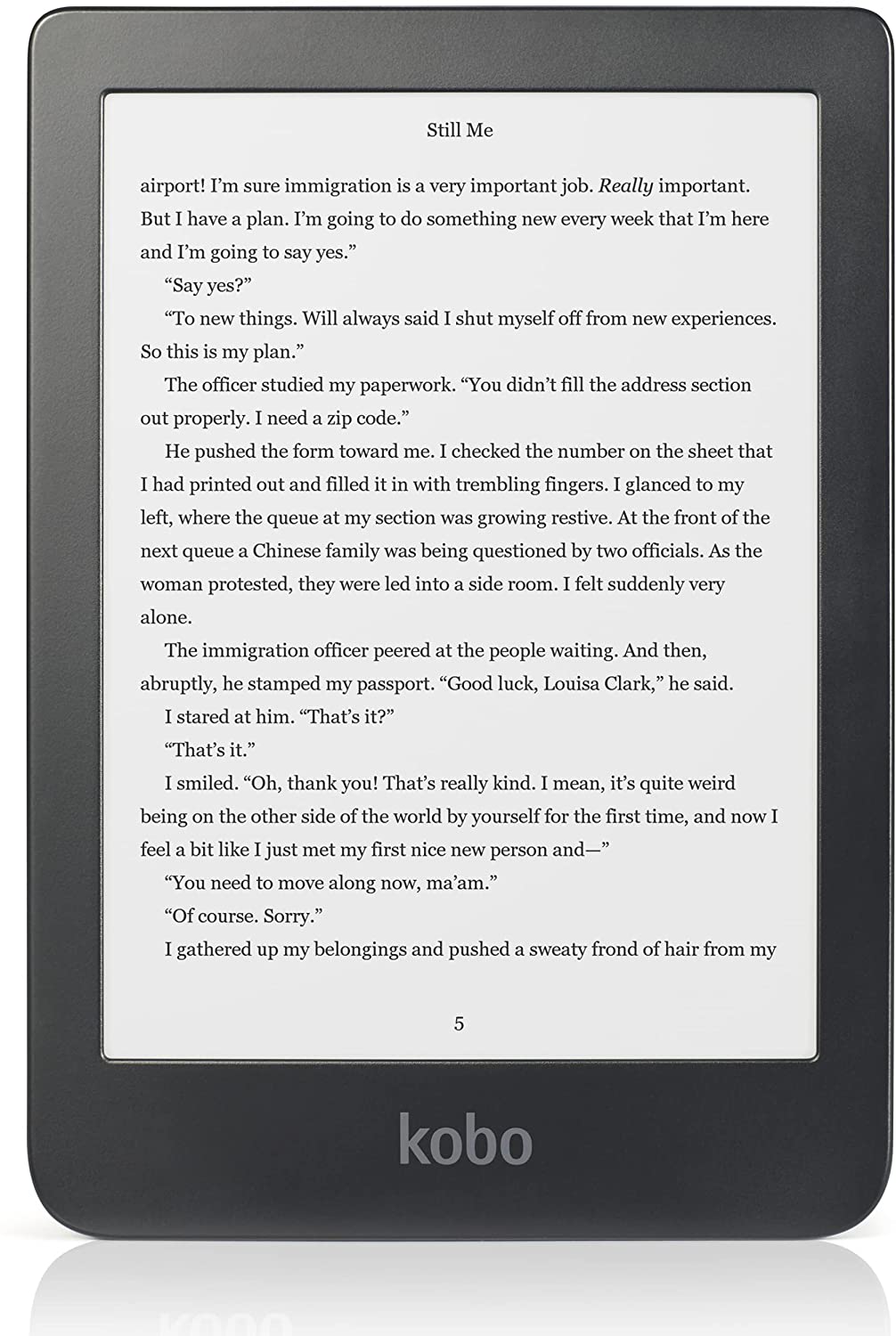 From its 6-inch wide display screen to 8GB of internal storage space, everything about this e-reader spells compact and minimal. The pricing is just right for the features it provides you with. The screen is touch-enabled and very responsive. If you charge the device optimally, it will last you for several weeks.
While this device is easy to carry because of its portable structure, you must ensure it remains far from water as it does not come with a waterproof design. The e-reader should appeal greatly to those who like devices with multiple customizable settings. While reading an e-book, you will have the option of choosing from more than 50 font sizes.
An ideal e-reader for someone who travels extensively and likes to read during long journeys.
Also recommended for those who prefer a small-sized screen over a big screen to read e-books.
Portable design
Budget-friendly
Glare-free screen
Robust battery life
Moderately Priced E-Book with Wireless Charging Support
Kindle Paperwhite Signature Edition 6.8-inch Screen E-Book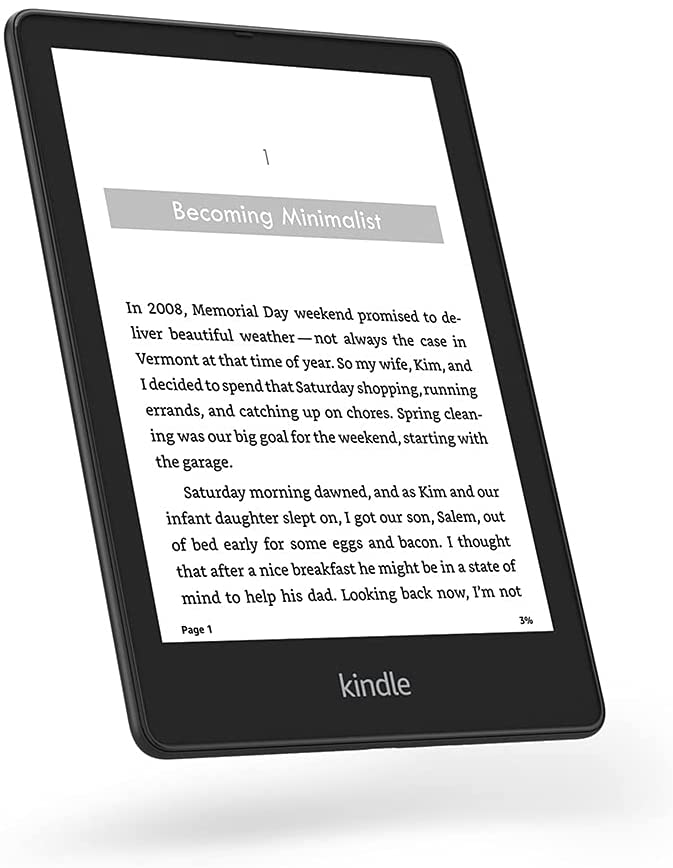 Despite being a relatively affordable device, the Kindle Paperwhite Signature Edition comes with several exciting features that make using it thoroughly enjoyable.
It offers 32GB of storage space, so you will never have to worry about not having enough space to store all your e-books. The 6.8-inch display screen comes with modern features like auto-adjusting front light to ensure a good reading experience.
The display screen also boasts anti-glare technology. Therefore, your eyes will not get strained even if you read an e-book for several hours. One of the highlights of this e-book is that it supports wireless charging. It offers multiple connectivity options, including Bluetooth. If you have an Audible subscription, you can use the app to listen to audio content via this device.
Why Should You Buy This?
Recommended for individuals who wish to invest in an affordable e-book with multiple useful features.
It is also suitable for those who prefer using devices that offer wireless charging support.
Pros
Moderate pricing
Glare-free display screen
Sufficient storage space
Strong connectivity support
Cons
It does not support the usage of mobile data
Not suitable for those looking for 64GB of storage space
You may also read: Top Best Laptops for Teachers.
Conclusion
There are a few factors that you can analyze to make your buying decision less challenging. One of the considerations is, of course, the capacity of the e-reader. This determines how many books you can store on your device.
The next point to consider is the format in which you plan to save your books. Most gadgets support multiple formats such as PDF, TXT, HTML, and more to cover different book types. However, checking if your reader is compatible with your e-book format is always advisable. Although not very important, screen size can also be a deciding factor.
Last but not least, if you plan to use the reader in a place where it is likely to come in contact with water, like a beach or a pool, it is highly recommended that you go for one of the many waterproof e-books readers available.
Was this article helpful?
This helps us improve our website.