Technobezz is supported by its audience. We may get a commission from retail offers
Amazon Fire HD 10 Stylishly-Designed Tablet
6.8-inch Kindle Paperwhite Signature Edition
Kobo Libra 2 7-inch Wide E-Reader
Table of Content
E-readers are available in different shapes and sizes, and making a proper selection can be quite a task. Different categories of e-readers are available for different preferences and in a wide price range. If you're tired of carrying books, an e-reader is a perfect choice. Moreover, gone are the days when e-readers used to cause eye strain. The models available today are light and handy and can store thousands of books in a few ounces, offering you visual appeal and the feel of actual paper to the eyes.
Check out the best e-readers available on the market today!
See also: Best cheap tablets
Best E-Readers
Buying Guide
Well-Priced E-Reader Tablet with 12-Hour Battery Life
Amazon Fire HD 10 Stylishly-Designed Tablet
Check Price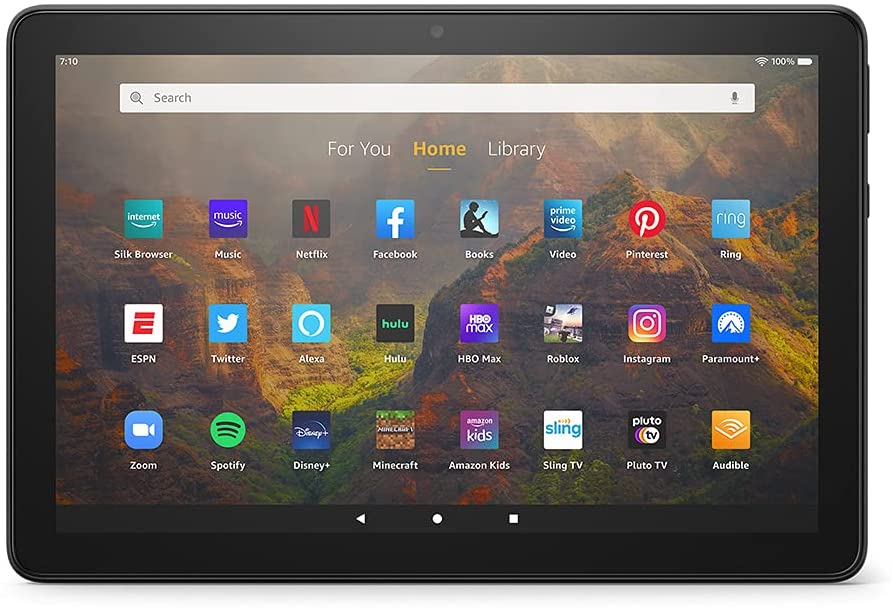 Boasting a sophisticated design, the Amazon Fire HD 10 is available in four color options: black, olive, denim, and lavender. Based on data storage requirements, you can opt for the 32GB variant or the one that offers a storage space of 64GB. While the storage space should be sufficient for downloading e-books, those who store a lot of data on their devices would have expected more. The number of features offered by the tablet is impressive for a mid-range device.
It comes with Alexa and, therefore, supports hands-free operations. The matte plastic build proves to be quite durable. Using a standard 30W charger, you can get the device fully charged in less than two hours. When charged optimally, the battery offers a solid runtime of 12 hours. The device offers many connectivity options, including a 3.5mm headphone jack. The 10-inch display screen offers 1080p resolution and is a delight to watch movies and read e-books.
If you are looking for an e-reading device with great battery support, this would be the right device to invest in.

Featuring multiple connectivity options, this tablet is also recommended for those who like to connect multiple peripherals simultaneously.
Alexa support

Very attractive design

Long-lasting battery

Multiple connectivity options
Limited internal storage support

Software needs to be updated
Compact E-Reader with Glare-Free Adjustable Screen
6.8-inch Kindle Paperwhite Signature Edition
Check Price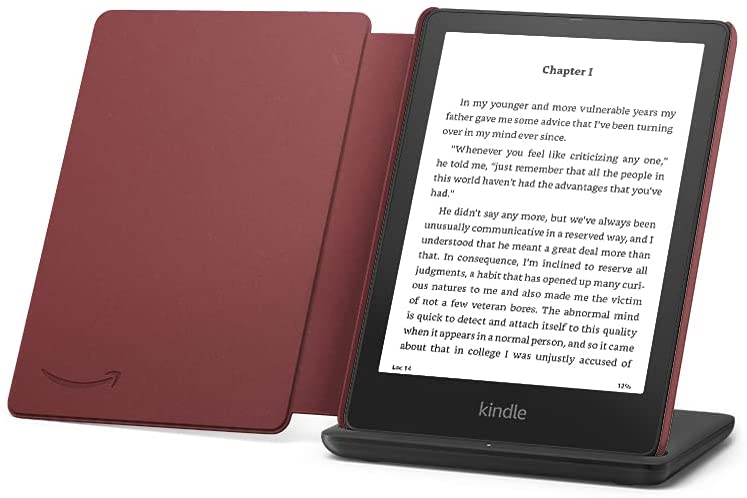 This device has a 6.8-inch screen and is very easy to use and manage. The screen has been made with glare-free technology and enables the user to adjust the lighting, brightness, and other visual aspects as per their needs and preferences. The design of this device is as sophisticated as it used to be, and currently, it is available in three different color options, black, merlot, and lavender haze. As far as connectivity options are concerned, you only get the USB-C port.
The device features an e-ink screen. This essentially means that the screen can only display text and images in black and white. So, if you are to read colorful comic books or graphic novels, this might not be the best device for you. From a safety point of view, it is a great device to invest in owing to its sturdy build quality and water-resistant features. You get 32GB of internal storage space, which is good because this device has been designed only for reading e-books.
The 6.8-inch wide-screen and compact structure of the Kindle Paperwhite Signature Edition should greatly appeal to those who prefer lightweight devices to read e-books.

It is a great investment for those who constantly travel and need a durable and wear-resistant device to read e-books.
Water-resistant

Minimalistic design

Water-resistant

Lightweight and portable structure
Limited connectivity support

Cannot display colored content
Waterproof E-Reader with Carta E-Ink Technology
Kobo Libra 2 7-inch Wide E-Reader
Check Price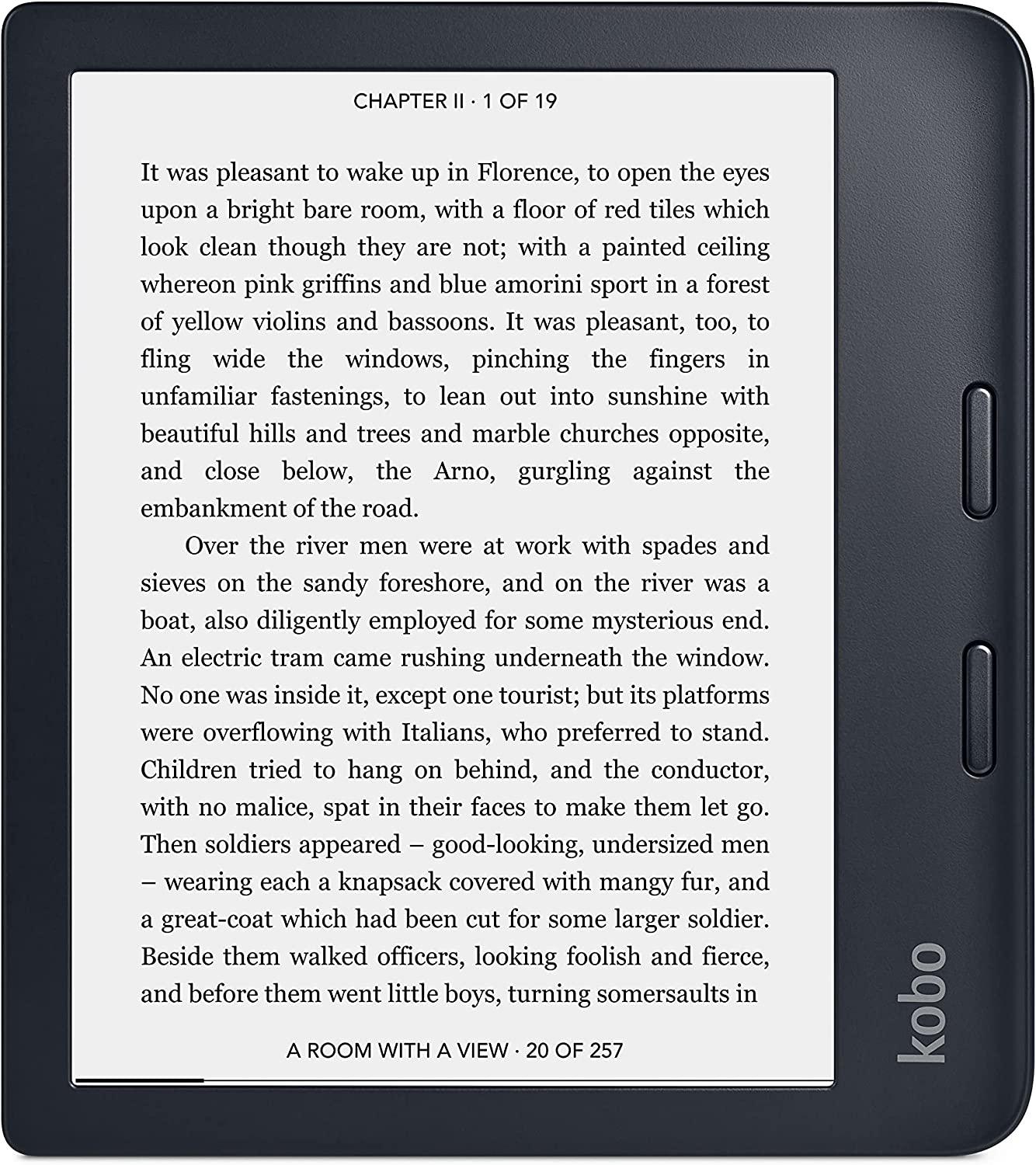 In the recent past, if there is one device that has given tough competition to Kindle, it is the Kobo Libra 2. Featuring a 7-inch display screen, this device has been designed as a solid e-reader. The screen is touch-enabled and very responsive. The design of this device is quite good, and it is available in two different color options, black and white.
One of the highlights of this device is its physical page-turn buttons. It boasts a sturdy structure and is waterproof. At 7.6 ounces, it is slightly heavy but overall, the structure of the device is such that you wouldn't face many difficulties managing it. It offers 32GB of internal support and there is no option to expand the memory further.
An ideal option for those looking for a suitable alternative to Kindle.

The waterproof design and tough build quality of this device make it an ideal e-reader for frequent travelers.
Waterproof

User-friendly interface

Responsive touch-screen

Physical page-turn buttons
Slightly heavy

Long charging time
Lightweight E-Reader with Excellent Battery Support
Kindle Paperwhite 6.8-inch Screen Tablet
Check Price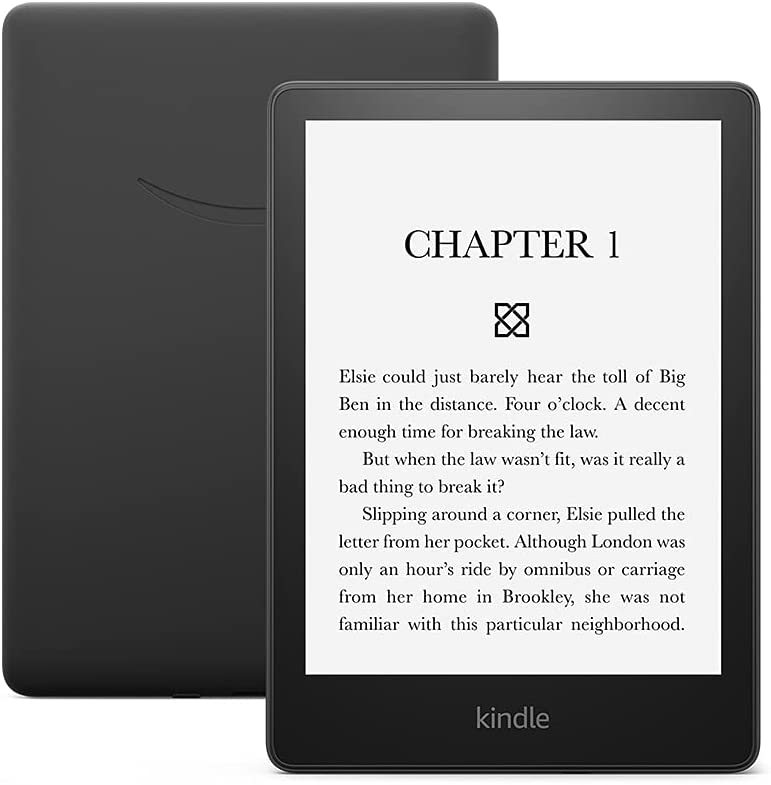 With ten weeks of battery life, this 6.8-inch Kindle device offers e-readers enough time to finish a bunch of e-books before the device needs charging support. The 6.8-inch screen is adequate for those who don't like the idea of reading e-books on a large screen. Also, if you are reading very close to a beach or a waterfall, you will not have to worry about your device's safety as it features a waterproof design.
The device's audio output is quite good, so you can use it to listen to podcasts and audio stories on Audible. The connectivity support offered by them, too, is quite good. You get enough options to adjust the lighting and brightness level of the screen. One factor that might stop some people from investing in it is that it offers just about 8GB of internal storage support. As a packaged product, you can buy it with a cork, fabric, or leather case.
Why You Should Buy This?
A good recommendation for those who wish to invest in a lightweight and compact e-reader.

If you participate in adventure-based activities frequently, you can carry this durable device with you wherever you go without any worries.
Pros
Compact structure

Waterproof design

Strong battery life

USB-C charging support
Cons
Limited internal storage support

No standalone page-turn buttons
Split-Screen E-Reader with 64GB Internal Storage Support
Boox Advanced Octa-Core Processor Tablet
Check Price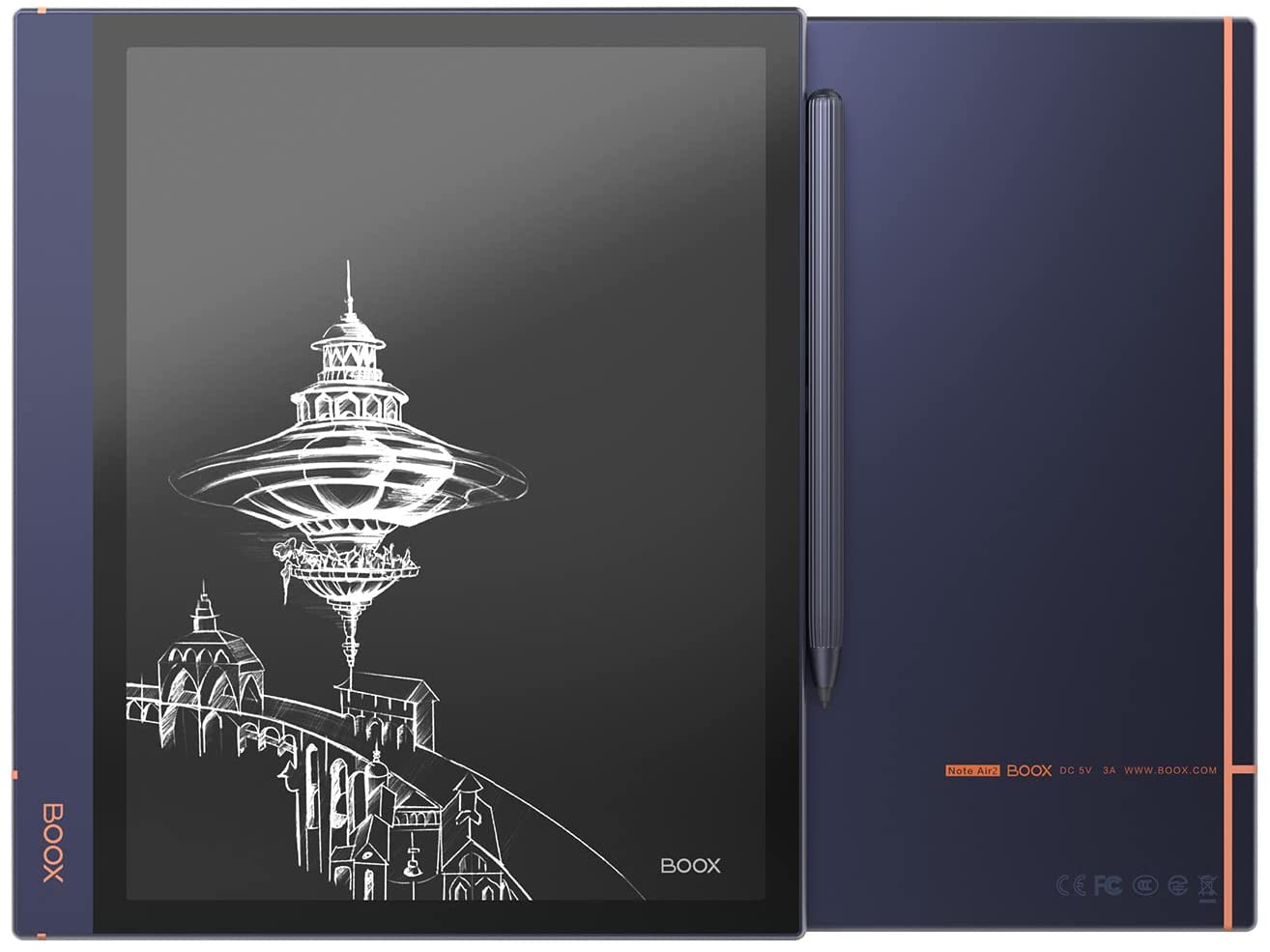 E-readers have come a long way since their inception. With the popularity they enjoy today, brands feel the pressure to keep adding innovative features to them so that their product stands out in the market. This e-reader by Boox comes with split-screen technology that lets you launch two apps and read their content simultaneously.
The 10.3-inch screen works very well for those who like to read e-books on a big screen. The device also offers 64GB of internal storage support, much higher than the kind of memory support most e-readers provide. It features a lithium-ion battery that offers good backup. The device also lets you doodle and draw images using a digital pen.
An ideal device for those looking for an e-reader with a large display screen and high internal storage space.

It is also recommended for those planning to invest in an e-reader that supports a digital pen and can be used for taking notes or drawing out images.
Split-screen technology

Digital pen support

Good battery support

64GB internal storage
Durable E-Reader with Waterproof Design
Kobo Sage 8-inch Touch-Enabled Screen E-Reader
Check Price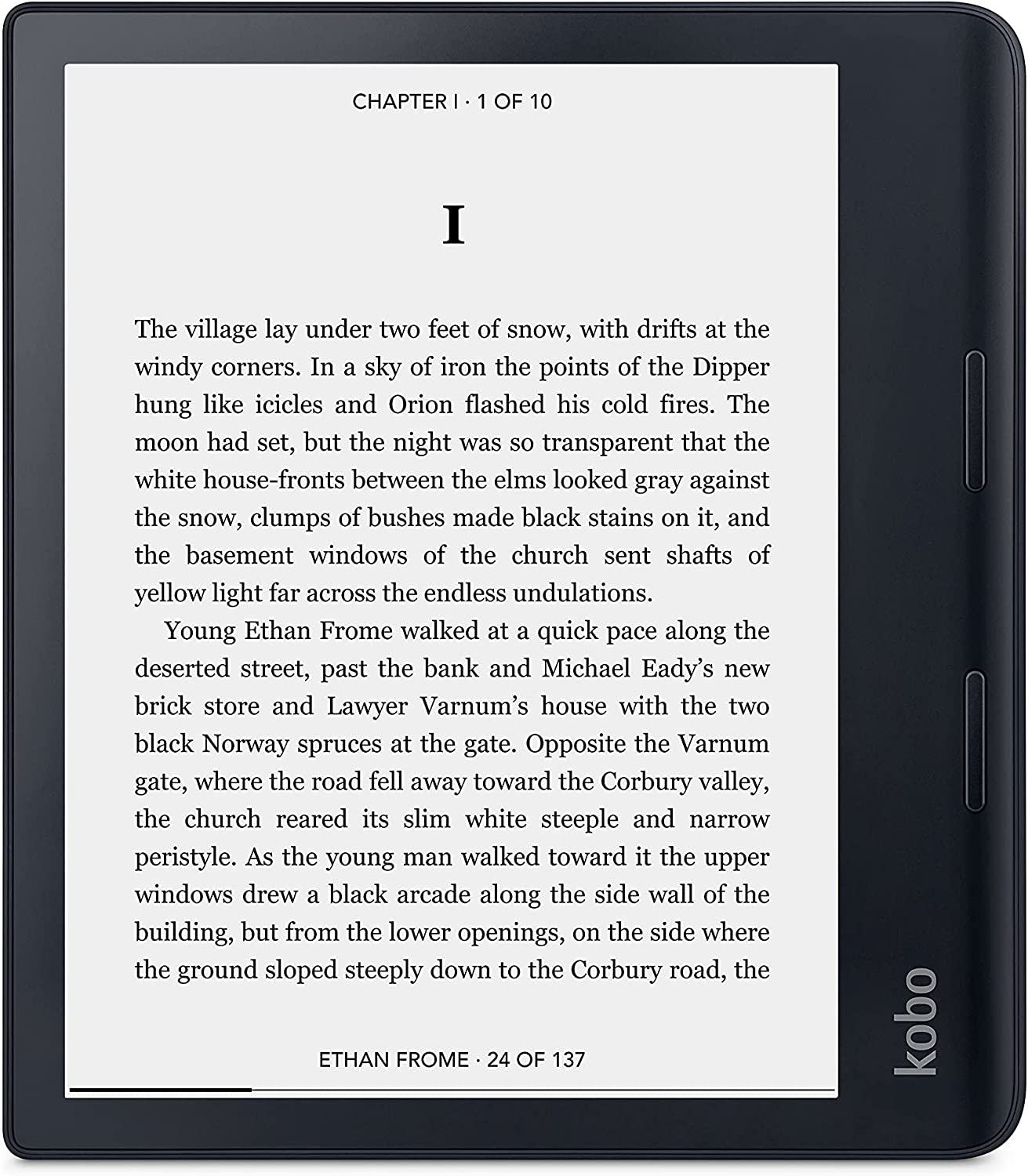 Kobo Sage is built with premium quality plastic that provides good durability. The waterproof build is one of its biggest selling points. The 8-inch wide-screen is perfect for reading e-books. With a weight of 240 grams, it is not too difficult to hold it in one's hands and navigate through different pages of an e-book. It comes equipped with a quad-core processor that makes it run at a good speed.
Besides being touch-enabled, the display screen boasts anti-glare technology and does not hurt your eyes even if you spend hours reading an e-book. If you want additional comfort or convenience while using this device, you can buy the Kobo Stylus pen, which is sold separately. This is one of the very e-readers that offers Dropbox support. You can put many documents and e-books on this device using wireless connectivity.
Why You Should Buy This?
It proves to be a good purchase for somebody who wishes to own a good-quality e-reader that would last for at least a few years.

Also recommended for those who are looking for a compact structured e-reader with advanced features.
Pros
Compact design

Dropbox support

Anti-glare screen

Fast and responsive
Cons
Average battery life

Slightly overpriced
Conclusion
While picking a suitable e-reader, check out the screen, whether you prefer a black and white or one with back-lighting, e-ink, and so on. E-readers cause less eye strain and have reduced glare, especially if you are reading outdoors. You might also like to consider the size, especially if you travel a lot and want a smaller one for toting around. If you enjoy reading magazines, you can consider the full-color LCD screens and e-readers that offer many other multimedia features, video viewing, etc. You may also check the battery life while making a selection. Ready to make the crossover?
Was this article helpful?
This helps us improve our website.