Xiaomi Unveils Redmi Note 12T Pro: A Powerful Addition to the Redmi Note Series
In an official announcement today, Xiaomi has introduced its latest smartphone, the Redmi Note 12T Pro, in China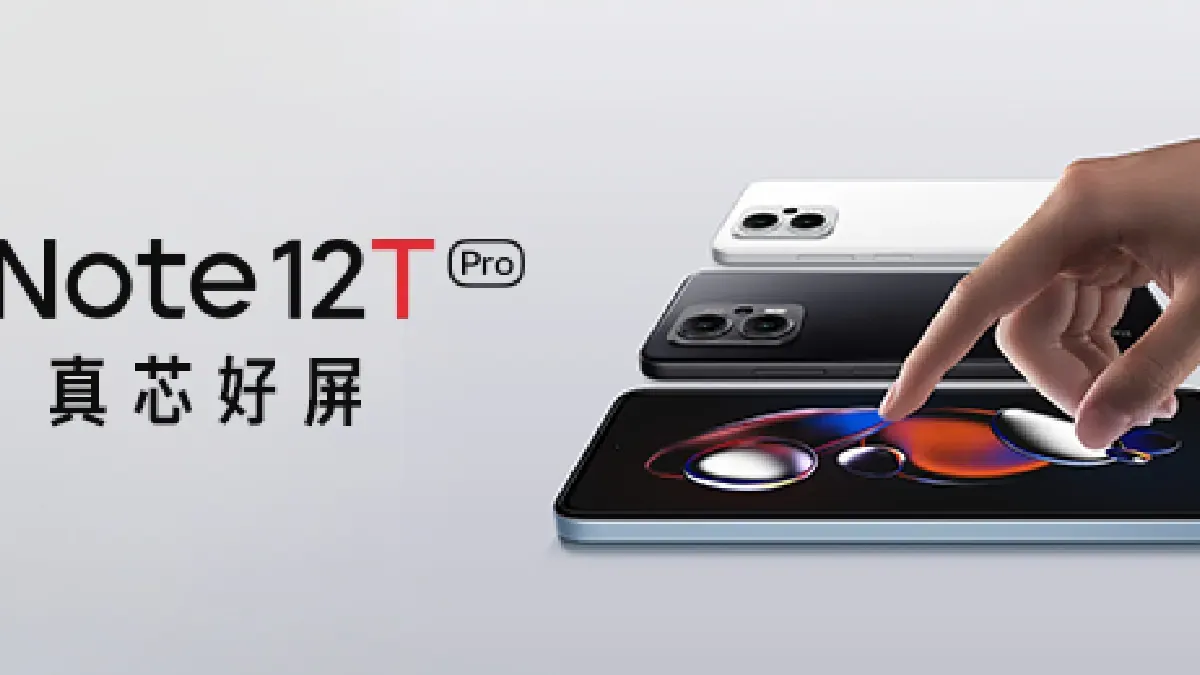 In an official announcement today, Xiaomi has introduced its latest smartphone, the Redmi Note 12T Pro, in China. Serving as a direct successor to last year's Redmi Note 11T Pro, the new device comes packed with impressive features, including the cutting-edge Dimensity 8200 Ultra chipset, which was recently debuted in the Xiaomi Civi 3.
The Redmi Note 12T Pro boasts a sizable 6.51-inch IPS LCD display with FHD+ resolution, ensuring a vivid visual experience for users. Additionally, the device offers a high refresh rate of 144Hz, guaranteeing smoother scrolling and enhanced gaming performance.
Turning to its camera capabilities, the back of the Redmi Note 12T Pro houses a versatile camera setup. It features a 64MP primary camera, accompanied by an 8MP ultrawide module and a 2MP macro cam, enabling users to capture a wide range of subjects with precision and clarity.
Under the hood, the Redmi Note 12T Pro impresses with up to 12GB of LPDDR5 RAM, ensuring seamless multitasking and efficient performance. The device also offers a substantial 512GB of UFS 3.1 storage, providing ample space for storing photos, videos, and other files. Powering the phone is a robust 5,080 mAh battery, capable of supporting prolonged usage, and it supports 67W fast charging for swift recharging.
Running on the latest Android 13 with MIUI 14 on top, the Redmi Note 12T Pro offers users a seamless and intuitive interface, with access to the latest features and updates.
Xiaomi has confirmed that the Redmi Note 12T Pro will be available in three elegant color options: black, white, and blue. However, the company has yet to disclose the pricing and availability details, which are expected to be unveiled in the forthcoming days. With its impressive specifications and promising features, the Redmi Note 12T Pro is poised to capture the attention of smartphone enthusiasts worldwide.
ABOUT THE AUTHORS
Elizabeth
Elizabeth is your trusted Apple product expert with a wealth of knowledge and experience gained from her tenure as an Apple authorized personnel. She's also a seasoned mobile phone, Samsung, and Android expert. With a keen eye for detail and a passion for all things Apple, Samsung, and Android, she is dedicated to providing you with accurate, reliable, and up-to-date insights. Count on Elizabeth to be your go-to source for expert advice on navigating the world of Apple technology, Samsung devices, and the Android ecosystem.
Bogdana
Bogdana is your technology expert, backed by a strong foundation in consumer electronics and a range of qualifications that make her a trusted source in the tech world. With a deep understanding of the latest advancements and a passion for simplifying complex concepts, Bogdana is your go-to authority for demystifying technology and keeping you informed about the ever-evolving digital landscape. Trust her to deliver reliable insights and expert guidance to help you navigate the world of consumer electronics and beyond.