Run out of the battery life on your smartphone can be frustrating especially if you can't find any place to charge it or you forgot to bring its charger with you. A power bank is one of the most essential accessories for your smartphone, no matter how big its battery capacity is. Which power bank suits you? Here, I will share tips for buying a power bank alongside the review of Xcentz portable charger 10,000 mAh.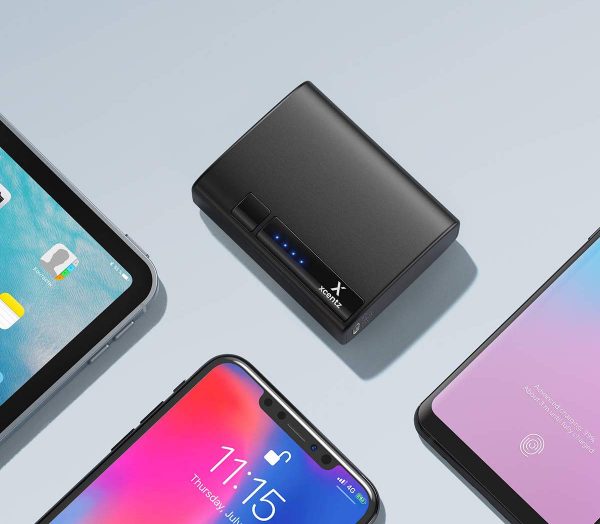 Tips For Buying A Power Bank
If you type "power bank" or "portable charger" in searching box on Amazon you will see so many options. You might notice those products come with different capacities and from various brands. Some of them have 5000 mAh battery capacity or lower, while the other ones have more than 25000 mAH. To find one that suits you, ask your self these questions.
How many devices do you have?
Some products are able to charge a tablet alongside the smartphone, especially the one that comes with 10000 mAH or more. So, how big the capacity of the external charger you are going to buy depending on how many devices you have. If you have more than one smartphones, getting a 5000 mAH power bank might not be enough for you.
What Is Your Budget
Buying a 10000 mAh portable charger is great idea even if you have only one smartphone. It is also a perfect option if you have other devices you want to charge, not only your smartphone. After you use it for fully charging your phone, it still has enough juice inside. However, the bigger the capacity of a power bank, the more expensive it will be.
Does The Size Matter?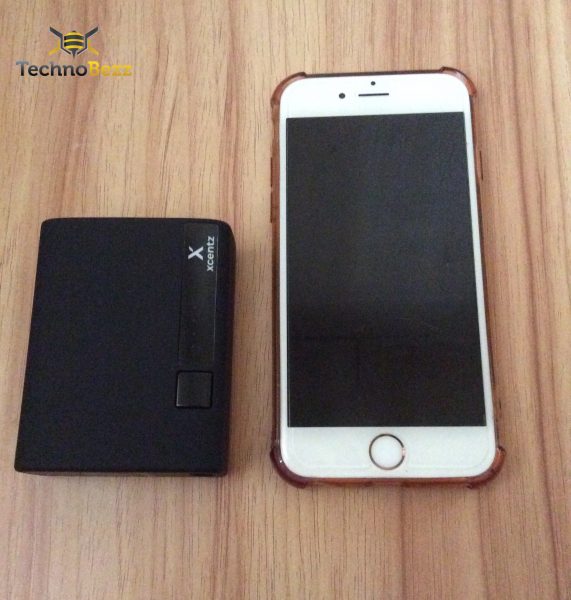 If you are kind of person with high mobility, maybe you need a pocketable power bank like Xcentz portable charger 10000 mAh. Thus, whenever you have to go, you can just grab it and put it in your pocket or purse. But, some people don't really care about the size.
The Quality
Of course, quality really matters. What's the point of having a great design and affordable price, if the power bank cannot charge your device properly. What's more, a low-quality charger can damage your device. Check the specifications of the charger you are going to buy such as input and output, amperage, compatibility, etc.
Amperage
What you should know about the Amperage (A) of a portable charger? Theoretically, it can tell you how fast the power bank charges your device. Usually, it has Amperage between 1A to 3.5 A. The higher the Amperage number is on the output of the charger, the faster it will charge your device.
Xcentz Portable Charger 10000mAH (The review)
If have more than one smartphone and also a tablet or an iPad, Xcentz portable charger 10000 mAh might be for you. I will tell you the reasons why.
The Design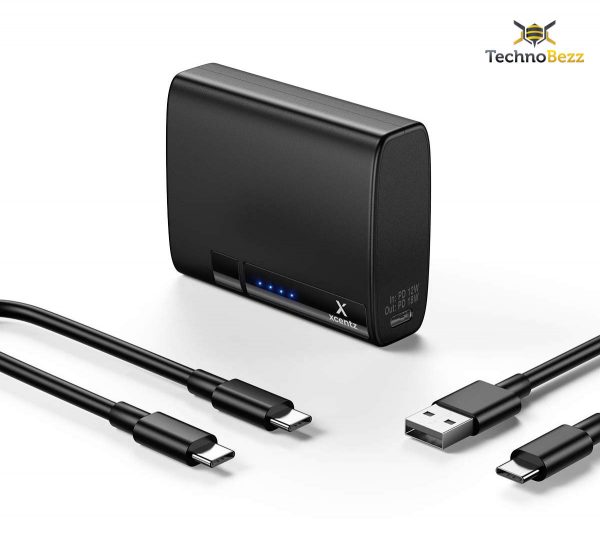 Xcentz portable charger 10000 mAH comes with a compact and lightweight design. The size is around the half size of the iPhone 7, and its weight is only 184 g. The charger is soft when you touch it and comfortable to hold. It's a little bit thick but can still fit in your pocket. I love my black Xcent power bank because it looks classy. But, if you prefer a brighter color, you can choose pink or soft blue, besides white and light black.
Universal Compatibility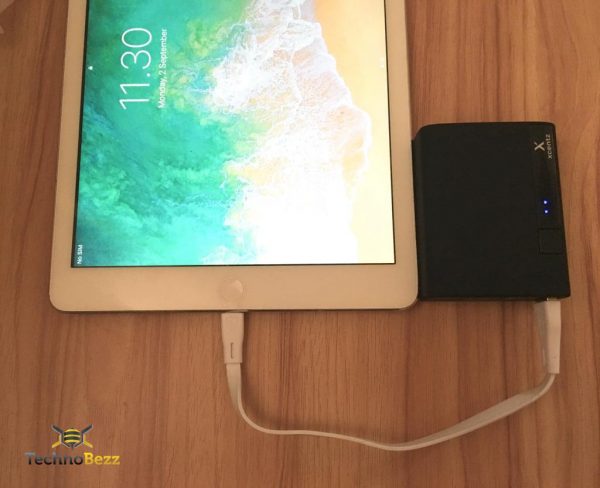 Checking the compatibility is also important, especially if you are going to use it for charging a different kind of devices. For example, I have an iPhone, Android phone, and an iPad. So, I have to make sure the power bank can work on those three devices.
Xcentz portable charger 10000 mAH is compatible with iPhones, Android phones, Samsung phones, tablet, even Nintendo Switch. It works perfectly with my iPad Air 2. However, it might not work on certain smartwatches, Bluetooth headsets, and other devices that require an input below 50 mA.
Faster Recharge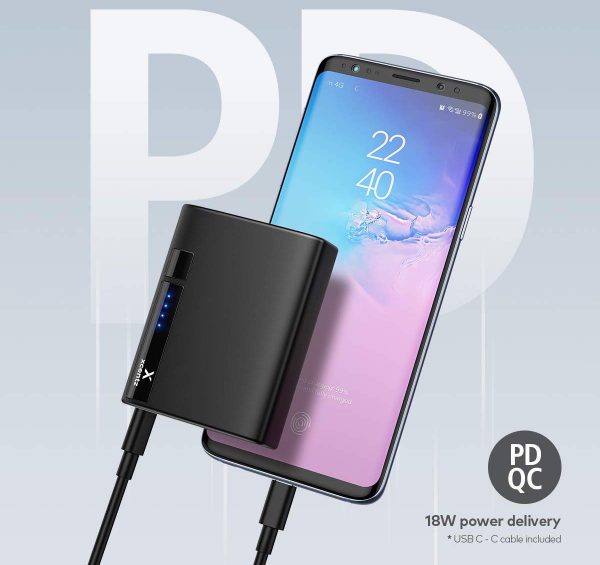 You will get two different cables inside the box: a USB-C to USB-C cable and USB-A to USB-C cable. Xcentz portable charger 10000 mAH also comes with two ports. It comes with USB-C and USB-A ports on each side with 18W PD (1.5 A – 3 A) and  QC 3.0 (1.5 A – 2.1 A) to charge smartphones faster. Make sure to use the original or high-quality cable.
Using the USB C to USB C cable to charger power delivery enabled devices, it can save you half time compared to standard charging. It can charge Galaxy S9 to 73% in 1 hour and an iPhone X to 50% in half an hour. However, for Apple phones, you will need to get a USB C to lightning cable yourself.
How Does It Work On My Devices
I tried to test it to my iPhone and iPad. It took less than 2 hours to get my iPhone 7 to charge from 3% and still has enough juice to charge my iPad Air battery and get it to 50% in 2 hours and 15 minutes.
The power bank has 4 blue dot lights as an indicator to show how many percents of the battery left. When my iPhone 7 reached 100%, the power bank showed 3 blue dots and 1 blinking dot. So, I think Xcent power bank 10000 mAh can be used to charge iPhone 7 for 3 – 4 times. After the power bank is completely out of juice, you only need 3.5 hours to recharge.
The Quality
Xcentz is a new American brand of digital devices, such as headphones, lightning cables, universal travel adaptors, multiport USB chargers, etc. Most of their products come with a simple design, premium quality, and yet are affordable.
The power bank 10000 mAh from Xcentz is powered by LG 21700 mAh battery cells. They claimed it can endure more than 500 recharges. The company said you can even take it to the airplane when you travel. They also give you an 18-month of worry-free guaranty and 30-day full refund.
Conclusion
Xcentz portable charger 10000 mAh is a power bank that suits active people like you. It's compact, lightweight and fits your pocket or purse. Its capacity is not too big or small. It just perfect for those who own two or three smartphones. You can get this product on Amazon for $23.99. 
Join our newsletter 🎉
Subscribe to our newsletter and never miss out on what's happening in the tech world. It's that simple.
Latest Tech News

Exclusive Tech Deals