Opera browser is still one of the most used browsers. Latest versions of Opera browser are based on Chromium engine and now it looks like a Google Chrome. However, the developers of the browser still made some changes to Opera's settings. It seems that Opera attends to lose its fans because it is not the feature-rich browser anymore. If you use any other popular web browser, you can see that any of it has the reset option. However, Opera doesn't have this feature in the browser settings and the only way is to do it manually. Let's see how to reset Opera browser.
You also may read: How To Enable Javascript In Opera Browser
How To Reset Opera Browser
Opera browser doesn't have reset option in the browser settings. And then you need to do this by the alternative way. It is simple, just follow the instructions bellow:
Launch Opera browser.
Click on the Menu button at the top-left corner of the screen. In the menu, find at the bottom "About Opera".
In the new window, you will see the current Opera version and other less relevant options for this guide.
The information that you need on this page are under the "Path" section.
Remember the locations of "Profile" and "Cache".

Then, you have to find these paths on your computer.
Close Opera browser, and go to  System disk, usually, it is with C character.
On the C drive, go to the Users < AppData < Local < Opera Software and delete the folder "Opera Stable.
Then you need to delete the second folder. Go to Users < AppData < Roaming < Opera Software and delete the folder Opera Stable.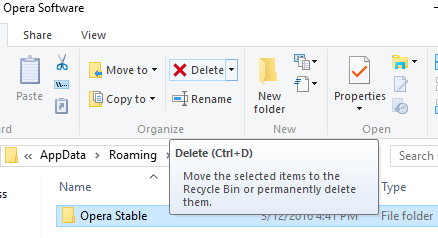 When you launch Opera next time, you will see that all its setting will be the same as on the first run of the browser.
Image Source: www.hdwyn.com
You may also read: How To Install Google Chrome Extensions In Opera Browser