Meta Announces Quest 3 VR Headset with Enhanced Design and Improved Performance
Meta, formerly known as Facebook, has officially unveiled its latest virtual reality (VR) headset, the Quest 3, in a post on Mark Zuckerberg's Instagram..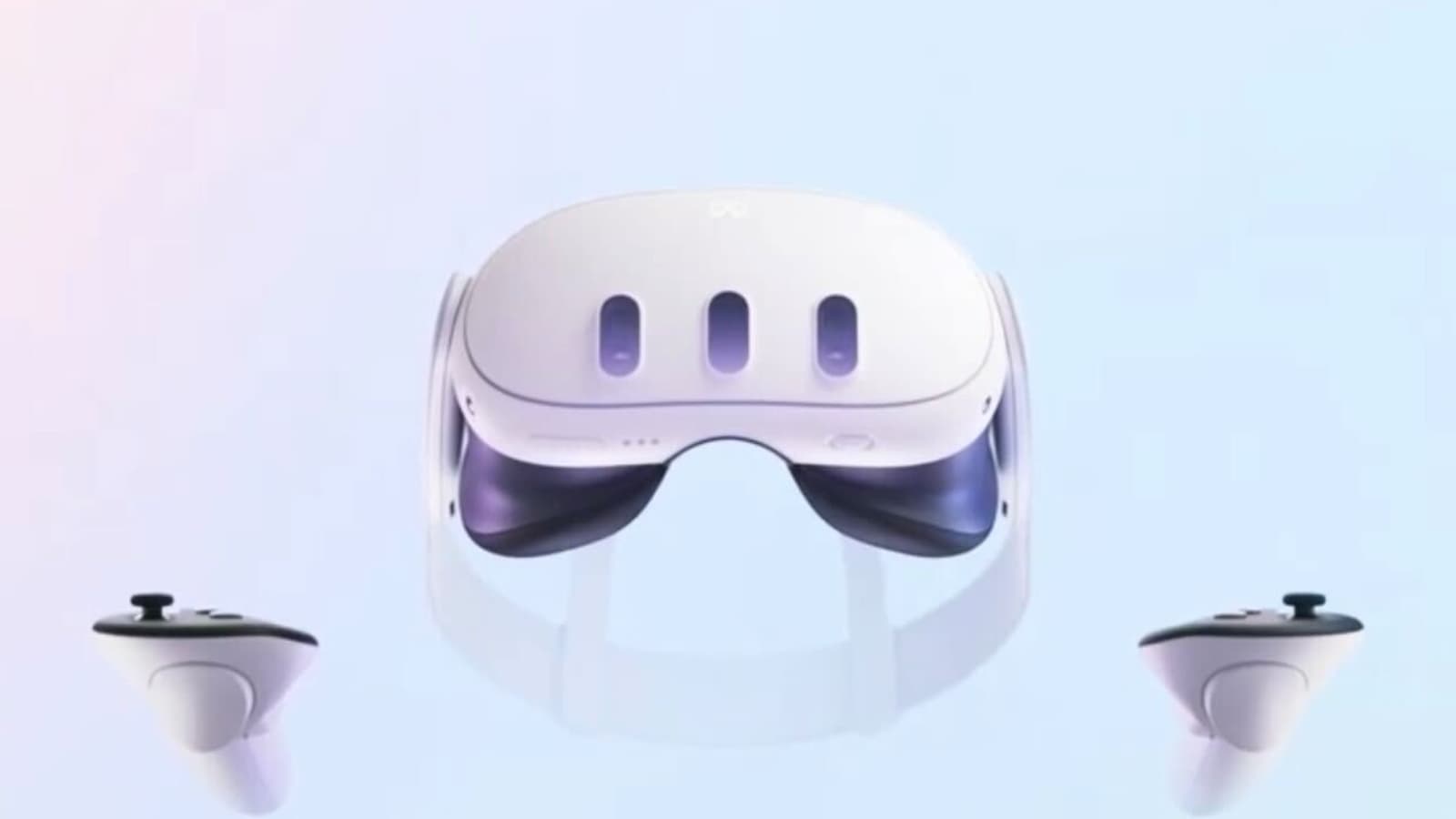 Meta, formerly known as Facebook, has officially unveiled its latest virtual reality (VR) headset, the Quest 3, in a post on Mark Zuckerberg's Instagram. The highly anticipated device is set to be released this fall and comes with several notable upgrades compared to its predecessor, the Quest 2.
The Quest 3 will be available in a 128GB version priced at $499.99. Additionally, Meta will offer an additional storage option for users who require more space, although the pricing for this option has not been disclosed at this time. The Quest 3 features a forty percent "slimmer optic profile" compared to its predecessor.
One of the significant advancements in the Quest 3 is the inclusion of a new Snapdragon chip, which delivers twice the graphics performance compared to the Quest 2. This upgrade ensures a more immersive and visually stunning VR experience for users.
Compatibility with games from the Quest 2 is a key feature of the Quest 3, allowing users to continue enjoying their existing library of games. Furthermore, Meta has announced a substantial price drop for the Quest 2, effective June 4th. The 128GB version will now be priced at $299.99, a $100 reduction, while the 256GB version will receive an $80 price cut, bringing it down to $349.99. These price adjustments reverse the previous price increase and make the version with additional storage more affordable than before.
Both the Quest 2 and Meta's more advanced Quest Pro will receive an upcoming software update that enhances the CPU and GPU performance and introduces Dynamic Resolution Scaling. These improvements aim to optimize the overall performance and visual quality of the headsets.
The announcement of the Quest 3 arrives just days before Apple's expected announcement of its long-rumored mixed reality headset. Meta's timing could be seen as an effort to maintain its competitive edge in the VR market. Additionally, Meta has scheduled a showcase for games on its VR platform, taking place later today at 1 PM ET. During this event, a AAA adventure title will be presented, with Meta promising further details to be revealed at the annual Meta Connect event scheduled for September 27th.
The details of the Quest 3's features were previously leaked by Mark Gurman of Bloomberg, who had a hands-on experience with the device. Gurman highlighted the lighter and more comfortable design, incorporating new sensors and redesigned controllers. Notably, the front of the device showcases three distinct sensor areas, including four cameras (two full-color and two standard) split evenly between the left and right sides, as well as a single depth sensor in the middle. These sensors are expected to enhance the headset's augmented reality (AR) capabilities.
The Quest 3 will also introduce the new Touch Plus controllers, equipped with TruTouch haptics, promising immersive experiences with tangible sensations. Unlike their predecessors, these controllers no longer feature the old positional tracking rings. While further details regarding the sensor setup were not provided in the announcement, Meta confirmed that hand tracking will be supported out of the box with the Quest 3.
ABOUT THE AUTHORS
Elizabeth
Elizabeth is your trusted Apple product expert with a wealth of knowledge and experience gained from her tenure as an Apple authorized personnel. She's also a seasoned mobile phone, Samsung, and Android expert. With a keen eye for detail and a passion for all things Apple, Samsung, and Android, she is dedicated to providing you with accurate, reliable, and up-to-date insights. Count on Elizabeth to be your go-to source for expert advice on navigating the world of Apple technology, Samsung devices, and the Android ecosystem.
Bogdana
Bogdana is your technology expert, backed by a strong foundation in consumer electronics and a range of qualifications that make her a trusted source in the tech world. With a deep understanding of the latest advancements and a passion for simplifying complex concepts, Bogdana is your go-to authority for demystifying technology and keeping you informed about the ever-evolving digital landscape. Trust her to deliver reliable insights and expert guidance to help you navigate the world of consumer electronics and beyond.