LG Unveils the LG StanbyME Go 27LX5: A Portable Display Built Inside a Travelling Case
LG Korea has recently announced the launch of its innovative product, the LG StanbyME Go 27LX5..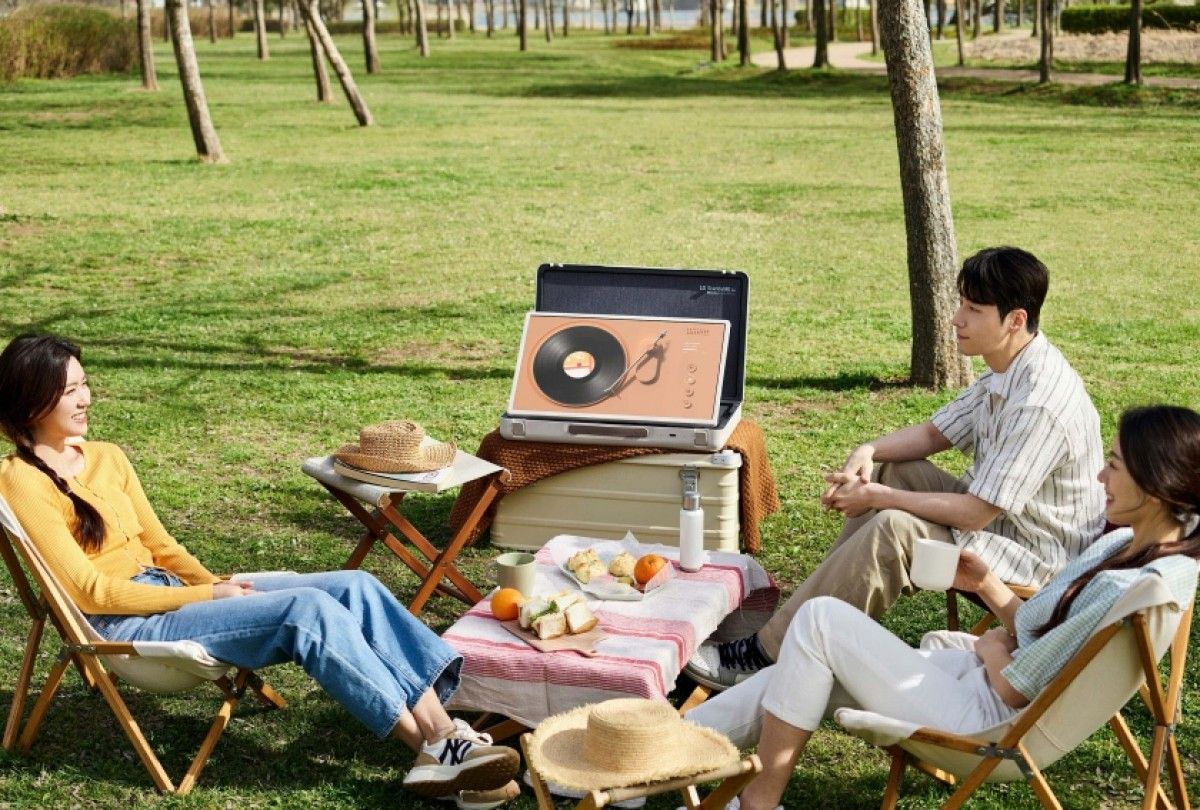 LG Korea has recently announced the launch of its innovative product, the LG StanbyME Go 27LX5. This peculiar offering combines a 27-inch 1080p touchscreen display, speakers, and a battery, all conveniently enclosed within a compact briefcase-like design. With its versatile features and durable construction, this portable display aims to redefine on-the-go entertainment and productivity.
The LG StanbyME Go 27LX5 boasts a range of adjustable functions, allowing users to customize their viewing experience. The display can be tilted up to 90 degrees, rotated clockwise to 90 degrees, and adjusted in height within an 18-centimeter range. Users have the flexibility to choose between horizontal or vertical orientation, as well as utilize it in table mode. Additionally, the display is equipped with Dolby Vision support, enhancing the visual experience with vivid and lifelike colors.
To complement the display, the LG StanbyME Go 27LX5 includes a set of 20W speakers that cleverly adapt to the angle of the display. These speakers are also equipped with Dolby Atmos support, ensuring immersive audio quality that matches the impressive visuals.
Operating on LG's renowned webOS platform, commonly found on the company's televisions, the LG StanbyME Go 27LX5 offers seamless connectivity options. Users can easily stream content from their iOS or Android devices using AirPlay and screen mirroring features. Furthermore, the display provides an HDMI port for direct cable connections. With the added convenience of voice recognition support, hands-free operation becomes effortless.
LG has prioritized durability with the LG StanbyME Go 27LX5, ensuring it can withstand various conditions. The product has successfully passed 11 durability tests conducted by the U.S. Department of Defense. It has proven its resilience against low pressure, high temperature, low temperature, dust, vibration, salt spray, shock, and drop. Additionally, the display automatically turns on or off when the case lid is opened or closed, respectively.
The LG StanbyME Go 27LX5 incorporates a built-in battery capable of providing up to three hours of usage without external power. The case itself conveniently houses the remote control and power cable, ensuring all essentials are easily accessible during travel or remote work sessions. The LG StanbyME Go 27LX5 will be available for purchase starting July 7th through both online and offline channels at a price of 1.17 million won (approximately $885).
With its unique combination of portability, versatility, and durability, the LG StanbyME Go 27LX5 aims to revolutionize the way individuals consume media and carry out tasks while on the move. LG's commitment to innovation is once again evident in this remarkable product, offering users a truly mobile and immersive display solution.
ABOUT THE AUTHORS
Elizabeth
Elizabeth is your trusted Apple product expert with a wealth of knowledge and experience gained from her tenure as an Apple authorized personnel. She's also a seasoned mobile phone, Samsung, and Android expert. With a keen eye for detail and a passion for all things Apple, Samsung, and Android, she is dedicated to providing you with accurate, reliable, and up-to-date insights. Count on Elizabeth to be your go-to source for expert advice on navigating the world of Apple technology, Samsung devices, and the Android ecosystem.
Bogdana
Bogdana is your technology expert, backed by a strong foundation in consumer electronics and a range of qualifications that make her a trusted source in the tech world. With a deep understanding of the latest advancements and a passion for simplifying complex concepts, Bogdana is your go-to authority for demystifying technology and keeping you informed about the ever-evolving digital landscape. Trust her to deliver reliable insights and expert guidance to help you navigate the world of consumer electronics and beyond.