X
Our Editorial Process
Each year more than 60 Million users visit Technobezz to solve a problem or research a product. Our goal is that everyone finds what they are looking for, and that is why we cover a variety of products, problems, and solutions on our website.

Writing an article that contains a lot of valuable information may seem simple. But when the article is written, the story doesn't end. We are constantly updating the content so that you can always get up-to-date and accurate information.
---
Technobezz's Editorial Guidelines
Sims 4 is a great and fun game that allows you to do many things, from creating Sims and choosing their traits to building houses and decorating them the way you want.
To top it all off, your Sims will do everything you do – it will eat, shower, play, fall in love, have babies, etc. By default, the Sims you create and play have complete Autonomy. While this can be cool, it can be annoying if you are new to the game. You may want your Sim to read or learn a new skill. Instead, Sim may choose to make some dinner and eat.
Is there a way to disable this option? The answer is yes. Keep reading as we will show you how to turn off Autonomy in Sims 4.
See also: How to change screen resolution in Sims 4
How to Turn Off Autonomy in Sims 4
Here's how to turn off Autonomy in the game:
You need to access the Settings menu of the game
You can do that as soon as the game loads or when you are playing the household.
In both scenarios, click on the three dots in the top-right corner of the screen.
When you do that, a menu will show up
Click on Game options
Next, click Gameplay
Autonomy is located right at the top, and you will notice that it is set to "Full."
Click on Autonomy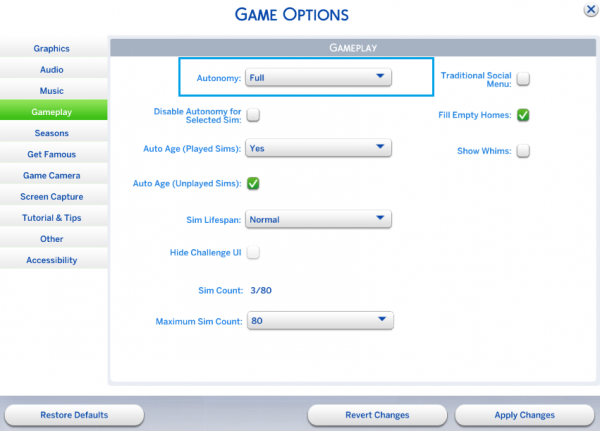 After doing this, another option will show up: "Off."
Choose this option
Finally, click Apply Changes
That's it. You have successfully disabled Autonomy in Sims 4. Also, you can check the option "Disable Autonomy for Selected Sim." It is ideal if you have a household with several members and want to disable the Autonomy only for a specific Sim.
If you change your mind later and want to enable the option, go back to Game options > Gameplay, click Autonomy, and select Full.
Was this article helpful?
This helps us improve our website.