X
Our Editorial Process
Each year more than 60 Million users visit Technobezz to solve a problem or research a product. Our goal is that everyone finds what they are looking for, and that is why we cover a variety of products, problems, and solutions on our website.

Writing an article that contains a lot of valuable information may seem simple. But when the article is written, the story doesn't end. We are constantly updating the content so that you can always get up-to-date and accurate information.
---
Technobezz's Editorial Guidelines
You can use Skype on your smartphone or tablet, and you can also use it on your PC. No matter which device is your favorite, Skype always ensures that you have the latest version of the app because that way, you won't miss new features and improvements that come with every new version.
If you just started using Skype on your computer, you may have noticed the app starts automatically each time you sign in to Windows. For some, this is great. However, others prefer to manually open Skype when they find it suitable. Here, this article will show you how to turn off "Automatically start Skype " on your PC.
See also: How to turn off notification sounds on Skype.
How to turn off "Automatically start Skype" on your PC
The "Automatically start Skype" option is turned on by default. So, those who just started using the app will notice that Skype starts on its own whenever they sign in to Windows. To change this, follow the steps below:
Open Skype on your PC
Next, click on the three dots located above on your contact list
In the menu that shows up, click Settings

Next, click General, located on the left side of the window
You will see the option "Automatically start Skype."
The switch next to this option will be in blue because it is turned on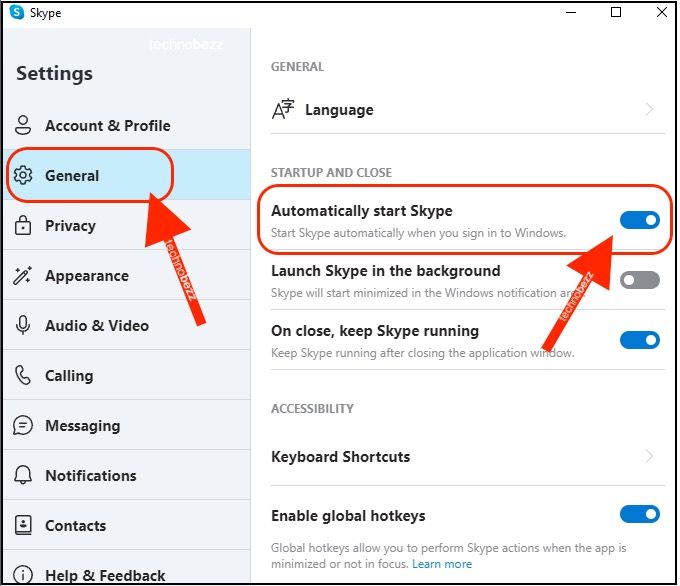 Click on the switch to disable the option
The switch will become gray, meaning that the feature is turned off.
These are the steps to disable "Automatically start Skype." Once you turn it off, Skype will no longer start on its own when you sign in to Windows. Instead, you will have to launch the app on your own. You can always enable this option by following the same steps and clicking on the switch.
Was this article helpful?
This helps us improve our website.