Poor battery life is one of the main issues with all Smartphone users and if you are an iPhone user, most probably you too have faced this issue. How big the battery of your iPhone or iPad is, you will always fall short of it in need. But there is a trick to manage the battery life by making the battery percentage indicator on that will show you how much battery is remaining while it will also show the percentage of battery charging.
This battery percentage indicator remains off in iOS by default and users are required to make it on by going to the settings. Also, it is always good to have an idea of how much battery is left with you so that you can manage the usage according to that in order to make it alive for a long time. Why to leave the battery icon alone when you can do something more to make it more informative? To show battery percentage iPhone 6 to indicate remaining battery life, you need to follow the below easy steps.
If the Bluetooth in your iPhone 6S is not working, learn here the fixes.
Read also: How to find out iPhone 6 Phone, SIM card and serial number
Steps
First head towards settings in the iPhone 6 and tap on the option General.
Next click on usage and then tap on the option 'battery percentage' below it.
Toggle the switch to make the option 'ON'. That's it and you can then exit from settings.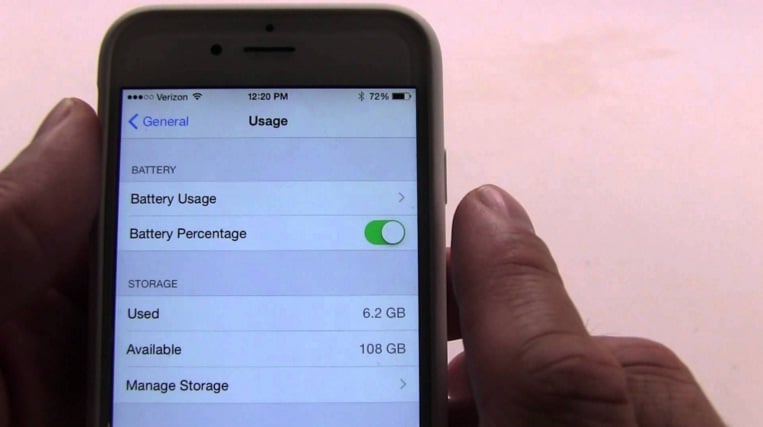 As you make the option on, instantly a percentage will be showing at the left side of the battery icon and this will update as you charge the battery and when the battery drains. Battery percentage indicator is really helpful that let you detect the remaining battery life just by looking at the battery icon and without it users can't understand the change in battery life that promptly. iPhone battery percentage jumps sometimes to a low level but if the battery percentage is set on, you can visualize any sort of change in the battery life.
I wish this Apple would make this feature on by default in all the iOS devices. Another great option to add is the time remaining indicator which will make the whole thing much easier. If apple could come out with such a feature that will indicate the remaining time of battery life depending on how you use the device, it will really be an interesting addition in the iOS devices. Battery life is the main issue of all the Smartphone users and people struggle a lot to expand the life of their device's battery by any means. Activating the battery percentage indicator is no doubt a great option but you can also have a look at all the apps to gain an insight about what all apps are draining the battery the most so that you can delete them to get rid of poor battery life issue.
The latest OS version of Apple that is iOS 8 and iOS 9 is packed with a vital feature that allows the users to see what all application is eating how much battery. You will find out this feature in the settings menu. Follow the path settings> general> usage and then tap on Battery usage located just above the battery percentage option. It will display you very clearly that what all apps have used how much battery in the last 24 hours.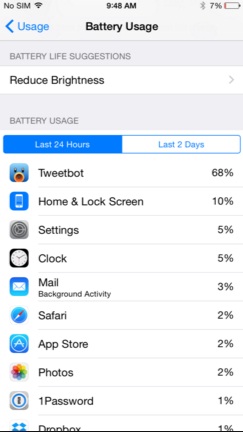 Along with having a more accurate picture of your iPhone 6's battery life this battery percentage indicator also helps you to identify if there is any hardware or software related issue in the iPhone 6. A dramatic drop in the battery percentage due to any hardware or software issue is easily visible in the battery icon while it also helps in identifying the root cause of the issue.
Even though your battery is performing really well and you did not face any issue till date in the iPhone 6, you are still advised to make this option 'ON' for better management of battery.
Join our newsletter 🎉
Subscribe to our newsletter and never miss out on what's happening in the tech world. It's that simple.
Latest Tech News

Exclusive Tech Deals