X
Our Editorial Process
Each year more than 60 Million users visit Technobezz to solve a problem or research a product. Our goal is that everyone finds what they are looking for, and that is why we cover a variety of products, problems, and solutions on our website.

Writing an article that contains a lot of valuable information may seem simple. But when the article is written, the story doesn't end. We are constantly updating the content so that you can always get up-to-date and accurate information.
---
Technobezz's Editorial Guidelines
If you are new to Windows 10, the chances are that you won't like how it looks by default. However, as soon as you set it up, you can make adjustments so that everything can match your taste. And don't worry, making changes is simple.
You can do various things to organize your PC in a way that suits you and give it your personal touch regarding its looks. The taskbar is one of the essential parts of this OS as it allows you to easily switch between apps, use the search, pin the apps you use the most to the taskbar to access them easily, and more. It also comes with the Cortana button, allowing you to start the virtual assistant with a click.
But you might want to remove that button. If that's the case, keep reading. We will show you how to hide the Cortana button in the taskbar on Windows 10.
See also: How to manage search in the taskbar on Windows 10
How to hide the Cortana button in the taskbar on Windows 10
Cortana can be of great help, but if you don't want to use it, you don't have to. If the button located in the taskbar bothers you, you can hide it with just a few clicks. The steps are more straightforward than you can even imagine. Here is what you need to do:
Right-click on the taskbar
When the set of options comes up, click on the option "Show Cortana button."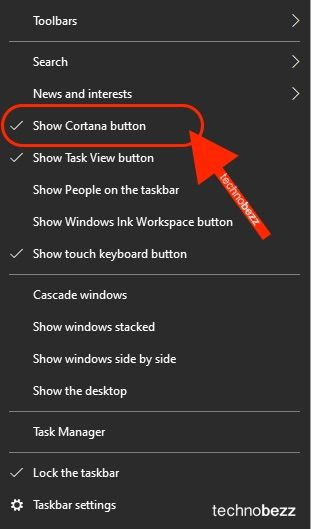 As soon as you click on it, the button will disappear from the taskbar
It is not complicated at all. So, you can remove the switch with ease. If you ever need the button and want to place it in the taskbar, click on the option again and it will show up.