X
Our Editorial Process
Each year more than 60 Million users visit Technobezz to solve a problem or research a product. Our goal is that everyone finds what they are looking for, and that is why we cover a variety of products, problems, and solutions on our website.

Writing an article that contains a lot of valuable information may seem simple. But when the article is written, the story doesn't end. We are constantly updating the content so that you can always get up-to-date and accurate information.
---
Technobezz's Editorial Guidelines
The taskbar is one of the essential parts of Windows 10. By default, it is located at the bottom of the screen. The great thing about Windows 10 is that you can make changes and adjustments so that everything matches your preferences. You can also make taskbar-related changes.
You can move it by changing its location and automatically hiding it. The taskbar comes with the search option located in the bottom-left, but you can make changes if you don't like how it looks or don't want it there. This article will show you how to manage search in the taskbar on Windows 10.
See also: How to choose which folders appear on Start in Windows 10
How to Manage Search in the Taskbar on Windows 10
Search can make using your PC a lot easier. You enter the words of what you are looking for, and you will find them in a matter of seconds. But, if you don't like the option or find it helpful, you can either remove it or change its look. To do that, follow the steps below:
Right-click on the taskbar
Click on the Search option at the top of the list of options.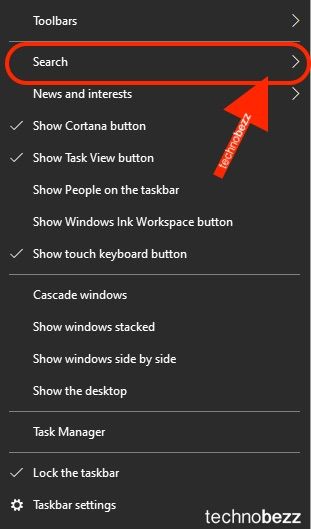 Choose one of the following options Hidden, Show search icon, or Show search box.
By choosing "Hidden," the search will completely disappear from the taskbar.
If you select "Show search icon," the search box will only be replaced by the icon. You can use it by clicking on the icon.
Or, you can leave the option set by default and the "Show search box" option.
These are the steps that allow you to manage your search easily. Now that you know how to make changes, pick the option you like the most.