It was announced that YouTube would introduce offline watching, but this is not introduced juts yet. There are some apps using which you can download YouTube videos to your iPhone so that you can watch them later even if you have no Internet connection. Follow the step by step process to do this.
See also: How to take better photos on your iPhone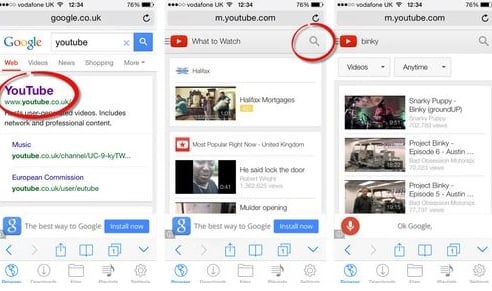 Steps

to

download

YouTube

videos

to

your

iPhone
> First, go to the Apple's app store to search for the app Video Downloader Super lite VDownload on your iPhone or else go to this link video Downloader Lite Super-vDownload to get the app.
> This app is free so press 'Get' and give the password if asked.
> Now open the app and the built-in browser will be opened. If the default browser does not open, then type m.youtube.com in the address bar. This is the address of YouTube site for mobile. However, if you are handling an iPad, then you need to go to youtube.com for desktop site.
> Now type the videos that you want to download in the search bar of YouTube.
> A list will be coming of the videos. Click on the correct one and it will be started buffering. If not, then click the play button, the video and a small disc icon will be moving up and down.
> Also, there will be a popup that will ask you to download the video, or else you can notice a disc icon for downloading.
> The video will start playing, and you will observe a small red circle with 1 written inside it over the download link at the bottom. If the circle is not there, then tap the video to bring the interface and click Done. Tap on download to see the download progress, and it will be stored in the file section once download is completed.
That's it. You are done with the process – download YouTube videos to your iPhone and enjoy!
Join our newsletter 🎉
Subscribe to our newsletter and never miss out on what's happening in the tech world. It's that simple.
Latest Tech News

Exclusive Tech Deals