Opera browser is characterized by the continuous improvements of the functionality and thanks to regular updates users get to enjoy using new features. There is also a huge number of customization options, allowing the users to configure the Opera interface according to their needs. One of the best features is Speed Dial – the start page for the Opera browser. But, Speed Dial can be uncomfortable, because of, for example, the large thumbnails of the websites that occupy the most of the space of the screen. Let's see how to customize Speed Dial in Opera browser.
You may also read: How To Display Saved Passwords In Opera
How To Customize Speed Dial In Opera Browser
After you download and install Opera web browser, you will need to adjust the appearance of Speed Dial.
Open Opera browser.
Click on Menu icon on the top-left corner of the screen and find "Settings" in the menu.
After you open "Settings" click on "Browser" section. In the opened window, scroll down to "Start page" section.
There you can see the option "Maximum number of columns". In this column, you can specify any number of columns.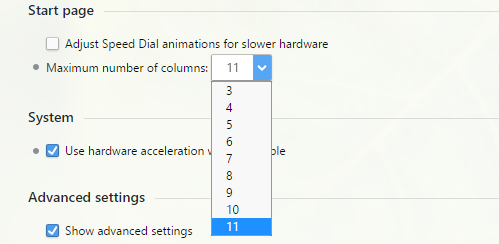 By default, seven columns have been set. If you are an advanced user, and you visit many sites frequently, then you should select the maximum available number of columns. If you use the Opera browser on a laptop, it should be mentioned that on Speed Dial you can see no more than 5 columns, even if you set 11.
To apply the changes, you must close the "Settings" and click on click on "+" on the top of the screen to open a new tab.
You will see that the Speed Dial looks much more comfortable. It is possible to place the maximum number of websites in Speed Dial. This feature is very helpful and because of the large icons, you can quickly find the desired page.
Image Source: www.wallpapersforall.com
You may also read: How To Translate A Web Page In Opera Browser