Technobezz is supported by its audience. We may get a commission from retail offers
TCL 50-inch Dolby Vision QLED TV
Samsung Ultra-Slim Class AU8000 TV
Vizio 65-Inch Wide V-Series 4K TV
Table of Content
With the rapid changes in the TV market in the last few years, new varieties of screens with OLED panels and ultra-high definition (UHD, or 4K) are taking the place of standard 1080p. If you are looking forward to buying a new TV, there are several options in the market for under $1000. And here in this article, we have listed down the top best TVs under $1000 to buy in 2023. So, have a read.
Buying Guide
The advent of the latest models of smartphones has resulted in a lot of video-viewing on the hand-held screen replacing the other larger screens. The good old television, however, has not lost its sheen as a wholesome family entertainer. Whether it is your favorite game of sport being played live or streaming content like Netflix, you would prefer to watch them on your television screen. Television technology has moved far beyond the simple 1080p LCD TVs. Televisions are also available at a wide range of prices. If you are looking for good television at $1,000 or below, you must also know what features should be considered before deciding to buy. Some tips are given here.
Size: The size of a television is defined as the size of the viewing area when measured diagonally. You have televisions starting from 32-inches and going up to 65-inches in size. They are possibly larger sizes as well but not considered here. If you have a fairly large living room, then a 55-inch television will be the ideal size. You can choose a smaller size for your bedroom.
Screen Resolution: As mentioned, 1080p used to be the standard display resolution for high-quality television for many years. Technology has advanced, and 4K TV is more or less the norm now. Most brands of television that you will pick within the $1,000 price bracket will be 4K TVs. You should also check if the television has the Ultra High Definition (UHD) feature. For your information, the display's number of pixels per inch is the key to this technology. If you are viewing the television screen in UHD, it contains 400% more pixels than when you were viewing it on a 1080p TV. In simple terms, you can see the picture with a lot more clarity.
HDR: HDR is another feature you may often hear mentioned with respect to TVs. It is still evolving in the sense that there is a limited volume of viewing content originally produced in HDR quality. There are hardly any live television channels broadcasting in HDR. Streaming videos from platforms like Netflix and Amazon Prime are generally in HDR. Most brands offering 4K televisions nowadays include HDR capability.
Picture Quality: Picture quality refers to better contrast while delivering the image on the screen. LED (light-emitting diode) technology is considered the best bet for picture quality. This technology has progressed to OLED and QLED technologies, but these may not figure in the sub-$1,000 range of televisions.
Smart TVs: Smart TVs are the ones that function on voice-assisted commands with devices running on technologies like Amazon Alexa and Google Assistant. Check if the TV you have decided to buy has this feature.
Best TVs Under $1000
Mentioned below are a few options for TVs to buy under $1000:
Mid-Range Television Set That Offers High Color Accuracy
TCL 50-inch Dolby Vision QLED TV
Check Price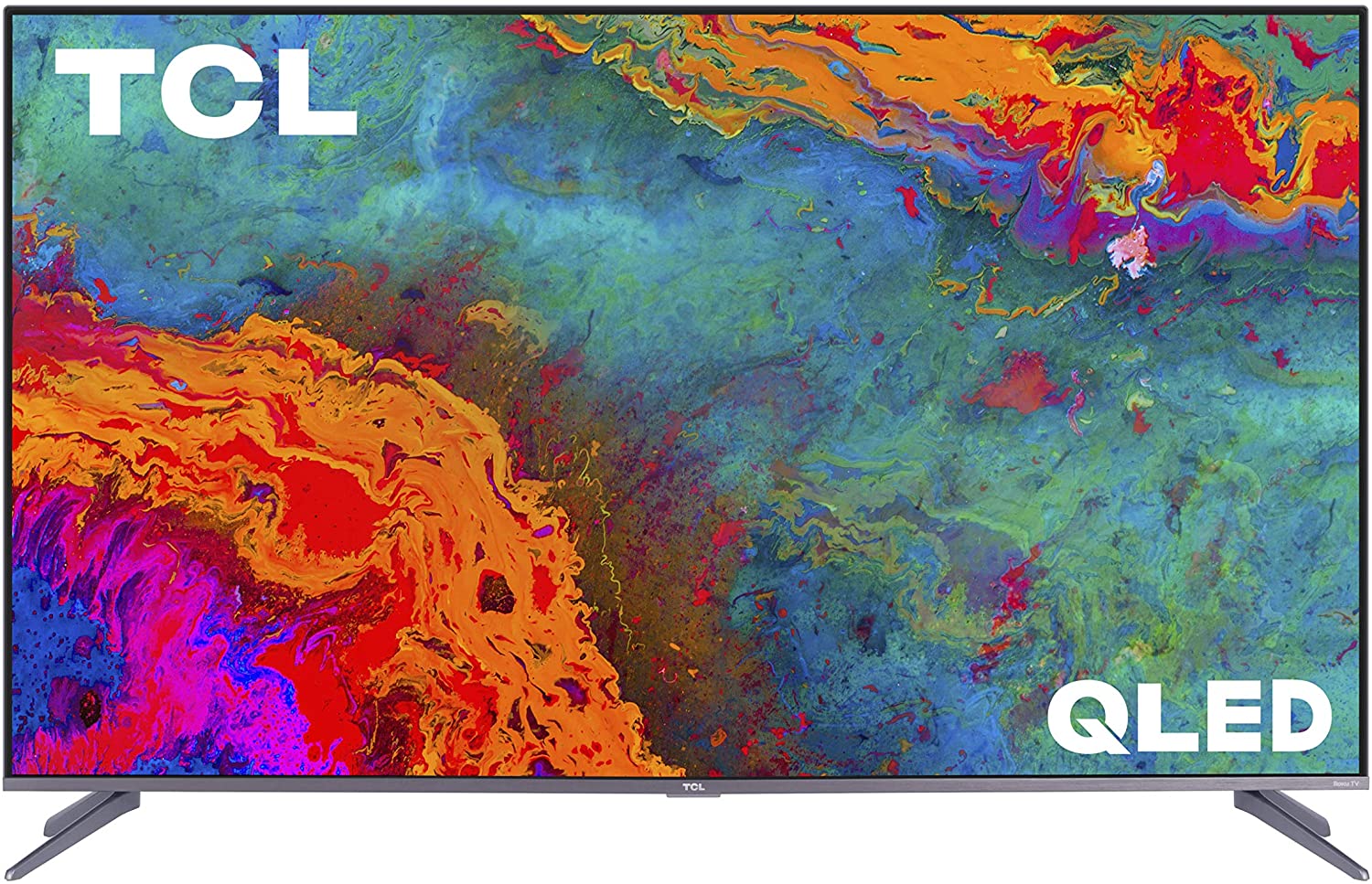 This television set by TCL has been designed for people who try to keep themselves updated with the ever-changing technological landscape. Despite being a mid-range TV, it offers a wide variety of modern features. This TV has several useful features like voice control and adequate reflection handling along with Dolby Vision technology. It supports 4K Ultra HD vision and offers a resolution of 3840x2160 pixels.
It comes equipped with a Roku Smart TV platform that allows users access to countless streaming channels. It is also compatible with third-party voice assistants like Google Assistant and Amazon Alexa. It features as many as four HDMI inputs that enable you to connect the TV to multiple peripherals or devices. The brand offers a quick start guide and manual as part of the packaging unit, which will help you get a very good idea about the device's functionality in a little time.
A suitable option for those planning to buy a TV that costs less than $1000.

It is also recommended for individuals who wish to invest in a 50-inch wide TV with several advanced features.
Easy to use

Modern features

4K Ultra HD video output

Good connectivity support
Narrow viewing angles

Lacks VRR support
LED Smart TV with 3 HDMI Ports
Samsung Ultra-Slim Class AU8000 TV
Check Price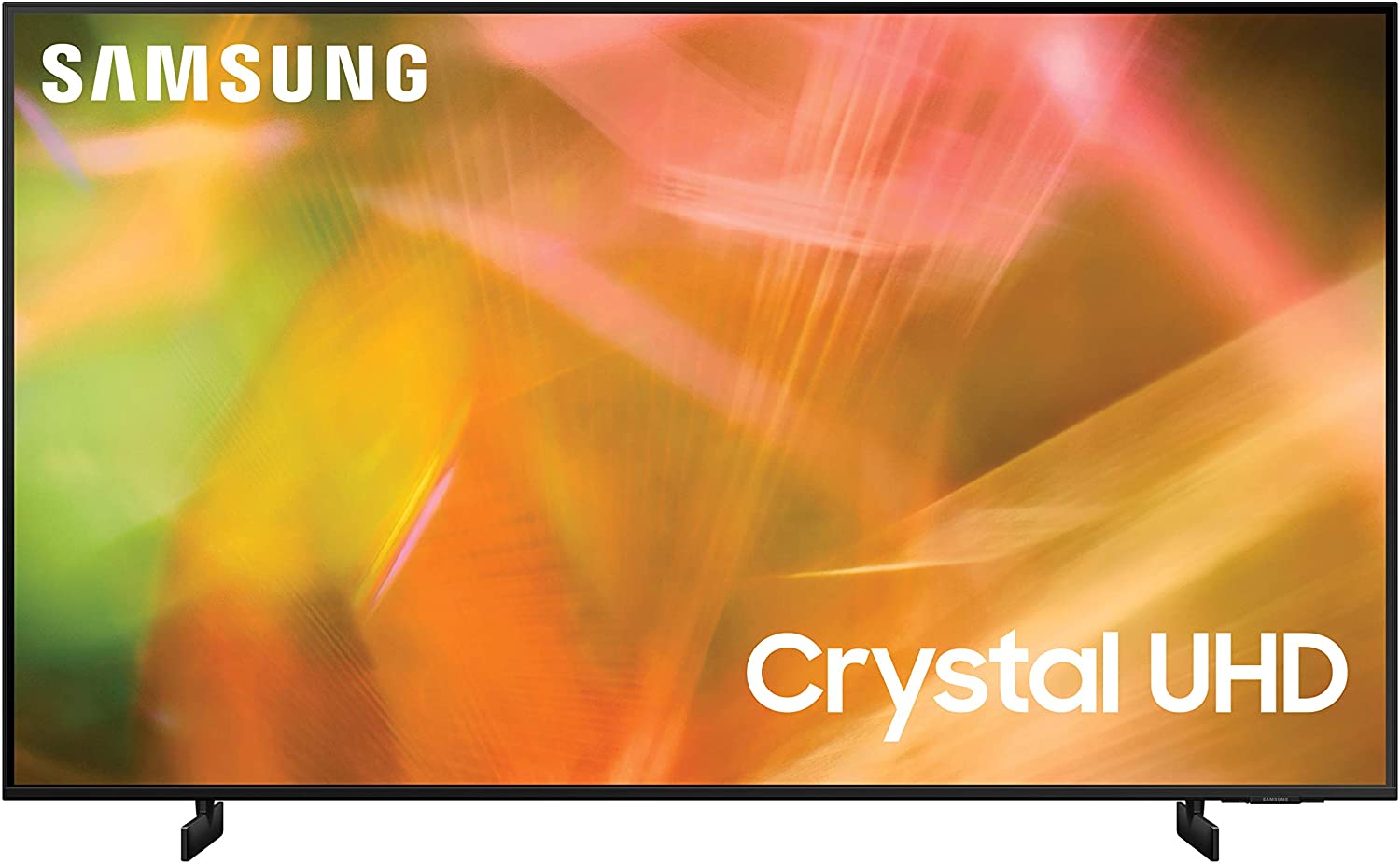 When a smart TV is priced at less than $1000, you should make peace with the fact that there will be some modern features that it will not have. While this 43-inch wide TV by Samsung has HDMI 2.1 and variable refresh rate or VRR support, it offers a high contrast ratio and adequate brightness levels. It also does an excellent job at handling reflection. Low input lag ensures you have a memorable and highly enjoyable experience while playing high-end games.
The black uniformity offered by the TV is very good. The screen offers a 4K resolution of 3840x2160 pixels and a refresh rate of 60Hz. It supports various third-party applications, including Amazon Alexa, Samsung Health, Google Assistant, and Bixby. The TV scores brownie points for providing one with a large number of connectivity ports. Apart from the RF connection, there are three HDMI ports and two USB 2.0 ports.
Highly recommended for those who wish to invest in a budget-friendly smart TV manufactured by Samsung.

It is also suitable for those who want a TV that produces 4K videos.
User-friendly interface

The screen offers 4K resolution

Strong connectivity support

Good gaming performance
No VRR support

Local dimming feature not provided
High-Definition TV with IQ Active Processor
Vizio 65-Inch Wide V-Series 4K TV
Check Price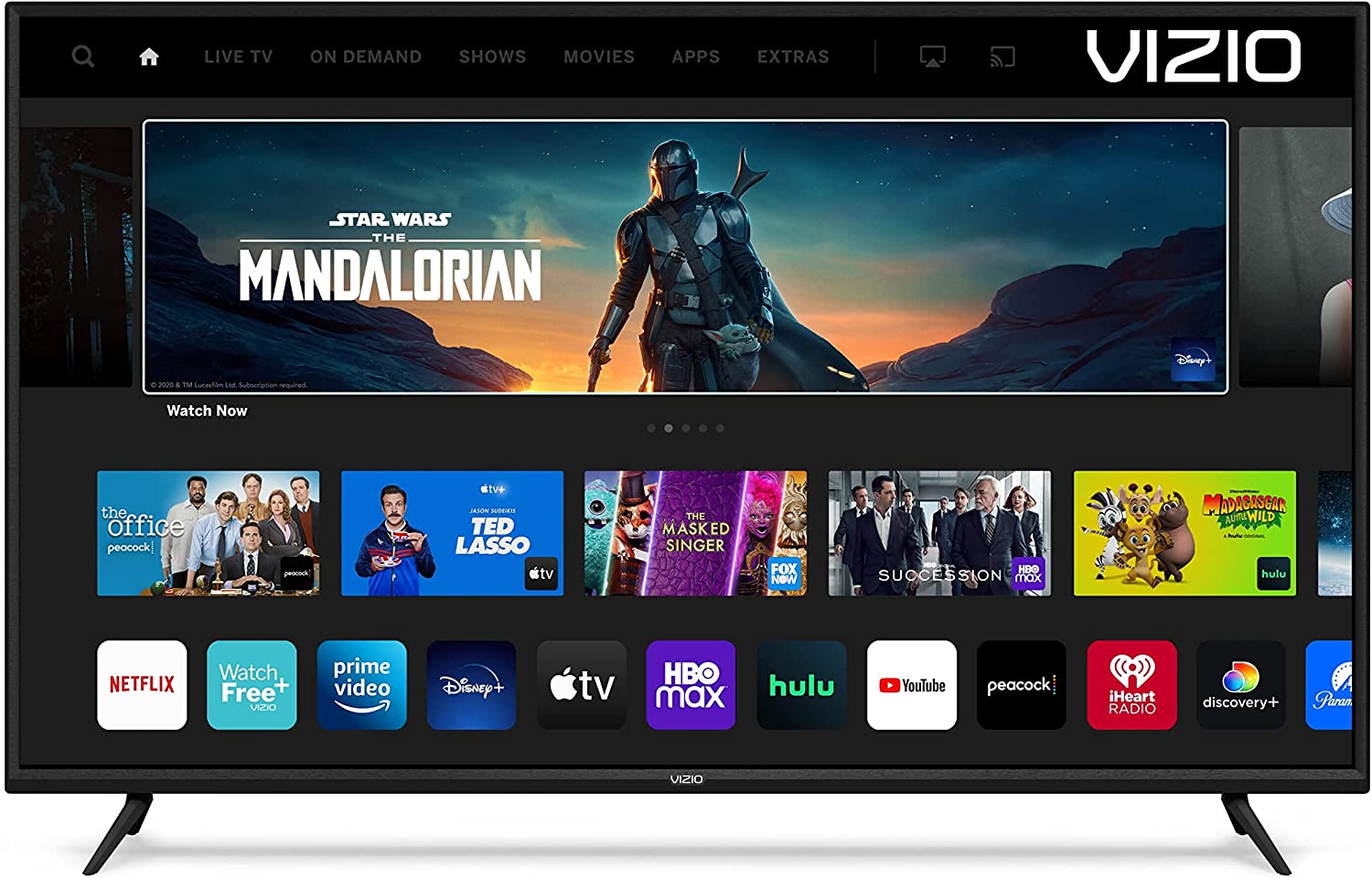 The Vizio TV performs its basic function of offering an immersive audio-visual experience extremely well. The full-array backlight feature ensures that the LEDs are positioned evenly, and the viewer experiences high-end light uniformity. One of the highlights of this television is its IQ Active processor. The 4K upscaling engine ensures that the TV delivers well on its promise of producing high-quality images.
The TV comes with premium quality that boasts advanced functionality but is very easy to use. The remote also enables you to command the TV using your voice. The most popular streaming channels come as built-in apps on the TV. Two downward-facing speakers produce excellent audio output. The TV can be connected to the internet through a wired or dual-band wireless connection.
A good option for those who have set aside a budget of $1000 to buy a reliable 4K television set.

It is also recommended for individuals who wish to use advanced features without facing any inconvenience.
High-utility remote

Priced under $1000

Simple installation process

Multiple visual adjustment options
Limited brightness levels

Performance can be improved
Budget-Friendly TV That Offers Good Picture Clarity
Insignia 42-inch F20 Series Fire TV
Check Price
As a brand, Insignia is known for manufacturing affordable TV sets, and this one is no different. Regardless of how critical you are about the picture quality offered by a TV, you should be happy with the image reproduction capabilities of this Insignia TV. The 42-inch wide TV offers a resolution of 1366x768 pixels and is suitable for watching content and playing games. The remote control has several useful options, including Alexa voice support.
The TV offers several connectivity options, including a USB port, 3 HDMI ports, LAN/Ethernet input, RF input, 3.5mm headphone jack, digital optical audio out, and AV input. Connecting a soundbar or any other peripheral device to the TV is a very simple task. The bezels around the screen are not overly thin. Given the structure of the TV, it would be a good idea to mount it on a wall. Apart from offering satisfactory picture quality, the TV offers high contrast ratios.
Why You Should Buy This?
Recommended for those looking for an affordable 42-inch television that offers high-quality audio-visual output.

It proves to be a good investment for those planning to upgrade to a new TV without spending a lot of money.
Pros
Moderate pricing

Compatible with Alexa

Good streaming features

Features DTS TruSurround
Cons
No HDR support

Color production needs improvement
75-Inch Wide TV with Auto Low Latency Game Mode
Hisense 75A6G 4K Android Smart TV
Check Price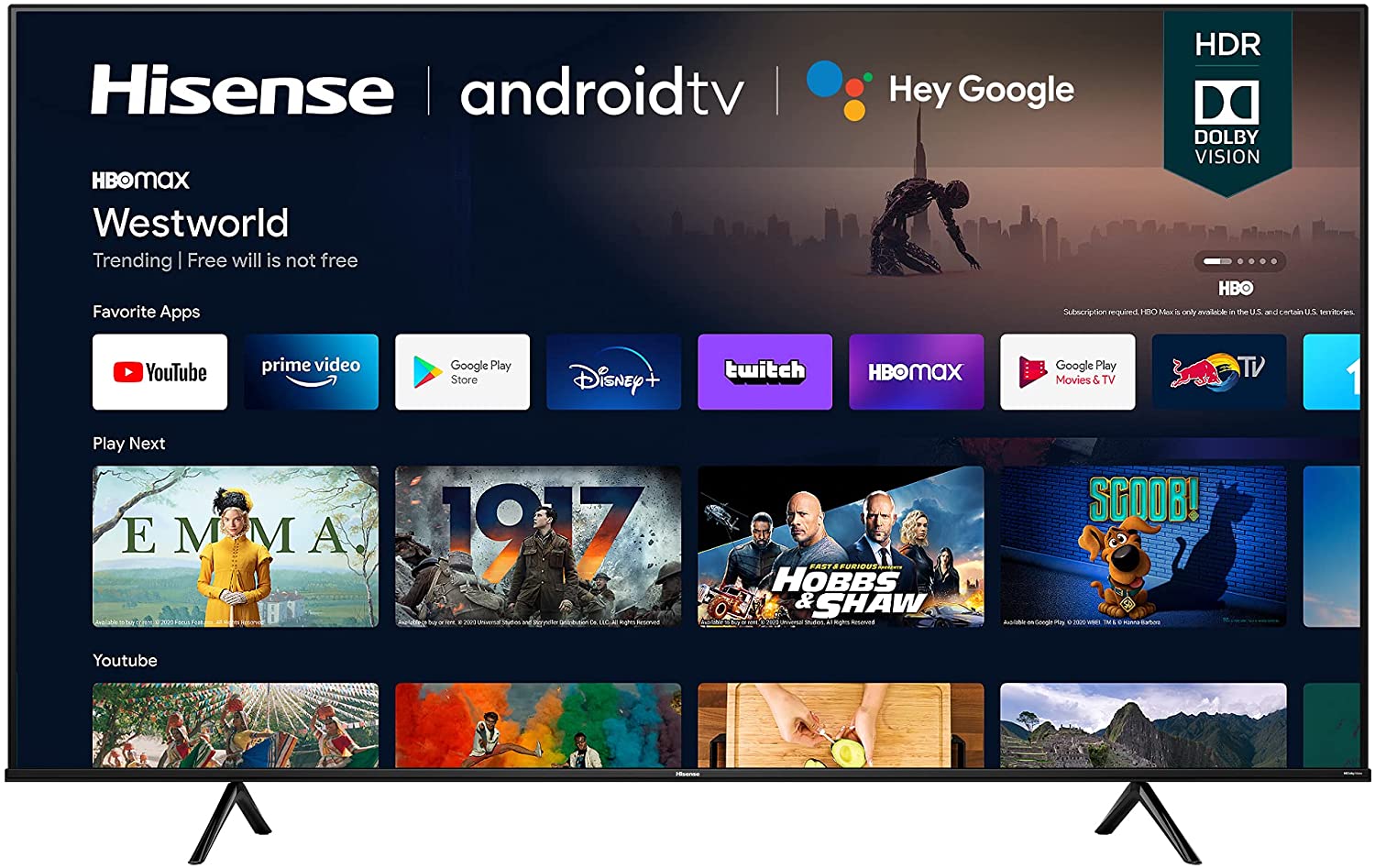 One of the highlights of this Hisense TV is that it can upscale low-resolution content. So, even if you watch a TV show that was shot 30 years back, you can expect it to be visually sharp. Though the TV offers low input lag, it is suitable only for playing basic or mid-level games. You will have to invest in a more expensive TV set to play high-end games. Due to its high contrast levels, it would be advisable to set up the TV in a dark room.
The TV comes equipped with Dolby Vision HDR, which makes watching long-form content quite memorable. You can use the remote to activate Google Assistant and control the TV using voice commands. The features offered by the TV are quite thoughtful and contribute to making the process of using the device very simple and convenient. You will get the option of customizing the TV's home screen to display your preferred apps and content.
Ideal for those who are planning to invest in an entry-level 4K TV.

It is also a good option for those who like using devices that offer a wide range of customizable features.
Low input lag

4K Ultra HD screen

Strong up-scaling abilities

Supports Google Assistant
Slow response time

Not suitable for high-end gaming
65-inch Television with Dolby Vision HDR
Sony X85J 4K Ultra High-Definition TV
Check Price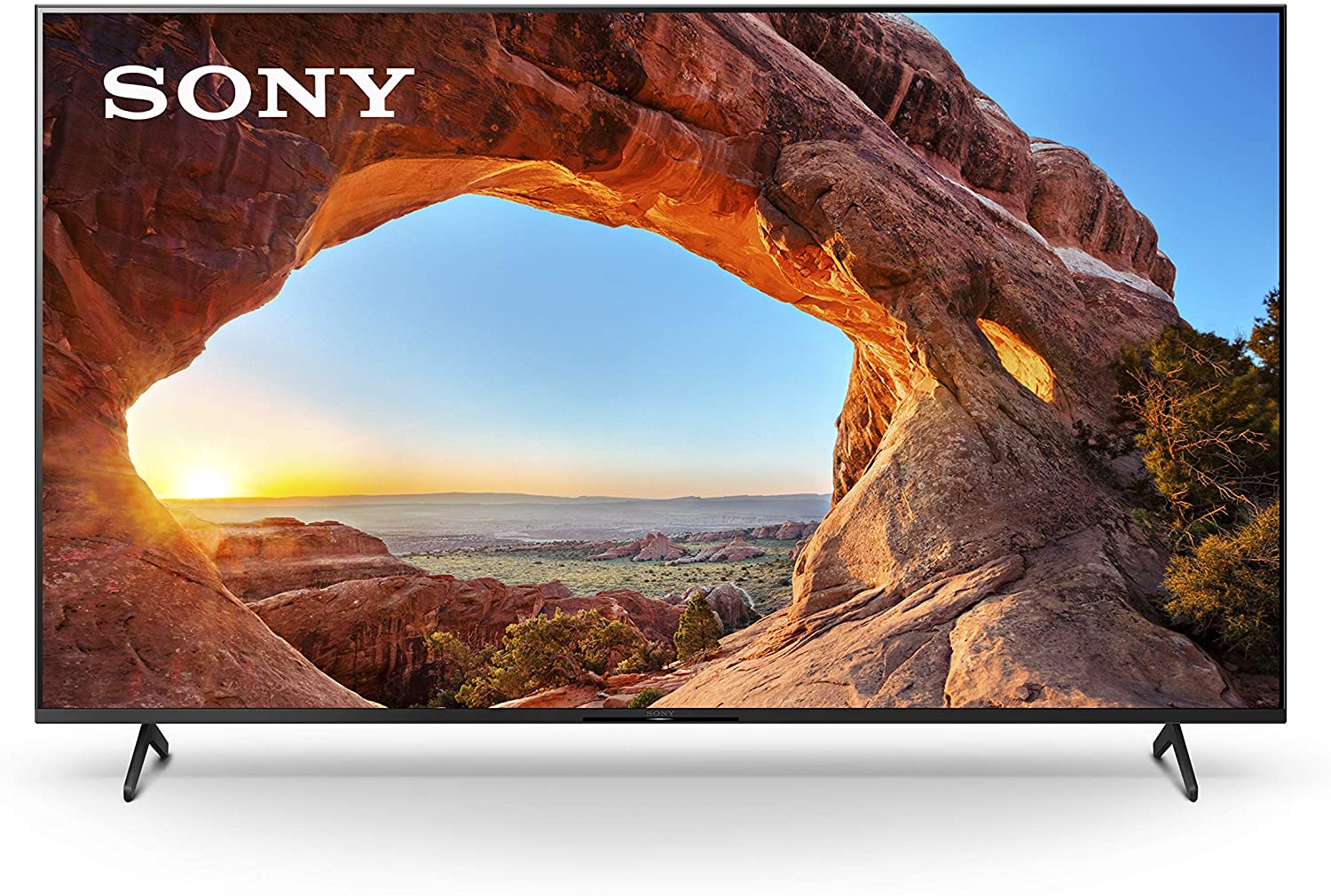 The powerful audio-visual output produced by the Sony X85J TV can be credited to the 4K HDR processor that it has been powered by. The screen offers a refresh rate of 120Hz and does a brilliant job at color production. Google TV, which comes as a built-in service with this device, helps you streamline the process of consuming digital content greatly.
Dolby Vision HDR or High Dynamic Range plays an important role in your incredible experience while watching movies or listening to audio content. The 4K X-Reality Pro feature gets high-definition content upscaled further to 4K resolution. Apart from switching from one channel to another, you can use Alexa to control the TV in a very effective manner.
Why Should You Buy This?
Recommended for those who wish to invest in a television priced under $1000 and offers 4K video output.

It is also a good option for those looking for a good-quality, affordable TV by Sony.
Pros
High-end processor

Short response time

Compatible with Alexa

A vast number of built-in smart apps
Cons
Could handle reflections better

Elaborate installation process
Bigger Screen TV At Cheaper Price
Hisense 65 Inch 4k TV
Check Price
Undoubtedly, Hisense 65 Inch 4k TV provides one of the best large-screen deals under $1000. With this TV, you will get bold and exciting contrasts, sharper lines, and vivacious colors in every pixel. You also get fascinating features, such as One-touch HotKeys, that provide prompt access to your favorite movies and TV shows. You can also enjoy sharper and brighter visuals, flawless, esteemed sound, and 24 integral applications that will give you a pleasant TV experience.
Why Should You Buy This?
The TV plays most HDR format content very well.
If you own a 4K or Blu-Ray player or gaming device, this is a great TV to connect them to.
The FreeviewPlay that comes with the TV enables you to use all the leading streaming apps.
This is a good-sized and well-performing TV you get at a fair price.
See Also: Top best VR headset for iPhone X
Frequently Asked Questions
Can televisions under $1,000 be connected to Wi-Fi?
Yes. Almost all television brands, even those priced below $1,000, have the provision to connect to your Wi-Fi at home. Once connected to the internet, you can view app-based programs like YouTube, Amazon Prime, and all free and subscription-based apps.
Can the television screen be used to connect to my laptop?
Sure. You must use an HDMI cable to connect your laptop to your television (check if your laptop has an HDMI port). This will enable you to mirror the laptop screen to the television and have a larger viewing area. This feature can be used to view movies and videos from your laptop on TV. Android-enabled TVs also allow you to wirelessly mirror the laptop screen with a tap.
Do TVs priced below $1,000 last long enough?
Pricing has no direct correlation to the life of a television set. These are electronic gadgets, and they can perform without any hitch for years or start giving trouble even from day 2. Your handling of the device with some care can also make a difference. Read the instruction manual carefully and ensure that you strictly adhere to the dos and don'ts.
Is it better to use a wall mount for the TV or a stand?
Both have their advantages and disadvantages. When you fix the TV to the wall, you have a better viewing angle from your couch or bed. It also saves some floor space for you. The disadvantage is if you have to access the connecting ports in the rear, it becomes difficult. If you don't intend to use any of the ports and use only your cable connection, then wall-mounting is better.
Can I install the television myself?
Yes. Most television buyers with some basic knowledge will find it easy to plug the television, switch it on and start viewing the programs. The user manuals accompanying the TV should guide you through most settings. Other menu settings are also user-friendly. If you are subscribed to a cable TV service provider, their mechanic will help you adjust the settings.
Conclusion
A television set is a must-have for every household. In today's times, apart from serving your entertainment needs, a good TV helps you carry out several tasks like browsing the internet, going through the pictures you clicked recently on your camera, or doing video conferences with your office colleagues. Being on a limited budget should not stop you from getting the kind of TV you would like to own. Instead, it should lead you towards analyzing the market and doing some good research on the number of models available in the price range you are comfortable in.