Featured in this article (opens in new tab)
The tablet is, without dispute, the most portable computing device today. Tablets are usually touchscreen devices and operate on iOS, Windows, and Android operating systems. They also have apps specifically designed for them. Some devices come with a stylus that frees the monitors from smudges due to fingerprints. There are also those tablets that come with portable keyboards for those not comfortable with touchscreens.
Buying Guide
Many tablets perform most smartphone functions and can be used to make calls, send messages, take photos, and record videos. A tablet is also often referred to as a slate because of its physical form. Although no tablets are specifically designated for seniors, some tablets have interesting features that make them better suited for this age group than their counterparts.
The following article gives you a partial yet comprehensive list of some of the best tablets for seniors.
See also: The best laptops for graphic design
Best Tablets For Seniors
Easy-To-Use Tablet That Offers Great Value For Money
Amazon Fire HD 10 Multimedia Tablet
Check Price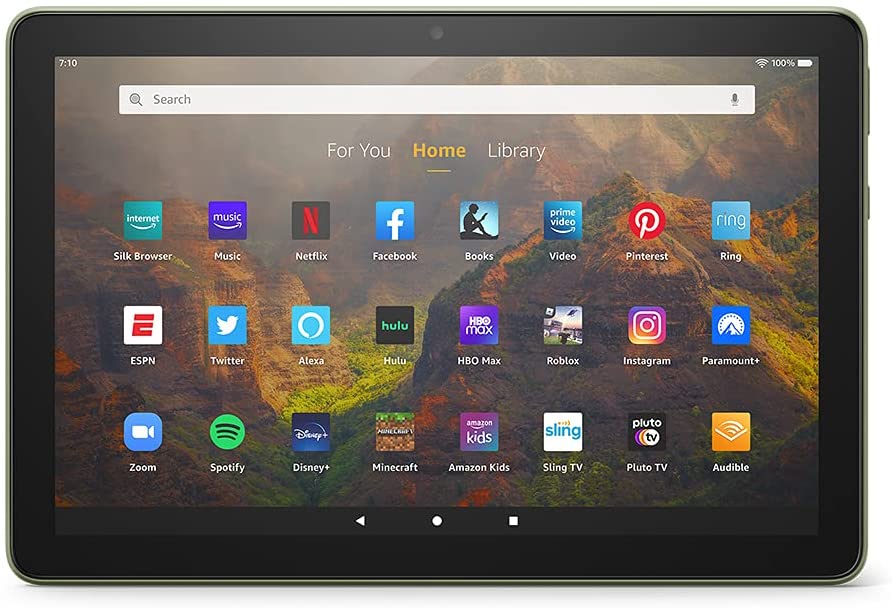 The device comes with a 10.1-inch 1080p display screen that works very well for those who watch a lot of movies or video-based content. The tablet has many more wonderful multimedia features, including several pre-installed streaming apps and hands-free operated Alexa. It is a very good device to check e-mails, browse the internet, and shop online. The webcam is of very good quality and makes the process of doing video calls easier.
The tablet can last for as long as 12 hours on a single full charge. If you plan to use it sporadically, it can last you for a day. The device is nicely designed and available in four different color options: black, lavender, olive, and denim. You can also choose from two storage options (32GB and 64GB). The octa-core processor that the device comes armed with ensures that you do not experience any lags or delays while using it.
The Amazon Fire HD 10 comes equipped with a set of features that would appeal greatly to those who consume multimedia content extensively.

The tablet is reasonably priced and boasts simple mechanisms and features that can be easily understood or accessed by elderly individuals.
Fair pricing

10.1-inch HD screen

Good battery support

Smooth and fast operation
Average audio output

Software needs to be upgraded
Versatile Tablet Featuring 64-Bit Octa-Core Processor
Tabtrust 10-inch Wide Android Tablet
Check Price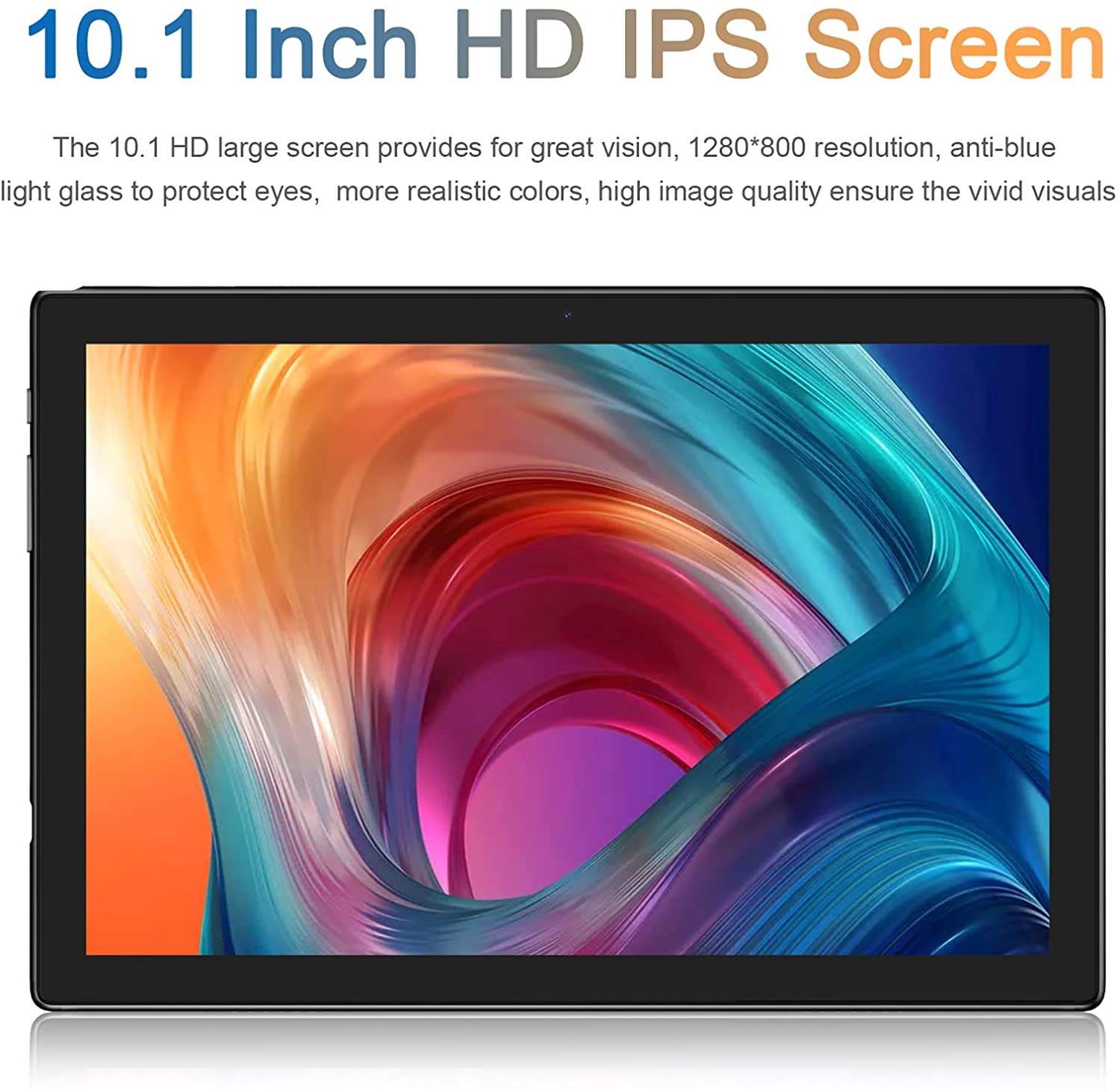 Available in two different color options (black and gray), this Tabtrust tablet boasts a sleek and sophisticated design that will catch your attention as soon as you see somebody using it. The 64-bit octa-core processor ensures smooth performance and also contributes toward conserving energy. Apart from the 13MP dual cameras, the device has a 5MP selfie camera at the front. The 32GB internal storage might not be sufficient for everybody, but you can expand it using a microSD card.
The 10-inch display screen offers a 1280 x 800 pixel resolution and a joyful movie-watching experience. The device is easy to understand, and if you gift it to an elderly person, they won't take much time to understand its operations fully. There is an in-built 6,000mAh battery that offers a backup of 6 hours. Since the battery life is not very high, you must keep your charger around you while traveling.
An ideal tablet for elderly individuals, it has a vibrant display screen, multiple connectivity options, and easy-to-understand features.

Because of its durable component and adequate service provided by the brand it proves to be a good long-term investment.
Durable build quality

Sharp display screen

Expandable memory

Strong processing unit
Underwhelming battery life

Sub-par audio output
Well-Performing 2-in-1 Convertible Tablet
G-TiDE 10.1 inch Android 11 Tablet
Check Price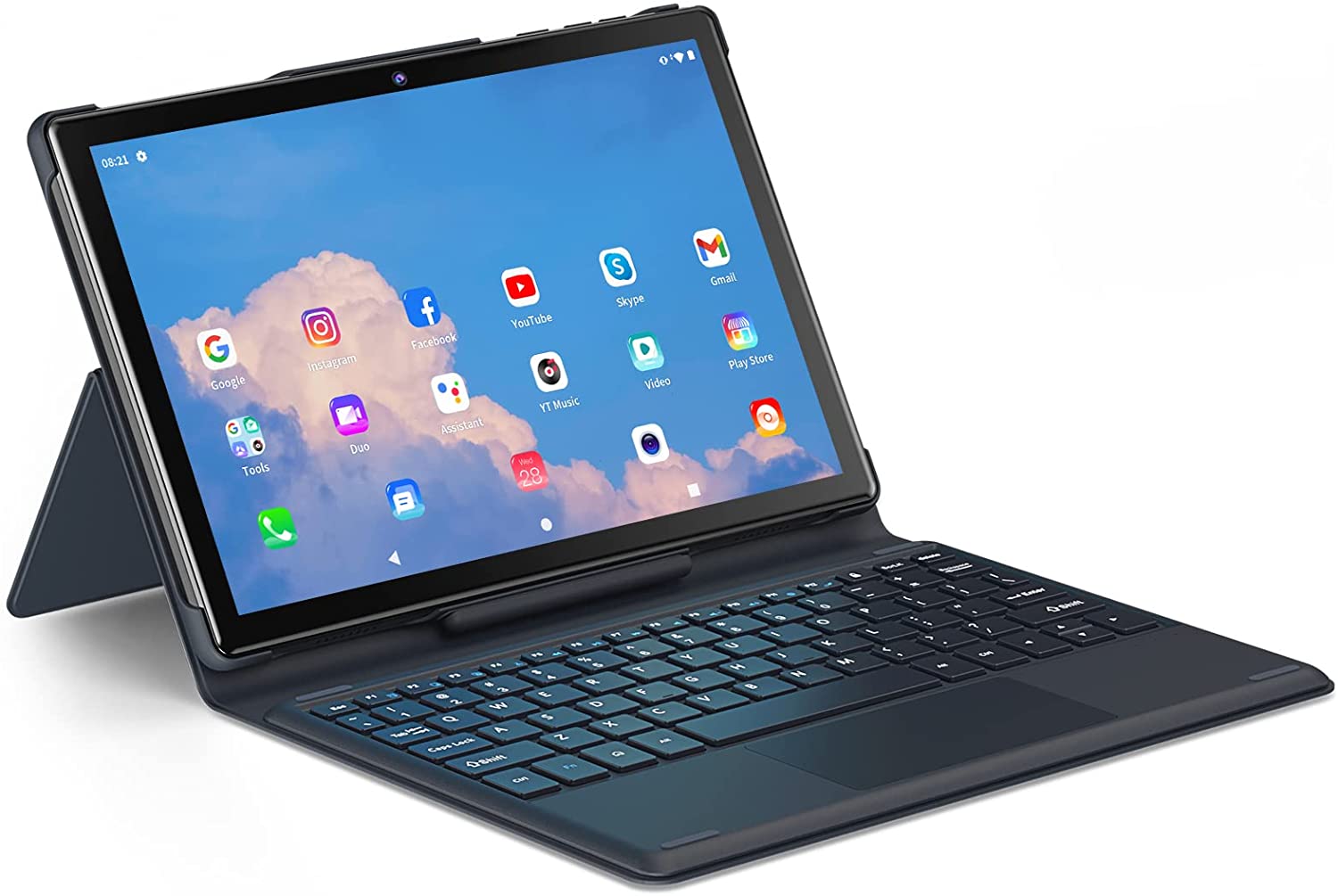 This device comes with a robust 10.1-inch display screen that offers good image reproduction. The brand provides a detachable keyboard to help you convert the tablet into a laptop when required. A good quality glass screen protector is also provided to ensure that your eyes don't suffer any strain while using the device for a long time at a stretch.
The 8MP front camera and 5MP camera at the front take decent pictures but not the kind that would help you click high-quality pictures. The 6,000mAh battery enables you to use the device for 6-8 hours on a full charge. Apart from streaming movies and other content, it is also a good device for reading e-books. The device supports Google Play which allows you to download apps. The internal storage space (32GB) is quite limited, but you can use a microSD card to expand it.
Those who believe convertible devices to be uncomfortable or inconvenient will change their opinion after using this device by G-TiDE.

It is a suitable option for those who need a tablet and a laptop to go about their day-to-day activities.
2-in-1 convertible feature

Good quality components

1.6GHz quad-core processor

Multiple accessories provided
Limited internal storage

Average battery life
High-Utility Tablet with Expandable Memory
Feonal Dual SIM Card Support Tablet
Check Price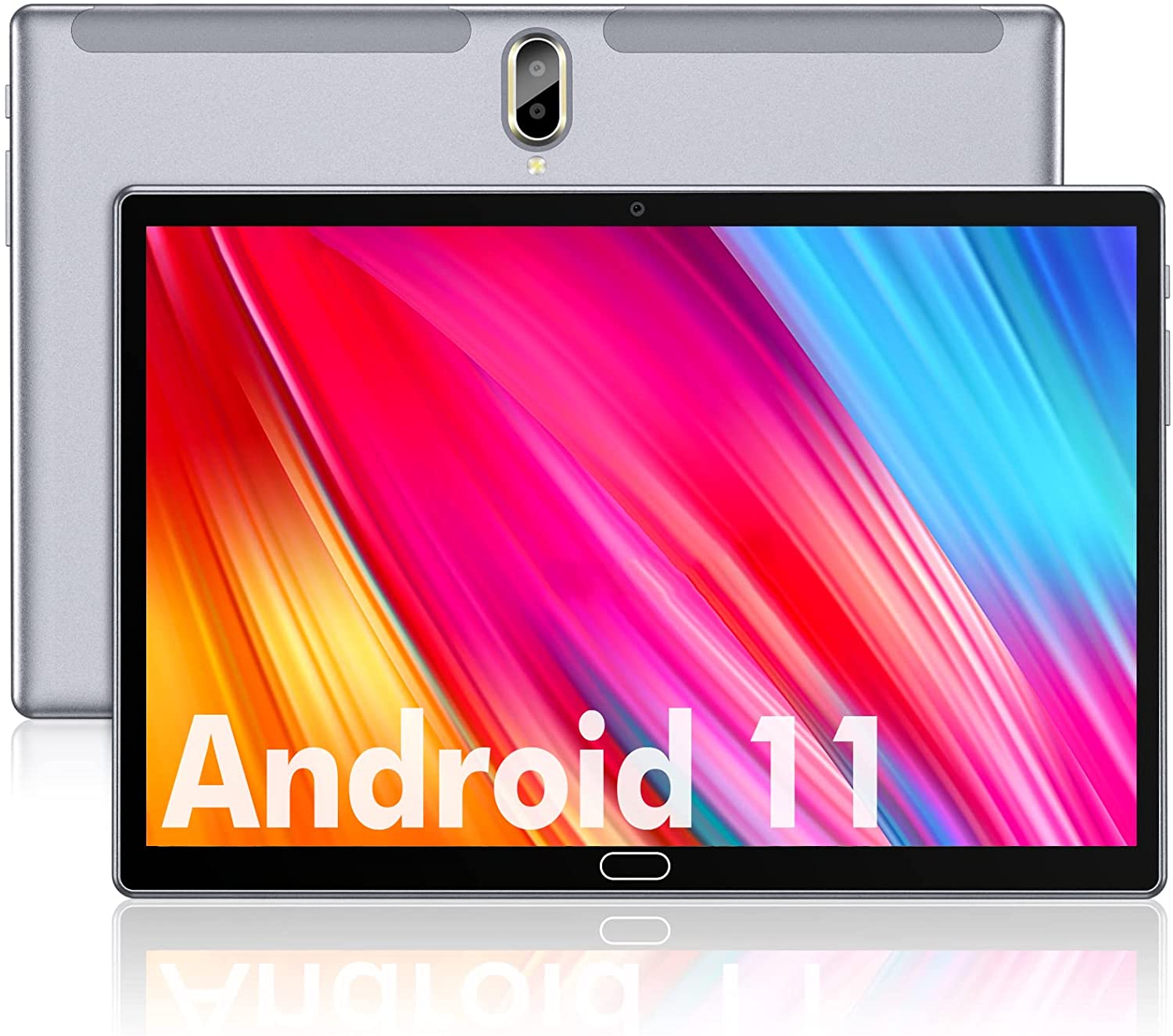 This tablet by Feonal features a design that is not only visually appealing but also user-friendly. Silver and gray are the two color options available for this tablet in the marketplace. It is one of the rare tablets in this price range that offers a dual SIM card slot. At 64GB, the internal storage space is quite adequate, and you can expand it up to 128GB by using a memory card.
The display screen is 10 inches wide and has a 1280 x 800 pixel resolution. The dual speakers assure you of good audio quality. The rear camera has a 13MP resolution, which is okay for capturing pictures during a trip. On the front, you have a 5MP camera. The 6,000mAh battery offers decent backup but not the kind that would make you forget your charger for a day or two.
Why You Should Buy This?
Because of its lightweight structure, many elderly individuals use it as a tablet and a smartphone.

It shall prove to be a good investment for those looking for a tablet that can offer them a good audio-visual experience.
Pros
Lightweight structure

Dual SIM card slot

Expandable memory

Good picture and audio quality
Cons
Inadequate battery life

Limited brand support
Budget-Friendly Tablet Designed For Elders
Aoyodkg 8-inch Quad-Core Processor Tablet
Check Price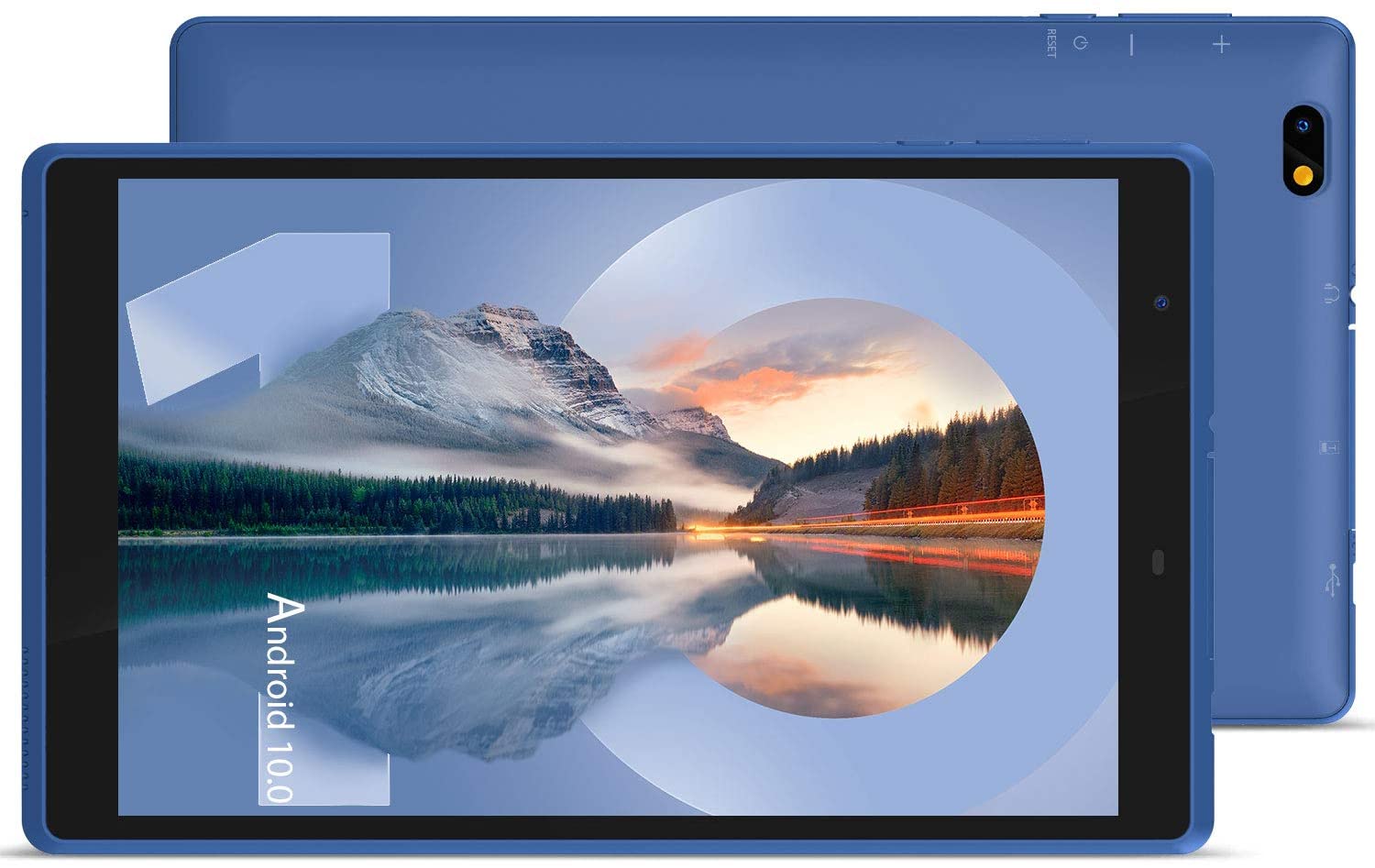 Though offered at a very low price, this tablet by Aoyodkg comes packed with a bunch of features that prove useful for users of all age groups. Its portable structure makes it very easy for you to carry it around. The 8-inch display screen produces good quality images and should work very well for those who are used to viewing content on smaller screens.
The device comes with a 1.6GHz processor that is quite powerful and contributes to the device being responsive. The 5,000mAh battery cannot offer you all-day support, so it would be advisable to have a charger with you wherever you go with the device. The tablet offers 32GB of limited internal memory, but you can expand it using a microSD card.
A good option for elderly individuals looking for a moderately priced tablet that offers good functionality.

Also recommended for those who like using compact and easy-to-handle devices.
Compact and lightweight structure

Expandable memory

Responsive processing unit

Two color variants
The small-sized screen might not appeal to all

Low battery life
Well-Rounded Tablet Designed For Seniors
Winsing 1.6HZ Quad-Core Processor Tablet
Check Price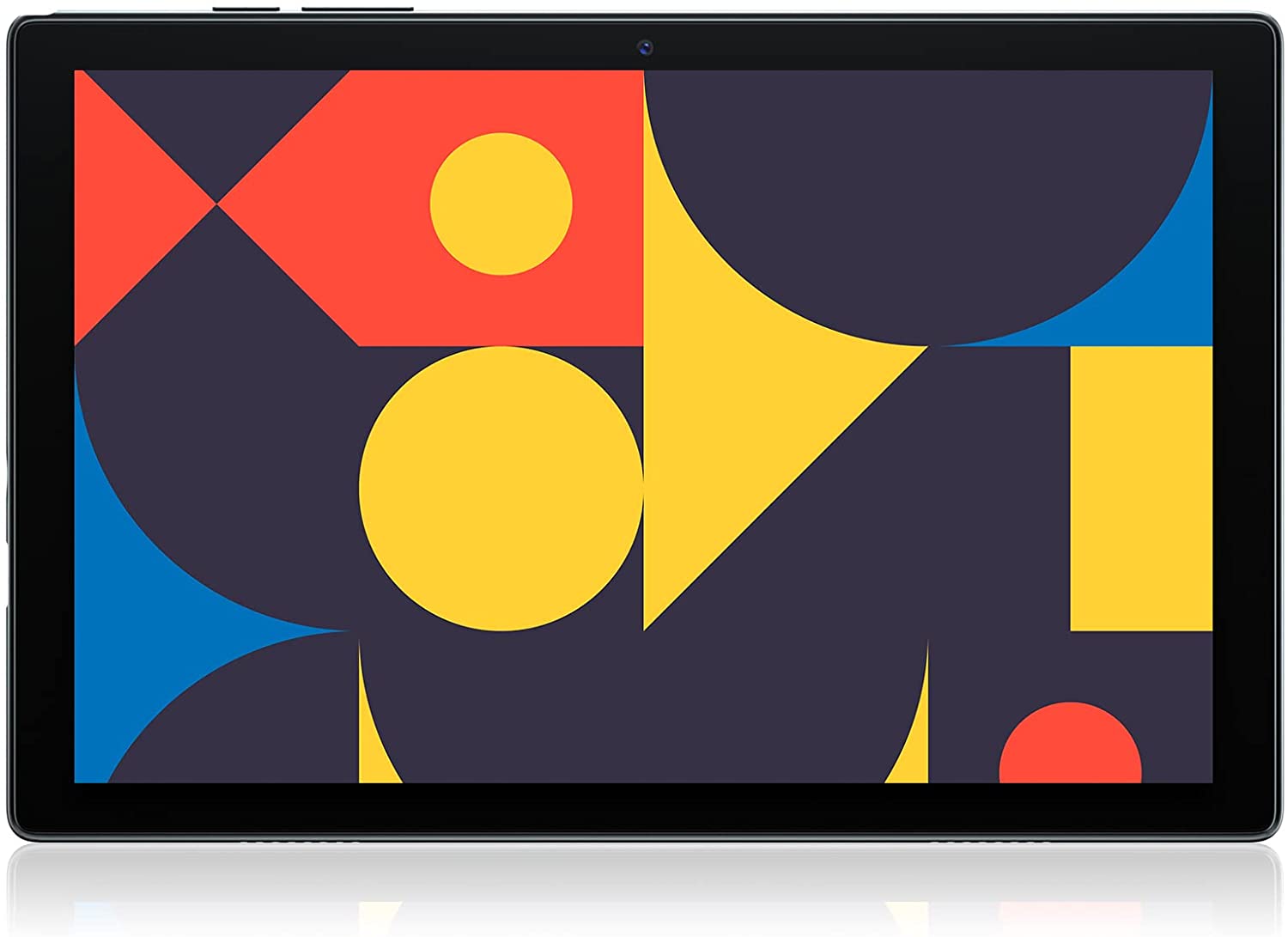 If you wish to gift an elderly person a tablet, look for a device that has a user-friendly interface, simple but useful features, and is easy to operate. This tablet by Winsinghas been manufactured keeping the requirements of senior citizens in mind. The 10.1-inch display screen produces crystal-clear images and makes watching films and other video content smooth and enjoyable.
The 6,000mAh battery, though not great, is serviceable. It is advisable to buy a microSD card to expand the memory as 32GB of internal storage space would not be enough to save a large amount of data. While you can engage in video calls with friends using this device, the 2MP front camera needs to be upgraded. The device does not do a very good job at running high-end games.
Why You Should Buy This?
The tablet has enough safety features to ensure that it is suitable to be used by anybody between the ages of 5-70.

Its fast and reliable performance makes it a good tablet for everyday use.
Pros
High-definition display screen

User-friendly interface

Expandable memory

Multiple connectivity options
Cons
Not for gamers

Average camera quality
Best Tablet with Windows 10 Home Operating System
Fusion5 Ultra Slim and Stylish Tablet
Check Price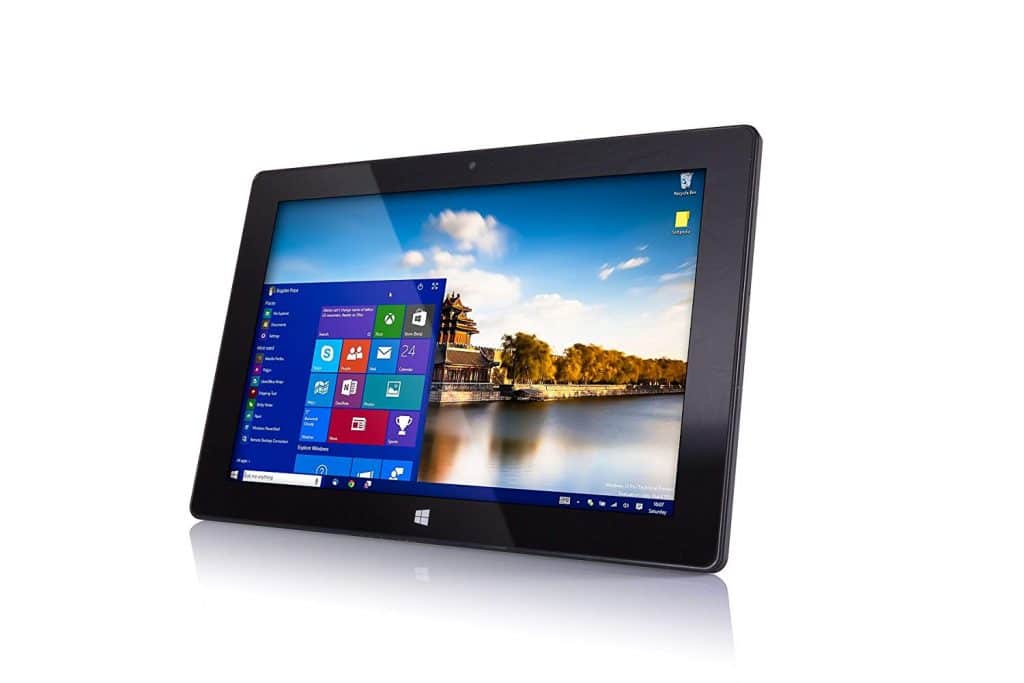 The Fusion5 tablet is available in two variants with respect to the screen, RAM, and storage. One version comprises a 10.1" display with a resolution of 1280 x 800p. This option comes with 4 GB RAM and 64 GB storage. The other version encompasses an 11.6" IPS Full HD screen with 1920 x 1080p resolution. It incorporates 2 GB RAM and 32 GB storage. Both versions feature an Intel quad-core processor, an Intel HD Graphic Gen 7 graphics coprocessor, a micro-SD slot to expand the provided memory by 128 GB. They are preloaded with Windows 10 Home operating system.
The two versions of the black tablet come with a 2 MP front camera and a 5 MP rear camera, with both cameras rendering good quality performance. They support Bluetooth 4.0, Wi-Fi 802.11 b/g/n, and G-Sensor wireless technologies and include a full-size USB 3.0 port. The ultra-slim design gives the tablets a stylish look. They work with a lithium polymer battery and come with an AC adapter, a user manual, and a USB cable.
Who should buy this?
The Fusion5 tablet is highly recommended for people who want their device to render fast performance because of the powerful processor and graphics coprocessor
The big screen makes the slate ideal for seniors who would like to enjoy watching their favorite movies with the maximum clarity possible
The smooth screen surface and ultra-slim design ensures that a device is a good option for those who wish their tablet to appear stylish
Best Tablet with Multi-Window Feature
Samsung Galaxy Quick Connect Tablet
Check Price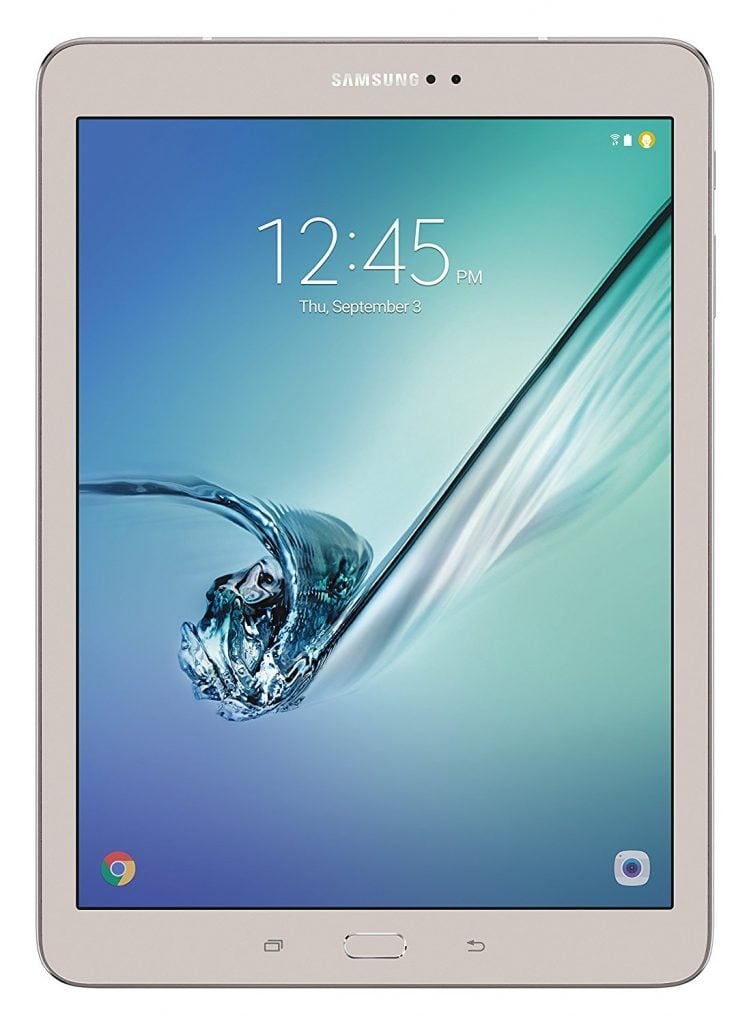 The Samsung tablet has two screen size options – 8" and 9.7". All other features and specifications of the tablet are the same. The tablet comes with a 2048 x 1536p resolution Super AMOLED QXGA display with an aspect ratio of 4:3. It comes with 3 GB RAM and 32 GB flash memory. The device also features a micro-SD slot to insert a memory card and increase the available memory by an additional 128 GB. The slate encompasses an octa-core processor in the form of two quad-core processors. One of the processors' core clocks at 1.8 GHz while the other clocks at 1.4 GHz. It is loaded with the Android 6.0 Marshmallow operating system.
The tablet has a rear-facing 8 MP camera with auto-focus functionality and a 2.1 MP front-facing camera. The unit renders Quick Connect and Multi Window features. It also supports Glonass and GPS location technology, Wi-Fi 802.11 a/b/g, and Bluetooth 4.1 wireless technologies. The Bluetooth profiles supported comprise A2DP, PAN, AVRCP, OPP, DI, HSP, HID, and HOGP. The slate operates using a lithium polymer battery with an average life of six hours. The device is available in three color options: white, gold, and black. It comes with a quick start guide, a micro USB cable, and a travel adapter.
Who should buy this?
The 4:3 aspect ratio makes the Samsung Galaxy tablet the right bet for seniors who want the same ease and comfort when using the tablet in both portrait and landscape modes for reading and browsing.
Multi-Window support ensures that the slate is apt for those who want to use it to perform four different tasks at a time.
The device is a good choice for those who wish to connect their tablet to a Samsung TV to share their favorite content with others.
Conclusion
Tablets come with display screens of various sizes. Seniors can choose a slate depending on what size they think they will find it easy to hold and operate. If they want to view every detail with utmost clarity, brightness, sharpness, and vividness, then tablets with IPS screens are most likely to meet this requirement. However, if the need to own a tablet is to make phone calls, seniors are advised to look at SIM card slates that offer excellent sound clarity and built-in microphones. Last but not least, the operating system they are comfortable using also determines the slate they should buy.