Featured in this article (opens in new tab)
The scenario of laptop usage varies drastically from person to person. While most professionals and students use it in a safe environment, a select few whose profession or passion makes their work settings pretty challenging. The topmost rugged laptops are meticulously geared towards avid travelers, wildlife photographers, adventurers, and anyone else who needs their laptops to be military-grade protected.
An average laptop can be made secure by using a thick rubber casing but you can also find rugged laptops made out of strong materials. Some of the rugged laptops come from Dell, HP, and other known brands, while others are relatively unknown. You can rely on these laptops to withstand heavy weather conditions, dust, and water while helping you get the job done.
See also: Best laptops for freelancers
Buying Guide
Some users need the most rugged laptops because they travel a lot, drop their bags often, or maybe work in a field where climatic conditions are not so favorable.
Go for a thick laptop – The slim and lightweight models are not meant for rough usage because they are designed for office use. While thicker laptops will be difficult to carry around, they are tough in such situations.
Water and Dust Certification – Not all laptops are designed with waterproof materials, but the very few which are available in the market do have a certification. Look for waterproof and dustproof certifications if you are planning to travel to such areas.
Choose SSD storage – This is a must-have feature in rugged laptops because SSDs are not prone to damage and will keep your data safe. You can comfortably carry your laptop anywhere in your backpack, and the constant movement will not affect the stored data.
Pick the right display – The display should be flat with no recessed areas because they could easily accumulate dust or dirt. A moderately sized display of13-inch or 15-inch is a great choice for most as it is comfortable on the eyes and compact enough to carry around.
Hardware components – The specifications of the laptop play a huge role in determining its price tag. While you should focus more on the durability factor, consider the OS and the hardware configuration to make sure it suits your professional requirements. The software programs that work on Windows OS may not run on a Chromebook, which is why it is essential to make sure your productivity programs work on your operating system of choice.
Best Rugged Laptops
2-in-1 Convertible Device with Stylus Pen
Lenovo 300e Durable Quality Convertible Laptop
Check Price
When you invest in the Lenovo 300e, you can be sure about it lasting for a very long time. It is made with highly durable components and proves to be water-resistant as well. Since it is a convertible device, you can use it as a laptop or a tablet. The 11.6-inch touch-enabled screen produces a resolution of 1366 x 768 pixels and can be controlled with the help of the Stylus pen that has been provided with the device.
It is easy to convert the device from a laptop to a tablet. Because of its lightweight structure, you can carry it around with a lot of ease. It has multiple connectivity options, including a microSD card reader and a headphone jack. The device runs on Windows 10 Pro and offers lag-free operation.
An ideal option for those looking for a highly durable device that works as a laptop and a tablet.

It is also recommended for individuals who travel frequently and, therefore, wish to invest in a lightweight convertible laptop.
Convertible feature

Sensitive Stylus pen

Lightweight and durable

Strong connectivity features
Moderate battery life

Limited storage support
2-in-1 Convertible Device with Strong Battery Support
Acer Chromebook Spin 311-3H 11.6-inch Display Screen Laptop
Check Price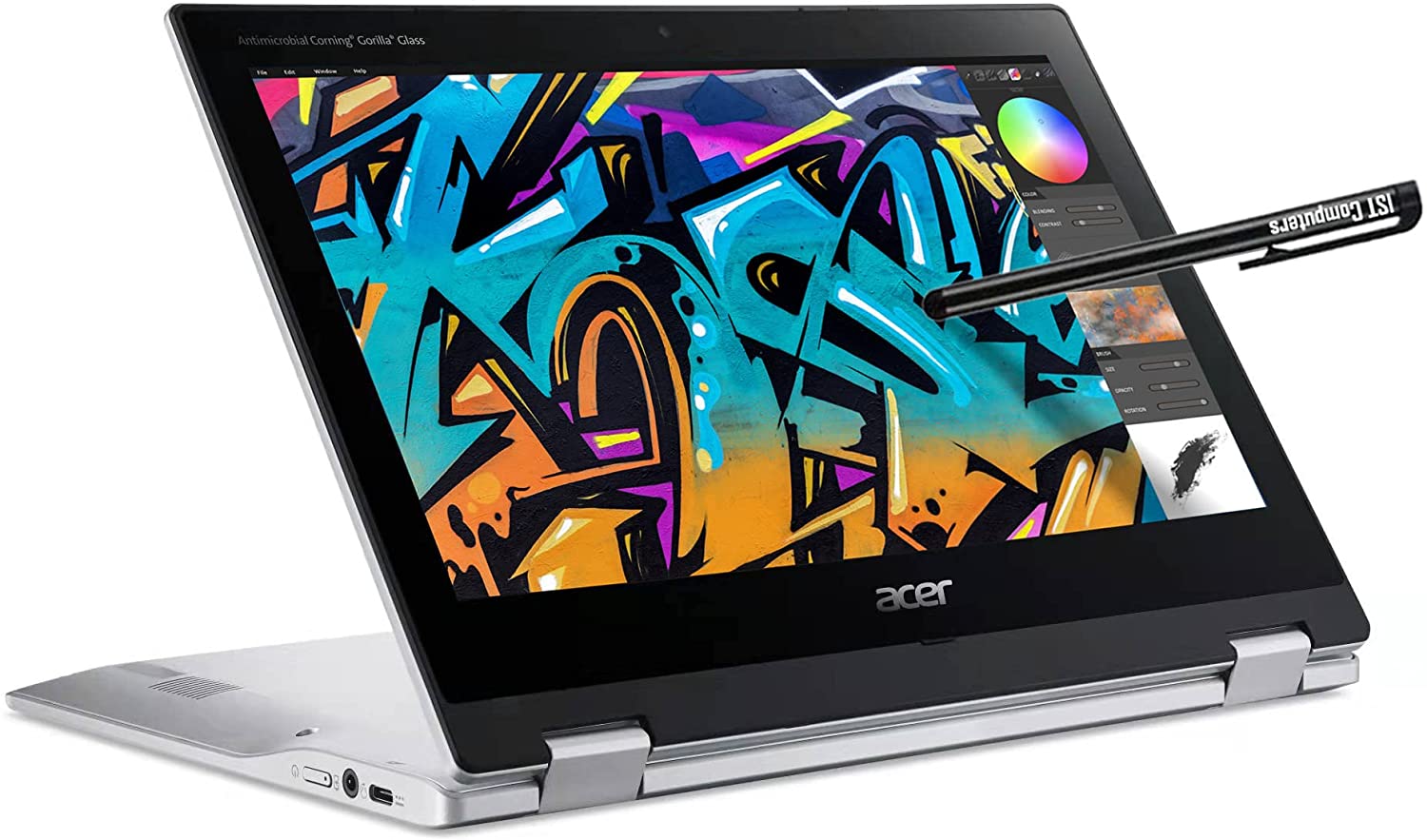 The silver metallic design of this convertible device is highly sophisticated and helps it register a good first impression. The 360-degree hinge enables you to switch between different modes effortlessly. The 11.6-inch display screen is touch-enabled and produces a resolution of 1366 x 768 pixels. The brand has provided a responsive Stylus pen.
The built-in hard disk offers a storage space of 64 GB. If you have plans to use this device in your professional space, it would be advisable to have an additional storage device at your disposal. When optimally charged, the battery lasts for 12-13 hours. The keyboard is very good quality and most suitable for those who type extensively.
Highly recommended for those who are planning to invest in a budget-friendly convertible device.

It is also a good option for individuals who prefer using compact and lightweight devices.
Attractive design

Long-lasting battery

Comfortable keyboard

Works both as a laptop and a tablet
Low bandwidth RAM

Limited storage support
Highly Durable Laptop with 13.3-inch Display Screen
Emerald Computers 512GB Storage-Space Drive Laptop
Check Price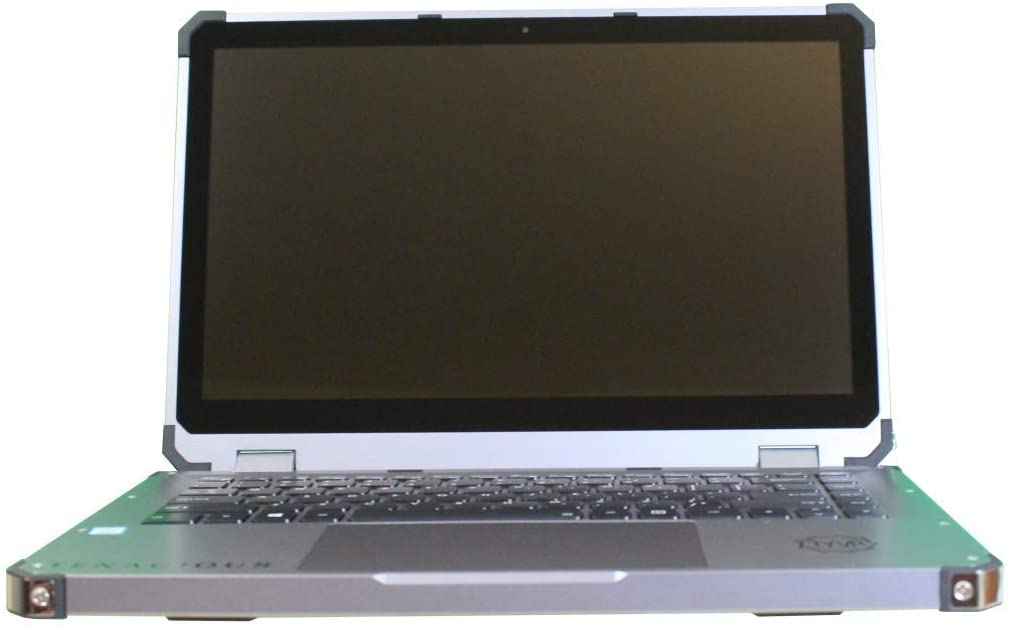 As soon as you glimpse this laptop by Emerald Computers, you know it has been built to last. The tough exterior of this device is accentuated by its unique metallic design. The laptop is available in three color options (silver, gunmetal gray, and rose gold) and features a 13.3-inch wide display screen that offers a 1920 x 1080 pixel resolution.
On a single full charge, the battery lasts for just about 6 hours. High-bandwidth 16 GB RAM ensures that the device runs efficiently and helps you complete all your tasks on time. As far as storage space is concerned, you get a 512 GB SSD. The Core i7 8550U CPU operates at a processing speed of 4 GHz. Despite its robust appearance, the device is quite light. It weighs 2.86 pounds and can be carried around conveniently.
Proves to be a good option for individuals who have been looking for a highly durable laptop device with a compact structure.

Also recommended for those who like to multitask and want to get a laptop that works at a high processing speed.
Durable structure

High-speed processor

Good storage support

Available in multiple color options
Limited battery life

Low-resolution webcam
Well-Built Laptop with 1.8 GHz Processing Unit
Lenovo ThinkPad E15 G3 16 GB RAM Business Laptop
Check Price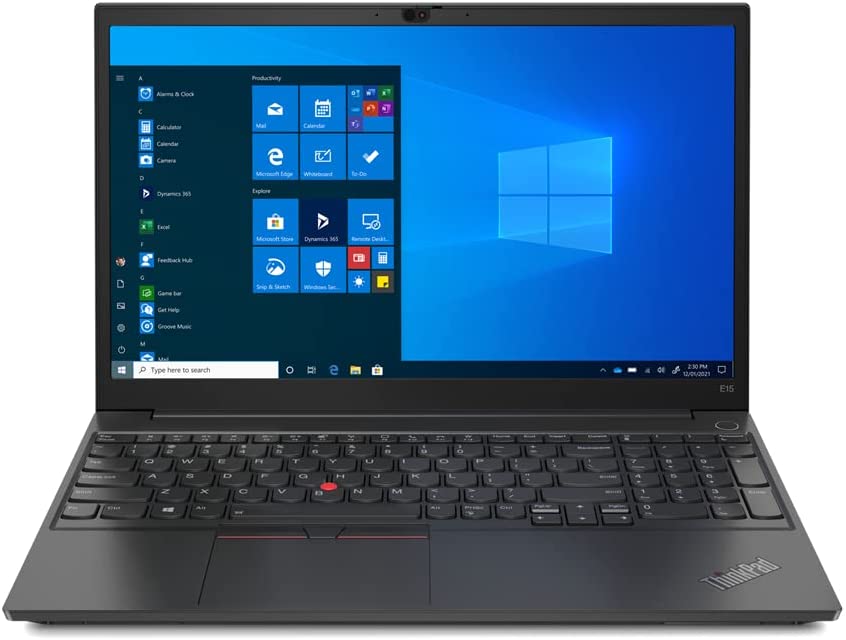 The Lenovo ThinkPad comes equipped with a 15.6-inch display screen that produces a resolution of 1920 x 1080 pixels. At 5.24 pounds, the laptop is slightly heavy. Since most people buy it for office use, the weight doesn't bother them much. The laptop is powered by an AMD Ryzen 7 5700U CPU that operates at a processing speed of 1.8 GHz.
16 GB RAM comes pre-installed on the device. The hard disk offers 512 GB of storage space. Apart from having several multimedia features, the laptop has the kind of functionality that greatly benefits professionals. It runs on Windows 10 Pro and works smoothly for long hours. There are multiple connectivity options, including a 3.5mm headphone jack.
Why You Should Buy This?
A suitable option for those looking for a laptop for professional use.

It is also recommended for individuals who wish to invest in a laptop device with a high-definition and several multimedia features.
Pros
Stable processor

Great build quality

High-definition screen

Good connectivity support
Cons
Average response time

A better cooling system is required
Durable Quality Laptop with Good Battery Support
Acer Enduro Urban N3 14-inch Display Screen Laptop
Check Price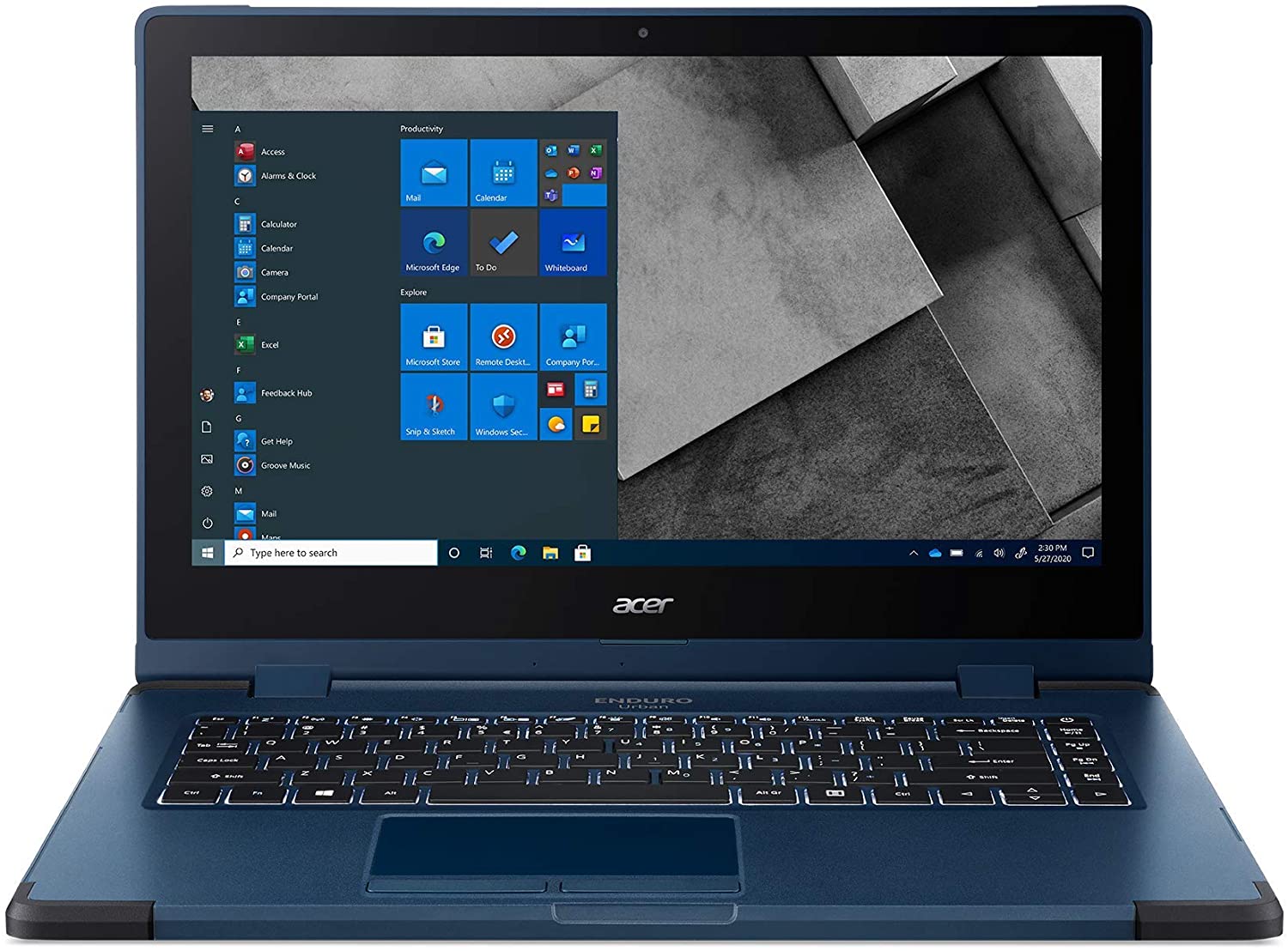 The reason behind the super-efficient performance delivered by the Acer EnduroUrban N3 is the presence of the 11th Generation Intel Core i5-1135G7 processor. The CPU works at a processing speed of 4.2 GHz and ensures the laptop functions efficiently. The device features a 14-inch display screen with 1920 x 1080 pixel resolution.
When optimally charged, the battery offers you a runtime of 13 hours. The device features an internal fan which helps the system remain cool. However, the fan tends to get a little noisy at times. Though there is no optical drive on the laptop, many other connectivity options exist. The built-in SSD drive provides you with a storage space of 512 GB.
Recommended for individuals who travel regularly and require a durable quality laptop that comes with a long-lasting battery life.

It's also a good option for those who don't like heavy or bulky devices and wish to invest in a portable laptop device.
Bright display screen

Lightweight structure

Adequate battery backup

Fast-performing processor
Noisy operation

No fingerprint reader
Water-ResistantConvertible Device with 11.6-inch Display Screen
Asus Chromebook Flip Budget-Friendly Convertible Laptop
Check Price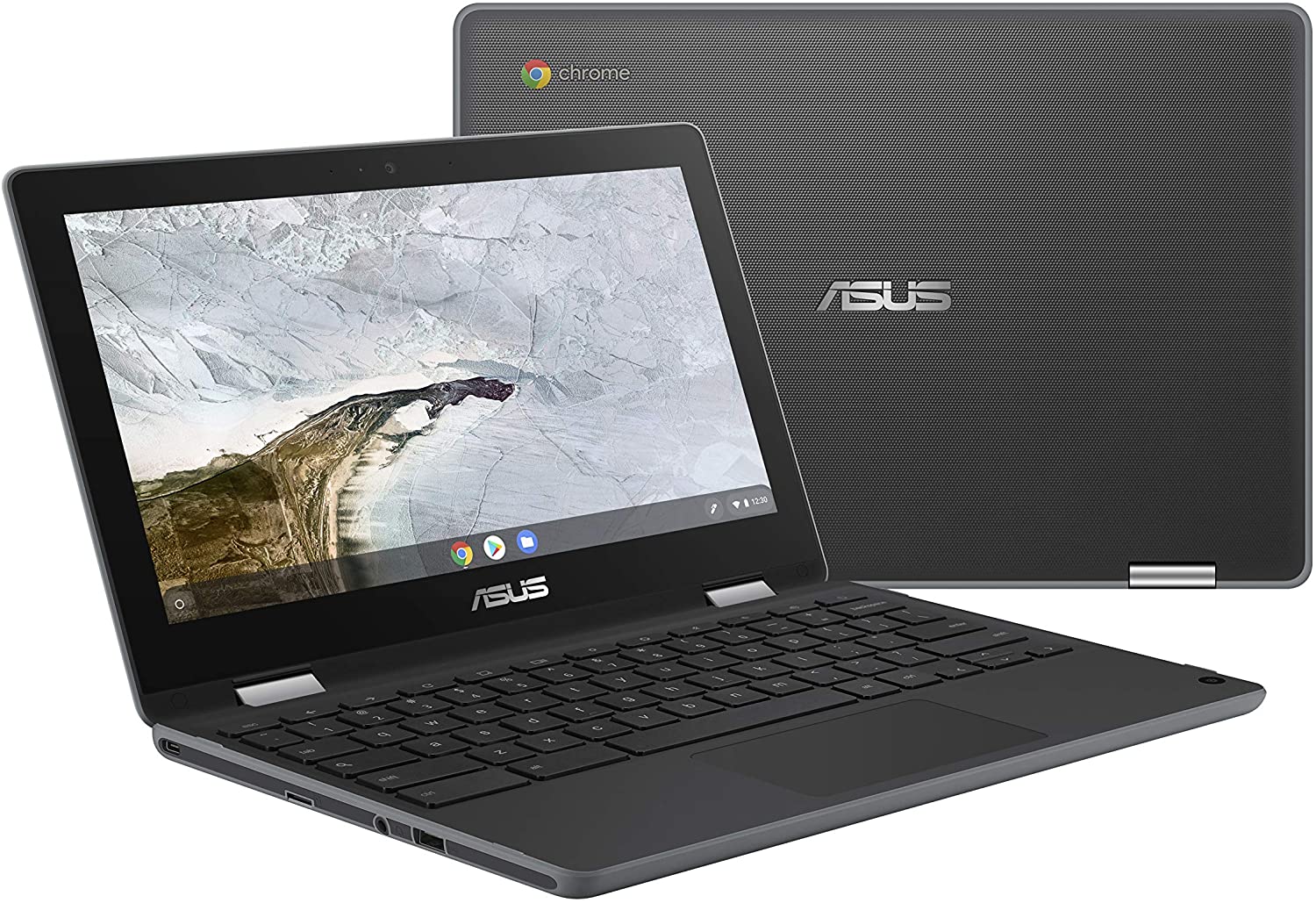 Designed as a convertible device, the Asus Chromebook Flip caters to those needing to use a laptop and tablet regularly. The device features an 11.6-inch display screen with a resolution of 1366 x 768 pixels. It comes equipped with an Intel Celeron N4000 CPU that runs at a processing speed of 2.6 GHz.
The convertible device offers local storage support of 32 GB which would not be suitable for many users, especially those working in a professional field. If you charge the battery optimally, it will last you for 10-11 hours. Though the device is built with strong components, it is quite lightweight and easy to carry around.
Why You Should Buy This?
An ideal option for anybody looking for an affordable convertible device that functions equally well as a laptop or a device.

It is also recommended for those who prefer owning smaller-sized, compact devices.
Pros
Compact structure

Reliable processor

Good battery support

Convertible mechanism
Cons
FAQs
Which are the most popular rugged laptops to buy in 2023?
Throughout the years, Panasonic Toughbook has built itself a solid brand name for being the best. The product is available in different variants with varied hardware specifications, and the prices vary. You can pick the one that suits you best based on your budget.
Can slim laptops be durable?
Yes, they can be. The Asus ZenBook 13 is one such product that has received military-grade drop protection certification and is known to be extremely durable. However, bigger models are often more reliable because the weight factor adds to their durability.
What is the display size to expect in an enclosed device?
The rugged laptops are often completely enclosed in a case, and to protect the display against external damage, they are designed with smaller screens. People like web creators, designers, and gamers might not go for such a product, but for those in other professions, this is a great choice despite the smaller display.
Are the laptops with metal chassis a viable option?
Yes, they are far more rugged and designed to be durable in the long run. However, a fully metal laptop may emit more heat and is not easy to carry around, so they are shrouded in plastic to make them usable. A metal casing in fragile areas to protect internal components is a good option.
Can I buy gaming laptops with military-grade certification?
If you are a serious gamer who always plans to go to gaming tournaments and travel around with your laptop in your backpack, the Asus TUF series and similar military-grade certified laptops are amazing solutions. They are not as rugged as enclosed laptops but are perfect for long gaming sessions and travel.
Bottomline
The best rugged laptops come from known brands such as Dell, Panasonic, and Asus, which is good news for buyers looking for branded solutions. The models, specifically designed for military, travelers, and wildlife photographers, will work as they're designed to handle changing weather conditions, extreme dust, and bumps during travel. Gaming laptops are a unique lot meant mainly for gamers who need to carry them around. Still, they can also be used by working professionals, designers and content creators who need sturdy, durable laptops for work.