Technobezz is supported by its audience. We may get a commission from retail offers
Macally Wireless Bluetooth Connectivity Keyboard
Macally Backlit Wired Keyboard
Apple Wireless Magic Keyboard
Table of Content
No matter how great your overall Mac experience is, you can always improve it, and finding the best keyboard that suits your needs perfectly is an excellent way to start. When you find and buy such a keyboard, you'll wonder why you didn't get it before. Like many other Mac accessories, a good keyboard can make a difference – you won't be frustrated when typing and it will increase your productivity. In this article, we will talk about the top best Mac keyboards, so keep on reading because you may find the one perfect for your needs.
Before moving to some of the best keyboards, let's see what to consider before buying one.
See also: How to find the best mouse for Mac
Buying Guide
Browsing through the sheer number of best Mac keyboards available online may change the common notion that Apple doesn't support third-party accessories. While the manufacturer is capable of making the most premium peripherals, such as the newly launched Magic Keyboard, Air Pods, and the unique Apple mouse, there are so many third-party manufacturers ready to aid your usage scenario.
Apple follows a specific design pattern, whereas you can get a similar, completely new experience from a Logitech keyboard or a cheaper alternative with additional features. The best part is that they make it pure white with a matte finish so that it easily syncs with the design aesthetics of your Mac setup at home or the office.
Before we list some of the best Mac keyboards, let's see the things you should consider.
Ergonomics – If you spend hours working on your computer every day, your hands should be in a natural position when you are typing, meaning you need to choose a keyboard with such a design. Many great keyboards come with adjustable tilt and height, and with such a keyboard, you won't feel any pain in your joints after hours of work, and you will feel comfortable when typing.
Type of keys – There are many laptop-style keyboards for Macs, all of which look wonderful. However, many people simply dislike these keyboards as they may feel strange when typing. If you are one of those people, the keyboard with the raised keys is a much better option.
Wireless or wired keyboard? You will have to decide if you want a keyboard with or without a cable. The wired keyboard is a much better option for gaming because, with such a keyboard, you will avoid lag issues that sometimes occur. If you don't like cables, the wireless keyboard for which you need the USB port on your computer is the perfect option for you but don't forget that you will need the batteries. Also, wireless keyboards are usually more expensive.
Features – Many keyboards today come with additional function buttons and media features buttons such as page up and down, volume up and down, browser button, and mute button, just to name a few. If you don't like such options, don't worry, there are many awesome keyboards with just the standard QWERTY keys.
You may also read: Best detachable laptops
Best Mac Keyboards
Rechargeable Keyboard with Wrist Rest Cushion
Macally Wireless Bluetooth Connectivity Keyboard
Check Price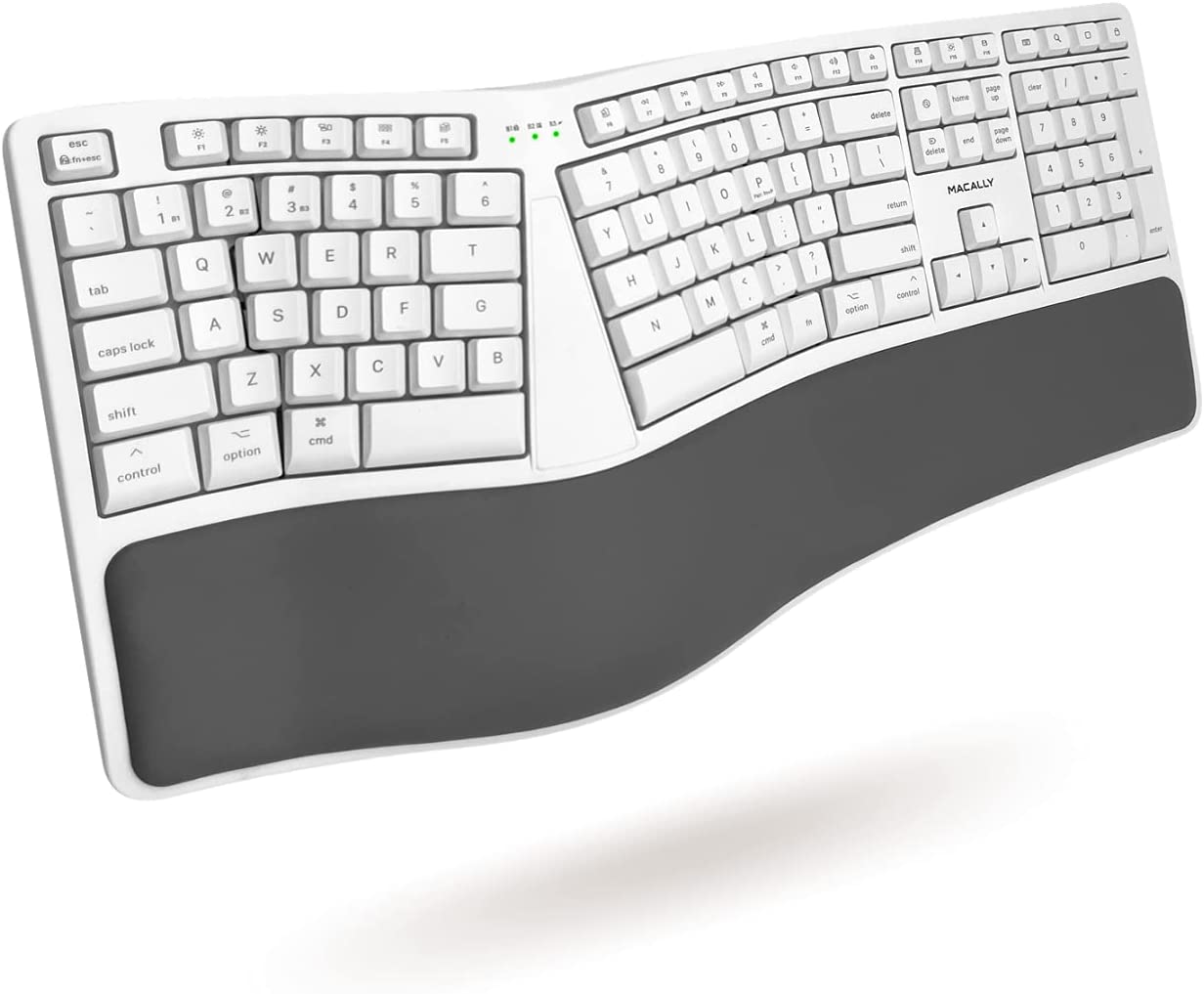 When you look for a keyboard for your MacBook, you wish to have something as advanced as the premium quality laptop you are using. This keyboard offers a host of other wireless connectivity options besides Bluetooth. The design of the keyboard is highly stylish, and it provides you with great functionality.
When you look at the keyboard for the first time, you might get the impression that it is a complex device. However, once you start using it, you realize the mechanisms are quite simple. The brand also provides an elaborate user manual to ensure you do not face any cushions while using it. The wrist rest cushion offers a great amount of comfort while using the keyboard.
A great option for those looking for a comfortable and sturdy keyboard to pair up with their MacBook.

It is also recommended for individuals who do a lot of typing in a day and need a keyboard with a wrist rest cushion.
Futuristic design

Rechargeable battery

Soft wrist-rest cushion

Strong connectivity support
Not portable

It could have been more durable
Well-Built Keyboard with 107 Keys
Macally Backlit Wired Keyboard
Check Price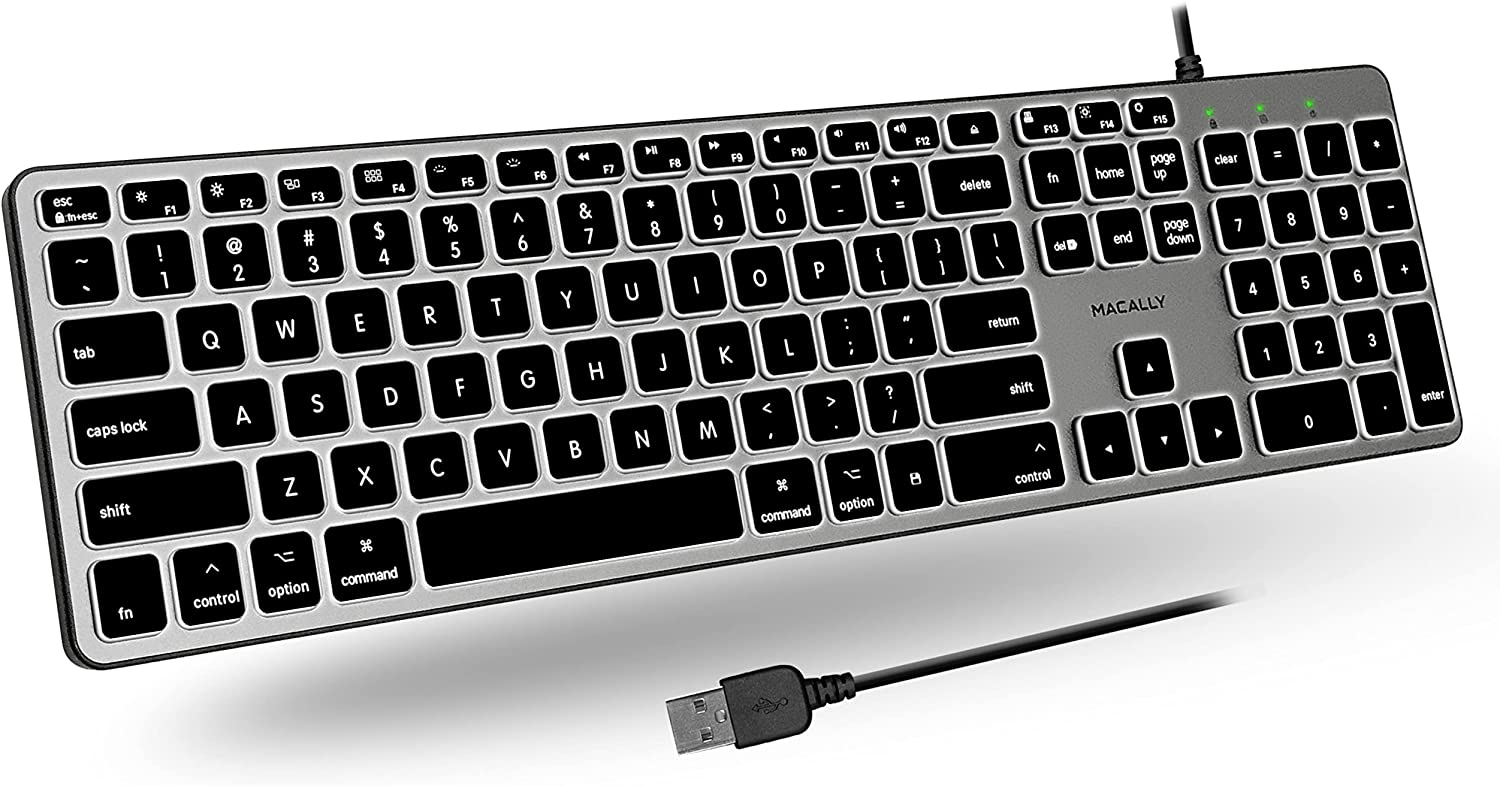 This wired keyboard by Macally has been designed like a traditional keyboard. At the same time, it comes with several advanced features that you would expect in a modern keyboard. That is the primary reason it appeals to a large number of users. It offers backlit functionality, so you will never feel dull or bored while working on it.
The space gray design is quite interesting and what helps the keyboard stand out is that it boasts a highly durable structure. It comes with a full-sized layout and features as many as 107 keys and 16 shortcut keys. Unlike several other keyboards you come across today, you will not find any key missing from this device.
An ideal option for those looking for a long-lasting Mac keyboard that is easy to use.

It is also recommended for those who prefer wired keyboards over wireless devices.
Convenient usage

Backlit functionality

A vast number of keys

Two-year warranty
Not spill-resistant

No wireless connectivity support
Comfortable Mac Keyboard with Good Connectivity Support
Apple Wireless Magic Keyboard
Check Price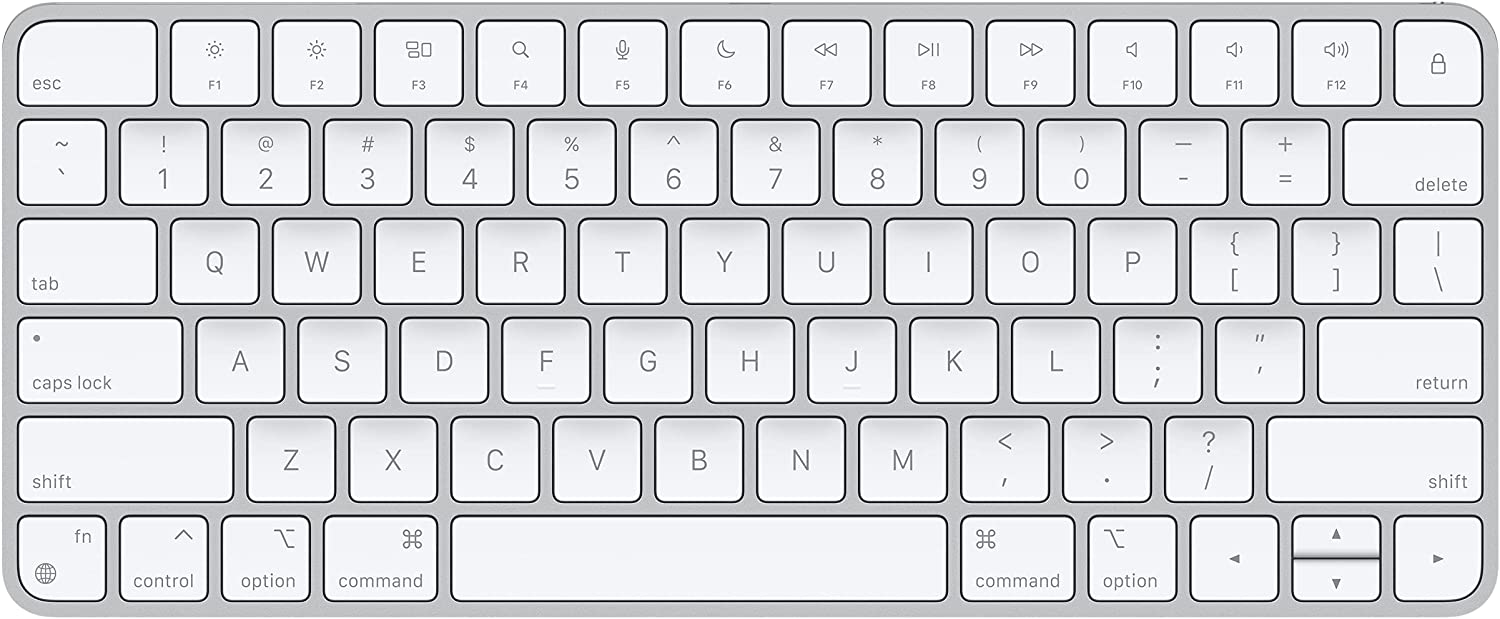 The Apple Magic Keyboard has been designed for those who wish to add an external keyboard to their MacBook without hassle. It has a compact structure and features all the keys that you would need for your computing tasks on a day-to-day basis. While it supports Bluetooth connectivity, you can also connect it to a MacBook using a USB cable.
The keys are very smooth, and you realize that when you don't feel any strain on your hands or fingers after typing for several hours at a stretch. Once you connect it to your Mac device, you will not have to make efforts toward reconnecting it to the device repeatedly. It will get connected automatically and help you save up a lot of time and energy.
If you are looking for a standalone keyboard to pair with your MacBook, it is one of the best options available at your disposal.

It's also a good choice for those who prefer compact-structured keyboards over large or full-sized keyboards.
Portable

It comes with a cable

Rechargeable battery

It supports both wired and wireless connectivity
No backlit feature

Some keys are missing
Backlit Keyboard with Metallic Build
Logitech MX Keys Wireless Keyboard
Check Price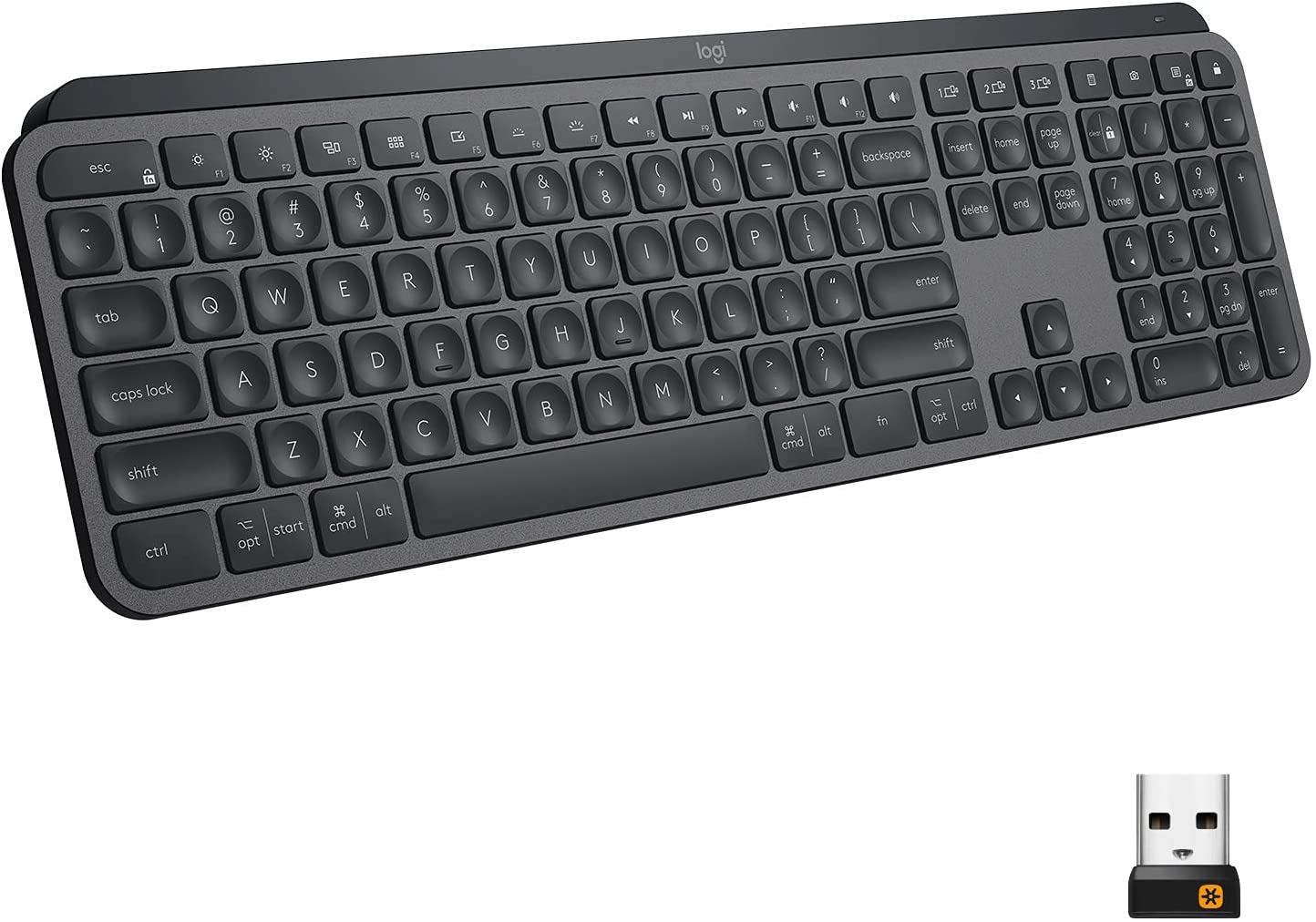 The metallic build quality of this keyboard by Logitech is one of its highest selling points. The keyboard's design is not only very attractive but also assures you of long-lasting usage. Apart from graphite, it is available in two other color options, pale gray and rose. The USB cable, which comes with the main product, enables you to connect it to any MacBook model.
You have the option of buying it as a standalone product or along with a good-quality palm rest offered by the brand. Since the keyboard comes with backlit functionality, you can use it conveniently even when there is a power supply issue and darkness around. Keys boasts an interesting spherical design that contributes toward offering comfort to the user.
Why You Should Buy This?
Recommended for those planning to buy a highly durable Mac keyboard manufactured by a popular brand.

It is also recommended for individuals who are looking for a well-designed laptop with backlit functionality.
Pros
Backlit function

Durable structure

Spherical design keys

Available in multiple color options
Cons
White-Colored Keyboard with Rechargeable Battery
Nasuque Bluetooth Mac Keyboard
Check Price

The minimal design of this white-colored keyboard by Nasuque is highly appealing and strikes an impression instantly. It has a slim structure, and despite being a full-sized keyboard, you would not find it difficult to carry it from one place to another. One of the best features of this keyboard is that it can be connected to three devices simultaneously.
The built-in lithium battery offers good runtime on a single charge. When the battery runs out, you can charge it conveniently with the help of a USB cable. The Bluetooth connectivity offered by the keyboard is quite robust. Once connected to a device, make sure it offers stable and secure connectivity.
Recommended for those who prefer using a keyboard that boasts of a minimalistic, white-colored design.

It's also a good option for individuals who are looking for a keyboard with a full-sized keyboard to pair up with their MacBook.
Full size layout

Good battery support

Multi-device connectivity
Budget-Friendly Keyboard with Durable Structure
Omoton Bluetooth MacBook Compatible Keyboard
Check Price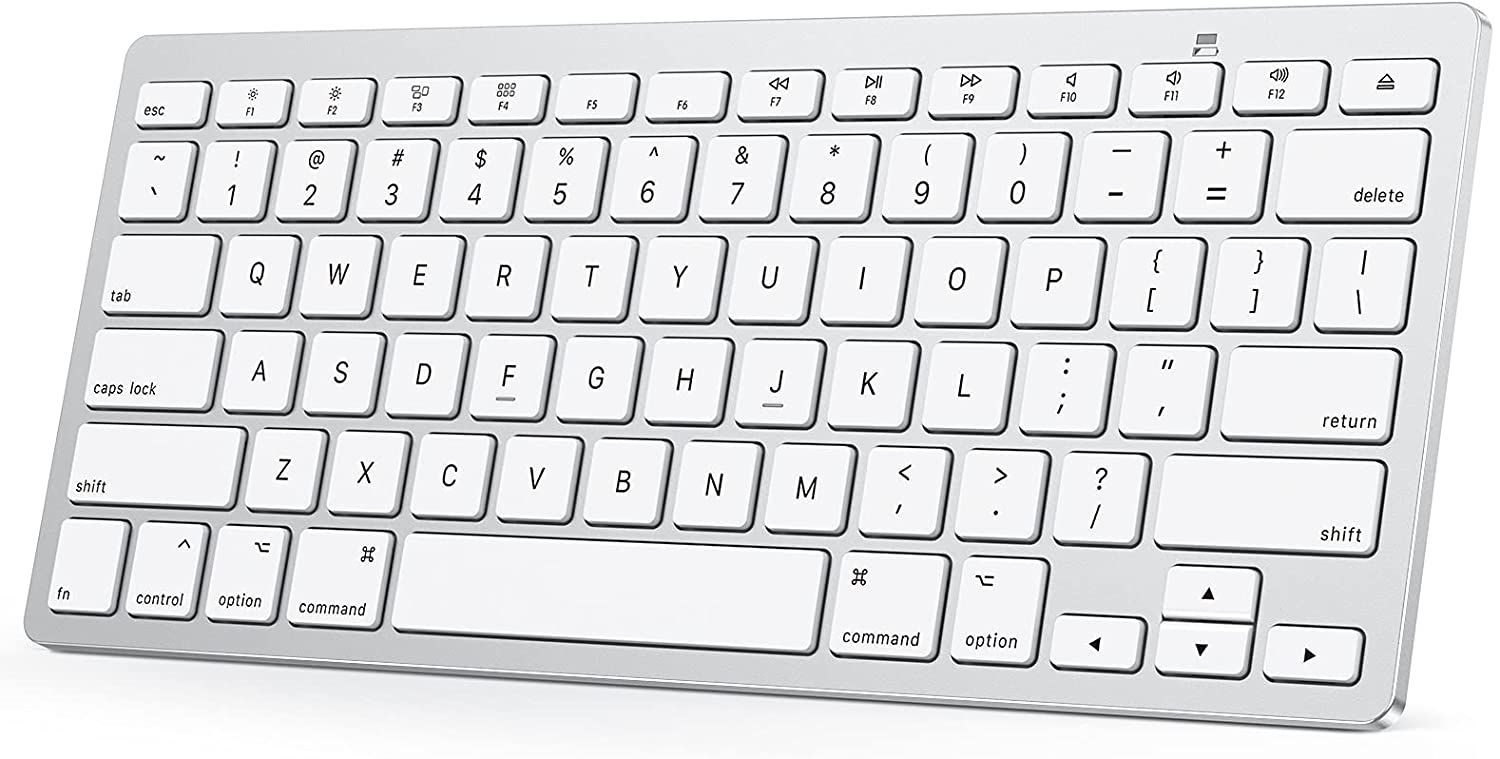 Despite being offered at a very low price point, this keyboard by Omoton offers high functionality and is compatible with most MacBook models. While the keyboard's design is simple, it is made with highly durable components. It is available in four color options, gray, black, gold, and silver.
The keyboard doesn't offer many connectivity options but functions as well as a Bluetooth keyboard. You will find a total of 78 keys on the device to help you get most of your computing tasks done efficiently. Owing to its slim design and compact structure, you can travel with it conveniently.
Why You Should Buy This?
A very suitable option for individuals looking for an affordable keyboard that can work well with a MacBook.

It is also recommended for those who travel extensively and need a portable keyboard.
Pros
Long-lasting

Moderate pricing

12 shortcut keys

Available in multiple color options
Cons
Limited connectivity support

The design could be improved
Frequently Asked Questions
Can Mac keyboards be used with an iPad?
Check the specs sheet of the keyboard. Keyboards designed to work on Mac computers may not be compatible with iOS-run iPads. Specific keys may not function or may offer different results. It is advisable to send a mail to the manufacturer of the Mac keyboard you are planning to buy or the seller to get a confirmation before placing the order. There are keyboards with the provision to alternate between different Apple products.
Are the Mac keyboards silent while typing?
Not necessarily. Many keyboards do produce noise while pressing the keys. If you are used to typing rapidly, the noise levels may even be higher. Some high-end keyboards come with softer keys. Check out the listing that specifically addresses this issue and place the order.
Will a Mac keyboard work with Windows OS?
Not all Mac keyboards may have that capability. But, there are keyboards in the market that can be used with Mac machines and Windows PCs. However, the typing experience may differ. It would be better if you can buy dedicated keyboards for both operating systems.
Are wireless keyboards better or wired keyboards?
Both wireless as well as wired keyboards are good. Functionally there is hardly any difference between the two. The keys and the layout will all be the same. The only difference is that a wired keyboard will have a cord to connect the keyboard to the machine. In the case of the wireless keyboard, there is a USB receiver that you have to plug in to start using the keyboard. One benefit of the wireless keyboard is that you can use it from a distance. You can recline on your sofa and type while keeping the laptop at a distance.
How soon do the letters and numbers on the keys wear out on keyboards?
In a normal environment with regular use, the letters on the keyboards don't wear out easily. If the keyboard is used in a highly dusty atmosphere or the user does not have clean fingers while typing away, the letters, numbers, and symbols can get erased. Some manufacturers use lamination to protect the letters. Ultimately, it is in the hands of the users.
Bottom line
A whole lot of new products have arrived. Picking the best Mac keyboard could be a difficult choice right now. If you have a good idea of your expectations, choosing one should be much easier. The Logitech keyboard uses unconventional solar power, while Anker offers the most compact keyboard.
These are some of the top best Mac keyboards you can get. When choosing a keyboard, don't forget to consider the things we mentioned at the beginning, such as ergonomics, type of keys, features, etc. We have listed different keyboards here so that every person can find a perfect fit!
Was this article helpful?
This helps us improve our website.