Technobezz is supported by its audience. We may get a commission from retail offers
HUO JI Perfect Retro Typewriter
BENGOO Gaming Keyboard of High Durability
Gigastone 104 Keys High Transmittance Typewriter Keyboard
Table of Content
A keyboard is an intrinsic and inevitable need for writers. It is essential to choose the appropriate keyboard for efficiency. There are many keyboards out there with different features and designs. Along with the outstanding functionalities, a keyboard needs to keep hands relaxed. Here are a few suggestions for the top best keyboards for writers.
Buying Guide
Keyboards are one of the most critical devices for writers. They tend to spend most of their time typing, and having a good keyboard is very important to increase their work efficiency.
There are several important factors one needs to check before buying a keyboard. A few of them are,
The design of the keyboard
Standby time offered by the keyboard
Number of keys on the keyboard
Whether it is a wired or wireless keyboard
Presence of keyboard backlighting
Presence of RGB color modes
See also: Best Travel Laptops Under $500
Best keyboards for writers
Aesthetic Programmable Typewriter Keyboard
HUO JI Perfect Retro Typewriter
Check Price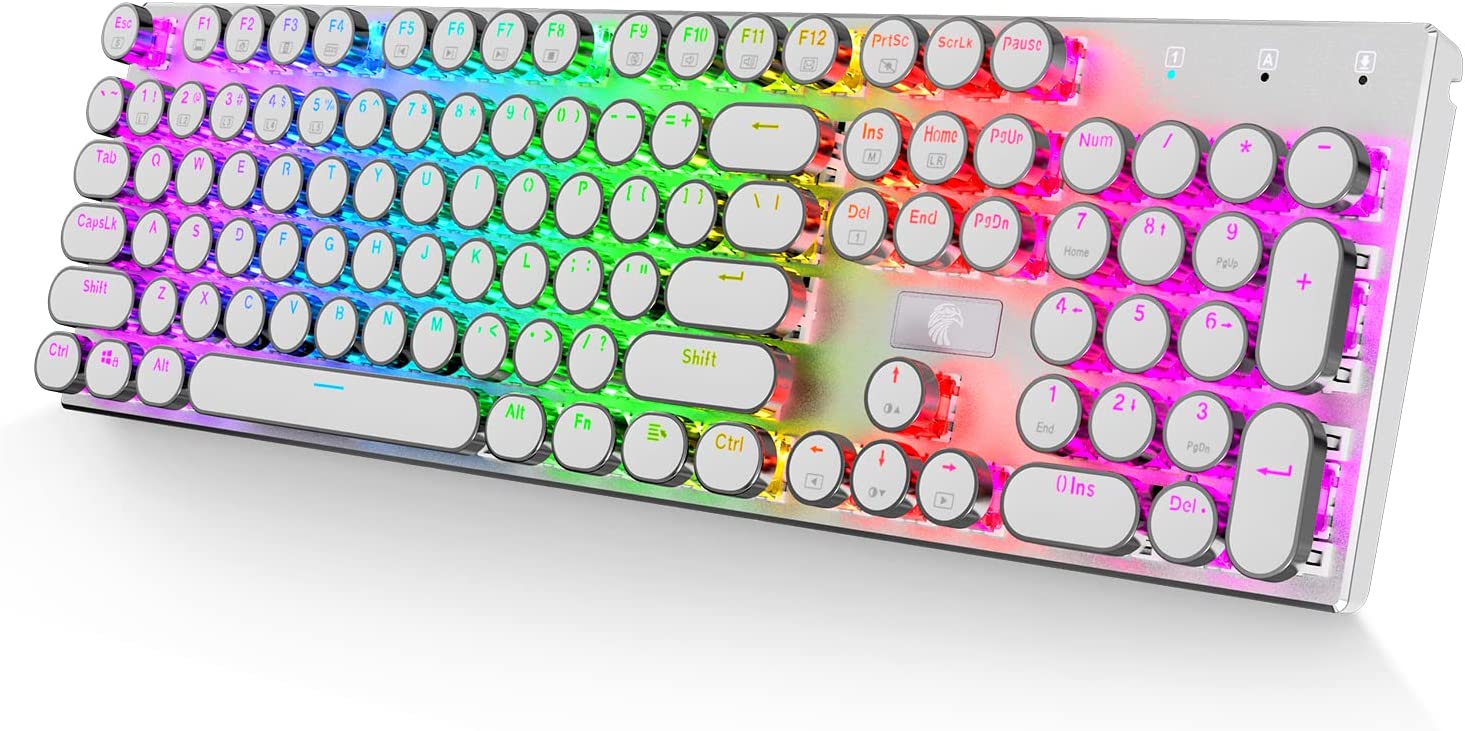 The HUO JI Typewriter-style keyboard sports a vintage design with its unique rounded keycaps that look like a floating-key design. It gives a retro, eye-catching aesthetic. This keyboard's switches are smoothly designed to increase longevity, durability, and responsiveness. The mechanical keys have medium resistance and an audible click sound which are thoughtful, user-friendly features. This also includes five spare key switches for replacement. Writers looking for a keyboard with a sturdy build can opt for this.
You can even program the keys on the keyboard to show the same color or different colors as per your requirements, without needing any driver. The keyboard comes with a solid backlit mode. The design is top-quality, being composed of both metal and ABS plastic. The packaging comes with a gold-plated USB cable.
There are options to change the color, brightness, and speed of all color modes.

It comes with some extra metal keys and a keycap remover.
Strong build

Retro design

Numerous color options

Includes a gold-plated USB cable

104 keys
No warranty

Irresponsive lighting after a few months of use
Typewriter Keyboard with Multifunctional Knob and up to 12 Multimedia Options
BENGOO Gaming Keyboard with High Durability
Check Price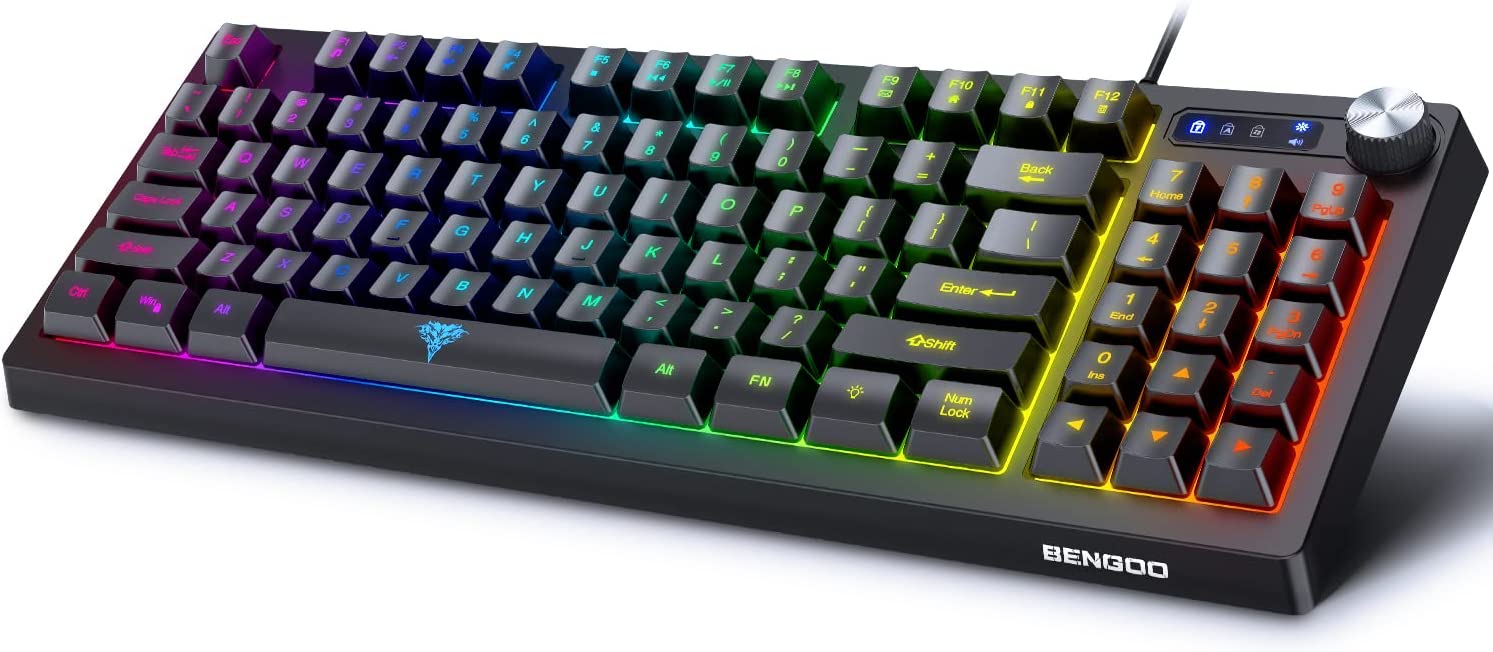 BENGOO Gaming keyboard offers eight color variations and up to 5 LED lighting modes. The keyboard is also equipped with a light-speed adjusting option. Another cool feature is that if the keyboard is kept unused for more than 10 minutes, the backlight will automatically switch off. The keyboard build is of high quality, and it comes with 89 keys. The build is of ABS, which provides more durability for the keyboard.
The keyboard also features multimedia keys and a multifunctional knob. The knob can be used to adjust the backlight and volume conveniently. The combination of the function key and the different keys in the keyboard can offer 12 different kinds of multimedia options.
It has a special WinLock function that can disable the windows key.

The keyboard comes with a 20° tilt on the surface which is useful for typing.
12 different multimedia options

Automatic switch-off backlight

Strong build

89 keys
NumLock replaces the right CTRL.

Not very user-friendly
Widely Compatible RGB Brown Key Typewriter Keyboard
Gigastone 104 Keys High Transmittance Typewriter Keyboard
Check Price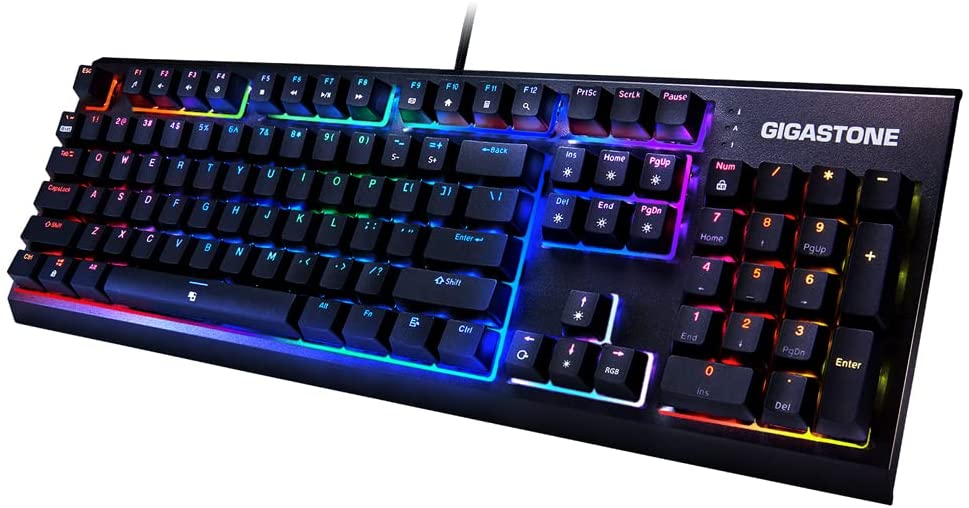 Gigastone Store keyboard has fully solid RGB Brown keys and 104 keys. The keycaps have high transmittance. The keyboard has 18 preset LED illuminating modes, so you can change it anytime. If you're a writer who uses a keyboard for a long time, you can use multiple color modes and have fun while typing. It also has extreme durability as it has passed the 50 million keystroke test.
The good thing about this keyboard is its compatibility; it can fit with most operating systems. Gigastone also offers a 1-year manufacturer warranty which is very helpful for any customer and a rare feature among other keyboards available in the market.
This is an anti-ghosting keyboard that works with precision and accuracy.

It is extremely durable as it has passed the 50 million keystroke test.
Has 104 keys

High-precision mechanical keys

High Longevity

High compatibility
No automatic switch-off backlight

The design is not retro
Elegant Steampunk Typewriter Keyboard with High Battery Life
7KEYS Steampunk Durable Typewriter Keyboard
Check Price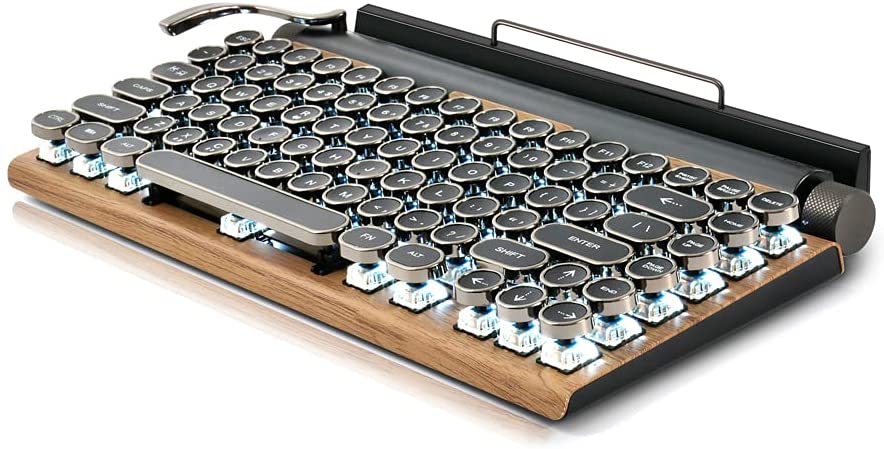 The 7KEYS Store typewriter keyboard catches the attention with its elegant design featuring metallic keys. This typewriter keyboard sports a steampunk design with its unique key design. The keyboard is stable and durable as it has passed the 50 million keystroke test.
A unique feature of this keyboard is its 2000mA rechargeable battery that lasts as long as 10 hours on just one full charging cycle. So, you will get uninterrupted hours to enjoy writing. In fact, another cool feature is that you also get a pop-up message that indicates the keyboard's battery percentage.
Why You Should Buy This?
It has passed the 50 million keystroke test and have great durability

It has great compatibility with laptops, tablets, and cellphones.
Pros
Good battery life

Display that indicates battery percentage

Elegant design
Cons
Not long-lasting

No automatic switch-off backlight
Handy Wireless Typewriter and Precision Mouse Combo
RAPOO Funky Wireless Keyboard and Mouse Combo
Check Price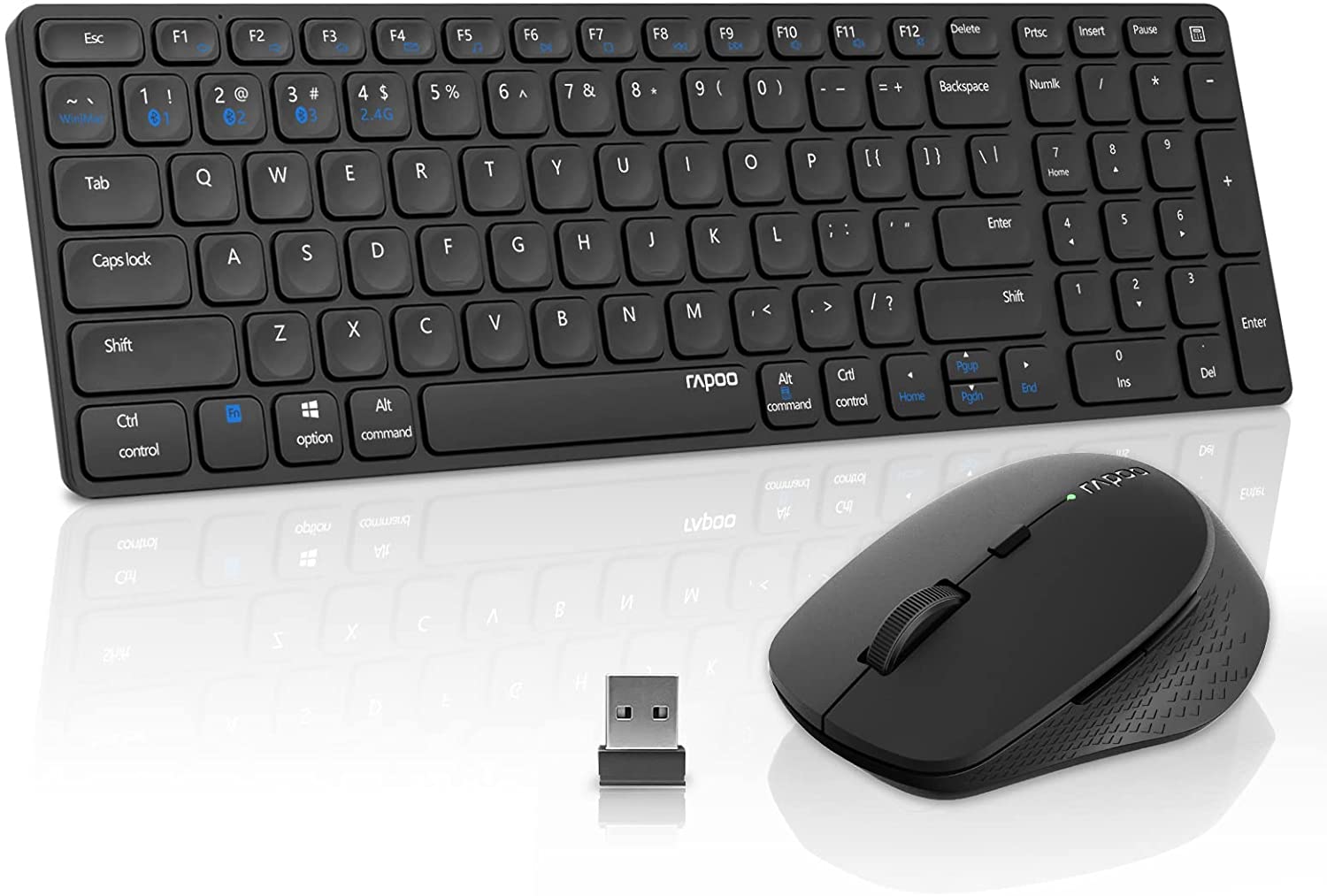 This combo from RAPOO is super cool as it comes with a wireless keyboard and a mouse, which can be connected using Bluetooth and a 2.4G USB receiver. This device is extremely handy for those who use multiple devices for work. Several combinations of hotkeys give up to 13 different multimedia options for writers, which are very efficient and time-saving.
The mouse has an ergonomic design with a 1600 DPI precision tracking engine that is quite satisfactory. Battery life is a whopping three months long on a single full charge cycle of 2 hours.
It comes with a Teflon foot pad which is convenient to move on various surfaces, and no separate mouse pad is needed.

The keyboard offers a standby time of 90 days and 2 hours of non-stop use on a single charge.
Long battery life

Both mouse and keyboard included

Wide compatibility
Funky Retro Portable Keyboard with Extreme Durability
UBOTIE Colorful Portable Bluetooth Keyboard
Check Price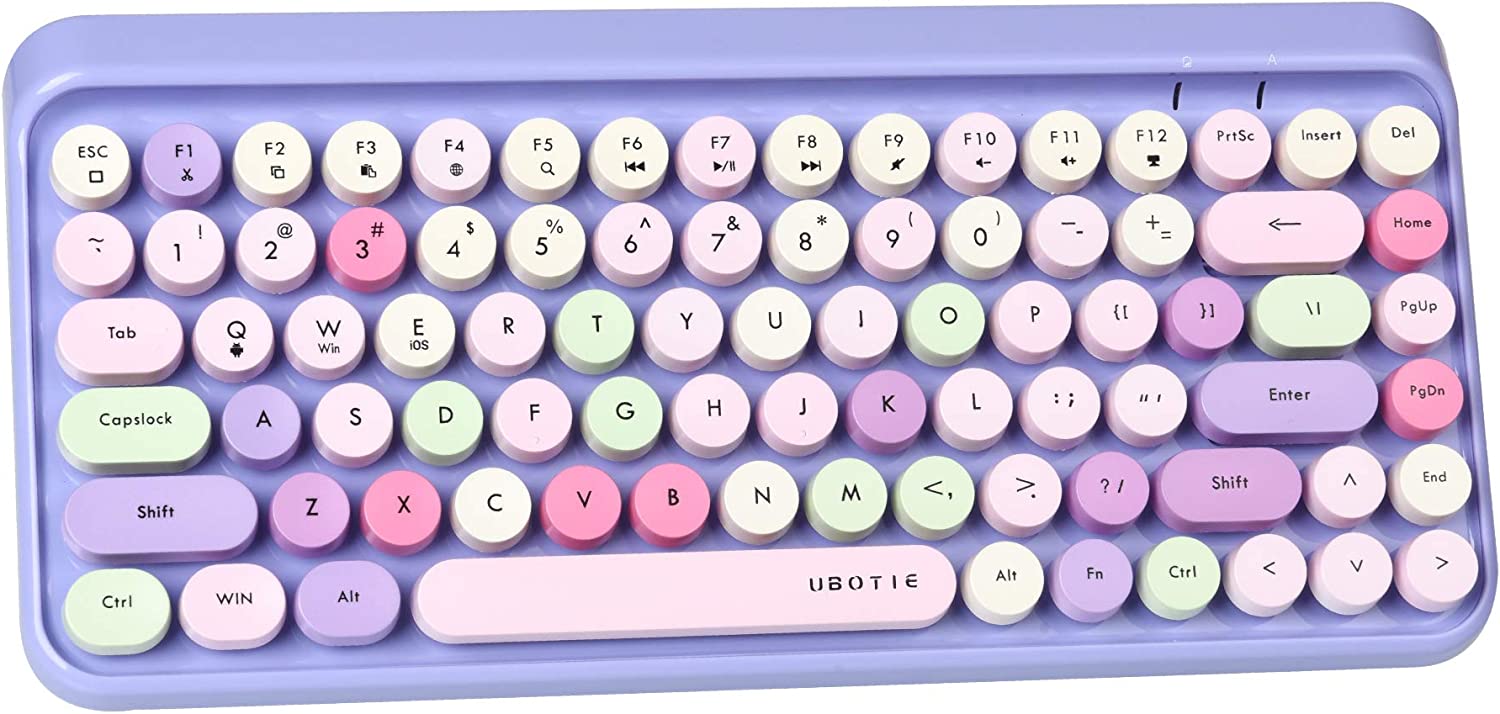 This one is from the house of UBOTIE and comes with Bluetooth connection and operation. You can use this cute-looking typewriter keyboard with multiple devices like PCs, laptops, phones, and tablets if they are within a range of 10m. Since this keyboard is pretty versatile and has wide compatibility, you can connect it to any device if it has compatible Bluetooth.
This mini typewriter keyboard gives classical retro vibes with multicolor pastel hues. It's made from ABS plastic and has 84 keys. The build is very strong as it has passed the 10 million keystroke test. It is also embedded with energy saving and auto-sleep mode.
Why You Should Buy This?
The keyboard has a long battery life of 7 days if used for 8 hours daily.

The color and design of this keyboard are extremely vibrant and give a retro purple vibe.
Pros
Durable

ABS body

Energy saving mode

Standby time of 1 month

Wide compatibility
Cons
No numeric pad

Shortcut keys might not work with Mac
Was this article helpful?
This helps us improve our website.