Technobezz is supported by its audience. We may get a commission from retail offers
Lenovo IdeaPad 3 11.6-inch Display Screen Laptop
Acer Aspire 5 11th Gen Intel Core i3-1115G4 Processor Laptop
BiTECOOL 120 GB Storage-Space Drive Laptop
Table of Content
The primary advantage of owning a laptop is undoubtedly its portability. This vital feature allows you to take your laptop wherever you travel. One of the most important aspects you would want to look into in a travel laptop is the weight factor. Compact and ultra-thin laptops are also worth considering for this purpose. Most popular manufacturers have at least a few laptops to meet these criteria. This can help you make your choice from your favorite brand.
The following list gives you a few suggestions to ensure your decision-making process is less challenging.
See also: Top Best USB Flash Drives
Buying Guide
In today's context, almost everyone carries a laptop while traveling. Would you consider buying a laptop with special features like a travel companion? What factors would you want to look for in a travel laptop? These days, the market offers a wide range of laptops to choose from, priced under $500. Here are some useful tips.
Light Weight: The weight of the laptop may be one of the first considerations. It is always preferable to travel light, and you wouldn't want your laptop to be too heavy to carry. Ideally, the laptop should weigh 5 pounds or less to be comfortable carrying it around.
Solid Battery: You should settle on a travel laptop that has a large battery size. This is because you may find it difficult to charge while in transit. The battery life must be good if you want to watch your favorite video on the flight or while traveling.
Display Size: The larger the display, the more the weight. If you have already shortlisted the machines based on their weight, you may be able to pick one with a 15-inch display. This size is good enough to watch movies and videos while traveling. If you go further down on the size, then it may be a compromise.
Color and Appearance: When you travel with your laptop, it gets noticed, and you should spare a few moments to choose an appealing color for your travel laptop. It can be deep purple, baby pink, or dashing red. Choose the one that suits your personality. Select a laptop with a nice aesthetic design as well.
Connectivity Options: Your travel laptop must have as many connectivity options as possible. Depending on where you will be staying while you travel, you should be able to connect via Wi-Fi, an HDMI cable, or other sources. Check with the seller about all the available options.
Backlit Keyboard: Many travel laptops have this feature. It helps to have a backlit keyboard since you can work in very low light conditions. If you are traveling in a group and wish to carry on working at night when the others are asleep, the backlit keyboard helps you type in the darkness.
Best Travel Laptops Under $500
Budget-Friendly Laptop with Good Battery Support
Lenovo IdeaPad 3 11.6-inch Display Screen Laptop
Check Price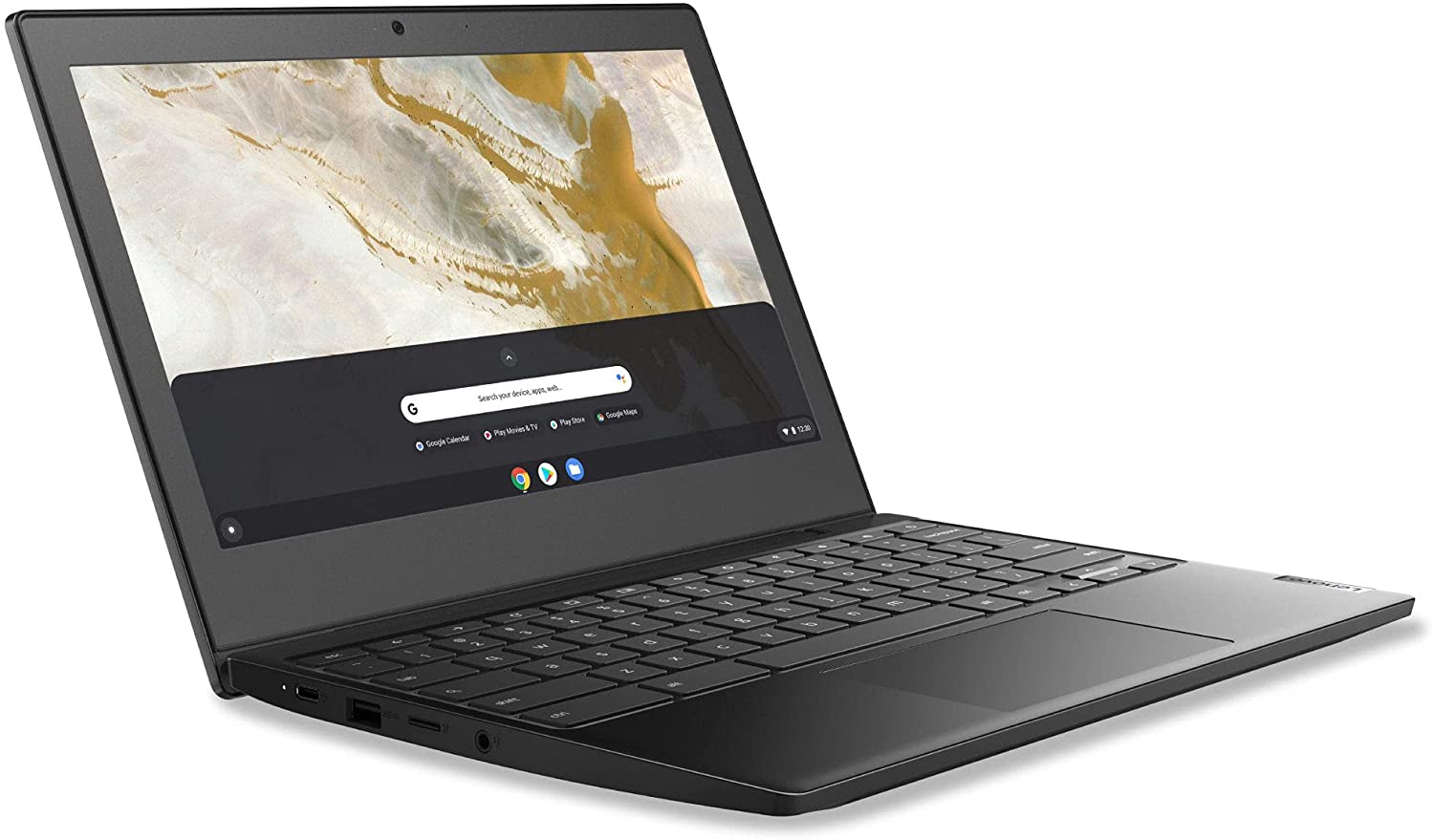 Two of the biggest selling points of the Lenovo IdeaPad 3 are its pricing and structure. Despite being a budget laptop, it offers several features that most would find useful. The compact structure of the laptop makes it very easy to travel with it. It has an 11.6-inch display screen with a resolution of 1366 x 768 pixels. Another highlight of the laptop is its battery life. When fully charged, the battery lasts for close to 10 hours.
Apart from the 4 GB low-bandwidth RAM, many users might be disappointed with the storage space this device provides. The hard disk offers a storage space of 64 GB which would not be enough for those who store a large amount of data on their electronic devices. The Intel Celeron N4020 CPU operates at a processing speed of 1.1 GHz, allowing the device to operate efficiently. You will find the 720p webcam highly useful if you do video calls regularly.
Recommended for those planning to invest in a moderately priced laptop that offers stable performance.

It is also a good option for individuals who travel extensively and require a laptop with a lightweight and compact design.
720p webcam

Compact structure

Long-lasting battery

Sharp display screen
No optical drive

Limited storage support
15.5-inch Display Screen Laptop with Built-In Alexa
Acer Aspire 5 11th Gen Intel Core i3-1115G4 Processor Laptop
Check Price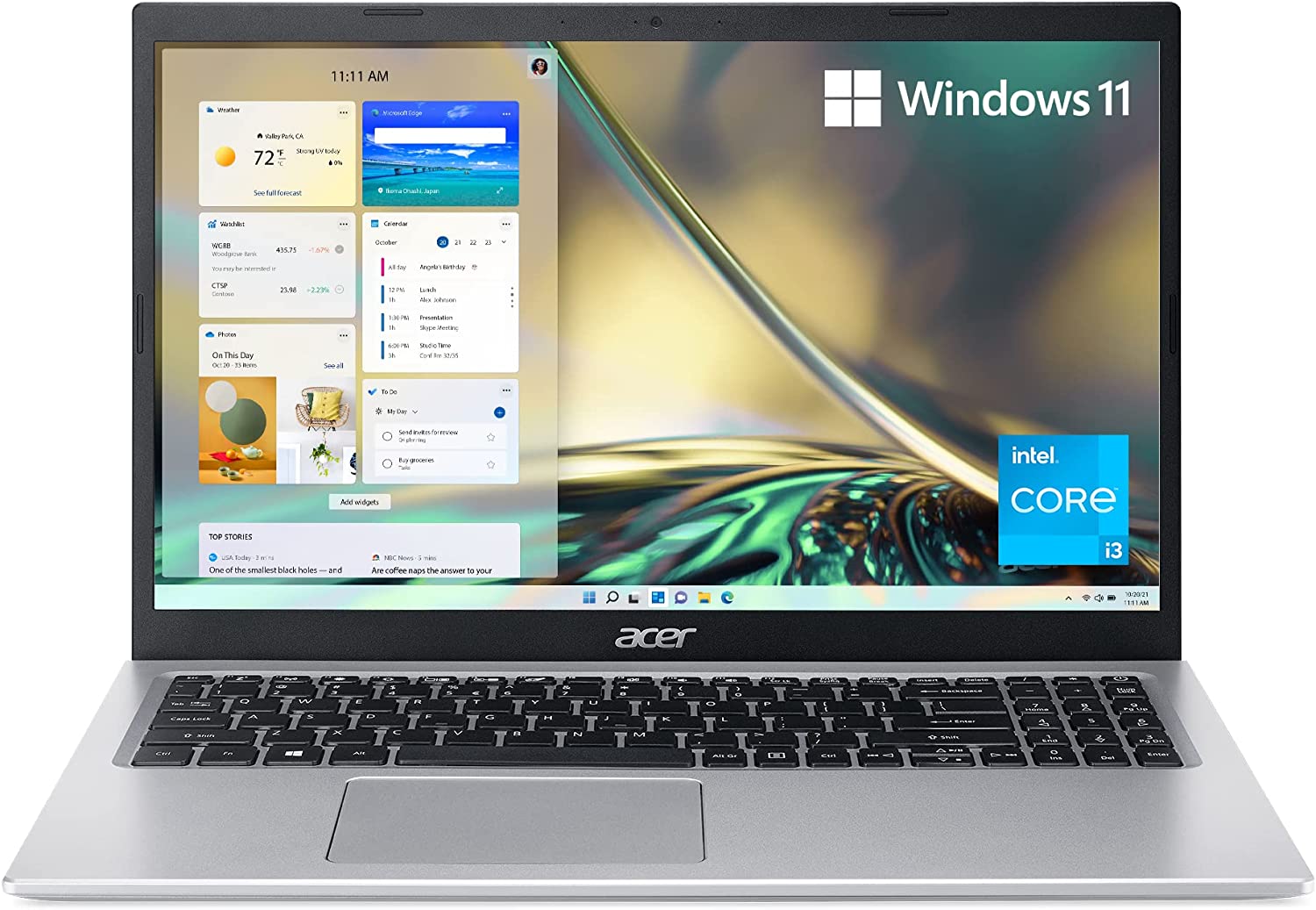 The Acer Aspire features a 15.6-inch display screen that offers a resolution of 1920 x 1080 pixels. Besides multimedia consumption, the screen is bright and sharp enough to facilitate gaming, web browsing, and video conferencing. The laptop does not come with an optical drive. Unless you use CDs and DVDs, it should not be a cause of concern for you. Some of the connectivity options that you come across on this device include a 3.5mm headphone jack and a microSD card slot.
One of the highlights of the device is the presence of Alexa. Using this pre-installed voice service, you can perform multiple activities by simply giving voice commands. The solid-state drive offers 128 GB of storage space. Though the device features a low-bandwidth 4 GB RAM, the processor delivers fast and stable performance. At 3.7 pounds, the device is not too heavy and you can carry it around easily.
If you have been looking for a laptop priced under $500, this is one of the best options.

It is also recommended for individuals wanting to invest in a budget-friendly laptop with a 15-inch screen.
Alexa support

Efficient processor

Good build quality

Lightweight structure
Average quality keyboard

No USB-C charging support
Well-Designed Laptop with a 15.6-inch Display Screen
BiTECOOL 120 GB Storage-Space Drive Laptop
Check Price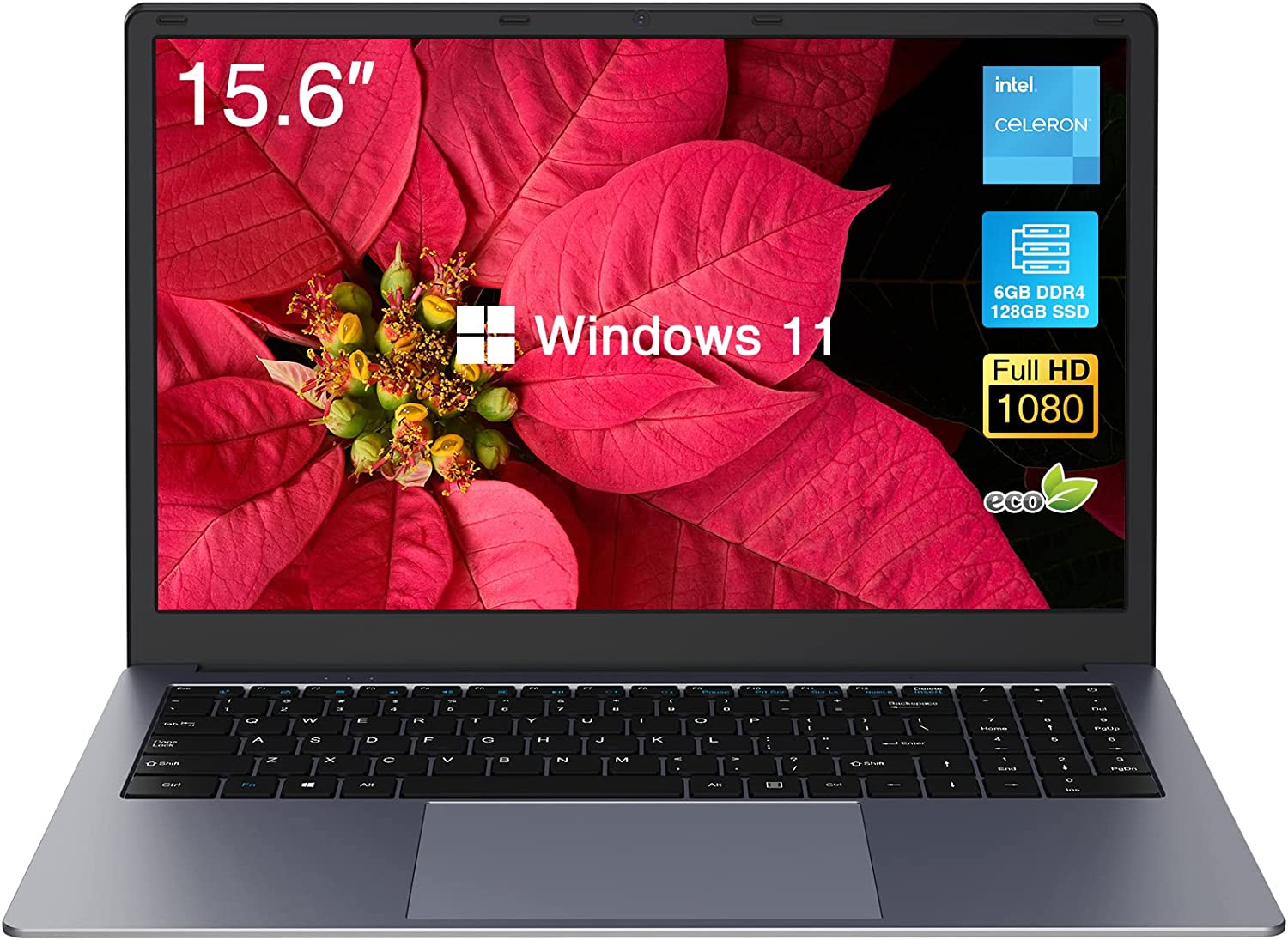 Featuring a portable design and a long-lasting battery, this laptop by BiTECOOL is very convenient to travel around. Weighing just 2.7 lbs, you can put this laptop in a medium-sized bag and travel with it. The gray-colored design of the laptop is very stylish and contemporary. The 15.6-inch wide display screen offers a resolution of 1920 x 1080 pixels. For a laptop priced under $500, the number of features it offers is commendable.
The laptop offers a good number of connectivity options. If you wish to expand the memory, you can use the microSD card slot. A 3.5mm audio jack also enables you to plug in a pair of headphones to the device. On a single full charge, the battery lasts for 8 hours. The device does not feature high-bandwidth RAM, but 6 GB RAM for a budget laptop is not bad. The keyboard is highly durable and offers a great amount of comfort while typing.
A very suitable option for those looking for a budget-friendly laptop that is easy to travel with.

It is also recommended for individuals who type extensively and need a laptop with a solid keyboard.
Budget-friendly

Attractive design

Comfortable keyboard

Good connectivity support
Moderate battery life

Low bandwidth RAM
Well-Performing Laptop with Fast-Performing Processor
Newest Acer Aspire 5 Windows 10 Laptop
Check Price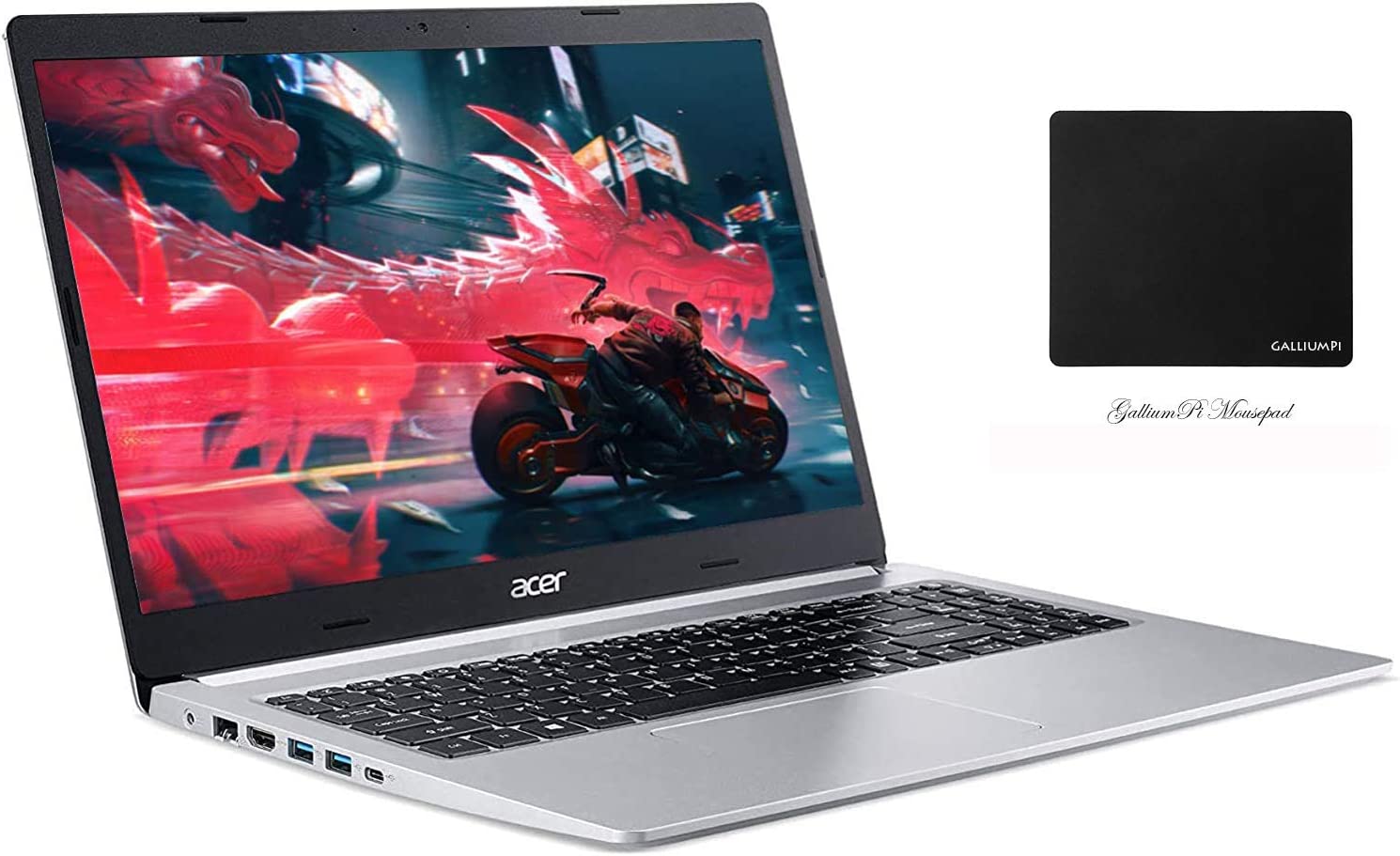 The most recent, upgraded version of Acer Aspire 5 features several improvements over the earlier models. The device features a gorgeous display that happens to be 15.6-inches wide and offers a resolution of 1920 x 1080 pixels. The device's battery life is one thing that still needs improvement. When you charge it optimally, the battery lasts for 7-8 hours. The laptop offers multiple connectivity options, including a USB Type-C port and a 3.5mm headphone jack.
At 4.2 pounds, the device is neither too heavy nor too light. The laptop runs on Windows 10 and offers smooth operations even when multitasking. The device is powered by the Intel Core Dual i3 CPU that functions at a high processing speed of 3.4 GHz. The SSD drive offers a storage space of 128 GB which is not very high, but because it is a budget laptop, most users should be okay with it.
Why You Should Buy This?
If you have been looking for a laptop for under $500, this will prove to be a good investment.

It is also recommended for those hunting for an affordable laptop with super-fast performance.
Pros
Efficient processing unit

Multiple connectivity ports

Features a headphone jack

High-definition display screen
Cons
Underwhelming battery life

Storage space should have been higher
15.6-inch Display Screen Laptop Featuring a Sophisticated Design
2022 Acer Intel Celeron N4500 Processor Laptop
Check Price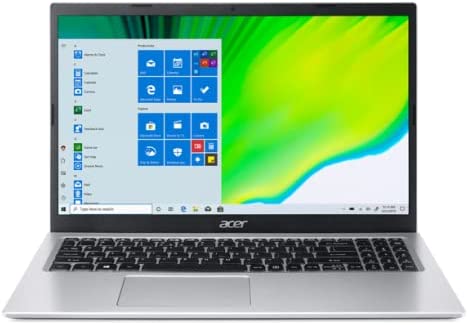 This recently launched laptop by Acer has been designed for those looking for budget-friendly devices. Priced under $500, this laptop offers great value for money by offering the kind of features that you would, otherwise, a more premium device. However, since this is a budget laptop, there are certain things you should be willing to be forgiving about. It comes with pre-installed 4 GB RAM that doesn't contribute to accelerating the speed at which you can carry out your tasks.
The laptop features a 15.6-inch display that produces high-quality visual output. The screen offers a 1920 x 1080 pixel resolution and is great for multimedia consumption. With this device, the brand offers you a free one-year subscription to Microsoft 365 Personal. The Intel Celeron N4500 CPU works at a processing speed of 2.8 GHz and ensures efficient performance for the device. The hard disk provides you with a storage space of 128 GB.
A suitable option for those who wish to procure an attractive laptop offering great performance and advanced features.

It is also recommended for individuals who consume multimedia content extensively and want to have a sturdy laptop featuring a high-definition screen.
Stylish design

Stable processing unit

Vibrant display screen

High-resolution webcam
Low bandwidth RAM

It could have been more durable
Portable Laptop Device with Anti-Glare Screen
HP 14 256 Storage-Space Drive Laptop
Check Price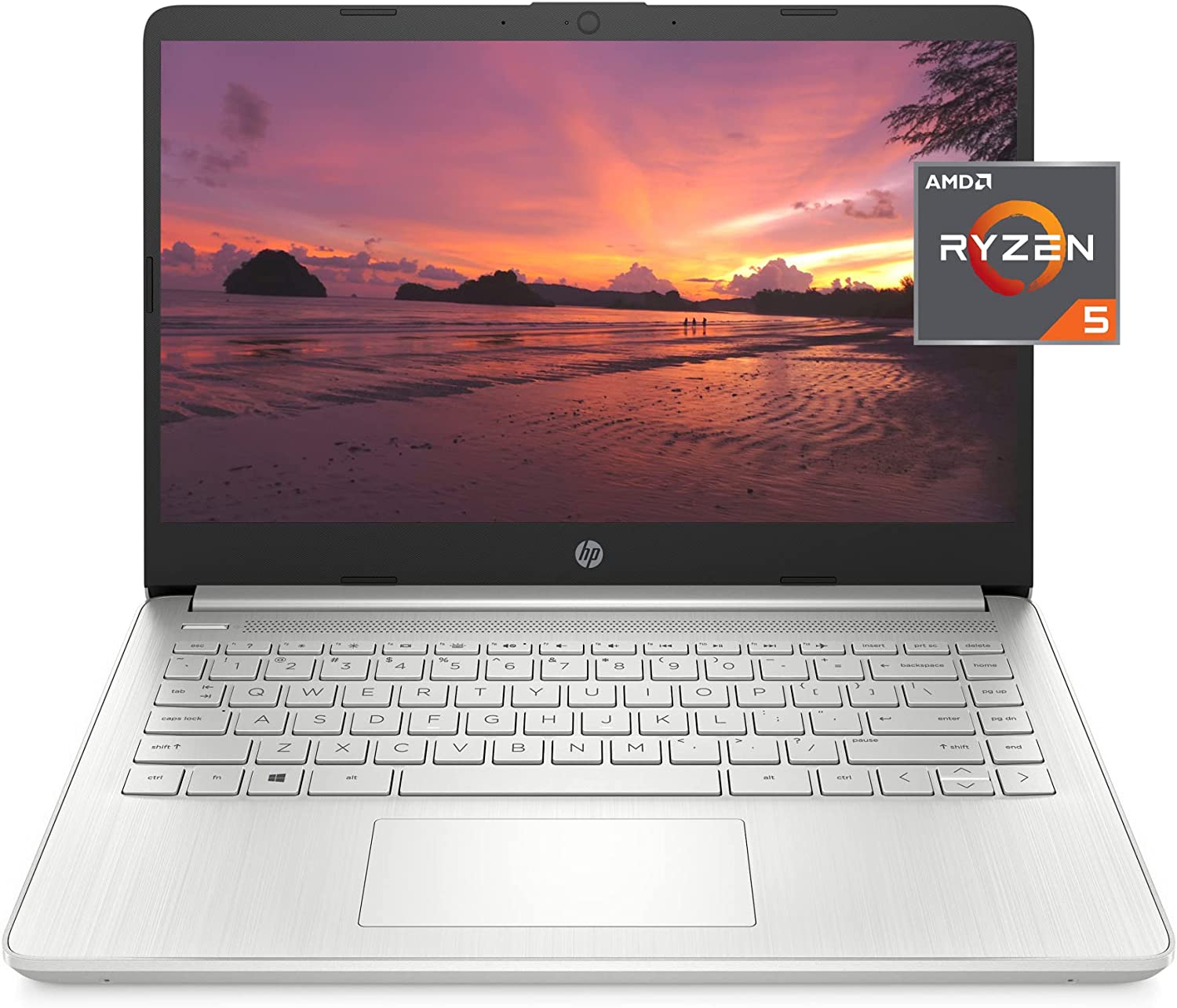 This laptop by HP comes equipped with a 14-inch display screen with a resolution of 1920 x 1080 pixels. With a weight of 3.24 pounds, the laptop is lightweight and works as a good travel-friendly device. It is made with durable components, so you can carry it along during personal or professional trips. The natural silver design of the device makes a striking impression and makes you want to bring it home.
When fully charged, the built-in battery lasts over 9 hours. HP's patented Fast Charge technology ensures it does not take long to be charged. The laptop features multiple connectivity ports but does not have an optical drive. It runs on Windows 11 and works smoothly even when you perform multiple tasks simultaneously. The brand offers a year-long hardware warranty on the device.
Why You Should Buy This?
An ideal option for those looking for a 14-inch, compact-structured laptop that is comfortable to travel with.

Also recommended for individuals who want to own a versatile laptop device that comes at an affordable price.
Pros
HD display screen

Robust processor

Lightweight and compact

1-year hardware warranty
Cons
No optical drive

Battery life can be improved
Frequently Asked Questions
Is storage necessary on a travel laptop?
It depends on an individual's requirements. If you save a lot of videos to watch during travel, yes, storage is critical. Similarly, if you click many photos on your mobile camera and wish to transfer them to your laptop, the storage part is important. If you use Cloud storage for the photos, then this is not very significant.
Do I get a backpack along with every travel laptop?
Most laptop brands add the backpack as a standard supply along with their laptops. You can ask the seller if it is included. Even if you don't get a free backpack, a laptop bag doesn't cost much. You can choose a good one that can accommodate more than just the laptop.
If I like a laptop but its price is more than $500, should I buy it for travel?
It is your call, ultimately. The suggestion of a $500 price has been given, assuming you are buying it for travel purposes. If you invest more, you should be able to put it to use for other regular purposes as well, and you wouldn't be wrong in doing so.
Do laptops carry a warranty for damage/breakage due to a fall?
Typically, the warranty for laptops may not include damage due to accidents, like a fall. However, some brands offer this as additional warranty coverage for extra payments when buying. The other alternative is for you to cover it with an insurance policy.
Are laptop chargers common like in mobile phones?
No. Laptops are sold with adaptors that may or may not fit in another laptop. Often, battery charging adaptors cannot be interchanged within the same brand of laptops. Making a universal charging port for laptops across brands may be a great idea.
Conclusion
When you buy a laptop for use during travel, you must first analyze what you would primarily need the laptop for. This can help you pick from laptops with features that match your requirements. For example, devices with wide-angle screens and/or Dolby speakers are worth looking into if you are looking for a system to entertain yourself when you are on the move. If you are using it for business or work, looking for ones with decent RAM and memory specifications is ideal because you are likely to multitask. Last but not least, if looks matter to you, check out those laptops with multiple color options and a metallic finish.
Was this article helpful?
This helps us improve our website.