Featured in this article (opens in new tab)
Surround audio has become a standard entertainment sound system for the home theater experience. It has been made better with time and offers far more immersive audio perception than the two-channel ones.
See also: Top Best iPhone X cases
Buying Guide
If you decide to buy the 5.1 system, you will find this post helpful. If you are wondering what you need to look for, then here's a list:
Consider your room size
See if the 5.1 system is compatible with streaming devices
Make sure it is easy to setup
See if it comes with a subwoofer
Check for wireless connectivity options
Here is a list of the top best 5.1 sound systems.
Best 5.1 Sound Systems In 2023
An all-round sound system with an extraordinary surround sound system
Polk True Surround III 5.1 Channel Wireless Surround Sound System
Check Price

Thinking of turning your room into a live disco? Polk Surround Sound System is the best option for you. With 7 inch subwoofer, this sound system can easily turn your room into a party ground. It comes with separate left and right rear surround sound speakers that create a pleasant bass and an immersive sound experience, turning your home into a home theater.
The subwoofer is wireless, and the speakers are very easy to set up. You don't have to tie so many wires together and then hang them somewhere, making the wall look so cluttered. This sound system by Polk comes with Dolby Digital coding sound system, which is quite well known for delivering a room-filling sound rather than creating unpleasant noise.
The manufacturer of this sound system, Polk, is famed in the industry for its commitment, reliability and 100% customer satisfaction.
It is compatible with both iOS and Android devices.
Includes a wireless subwoofer
It comes with Dolby surround sound system
Multiple input connections like AUX, HDMI, Bluetooth, etc.
The headphone jack may not be ideal
Not compatible with WiFi
Connect multiple smart devices to this soundbar at a time
SAMSUNG HW-S50B/ZA 3.0ch All-in-One Soundbar
Check Price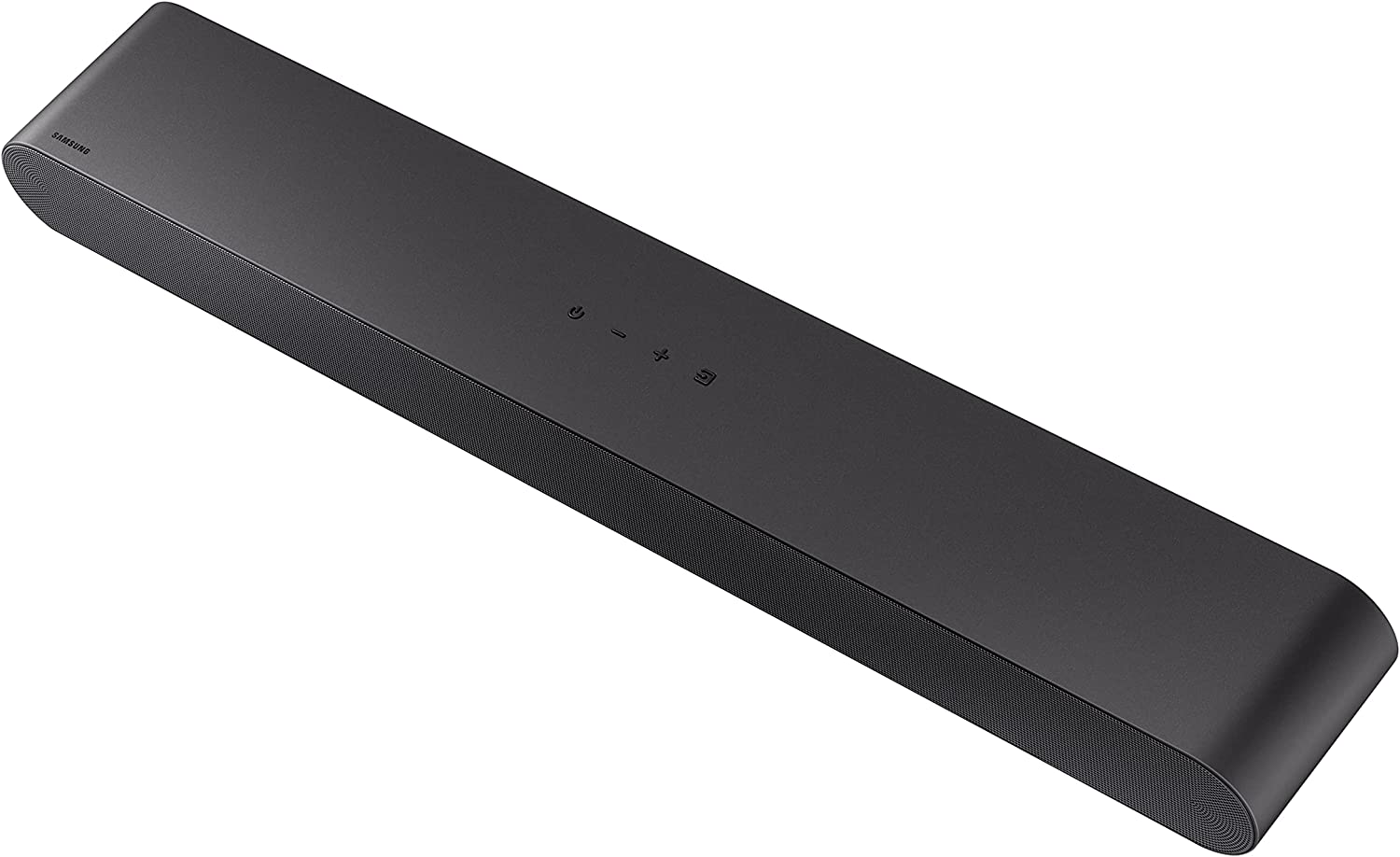 This sound system by Samsung is your ideal option if you want something simple and compact, as this soundbar comes with inbuilt woofers and tweeters. The Dolby Digital system sends music in all directions, creating a surrounding, room-filling experience. Secondly, the DTS system creates a rich and loud sound so that you don't have to connect additional speakers to have maximum sound output.
The Q symphony in the soundbar enables you to listen to perfectly synchronized audio in each direction. Then the center speaker makes sure you listen and comprehend every word in the dialogue, no matter how low the sound.
Adaptive sound lite features take your gaming and movie-watching experience to the next level.
Bluetooth multi-connection allows you to connect two of your smart devices simultaneously.
Dual woofers
Allows you to connect two smart devices
Surround Sound system
Only Bluetooth connection is available
A bit expensive
The most affordable sound system with the best customer support
BESTISAN TV Soundbar
Check Price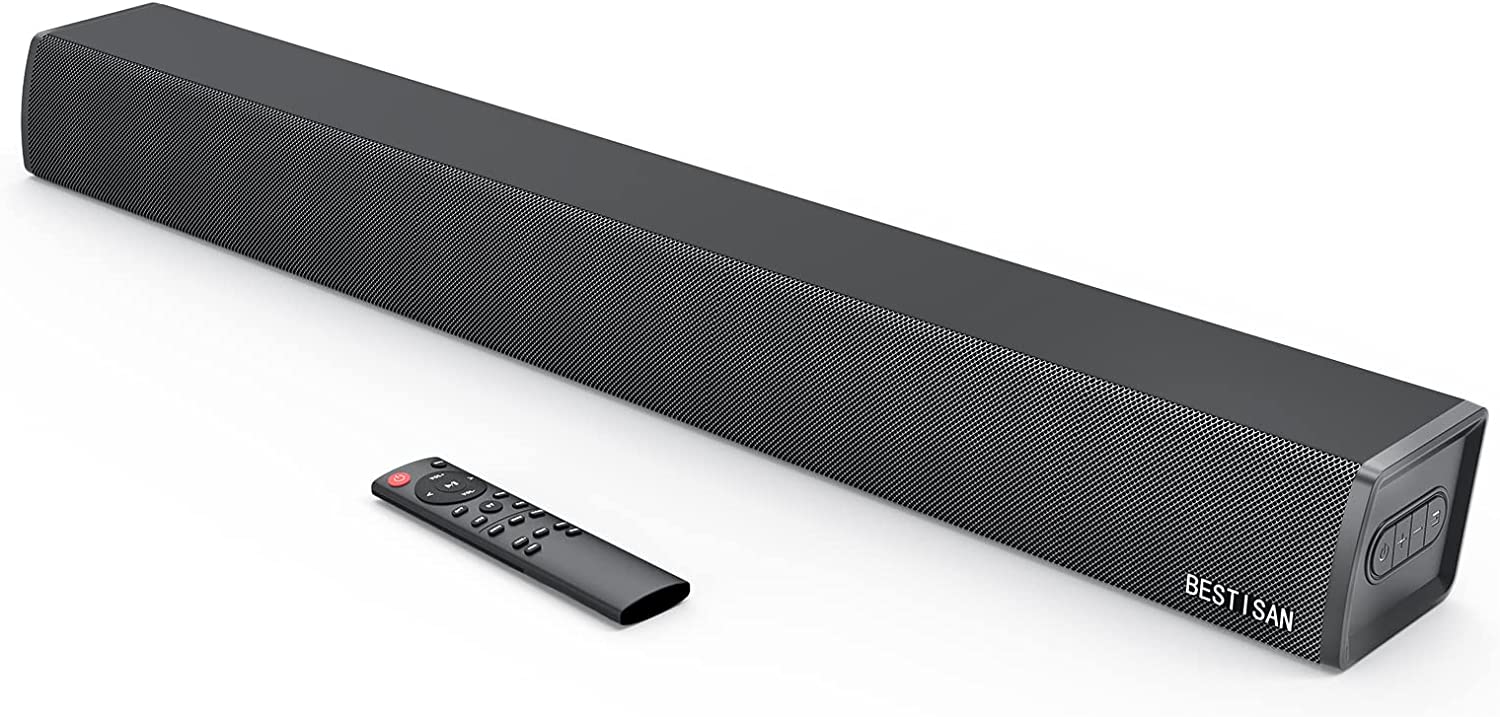 If you are looking for something cheap without compromising on the sound quality and design of the speakers, then this soundbar may be your go-to option. The soundbar is a power pack consisting of four speakers, two tweeters, and two bass-reflex tubes that are put together to deliver a deep bass of 105 decibels. There are multiple input ports like USB, HDMI, Bluetooth, AUX, Coaxial, Optical, and so on.
Consisting of an easy-to-set-up system, this soundbar can be easily mounted on the wall with the included mounting kit. You can also place it under your TV or above. The manufacturing company, Bestisan guarantees 100% customer satisfaction by providing lifetime access to technical support. In addition, the soundbar design is extremely elegant and compact.
It provides lifetime access to customer support, reducing the hassle of finding repair solutions.
It is the cheapest sound system on the list.
Dual bass reflex tubes
Multiple connection options
Easy to install
It doesn't offer WiFi connectivity
Output power may be less
The sound system with multiple sound modes, ideal for audiophiles
MAJORITY Everest 5.1 Dolby Audio Surround Sound System
Check Price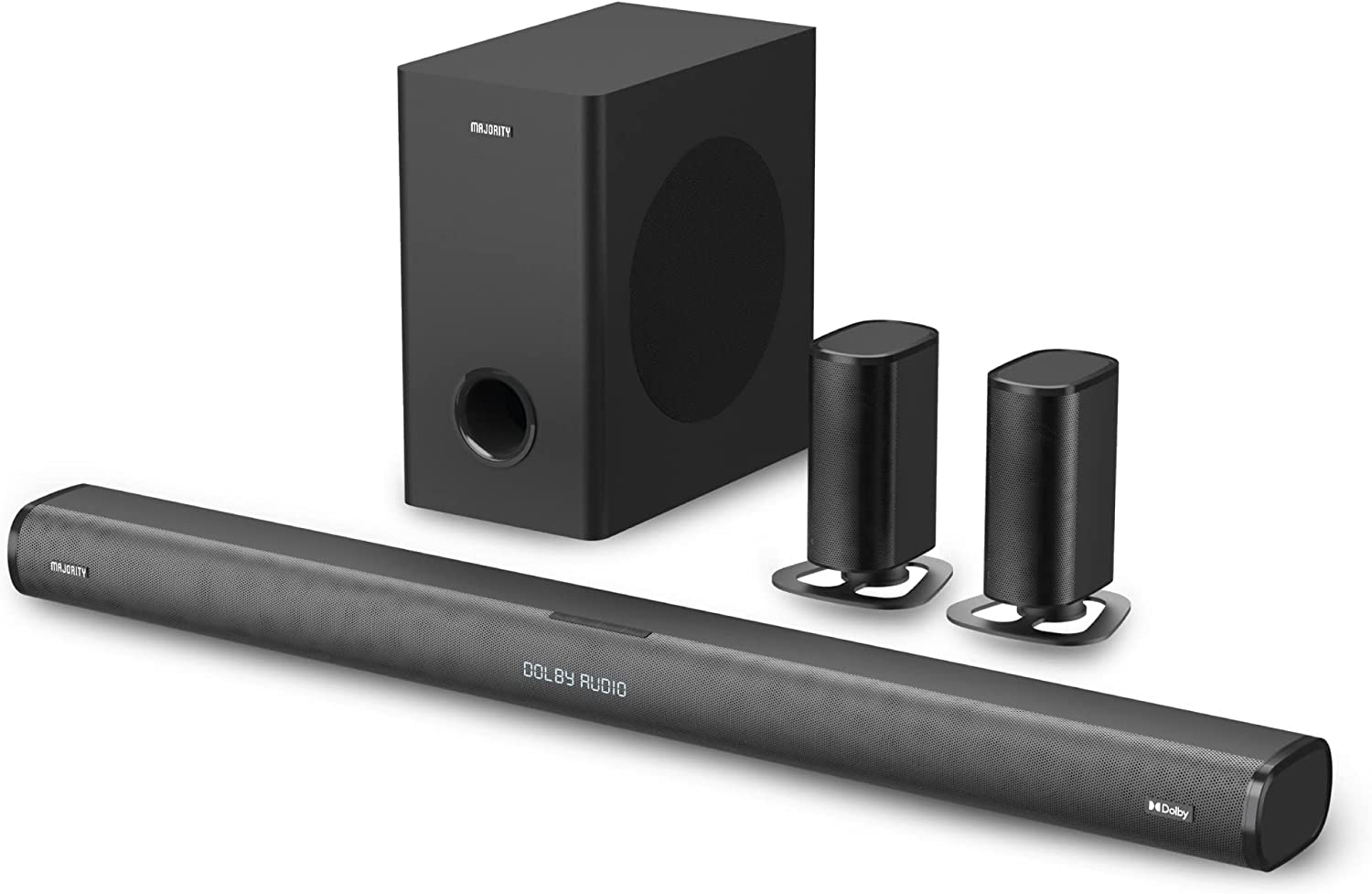 This sound system by Majority Everest is designed to fill every nook and cranny of the room with music, letting you feel completely immersed in the sound. It comes with Dolby State of the Art technology with HDMI Arc that creates a brand new vibe in your room, filling it with deep music. The most striking feature of this sound system is that the speakers can deliver a playing time of over 8 hours.
Not only that, the sound system by Everest consists of multiple input ports for attaching USB, AUX, and HDMI cables. In addition, you can pair your device via Bluetooth connection and start listening to music on the go. Also, you don't have to charge the speakers individually because the satellite charging system charges the speaker along the soundbar.
Why Should You Buy This?
The speaker is completely wireless, meaning you can mount it on the wall or keep it anywhere without worrying about a web of wires hanging around.
This speaker is ideal for audiophiles as it lets them choose the mode they want to listen to.
Pros
HDMI ARC connection
Dolby Audio Technology
Wireless connectivity
Cons
May not support advanced Dolby systems
It doesn't come with instructions manual
A sound system with the latest sound technology like Dolby Digital
SAMSUNG 3.1ch A650 A Series Soundbar
Check Price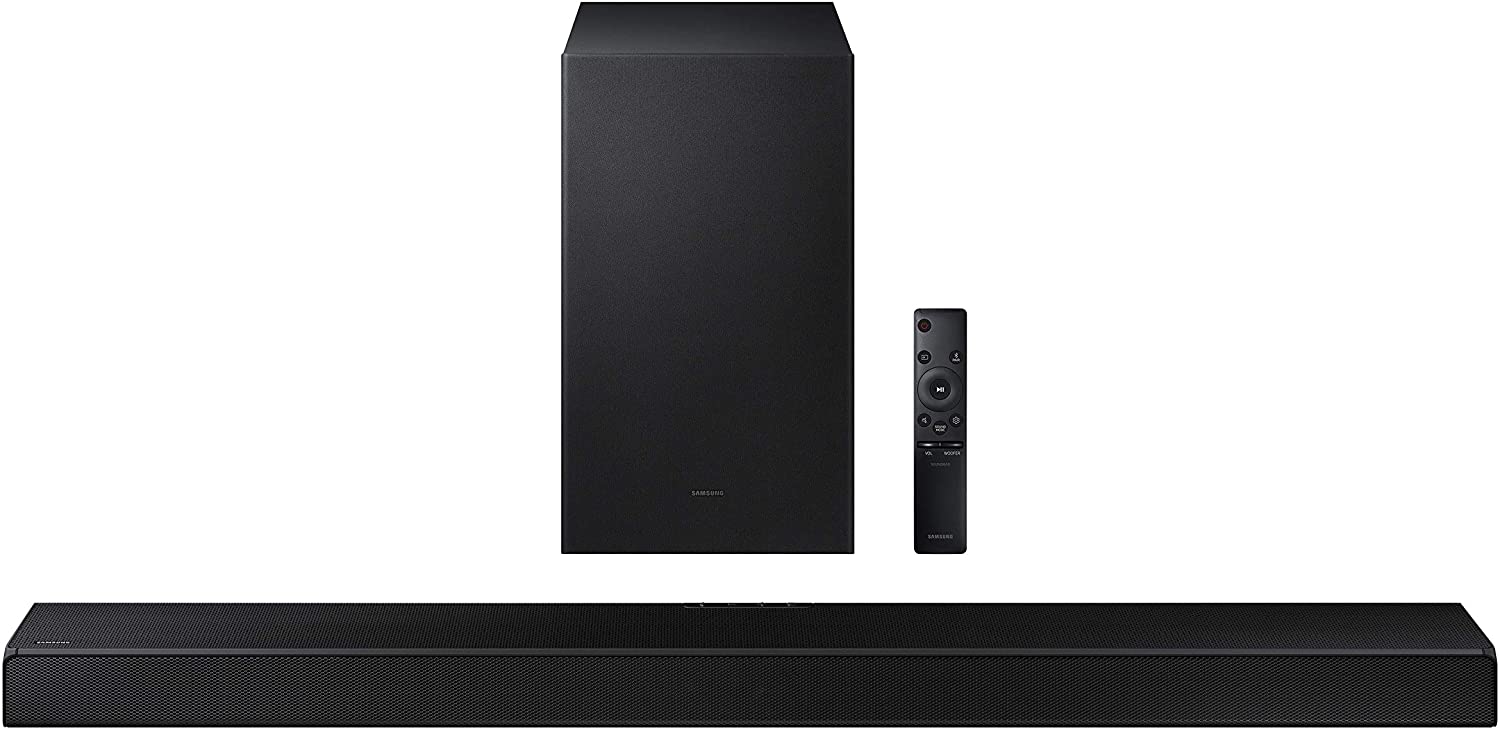 Equipped with remarkable Dolby Digital and DTS virtual technology, this soundbar is a good option if you want a subtle audio listening experience. This speaker delivers a maximum output power of 430 Watts, providing the listeners with an excellent surround sound experience.
Adaptive Sound Lite is designed to optimize the sound of the video to enhance the video streaming experience. The Bass Boost button increases the bass of your woofers with a single tap of the button. Also, the built-in center speaker increases the clarity of dialogue, allowing you to hear every bit and piece of the dialogue.
It includes a subwoofer that creates a very light and pleasant bass.
The soundbar includes a button that instantly amplifies the bass.
Delivers maximum output power of 430 Watts
Contains 2 HDMI Ports
Amplification of sound is very easy
This may cause trouble while connecting
The subwoofer may not work if it's kept too far
A surround sound system with FM compatibility, good for old people
Bobtot 5.1 Surround Sound Speakers
Check Price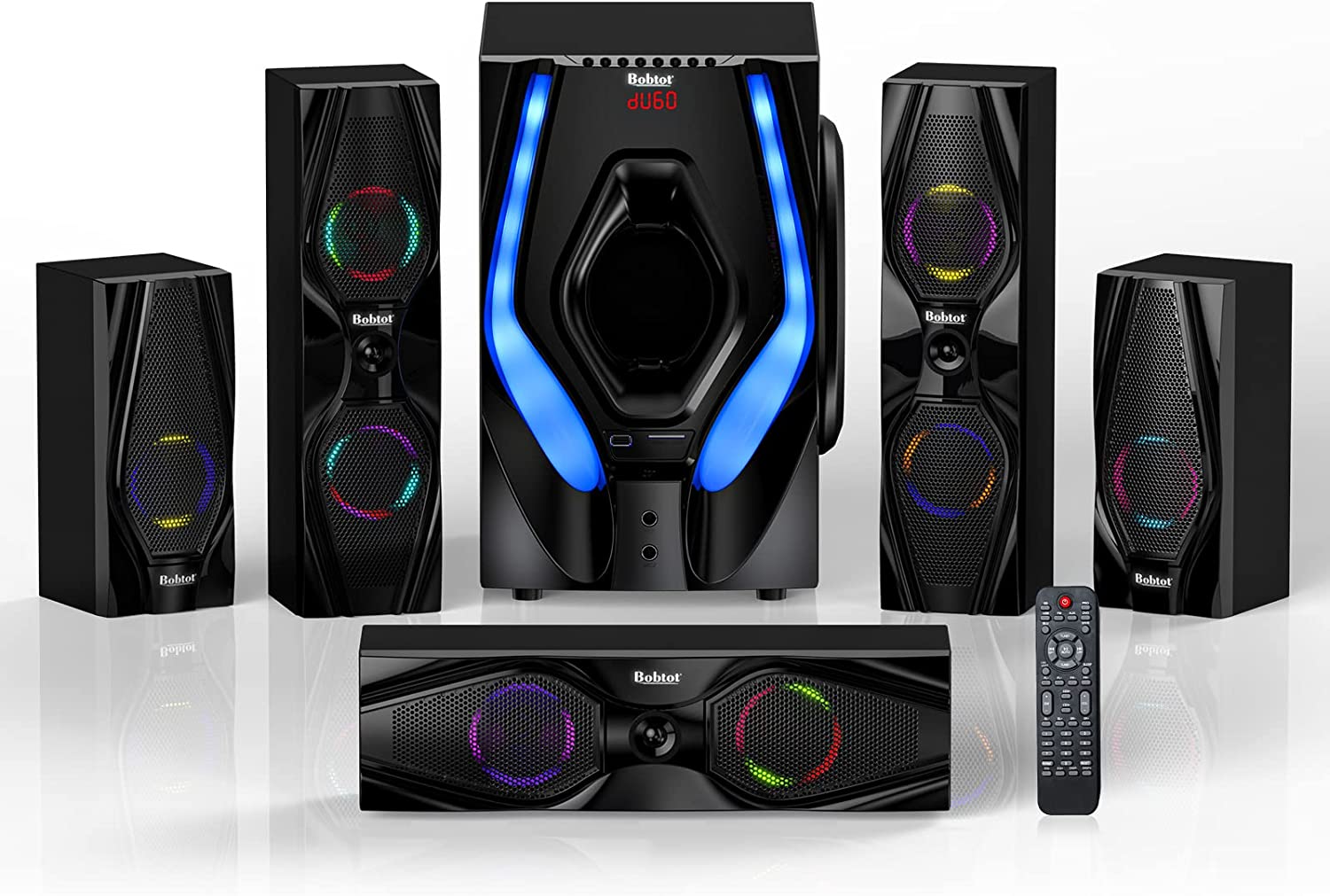 With a 10-inch built-in woofer, this sound system delivers the cleanest and loudest sound, but with the best sound quality. It has 5.1 Channel Surround system functions which can be switched ON and OFF via remote control. In addition to this, the volume and bass of the speakers, as well as woofers, can be individually controlled.
This sound system by Botbot is not just ideal for playing music but also perfect for performing several other functions like watching movies, playing video games, watching sports, and so on. For the oldies, the speakers have a built-in FM receiver with superior receiving quality.
Why Should You Buy This?
The speakers are great for turning your home into a disco with their LED lighting effects.
It also has microphone functions for Karaoke lovers.
Pros
Very high output power of 1200 watts
It comes with a remote control
LED lighting effect is also available
Cons
Wired speakers
Very expensive