Technobezz is supported by its audience. We may get a commission from retail offers
Summary – The drummers need to keep up with the beat of their band members. This is the reason why they need to have a good pair of headphones
| | | | |
| --- | --- | --- | --- |
| Sennheiser CX Sport Bluetooth Sports Headphone | Cowin E7 Pro Active Noise Cancelling Bluetooth Headphones 2022 Edition | AKG Y500 On-Ear Foldable Wireless Headphones | Bose Quiet Comfort 35 Series II Wireless ANC Headphones |
| | | | |
| See on Amazon | See on Amazon | See on Amazon | See on Amazon |
The drummers need to keep up with the beat of their band members. This is the reason why they need to have a good pair of headphones so they can listen to the notes that are played by the other members of the band. The headphones should also have the ability to block external noise so they can concentrate on playing symphonically. Here is the list of best wireless headphones for drummers.
See Also: Top best iPhone X Cases
Best Wireless Headphones For Drummers
Amazingly Long Battery Life with AptX Sound Technology
Avantree Wireless Bluetooth Foldable Headphones for Drummers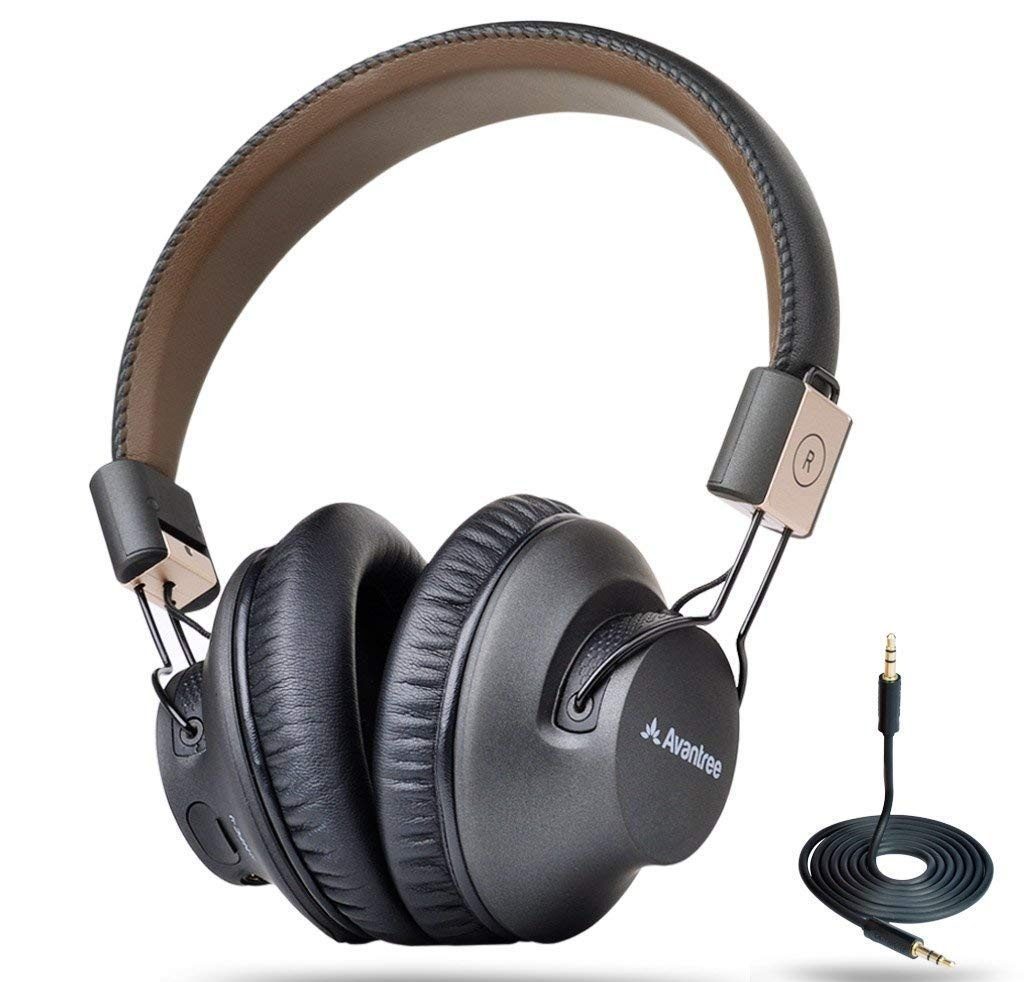 In general, buyers have a prejudice that headphones which cost more sound better and have great battery life. The Avantree model can easily break all such assumptions and is one of the best wireless headphones for drummers because it shines in every area. The product is exceptionally affordable but has superb build quality to impress even the most demanding audiophile.
If you play a lot of drums, you are obviously into music and would expect a balanced bass and treble, along with great mids. The Avantree wireless headphones tick all the right checkboxes with an impressive 40-hour battery life. It allows anyone to never think about plugging in to charge until it totally drains out and the headphones also support low latency technology. The AptX sound technology produces excellent crisp sound with no kind of latency between your device and the pair of cans.
It also uses soft durable ear pads that are very comfortable to wear and they are user replaceable so that you can purchase it with assured durability. The Avantree Bluetooth headphones come with a two-year warranty and with such components, you can further push it to multiple years of usage even with wear and tear caused by daily usage. The headphone comes with a 3.5 mm cable that you can connect to use in wired mode if required, and an additional hard carry case to use it on the go.
What makes the Avantree the best Bluetooth headphones?
An excellent choice for drummers because it's affordable, has no latency made possible by AptX
Great sound reproduction and has received immensely positive reviews from thousands of users
Recommended For
No latency makes it ideal for musicians and music lovers, especially drummers
A Stylish Pro Headphone with Active Noise Cancelling
Cowin E7 Pro Active Noise Cancelling Bluetooth Headphones 2022 Edition
Cowin is a popular brand among people who love budget-friendly headphones and this one is the newest model in their popular series. The Cowin E7 Pro is purely made for professionals in terms of sound and build quality, yet they have made it vibrantly colorful. Most professional products tend to be low key and not use bright colors but this one is easily out of the box thinking.
The active noise cancellation technology is the standout feature in this product which will allow the drummer to focus on his beats and the music that is being played by other people in his band. If you are a drummer, you can instantly feel the difference when using these headphones during a session. They ensure the highest level of comfort and can be folded flat when you leave them to rest on your neck.
The Cowin E7 Pro is bundled with 3.5 mm cables that can be used to connect them to a phone if required. It also includes the micro USB cable for charging the battery so that you can use it wirelessly for long hours. The headphone comes with a hard carry case using which you can store safely and not worry about damaging the product when it is stored with other musical equipment.
What makes the E7 Pro the best?
Cowin's pricing and build quality is great
The headphones are available in a range of colors including blue, red, black, white and pink
Recommended For
Professional drummers looking for the latest edition from Cowin brand or any kind of comfortable headphones with ANC
Compact Bluetooth Headphones for Drummers on the Move
AKG Y500 On-Ear Foldable Wireless Headphones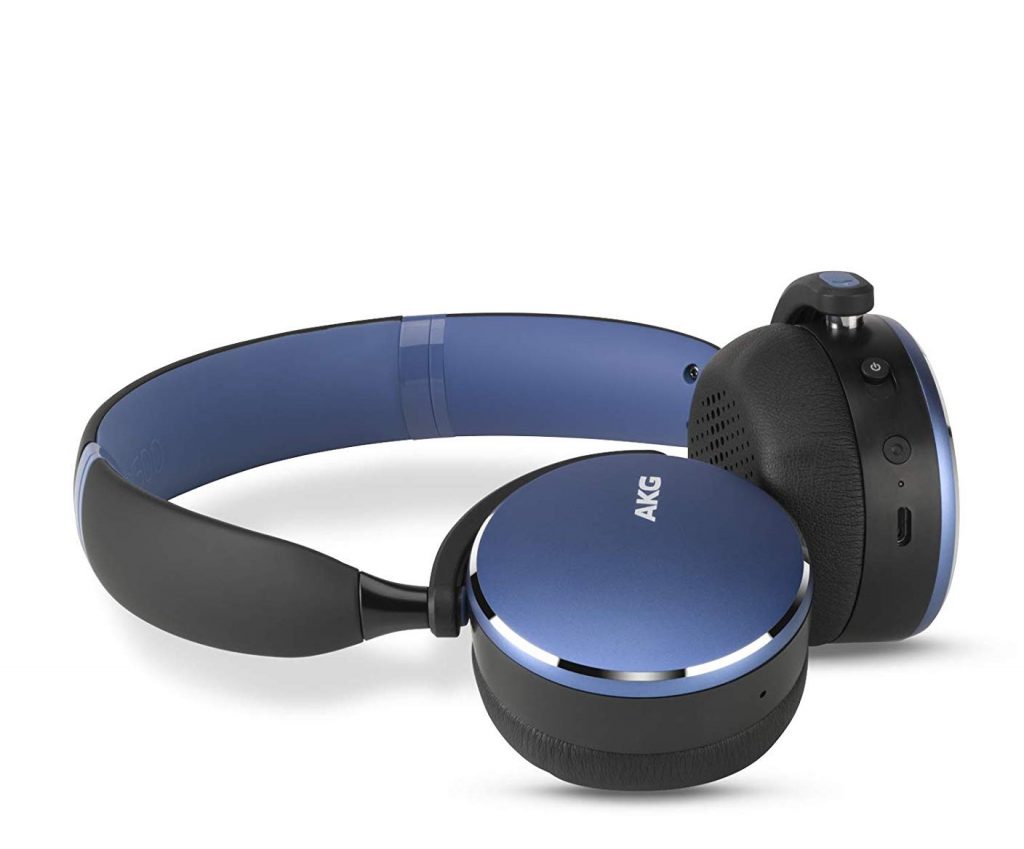 AKG is a brand known for their excellent sound and an amazing range of products. They previously made the popular Y series bass head wired headphones and the newly launched Y500 ideally balances the price and performance. While most drummers do prefer over the ear, noise canceling headphones, there are people who love to stay in touch with others as they play together as a band.
The Y500 is an on-ear headphone that is extremely compact and easy to wear on the go. The small size ensures you can move around easily and also hear what your band is playing. It is fun to use these cans while on stage or performing to a group of audience, listening to their sounds rather than isolating yourself completely. The headphones provide an excellent battery life that lasts about 33 hours which makes it reliable for performances and also uses fast charging.
You can get about 1 hour of playback with just 5 minutes of charging your AKG Y500 cans. They can also be connected using the 3.5 mm gold plated cables included with the pack. The thin cloth case is just adequate and you can swap it inside to carry it anywhere. The on-ear design is compact but may have slight noise leakage which is not a problem unless you are listening to loud volume levels in a rather calm room. It is also available in multiple vibrant color choices including green, blue, black and pink.
What makes the AKG Y500 the best wireless headphones for drummers?
Very compact and easy to use on the go
Great battery life and it also supports quick charging
Recommended For
Drummers who love compact headphones and long hours of battery life
The Most Highly Rated Premium Bluetooth Headphones with ANC
Bose Quiet Comfort 35 Series II Wireless ANC Headphones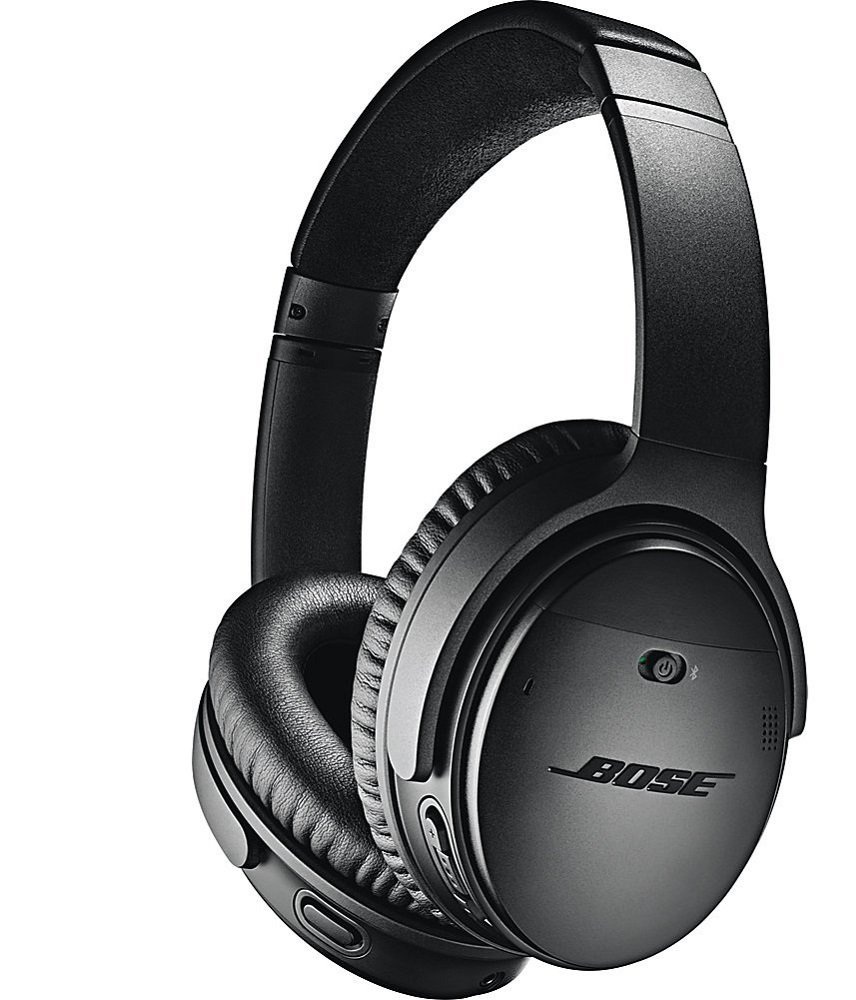 Bose is a highly regarded premium brand of headphones and speakers manufacturers. This is one of their most popular model that has been consistently on the top five ANC headphones on the planet. The Quiet-comfort 35 Series II is the latest model in the series which supports Bluetooth and also uses active noise cancellation technology to completely get rid of any external noise when you are busy drumming.
The headphones boast of premium build quality and considering the price tag that will surprise most buyers, it is obviously expected from such a Bose product. The device uses a dual microphone system to get rid of external sounds and also allows you to adjust the level of noise cancellation. If you like to listen to external sounds when playing you can do so or completely isolate yourself from all the sounds.
The Bose Quiet-comfort 35 II offers about 20 hours of battery life and it includes a wire you can make use of in case you run out of battery. The device comes bundled with an excellent hard carry case. Once you have finished your drumming sessions, you can comfortably pack it in the case and carry it anywhere. It's convenient to use on the move while traveling in an airplane or at home as it has a wireless range of up to 30 feet, about 9 meters. You can control the sound output using the Bose Connect app on your iOS or Android device.
What makes the Bose Quiet-comfort 35 II one of the most popular headphones?
The latest version supports Alexa so that you can know more about your music as you are listening to it.
The ANC is of top class and is ideal for drummers who need complete isolation. You can also adjust the level of ANC as required
Recommended For
Drummers who are willing to spend more to get the premium quality build, ANC and excellent music quality in wireless mode
Impressive Build Quality in a Compact Pair of IEMs
SoundPeats Wireless Bluetooth Earbuds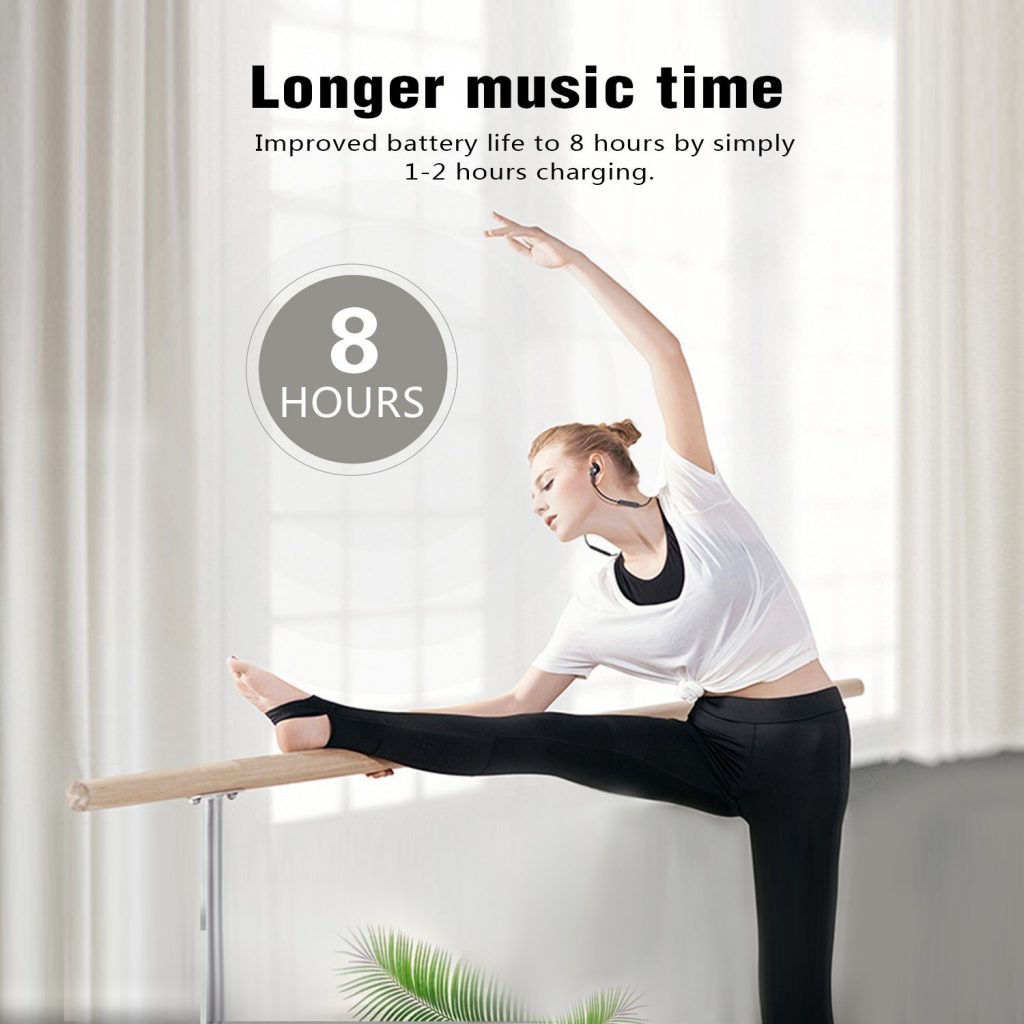 In-ear monitors may not be the most comfortable of them all but SoundPeats have taken extra care to ensure their pair of wireless earbuds is up to the mark. The readily affordable headphones use high fidelity stereo sound and are even equipped with aptx codec support. Being an IEM, the battery life on this product is limited but it can go up to 8 hours on a full charge so that you can finish your drumming in an extended music event without trouble.
With thousands of positive reviews, there is little to doubt about this product which comes with a slew of earbuds to choose from. You can choose between S, M and L sized buds along with XL and XS sizes which is not something you would find in most bundles. It has an ear bag which makes it easy to carry the pair anywhere you like and shove it in your backpack without the fear of damaging the product. The earphones are available in five different vibrant colors.
The SoundPeats Bluetooth wireless earbuds are sweat resistant which is an amazing feature for a drummer. During long jamming sessions and stage performances, you are bound to sweat a lot but these IEMs won't get damaged at any cost even when exposed to a moderate amount of sweat. It has microphone and volume control along with a convenient rubber strap that you can comfortably shove around your neck. The earphones are safe to use, produce great sound and has decent battery life.
What makes the SoundPeats earbuds the best in the IEM category?
Their pricing is apt and the 8-hour battery life is decent for an IEM
The product has a solid build and includes volume control
Recommended For
Drummers who need a sweatproof pair of earphones that are in-ear monitors and are less intrusive
Dashing Colors on a Well-Known Branded Earphone
Sennheiser CX Sport Bluetooth Sports Headphone

Sennheiser is an extensively popular brand that's known among both consumers and professionals by this time. If you are not satisfied with the range of random brands available online, you can go for a branded model to be on the safer side. It is easier to claim warranty on such brands and they also boast of better plastic material and build even though they are often more expensive than the other models.
The Sennheiser CX Sport is a pair of Bluetooth headphones that are being promoted as a sports variant. However, if you are a drummer you are going to sweat a lot and the sweat resistive capabilities of this product will become useful at this point. It is also splash resistant and can handle in case you accidentally spill water on it.
The earphones come in dashing color choices and have rubber hooks to comfortably sit inside your ear canal. They can run for 6 hours and takes just 1 and a half hours to reach a full charge level. The earphones support fast charging and can provide up to 1 hour of power with just 10 minutes of charging. It comes bundled with XS, S, M and L sizes of ear adapters and also has three different sizes of ear fins to find the perfect fit. It works on Bluetooth 4.2 technology and can easily be paired with any headphone.
What makes the CX Sport the best headphone for drummers?
It's easily the best wireless earphones for drummers as it offers a comfortable fit
The color is vibrant and the battery life is adequate
Recommended For
Drummers who are not on a tight budget and love the Sennheiser sound signature will enjoy this product
Experience Great Noise Isolation and Long Lasting Comfort
Modern Portable Bluetooth HiFi Elite Headphones with Noise Isolation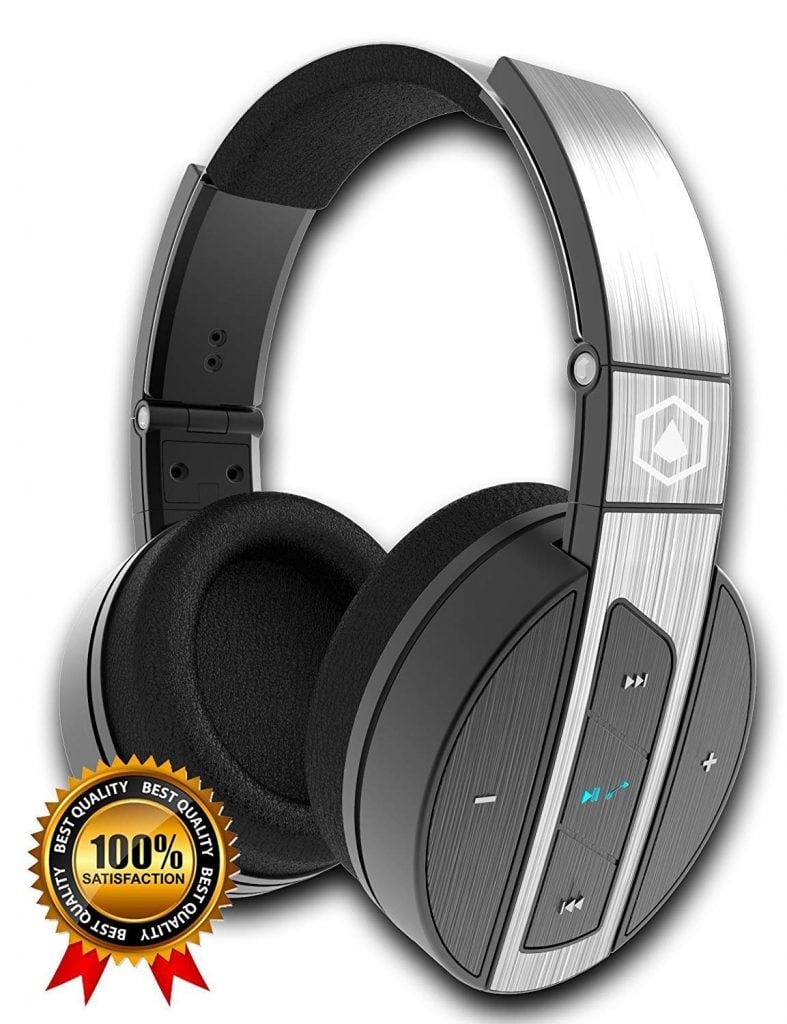 When there are thousands of people giving positive feedback after having already used it, it is obvious that you have to believe them. We have tested it ourselves and the Modern Portable headphones have even won recommendations from Cnet's editors. The headphone has an amazingly good build quality which stands out at first look and when you start using it, the audio quality will impress you to the core.
The headphones use advanced noise isolation technology and don't show any sort of distortion even at the highest volume. The Modern Portable product is made using a featherweight cushion which is round, large enough to cover the entire ear. During your drumming sessions and live performances, you will hardly feel the noise or vibrations outside as they completely enclose your head in a comfortable manner.
The pair of cans can provide up to a maximum of 12 hours and minimum 8 hours of on use connected on Bluetooth for continuous listening. The Super 66 model uses high fidelity audio which is difficult to find at this price point of just $60. They also have a durable build quality with a mix of plastic and steel material. You can use it to attend calls and control the music on your smartphone with the integrated buttons found on the side of the ear cups.
What makes the Super 66 the best-in-class headphones?
The pricing is awesome and it features great noise isolation capabilities
The battery life is a bit higher than most other Bluetooth headphones at this price point
Recommended For
Drummers who love style and microphone capabilities along with great noise isolation get a complete pair with this product
Vibrant Colored Headphone from One of the Renowned Brands
Skullcandy Grind Bluetooth Wireless Headphones for Drummers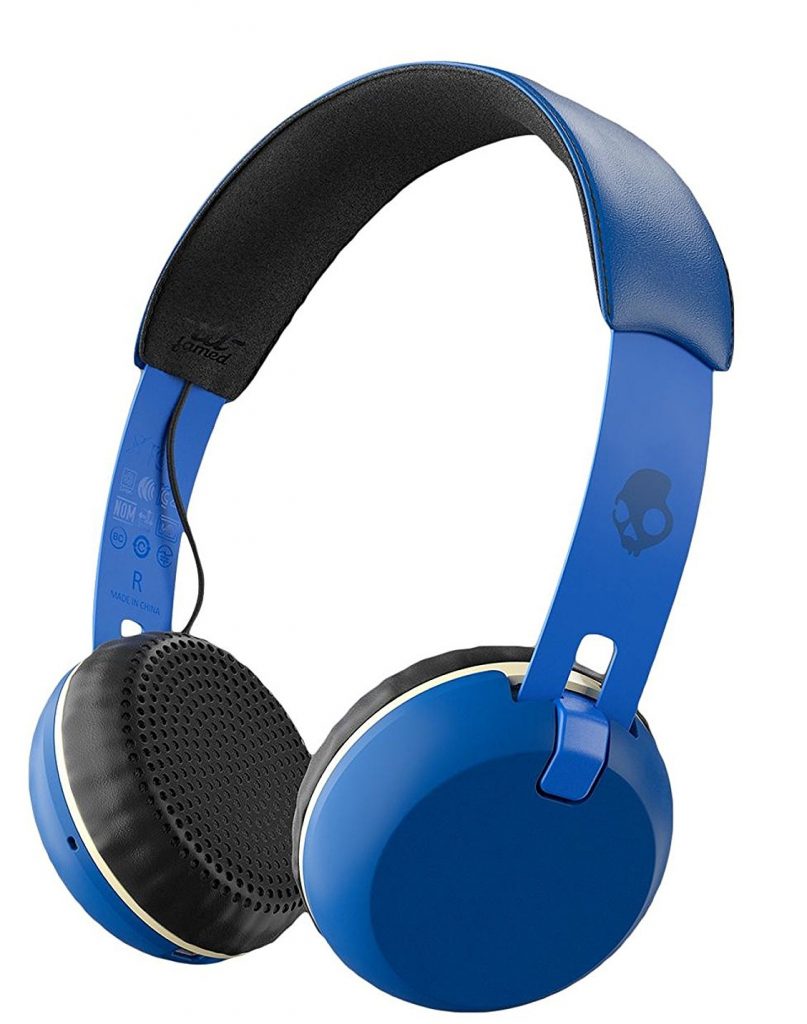 If you are willing to forego the concept of active noise cancellation which is not mandatory for every drummer, you will definitely enjoy the experience the Skullcandy Grind Bluetooth Wireless headphones have to offer. The brand is well-known among music lovers for its amazing build quality, decent sound and most importantly, the colorful products that they make from time to time. These headphones made by Skullcandy are often known for their improved bass quality.
Drummers know the importance of bass as it further enhances your playing style and encourages to play even better. Besides, with the absence of active noise cancellation, you will still be able to hear what your team is playing on stage or during jamming sessions. The Grind is a stylish pair of headphones which sits on your ear comfortably and has plush ear pads. They are available in a range of colors including royal blue, silver, black, white, tan camo and even more variants.
The blue colored headphones are available for the cheapest price while you can find other colors at slightly different price points. The product uses large 40 mm audio drivers and has a decent 12 hours of battery life to easily get through most drumming sessions. The noise isolation is good however it does leak sound which is not a problem if you are playing in noisy environments. These headphones are not designed for studio use. It fully charges in 2.5 hours and has strong clamping force which ensures its safety when you move fast.
What makes Skullcandy Grind a great pair of cans?
Available in an exciting range of colors
Great battery life and has a strong clamping force that is essential for drummers
Recommended For
Drummers who move a lot and like a really tight pair of headphones that clamp to their head
Very Comfortable Pair of Wireless Headphones
Mpow 059 Bluetooth Over-Ear Headphones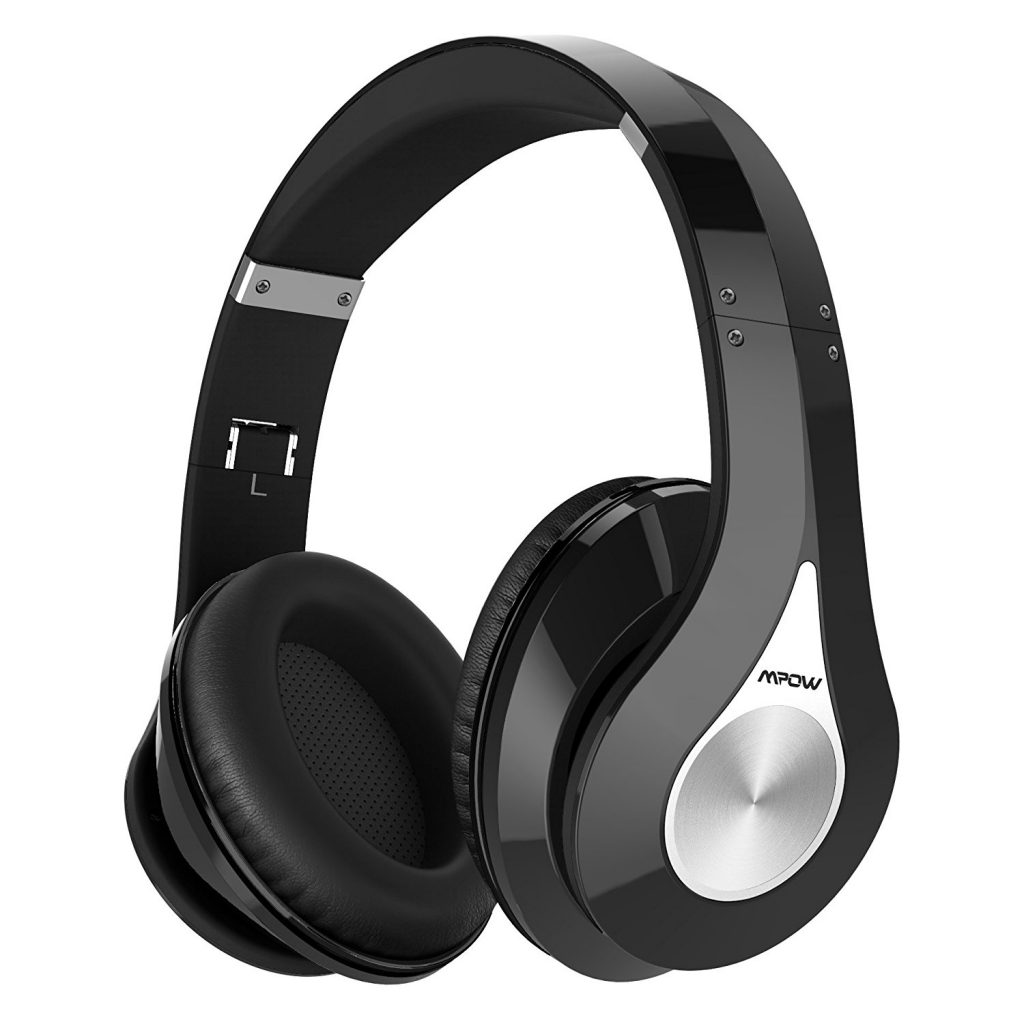 The Mpow 059 is one of the most positively rated headphones and have hundreds of positive reviews. The brand is a popular choice in the consumer circle because it provides great sound quality, long lasting durability and stylish designs. All of them are combined into an affordable, budget-friendly bundle that continues to attract more people to buy it. It features large 40 mm audio drivers which enhances the quality of the audio produced and uses soft earpads that allow you to use it for hours.
Any drummer prefers to spend hours practicing their skills or jamming with friends. Irrespective of your requirement, if you need a comfortable pair of headphones the Mpow 059 is an apt choice. They use soft memory protein ear muff and the headband is made of steel material that adds up to its durability. They are fully adjustable until you find a comfortable fit. The headphones can last for a maximum of 20 hours on a single charge which is impressive considering how affordable it is.
The pair of cans has the microphone built into it which allows you to take phone calls while you are busy playing. It works seamlessly up to 33 feet so that you can leave your phone in the nearest table or locker during a practice session. The foldable design combined with the bag provided makes it easier to carry it around safely. The headphones are available in multiple colors including black red, black grey, blue, green, pink and silver.
What makes the Mpow 059 headphones the best?
The comfort level on these headphones are very high
Besides being available in vibrant colors, it also produces great sound and has reliable battery life
Recommended For
Drummers who prefer great battery life at affordable pricing
Get the Best Value for Your Money
Bluedio T4 ANC Bluetooth Headphones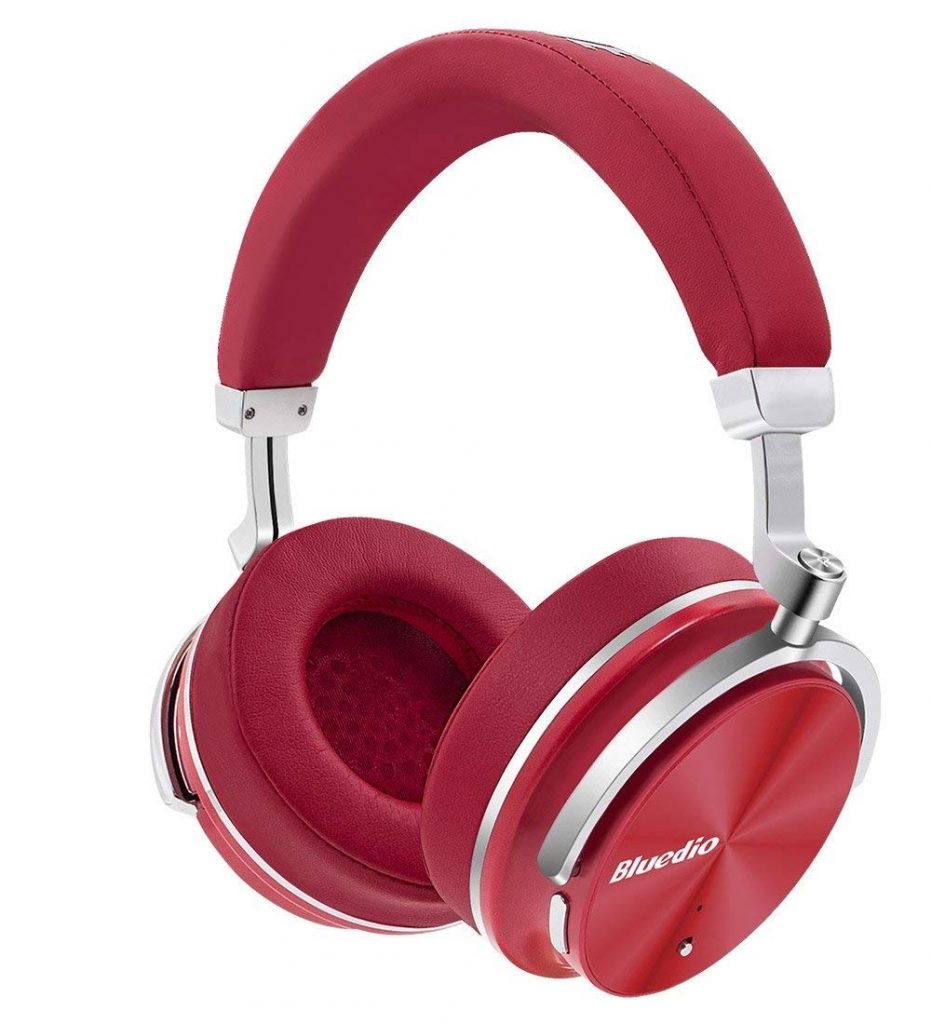 The Bluedio T4 has all the features drummers would expect in a pair of wireless headphones. They are considered the best wireless headphones for drummers because it includes active noise cancellation technology, Bluetooth connectivity, good battery life and is available in a beautiful red colored variant.
The headphone is quite advanced as it uses Type C for wired connectivity. The port is commonly found on all modern-day smartphones that no longer use 3.5 mm jack. The ample cushion allows you to drum for hours without fatigue or sweat issues. The ear cup design supports rotating and it also has buttons to increase or decrease volume.
The headband on top is lush and soft that completely gets rid of any external pressure to ensure maximum comfort. The soft red color is soothing to the eyes and the sound it produces is quite bouncy.
What makes the Bluedio T4 a great headphone?
Excellent active noise cancellation capabilities
It uses Type C port which is rarely found in most headphones
Recommended For
People who love the latest in technology and drummers keen on great comfort levels
Other models worth buying
Best Headphones For Drummers With Multipoint Pairing Facility
SHURE High Sound Insulation WIRELESS Earphone SE215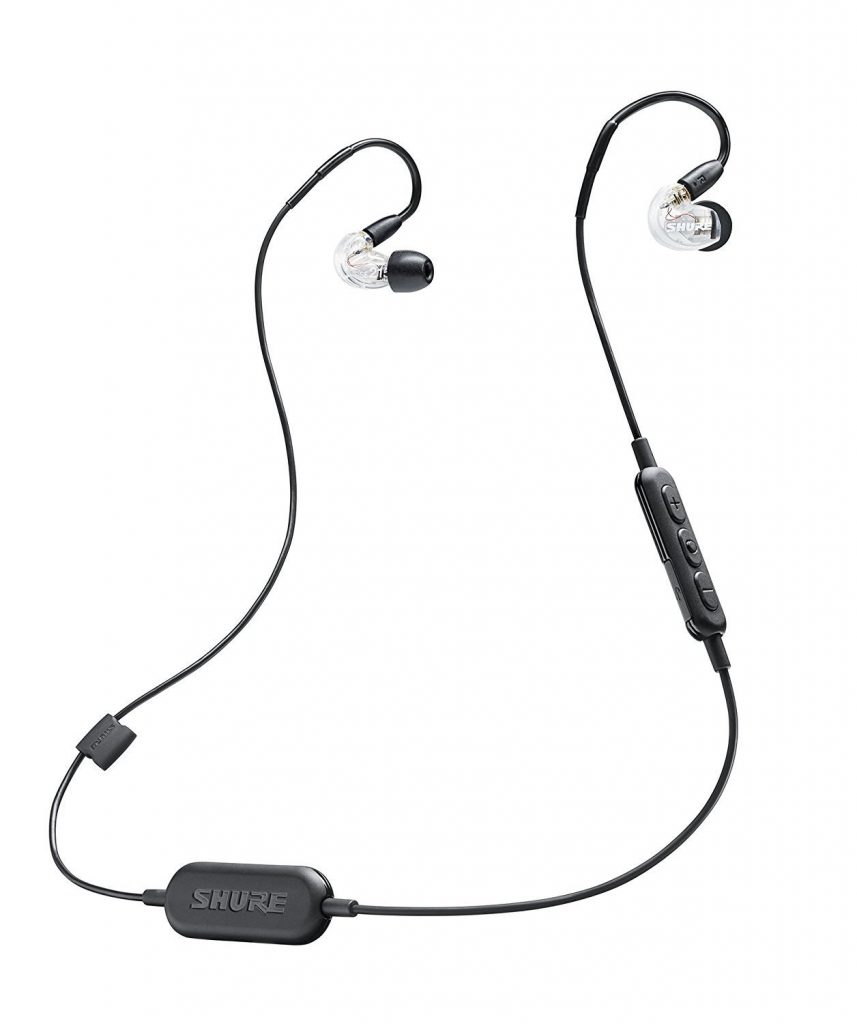 This is a pair of high-quality wireless headphones which has a single dynamic MicroDriver. It has high sound insulation sleeve with perfect cuts that sits comfortably inside your ears. It cuts the surrounding sound to as low as 37dB. It features Bluetooth 4.1 which can be connected to all devices. The multipoint pairing makes it simple to switch between media sources. You also get a carrying pouch with this pair of wireless headphones to store and carry it around easily.
Best Headphones With HD Sound Quality
Sennheiser HD1 Free Bluetooth Wireless Headphone, Bluetooth 4.2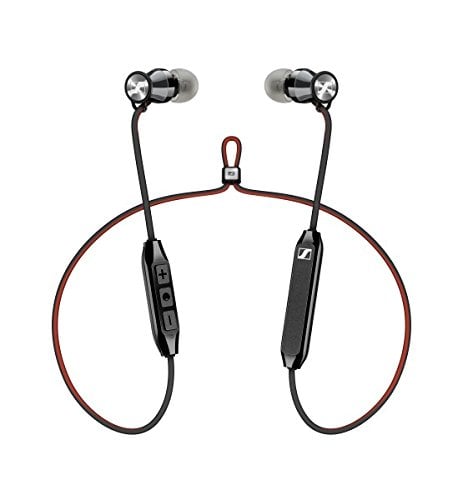 You can now concentrate on your drumming and keep up with your band while performing with this pair of headphones. It features the Qualcomm apt-X, Advanced Audio Coding, and Bluetooth 4.2 technology. The bass is powerful and the sound projected through it is superb. Experience HD quality sound through the premium transducers that have been placed within the headphones. Listen wirelessly through these headphones for up to six hours.
Excellent Headphone With Smart Noise Cancellation Technology
Mighty Rock E7C Active Noise Cancelling Headphones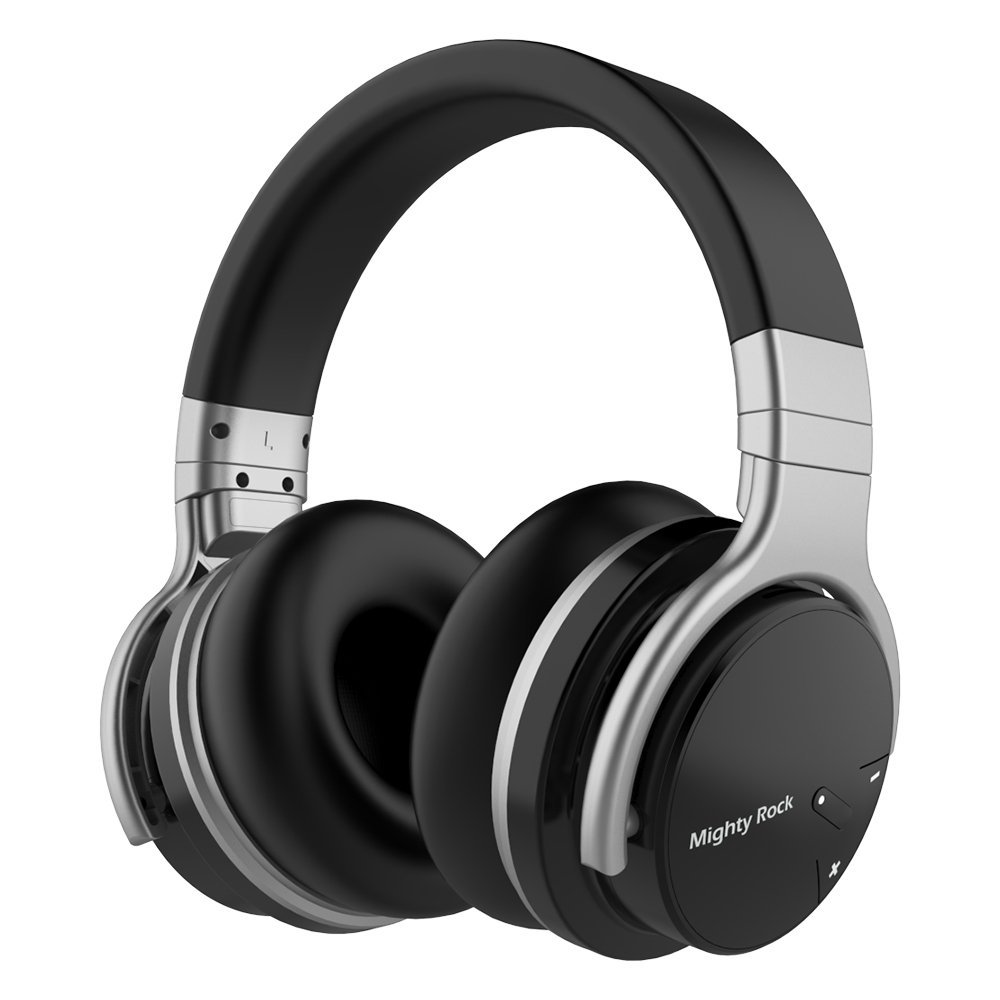 The E7C Active Noise Cancellation features in this pair of wireless headphones help in producing an engineered sound that is crystal clear. You are never going to miss a beat or a rhythm played by your band members. Charge it once completely and get a playtime of 30 hours from the lithium-ion rechargeable battery while using the Smart Noise Cancellation. AptX delivers high-quality sound and deep bass stereo sound and irrespective of the cheering crowd and loud music of other instruments you get to concentrate on your own music.
Best Headphone Available In Multiple Colors
COWIN E7 Active Noise Cancelling Bluetooth Headphones with Microphone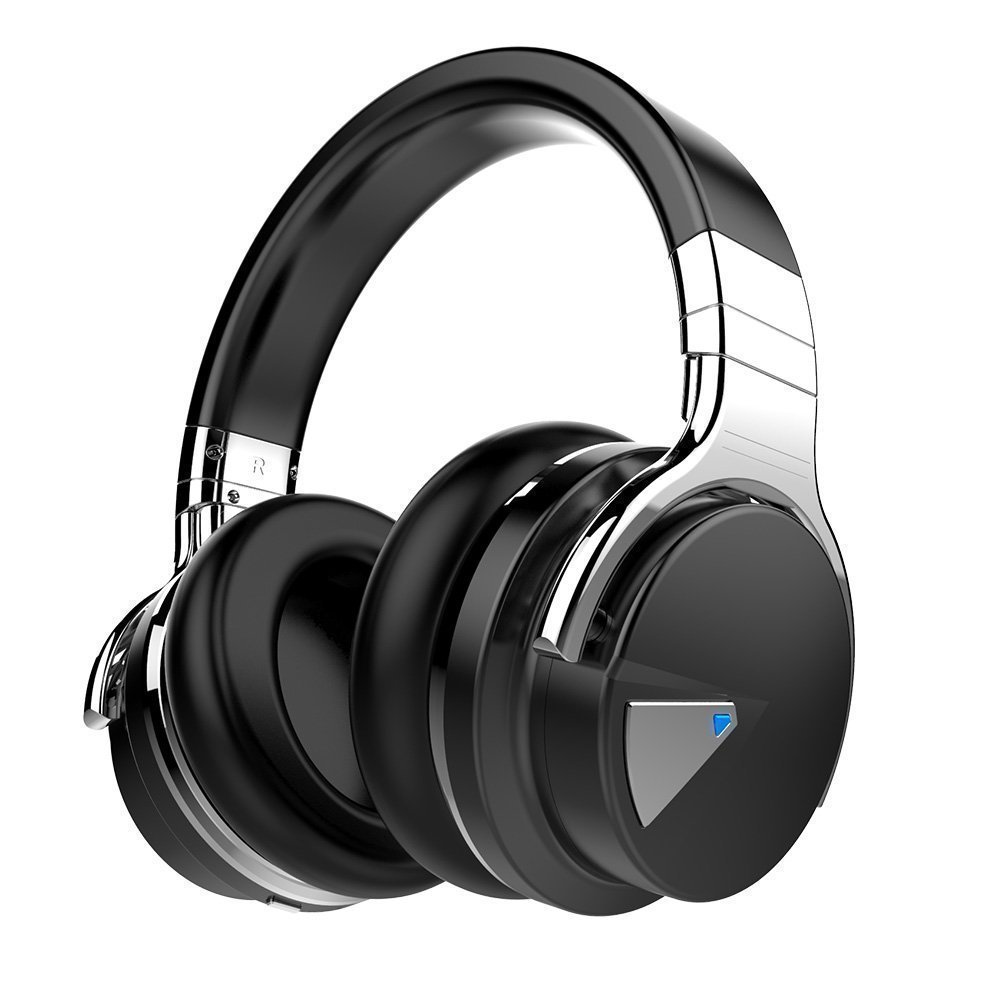 Get this pair of headphones in five colors with a metallic finish. It lets you focus on your music and eliminates all surrounding noises. It works both with wire and wirelessly and the noise cancellation feature functions perfectly in both modes. You get to experience rich and crisp music through the earpads. The cups have a 90-degree swiveling effect and is made from very soft fabric that is comfortable to the ears. There is a 600 mAh battery which gives you nonstop playtime for more than 30 hours even when it is played wirelessly.
Cool Headphone For Drummer With Great Bass And Sound Quality
Kimitech Active Noise Cancellation Bluetooth Headphones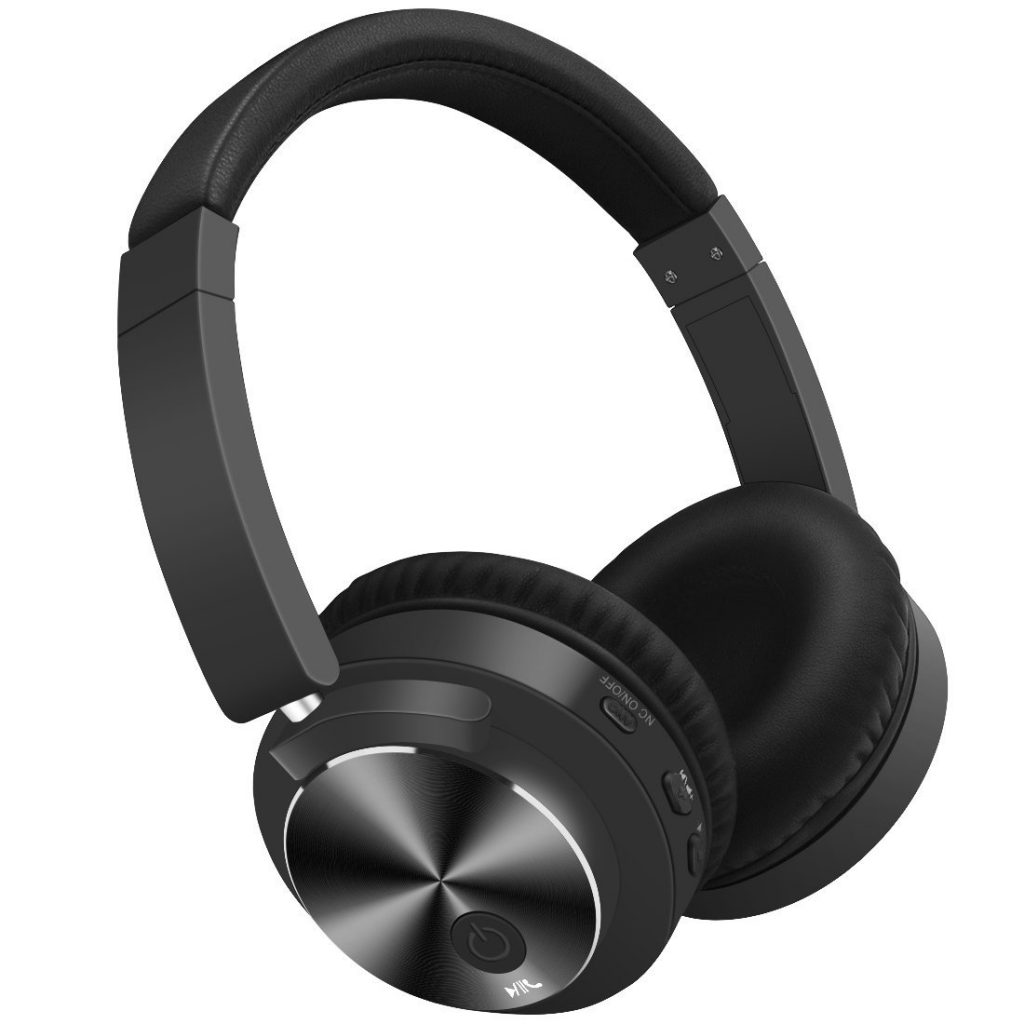 The 40 mm high-quality drivers featured in this pair of wireless headphones deliver superior quality sound. The bass is perfect and the high pitches sound sweet. What's more, the ear cushions are memory protein that is quite comfortable to the ears of the user. The headband is made of soft material. The stainless steel slider on the headband lets you adjust the size of the headband so it fits its user perfectly. This is one of the coolest pairs of wireless headphones for drummers.
Best Headphone For Drummers With High Capacity Battery
MpowH5 Active Noise Cancelling Bluetooth Headphones
A beautifully carved headphone from MPOW using which you can enjoy long hours of playing the rums. It offers 18 hours of playtime and Bluetooth 4.1 offers a stable connection from up to 33 feet. The pack comes with a cable so you can always plug it in when you are running short on power. It features CVC 6.0 noise-canceling microphone which betters the quality of sound when in wireless mode. The lightweight swiveling ear cups are very comfortable on the ears. It also has a foldable design which gives it a chic look and the headband is adjustable so you can easily fit it on your head securely.
Best Headphone With Premium Quality Sound
Beats Studio3 Wireless Headphones – Matte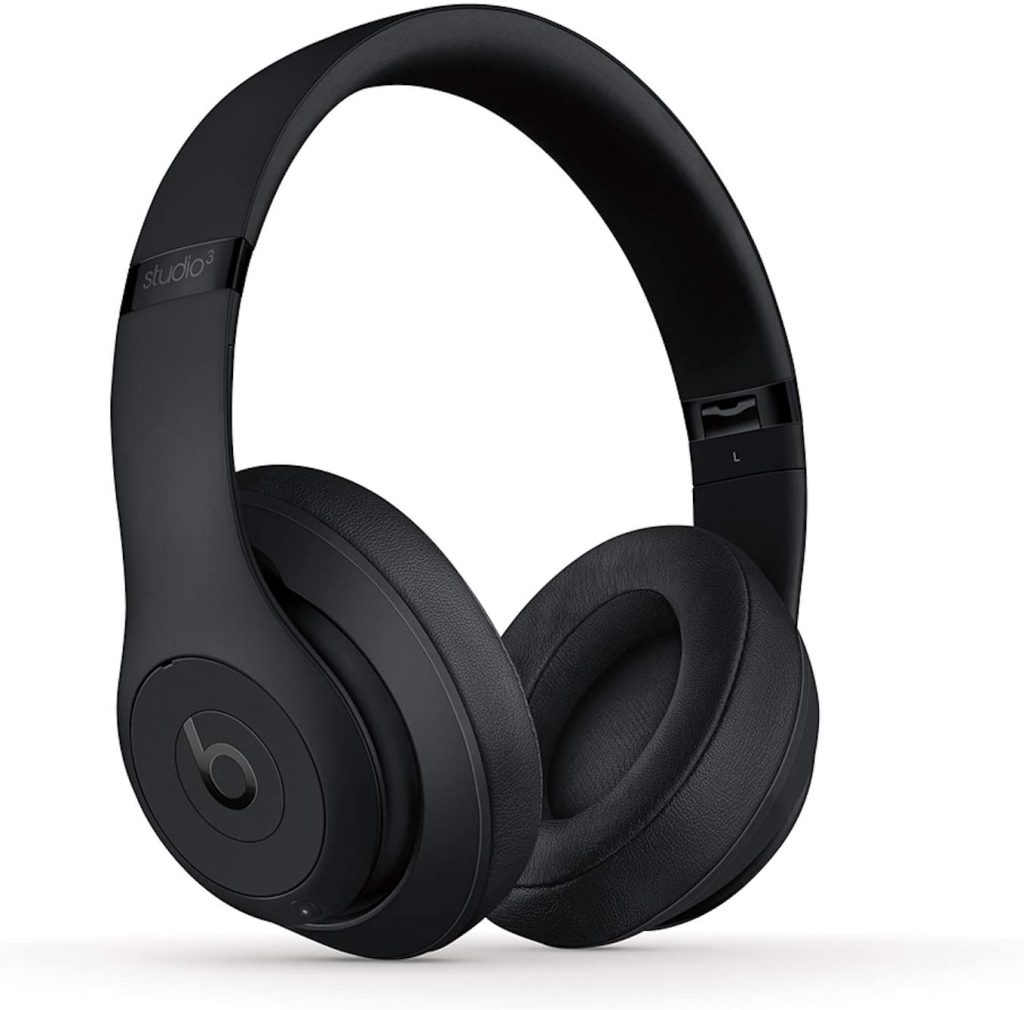 Beat Studio3 offers this pair of headphones in 6 beautiful matte colors. The Pure Adaptive Noise Cancelling feature blocks all external noise. The real-time audio calibration feature offers emotion, clarity, and range in the music that you hear through it. While it is blocking the external sounds or noise it is also optimizing the quality of sound for you. You can go unplugged for 22 hours and up to 40 hours if the Pure ANC. From playing songs to skipping them and from controlling volume to pause the music, the control system is very simple.
Best Headphone For Drummer With Lightweight Design
Srhythm Active Noise Cancelling Headphones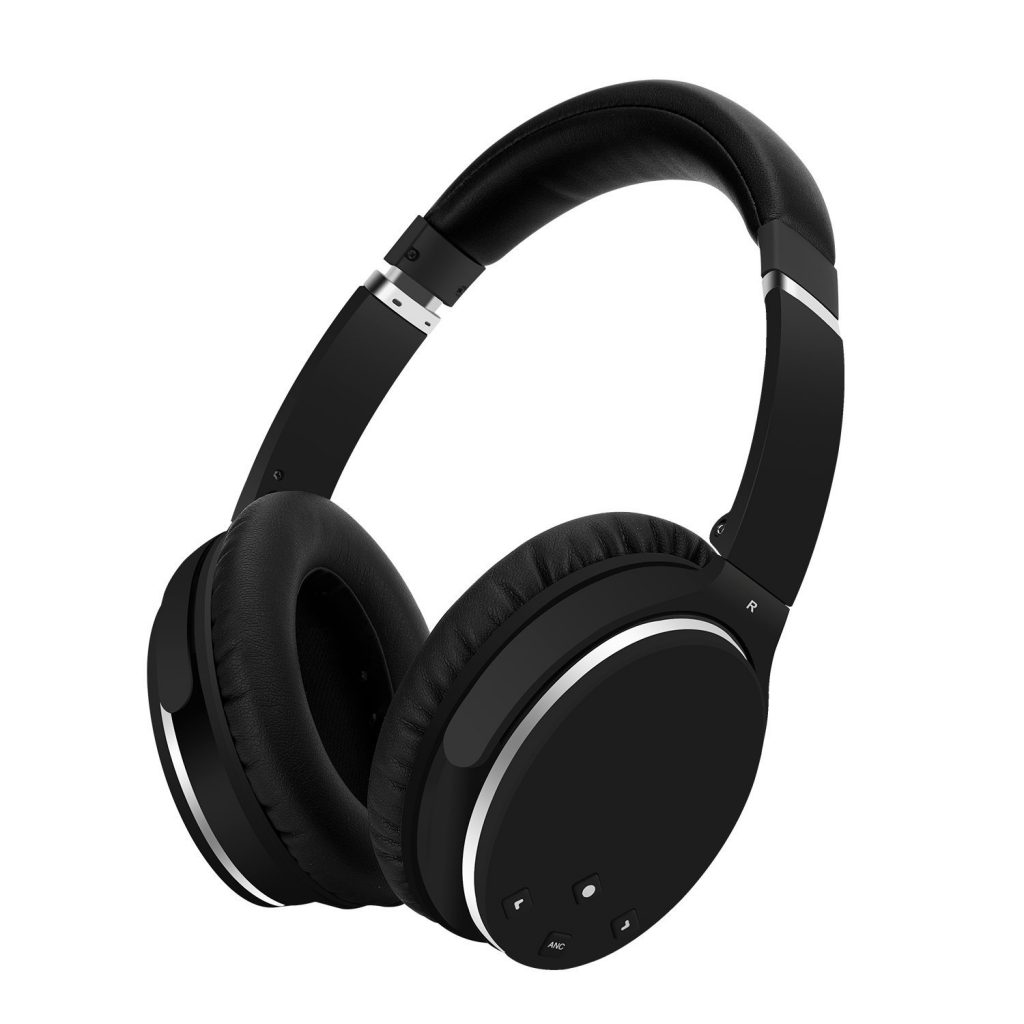 This pair of headphones use a premium quality chip from Texas Instruments. The Advanced Active Noise Cancelling Technology helps in lowering the environmental noises so you can focus on your drumming. Weighing just 180 grams the headphones are light and have a foldable design. It fits in your bag comfortably. The matte classic black color is gorgeous and the rubber finish material is very soft to your ears. The headband and the earcups are made of protein leather which is comfortable to the skin. There is a 360 mAh battery that offers a playtime of 12 hours. Bluetooth 4.1 gives it a stable connection which can establish connections over devices from a range of 30 feet.
Best Headphone With Powerful Bass
Bluedio T2s Bluetooth Headphones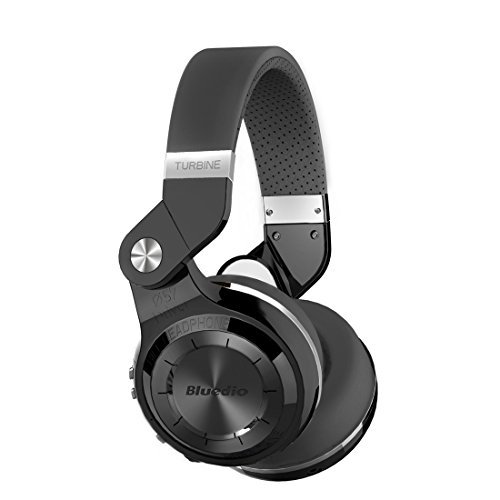 You have four different color choices in this pair of wireless headphones – blue, white, red, and black. It has a very different look and it features a T2S (T stands for Turbine) Ultra big speaker that has a diameter of 2.24 inches. The highs from the earcups of this headphone are clear and the bass is powerful. Both the earcups and headband are padded so you feel comfortable while using them for a long time. The company has added Bluetooth 4.1 which transmits data at a high speed-enhancing your music experience with it. You get 40 hours of playtime once you charge it completely.
Bottomline
The best wireless headphones for drummers are often expected to provide the best noise isolation and wireless capabilities. While not all models focus on these features, you should obviously go for a wireless one as it is essential to have some headroom during drumming sessions. Go for a model that has a sturdy build quality or a compact one while active noise cancellation provided in specific models are an added benefit if you like to isolate yourself from the rest of the crowd. Choose the headphones that best suit your preferences and budget.
See Also: Top best Bluetooth speakers for iPhone X
---