Ultrabooks are notebooks or light/super-thin laptops. Intel first coined this term several years ago. Most ultrabooks available today measure less than an inch in thickness. They are also able to carry out all regular professional tasks quite swiftly.
Buying Guide
Whatever your needs, here are some of the best ultrabooks. From the powerhouse HP EliteBook to the Huawei MateBook X Pro, they all deliver an excellent option for portable PCs. They are suitable for those looking for an ultra-light option instead of the traditional hefty laptop.
Keep an eye on the factors listed below before you buy an ultrabook.
Number of ports available
Cost of the ultrabook
Design
Battery life
Weight
Backlit keyboard
Is the screen touch-enabled or not
See also: Best 15.6-inch laptops
Best Ultrabooks
Well-Built Ultrabook Laptop with Solid Battery Life
Lenovo ThinkPad X1 Carbon Gen 9 14-inch Ultrabook
Check Price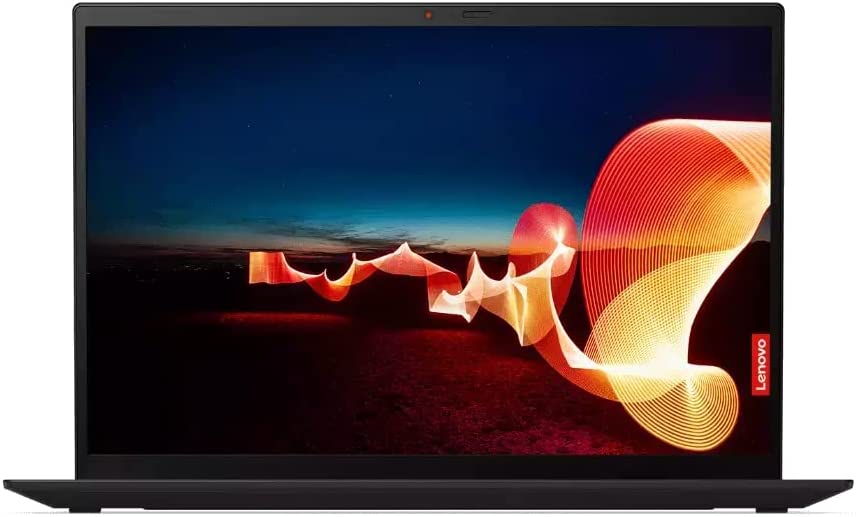 The Lenovo ThinkPad X1 Carbon Gen 9 features a lightweight structure that also proves to be highly durable in the long run. It weighs just about 2.5 pounds and can be carried around conveniently without facing any difficulty. It comes with a 14-inch wide display screen that is touch-enabled and offers a 1920 x 1200 pixel resolution. The highly responsive fingerprint reader works as a very reliable security feature.
The keyboard is spill-resistant and offers adequate travel space between the keys. The battery life of this device is one of its major highlights. When charged optimally, the battery lasts for 15-16 hours. The SSD drive provides you with a storage space of 1 TB and doesn't necessitate the use of an additional storage drive. There are some connectivity ports, but you could be a little disappointed by the absence of an optical drive and a microSD card slot.
An ideal option for those who travel frequently and need an Ultrabook that is lightweight and offers great battery support.

It is also recommended for individuals who prefer working on a small but high-definition display screen.
Long-lasting battery

Touch-enabled screen

Adequate storage support

Lightweight and compact structure
No MicroSD card reader

The touchpad is not spacious enough
14-inch Ultrabook Laptop with Backlit Keyboard
Lenovo Ideapad 7i 512GB Storage Space Drive Ultrabook
Check Price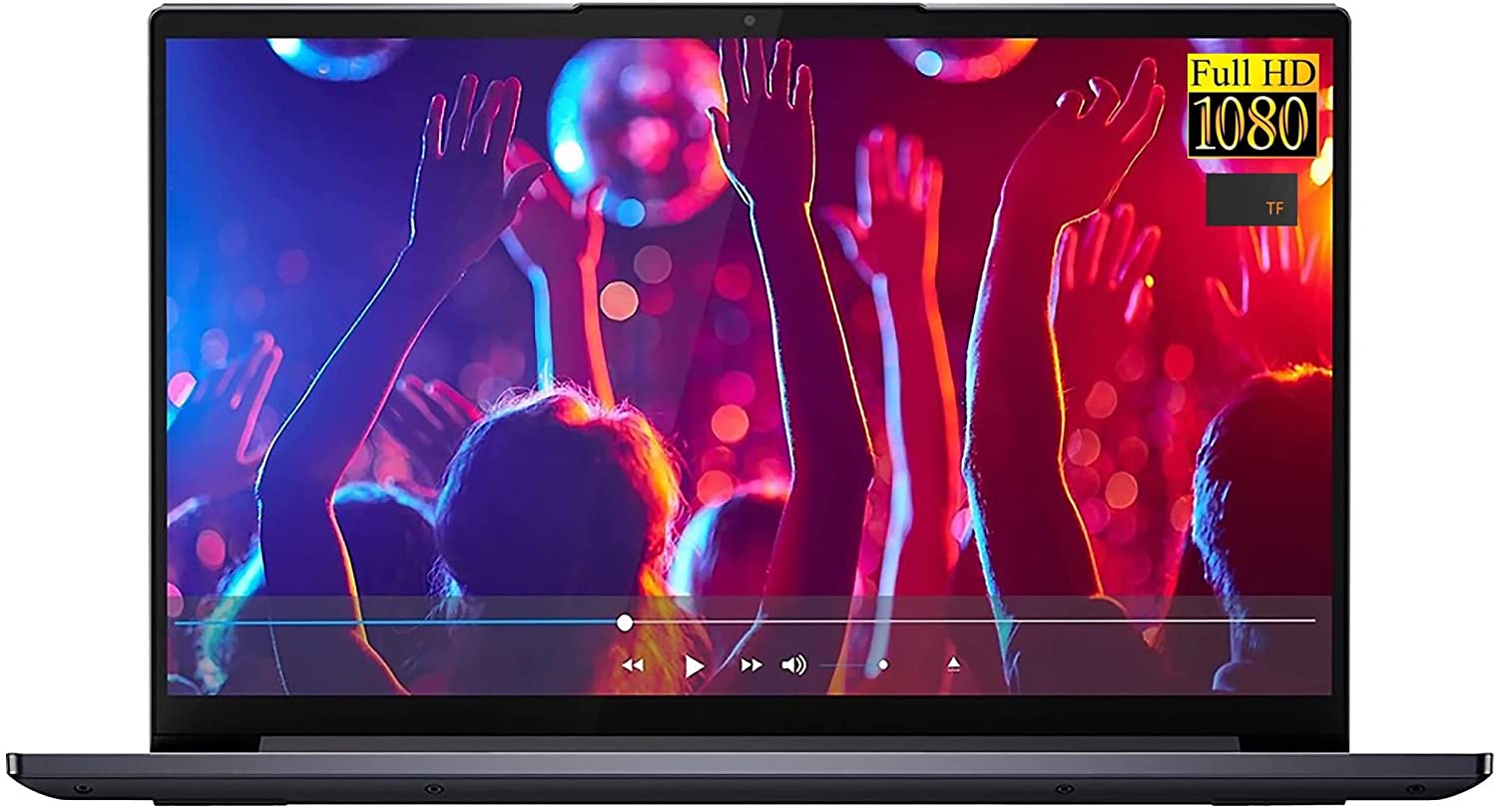 The Lenovo Ideapad 7ifeatures a 14-inch display screen that produces a resolution of 1920 x 1080 pixels. Though the screen is a little small, it does a great job at reproducing images and is suitable for watching movies, browsing the internet, and checking e-mails. The screen also offers wonderful viewing angles. The device is powered by the 11th Gen Intel Evo Platform Core i7 processor, making it highly efficient.
The laptop offers multiple connectivity options, including a microSD card reader and a 3.5mm headphone jack. If you look for security features on your devices, you will be quite happy to see a fingerprint reader on this laptop. The built-in battery, when charged optimally, offers a runtime of 15 hours. The backlit keyboard is of good quality and produces good lighting effects. The SSD drive offers 512 GB of storage space.
A suitable option for investing in an ultra-portable laptop with good multimedia features.

It is also recommended for individuals who are looking for an Ultrabook featuring a backlit keyboard.
Compact HD screen

Sturdy backlit keyboard

Fast-performing processor

Good connectivity support
No physical shutter on the webcam

Design needs to be improved
Premium Quality Ultrabook Laptop with Excellent Display Screen
Apple MacBook Pro High-End Laptop
Check Price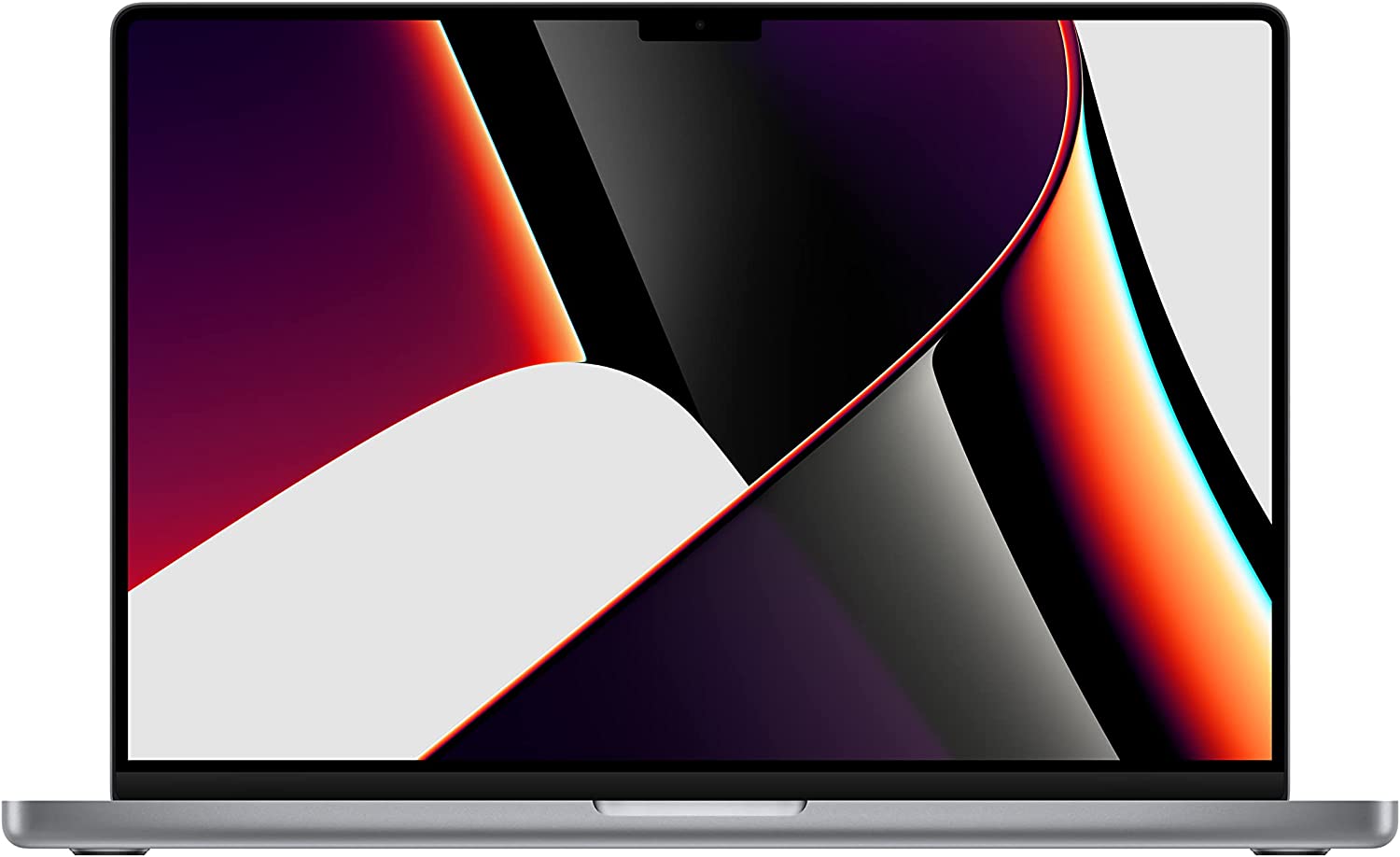 In many ways, the Apple MacBook Pro can be described as the ultimate premium-quality Ultrabook. It offered one an idea about how a modern and advanced Ultrabook laptop should be. The Apple MacBook Pro is available in two color options (space gray and silver) and boasts a very sophisticated design and delivers highly satisfactory performance. The device is powered by Apple's M1 Pro chip, and the laptop ensures you get to finish even the most complex tasks efficiently.
The laptop comes armed with an SSD drive that offers a storage space of 1 TB. It comes in another variant that provides users with 512 GB of storage space. The display screen is 16.2-inches wide and offers a very high resolution of 3456 x 2234 pixels. The six-speaker sound setup ensures that you get a great audio-visual experience. A large number of individuals prefer this device for its robust battery life. The battery lasts for 20-21 hours on a single charge.
Recommended for Apple fans who have been looking for a lightweight and high-performing Ultrabook to invest in.

It is also a suitable option for those who consume multimedia content extensively and require a laptop with an ultra-high-definition screen.
Classy design

Strong battery life

Good storage support

Highly vibrant display screen
Expensive

Some features need to be upgraded
13.5-inch Ultrabook Laptop with Long-Lasting Battery
Microsoft Surface 4 Touch-Enabled Screen Laptop
Check Price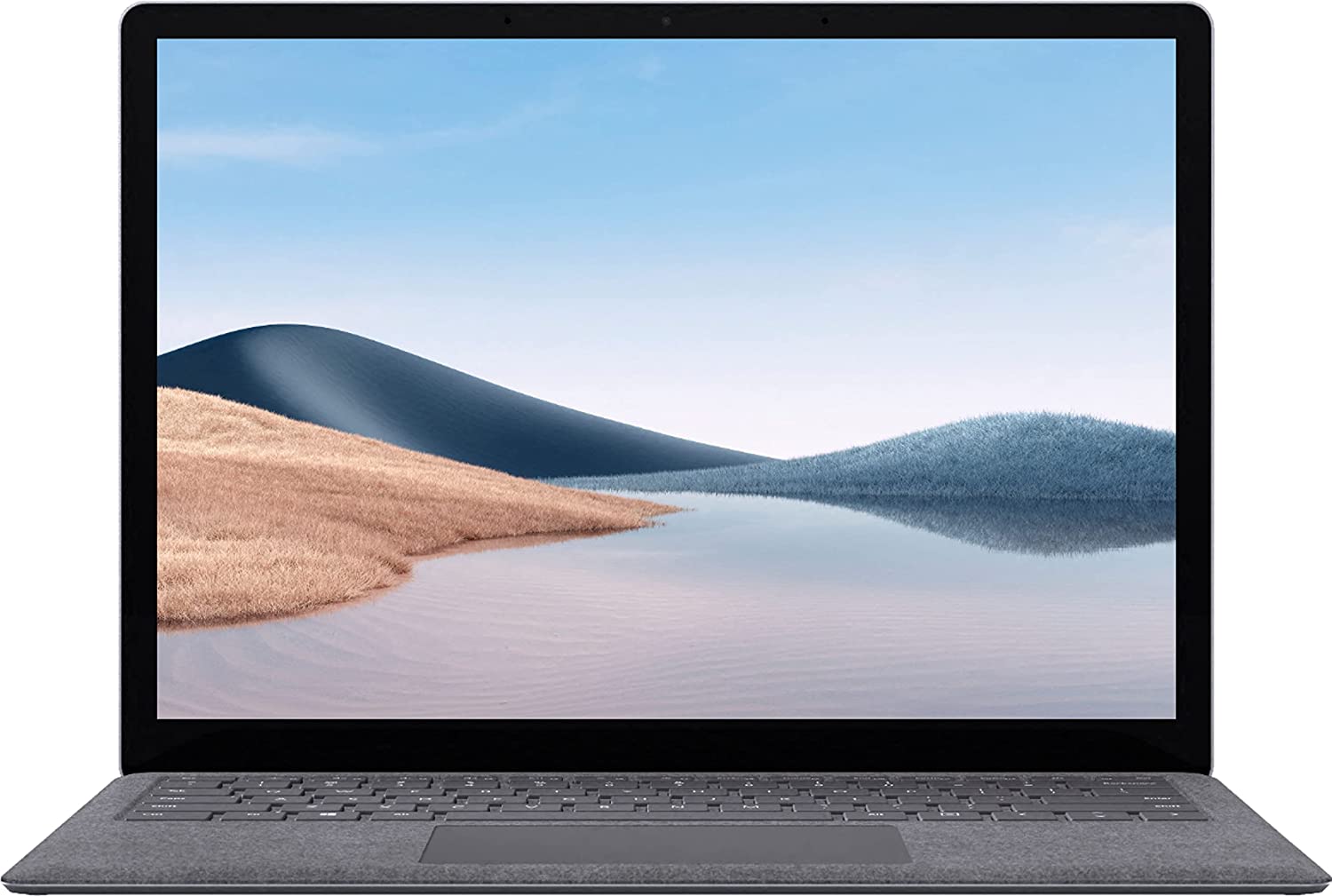 This compact Ultrabook comes with a 13.5-inch display screen that is touch-enabled and offers a resolution of 2256 x 1504 pixels. The device's overall weight is just 2.79 lbs, so you will not have difficulty carrying it with you during personal or professional trips. When fully charged, the battery offers a runtime of 19 hours. The 720p HD webcam is suitable for making video calls or participating in virtual conferences.
The laptop comes with a 128 GB storage-space drive that might not be sufficient for many users. The low bandwidth of 8 GB RAM might deter some people from investing in this laptop. By upgrading the RAM and the storage capacity, the brand can greatly enhance the appeal of this device. While the internal speakers are of good quality, you can also use headphones with the help of a 3.5mm audio jack.
Why You Should Buy This?
An ideal Ultrabook for those who prefer the experience offered by a small-sized compact screen over a large screen.

It is also suitable for individuals who need a lightweight laptop to give them company during their trips.
Pros
Compact structure

Good battery support

High-definition screen

Features a headphone jack
Cons
Low bandwidth RAM

Limited storage support
Well-Performing Gaming Laptop with RGB Backlit Keyboard
MSI GE76 Raider 2 TB Storage-Space Drive Laptop
Check Price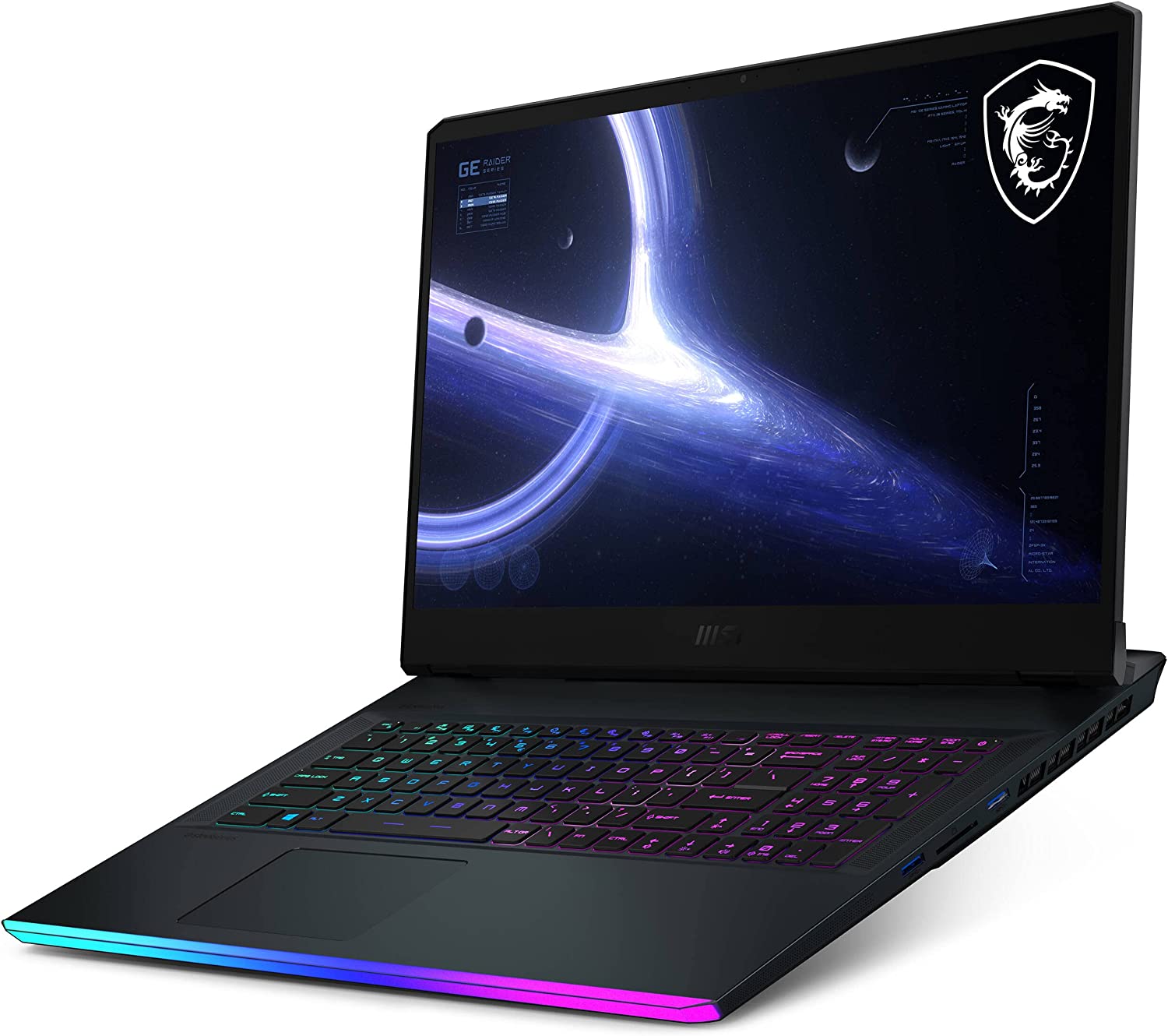 The MSI GE76 Raider features a vibrant 17.3-inch display screen and offers a resolution of 1920 x 1080 pixels. The screen is not touch-enabled, just the kind you want to consume multimedia content. One of the factors that make this device highly usable is the storage space offered by it. It comes with a 2 TB storage space drive which should be sufficient for your storage requirements.
The laptop has an RGB backlit keyboard that is highly durable and produces interesting lighting effects. The 32 GB high-bandwidth RAM contributes greatly toward the efficient performance registered by the device. The laptop's design is quite creative, and its aesthetics would greatly appeal to those who are into hard-core gaming. At 6.39 pounds, the laptop is quite heavy. While traveling around, you must be careful how you handle it.
A suitable option for individuals looking for a laptop with strong gaming performance.

Also recommended for those who wish to invest in an Ultrabook that provides them with a lot of storage space.
High bandwidth RAM

Large HD display screen

Sturdy backlit keyboard

Adequate storage support
Quite heavy

The screen is not touch-enabled
Dual-Screen Ultrabook with Efficient Processor
Asus ZenBook Duo 14ErgoLift Design Laptop
Check Price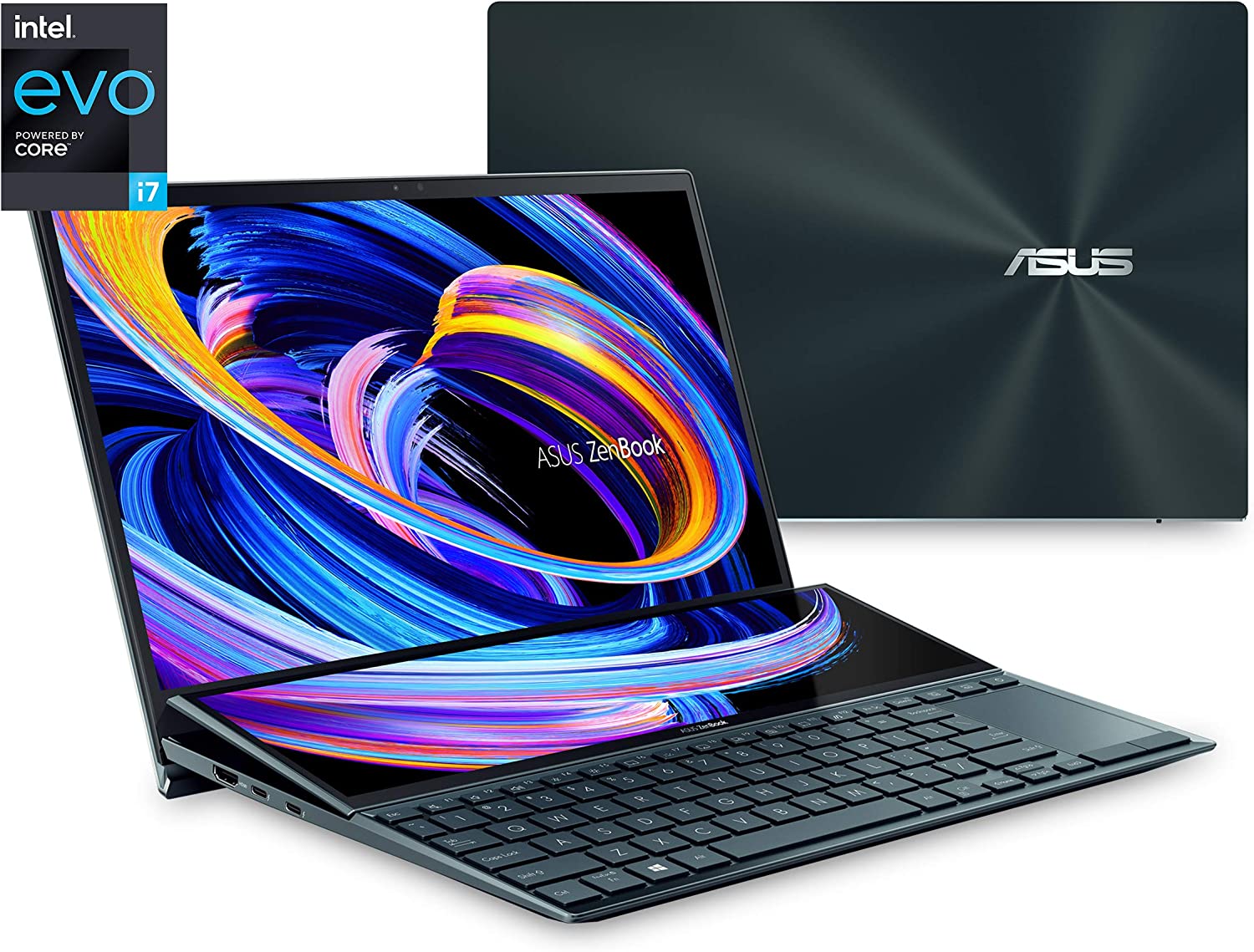 One of the biggest selling points of this Asus laptop is undoubtedly its dual-screen feature. This feature would largely appeal to those who know how to make good use of it. The screens are touch-enabled and highly responsive. A Stylus pen is provided with the device and you can use it for carrying out multiple actions on the screen. The Ultrabook is powered by the 11th Gen Intel Core i7 CPU that runs at a processing speed of 4.8 GHz.
The device does not feature an optical drive but comes with many other connectivity options, including Thunderbolt 4. As far as security features are concerned, a built-in IR camera is integrated for facial recognition. While the standard version of the laptop offers a storage space of 512 GB, you can choose another variant that comes with a 1 TB SSD drive.
Why You Should Buy This?
Recommended for those who believe using a dual-screen laptop will help in increasing their productivity.

It is also a good option for individuals planning to invest in an Ultrabook that works efficiently.
Pros
Stylus support

Robust processor

Dual-screen setup

Facial recognition feature
Cons
Cramped keyboard

Moderate battery life
Conclusion
When shopping for an ultrabook, you need to consider several aspects. The weight should be less than 3 pounds. It should have a good battery life of a minimum of 9 hours. In addition, you need to check out how many ports the ultrabook has. Some of them only come with a single USB Type C, also known as the Thunderbolt 3 port, whereas others come with legacy ports and Type C ports in combined form. Touchscreen capabilities are also very useful, but this type of ultrabook could prove to be more expensive, and in addition, it also drains the battery more.
Whatever your choice of ultrabooks, importance must be given to features and functionality, and not the design alone. Give importance to aspects like the battery life and the performance of the ultrabook.