Technobezz is supported by its audience. We may get a commission from retail offers
X
Our Editorial Process
Each year more than 60 Million users visit Technobezz to solve a problem or research a product. Our goal is that everyone finds what they are looking for, and that is why we cover a variety of products, problems, and solutions on our website.

Writing an article that contains a lot of valuable information may seem simple. But when the article is written, the story doesn't end. We are constantly updating the content so that you can always get up-to-date and accurate information.
---
Technobezz's Editorial Guidelines
A MacBook stand can be very useful for working on your laptop in a more comfortable and convenient way. Sometimes,
Portable iECO Vertical Laptop Holder
RIWUCT Height Adjustable Laptop Stand with Heat Dissipation
Gravity-Locking Laptop Stand From Amazefan
Table of Content
A MacBook stand can be very useful for working comfortably and conveniently on your laptop. Sometimes, bending to access files on the laptop can be quite painful for your back. The best way out would be to raise your laptop level to a comfortable or convenient height using a laptop stand. A stand can also help by protecting your MacBook and preventing it from getting overheated. Different stands are available so you can select the best one to use on the desk or on the go. A stand is more than just a tool showing off your MacBook. A stand is also useful for optimizing space and reducing clutter on the disk. It protects your laptop from spills and can even act as storage or just add to the aesthetics of your office if you pick a stylish one. There are many good options, so here are the best MacBook stands to make the selection easier for you.
See also: Best MAC accessories In 2023
Buying Guide
Consider the following while looking for a MacBook stand:
Anti-slip property and good quality
Improves body posture
Easy to carry
Large airflow vents prevent overheating
Maximizes desk space
Attractive design
List Of Best Macbook Stands
Ergonomic Laptop Holder Designed to Improve Posture
Portable iECO Vertical Laptop Holder
Check Price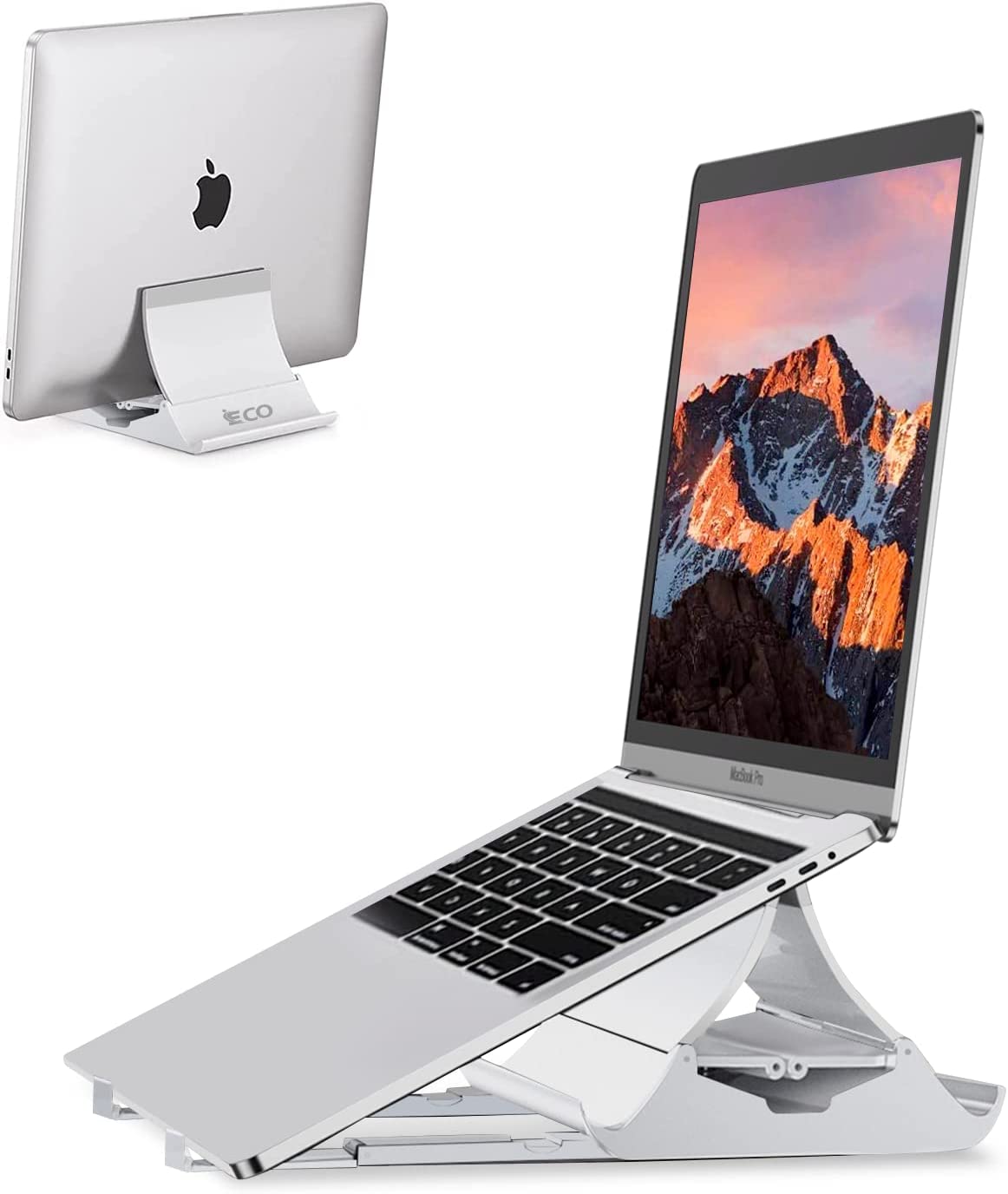 The iECO laptop stand is the ideal desk device that provides the desired ventilation to your laptop. Designed in a minimalist fashion, its innovative craftsmanship makes it compatible with various devices, e.g., MacBook Air/Pro and Dell, among others. The stand is crafted with a gravity shrinkage feature which offers your laptop an elevation of at least 5 inches to offer perfect eye level with the screen.
This lightweight iECO stand is made of quality ABS plastic material and has a holding capacity of 15.5 ounces. Easy to carry, it can be easily accommodated on any surface and requires no manual adjustments for your device to fit in properly.
This device comes with a multi-functional design that includes an anti-slip rubber pad that prevents your device from slipping.
The device is well-supported by two bottom holders, ensuring absolute stability while you consistently work on the keyboard.
Anti-slip properties
Space-saving device
Improves posture
No manual in the package
Angle adjustment is not possible
Foldable Laptop Stand with Ergonomic Design
RIWUCT Height Adjustable Laptop Stand with Heat Dissipation
Check Price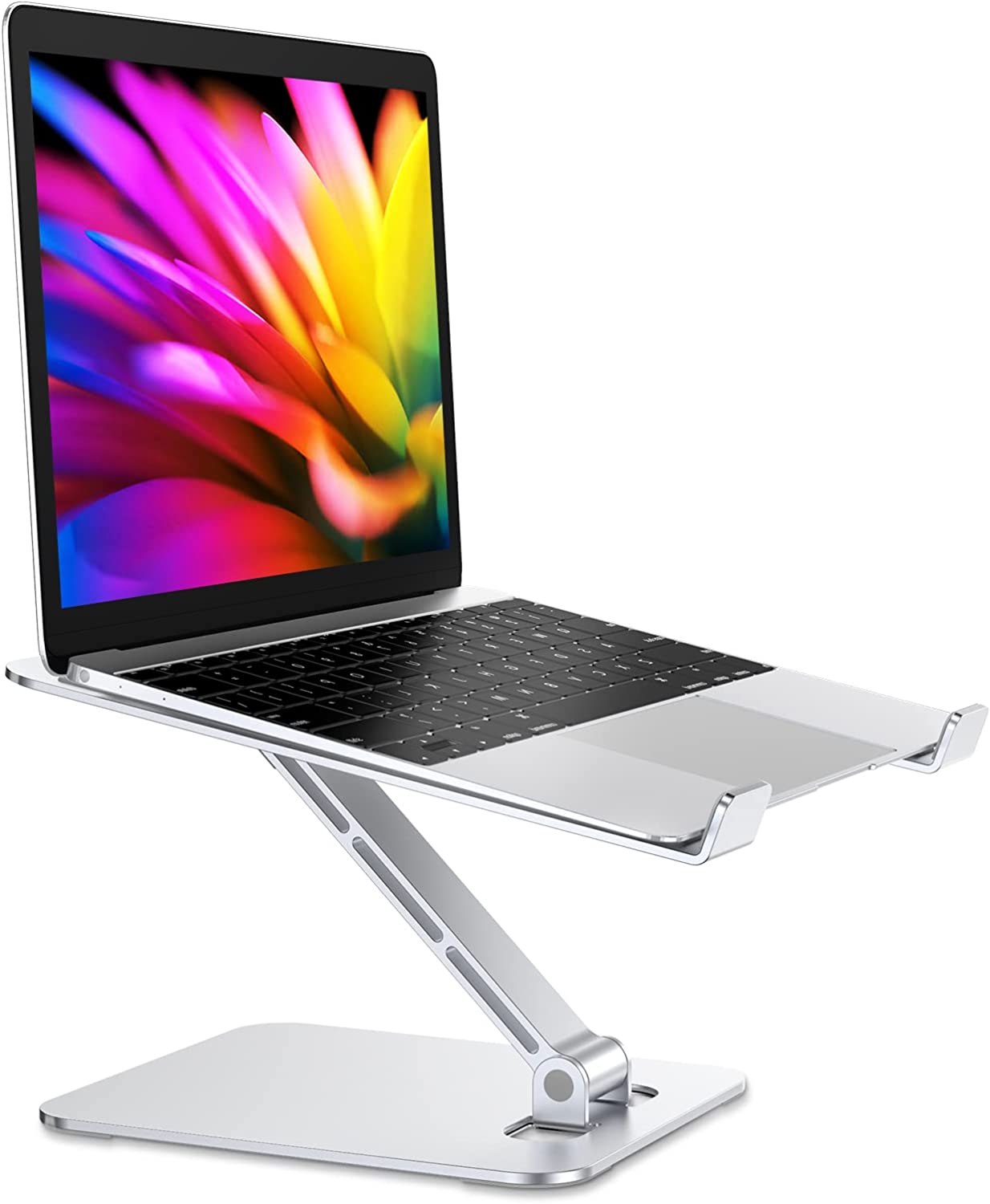 The RIWICT laptop support stand is made of quality aluminum alloy material and offers you varied inclination angles. Its design is compatible with all devices with screen sizes varying between 10- and 16-inches, including Notebooks and MacBook Pro/Air. Made of quality aluminum alloy, it enables you to raise your computer to a height of 7.48 inches.
The computer panel and its two hooks come with non-slip straps. The four non-slip silicone pads at the bottom help protect this 8.8 lbs (4kg) computer from slipping. It also includes two holder hands which enable maximum ventilation of your device.
This laptop stand is manufactured with an extremely stable structure, and its foldable design includes storage capacity.
You can adjust your device to a range of comfortable and easy-to-use positions.
Provides ergonomic posture
Multi-usage features
Easy to carry
Not very sturdy
Heavy to carry
Vertical Laptop Holder Compatible with Macbook Air
Gravity-Locking Laptop Stand From Amazefan
Check Price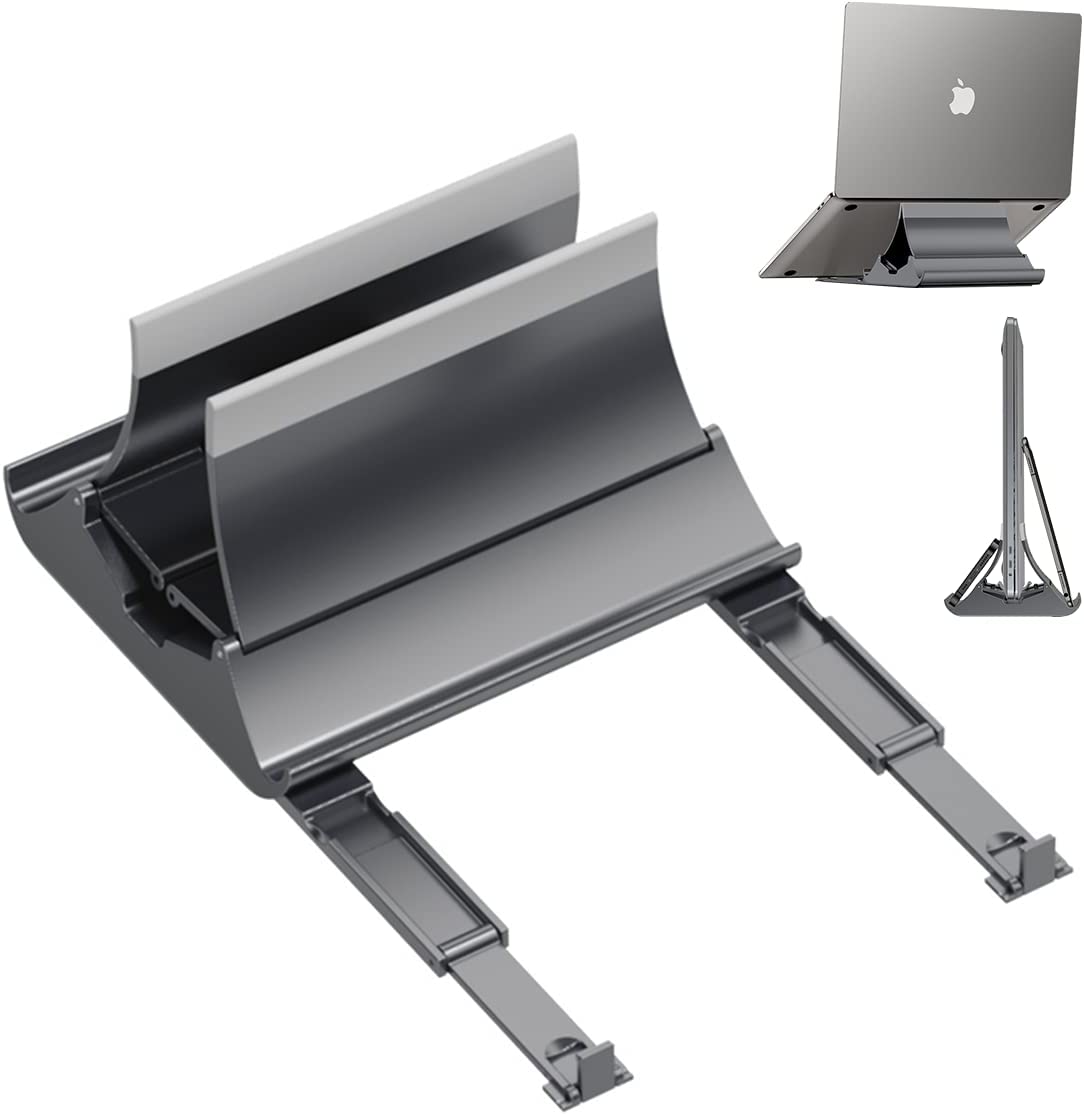 This multi-functional laptop stand comes with a 4-in-1 design to accommodate your laptop, tablet, or smartphone in the most organized manner. Superior quality ABS plastic forms the core build of this device which is complemented with a 3-in-1 stand. Its foldable feature allows for the computer's elevation and serves as a book divider for storing your latest books.
Non-toxic and anti-slip silicone pads support the laptop stand at the bottom, enabling heat dissipation and offering speedier ventilation. The anti-gravity drop design secures your device, ensuring utmost stability. This machine is compatible with MacBooks/Air, Dell, iPads, and other devices with a screen size of 17 inches.
This laptop stand is free of manual adjustments, and you can simultaneously place various devices of 35 mm thickness on it.
The ergonomic design helps raise the laptop to eye level and provides an accurate viewing angle.
Tool-free adjustments
Large airflow which prevents overheating
Improves posture
The surface is prone to scratches
Slightly wobbly
Unique Laptop Stand Compatible with Macbook Pro
Ergonomic Laptop Riser with Pedestal Stand from Humancentric
Check Price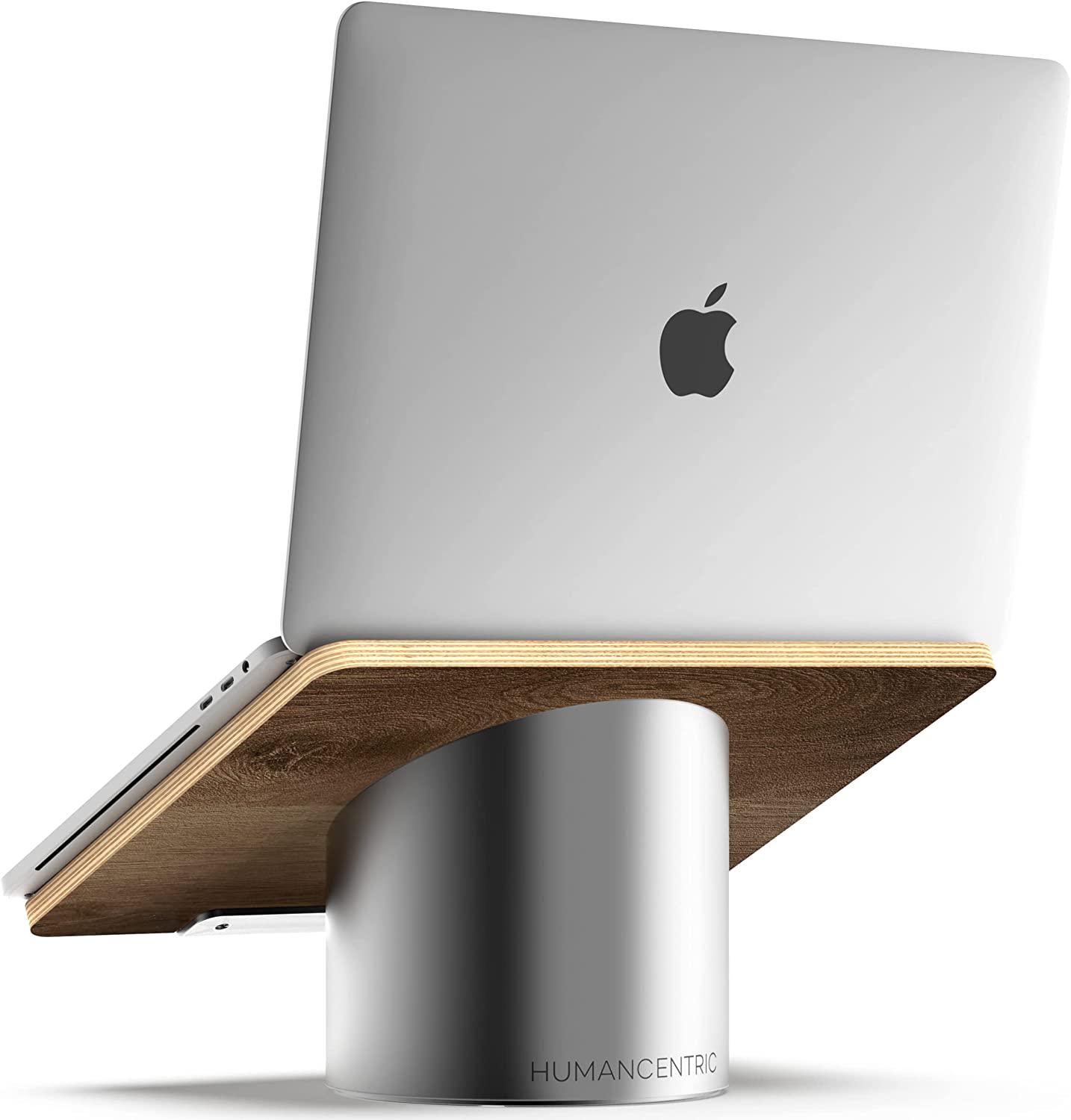 This HumanCentric laptop stand is designed with a wooden top, aluminum base, and sturdy pedestal support. It is ideally crafted for a MacBook Pro but provides stable support for other laptops with a screen size of at least 16 inches. A great amount of detailing gives this machine the ultimate classy look.
The device has a cylindrical-shaped base made of anodized aluminum metal. A quality black walnut veneer exterior over a plywood top lends an aesthetic touch to the laptop. The silicone bottom of the pedestal base prevents unwelcome movements. Some individuals use it as a notebook when the laptop is not in use.
Why Should You Buy This?
Ideally designed for the MacBook, the minimalist design of this laptop provides maximum desk space.
This device is compatible with laptops and MacBooks with a thickness ranging between 0.5 and 1.5 inches.
Pros
Made with superior quality materials
Can be used as a primary or secondary monitor
Maximizes desk space
Cons
No height adjustment
Ideal for MacBook
Adjustable and Ergonomically Designed Laptop Stand
Telescopic VIGLT Computer Stand with 360-Degree Swivel
Check Price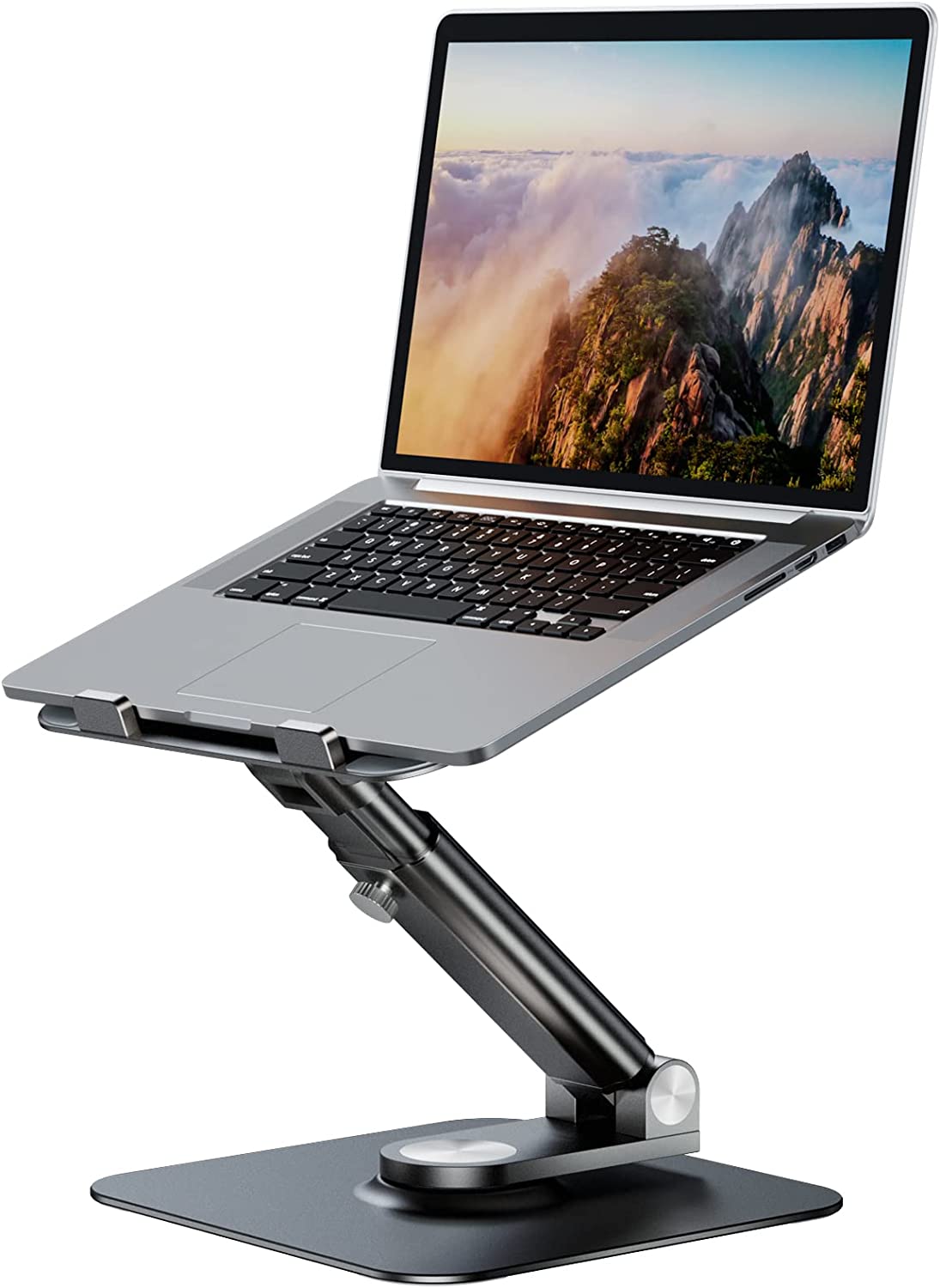 This unique stand laptop riser can be easily rotated at 360 degrees. Made of premium aluminum, it can weigh 20 pounds (9.07 kg). It has a sturdy build and an anti-skid rubber base, which protects the machine from scratches. You can adjust the height for different postures like sitting or standing.
The height-adjusting screw protects your neck and shoulder from slouching and pain. The stand includes extended protective hooks that protect your computer from sliding off the stand. This sturdy device is compatible with all laptops with a screen size between 11 and 17 inches.
This laptop stand requires no assembly and can be folded and set up easily whenever required.
It offers immense stability and helps you work flawlessly without any wobbly sensation.
It offers various height adjustments
Improves posture quality
Doesn't overheat
One year warranty
Thin rubber layer at the bottom
A little heavy to carry around
Adjustable Laptop Stand with RGB Lighting and 8-In-1 USB C Hub
Laptop Riser Compatible with Macbook from Keibn
Check Price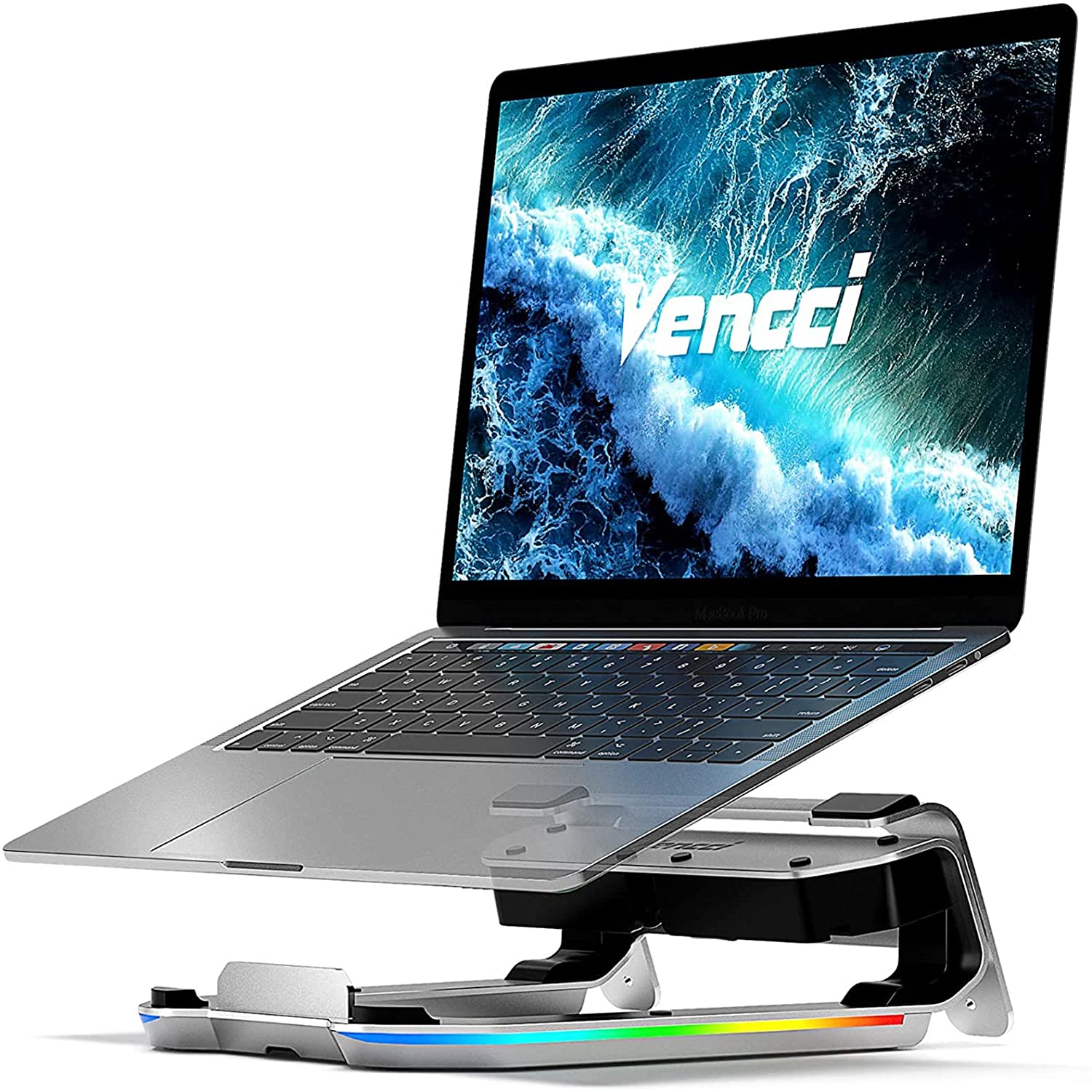 This extremely compatible laptop stand is crafted with many features, making it a class apart from the rest. Rich with 8 USB ports and a built-in 11.8" type-c cable, this laptop elevator provides you with six adjustable height levels to furnish your posture with the ultimate comfort. You can transfer all your files speedily without any hindrance. Its ten modes of RGB atmospheric light create the ultimate relaxing ambiance for your eyes.
A quality aluminum body accompanies the ergonomic design of this laptop stand. The anti-slip rubber pads at the bottom protect your laptop from sliding off. Other rich features include an SD card reader, a TF card reader, and even 1 HDMI port, allowing you to stream 4K videos at 30 Hz. This stand supports laptops of sizes varying between 10 and 17 inches.
Why Should You Buy This?
It is available with innumerable rich features and offers universal compatibility.
This laptop comes with unique atmospheric light adjustments which protect your eyes.
Pros
Highly comfortable
Adjustable height levels
Unique atmosphere light in 10 modes
Ample ventilation
Cons
Conclusion
When selecting a stand for your MacBook, consider factors like weight, portability, and versatility. Check whether the stand has adjustable legs, whether it's foldable so that you can stick it out of the way when not using it, whether there is a swivel base and whether it suits your aesthetic tastes. The above laptop stands are reasonably priced, can help you keep your desk organized, and can even extend the life of your MacBook. They all have awesome features and are lightweight, and are suitable for every individual style or purpose.
So, the factors to consider while selecting a laptop stand are the ergonomic design; a compact profile; the construction material, as it affects the weight and the cooling effect; and the build quality or sturdiness. Hopefully, the long hours you spend at your MacBook won't tire the eyes anymore or bring back pain once you get a suitable MacBook stand.