Apple has been working on its gadgets for a very long time to heighten and enhance the power and beauty of your MAC with different accessories. Many third-party manufacturers sell awesome stuff. It is very tough to pick the best MAC accessories because we have our cupboard brimming with some extremely stylish, useful, and utilizable items that easily snap the user's attention. This time, we will highlight products based on their price, effectiveness, durability, and user reviews.
See also: These Are The Top Mac Keyboards To Buy In 2023
Buying Guide
So, what should you ask yourself before buying an accessory for your Mac?
How much does it cost?
How much does it weigh?
Will it increase your productivity?
Is there a warranty for the accessory?
Is it compatible with non-Mac devices?
How much space does it occupy?
Best Mac Accessories
A Lightweight Mac-compatible & Flexible FHD Monitor
Attachable FHD Monitor for Mac by SideTrack
Check Price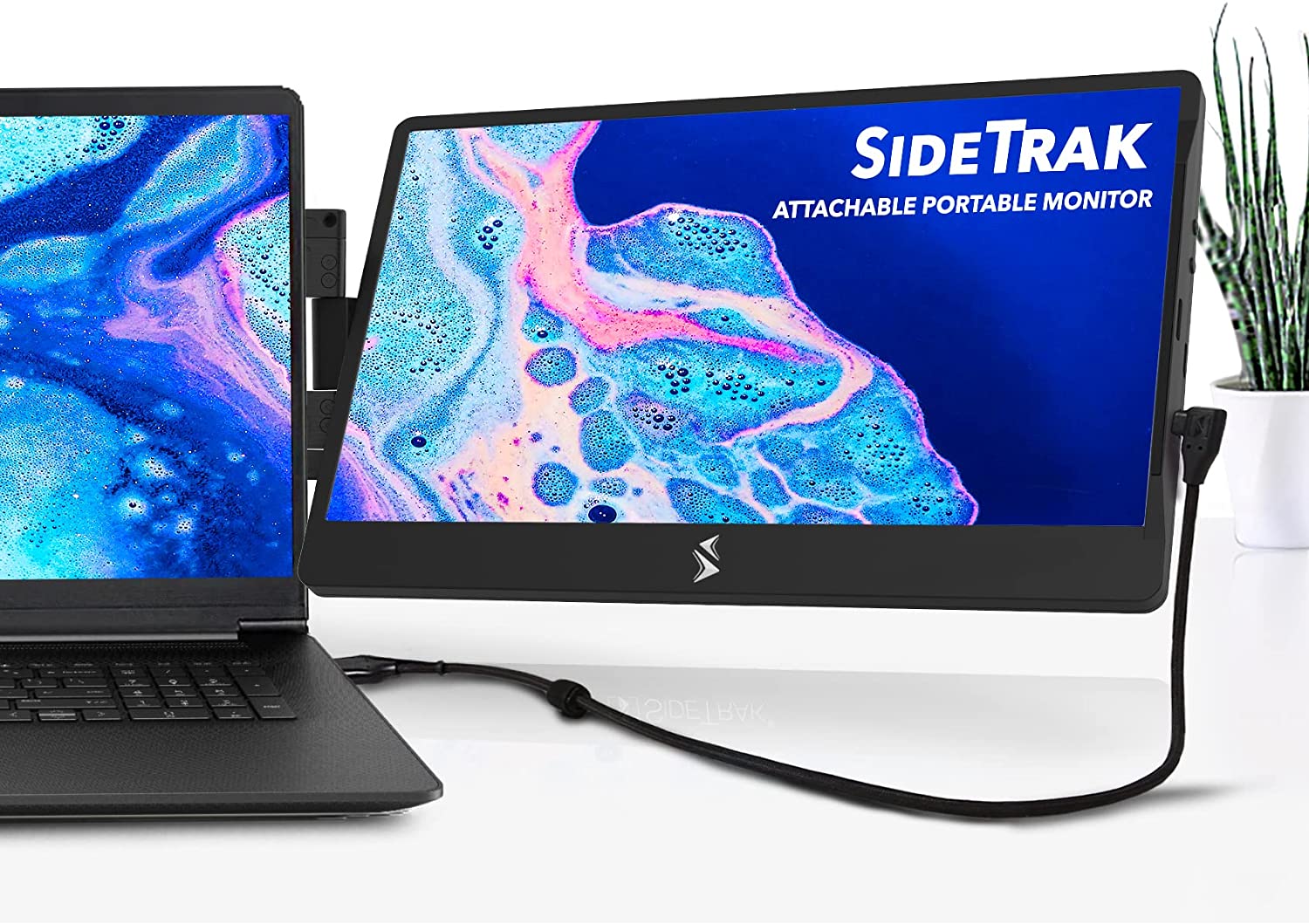 Maximize your productivity with dual monitors by bringing home this attachable FHD monitor from SideTrack. As a handy Mac accessory, the 12.5" LCD monitor attaches to a Macbook easily and acts as a second monitor to give you the flexibility of working on two monitors. It is lightweight, which makes it the real deal. You can carry it from one place to another without feeling its weight.
The product delivers an immersive experience to users with excellent picture quality. Be it brightness, screen mirroring, or rotation, you can customize the settings of the monitor with ease to meet all your requirements. Unlike other monitors, this product does not require downloading any software program for compatibility with a Mac laptop. You can also adjust the product at a 360-degree angle as per your comfort level.
It does not require downloading any additional piece of software for compatibility with a Mac laptop.
It displays pictures with exceptional clarity for an immersive experience, and you can position them at a 360-degree angle according to your comfort.
Easy to use
Lightweight
Exceptional picture quality
Flexible
Tricky to remove it from a Mac laptop
Small screen size
An 8-in-1 USB Hub with High-Speed Data Transfer Feature
8-in-1 USB Hub for Mac Laptop by Dolovo
Check Price
Transfer photos and other data easily to hardware devices by setting up as many as eight simultaneous connections with this c-type USB hub. It works smoothly with Mac laptops. Aside from connecting hardware devices, you can also use the product to charge compatible devices after connecting them to your Mac laptop. This USB hub is ideal for video play as it supports videos at 5K resolution.
As far as the types of ports are concerned, the product has two 3.0 and 2.0 ports and a USB c-type 3.0 port. For faster data transfer, you can rely on the USB 3.0 port, which transfers data at a speed of 5Gbps. Being a lightweight product, it is portable and has an SD/TF card reader for users' convenience.
It has both USB 2.0 and 3.0 ports that meet all kinds of data transfer requirements at different speeds.
It supports videos at 5K resolution.
Support for USB 2.0 and 3.0
Data transfer at high speeds (up to 5Gbps)
Multiple ports
Support for 5K video resolution
Easy to use (plug and play)
Heating issues on Mac laptop when kept attached for a long time
Installing the device can become tricky
A Stretchable Laptop Stand with an Ergonomic Design for Daily Use
Ergonomic Laptop Stand by Lifelong
Check Price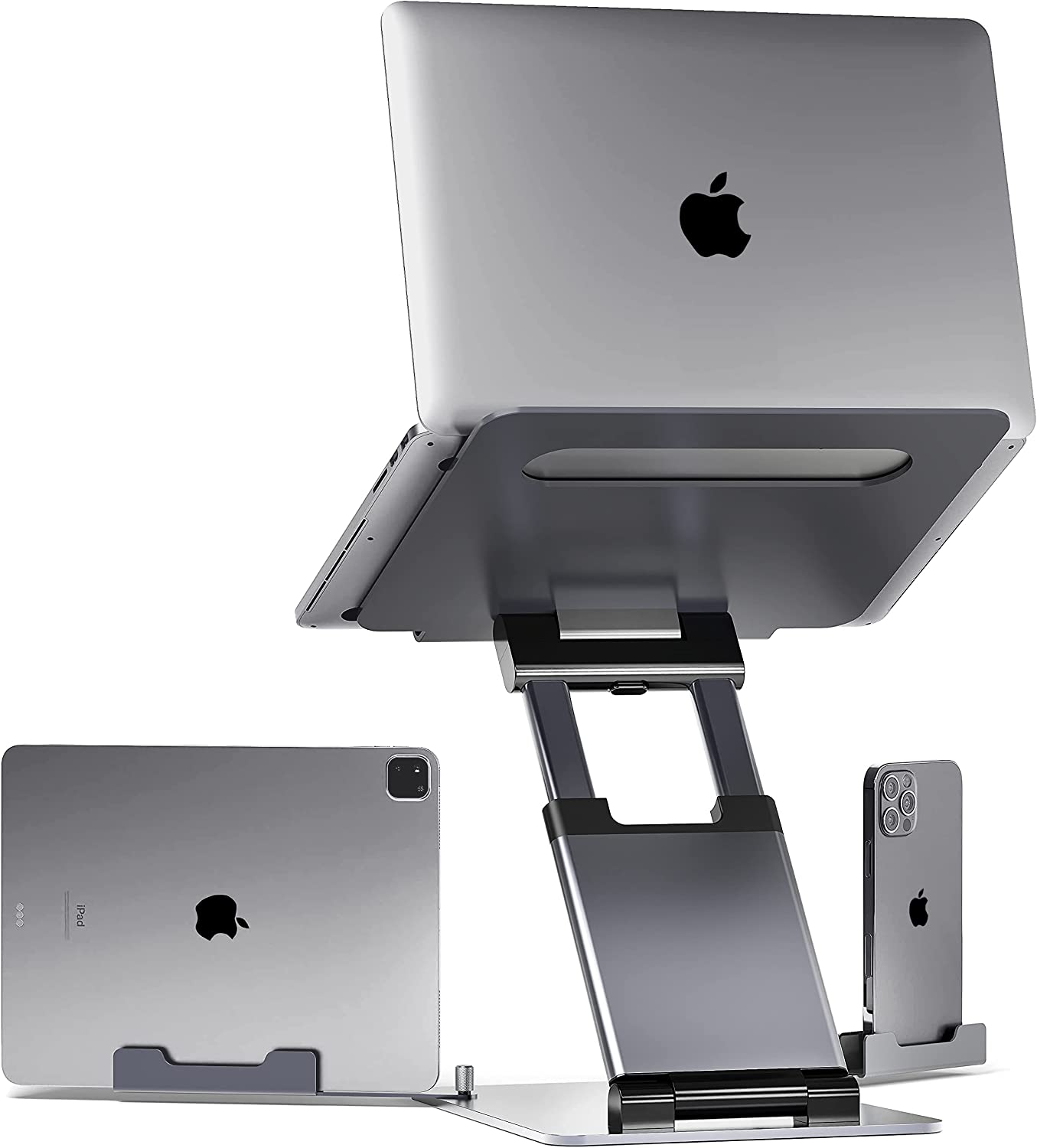 Bid farewell to issues on your back by embracing a laptop stand with the best ergonomic design. Whether you have a 10-inch tablet or a 17-inch laptop, you can easily attach your device to this product. If you feel sleepy after working in a seated position for long hours, the stand will let you work in a standing position.
You can extend the laptop stand up to 20 inches from the base. Regardless of your style of typing, you can type comfortably for long hours with the flexible range of this product. The product is lightweight and easy to carry. This feature makes the item both portable and suitable for daily use.
It supports devices ranging from 10 inches to 17 inches.
You can stretch the laptop stand up to 20 inches which provide flexibility.
Ergonomic design
Supports devices between 10 to 17 inches
Lightweight
Adjustment options to work in both seated and standing positions
Wobbles at times
Moving the arm requires greater force
A Handy and Scanner for Quick Document Scanning
RapidReceipt Document Scanner by Epson
Check Price

This USB-powered document scanner is lightweight, making it easy to carry from one place to the other. It is a useful accessory for Mac laptops when you are on the go. With the help of it, you can easily transfer data to software programs by third parties. You can also use it to create searchable and editable PDF documents.
The document scanner is designed to boost the productivity of users. With the accessory, you can scan a whole page document in 5.5 seconds. When using the product, you do not need to worry about feeding documents manually.
Why Should You Buy This?
It is lightweight and compatible with Mac laptops.
It has the auto-feeding feature and scans documents.
Pros
Lightweight
Easy data transfer to third-party software programs
Fast scanning
Automatic file naming
Cons
Shows up connectivity issues
Non-durable
A Wireless Headphone with the Capability of Producing High-Fidelity Audio
Over Ear Wireless Headphone by Apple
Check Price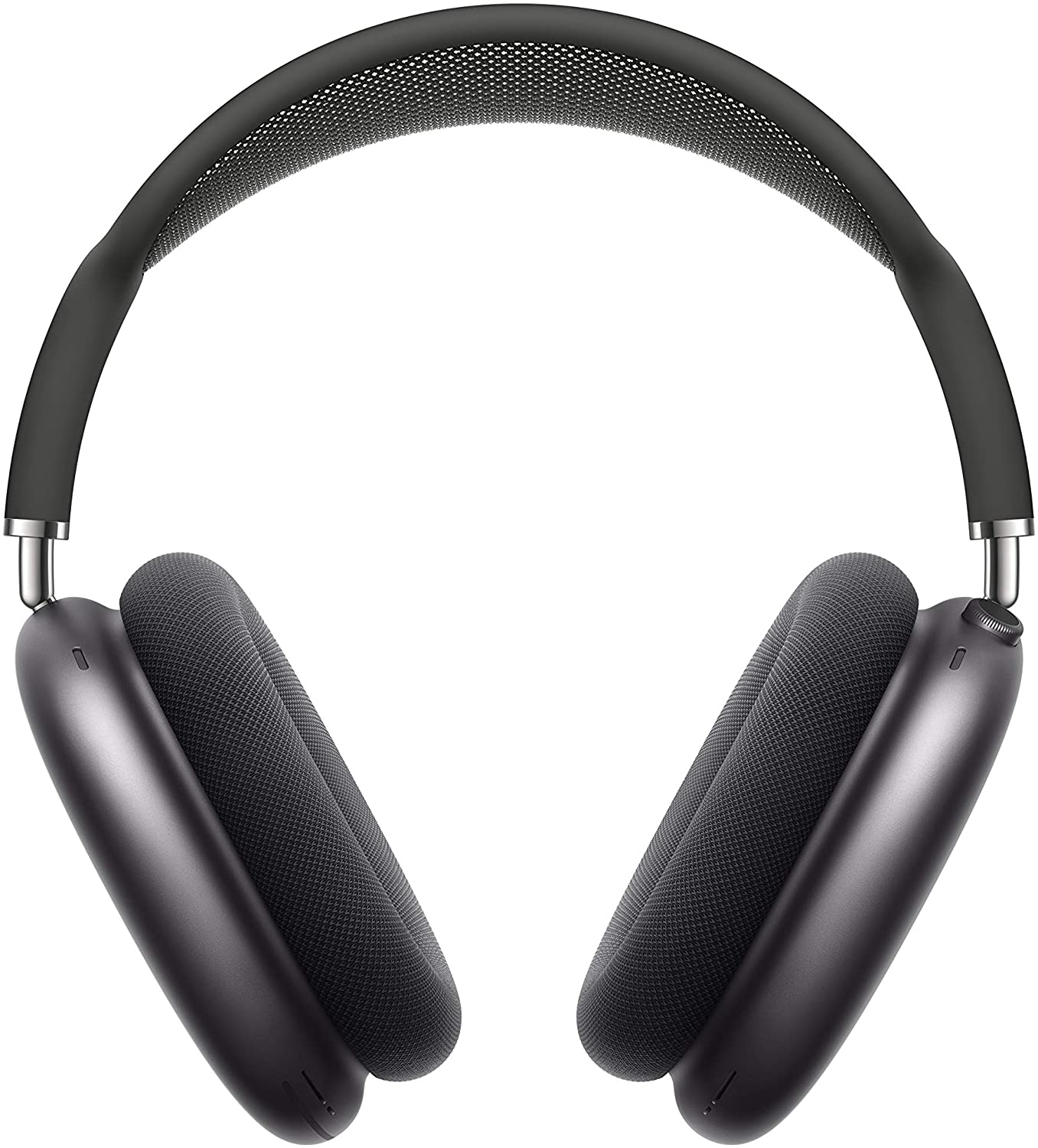 These wireless headphones live up to the quality-related expectations of Apple products. Its space gray color gives it a distinctive appearance. Due to its compatibility with Apple drivers, it produces high-fidelity audio. The sound quality of the product resembles that of the theaters.
The manufacturer of the product has designed it with the users' comfort level in mind. It is easy to set up and use, and at the same time, it also lets you switch to other devices seamlessly. Another hallmark feature of this item is its battery, which provides 20 hours of output on a single charge.
It is a wireless headphone and provides the best sound output.
This allows seamless switching between devices.
Wireless connectivity
Stylish appearance
Theater - Quality Sound
Comfortable fit
Seamless switching from one device to the other
It does not come with a charger in the package
Prone to water buildup
A Wireless Bluetooth with Noise Cancellation for High-Quality Audio Output
Wireless Bluetooth Headset by Vonztek
Check Price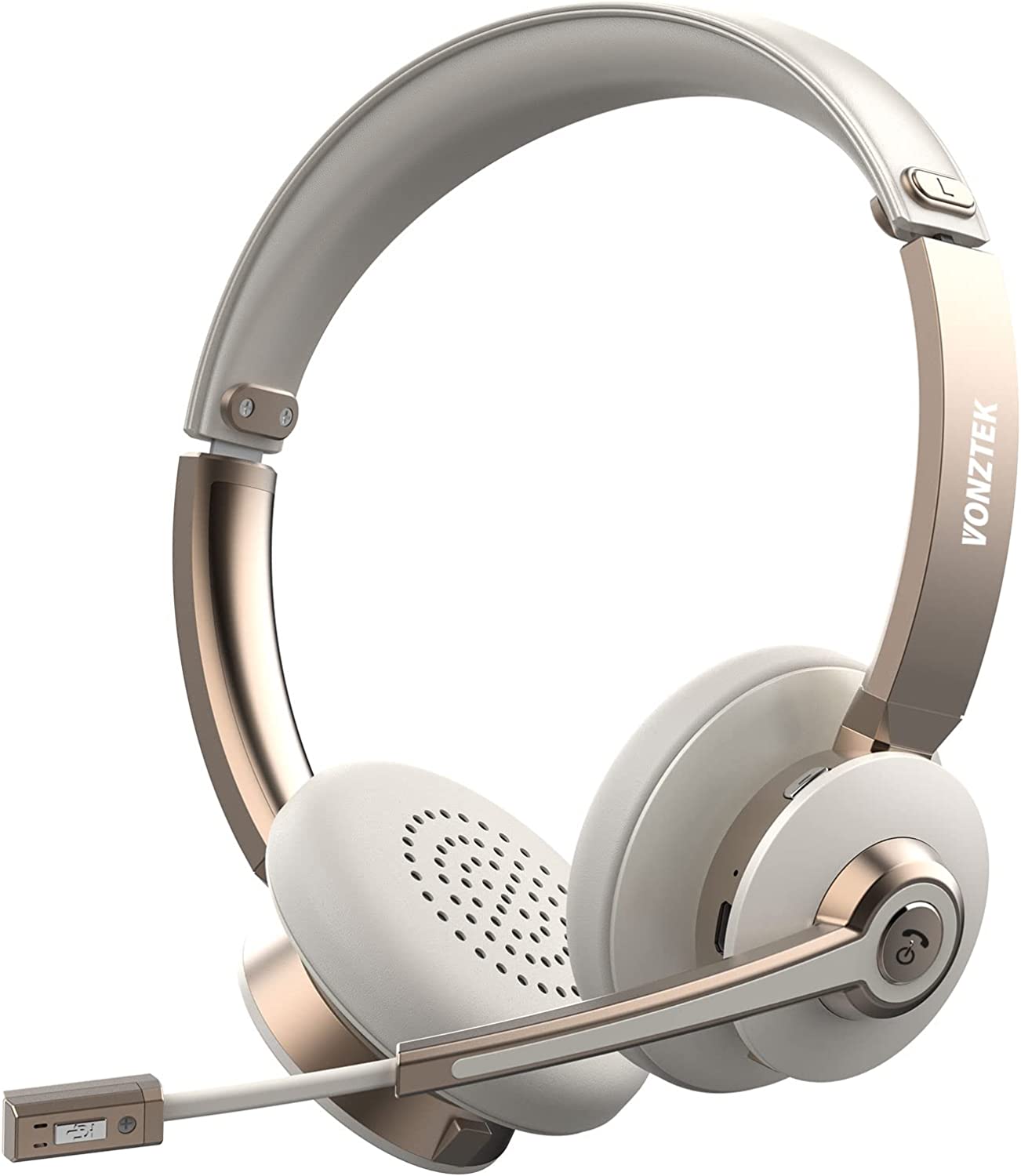 This Bluetooth headset is designed for both personal and professional use. The advanced Bluetooth chip installed in the product can connect up to two devices. Its battery comes with long battery life. On any given day, you can bank it to give you a backup for 28 hours.
The Bluetooth technology makes it compatible with a wide range of supportive devices. These include tablets, computers, cell phones, and Mac laptops. The mute and noise cancellation features of the headset with a microphone make it all the more useful. This feature enables the device to produce high-quality audio even in noisy environments.
Why Should You Buy This?
It has an advanced Bluetooth chip and can connect up to two devices simultaneously.
It has a powerful battery capable of providing backup for up to 28 hours.
Pros
Advanced Bluetooth chip
Long battery life
Compatibility with multiple devices
Light earmuffs
Cons
The instructions in the manual lack clarity
Stops working in between calls
You can always improve your experience when using your computer.
That is why we have listed the top best Mac accessories to buy in 2023. You will certainly find something interesting and useful.