Featured in this article (opens in new tab)
Grand Theft Auto 5, or the more commonly known GTA V, is an extremely popular PC game that can offer endless hours of online and offline play. The best laptops for GTA V are available at different price points, display resolution, and build quality. You can buy an entry-level laptop at affordable pricing or spend thousands of dollars to get that coveted 4K experience on your favorite PC game title. Besides, all these laptops can play lots of other games as well like Red Dead Redemption 2, Cyberpunk 2077, and upcoming Battlefield titles.
See also: Best Laptops for Sims 4
Buying Guide
The best laptops to play the game of GTA V or Grand Theft Auto V have to have very good specifications. It is a game that includes fast cars and shootouts, and the audio output has to be top-class. Grand Theft Auto is a very popular franchise and millions of gaming enthusiasts play games all over the world. The game can be enjoyed if the laptop has the requisite specifications and features. What are these important specifications?
Processor and GPU: Like any gaming laptop, the processor and the graphics support it gets are very critical to the laptops for GTA V. It's a fast-paced game, and to deliver the graphics in all clarity and speed, it has to be a powerful performer. It is recommended that the processor be at least an Intel Core i5. However, if you find a laptop with a Core i7 processor, go for it. For graphics, NVIDIA is an accepted brand. You will need to go for the correct model from the range.
Display: When it comes to the display, the laptop to play GTA V should have all elements – size, screen resolution, and refresh rate. The preferred display size is 17inches, and the display resolution ought to be full HD. Below that, you won't be able to enjoy the game. The screen refresh rate should also be as high as 144Hz for you to enjoy playing GTA V on this laptop.
RAM: You will need at least 16GB of RAM to play GTA V with ease on the laptop.
Audio: As mentioned, the audio quality while playing GTA V has to be excellent. Check if the laptop you are ordering comes with any special additional audio features.
Cooling Arrangement: If you play GTA V on your laptop, it can result in the machine getting heated. The laptop has to be fitted with extra fans for cooling. Check this out while poring over the specifications.
DVD Drive: It is doubtful if you will find the laptop for playing GTA V with a DVD drive. The reason for needing a DVD drive is that studios release top games in compact discs form (CD). If the DVD drive is not there, you will have to find other ways. This could be downloading the game directly on your laptop or using an external storage device where the game can be stored and played offline.
Best laptops for GTA V
Powerful Gaming Laptop with 16 GB RAM Memory
Gigabyte Aorus15P KD 15.6-inch Display Screen Laptop
Check Price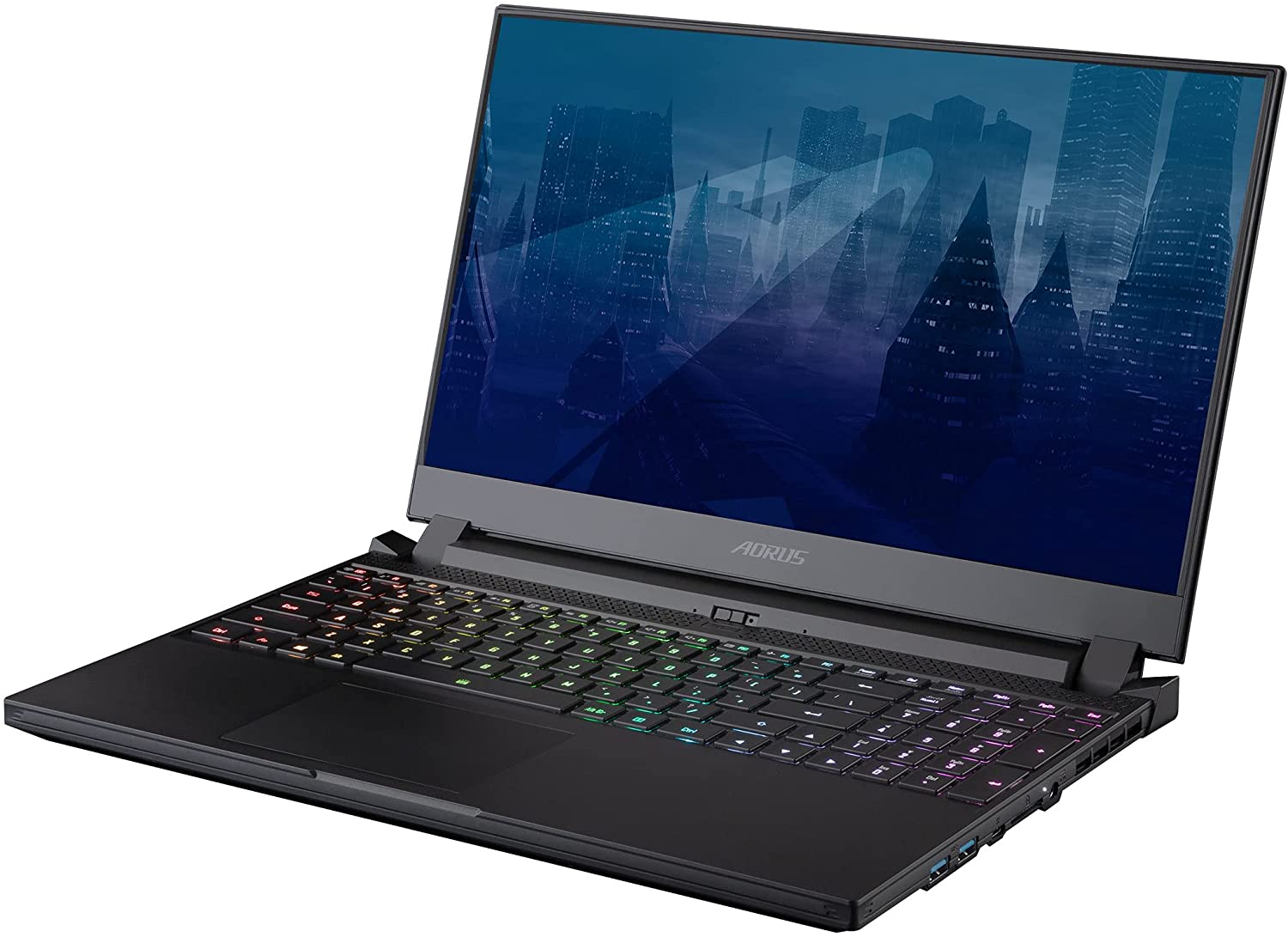 This gaming laptop by Gigabyte features a 15.6-inch display screen with a resolution of 1920 x 1080 pixels. Aside from playing high-end games, it is a great device to watch streaming content. The display screen is surrounded by thin bezels, and the anti-glare feature ensures that you do not suffer from the risk of straining your eyes because of extensive gaming.
The Intel Core i7, NVIDIA GeForce RTX 3060 processor, and the 16 GB RAM contribute greatly towards the high-speed performance you see this laptop delivering. The device offers 512 GB of SSD storage space, which is good enough to install many premium games. The device is lightweight enough to be carried along conveniently while traveling.
A good option for those who like playing action-adventure games like GTA V on their laptops.

It is also recommended for individuals who wish to invest in a laptop that works at a very high speed and ensures efficient operation.
High bandwidth RAM

Fast-performing processor

Strong gaming performance

Sharp and colorful display screen
No optical drive

Storage space needs an upgrade
Lightweight Gaming Laptop with Robust Processor
MSI Stealth 15M 15.6-inch Screen Laptop
Check Price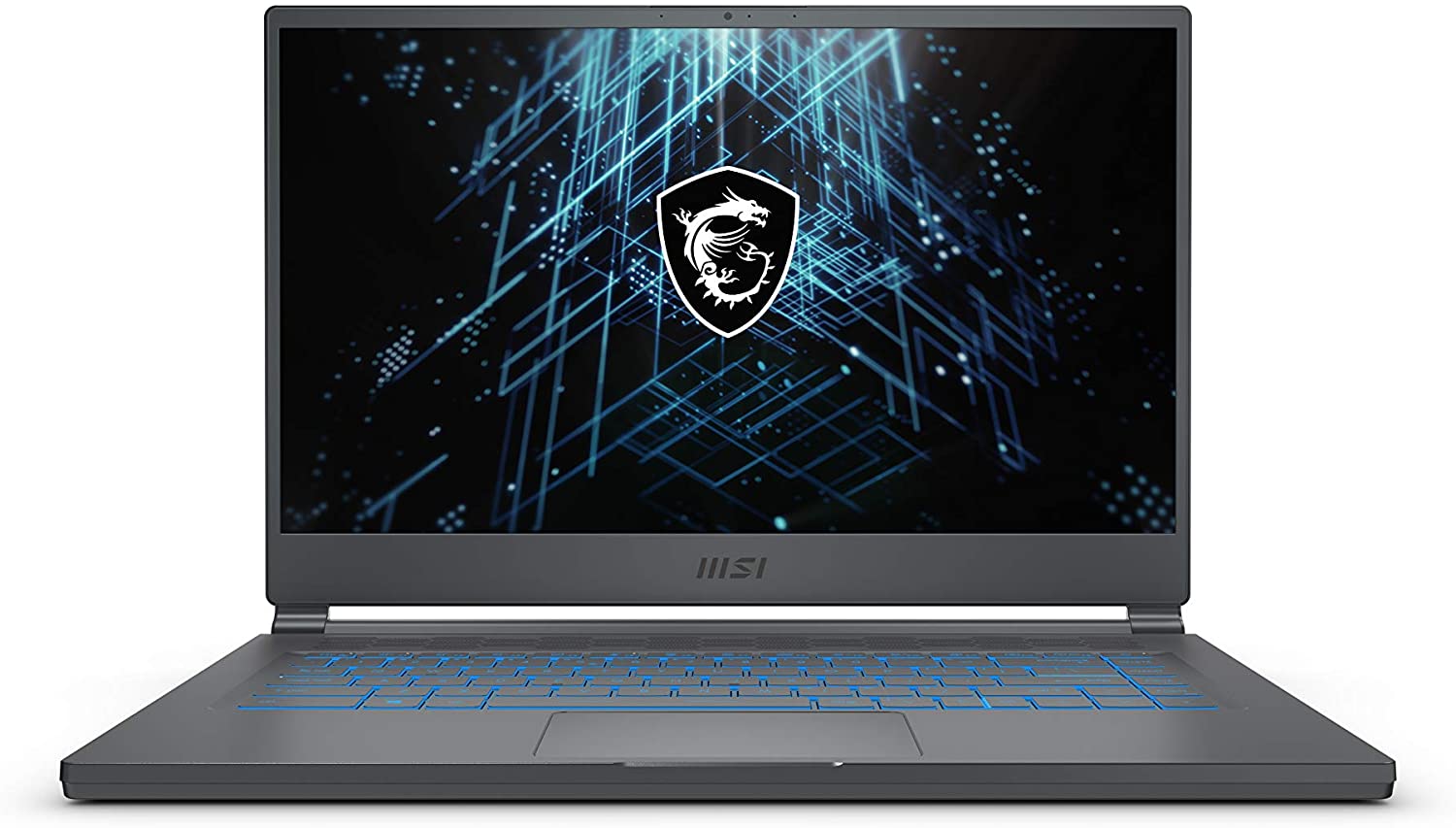 The 15.6-inch widescreen of this MSI device produces high-resolution images and is sharp enough to appeal to serious gamers. The screen boasts a very high refresh rate and that results in a highly immersive gaming experience. The NVIDIA GeForce RTX 3060 graphics processor ensures that the graphics are very high quality.
The primary CPU operates at a good processing speed and ensures the device doesn't suffer from any lagging issues. One of the highlights of the device is its design. The overall design of the laptop is very sophisticated, and its lightweight structure makes it very convenient for the user to put it in their bag and travel with it.
The lightweight design of this laptop makes it highly desirable for gamers who travel extensively.

It is also recommended for those who are looking for a laptop that comes with high-end multimedia features.
Sleek design

High-end graphics

Lightweight structure

Strong processing unit
Noisy operation

Moderate battery life
15.6-inch Display Screen Laptop with Effective Cooling System
Alienware M15 R6 1 TB Storage-Space Drive Laptop
Check Price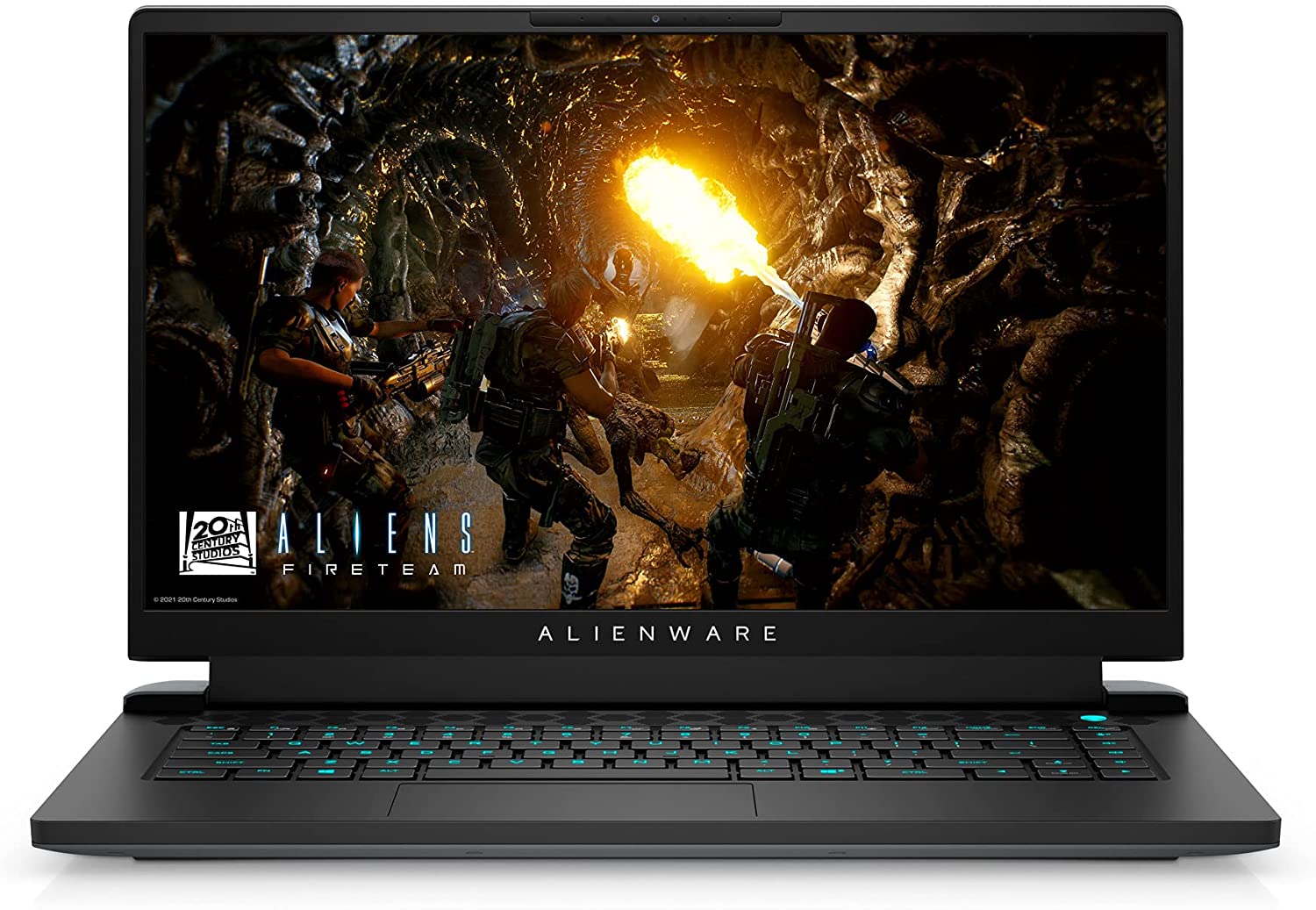 The Alienware M15 R 6 boasts a design that can be termed futuristic for several reasons. While the design will get you attracted to the device, the performance delivered by it will solidify your decision to buy it. The 32 GB RAM comes pre-installed on the laptop. The Core i7-11800H CPU operates at a processing speed of 4.6 GHz and ensures the device works efficiently.
The 15.6-inch display screen produces crystal clear images. The 4-zone RGB backlit keyboard is designed for gamers and is very comfortable to work on. The regular keys are there, and you also get standalone media keys that are very helpful during gaming. The speakers are very loud and apt for a gaming laptop.
Suitable for those looking for a powerful gaming laptop with a sturdy 4-zone backlit keyboard.

It is also recommended for individuals who are planning to invest in a premium quality multimedia laptop.
Loudspeakers

Vibrant display screen

Highly attractive design

Comfortable backlit keyboard
Slightly bulky

No number pad
17.3-inch Display Screen Laptop with Backlit Keyboard
MSI Crosshair 1 TB Storage-Space Drive Laptop
Check Price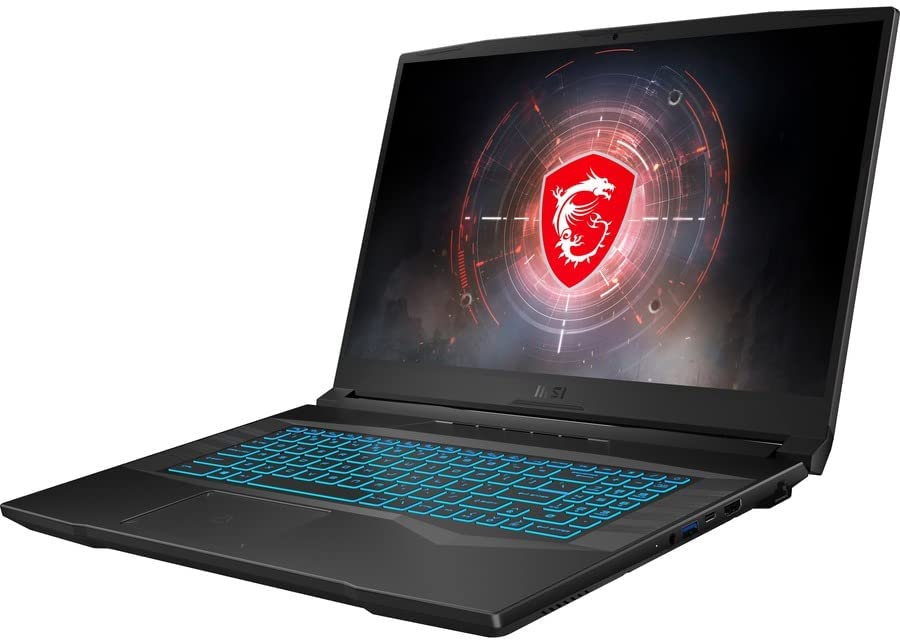 The MSI Crosshair boasts a 17.3-inch wide display screen that works wonderfully for gamers. The screen produces a 1920 x 1080 pixel resolution and is suitable for playing action-adventure games like Grand Theft Auto V. The 11th Gen Intel Core i7-11800H processor and the 16 GB RAM keep the device running at a very high speed.
Along with 512 GB of SSD storage space, you also get a 1 TB hard drive with this device. You can install a large number of games on the device and also store a lot of important data and files. On a single full charge, the battery lasts for 6 hours. The single-zone RGB keyboard has been designed well and is quite durable. Dual speakers produce moderate-quality audio output.
Why You Should Buy This?
A good option for individuals who prefer having a gaming experience on a large-screen laptop.

It is also recommended for those planning to invest in a well-rounded laptop with several useful features.
Pros
Backlit keyboard

Durable structure

Adequate storage support

Large and vibrant display screen
Cons
Average audio output

Inadequate battery life
Well-Built Gaming Laptop with RGB Backlit Keyboard
Lenovo Legion 7 16-inch Display Screen Laptop
Check Price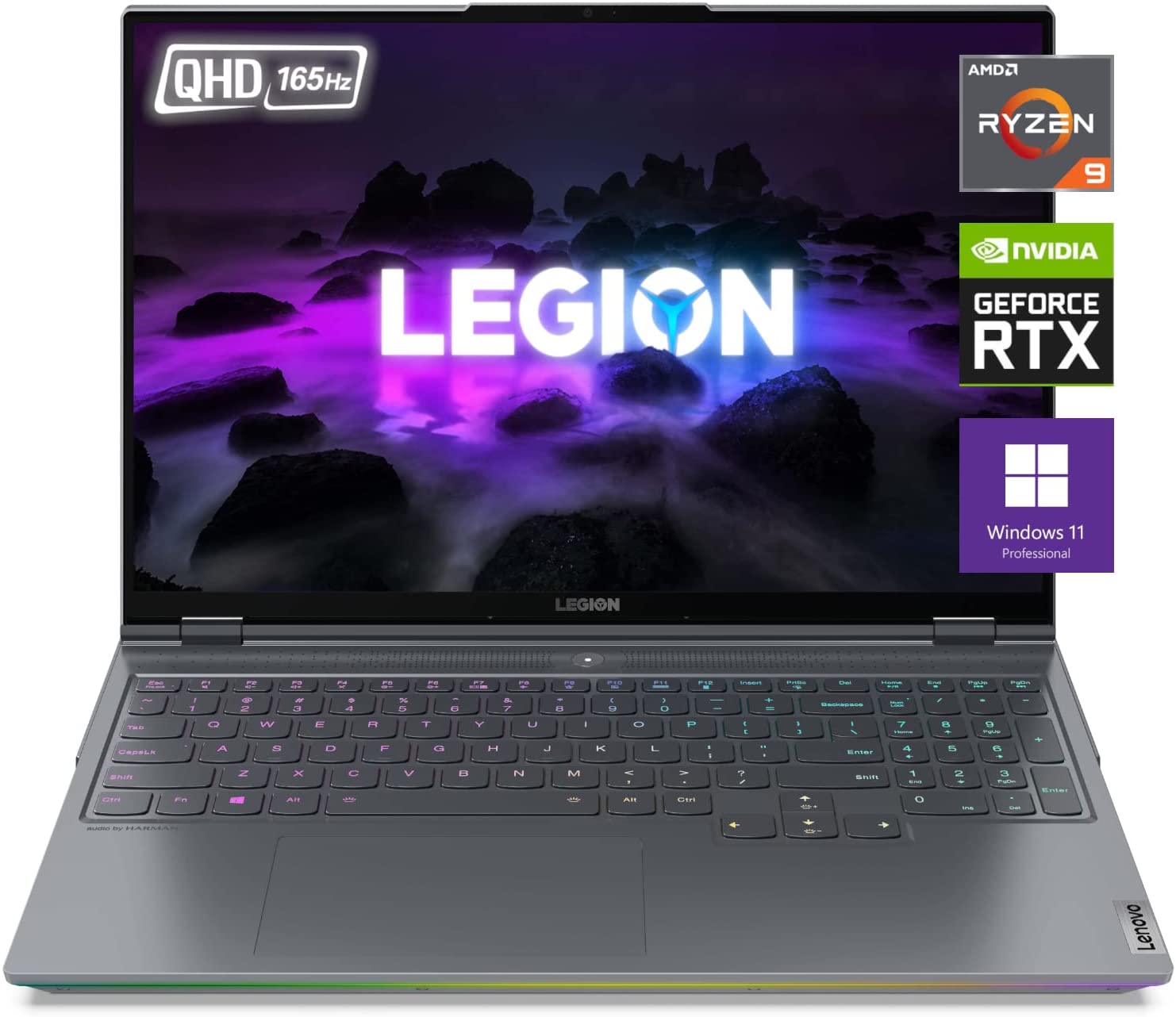 The Lenovo Legion 7 comes equipped with a 64 GB high-bandwidth RAM that ensures strong gaming performance and high-end efficiency. The screen does not offer touch functionality but produces high-resolution images. The screen has several advanced features that result in a highly enjoyable gaming experience.
The hard drive provides you with a storage space of 1 TB. At 5.5 pounds, the device is moderately heavy. It runs on Windows 10 home and delivers a fairly smooth performance while carrying out regular computing tasks. The laptop features a very well-designed ventilation system that ensures the device does not suffer from heating when you spend hours playing games.
Ideal for individuals who play heavy action-oriented games like Grand Theft Auto V.

It is also recommended for those who are particular about owning a laptop that features an RGB backlit keyboard.
Sophisticated design

High bandwidth RAM

Powerful performance

Good thermal management
Slightly heavy

Low-resolution webcam
15.6-inch Display Screen Laptop with High-Speed Processor
Asus TUF Dash 16 GB RAM Gaming Laptop
Check Price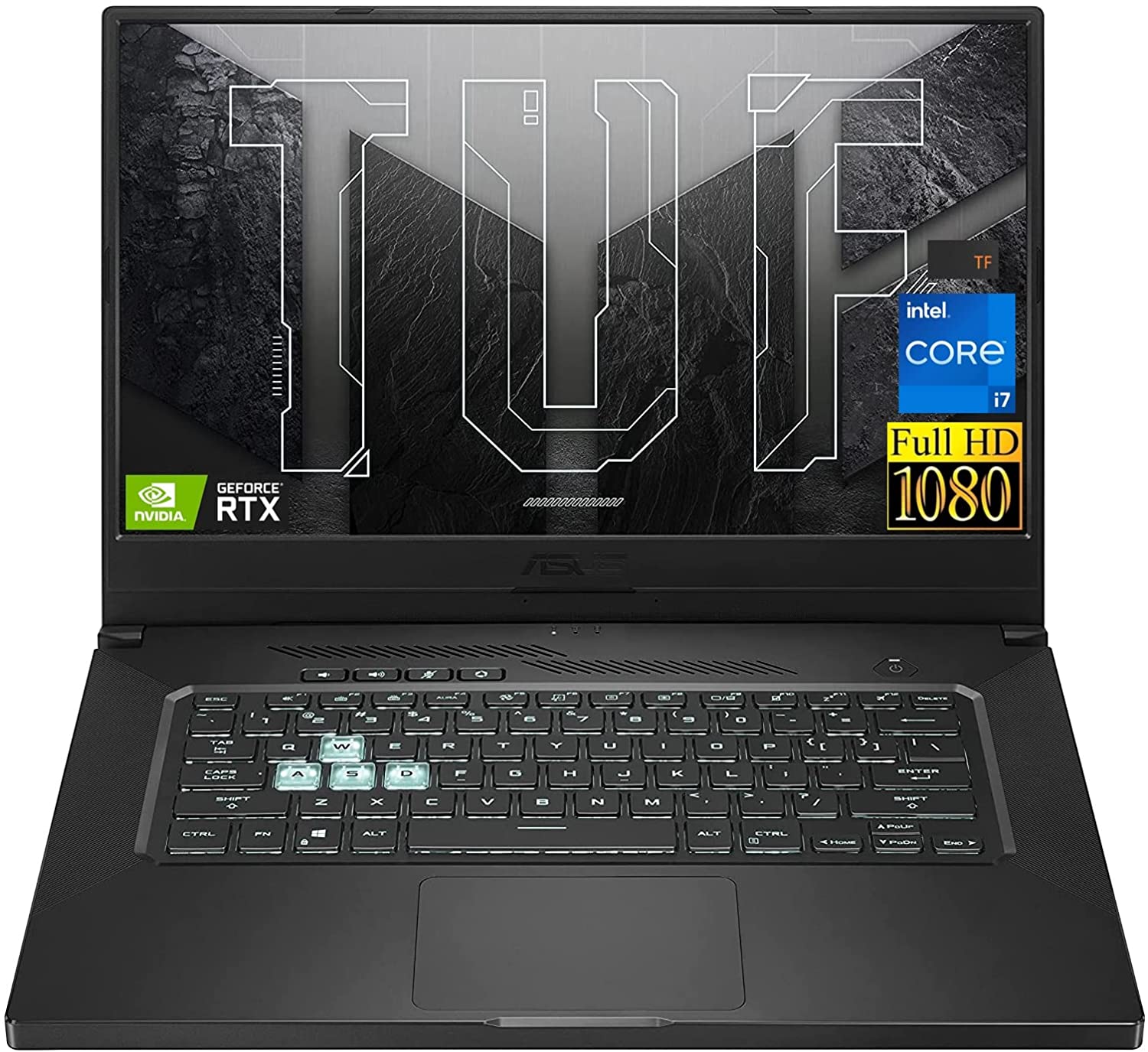 The Asus TUF Dash features a 15.6-inch display screen that produces high-definition images. The screen has an aspect ratio of 16:9 and offers a refresh rate of 144Hz. The black-colored design of the laptop is quite stylish and sophisticated. The keyboard is nicely designed, and there is sufficient travel space between the keys.
The 16 GB RAM ensures the device works at a good speed. The Core i5-10300H processor, too, is highly efficient and operates at a processing speed of 4.8 GHz. The laptop comes equipped with a hard disk that offers a storage space of 1 TB. The device offers multiple connectivity options, including a 3.5mm headphone jack.
Why You Should Buy This?
Highly recommended for those looking for a laptop that functions very efficiently.

Also a good option for serious gamers who enjoy playing action-adventure games like GTA V.
Pros
Sturdy keyboard

High bandwidth RAM

Good processing speed

Excellent audio output
Cons
No fingerprint sensor

It does not feature a webcam
A Large Screen Laptop with a Great Cooling System
HP Omen 17-inch Gaming Laptop
Check Price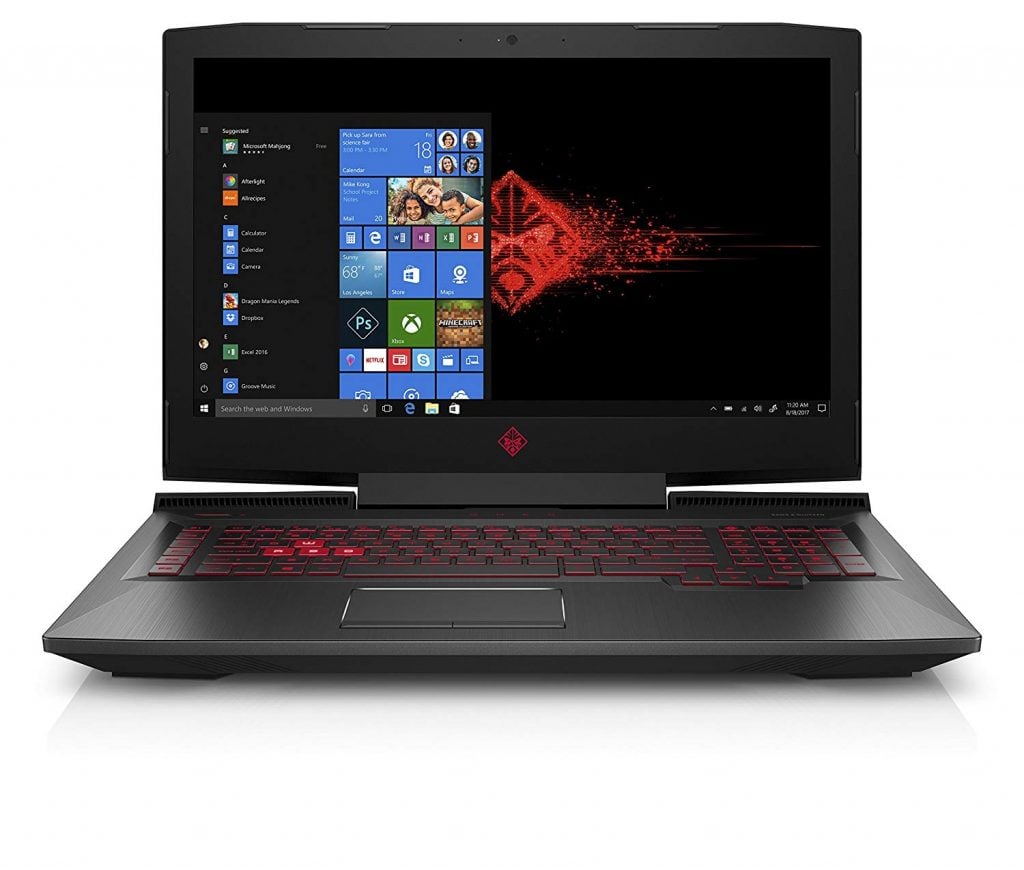 Finding a laptop with such a large display is difficult as most stop at 15-inch displays. The HP Omen 17-inch gaming laptop impresses us with an exceptionally large screen for gaming on the Go. In theory, you can play GTA V on the go as long as the battery lasts. The 17-inch display has a 1920 x 1080 pixel resolution, which is perfect for an amazing gaming experience.
The device is powered by an 8th generation i7 processor with 12 GB of RAM. The storage is taken care of by a 128 GB NVMe SSD, which is much faster and more responsive than the SATA SSD. All your games can be installed on a 1TB hard disk. The battery life is quite impressive, considering that the laptop is a mid-range device in terms of performance and pricing.
The graphics card used in the laptop is GTX 1050Ti which is more powerful than the Nvidia 1050 but may not be as powerful as 1070 or 1080Ti models. However, it is easily among the best laptops for GTA V as you will be gaming only in 1080p, and you can easily crank the settings to a high preset. The frame rates should be anywhere between 60 to 90, sometimes even higher. The 120Hz refresh rate display will give you a more responsive gaming experience.
What Makes the HP Omen 17-inch Gaming Laptop Standout from Competition?
The laptop has a great 1080p display with a 120Hz refresh rate that is great for gaming.
The battery life is impressive as it can handle 5 to 6 hours of hardcore gaming sessions.
Recommended For:
Those who prefer large displays.
The HP Omen 17-inch Gaming Laptop ensures high-quality gaming with a 1050Ti graphics card and the Wi-Fi AC allows you to stream games or showcase your GTA V gameplay on Twitch without any lag or stutter.
The laptop's headphones and sound quality are impeccable.
It is also perfect for anyone who wants to play the game on a large display.
Going All Out with the Best Laptop to Play GTA V
Razer Blade 15 Gaming Laptop
Check Price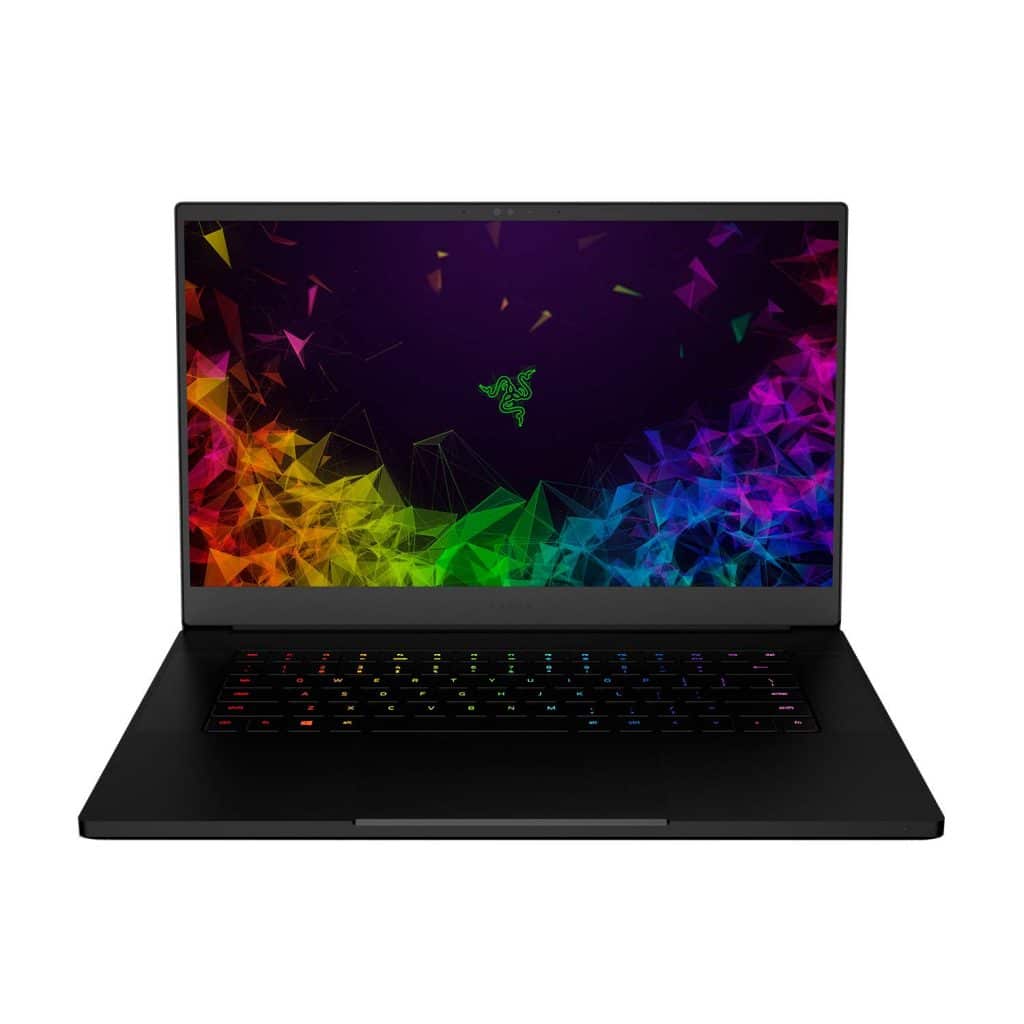 Once you have decided to go all-out with your gaming laptop, the Razer Blade 15 will comfortably make its way to the top of the list. The laptop has been around for years and is an immersive gaming product like no other. Razer already specializes in making gaming peripherals, and they have now delivered a product for gamers.
While it wins hands down in aesthetics and its slim design, the Razer Blade is a powerhouse on the inside too. The laptop is powered by an Intel Core i7 processor with 16 GB RAM and a spacious 512 GB SSD. The graphics card makes it extremely powerful as it houses an RTX 2070 Max Q-powered card capable of handling games at the highest possible resolution and frame rates.
Using the Thunderbolt port, the laptop can be connected to an external graphics card or display port. The 15.6-inch display is large enough with a 144Hz refresh rate, and the Chroma RGB keyboard completes the overall gaming design of this product. The display is also rated 100% sRGB certified, making it ideal for professionals and gamers. You can enjoy GTA V in the highest possible settings on this one.
What Makes the Razer Blade 15 a Premium Experience?
The laptop is powered by the best graphics card, an RTX 2070.
The design is slim and amazingly well done. It delivers an elite gaming experience.
Recommended For:
For gamers who are hardcore fans of GTA V and other PC games with enough cash to spend, this $2000 laptop from Razer fits the bill in every aspect possible.
The laptop's vapor cooling will allow you to play the game for extended hours without heating issues and boost its durability.
Frequently Asked Questions
Can I play other games besides GTA V on this laptop?
Certainly. You can play all other games on this laptop besides GTA 5. There are popular games like Red Dead Redemption 2 from the same studio that creates GTA V. You can even play those games on this laptop.
Do laptops for GTA V consume more power? Will my energy bill go higher?
No, there is no such report while using laptops to play GTA 5 or any other game. The power drawn from the mains will be constant as rated on the laptop. Internally, the game may draw more power from the processor. This may cause the laptop to get heated. If you play the game with just the battery power, you may see the battery draining fast, and you have to recharge it more frequently.
Can the laptop for playing GTA V also be used for other non-gaming activities?
Yes, this laptop can handle any regular computing activity, like creating documents and spreadsheets. Check while buying if MS Office is installed. If it is not there, you will have to install it for these purposes.
What is the minimum clock speed for the processor needed for gaming laptops?
The ideal clock speed to play video games without difficulty would be 3.4GHz and above. It is not that you cannot play games if the laptop has processors with a clocking speed lower than this. We recommend smoother performance and a more immersive gaming experience.
Is periodical servicing of laptops necessary like you do with cars?
There is no harm in taking your laptop to the nearest service center to get it checked and serviced periodically. They may charge a few dollars, but it is worth the effort. This can be done once every six months, particularly if you use the laptop daily.
Bottomline
The best laptops for GTA V start at a very affordable price range, as low as $700 or so, but if you are looking for an elite, 4K experience, you will have to spend a couple thousands of dollars. It's all about enjoying the amazing title Grand Theft Auto V developed by Rockstar. Asus, HP Omen, MSI, and Razer are popular gaming laptop manufacturers as they offer amazing value for money. The brands are also known for their premium products from which you can take your pick to play GTA V anywhere, anytime.