Technobezz is supported by its audience. We may get a commission from retail offers
Sims is probably one of the most popular game franchises from Electronic Arts and is played by millions of people
Asus CUK ROG Strix Scar 17 17.3-inch Gaming Laptop
Acer Aspire 5 Windows 11 Home Laptop
Lenovo Ideapad L350 15.6-inch Display Screen Laptop
Table of Content
Sims is probably one of the most popular game franchises from Electronic Arts and is played by millions of people all over the world. It's a world-building life simulation game that comes with plenty of unique expansion packs allowing you to play it for a long time. If you are into this type of slow-burn gameplay, nothing can be more frustrating than seeing the game crash after several hours of effort. The game per se doesn't require an insanely powerful laptop but you do need a decent one to enjoy a lag-free experience. Below are some of the best laptops for Sims 4.
We have also shared a buying guide that will help you understand the things you should be focused on when choosing a laptop for Sims 4. Take a look!
See also: Best gaming laptops under $2000
Buying Guide
Electronic Arts and Maxis have successfully established the Sims 4 as the most popular real-life simulator. With a decade-old-following, gamers who love to play the game can enjoy it on some of the best laptops available for Sims 4 in 2022. These are some of the important elements to look for in a laptop for gaming in general and to make your Sims experience fun.
Capable graphics card – Throughout the years, the game has considerably evolved in terms of graphics. The new-age laptop cards which are equivalent to Nvidia 2060 Super or AMD 5600XT are the best bet to be able to play the Sims 4 with the highest graphics settings.
Large display – A 17-inch laptop will be bulky to carry but when playing the game you will enjoy the extra screen real estate it has to offer. Go for at least a 15-inch laptop to be able to enjoy the game without having to use an external monitor.
Reliable heat dissipation – A common issue with gaming laptops is that they tend to get hot. You will play the Sims 4 for many hours in a day and your product of choice should be able to withstand such heavy usage without making the hardware components too hot which could affect the performance.
Ability to upgrade components – A laptop may have 8GB of RAM and having more memory will facilitate a better gaming experience. If your device supports easier component upgrades, you can make it future-proof to be able to play the Sims 5 when it gets launched.
RGB Lights on the Keyboard – While this is not a mandatory feature, it is fun to have RGB lights on your keyboard and trackpad area. It allows you to play the game in pitch-black conditions and to find the right buttons when you are lost in the brilliant world along with your Sims avatar.
Best Laptops For Sims 4 in 2022
High-End Laptop with Premium Features
Asus CUK ROG Strix Scar 17 17.3-inch Gaming Laptop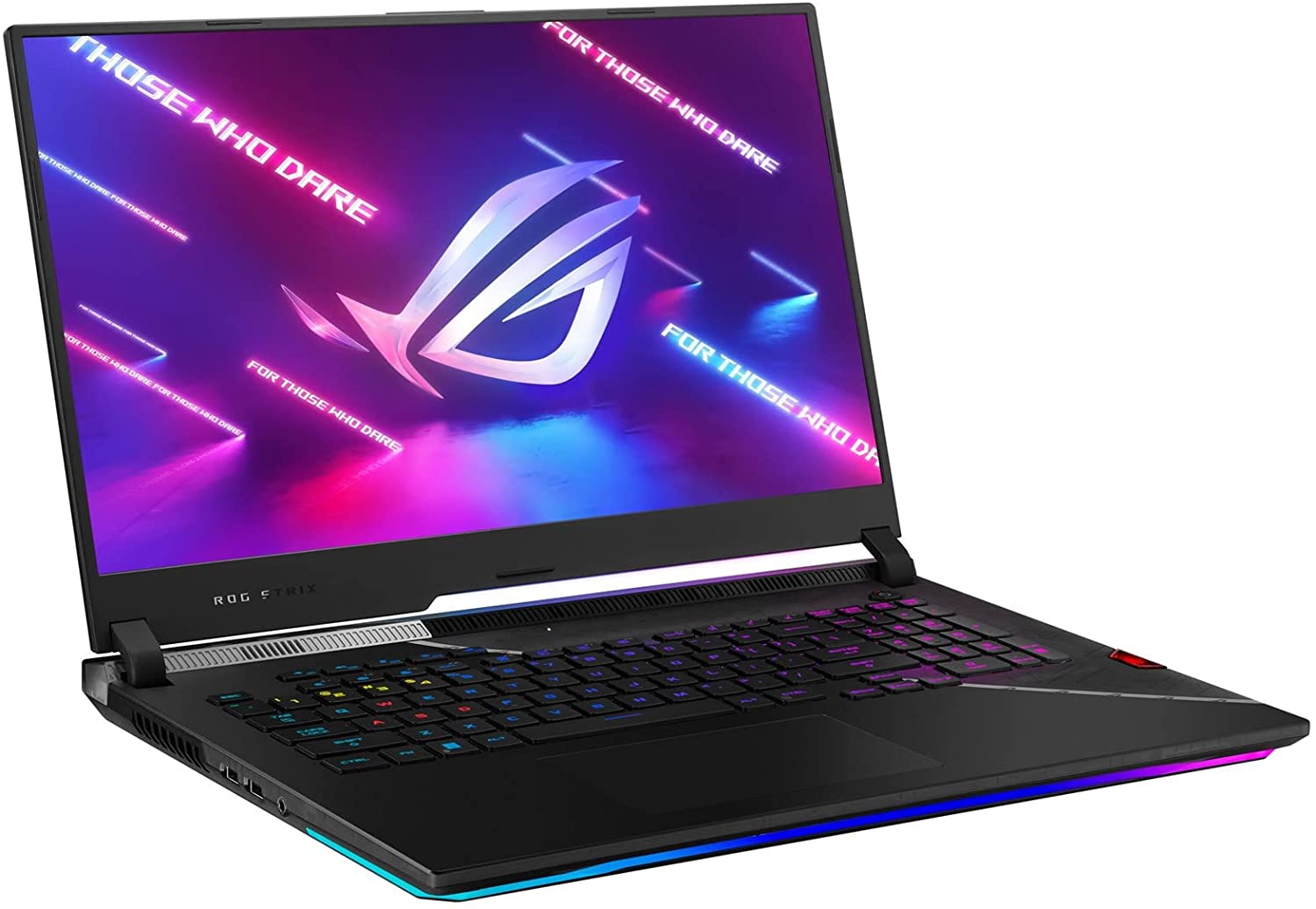 This brilliantly designed laptop by Asus comes at a very high price. However, if you are willing to pay this price, you will get a high-performing laptop that will offer you an unforgettable experience. The 17.3-inch display screen is large and bright enough to offer you an immersive experience while playing social simulation games like the Sims 4.
The laptop runs on Windows 11 Home and is powered by the Intel i9-12900H processor. Therefore, you should be surprised to find this laptop running at an extremely high speed. It comes with a hard disk that offers you a storage space of 2 TB. Apart from gaming, you can use this laptop for carrying out all kinds of computing tasks.
Recommended for serious gamers and those who wish to pursue gaming as a profession.

Also recommended for media professionals who do a lot of heavy video-based work and need a powerful laptop to carry out their professional tasks.
Wide display screen

Large storage space

Power processing unit

Strong gaming performance
Moderately Priced Gaming Laptop with Good Features
Acer Aspire 5 Windows 11 Home Laptop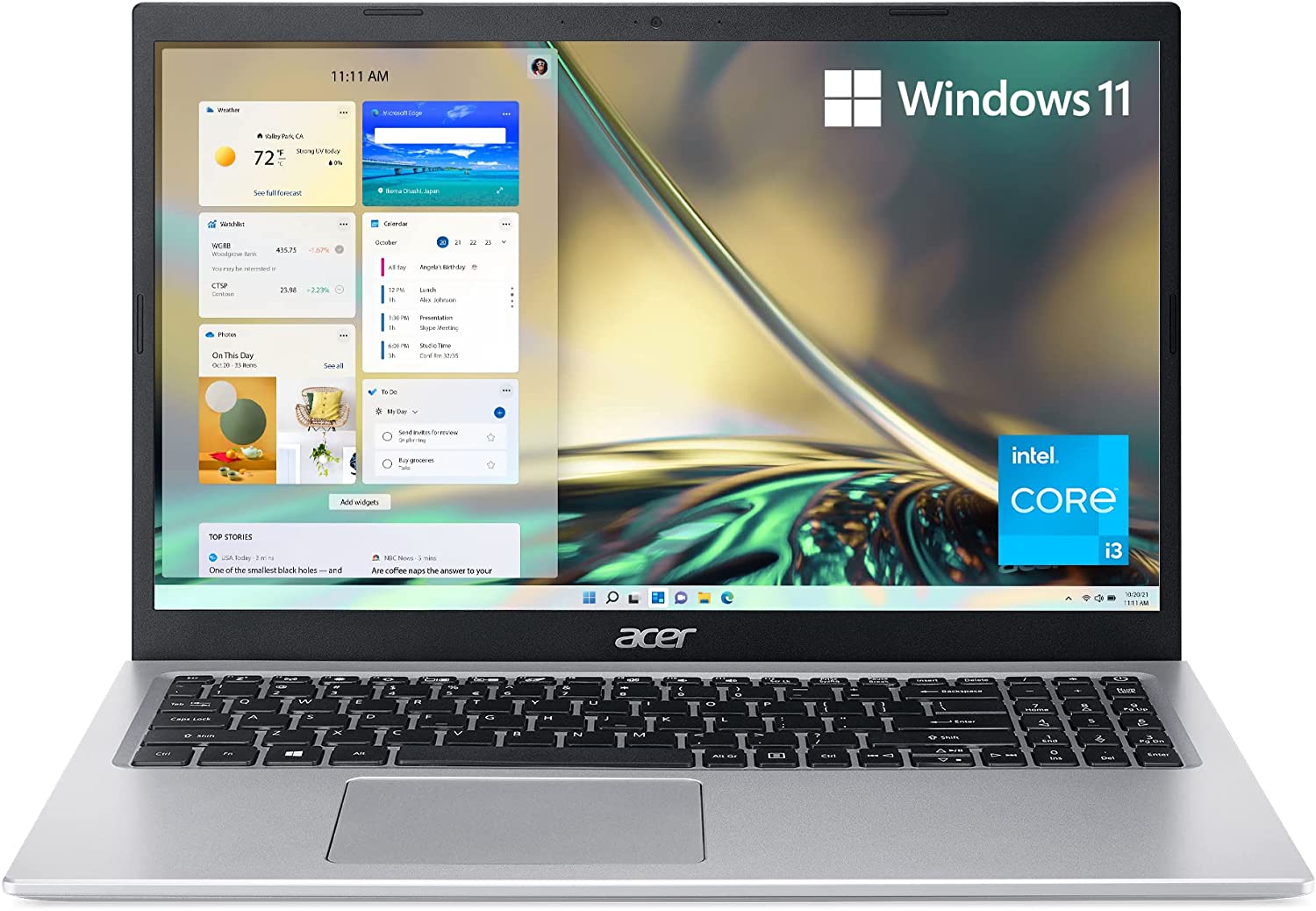 Looking at the price at which the Acer Aspire 5 comes, you wouldn't expect it to offer great gaming performance but it does. It comes equipped with an 11th Gen Intel Core i3-1115G4 processor that lends it good speed end enables the user to play popular games like the Sims 4 without facing any difficulty.
The laptop features a 15.6-inch display screen that produces high-definition images. The device comes with a hard disk that offers a storage space of 128 GB. The ergonomic keyboard is one of the highlights of the device. The laptop supports the use of Alexa, so you can get a lot of work done simply by giving voice commands.
Recommended for those looking for a budget-friendly laptop that offers solid gaming performance.

Also suitable for individuals who are looking for an inexpensive laptop device that assists them in both personal and professional tasks.
Reasonable pricing

Vibrant display screen

Comfortable keyboard

Good gaming performance
No optical drive

Limited storage space
Well-Performing Gaming Laptop with Sophisticated Design
Lenovo Ideapad L350 15.6-inch Display Screen Laptop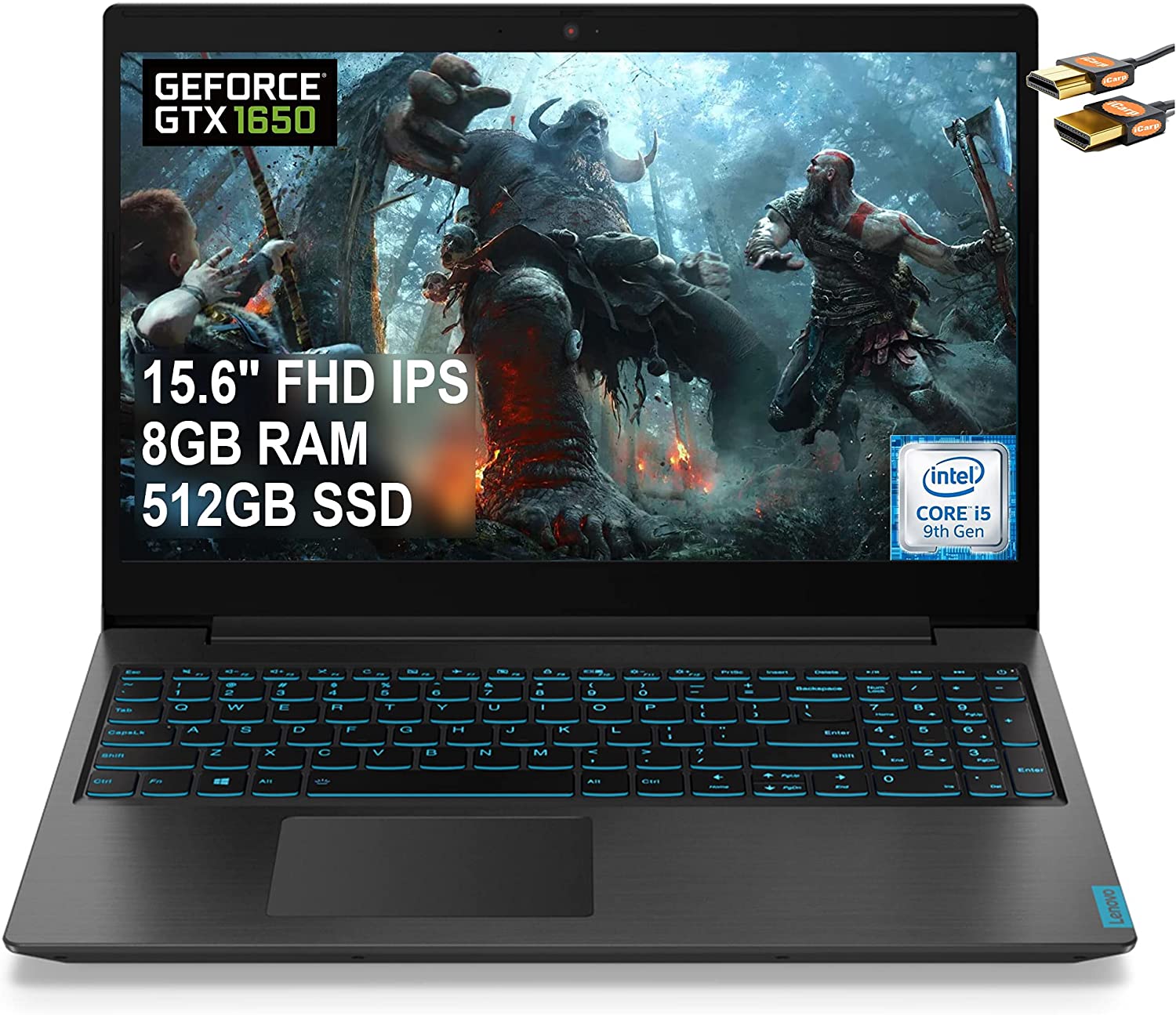 The Lenovo Ideapad L350 comes equipped with an NVIDIA GeForce GTX 1650 graphics card which makes it an ideal device to play high-end games on. Even when you perform basic computing tasks on it, you will witness the kind of speed that will leave you spellbound. The high-end efficiency exhibited by this laptop is a result of the Intel Quad-Core i5-9300HF processor.
The laptop features a 15.6-inch display screen that offers a resolution of 1920 x 1080 pixels. The screen boasts of an anti-glare feature, so playing games for hours at a stretch shouldn't make you feel concerned about your eyes. The device comes with an array of connectivity options including a 3.5mm headphone jack and a DVD writer.
Suitable for individuals who have been looking for a gaming laptop that can also be put to some good use in their professional space.

Also recommended for those who wish to invest in a laptop device that works very fast and proves to be efficient in every situation.
Robust graphics card

Features a DVD writer

Anti-glare display screen

Fast-performing processor
No Thunderbolt port

Limited accessories provided
Premium Quality Gaming Laptop with Robust Processor
Razer Blade 15 1 TB Storage-Space Drive Laptop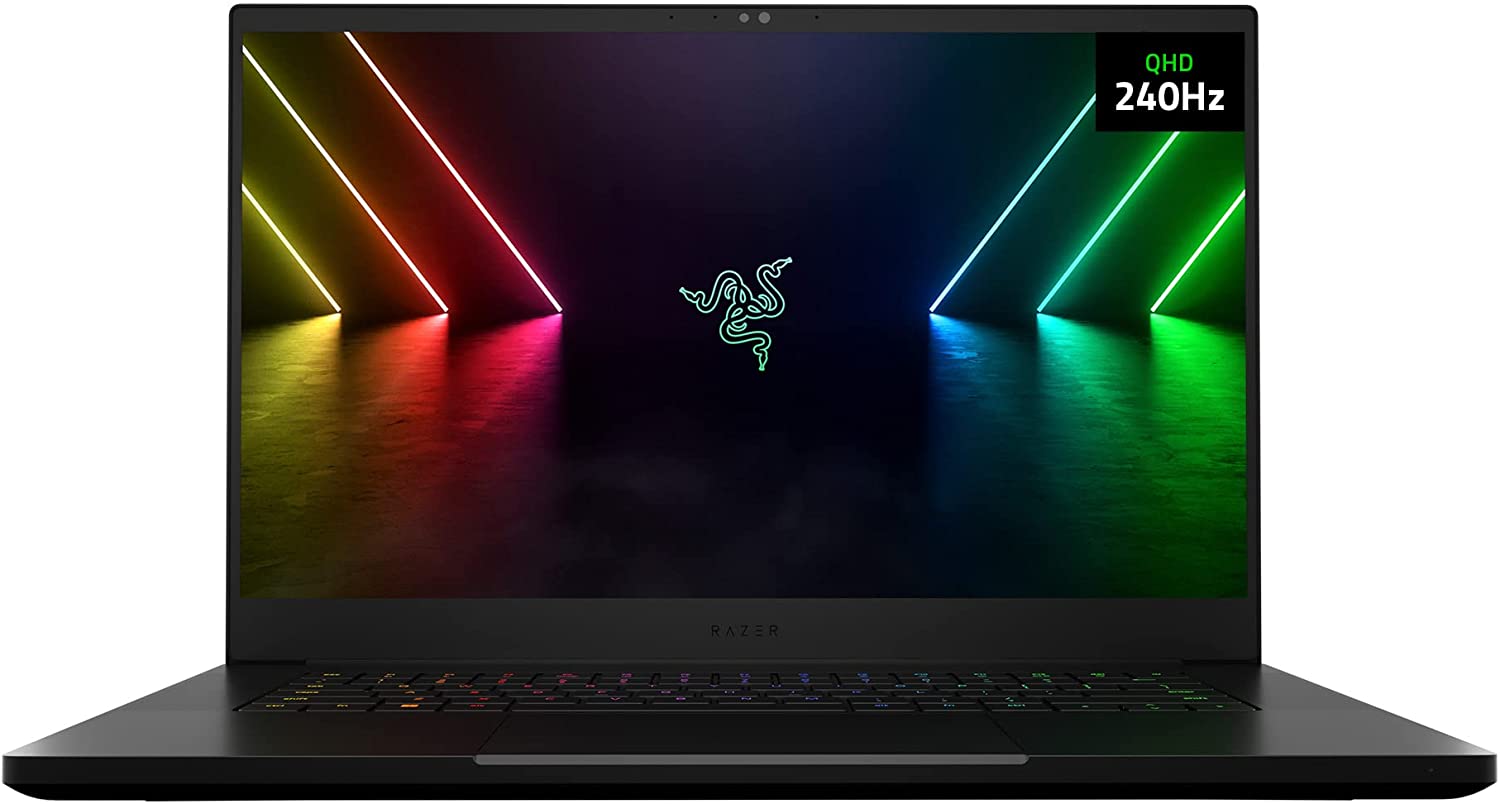 Armed with a high-bandwidth 32 GB RAM and a 12th Gen Intel Core i7 14-Core processor, the Razer Blade 15 performs at a very high speed. It works as a very good gaming laptop and performs other computing tasks equally well. The 15.6-inch display screen offers a refresh rate of 240Hz and produces high-quality visuals.
One of its advanced features includes the next-gen vapor chamber cooling that is responsible for its wonderful thermal management capabilities. Even if you and your friends use this laptop to play games throughout the day, you can be sure about it not heating up. Unlike many other gaming laptops, it operates without creating any noise.
Why You Should Buy This?
If you have decided to invest in a high-end gaming laptop, this is one of the best options for you in the market.

Also recommended for those who are looking for a laptop that can handle multimedia operations rather well.
Pros
High-end processor

Sharp display screen

Noise-free operation

Good thermal management
Cons
Premium pricing

Battery life should have been higher
Powerful Gaming Laptop with Large Display Screen
HP Omen 17 Intel 8-Core i7-11800H Processor Laptop
The vibrant 17.3-inch display screen on this device is responsible for the immersive experience you have while playing games. It comes equipped with an 11th Gen Intel 8-core i7-11800H processor that enables you to stream 4K videos conveniently. Built with both metal and plastic, the device proves to be highly durable. The hard disk offers a storage space of 1 TB.
All the important connectivity options that you expect to come across in a contemporary laptop, including a 3.5mm headphone jack and a microSD card reader, are available on this device. The RGB backlit keyboard produces colorful lighting effects and is very comfortable to use. The cooling exhaust vent works efficiently and ensures the laptop does not suffer from over-heating.
Ideal for those looking for an efficient gaming laptop with a very wide screen.

Also recommended for those who wish to invest in a versatile laptop with several useful features.
Reliable processor

Good audio output

17.3-inch display screen

Impressive gaming performance
Slightly bulky

Moderate battery life
Slim-Structured Gaming Laptop with Backlit Keyboard
Asus TUF Dash 15 Windows 10 Portable Laptop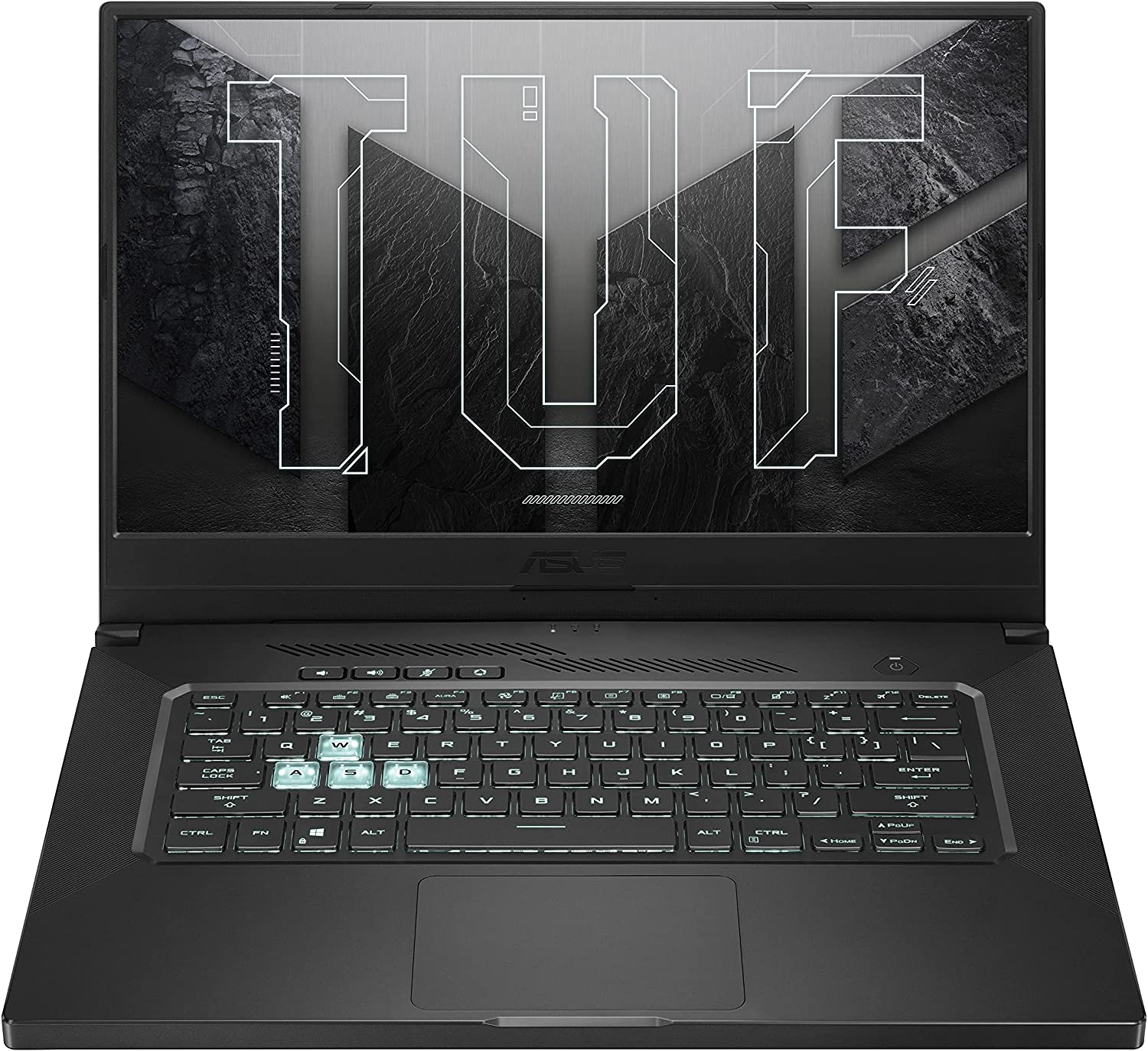 For a gaming laptop, the Asus TUF Dash 15 is quite lightweight. While it is built with durable components, the overall structure of the device is not too heavy. The design of the laptop is sleek and stylish. 512 GB of storage space might not work for everyone but an average user should make do with it. The display screen is 15.6-inches wide and offers a resolution of 1920 x 1080 pixels.
The device runs on Windows 10 and offers a fairly smooth operating experience. The Intel Core i7-11370H CPU offers a processing speed of 4.8GHz. It is just the kind of powerful processor a gaming laptop needs. The backlit keyboard is of very good quality. If you do video calls regularly, you will be a little disappointed as the device does not come with a webcam. The battery offers good backup to the device.
Why You Should Buy This?
A very good option for those looking for a durable-quality laptop that offers strong gaming performance.

Also recommended for individuals who wish to invest in a well-designed laptop with a sturdy backlit keyboard.
Pros
Portable structure

High-definition screen

Very high processing speed

Comfortable backlit keyboard
Cons
No webcam

Low-bandwidth RAM
Well-Built Gaming Laptop with RGB Keyboard
Acer Predator Helios 300 15.6-inch Display Screen Laptop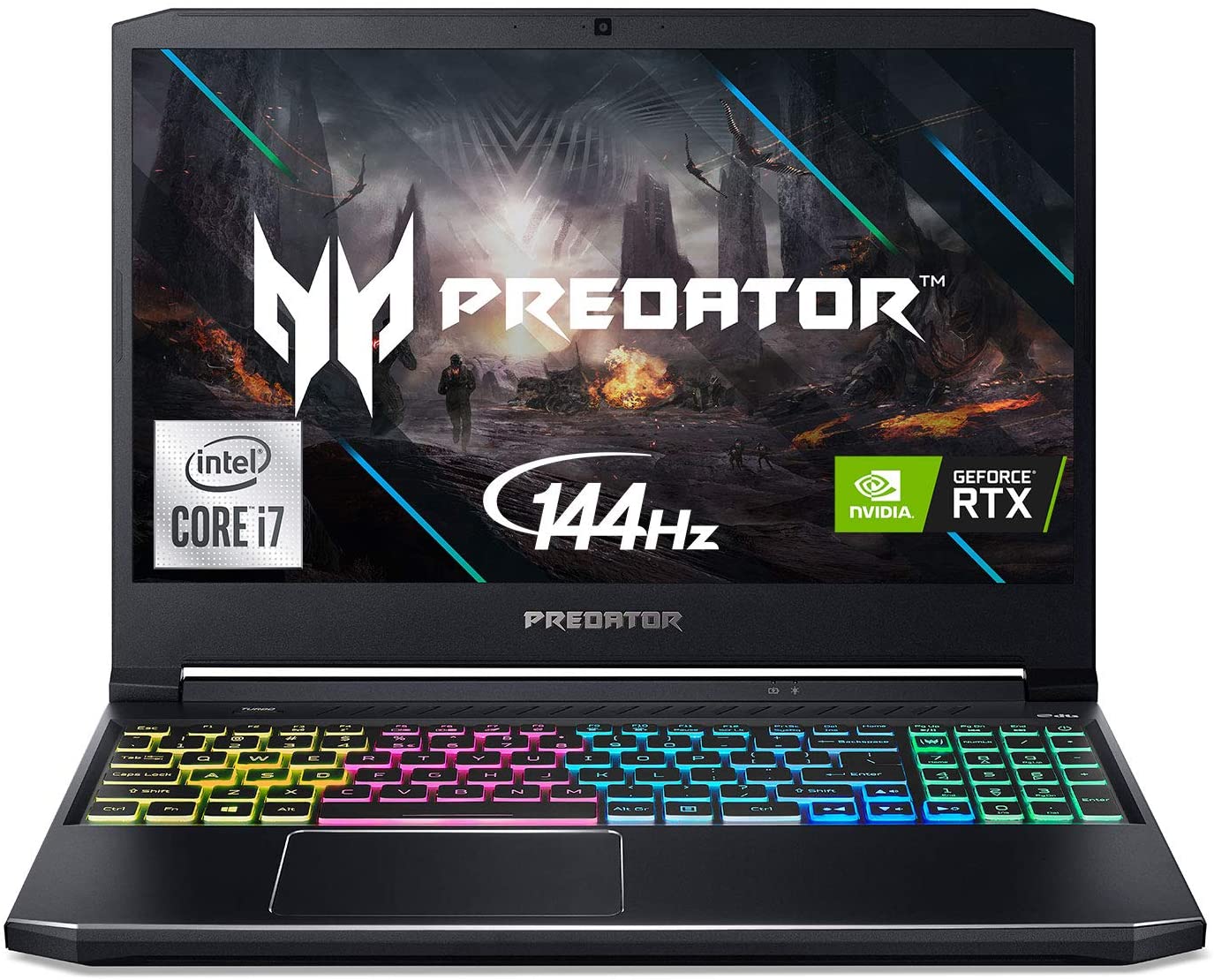 This gaming laptop by Acer features a 15.6-inch display screen that offers a resolution of 1920 x 1080 pixels and produces sharp images. The device comes armed with a 10th Gen Intel Core i7-10750H 6-core CPU that operates at a very high operating speed and you can multitask efficiently.
The RGB Backlit keyboard produces vibrant lighting effects and there is adequate travel space between the keys. Apart from a 256GB storage-space drive, you also get a hard disk that offers a storage space of 1 TB. The device weighs just a little over 2 kilograms and you won't face any inconvenience while traveling with it.
Why You Should Buy This?
An ideal option for those looking for a well-performing gaming laptop that one can carry around conveniently.

Also suitable for individuals who need a laptop that proves to be equally functional in both personal and professional spaces.
Pros
Steady processor

RGB backlit keyboard

Lightweight structure

Good storage support
Cons
No optical drive

Inadequate battery life
One of the Best Value 17-inch Gaming Laptops for Playing Sims 4
HP Omen 17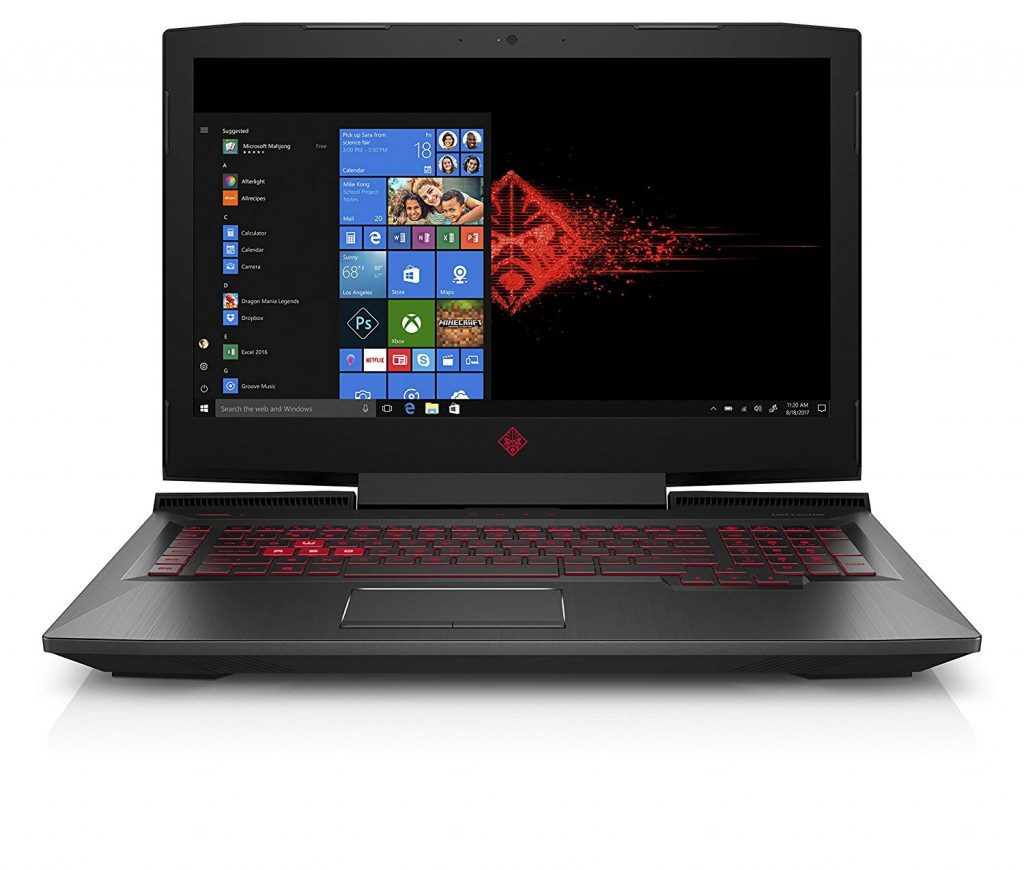 The HP Omen comes with a 17.3" display, 8th Gen Intel Core i7-8750H 6 core processor, 4 GB NVidia GeForce GTX 1050 Ti graphics, 12 GB RAM, 128 GB SSD, 1 TB HDD storage capacity, and Windows 10. The HP Omen sports a more conservative design as opposed to the aggressive angles and sharp lines found on high-end gaming laptops. The body is mostly made of plastic but strangely it feels way sturdier than what you might expect. It is a bit large though weighing nearly 8 pounds. The carbon fiber-inspired body does look good, giving it a rugged look and feel.
The 17.3" Full HD IPS display comes with a refresh rate of 120 Hz which may not be as high as some of the high-end gaming laptops, but the HP Omen comes at only a fraction of the price. The display is G-Sync enabled and therefore allows you to immerse yourself into your gameplay. At its price point, you will find it very hard to find a 17-inch laptop that can perform as well as the HP Omen. You might experience slight lag when playing graphics-intensive games at ultra-high settings but everything else will run smoothly like a hot knife through butter. You can even upgrade the RAM as it has 2 accessible memory slots which would turn this into one laptop that gives a monster performance.
One unique aspect about this laptop is that it runs pretty quietly which is astonishing considering how much power it packs. It does heat up a bit though but, that's normal for any gaming laptop. Similar to any other high-performance laptop, the battery life is pretty average. Although the company claims you can get up to 12 hours of battery life with light to medium use, in reality, the numbers are lower. If you are looking for a 17-inch gaming laptop that costs around $1000, then the HP Omen is a fantastic product for you. You won't be able to find another laptop in this category that can give you this much overall value.
Who should buy this?
It's perfect for those who need an affordable 17-inch gaming laptop.
It's ideal for those who would want to play on a 4k resolution screen.
One of the Best Razer Gaming Laptops for Playing Sims 4
Razer Blade 15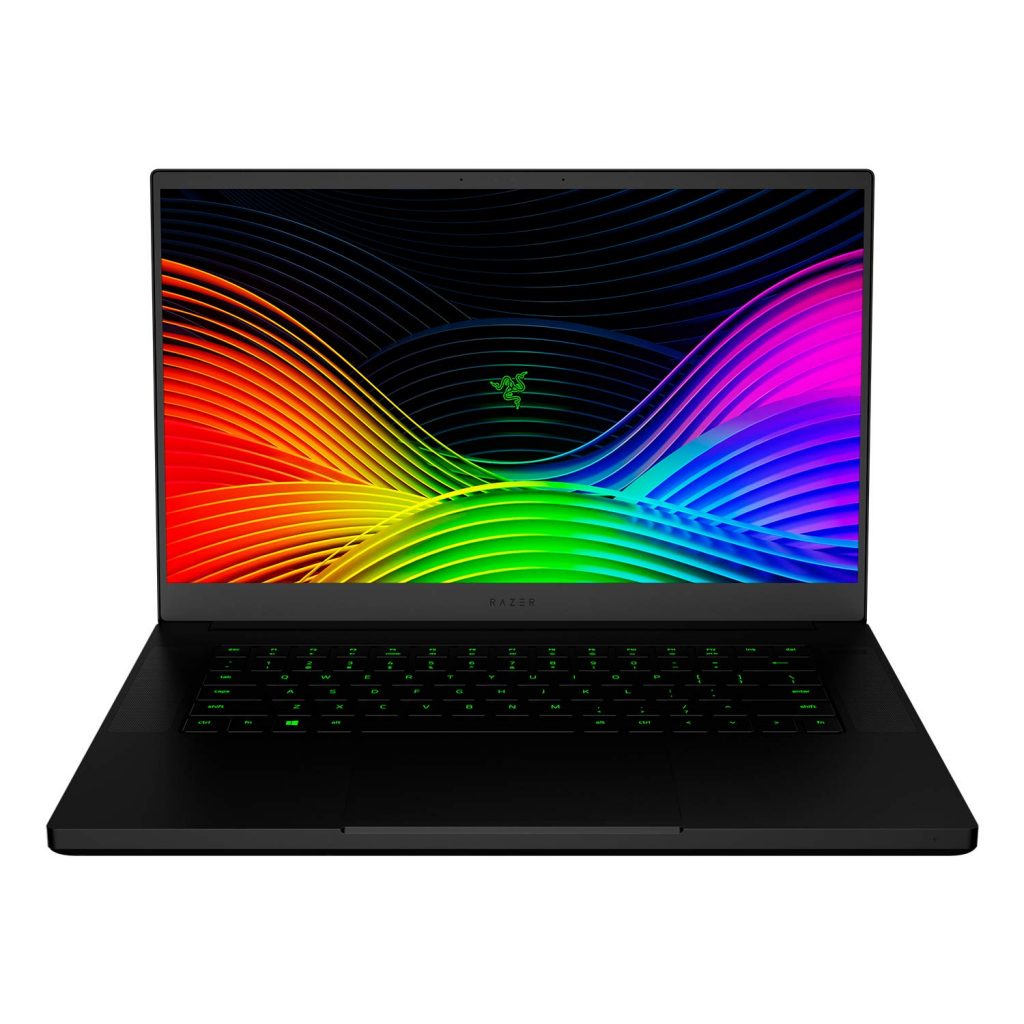 The Razer 15 comes with a 15.6" FHD 144Hz matte display, 9th Gen Intel Corei7-9750H 6 core processor, 8 GB NVidia GeForce RTX 2050 graphics, 16 GB RAM, 512 GB SSD storage, and Windows 10. A top gaming laptops list wouldn't be complete without mentioning the Razer 15. It comes with the traditional Razer black aluminum unibody, thin bezels, and a very sleek design that will surely delight your eyes. It looks slick and aggressive; the exact look that you would want in a high-end gaming laptop. It is slightly thicker than its predecessor but retains the same weight somehow. One aspect where it is different from the previous model is its trackpad which is more comfortable to use.
The display is the same as the previous model which is perfect as it was one of the best displays you could find on gaming laptops. The 144 Hz is a godsend as you can enjoy an uninterrupted visual experience. All the animations and actions feel smooth on this display. It also comes with a matte coating that efficiently deflects glare. With the Intel i7-9750H processor, NVidia RTX 2050 graphics, and 16 GB RAM, you can play the latest games with ease and experience zero frame loss. It's a performance beast that can not only run the most demanding games but also function as a solid workstation for those who would like to dabble in 3D or 2D artwork.
One aspect where the Razer Blade 15 surprises us is its battery life. Almost all other gaming laptops suffer from bad battery life but not the Razer Blade 15. You get an astonishing 5 hours with light to medium use and around 2 hours with heavy usage. A lot of its competitors have only 2-3 hours of battery life with normal usage and compared to them this one is in a league of its own. If you are a fan of Razer and are looking for a great portable gaming laptop that can double-up as a workstation, then the Razer Blade 15 is the one to go for.
Who should buy this?
It's perfect for those who need a high-end gaming laptop that can also function as a workstation.
It's ideal for those who would like to go from casual gaming to hardcore gaming.
FAQs
Can my laptop run the Sims 4 in high settings?
EA and Maxis launched the Sims 4 in the year 2014 and is a considerably old game, it will allow you to play the game on almost any laptop released in the past five years. However, you may not be able to play it in high settings without a dedicated graphics card.
Will my laptop support recently released game packs?
You need the original game, the Sims 4 edition, and should purchase the game packs individually. If the original game runs on your laptop, you will be able to play the game packs as well.
How do I find out the warranty period for my product?
Be it HP, Lenovo, Dell, Asus, or Alienware, check for the official model of the product. Search for the product online and you will find its warranty period listed on the official website.
What is the best laptop to play Sims 4 in 2022?
Any laptop with a dedicated Nvidia or AMD graphics card will be capable of running the game in medium to high settings. If you invest more, you can play the game in ultra-high graphical quality and it is purely based on your budget.
Should I need to install additional software on this laptop?
To play the Sims 4, you need Windows 10 OS, hard disk space, and install Origins, a gaming software that automatically saves your game while it also has a store where you could pack additional game packs, and DLCs.
Can I play games other than Sims 4 on my laptop?
Yes. You can play a wide range of multiplayer and single-player games on your gaming laptop. With frequent sales on Steam, Origin, and Epic store, it is easy to find great games on PC that don't burn a hole in your wallet.
Can I use an external monitor, keyboard, or mice?
Yes. All laptops support both wired and wireless keyboard/mice combo while large monitors can be connected using the built-in HDMI port.
Conclusion
Buying a laptop for playing a specific game can be difficult but it is very much possible. A game like Sims 4 requires you to have at least a core 2 duo processor, 2 GB RAM, 10 GB storage capacity, 128 MB video RAM, Pixel Shader 3.0 support, and DirectX 9.0. Keep in mind that these are the minimum requirements to run Sims 4. To have a smooth gaming experience you need to have a laptop with much higher specs. The better the specs the smoother your experience will be. Luckily for you, there is a vast ocean of information out there online that can help you to find out every detail about gaming laptops. With a little bit of research and patience, you will be able to find out the best laptop that will suit your needs.
---