Featured in this article (opens in new tab)
Are you one of those people who really doesn't feel comfortable when typing on the virtual keyboard of an iPad and desire a real physical keyboard like the one on the laptop? Don't worry as there are many companies that create keyboards for iPads, and there are many great ones, that's for sure. We had to narrow down the list, so in this article, we will share the best keyboards for a better typing experience with the iPad.
Tablets have revolutionized the way we access and use content in the last few decades. The portability, performance capability, and usability features of tablets have allowed millions of people to create access to and share content unlike anything before. For a long time, Apple has dominated the tablet market with the iPad, and as years passed, it has stood the test of time as one of the most popular and quality brands out there.
However, one thing that all tablets lack is a physical keyboard. Typing on the screen is very different from typing on a real keyboard. It's not as intuitive or convenient and can make typing a dreadful experience to look forward to. Moreover, if you use your iPad for work, you need a keyboard. To fix this issue, the market has two types of solutions: standalone keyboards and keyboard cases.
The official Smart Keyboard turned the tablet into a laptop alternative when it was released. Since then, a whole new subset of the tablet industry has emerged as numerous third-party manufacturers have started developing new products in this space. As time passed, various interesting concepts came into being, such as a remote keyboard, a foldable one, and even one you can project onto a surface.
A standalone keyboard comes with a keyboard and a USB cable. There are different standalone products in the market ranging from cheap, low-quality ones to expensive but high-quality ones. While it technically solves the problem of typing on an iPad, it isn't as convenient or feature-filled as a keyboard case.
Keyboard cases serve two purposes at the same time. It can be used as a keyboard, and at the same time, it acts as an additional platform on which you can hold and view your device. Some allow you to just fold the case and use the tablet as a laptop, and others allow you to rotate the tablet to varying degrees. The latter lets you transform your iPad into mini gaming, browsing, viewing, or typing station depending on the tablet's angle.
Buying Guide
When it comes to buying high-quality products, these are the questions you need to ask yourself:
Figure out the reason why you are looking for a portable keyboard.
Are you looking for a keyboard for casual use at home, or are you looking for one that will help you in your professional work?
Do you travel often, and if so, do you want a keyboard case that doubles as a cover or just a compact keyboard?
Once you have identified your root purpose, you must decide on a budget. These keyboards usually don't come at exorbitant prices but are usually in the range of $15 to $150 and above.
The final step is to do proper research. Never rush into buying anything. Take your time and check out your different options. The general rule of thumb is to go for the products with great reviews and very positive customer testimonials. However, many hidden gems in the market today don't get the recognition they deserve because they aren't marketed as well as some of the popular ones. You can find them by browsing online stores and checking out various reviews. If you do your proper research and figure out the general capability of a product as far as technology and features are concerned, you can easily find the right keyboard for your iPad.
Just like every other product, there are great quality ones and bad ones in the market. Here are some of the best keyboards for a better typing experience with the iPad.
See also: The Top Best Mac Keyboards
Best Keyboards for Better Typing Experience with iPad
An RGB LED Backlight-Enabled Keyboard for iPad
10.2" Keyboard for iPad by Typecase
Check Price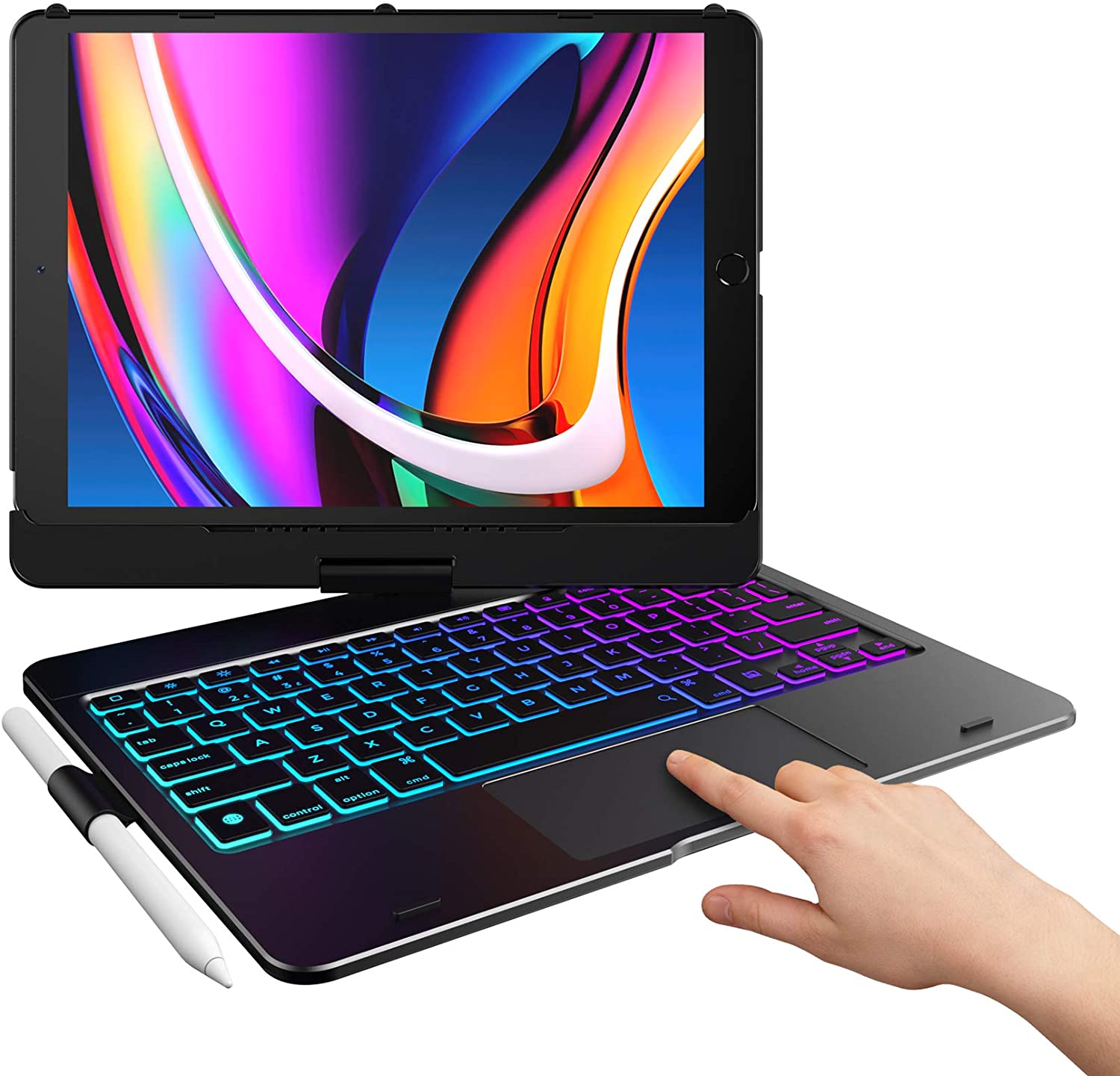 This keyboard supports iPad devices of different generations and models, including iPad Pro (10.5", 2017) and iPad Air 3rd Gen (10.5", 2019). It has a trackpad which makes it useful for different functions. From creating presentations to browsing the web and editing documents, you can perform all these tasks with the product to raise the bar of your productivity.
With this product at your disposal, you can redefine your typing speed. Further, the RGB LED backlight boosts its value. It has a hard-shell design, and you can use it in seven modes. Despite running on a battery, it saves power when it is inactive.
It has a trackpad and works smoothly with different kinds of iPad devices.
The keyboard for the iPad is comfortable for typing and has a backlight.
Compatibility with different iPad devices
RGB LED backlight
Comfort for typing
Seven use modes
It saves the power of the battery
Produces a noise while typing
A Lightweight Wireless Keyboard for iPad with an Ergonomic Design
Detachable iPad Wireless Keyboard by Zagg
Check Price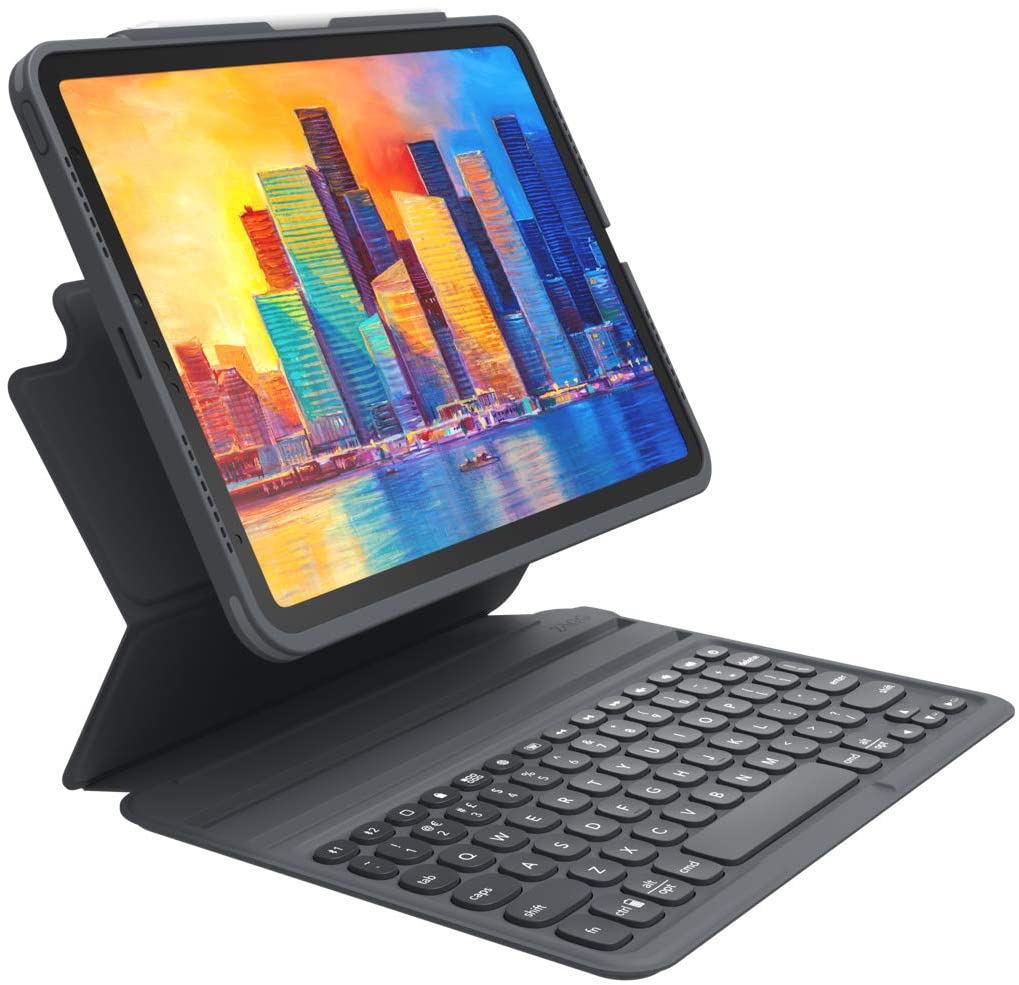 Essentially a wireless keyboard for iPad, this product lets you use your tablet as a laptop. For this purpose, it has a kickstand and a detachable case. Its ergonomic design makes typing super easy and comfortable. If you are used to touch-typing, you can input information precisely with ease.
The Bluetooth pairing feature of the wireless keyboard allows users to connect it with two devices simultaneously. This product involves durable polycarbonate, which makes it a lasting item. You can set the product's battery to charge, and once charged, it offers a long battery life. It also has a sleep/wake function which helps with power-saving.
It is a durable keyboard that comes with a detachable and useful case.
It is equipped with Bluetooth technology for pairing with other devices.
Ergonomic and lightweight design
Long-lasting battery
Sleep/wake function
Durable
It doesn't have a charging cord
It doesn't have backlighting
An Ultra-Slim and Lightweight Wireless Keyboard for iPad for Easy Typing
Wireless Rechargeable iPad Keyboard by Omoton
Check Price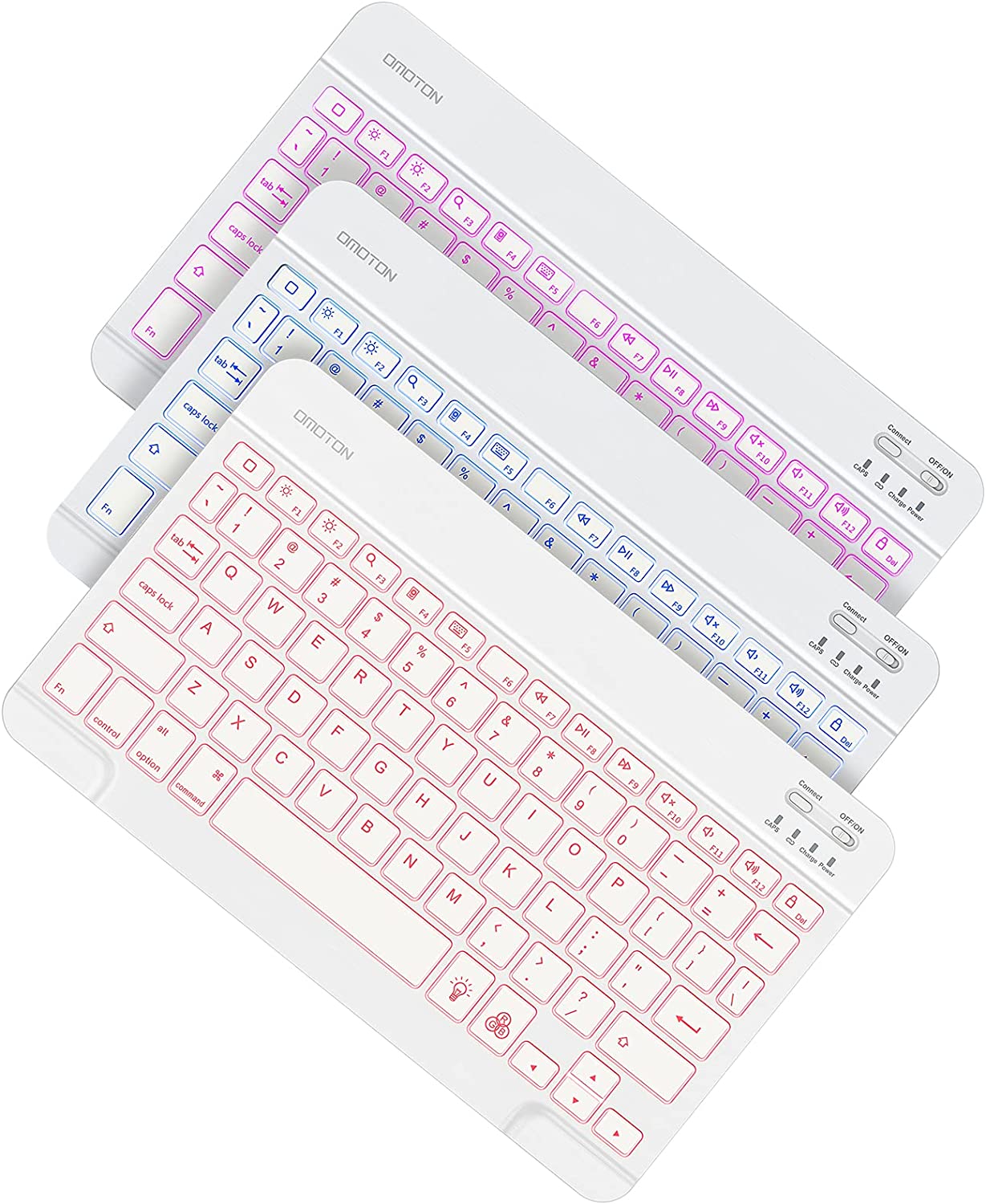 Made for easy connectivity with iPad devices via Bluetooth, this wireless keyboard is compatible with iOS 10.1 and above devices. The LED-backlit functionality makes the product comfortable for use even in low-light conditions. With a 400mAh capacity, the device has a long battery life, keeping it active for a long time.
The keyboard makes typing simple and easy. If you are fond of playing multimedia, this item is a must-buy. It has a wide range of shortcut keys, making it a valuable buy for this purpose. The ultra-slim device design makes it ideal for desks with little space.
It has backlit functionality and shortcut keys on the keyboard.
It is lightweight and has long battery life.
Ultra-slim design
Battery life
LED backlit functionality
Lightweight
Doesn't have an escape (Esc) key
Backlight-Enabled Wireless keyboard with Floating Cantilever Design for Easy Typing
Wireless Keyboard with Trackpad for iPad by Typecase
Check Price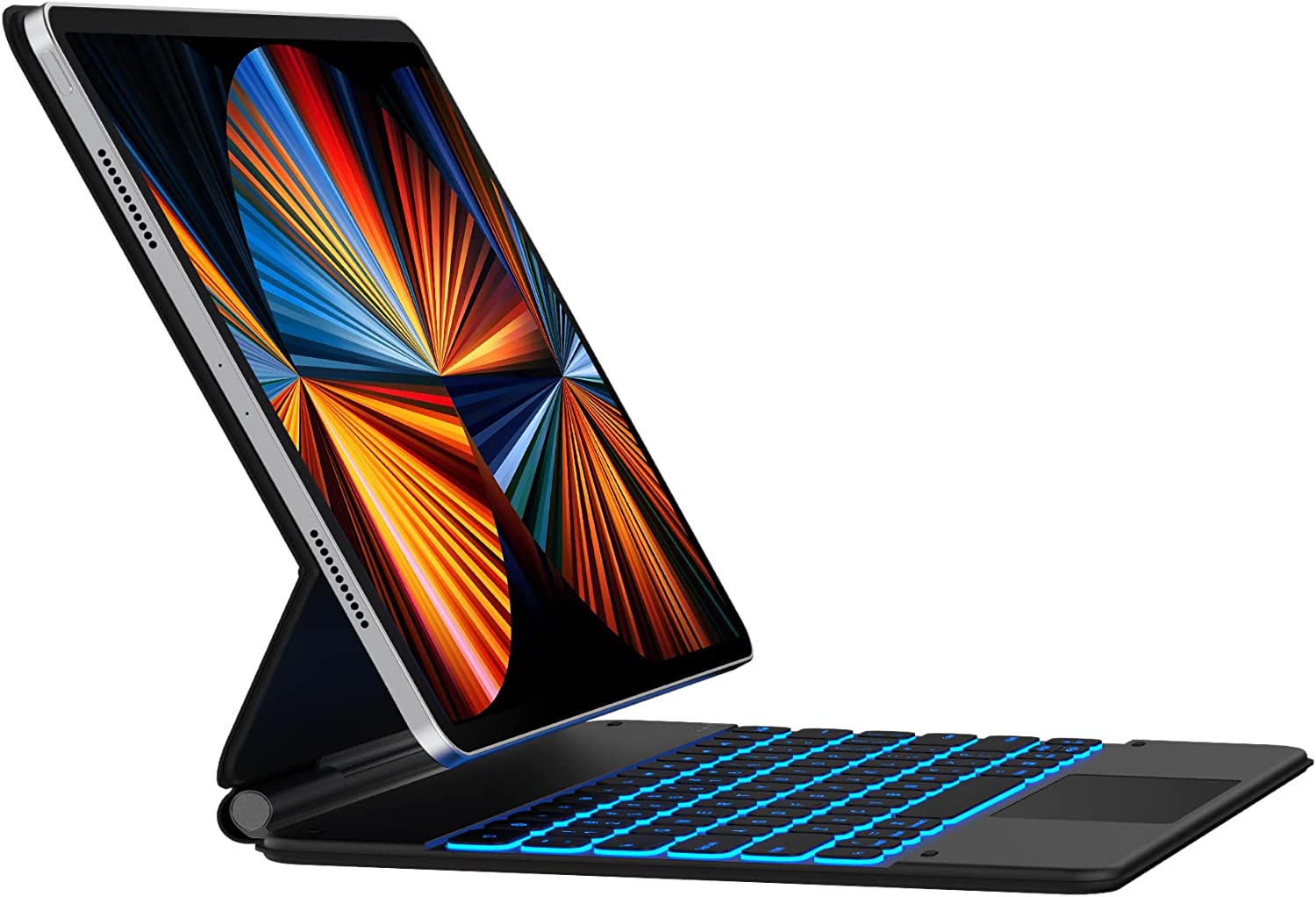 Equipped with 10-color backlight options, this wireless keyboard for iPad is designed for quick typing and has a wide range of shortcut options. These include shortcuts for volume control, media, changing backlit colors, and brightness levels. It also works well in conjunction with iPad devices of different models. It has a backlight of 10 colors which makes it easy for users to type in settings in which lighting isn't too good.
For swiping and scrolling, the keyboard has a touchpad. You can use it to perform professional tasks such as browsing the web, creating presentations, and editing documents. This ensures comfortable typing to boost the productivity of users.
Why You Should Buy This?
The wireless keyboard has many shortcut functionalities.
It has a backlight and a touchpad for navigation which makes it helpful for performing tasks.
Pros
Comfortable typing
Compatibility with different models
Versatile use for performing different tasks
Floating cantilever design
Cons
It cannot be charged from the iPad
Wireless Keyboard for iPad with a Keyboard Cover and Apple Pencil Holder
Keyboard with iPad Case and Pencil holder (Built-in) by Eveo
Check Price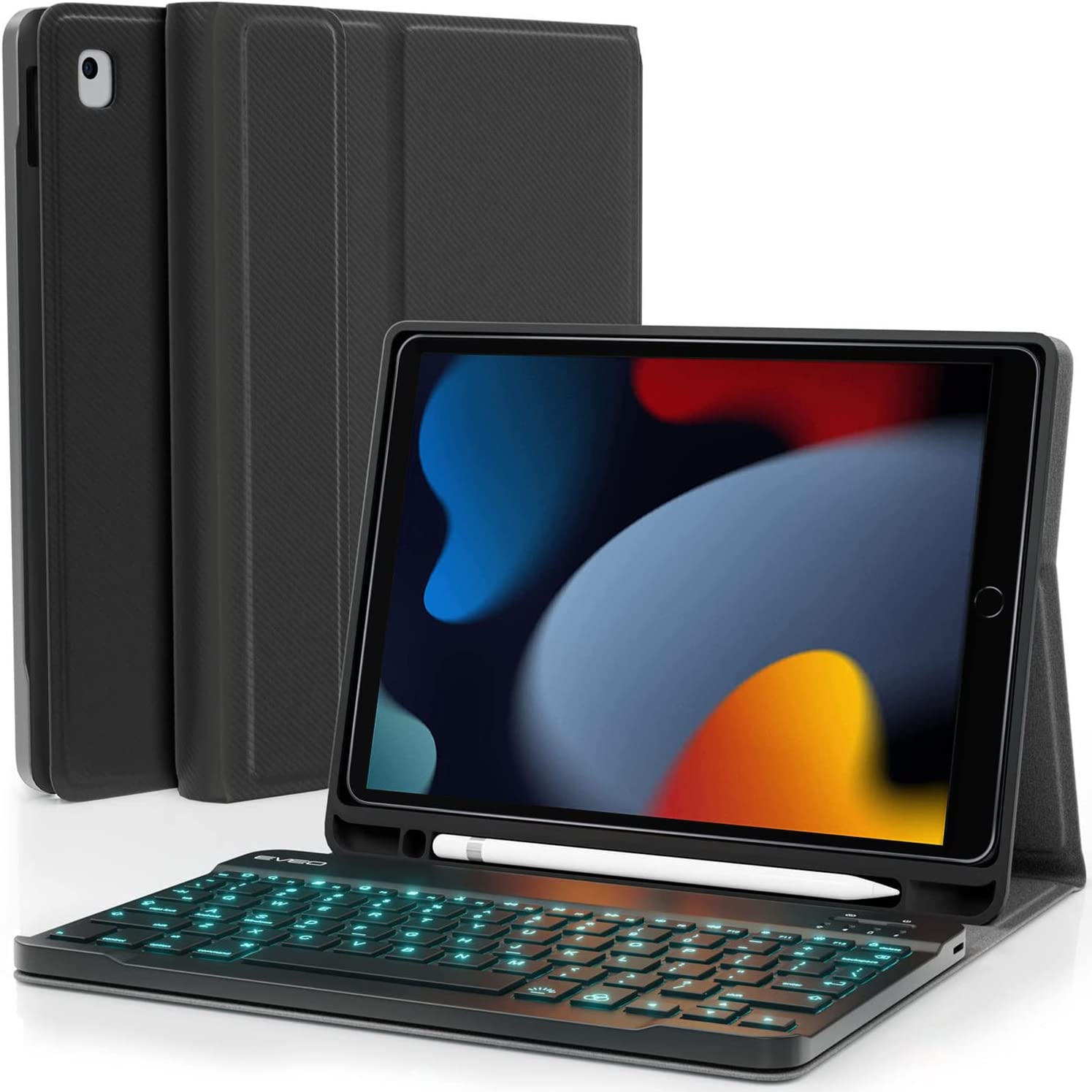 If you travel a lot and wish to have a keyboard that you can use with an iPad, this product is an ideal option for your needs. With the help of this keyboard, you can use your tablet like a mini laptop. As a magnetically detachable keyboard, it is useful for gaming and professional purposes.
The keyboard comes with a USB charging cable and a built-in Apple pencil holder. The keyboard cover of this product protects an iPad from accidental damage when it falls on the ground.
It comes with a keyboard cover that prevents the breakage of your iPad in case it falls accidentally.
You can use it for performing official tasks as well as playing games.
Strong battery
Magnetic stick
Smooth typing experience
Support for operating systems that are compatible with Bluetooth
Lightweight Keyboard/Keyboard Case with a Powerful Battery and Enhanced Protection
Thin & Light Keyboard/Keyboard Case with Trackpad for iPad by Lenrich
Check Price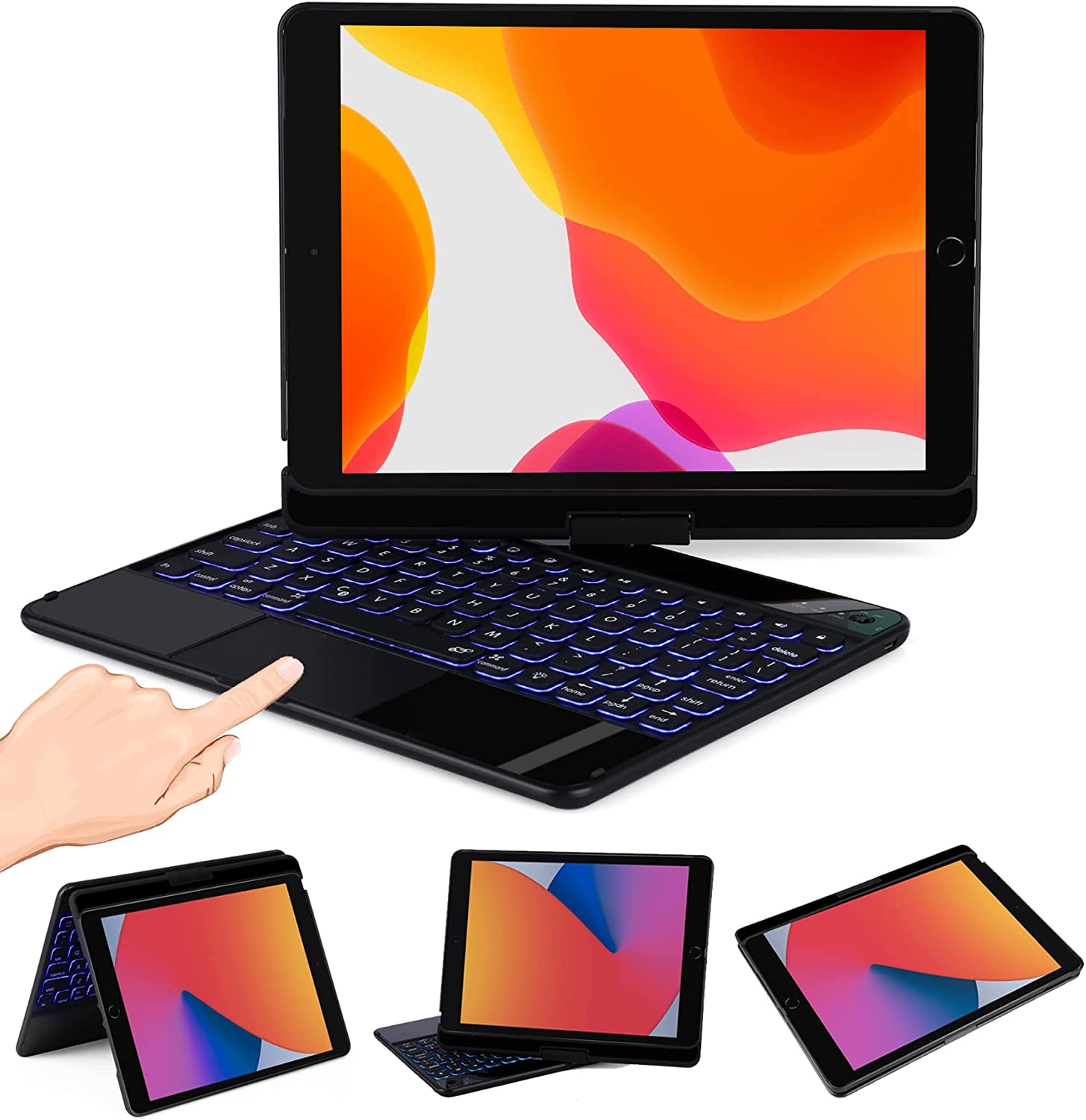 This keyboard for iPad is an integrated keyboard with matte and smooth keys. It is designed for those individuals who are on the go and need to get their work done quickly. One of the hallmark features of the product is that you can flip it at 180 degrees when it is not in use. Besides, you can use it at 360 degrees, making it a flexible product.
Speaking of the keyboard's battery, it has a powerful battery, letting users adjust the backlit color. The expertly crafted case of the keyboard has comprehensive protection. No matter how you intend to use the product, you can expect good value for money due to its portability.
Why You Should Buy This?
It has a keyboard with smooth keys and enhanced protection.
You can use it at 360 degrees.
Pros
High-quality protection
Flexibility
Powerful battery
Portable
Cons
Doesn't have a pencil holder
The Bottom Line
iPads are awesome, but if you want to take the experience to a new level, you may consider buying a keyboard. That way, you will finish your tasks easier, and you will be more efficient. As you know, there are so many keyboards out there. That's why we narrowed down the list. Here are some of the best keyboards for a better typing experience with an iPad that you can buy right now.