Technobezz is supported by its audience. We may get a commission from retail offers
–
The term blender often reminds us of milkshakes, whipped cream, and other delicious recipes. The best immersion blenders make life easier and allow you to create some great drinks or dishes during your leisure time. They're available in different shapes, sizes and can be purchased at a premium or at a lower cost based on how committed you are to explore various recipes. Based on the season, it's fun to make milk froths or shakes to keep everyone in your family, especially the young ones, healthy and happy.
See also: Best hand mixers
Best Immersion Blenders
The Best Overall Immersion Blender
Mueller Austria Ultra-Stick 9-Speed Immersion Blender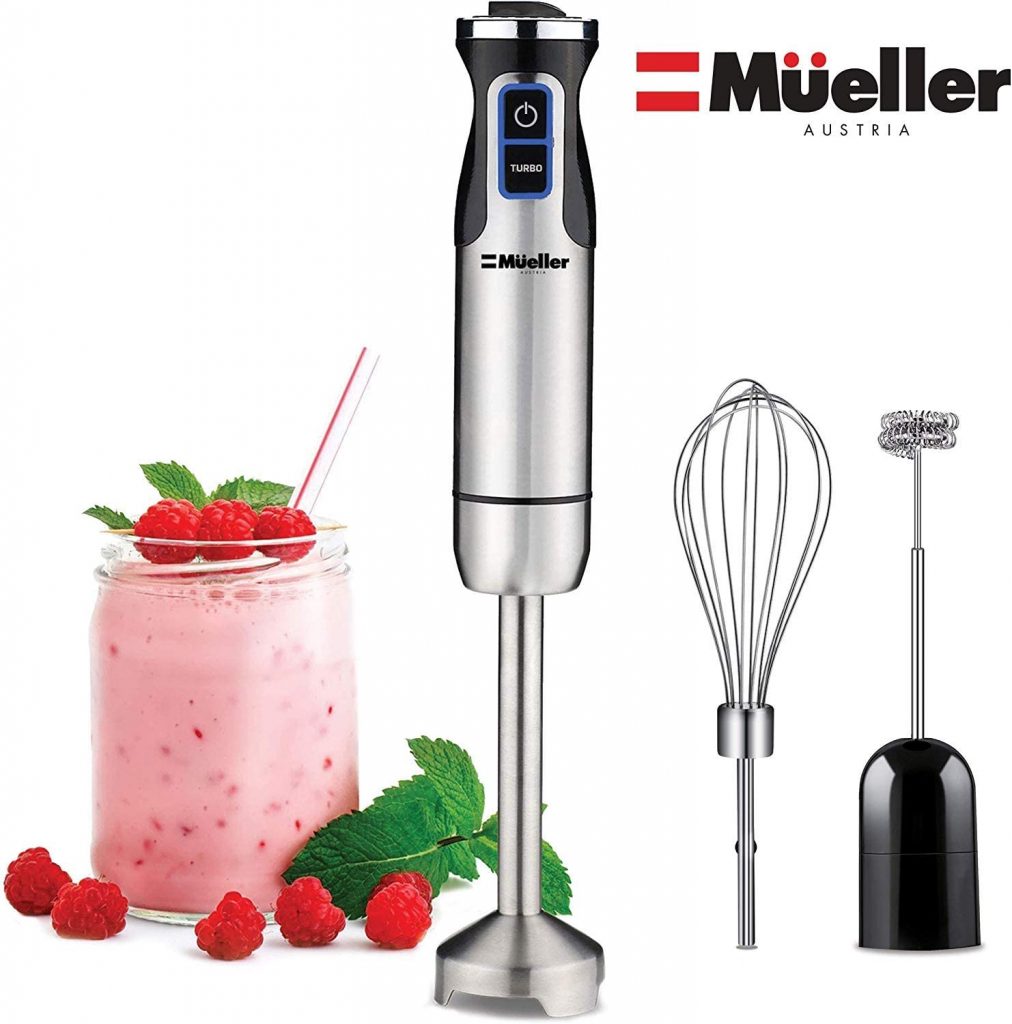 A glance at the product and you can easily make out some of the important features found in this hand blender. It's designed to be immersed into any liquid food mix that you are preparing and this is made possible with a long handle combined with a comfortable grip. The Mueller Austria ultra-stick blender is the best product for several reasons as it's durable, robust and has a powerful 500-watt motor.
If you are really concerned about cleaning the mixer after use, you need not worry! The long stainless steel handle can simply be rinsed under running tap water. For more in-depth cleaning, it's dishwasher friendly and you can leave it in the tray without any worries. Besides being an affordable solution that offers great value for money, the motor is powerful enough to help with most mixing needs that can be completed in just 30 seconds. You can create smoothies, prepare egg batter, make tomato sauce or salsa mixes to spice up your recipe.
The recipe list is quite impressive and the 9-speed motor allows you to keep varying the blades' movement until the right thickness level is achieved for your mixture. The ergonomic grip handle is comfortable to hold and the lightweight design allows you to keep it in your hands for an extended time without any fatigue. The fixed blade is shaped like an 'S' that blends milk, eggs or smoothies into a thick paste quickly. The product has a two-year warranty period that further enhances its value for money.
What Makes the Mueller Austria Ultra-Stick 9-Speed Immersion Blender the Best?
It's easy to use, affordable and is bundled with all the necessary attachments.
The bundle includes a whisk and a milk froth attachment and it's designed to meet the most basic requirements in the kitchen.
Who Should Buy This?
Made for people who are into making lots of smoothies at home.
A great choice for those who need a blender with milk froth attachment so that they don't have to purchase it separately.
A Premium Immersion Blender for Professionals
KitchenAid KHB2351CU 3-Speed Hand Blender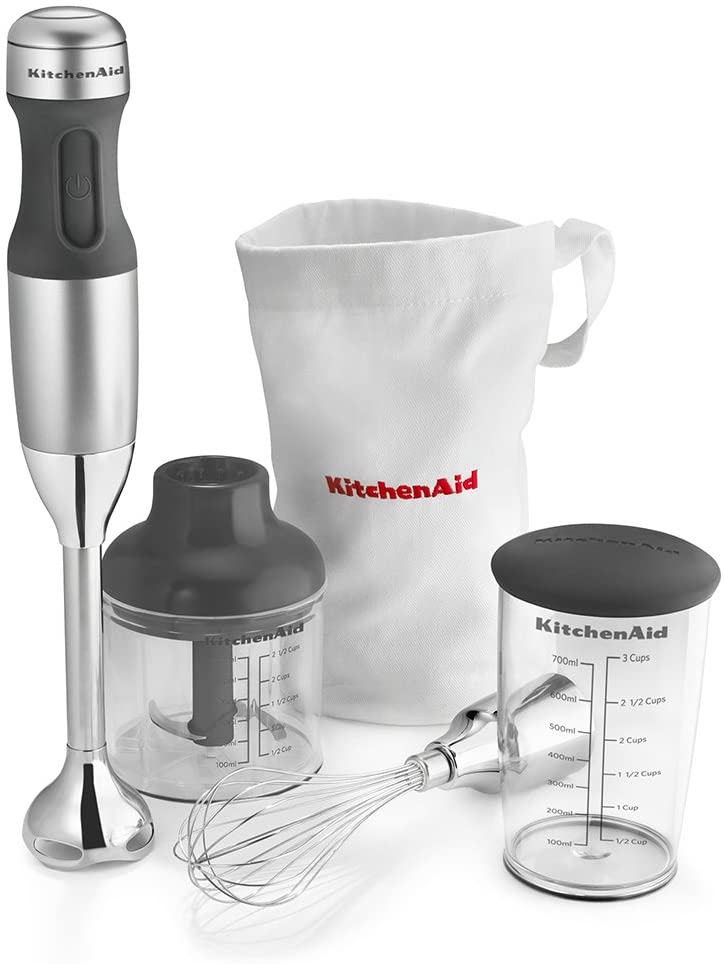 There is no better brand than KitchenAid when it comes to making premium-quality equipment. The KitchenAid KHB2351CU 3-Speed Hand Blender is one of the best-looking and aesthetically designed kitchen equipment that is great at immersion blending. This blender stands out among a wide range of mixers and blenders in the market. With thousands of positive reviews, this might be the premium solution that you have been looking for.
The blade is fixed to the long 8-inch handle for added immersion and improved safety. Be it making smoothies with vegetables or fruits, creating milkshakes in a jiffy or whisking egg white to create mayonnaise, you can do them all easily with this large device. The S-shaped blade is made of stainless steel material that is easy to clean and store. The handgrip is made of a soft material that improves grip and ensures it doesn't slip off your hands when the product is in use.
As part of the bundle, the company provides a whisk attachment, a 2 ½ cup chopper a dedicated chopper bowl, a 3-cup blending jar and a blending pitcher with a 1-liter capacity. If you are looking for exceptional quality and don't mind spending more than the usual $30 on a blender, KitchenAid has the perfect answer for you. When you combine them all, you get the perfect accessory needed to make great smoothies and all kinds of blended recipes at home.
What Makes the KitchenAid KHB2351CU 3-Speed Hand Blender Premium?
The cost of the product is a bit high but it's justified by the quality attachments and jar bundled with the blender.
It has a long stainless steel mixing handle that makes it the best immersion blender that you can buy.
Who Should Buy This?
Professional chefs and those who are really serious about their kitchen time would love this premium-quality product.
If you need a jar for easy blending and love the bundled bag, you would find this a worthy addition to your kitchen accessories.
The Immersion Blender with the Best Ever Grip
Breville BSB510XL Control Grip Immersion Blender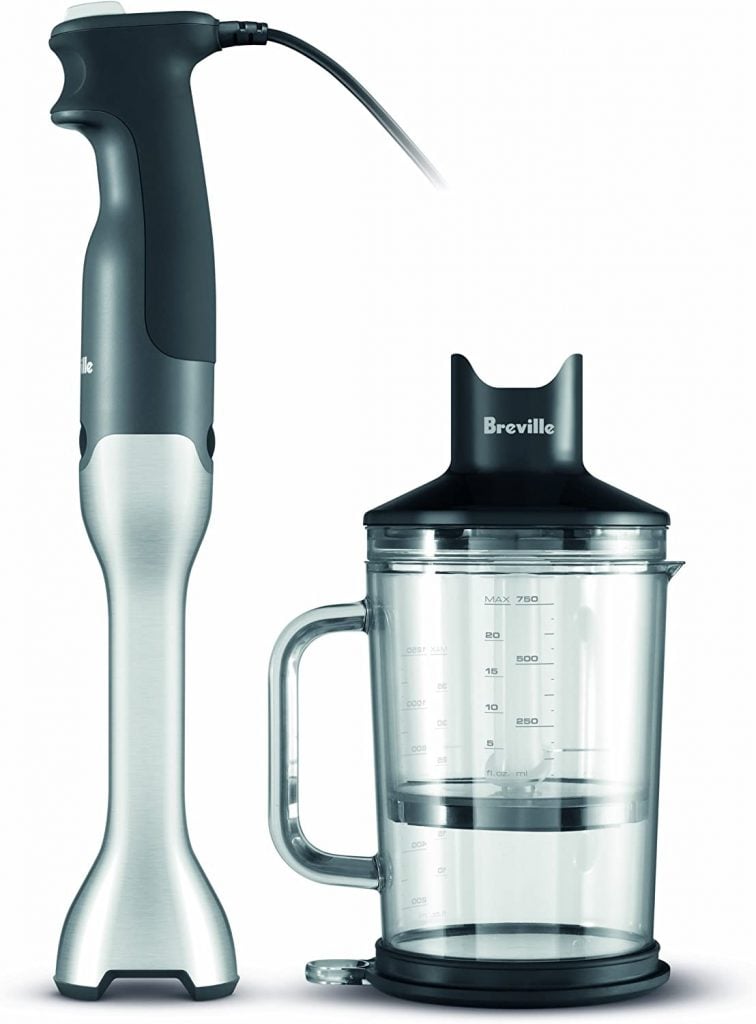 Whether you would love to imagine it as a power tool or Thor's hammer, the grip of this particular immersion blender is just insane! While user preferences could vary from one person to another, it's a known fact that everyone wants to have a good grip and a comfortable handle to hold the mixer. It usually takes a couple of minutes to blend or mix and during this period, the equipment should not strain your hands or feel slippery when it is being used. The Breville BSB510XL Control Grip Immersion Blender offers the perfect and highest level of grip.
The advantage of having a blender with a long handle and sturdy grip is that you can focus on the food that is being prepared. A total of 15-different variable speeds are offered by the product. The ergonomic design of the handle makes it easier as you will naturally hold the mixer in a position that touches the deep crevices of the bowl. It also ensures that all ingredients are mixed properly. The steel blender's base has a non-scratch tip that safeguards your kitchen pots.
The bell-shaped design of this mixer is unique and cannot be found in other products. The total length of the blender is 8-inches and it's long enough to provide immersion blending for all kinds of recipes. Be it milkshakes, milk froth, desserts or pasta mixing, you can do them all and more as it allows you to cover an entire bowl full of edible items that need to be mixed.
What Makes the Breville BSB510XL Control Grip Immersion Blender Solid?
The handle is solid, feels sturdy in the hand, and allows you to use it in a natural position.
The range of bundled accessories includes a 25-ounce chopper bowl, whisk, and a 42-ounce blending jug.
Who Should Buy This?
The product is made for users who might spend a lot of time blending items to get that perfect recipe for their family.
It reduces hand strain and has an improved grip.
A Value for Money Blender from a Popular Brand
KitchenAid KHB123IC 2-Speed Hand Blender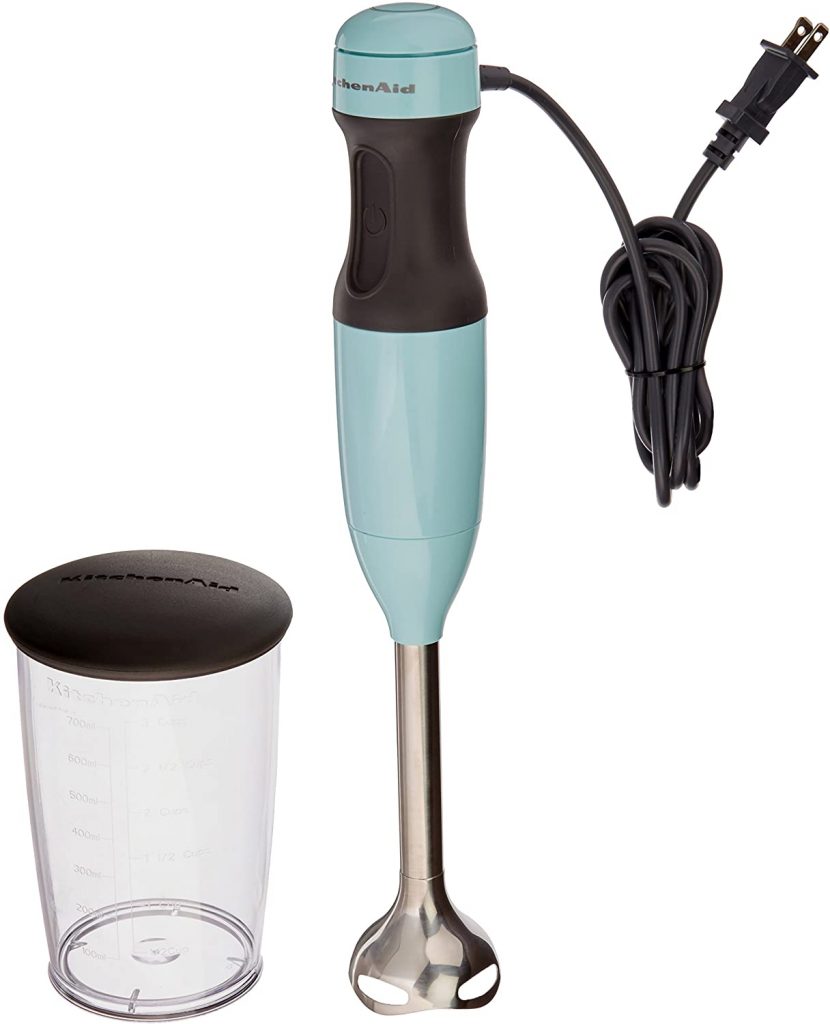 The simplest of them all, this KitchenAid immersion blender is made for people who need a no-nonsense blender for their blending requirements. Instead of having to decide the speed that you need in a 9 or 7-speed blender, it's much easier to select between just two speeds. After immersing it inside the mixture, you can either choose a slow speed or fast one to get the blending started. This best immersion blender gets the task done effectively. It can be used for pureeing or to mix tough ingredients.
The blender is equipped with a large 8-inch arm that comfortably goes deep into the liquid you are planning to froth or mix. The S-shaped blade is made of pure stainless steel material which is easy to clean and is dishwasher friendly. The simple design is not super attractive but it's designed for everyday use. The large handle is equipped with rubber wrapping on the top area. It acts as an anti-slip layer and assures you have control over the product when it's being used.
As part of the bundle, the KitchenAid brand provides a 3-cup blending jar with a lid. The advantage is that once you puree or make a smoothie, you can transfer it to this jar for storage. Another fun aspect of this blender is that the manufacturer provides the option of different colors to choose from. It's ideally used to make purees, baby food and quick blends such as mixing egg whites for a puffy omelet. After all, it makes breakfast tastier and visually pleasing.
What Makes the KitchenAid KHB123IC 2-Speed Hand Blender Value for Money?
The product is affordable and has a 1-year replacement warranty from KitchenAid.
The quality of materials used in the product is amazing, including the rubber grip and the steel handles.
Who Should Buy This?
Those who need an immersion blender for occasional use.
Made for those who want to own a reputed brand but at an affordable cost.
For those who need only limited speed settings.
Best Immersion Blenders for Making Delicious Smoothies
KitchenAid KHB2561OB 5-Speed Hand Blender Onyx Black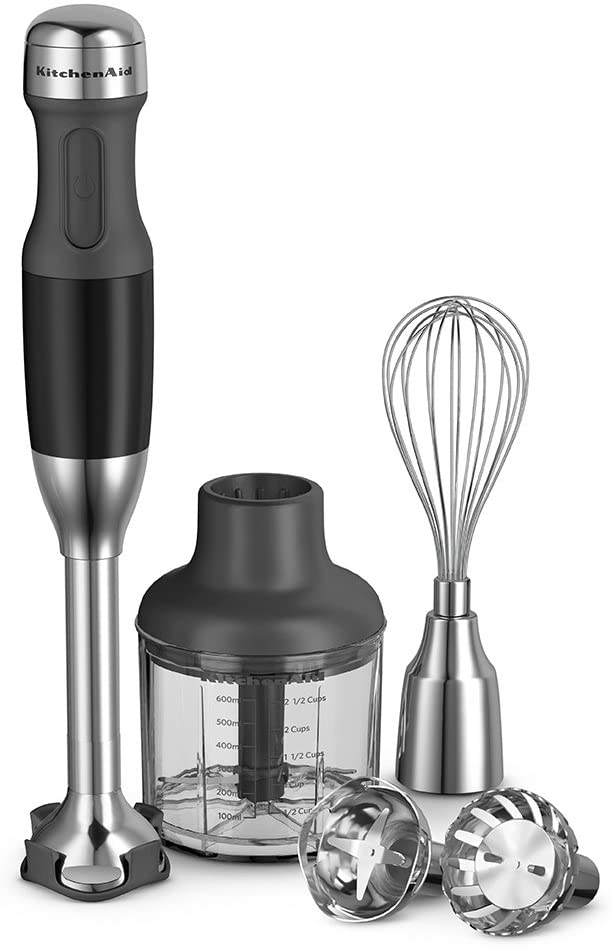 Who doesn't like delicious smoothies? Be it strawberry, banana, mango or apple, smoothies are the most favorite drink for a lot of people. When it's summer, obviously, you wouldn't want anything more than to relax in the evening while watching the sunset, with a cold and creamy smoothie in hand. Not everyone would want to buy it from a café which is where the KitchenAid KHB2561OB 5-Speed Hand Blender Onyx Black comes in handy as must-buy equipment. The advantage of this particular product is the attachments provided and the powerful motor.
When making smoothies, an obvious requirement is that the motor and the handle should be able to crush thick fruits into a creamy paste. The 5-speed immersion blender from KitchenAid has been particularly designed to do this. Besides, it comes with a wide range of attachments so that you can perfect your recipe like no other. The product does fall in the expensive category and the top of the line solution costs $125. However, for those who like the very best, KitchenAid's 5-speed blender is the right pick.
The bell blade assembly is an innovative addition that can be switched back and forth without the need to use any additional tools. The bundle includes a whisker and a dedicated chopper attachment when you need to use those. This model also includes an extra-long 13-inch blending arm. While most blenders have an 8-inch arm, having such a long arm allows you to mix stubborn ingredients like fruits and vegetables in large quantities.
What Makes the KitchenAid KHB2561OB 5-Speed Hand Blender a Premium Solution?
The product is premium in build quality and has multiple attachments bundled with the package.
It has a 5-speed motor that lets you make the best smoothies.
Who Should Buy This?
If you are a big-time lover of delicious smoothies made at home, you should get this one.
The storage jar lets you keep the prepared drinks in the refrigerator and can also be used as a measurement cup when required.
A Simple Yet Powerful Blender
Braun MQ505 Multiquick Hand Blender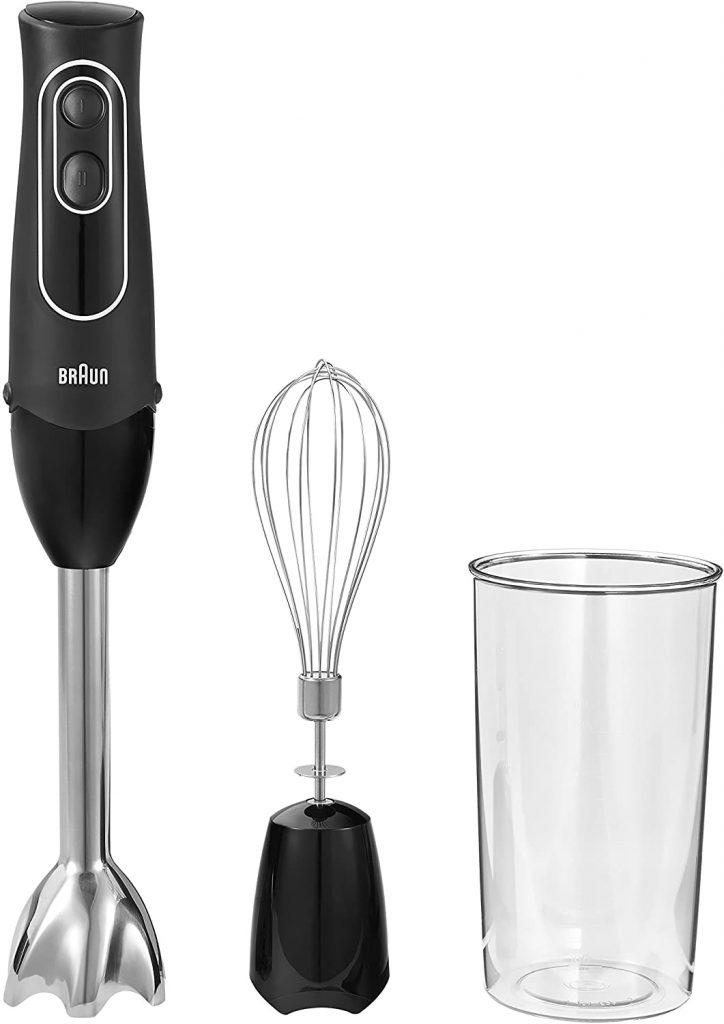 Most of the immersion blenders available in the market may look similar and most buyers might just look for the one that suits their budget. This is not a recommended method to purchase your new product because the kind of material used for the construction and how well it performs in real life scenario matters a lot. With over a thousand positive reviews, the Braun MQ505 Multiquick Hand Blender is one of the best immersion blenders and a recommended product.
There are a couple of reasons that helped the product reach this position. The device is equipped with a Power Bell technology. It's a name that is derived from the blending shaft which is shaped like a bell and this particular design allows you to squeeze, cut and break up fruits and vegetables that are firm. It gives delicious smoothies as the fruits are completely squashed and turned into a mixture that is great to drink.
The safety aspect of this product is assured by the click lock. Once the attachment is placed into the blender, it will be in place securely until you click the release button to remove it. The setup ensures safety, helps the user mix ingredients with confidence and get finer results with the recipe they're working on. If you need a quick surge of power, you can use the turbo-boost technology. The bundle includes a 20-ounce beaker and whisk attachment.
What Makes the Braun MQ505 Multiquick Hand Blender a Reliable Product?
The product's build quality is excellent.
The handgrip promotes better safety and hence lets you use it confidently with all types of ingredients.
Who Should Buy This?
Users who do not want to compromise on comfort and safety.
The MQ505 is made for those who love to own a professional product.
A Branded High-Quality Immersion Blender
Philips ProMix Hand Blender Avance Collection

Philips is a popular and renowned brand that excels at making some of the best home appliances. They also make the best immersion blenders that are designed to make life easier. Be it making a delicious smoothie with your favorite fruits or mixing egg whites in large quantities, this particular product is more than capable of handling all the tasks that you throw at it. The variable speed control is a unique aspect of this Philips product.
The advantage of using a hand blender is that it's easy to store and clean. Whenever you need it, you can take it out of the shelf and blend the items using the bundled jar. Philips has provided an ergonomic jar that has markings to indicate the quantity of the liquid mixture being blended. It helps in maintaining quality and to ensure that you are able to serve a bunch of children or provide a glass of smoothie to the lone in-house guest.
The Philips ProMix is equipped with variable speed control that is easy to control with one hand. Simply press the button longer for faster movement of the motor. If you need a slow, steady spin, light-press the button and you are good to go. It's considered much more intuitive and easy to use because there is no need to switch buttons for varying speed levels. The blender uses titanium-coated blades that are much more efficient than stainless steel blades and provide the utmost smoothness for your smoothies irrespective of the ingredients that you choose.
What Makes the Philips ProMix Hand Blender Avance Collection Unique?
The product's blades are coated with titanium material that enhances its performance.
Being able to control the speed with a single button is very convenient.
Who Should Buy This?
The shape of the blender's handle is unique and ergonomic, making it perfect for people of all age groups and culinary skills.
If you find using multiple buttons for speed control to be uncomfortable, the one-button design can be very handy.
An Industrial-Grade Immersion Blender for Your Home
BENLEM Commercial Immersion Blender with 7.9-inch Blender Shaft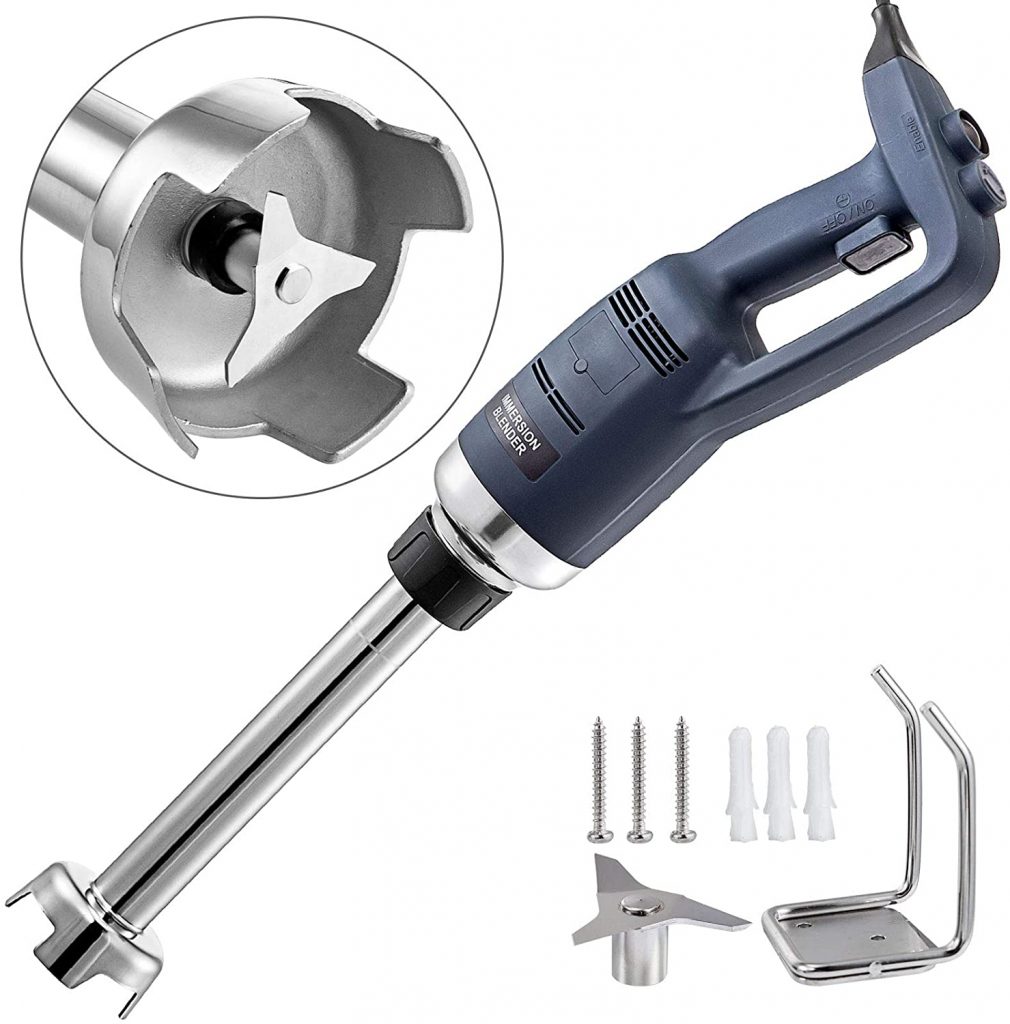 When you look at the blender, you will probably notice how slim it is. The design is ergonomic and the user can hold it with one hand for a long time. After all, when making froths, smoothies and other blended items using the best immersion blenders, it takes time for the ingredients to be mixed properly. The ergonomic handle ensures you have a good grip on the blender while having little to no hand strain.
The blender handle is made using high-quality stainless steel material that is easy to clean and maintain. The extra-long design which is 6.6-inches and much longer than many similar products, allows it to reach the crevices of the bowl to ensure a proper mix. It's powered by an industry-grade 500-watt motor. The rotation speed of the motor varies anywhere between 4000 RPM to a massive 16,000 RPM which stirs the food like no other blender out there.
For serious chefs who would settle for nothing short of the best, the BENLEM commercial blender is the way to go. The dedicated lock button and the locking mechanism keeps the blender shaft firmly attached to the base. It has a carbon brush cover and the entire setup is enclosed inside a plastic housing for safety. The speed control and safety buttons are mounted on top for easy access with one hand. It also includes a wall-mount and features a splash-proof design.
What Makes the BENLEM Commercial Immersion Blender Super Powerful?
The motor is very powerful as it can go up to 16,000 RPM of raw power.
It features a splash-proof design and is safe to use with liquid-based ingredients like milk.
Who Should Buy This?
The product is made for professional chefs and anyone serious about their cooking equipment.
For those who need raw power in their blender, in a handheld format, this is an ideal choice.
A Uniquely Shaped No-Frills Immersion Blender
Betty Crocker Hand Blender with Mixing Beaker and Lid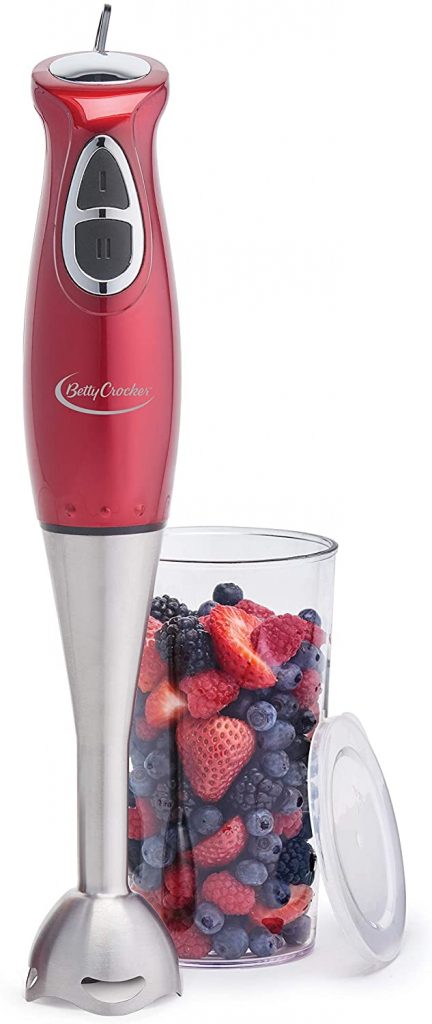 The majority of blenders available online focus on providing lots of bundled equipment, additional blades and powerful features. The vast majority of users may or may not require all of them. Besides, your decision to purchase a blender will be highly influenced by its pricing. You can save your money yet get the product you need if you opt for the Betty Crocker Hand Blender. While it's not promoted as an immersion blender, it's powerful and long enough to be used with large utensils.
As part of the bundle, the manufacturer provides a mixing beaker with lid. The advantage of having a compatible storage solution is that you can make all your smoothies, juices or froths and store it in the refrigerator when needed. There is no need to mix those ingredients in a different vessel only to shift it to another jar for further storage. Besides, the compact beaker is easy to hold and you can continue doing your blending tasks with one hand.
The motor is moderately powerful and you can switch between two-different speed settings. According to the official specifications, this immersion blender is equipped with a 250-watt motor. When you use it to its maximum capacity, it can go all the way up to 450 watts of peak power. The product is dishwasher safe and you can simply rinse the stainless steel blades in running water for quick cleaning. It has an ergonomic handle for a better grip and a control switch.
What Makes the Betty Crocker Hand Blender Unique and Useful?
The design is simple and it's priced right at an affordable range.
The blender can be used for a range of applications including mincing, making purees, and smoothies.
Who Should Buy This?
The blender is made for people who need an affordable and simple kitchen appliance.
It is for anyone who wants a powerful motor but at affordable pricing.
The Best Immersion Blenders with Great Choice of Bundled Items
Ovente 4-in-1 Immersion Hand Blender Set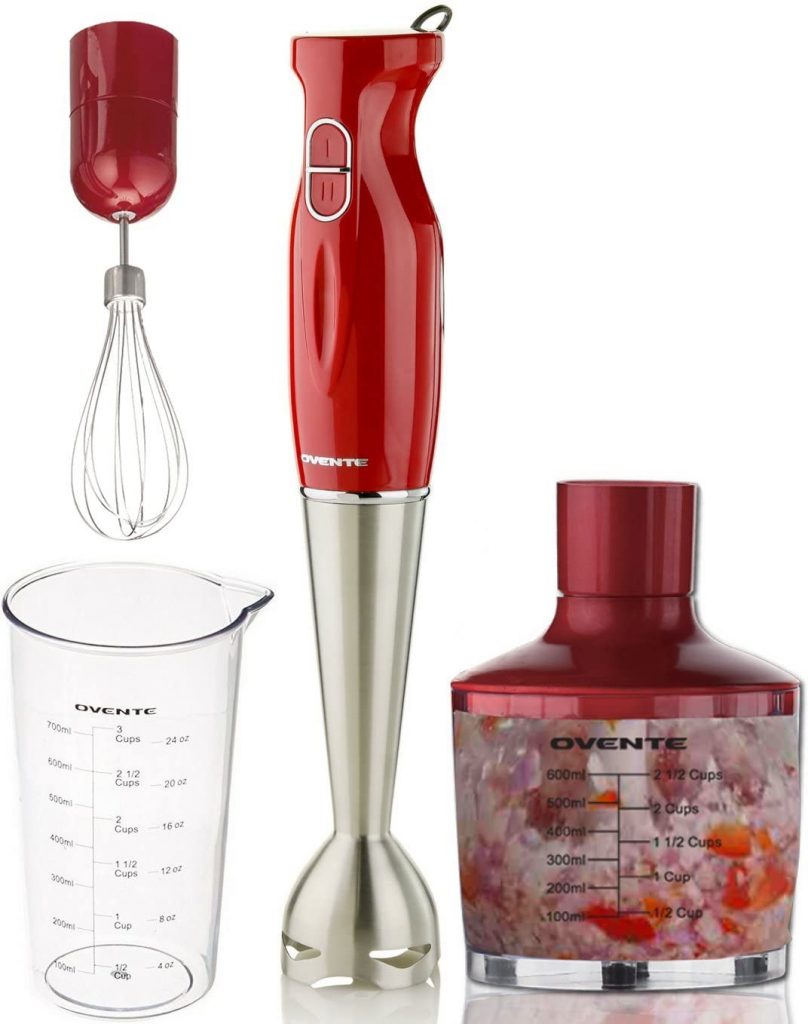 It's easy to be impressed by what Ovente has to offer! The blender is available in a choice of colors including bright red and the more subtle black and silver options. If you were to ask us, we would recommend the red variant. The advantage of buying this affordable yet great value for money product is that it has a series of add-ons bundled with the package. The bundle includes an egg whisk, mixing beaker and a food processor.
In terms of performance, the power is ensured with the 300-watt motor. The powerful motor ensures that whatever your choice of dish, it can be prepared in your kitchen. You can extract purees out of fruits, make smoothies, froths, and soups. Based on the recipe of your choice, it's also possible to make juices, sauces and much more. The blender is equipped with a pulse-activated sensor and there are just two variable speeds to choose from.
The product is built to last long as it's made of heavy-duty material, yet compact to use with one hand. The ergonomic handle ensures it stays in your hand while the buttons are conveniently located for quick access when blending. The egg whisk is handy for mixing egg whites while the food processor helps you to measure your ingredients as well as store them safely. The product is dishwasher safe and the blades are made using 304-grade stainless steel.
What Makes the Ovente 4-in-1 Immersion Hand Blender Set the Best Solution?
The product is sold with a solid 1 year warranty period.
It has lots of attachments included in the bundle, which significantly improves its value for money.
Who Should Buy This?
Blending for long hours is made easier with its lightweight design and if you have a requirement for mixing large quantities of smoothies, this blender will help.
The product is aimed at users who love to have multiple attachments bundled with the package.
Best Blender for Crushing Ice
Chefman Immersion Stick Blender with 2-Speed Control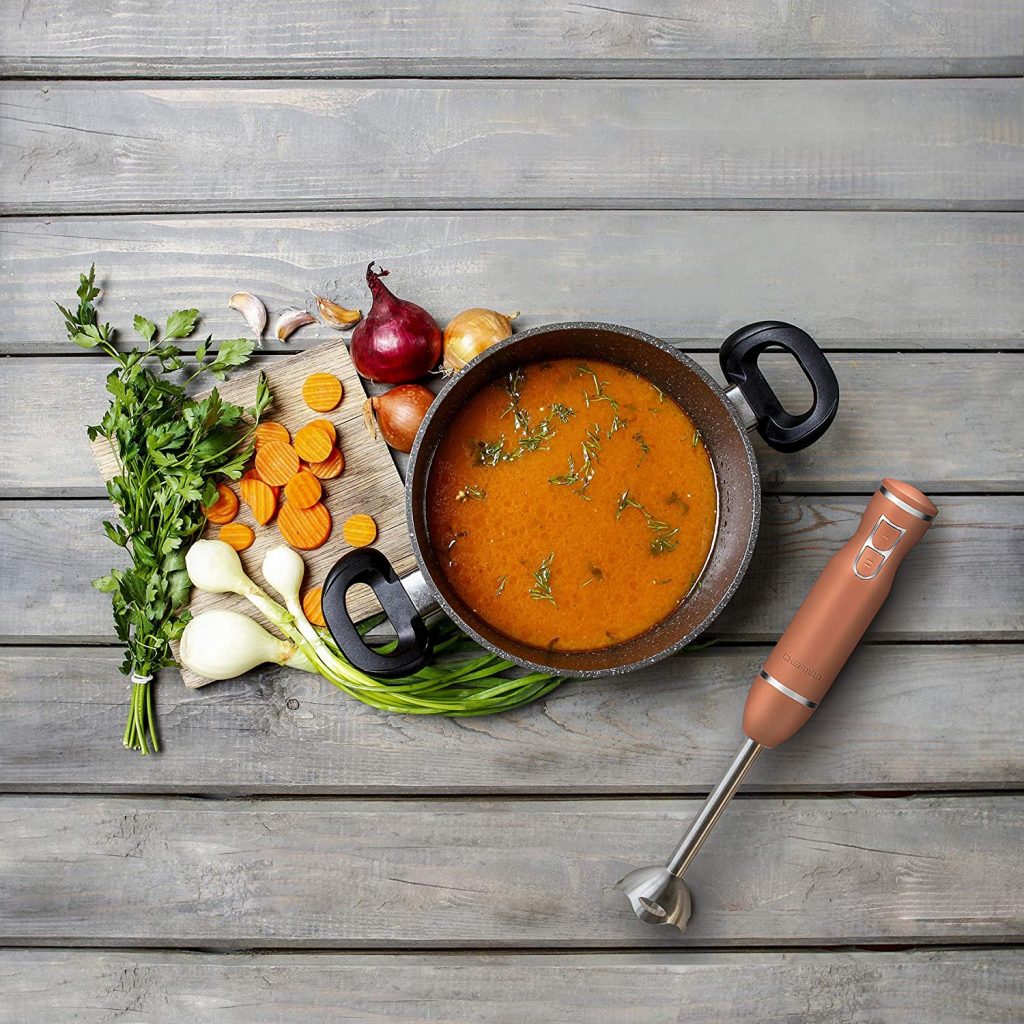 The best immersion blenders focus on ease of use while you make purees, smoothies and crush fruits to a pulp. However, not all of them have the power or facility to crush ice which is necessary if you want to make a quick, cold juice with your hand blender. The stainless steel blade, the power delivered by the motor and the ergonomic design of the product help to do this easily. The Chefman immersion sticks blender ticks all the boxes.
The manufacturer promotes it as a product that can crush ice, thanks to the powerful steel blades used in the blender. The design curves on the top and it's rubberized for a silky smooth feel. The blender not only is easier to hold for a longer time but also has a sophisticated finish to it. A surprise factor with this one is that it's available in nearly a dozen colors including blue, green, pink, white, red and many other color choices.
There are two buttons that allow you to control the speed of the motor while they're conveniently placed on top for quick access. Despite having a powerful motor, it manages to be super-quiet so that it doesn't affect the serenity of your kitchen. The product is dishwasher safe and can be used instantly with a very minimal installation process. It has a one year warranty period and can be used to complete a wide range of blending requirements.
What Makes the Chefman Immersion Stick Blender Widely Popular?
The blender is available in an exciting range of colors and adds a touch of fashion to your kitchen.
It has the most powerful and durable blades capable of crushing ice.
Who Should Buy This?
People who love cold smoothies and ice cream blends.
For those who are concerned about safety, the product is easy to use and has a rubberized grip.
Bottomline
The best immersion blenders are available in all shapes, sizes, and colors. Most of these products focus on ease of use and being dishwasher safe so that they can be easily cleaned. Besides, some expensive variants are bundled with a mixer, whisk, and other attachments to make blending and mixing easier. Based on your budget and the kind of product you are looking for, it should be easy to decide on an immersion blender from the above choice and enjoy the convenience of making amazing recipes including smoothies, purees, and baby food at home.
Was this article helpful?
This helps us improve our website.