Technobezz is supported by its audience. We may get a commission from retail offers
Summary – When was the last time you hit the kitchen and ended up with a hand-cramp? Maybe, your
When was the last time you hit the kitchen and ended up with a hand-cramp? Maybe, your family is complaining about your repetitive choice of dishes but you just can't find the time or energy to make dishes of their choice? In most cases, the problem is that not all dishes or recipes can be prepared with just a wooden spoon and your hand. Whether the need is for power, spending more time in mixing the ingredients or kneading the dough the way it should be, the best hand mixers have plenty to offer in real-life scenarios. Choosing the right product is based on its size, motor capacity, accessories provided and other features. This guide is designed to help you choose the right HandMixerthat works as intended.
See also: Best toasters
Best Hand Mixers
Best Hand Mixers for a Range of Applications
KitchenAid 7-Speed Digital Hand Mixer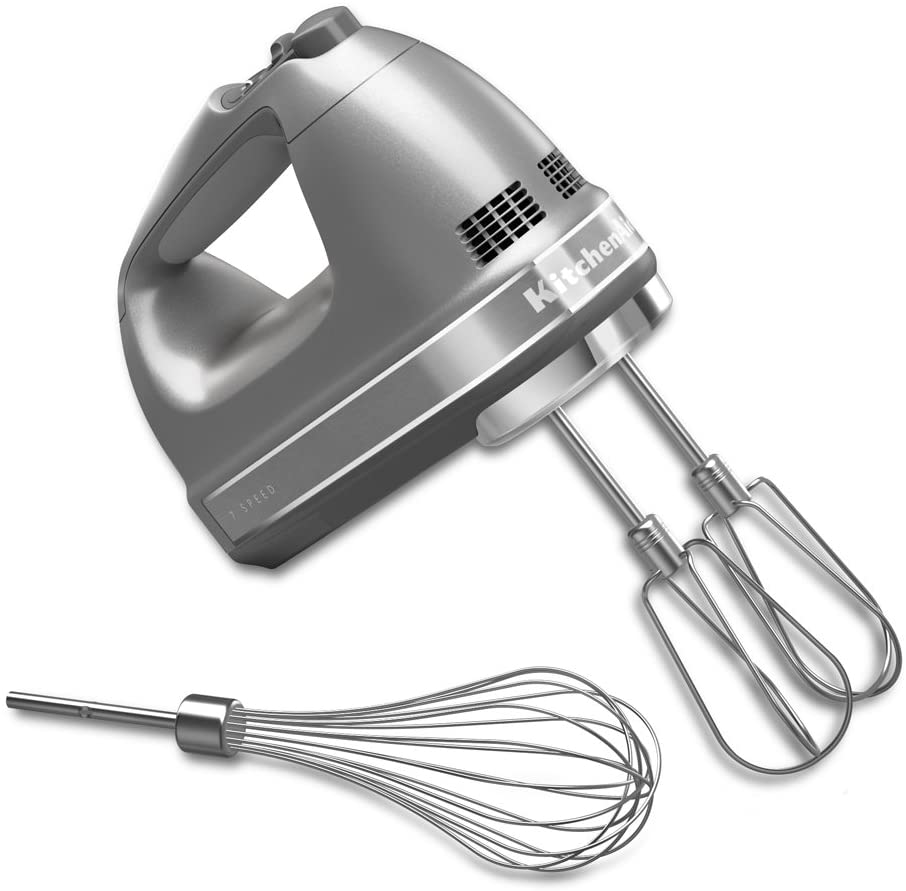 Venturing into the world of kitchen equipment and accessories will always introduce you to one of the most popular brands around. You will hardly come across a suggestion guide that doesn't talk about KitchenAid products because the company makes some of the best kitchen equipment. This particular variant ideally suits a wide range of applications because of its versatile design and build quality. The KitchenAid 7-Speed digital hand mixer is the best for different reasons.
As part of the bundle, you will receive a Turbo Beater II and Pro Whisk as additional accessories. Considering the budget-friendly price tag of the product, it is quite useful and versatile to suit various practical applications. The motor speed is variable and can be easily tweaked so that you can beat eggs, whip mayonnaise or switch to the slowest speed to mix chunky vegetables into a mashed-up salad. It is equipped with a soft-start feature so that the motor doesn't instantly increase its speed and cause spillage.
The versatile hand mixer has a removable power cord so that you can choose to plug it in on to the right or the left-hand side based on the position of the mixing bowl. It is convenient and helps improve safety by keeping the cord dry at all times. The motor supports up to 7 varying speeds and the rounded cord can be wiped clean if any mixture spills on it. The hand mixer's important feature is its handle and this product is equipped with a soft grip that improves grip while keeping your hand comfortable without strain for an extended period.
What Makes the KitchenAid 7-Speed Digital Hand Mixer the Best?
The mixer is compact, easy to move around and is lightweight.
The power cord can be removed for maximum convenience.
Recommended For:
Designed for users who are looking for a durable, branded product that works as promoted.
It is a budget-friendly pick that has varying speeds for most blending, whipping and kneading applications.
The Most Affordable Hand Mixer
HAMX9 6-Speed Electric Hand Mixer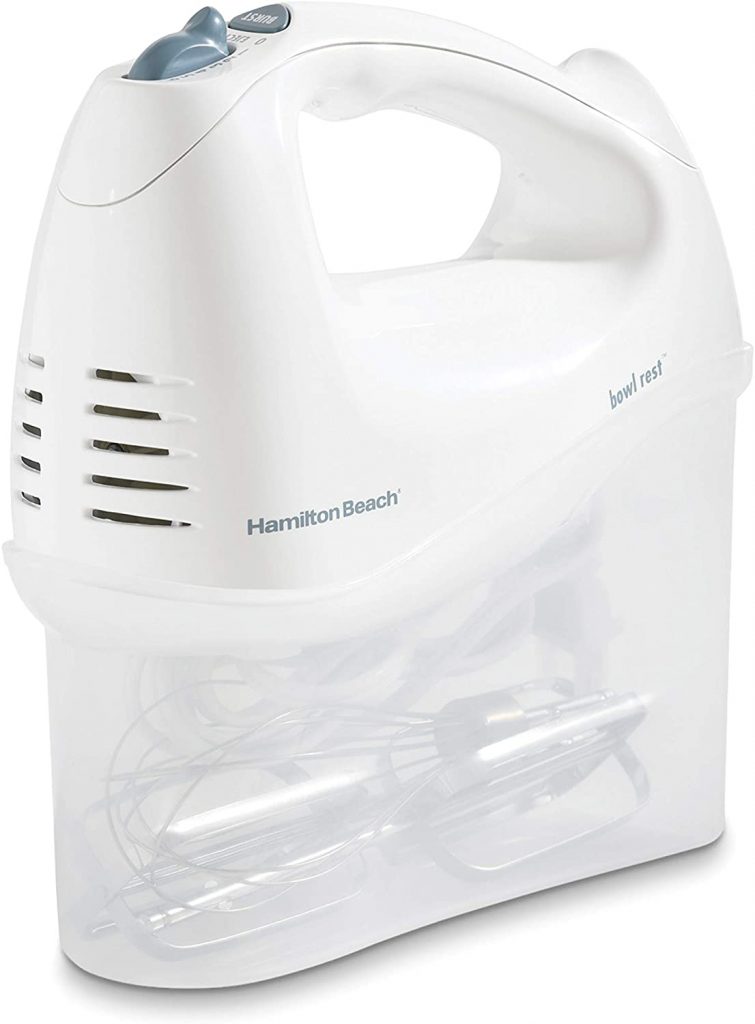 Buying a stand mixer is usually a more expensive choice because brands like KitchenAid offer such products for $200 or more. The HAMX9 6-Speed Hand mixer is an affordable mixer suited for those with minimal usage. You may be a student, a working mom or a chef in a restaurant. If all that you are looking for is a quick solution that works and is easy to handle, the HAMX9 6-speed Electric Hand Mixer is ideal.
The white variant is available for just $15. The red-colored variant that is more appealing in terms of design costs close to $25 and isn't a big deal if you are okay spending the extra ten dollars. The mixer is easy to handle and store because it is attached to a storage case that keeps it safe as well as hygienic. The motor of the product comes at 250 watts.
With its peak power and the variable six-speed, you can use it for kneading dough or whipping eggs to make a puffy little omelet. The mixer is equipped with a dedicated Quick-Burst button. Once you have completed the mixing process, if the mixture still requires a quick whirl, the button comes in handy. When the mixing is in progress, the recessed edges of the hand mixer lets you keep it on the bowl's edge and reduce hand strain.
What Makes the HAMX9 6-Speed Electric Hand Mixer Affordable and Useful?
The hand mixer is very affordable allowing you to use and experiment with the product.
It has varying speeds and comes with a storage case so that you can keep it safely and hygienically in your kitchen.
Recommended For:
Ideally suits users who may have already invested a lot in a stand mixer and want a quick yet cost-efficient solution.
If you are looking for value-for-money, this product is appropriate as it comes bundled with beaters and whisks.
A Long Handle Mixer for Maximum Immersion
Mueller Austria Ultra-Stick Hand Blender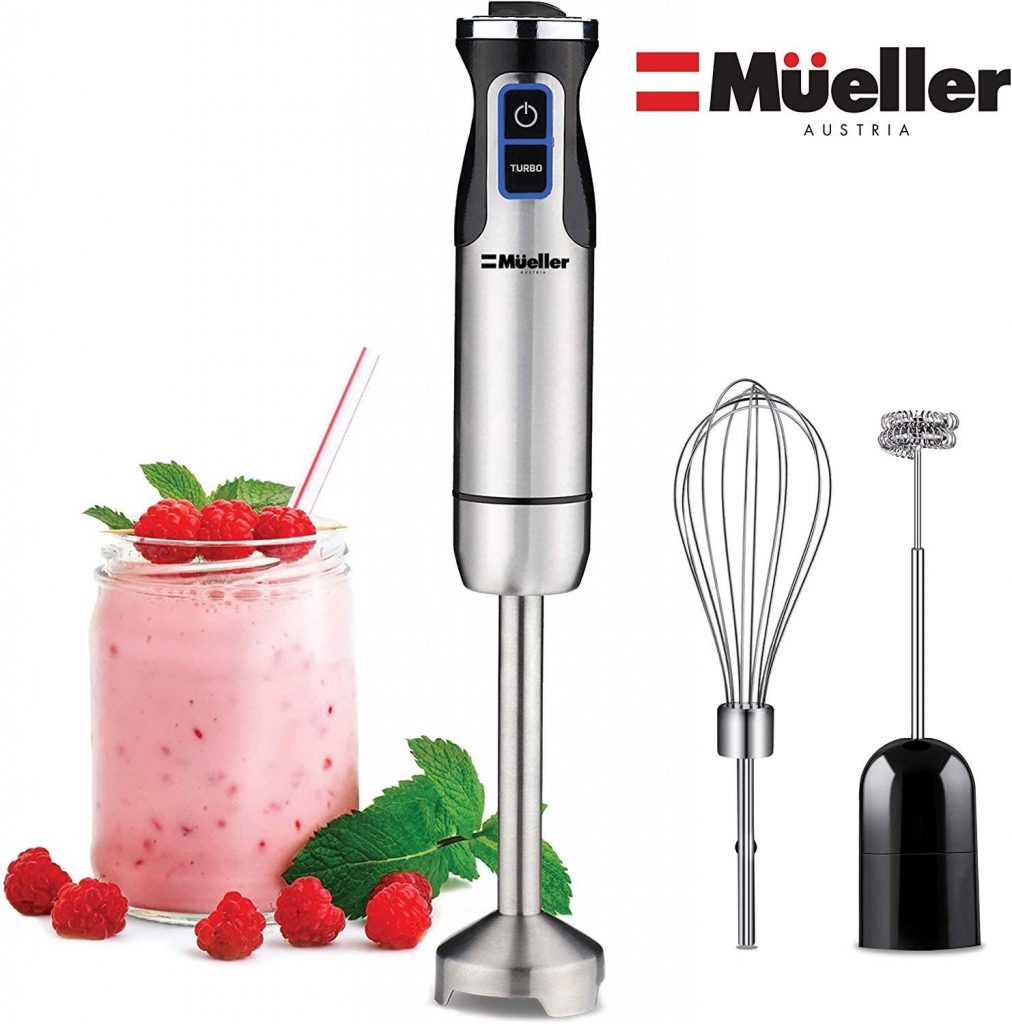 Depending on the kind of recipes that you are planning to try, the length of the handle and sturdiness of the hand mixer plays an important role. The best hand mixers are offered in a wide range of designs but it is your budget and usage that should help determine the right product. The motor capacity of the Mueller Austria Ultra-Stick is much higher as it is measured to be at 500 watts and the longer handle allows you to whip or blend the mixture in deep vessels properly.
Unlike other quick and ready to use hand mixers, the Mueller Austria Ultra-Stick hand blender excels with its motor capacity and varying speeds. The product is equipped with a 9-speed system and you can gradually move from one speed to another to get the right consistency of the ingredients. The heavy-duty copper motor lasts longer than other elements while the bundle includes a whisk attachment so that you can get to work as soon as you make the purchase.
Hand mixers are supposed to have the best handles because they will always be used as you move around the kitchen. Giving priority to this purpose, the Mueller product has an ergonomic handle with a non-slip grip for maximum safety while it is in use. It is a perfect product to create a wide range of items like milkshakes, fruit juices with a little bit of pulp or simply mix your baby's next meal with some healthy fruits and vegetables.
What Makes the Mueller Austria Ultra-Stick Hand Blender Unique?
The large blending handle allows you to go deep into large bowls and mix from the bottom.
It is great for slow and steady blending with a 9-speed motor.
Recommended For:
People who love smoothies and milkshakes will find this mixer useful.
The mixer is made for those who have a requirement to prepare food items in large quantities and the powerful motor helps with this.
The Basic Mixer in the Best Buy Category
Cuisinart CHM-3 Electronic Hand Mixer 3-Speed Red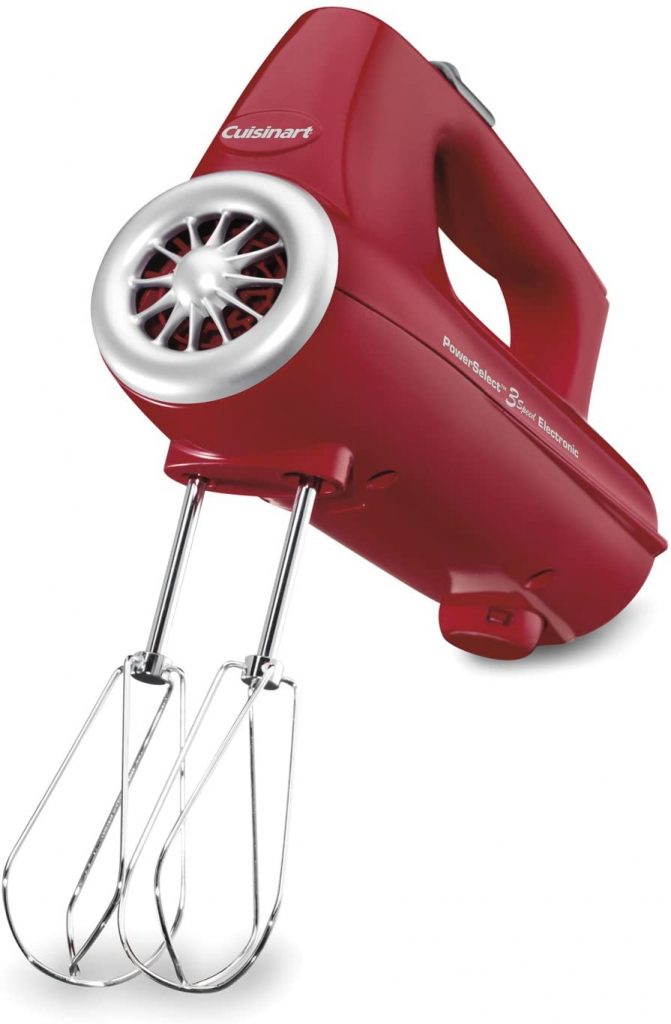 Cuisinart is a reputed company that makes commendable kitchen accessories. However, this recommendation is purely based on hands-on experience with the product and how well it performs. The model is ultra-affordable and you can purchase it for just $25. It is an efficient appliance when it comes to kneading dough or whipping a cup of cream. Hand mixers are always the best for getting the work done quickly as there is no need to set up a stand like in stand mixers.
The Cuisinart CHM-3 Electronic Hand Mixer 3-Speed is available in white and red. While both these products have the same features, you can pick the color that you like the most. The design of the mixer makes it easy to hold with one hand. With its 3-speed motor, it is quite powerful and spins well at all the three-speed settings. The only drawback that we could find was that the mixer doesn't support medium-high or medium-low settings which some professionals may need.
Because most people at home wouldn't be using a hand mixer other than for whipping a couple of eggs or a small portion of dough, the Cuisinart product is a very good option. The total power delivered by the motor is 220 watts and it uses automatic feedback to deliver maximum torque capacity. The beaters are designed to support self-cleaning technology and are extra-long so that the mixture doesn't spill on the motor. The swivel cord can be used on the right or left-hand side of the mixer based on your convenience.
What Makes the Cuisinart CHM-3 Electronic Hand Mixer 3-Speed Red a Basic Solution?
Most users who need a hand mixer may not have a very demanding use for it. The budget-friendly pricing of the Cuisinart CHM-3 makes it affordable while being very useful.
It is a product that is easy to use with just three varying speeds.
Recommended For:
If you have already purchased an expensive stand mixer, this one will work as a supplementary mixer for you.
For those who are looking for easy cleaning of the beaters, this one with self-cleaning technology makes it all the easier.
A Quiet and Powerful Hand Mixer with 9-Speed Settings
Breville Handy Scraper Hand Mixer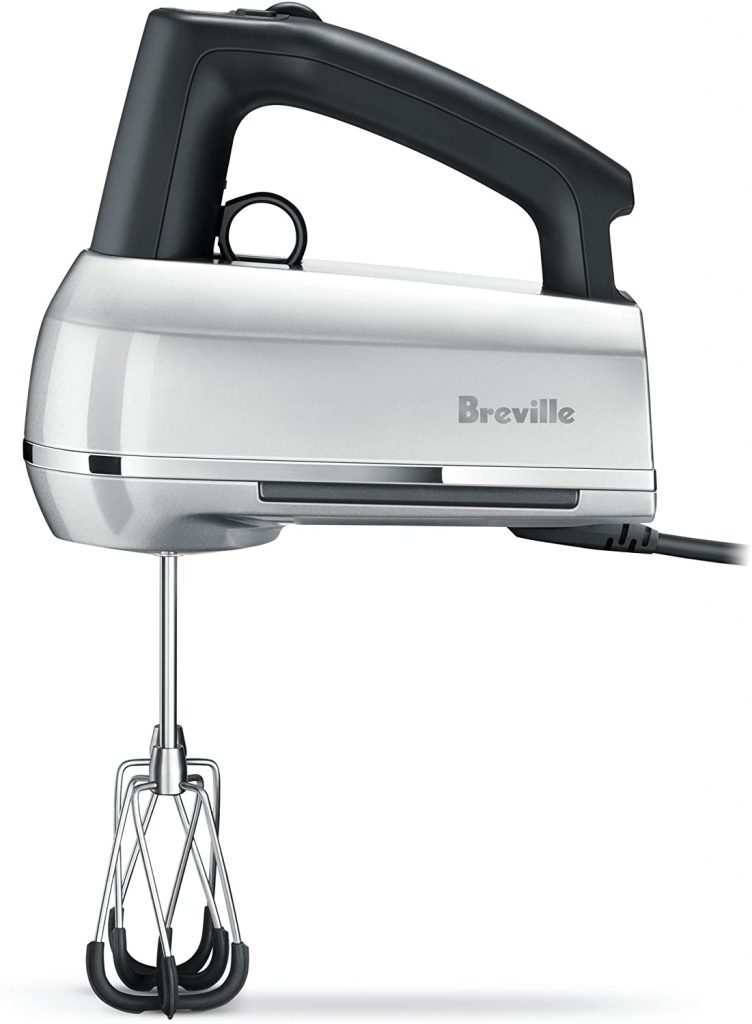 The best hand mixers often promote a wide range of features of which only a few can be really considered essential. While choosing your mixer, if you are looking for one that will give you a silent operation, the Breville Handy Scraper Hand Mixer is the best one out there. One of the brilliant decisions that the designers made in this machine is the inclusion of soft, rubberized covering on the beater. While it maximizes contact with the bowl to not leave any residue, the metal doesn't clink on your glass or steel bowl which keeps the kitchen environment serene and silent.
The Beater is equipped with a type of IQ interface which allows the product to automatically detect the type of attachment used. For instance, if you have the dough hook attached, it will deliver a slow and sturdy spin to knead the dough. When a whisk is attached, it increases the speed to mix the egg or cream appropriately. The product has a sturdy and firm build quality that fits like a glove in your hands when in use. The mixer has a total of 9-speed settings.
A typical issue that is often faced by users is the ingredients being left behind on the sides of the bowl. As the Breville Handy Scraper works very close to the surface, there is no need to stop and manually push the ingredients into the mixture every time. There is also a mixing light that provides a much better view of the ingredients getting mixed. It helps to increase or decrease the speed, add water or do other add-ons to get the perfect recipe you are working on.
What Makes the Breville Handy Scraper Hand Mixer the Best Overall?
The mixer comes with a storage case in which you can safely keep all the accessories.
It covers edge to edge of the bowl, therefore, eliminating the need to pause your mixing now and then to push the ingredients back into the mix.
Recommended For:
A perfect product that is an amazing choice for any user who likes to complete their work faster and spend less time on mixing the ingredients.
The high quality and robust build will impress perfectionists.
The Best Hand Mixer to Make Peanut Butter Brownies and Cookies
Black+Decker MX600L Helix Performance Premium Hand Mixer Lime Green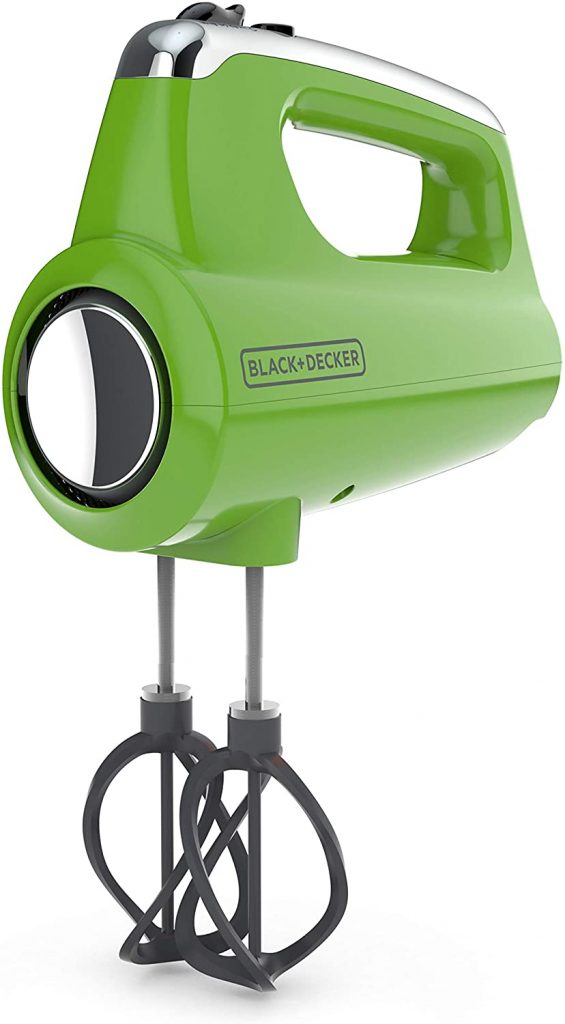 Do you love making cookies for the holiday season? The concept of choosing the best hand mixers based on its capability to mix ingredients for making cookies or a specific recipe may not make much sense. However, from a practical standpoint, not every mixer can be used to mix all types of ingredients. The models with massive motor capacity and a rugged build are more suited for kneading a large quantity of dough whereas a lightweight machine is easier to whip cream or eggs.
The Black+Decker MX600L Helix Performance Premium Hand Mixer is one of the most colorful products out there. You can choose to buy the mixer from over a dozen different colors and the lime green, black variants are the cheapest of the lot at $20. The other models may cost more by $5 but if you are fond of the color, you can go for it. The bundle includes a helix beater, dough hook and a whisk. They are made using special nylon to increase durability and strength.
The hand mixer has a total of five-speed levels and includes a turbo boost when the dough is tough. While there are so many great recipes that you can make using this one, the Black+Decker is a perfect fit to make peanut butter brownies, banana bread, cookies, and seasonal cakes. It is considered to be the best budget buy and is useful to quickly mix the batter, mix cream and butter or whip egg whites for topping or other purposes. The motor speed is powerful enough to mix dry and wet ingredients.
What Makes the Black+Decker MX600L Helix Performance Premium Hand Mixer Amazing?
The mixer is available in an exciting range of colors and can easily be the most affordable product available in the market.
It has a turbo-boost technology and is perfect for mixing ingredients for cookies which is the most common stuff people make at home.
Recommended For:
If you love having lots of accessories in your bundle, this is ideal as it includes 2 helix beaters, 2 dough hooks and comes with a snap-on storage case.
Whether you are mixing a small or a large number of ingredients, this mixer with its powerful 250 watts motor is the one for you.
A Powerful 12-Speed Stick Blender with Multiple Accessories
KOIOS 800W 4-in-1 Hand Immersion Blender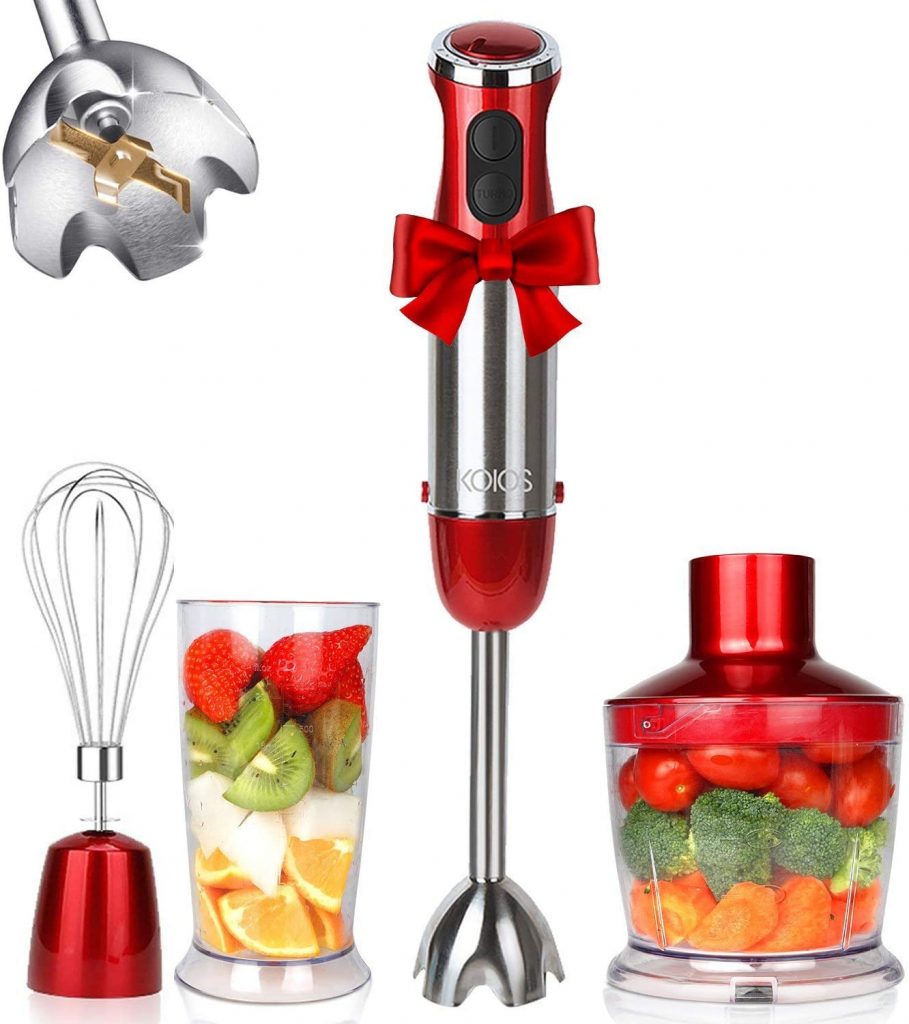 Mixers are sometimes available under different names. A stick blender or a hand blender performs similar tasks as a hand mixer. The advantage of buying this KOIOS product is that it is equipped with the most powerful 800W motor. Unlike many simple hand mixers with a limited number of speed settings, this product delivers on all fronts with its 12-speed settings. There is a dedicated turbo-button whenever you need that speed boost or need to mix the extra quantity of dough or mix more ingredients.
The high-torque motor is duly supported by the large handle that goes deep into a bowl and assures there is no spillage on the sides. The pulse function help provides an intermittent burst of speed and the bundle includes all the accessories to get you started. Considering the price tag, this is the best value-for-money product because it includes a mixing beaker, a whisk, and a chopper and is compatible with other accessories sold by the same brand.
Being a dishwasher safe product has its advantages because once you are done mixing eggs, baby food or making juice, you can directly show it under a tap of running water. Most particles that stick onto the mixing tool will instantly be removed and you can rinse further to clean it. It can then be kept in the dishwasher for in-depth cleaning. The design occupies less space in the kitchen and it is capable of helping you complete different tasks without having to use different equipment for each one of them.
What Makes the KOIOS 800W 4-in-1 Hand Immersion Blender Powerful?
The powerful motor helps do all kinds of tasks including blending, whisking and juice extraction.
It is a great item to gift or own for use such as in preparing baby food or mixing egg whites etc.
Recommended For:
If you want to replace multiple kitchenware then, this is the right product to get.
It is easy to use and clean, making it the right fit for those who have little time to focus on kitchen equipment maintenance.
A Premium Quality Hand Mixer with Safety Features
Shardor 300W Ultra Power Hand Mixer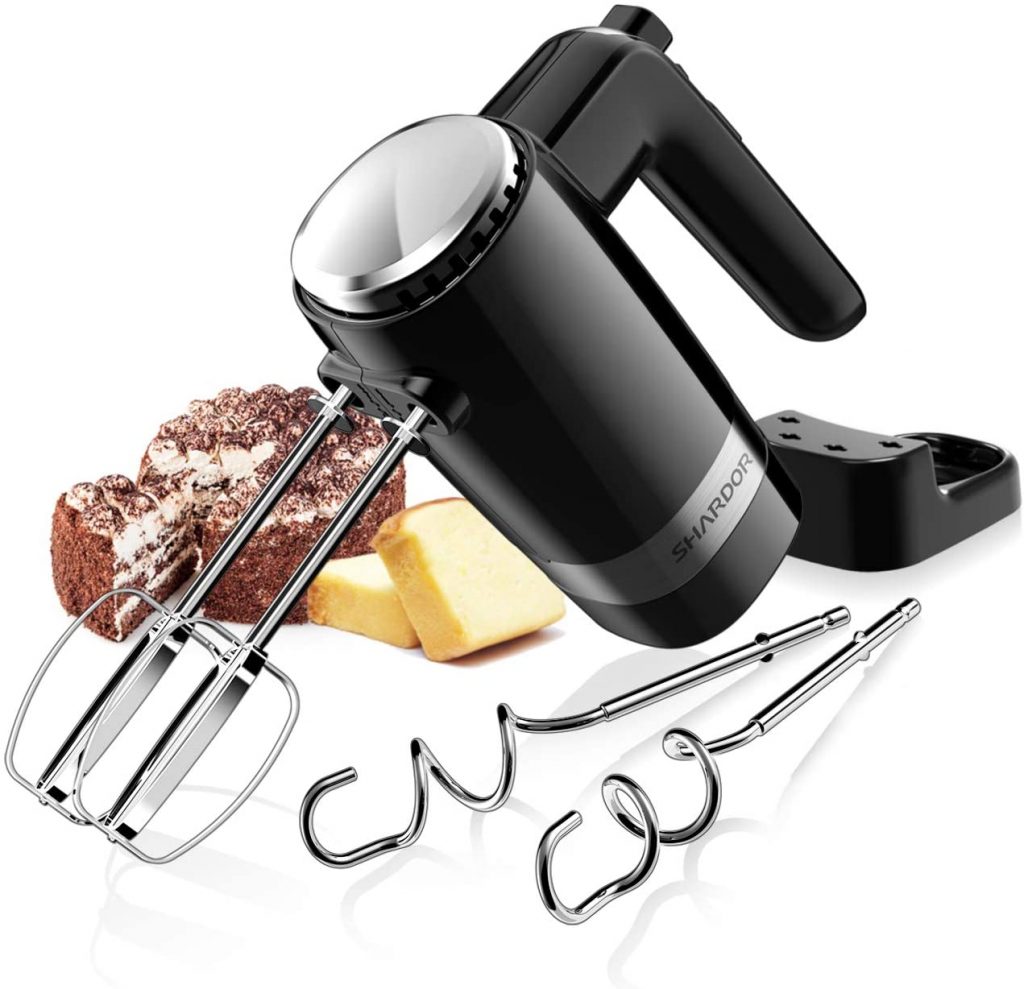 Most people are worried when they have to use powerful hand mixers with attachments. One main reason for their worry is that the accessory will get detached or they could lose their grip on the handle when mixing is in progress. The design of the Shardor 300W Ultra Power Hand Mixer offers better comfort, safety and a firm grip as it has a large body. Whether an adult or a teenager, anyone who needs to use it can hold it with both hands for assured safety when the motor is operational.
The best safety feature incorporated in this Shardor product is the manual eject button. After fixing an attachment into the motor, the probability of it coming off is nil. Unless and until you manually press the eject button to release the lock, the attachment will stay attached to the hand mixer. The large, curved handles are easy to hold with instant access to the speed settings, the turbo-speed button, and the eject button.
The powerful mixer runs on a 300W motor and has a 5-speed setting so that you can start with a slow speed and slowly increase to reach the highest setting. The storage base allows you to safely store the electric hand mixer and it has a total of 4 additional attachments which is part of the bundle. The product includes two different beaters, two dough hooks, and a storage base. Some of them can be stored in the base. You can also consider storing the frequently used attachments in the base.
What Makes the Shardor 300W Ultra Power Hand Mixer the Safest Hand Mixer?
Among the best hand mixers, very few have a manual lock and a dedicated safety button for the attachments.
The large handle is easy to hold while the storage case and the power cord can be rolled in for easier storage. It occupies very little space in your kitchen and the design looks elegant.
Recommended For:
If you have plans to encourage your young children to use the hand mixer for whipping eggs or make holiday cookies, the safety features assure you of their safety when using the mixer.
For chefs and cooking enthusiasts. A wide range of ingredients can be mixed for preparing different recipes using the Shardor mixer.
A Quality Hand Mixer for Everyone
VonShef Electric 5-Speed Hand Mixer with Stainless Steel Attachments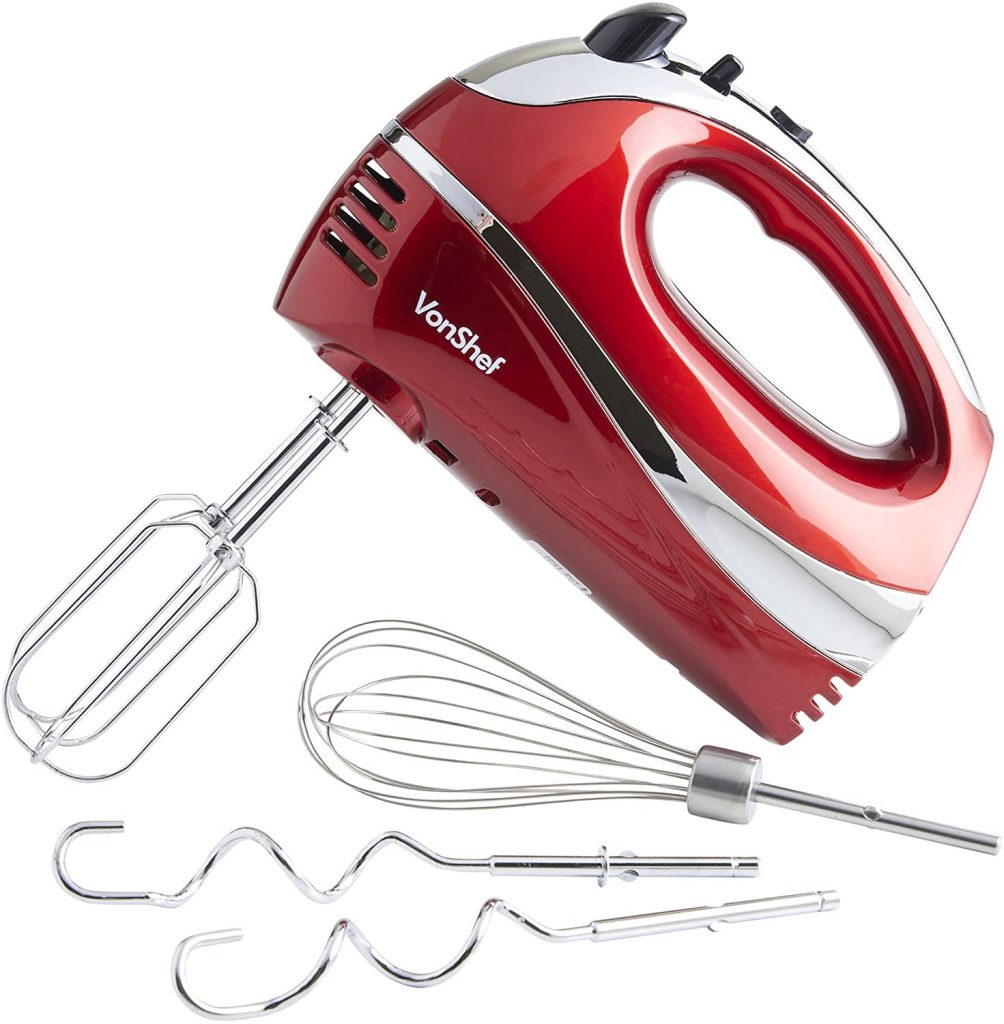 If getting a quick whisk done or mixing the ingredients is what you are after, there is no need to look further into the features of the VonShef Electric 5-Speed Hand Mixer. It is one of those mixers that has received positive reviews from thousands of people and continues to be the best-selling hand mixer out there. It suits most requirements and is an easy choice to make as it ticks all the basic requirements.
The hand mixer is easy to wash and is dishwasher safe. The attachments can be removed from the mixer with the click of a button. For additional safety, it is equipped with an eject button and once you mount an attachment, it is not possible to pull it off until it comes to a standstill. The hand mixer has a turbo mode setting and is equipped with a 250W motor that provides the power necessary to mix the baking dough and other ingredients.
The attachments are durable as they are made of stainless steel material. The handle is large, has an anti-slip grip for maximum comfort and is easy to hold. The buttons are conveniently placed near the handle for immediate access. The weight of any mixer plays a huge role in its comfortable usage because the best hand mixers should sport a lightweight design. The VonShef product is light and easy to hold in one hand for extended periods.
What Makes the VonShef Electric 5-Speed Hand Mixer an All-Rounder?
The product is priced right and is available in just two colors, making it easy to pick the one you like.
It is dishwasher safe, easy to use and comes with five attachments with hardly a necessity to purchase more attachments.
Recommended For:
If you love stainless steel material and like the feel of metal in your hands than an all-plastic finish, fits your need.
For buyers who need safety features and bundled attachments, the product meets both these requirements.
A Stylish and Vibrantly Colored Hand Mixer
Dash Smart Store Compact Hand Mixer Aqua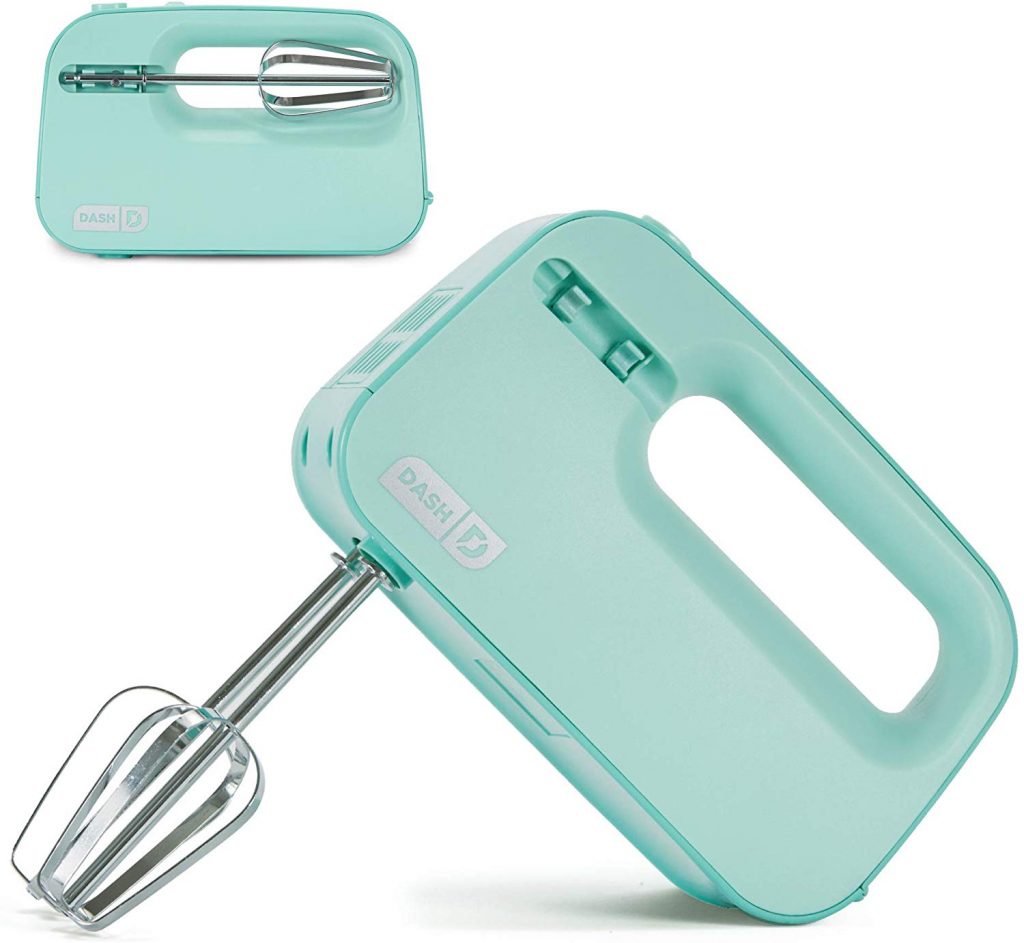 The best hand mixers don't have to be visually appealing as they are not fashion accessories. However, if you are among the few who love to maintain a color tone in your kitchen and keep things looking stylish, this will fit well into the pattern you are building on. The Dash compact hand mixer is available in multiple colors including aqua, red, white and gray. One of the most unique aspects of the product is design because once you remove the beater, it can be safely stored inside the gap found between the handle and the mixer.
The design ensures that you don't lose the beater and keep searching for it when you need it the most. The easy-to-use mixer is not expensive and is a simple yet effective addition to your kitchen. Instead of being stuck with repetitive recipes, you can explore further with mixes for new cookie variants, whip cream or egg whites as an add-on to your dish. The motor supports three different speeds that you can control with a single touch as it has a dedicated speed modifier.
It is convenient to store a compact and lightweight machine in your kitchen drawer. A storage clip allows you to comfortably keep the beater inside and store it as a single bundle. It makes it easier to retrieve the product and use it quickly. Apart from being a useful addition for your kitchen, you can also gift it as an add-on to a more expensive stand mixer. Hand mixers are useful to get things done quickly and you do not have to rely on a full setup for simple tasks like beating egg white etc.
What Makes the Dash Smart Store Compact Hand Mixer Aqua a Style Statement?
The product is available in a range of vibrant colors.
It is easy to store, stylish and compact in shape.
Recommended For:
Made for users who want a stylish product that is easy to use and store.
The colors are dazzling and if you are going for kitchen equipment that is visually appealing, you can buy this one.
Standard Hand Mixer with Quality Storage Case
Hamilton Beach 6-Speed Electric Hand Mixer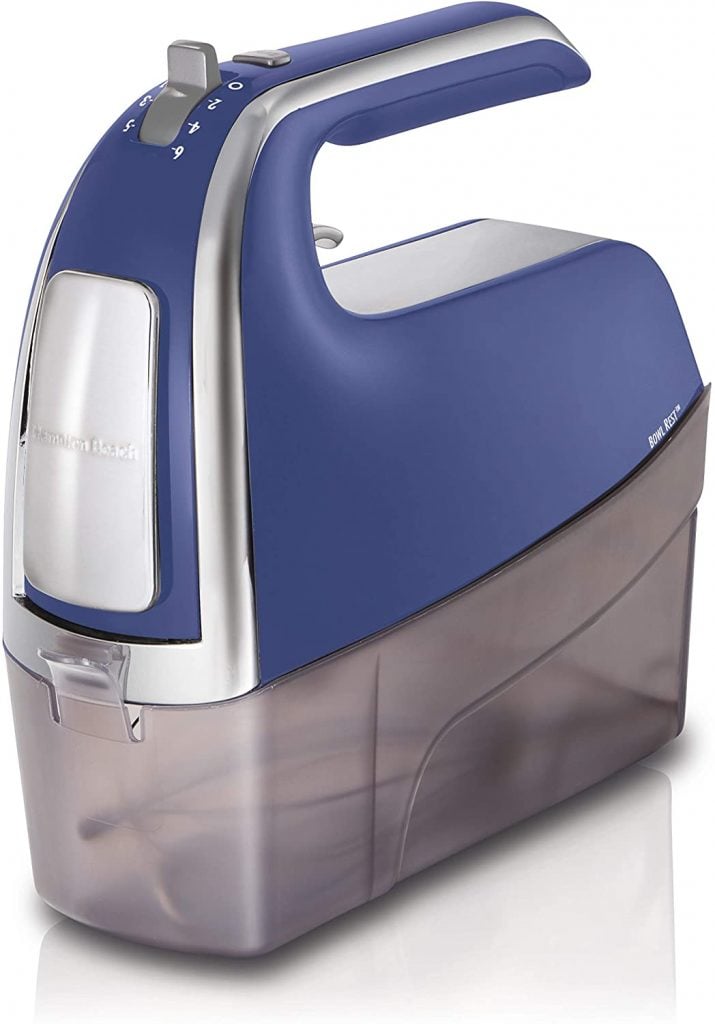 The first impression that anyone would get when they use the Hamilton Beach hand mixer is that it is premium and feels robust in the hands. The price tag, however, goes to prove that you don't need to spend hundreds of dollars to get a premium product. The Hamilton Beach 6-Speed electric hand mixer breaks all barriers and is one of the most recommended products among other best hand mixers because it gets everything done right.
Our pick is the blue-colored variant while you can go vibrant with the green, purple-colored mixers or stay low-key with a black one. The end product's performance and reliability remain the same. The beaters are particularly designed for fast beating which helps in completing the whipping process in a few seconds if it is cream or egg white. The varying speed makes it easier to use the dough hook and twist heavy dough when you are planning to makeover a dozen cookies for your children.
The 6-speed hand mixer is designed like a handle and has a flat design. The beaters or whisks are safely mounted below this mold, making the product extremely safe to use. The built-in pulse function lets you mix liquid ingredients without splashes while the quick-burst button saves the day if the mixture is thick and wouldn't mix easily. The mixer is powered by a 290-watts motor that makes it easy to handle all types of mixing including dough for bread or cookies.
What Makes the Hamilton Beach 6-Speed Electric Hand Mixer Safe and Sturdy?
The product is bundled with a snap-on case that helps store the attachments safely once the task is over.
The design promotes better safety and is easy to store. It also provides quick access to all the buttons.
Recommended For:
If you are looking for a product that is affordable yet has lots of attachments bundled, this one which includes 6 attachments such as wire beats, milkshake mixer, and dough hooks is the right one for you.
The eject trigger safeguards the attachments when you are operating it and an attachment can be removed only by pressing the eject trigger.
Sturdy, Powerful and Durable Hand Mixer
DmofwHi 5-Speed Electric Hand Mixer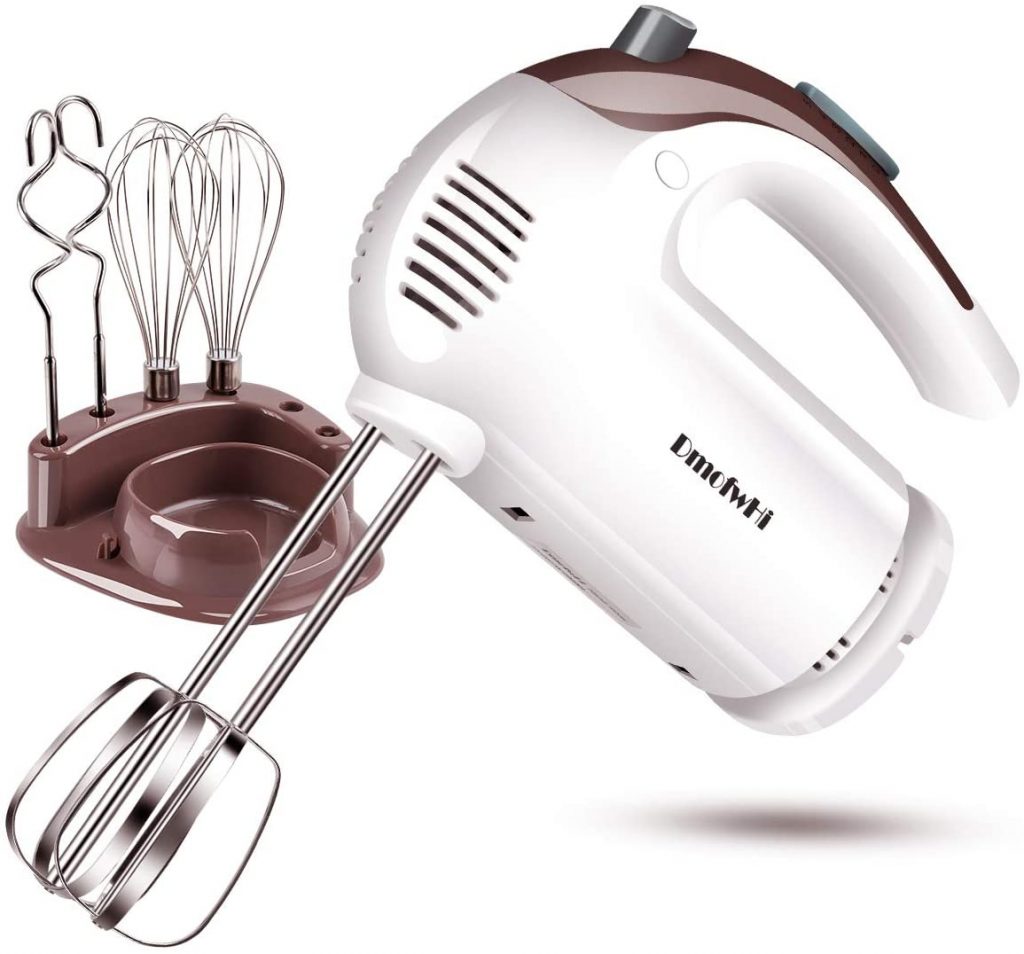 When you are shopping for kitchen equipment you will always have your focus on the pricing, the product's durability and how useful it can be in everyday application. Keeping aside the fact that this brand probably has a weird name, the DmofwHi 5-speed electric hand mixer is easy to store and use. Besides, it excels with a wide range of attachments that you can use while mixing different ingredients.
The attachments are all made of stainless steel material. It makes them extremely durable and easy to clean. Once you are done with whisking or whipping, simply show the attachment to running water and it can be cleaned quickly. For further cleaning, you can always use a dishwasher. The mixer is powered by an impressive 300W motor on the inside and has a 5-speed configuration which can be controlled using the conveniently placed switch.
As part of the bundle, the company provides two wire beaters, two balloon whisks, and two dough hooks. The attachments are all dishwasher safe and you can confidently place them in a dishwasher when needed. The product is safe to use as it has a dedicated eject button. The firm steel pins of the attachments are locked into position when the mixer is in use. It is one of the best hand mixers that has most of the features that a buyer would look for.
What Makes the DmofwHi 5-Speed Electric Hand Mixer an All-Rounder?
A quality product that comes with a range of attachments.
Easy to use and is equipped with a powerful motor.
Recommended For:
Suits users who need durable attachments that are easy to clean and store.
Includes a storage case and the cord can be rolled in for quick storage. This feature makes it perfect for people with limited space in the kitchen.
Conclusion
The market is flooded with different hand mixers that are super powerful and easy to use with different speed settings. If you are willing to spend more, the KitchenAid products are a worthy investment. However, for the vast majority of people, the best hand mixers need not be so expensive and usually are bundled with multiple attachments that are useful in whipping and kneading. Based on your budget and usage scenario, you can pick the right-hand mixer that delivers on the whole and offers value-for-money.
---