Technobezz is supported by its audience. We may get a commission from retail offers
As far as desktops are concerned, you can either buy a pre-built one or build your own PC. However, due to the
Table of Content
As far as desktops are concerned, you can either buy a pre-built one or build your own PC. However, due to the high prices of graphics cards and also, because it is difficult, if not impossible, to get hold of a top-quality graphics card, it makes sense to go for a prebuilt PC.
Buying Guide
There are many options for PCs in the top-of-the-line categories, but not everyone wants to spend a bomb getting a desktop. Luckily, there are several options for PCs under $1000 as well. Get the greatest bang for your buck with some of the best desktops under $1000.
While selecting desktops under $1000, you may want to watch out for the RAM, which should ideally be at least 8 GB, especially if you wish to play some of the latest games.
You should also be looking at a dedicated Video RAM so that the pressure on the RAM is reduced.
However, at this price you cannot expect an Intel i7 processor, so don't get your hopes high. On the bright side, even these desktops are perfectly capable of running the latest games at a reasonable price.
See also: Best desktops for students
Best desktops under $1000
Full HD IPS Monitor with Adjustable Tilt Stand
HP 24 Inch Touchscreen Desktop
Check Price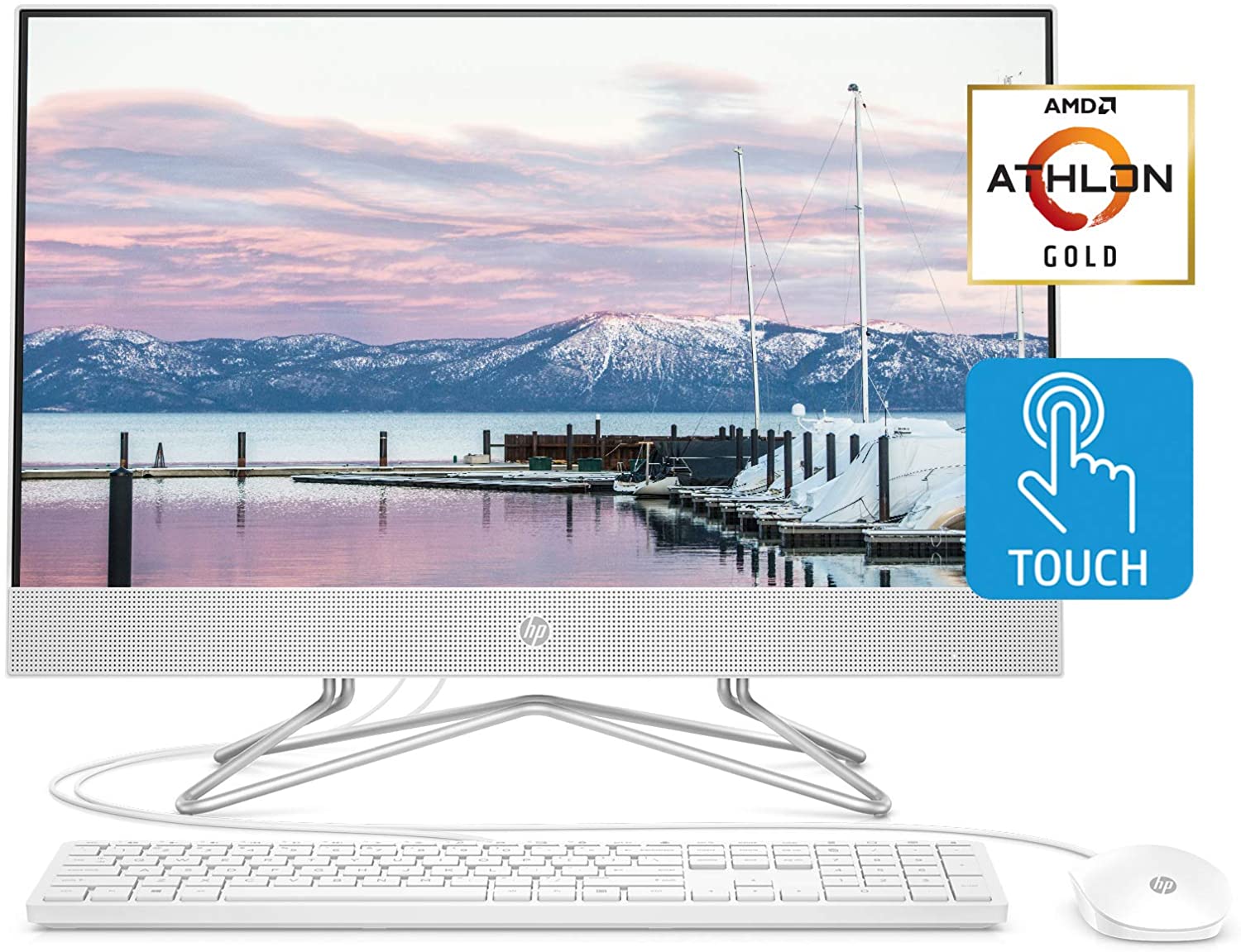 Powered by an AMD Athlon Gold processor, 512 GB SSD, and 8 GB RAM, this HP desktop offers seamless multitasking for professional and recreational purposes. The 24-inch touchscreen FHD monitor shows crystal clear images with three-sided micro-edge technology. Plus, it features an adjustable tilt stand for optimum comfort.
Windows 10 can upgrade your user interface while the easy WiFi connectivity can help you to stay connected to the world. Also, the popup HD camera of this desktop has a slide switch to ensure privacy. The snow-white elegant design of the desktop is environmentally conscious and hence, mercury and arsenic-free. The combo includes a USB keyboard and mouse.
If you're looking for a powerful all-in-one PC that's built for tomorrow, this HP desktop will be a good buy.

The thoughtful design of the desktop makes sure you can work from different angles.
WLED-backlit touchscreen monitor

IPS and full HD display

Fast dual-core processor

Huge storage option

Includes keyboard and mouse
Not the best model for gaming

Wired keyboard and mouse
Power-packed Desktop Ideal for Gaming and Coding
HP 23.8 Inch All-in-One Desktop
Check Price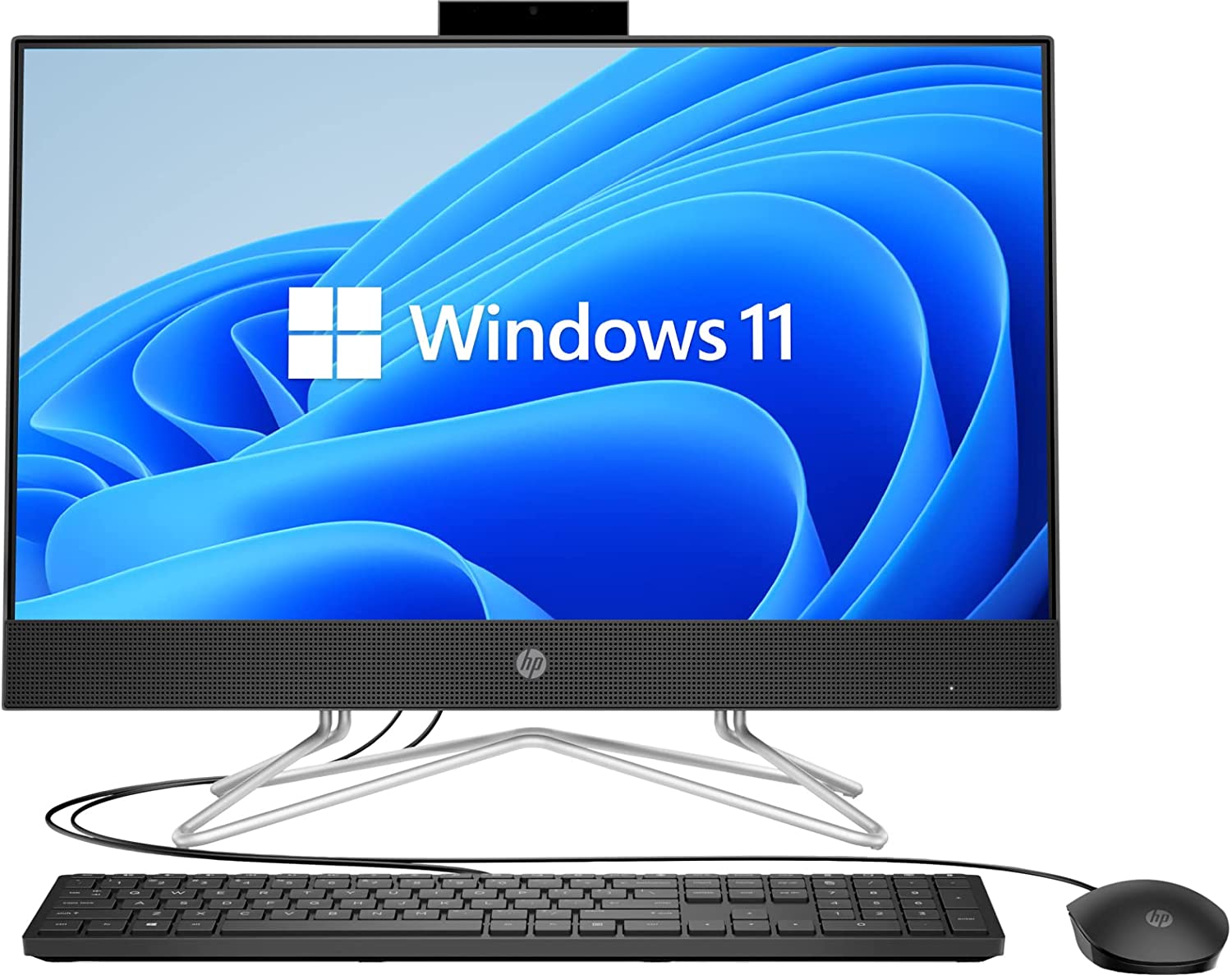 This all-in-one desktop from HP is equipped with the latest Windows 11 OS, Intel Core i5 processor, 16GB RAM, and 1TB SSD. That's not all as it also has a 1TB HDD to suffice all your storage needs. It's the most power-packed gadget within $1000 on this list. Overall, you can expect a super fast bootup while gaming, file transfer, and other computing tasks.
The 23.8-inch FHD IPS non-touch display of the ultra-sleek black monitor is designed with anti-glare and three-sided micro-edge features. The monitor comes with an adjustable tilt stand so that you can view the screen from multiple angles. The connectivity options provided are Bluetooth and WiFi 5. The combo pack includes a wired mouse and keyboard.
An ideal option if your performances include gaming, coding, editing, or other powerful tasks. Also good for office work or study.

This desktop with Windows 11 has the latest layout options, new game selection, and improved multi-monitor functionality.
Ideal for gaming and programming

The monitor has an adjustable tilt stand

Huge storage space

Powerful processor
Non-touch display

Doesn't have WiFi 6
Rotating Desktop Ideal for Homework and Entertainment
HP 21.5 Inch Chromebase Desktop
Check Price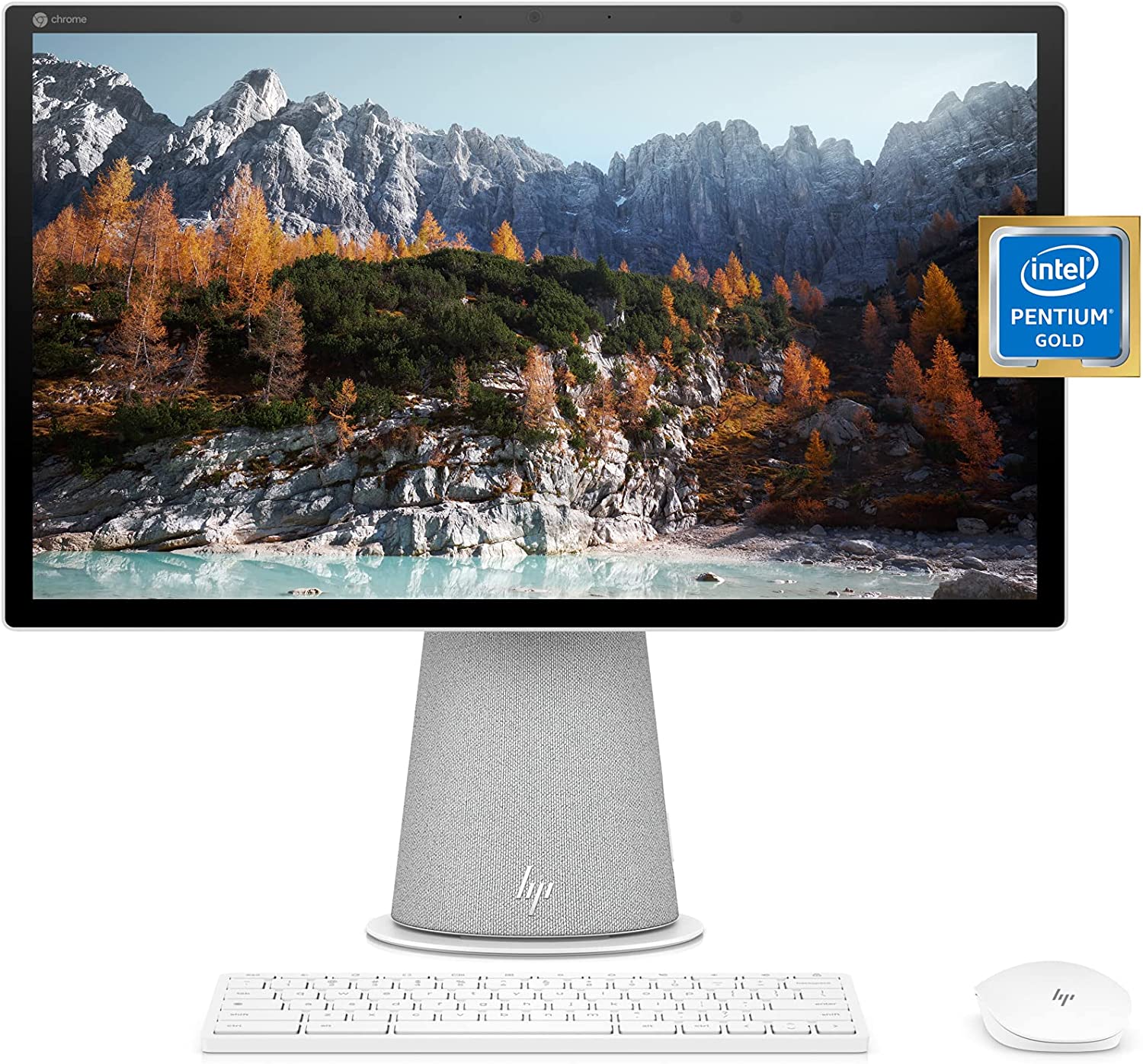 This HP desktop comes with a magnificent design, making it perfect for your plush apartment. Featuring a 21.5-inch FHD IPS touchscreen, the monitor offers bright, clear images that you can see from various angles by rotating the screen from landscape to portrait. And the premium touchscreen experience will surely live up to your expectations.
When it comes to the performance, the Intel Pentium Gold processor backed by Intel UHD Graphics, 4 GB RAM, and 128 GB SSD is ideal for homework and entertainment. And the Chrome OS offers smooth navigation during multitasking. The built-in tools like Google Assistant and Everything Button will let you search and perform tasks effortlessly. The combo includes a Bluetooth mouse and keyboard.
This touchscreen desktop with a micro-edge bezel and wide viewing angle is ideal for your entertainment sessions.

If you're looking for a rotating desktop for educational and recreational purposes, this one will be a good buy.
Landscape to portrait rotating desktop

Touchscreen experience

Attractive design

Easy search tools

Mouse and keyboard have Bluetooth
The processor isn't powerful

RAM could've been faster
Touchscreen Desktop with a Blazing Performance
Lenovo 22 Inch IdeaCentre AIO 3i
Check Price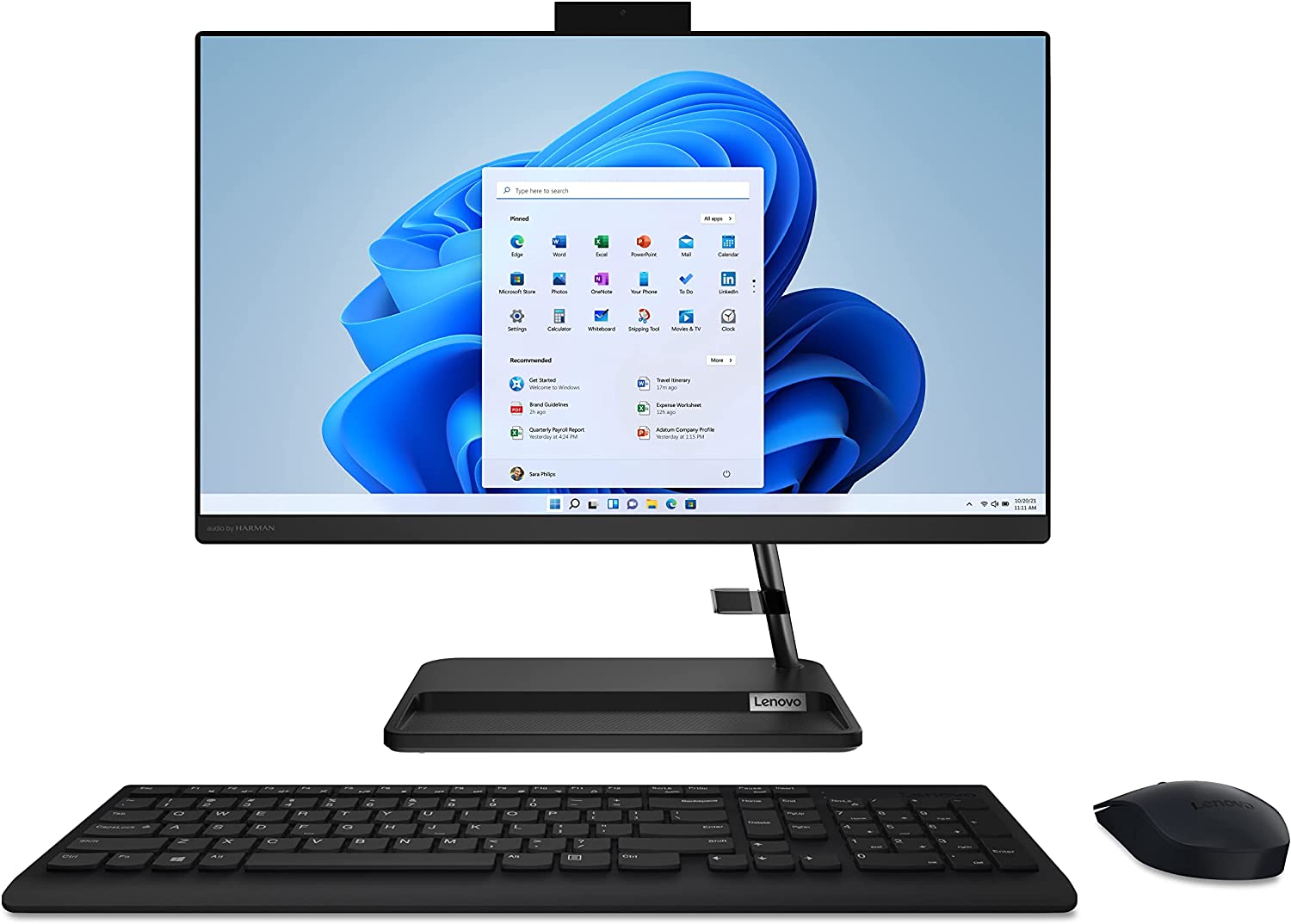 Moderately priced, this Lenovo desktop includes some attractive features like Windows 11, FHD touch display, Intel Core i3 processor, and 8GB RAM. The 256GB SSD offers sufficient internal storage space while making sure your desktop boots up fast and secure all the documents. Though it's not the ideal one to support the heaviest workloads, you can still expect a lot of gaming and powerful tasks.
The ultraslim 22-inch touchscreen desktop comes with a mobile phone stand, which is all about great convenience. There's a popup camera featuring 5M clarity to ensure an enjoyable video conference. And when it comes to the desktop clarity, you'll be spellbound with the wide-angle view and vibrant colors. The combo includes a wireless mouse and keyboard.
Why You Should Buy This?
If you're looking for an all-in-one desktop with blazing performance and good storage space, this one will be a good buy.

The touchscreen FHD desktop with a mobile phone stand and wireless components offers great convenience.
Pros
Touchscreen display with wide viewing angle

Wireless mouse and keyboard

Great quality popup webcam

Mobile phone stand

Excellent microphone
Cons
There's no USB-C port

Ports aren't conveniently located
Premium Desktop with Huge Graphics and Storage
Dell 27 Inch Inspiron 7700 Desktop
Check Price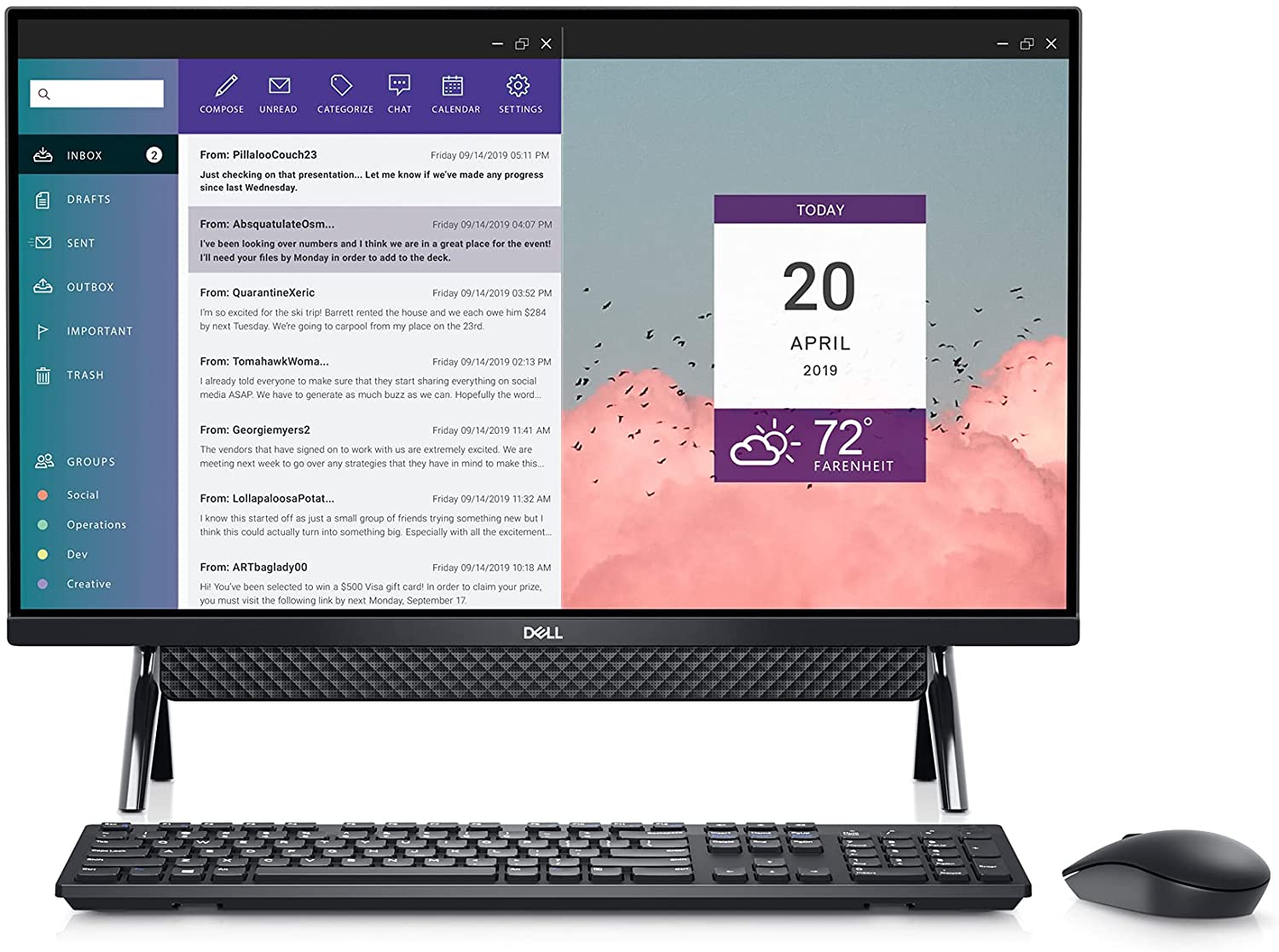 This one is another premium all-in-one desktop that you can go for blindly if your budget is $1000. Magnificent features like an FHD display, popup webcam, and Windows 11 Pro make it a perfect pick for professional or recreational purposes. The Intel Core i7 equipped with Intel Iris Xe graphics, 12GB DDR4 RAM, and a 1TB HDD will lend you a great experience while performing powerful tasks, gaming, and watching movies.
The massive 27-inch FHD screen of this Dell desktop is all about stunning visuals. And the sleek design with a narrow 8mm side border offers a wide viewing angle. Your tasks will roll through within a fraction of seconds for the ultimate configuration of this desktop. The combo has a wireless mouse and a keyboard.
This Dell desktop is an ideal choice for gaming, designing, coding, or daily computing.

The all-new Windows 11 will let you explore new layouts while providing you with ultra-smooth navigation.
Big display with wide viewing angle

Ideal for work and entertainment

Popup webcam quality is great

Ports are conveniently located

Huge storage space
Sleek and Stylish Desktop Ideal for Multitasking
Lenovo 21.5 Inch IdeaCentre Desktop
Check Price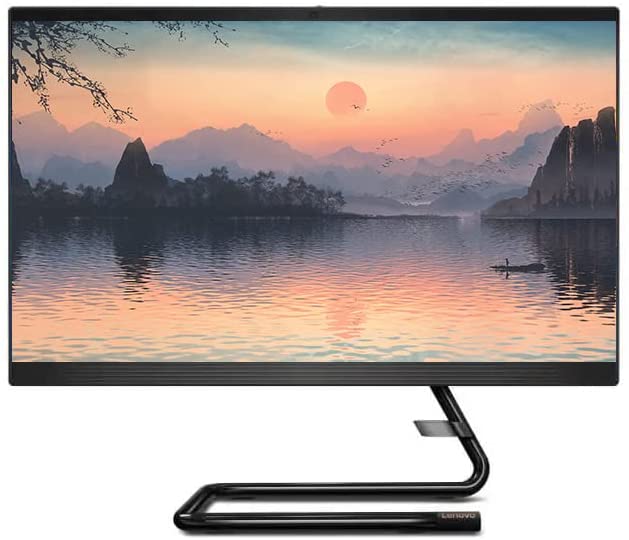 The latest IdeaCentre Desktop from Lenovo is all about precision as it's configured with some of the best technologies such as AMD 3050U processor, Windows 11 OS, 8GB RAM, and 256GB SSD. You can expect smooth navigation, speedy computing, and sufficient storage space from this compact all-in-one gadget. And the sleek design of the monitor with a narrow border is ideal for your home setup.
This desktop features a 21.5-inch FHD IPS touchscreen display that's supported by advanced AMD Radeon graphics. Whether you're a gamer or a content creator or a coder, you'll have an amazing experience working on the screen. Apart from the desktop, the package includes a keyboard and mouse.
Why You Should Buy This?
If you're looking for an all-in-one desktop with a great configuration that's ideal for work or play, this one will be a good buy.

If you aren't looking for a gigantic screen, the 21-inch display will be an ideal option.
Pros
Touchscreen display with sleek border

Latest operating system

Strong graphics

Overall great configuration
Cons
Speaker quality isn't up to the mark

The screen could've been bigger
You may also read: Best 11.6 Inch Laptop
All in One Touchscreen on a Budget
Acer Chromebase AIO Touch Desktop
Check Price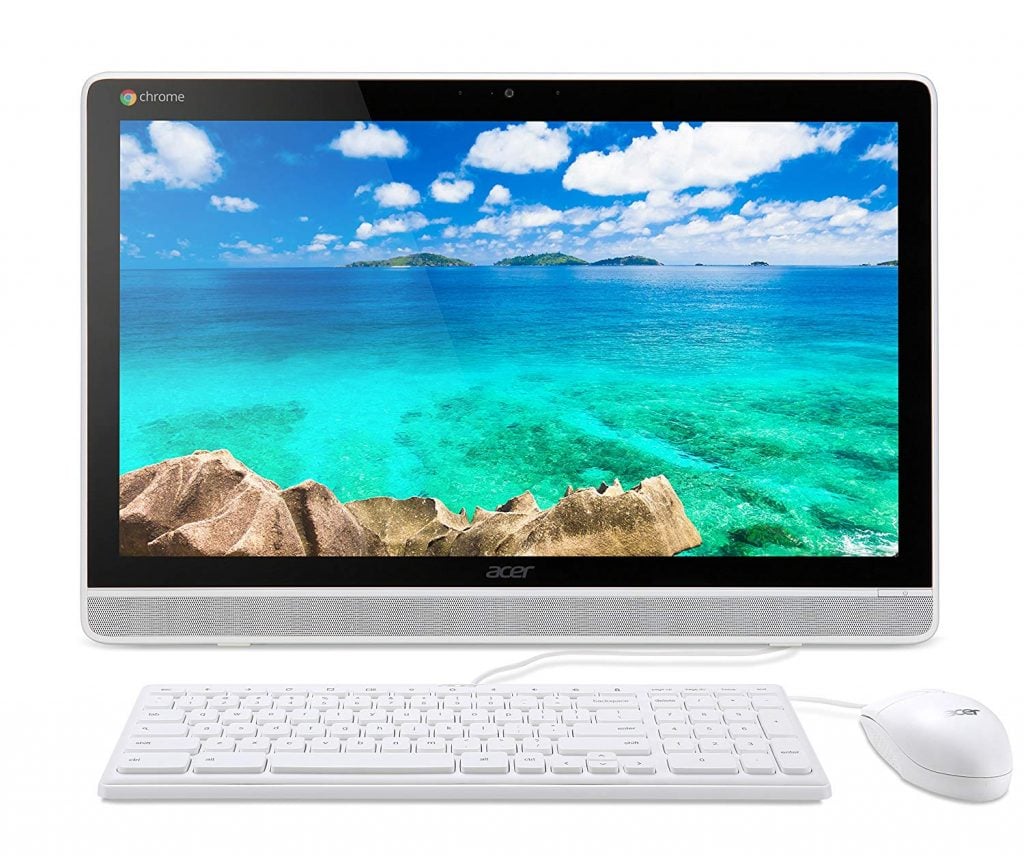 The screen is a full HD 23.8 inches in size. You can also save space and put the display on the wall using the VESA mount. The screen resolution is 1920 x 1080 pixels with an aspect ratio of 16:9. The PC is powered by the Intel Core i5 5200U and it clocks at a speed of 2.7 GHz. This is combined with a RAM of 8 GB. The hard drive size is 32 GB SSD.
Touch controls are accurate and responsive. As for the ports, there are 3 3.0 USB ports; one 2.0 port; one HDMI out; one RJ45 Ethernet port, and two speakers of 3.0 watts brightness at the back.
The dimensions are 22.9 x 1.4 x 15.8 inches and the weight is 22.3 pounds. It comes with a keyboard and mouse included.
Recommended For:
Those looking for a super affordable, all-in-one desktop with a monitor.
Those looking for a touch model screen on a desktop.
Those looking for a PC to handle regular, daily tasks.
Suitable for those who want good video conferencing features.
Ideal for watching movies, as the aspect ratio makes it look dramatic.
Conclusion
Investing in desktops could seem an intimidating proposition with so many options available at different prices. You might think it is nearly impossible to find a good PC for below $1000. It is challenging to find one with good speed and features to get the best performance for daily tasks and gaming.
However, the above list does seem to fit the bill. These are some of the best deals available on Amazon right now. The PCs are targeted at people who want to play games at a resolution of 1080 pixels, with medium or high graphics settings.
---