Featured in this article (opens in new tab)
Professional creators spend a lot of time editing videos, most of which are being made in 4K resolution now. Desktops are an excellent choice for this purpose, as they have more space to dissipate heat, are easier to upgrade, and have a full graphics card that often renders more power than the edition used in a laptop.
Buying Guide
Nvidia Quadro cards are the best bet for your editing requirements, although Nvidia GeForce graphics cards and AMD cards can also meet the purpose. If you opt for the latter, they tend to be multipurpose, as you can use them for gaming and video editing or graphics designing requirements. Below are some of the pre-designed desktop PCs available from popular manufacturers.
High performance for video editing is based on graphics like Ryzen and AMD. Nvidia Quadro cards are the best bet for your editing requirements, although Nvidia GeForce graphics cards and AMD cards can also meet the purpose. If you opt for the latter, they tend to be multipurpose, as you can use them for gaming and video editing or graphics designing requirements.
These are the important things to look for while buying desktop PCs for video editing -
High-end Graphics card support
Storage capacity
CD/DVD drive
Touchscreen
Display size
A very powerful processor like i7 or higher
Below are some of the pre-designed desktop PCs available from popular manufacturers.
See also: Best Desktops Under $1500
Best desktops for video editing
Stylishly-designed HP Desktop Crafted for Great Video Editing Experience
HP Essential All-in-One, 27" Desktop with AMD Ryzen 5 5500U
Check Price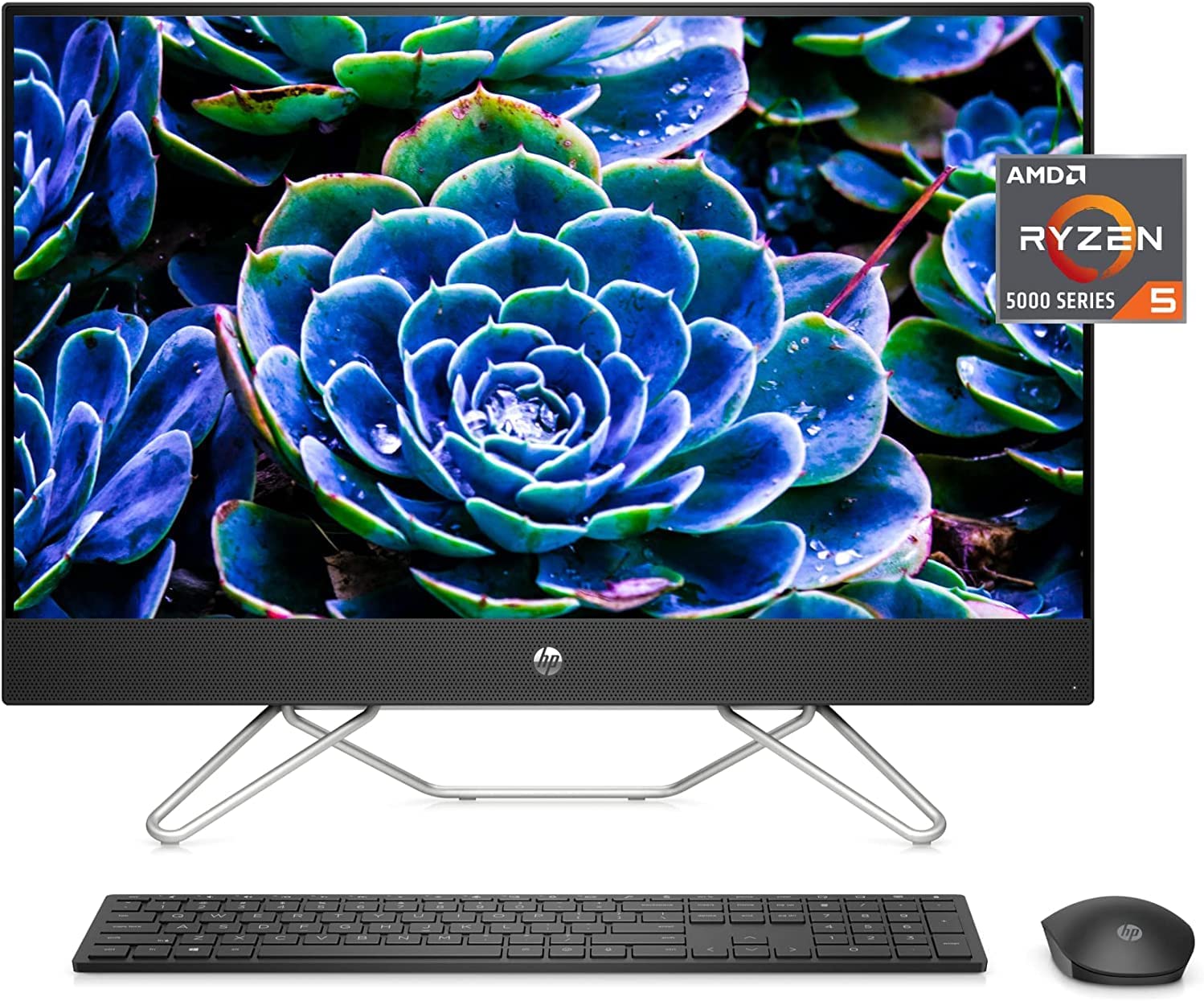 The HP Essential All-in-One 27" desktop has a sustainable design that entails ocean-bound plastics and post-consumer recycled plastic. Its durability and intuitive touchscreen technology enable optimal clarity of visuals in video editing and other graphics. Durability and design form this machine's core, power-packed with the AMD Ryzen 5 5500U processor. This processor offers you myriad possibilities to create and edit visuals of optimal and appealing quality.
This machine comes with Windows 11, which offers you innumerable options to express your creative skills. Its micro-edge display offers an expansive view of all your graphics, while its anti-glare panel protects your eyes even after long hours of usage. The DDR4 RAM helps render data at twice the speed of SDRAM chips. This incremental bandwidth boosts the overall functioning of this machine, on which you can perform various tasks in an error-free manner. Backed by the latest technology, this is a must for all your video editing tasks.
High-performing machine powered by AMD Ryzen 5 5500U and AMD Radeon graphics and sustainable design

Offers a seamless wireless experience for users
Hard Drive of 1 TB

AMD Ryzen 5 5500U and AMD Radeon Graphics
No optical storage device or DVD

No touchscreen
Classy All-in-One Dell PC for Impeccable Video Editing
Dell Inspiron 770 with GeForce MX330
Check Price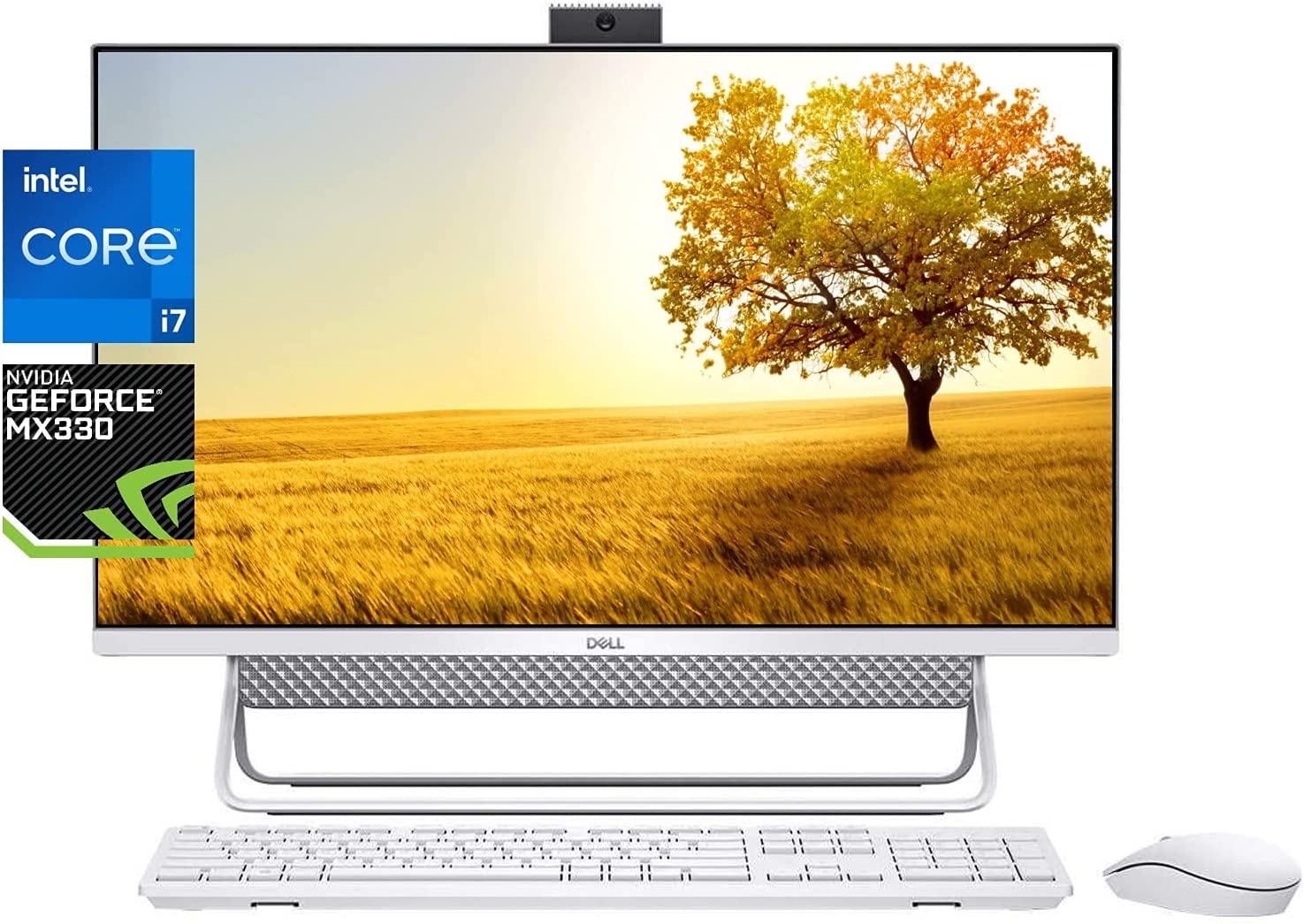 The NVIDIA GeForce MX330 processor enhances the video editing properties of this feature-rich desktop. Its FHD Infinity touchscreen, a Core i7 central processing unit, and GeForce MX330 offer almost 2.5 times speedier performance. Its Core i7 helps in quality media-editing and media-creating functions. With its high-end editing features, you can obtain the most superior-quality images and videos. The viewing experience is further enhanced by its 27-inch full high-definition anti-glare screen, which has a sleek finish.
Video-editing professionals will revel in its 32 GB high-bandwidth RAM as it enables numerous applications. This is further boosted with a 512GB Solid State Drive and 1TB Hard Disk Drive to facilitate a speedy data transfer. The wide-viewing angle of this machine offers you great clarity of the finer details, which may otherwise go unnoticed in a video or image. Packed with the latest professional graphics and Intel Core, this slim machine provides aesthetic video-editing results. Its pop-up webcam retracts and protects you from inquisitive viewers.
It boots up fast and can handle almost all video-editing requirements.

It's designed for large files and offers you a rock-steady performance at all times.
Attention-grabbing 27-inch touch screen

Fastest processor speed of Core i7

Power on/Wake-up support
It does not have a CD/DVD drive
Powerful AIO Lenovo IdeaCentre for Challenging Tasks
Lenovo AIO 5i Desktop with Intel Core i7
Check Price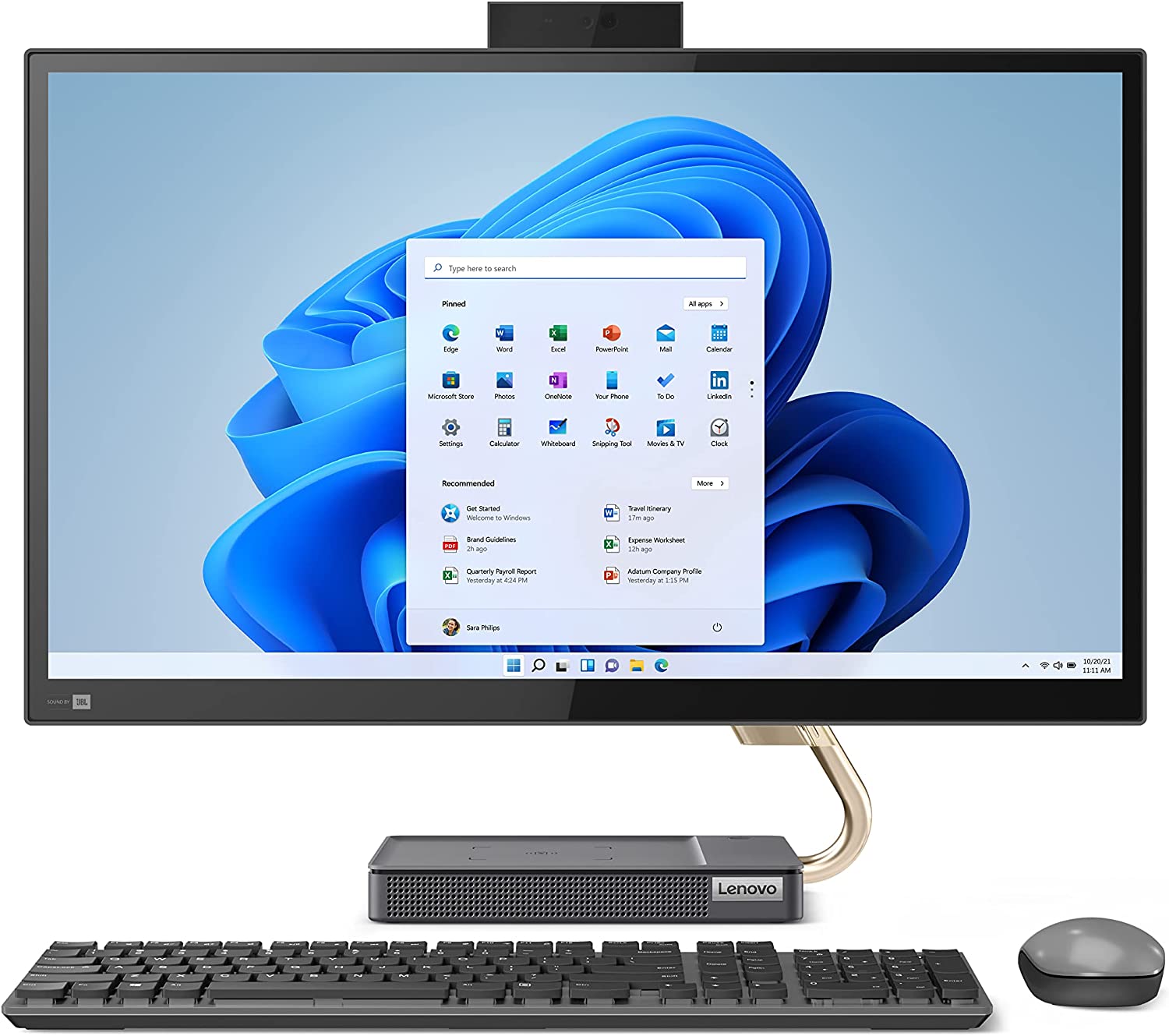 The surround-sound Dolby experience of this machine is every video editor's delight. The Intel Core i7 processor clubbed with 16GB DDR4 memory, makes the Lenovo 5i a true workhorse. This works flawlessly for all multi-media tasks and assists you in creating and editing crisp graphics. Thanks to its USB-C and 2 USB 3.2 Gen 2 Type-A ports, you can transfer heavy files at great speeds without any stuttering.
The slim design of the Lenovo AIO includes a slim screen that spans 27 inches which makes viewing a delightful experience. With immense clarity, you can edit your videos on its Quad-HD touchscreen. Its integrated Qi wireless phone charging, keyboard, and mouse take up less space, making the surroundings free of clutter. The machine comes with Windows 11 and also includes built-in Bluetooth. Renowned for its productive functioning, video editing has become more exciting because of its 93% screen-to-body ratio. This ensures security during video chats and video conferences.
Brilliant screen display and certified JBL speakers which provide superior quality audio

The aesthetically-designed screen is a visual delight for video editing
Powerful processor to execute heavy tasks

Large Quad-HD touchscreen
No warranty information is disclosed

When the CPU is slightly overloaded, the cooling fan tends to become a little loud
A Powerful Desktop with i7 Processor that's Every Video Editor's Choice
Intel Core i7-10700 HP ENVY Desktop
Check Price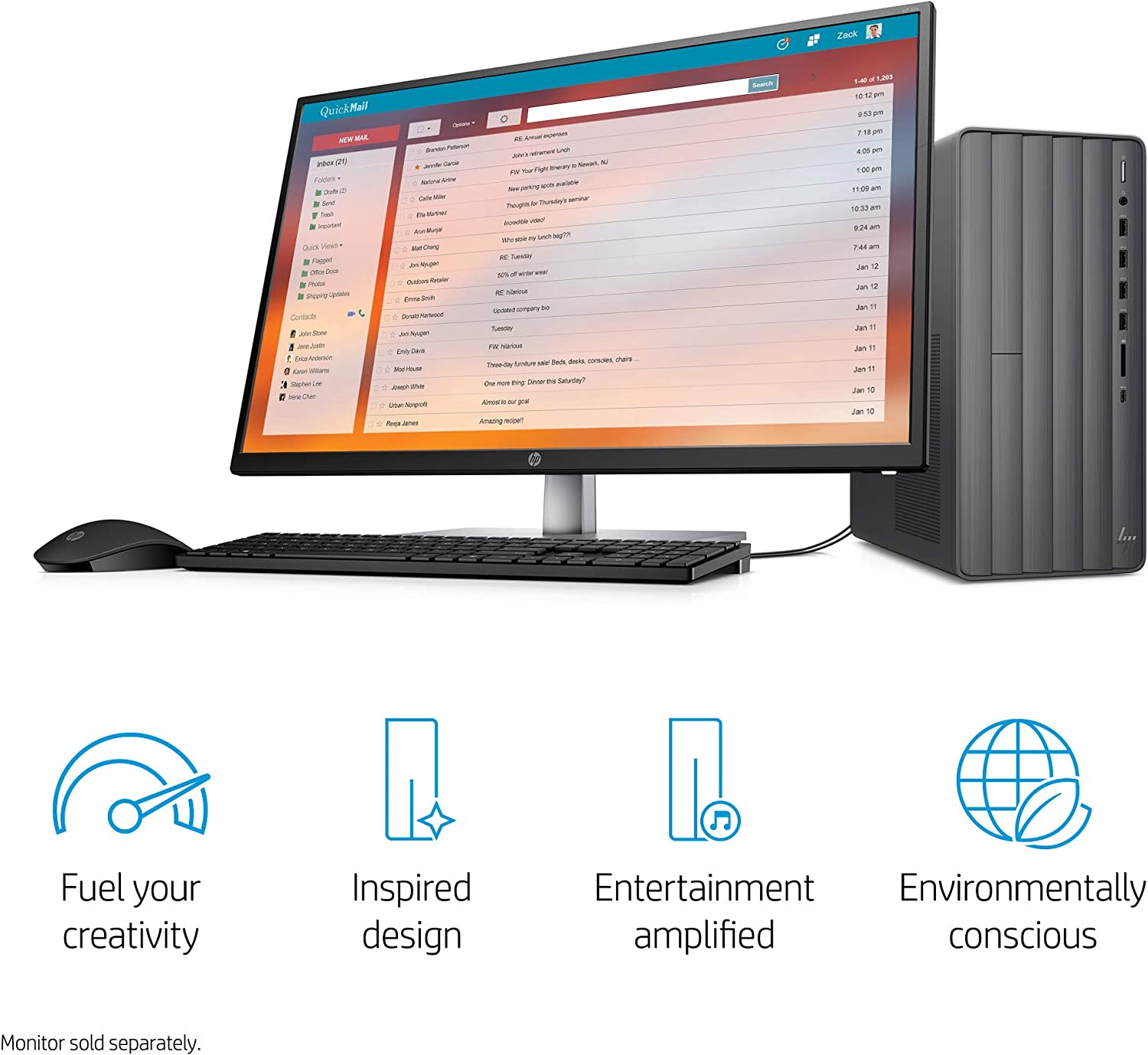 Reliable and tough, the HP ENVY is a dream machine that comes with a highly powerful processor. It is renowned for its high-speed rendering of heavy files and is highly effective for video editors and graphics professionals. You can edit, stream and watch seamlessly for a long time. It has a large storage capacity, enabling you to store your videos, movies, and other data comfortably. It has Realtek Wi-Fi 5 (1x1) and Bluetooth 4.2 Combo.
The dual-display feature of HP ENVY provides an immersive experience and is well complemented by the surround sound output. It has numerous ports which are easy to access. This machine is easy to boot and functions at lightning speed even with numerous applications being accessed at the same time. It has an impressive 3-side thermal venting as well. Backed by the latest technology, this machine furnishes you with a fantastic streaming facility unlike any other. It also allows you to synchronize your content online with Dropbox.
Why Should You Buy This?
It comes with Intel Turbo Boost Technology and is energy-efficient.

You can connect to a second monitor because of the numerous ports.
Pros
You can upgrade your RAM to 32 GB

It comes with a 400W power supply

The ultimate machine for video editing
Cons
At times, it becomes difficult to revive it from its sleep mode
Extremely Powerful Desktop that's a Hi-end Video-editing Dynamo
Lenovo IdeaCentre AIO with Intel Core i9 and 32GB RAM
Check Price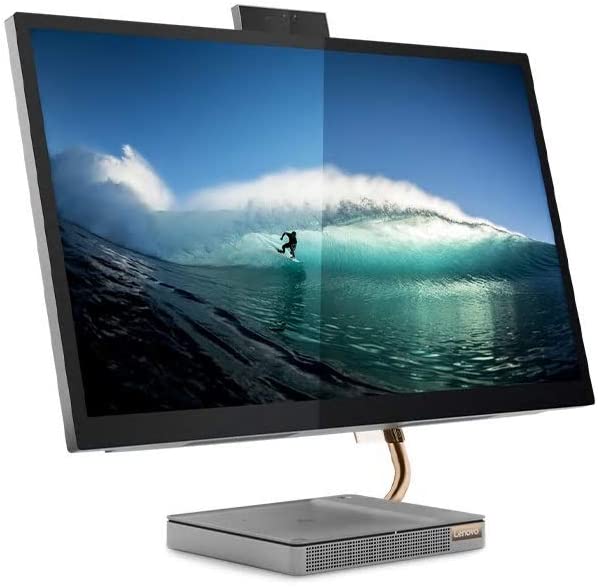 If you like the thrills of speed when it comes to graphics, the Lenovo IdeaCentre Core i9 is your best bet. Its unmatched power-packed processor renders an extremely smooth and superfast transfer of files and streaming of movies and videos. The 32GB RAM and SSD drive of 2 TB boosts this machine consistently.
The stunning multi-touchscreen display makes for a delightful visual experience. You can multitask with numerous applications opened simultaneously without the performance being affected. Speed is second nature to this machine, whose screen stretches 27 inches and is coupled with premium quality surround sound speakers. Its 1080p webcam, mic, smooth Wi-Fi, and Bluetooth features make this a preferred choice for most video editors.
It functions at a phenomenally fast speed

It allows you to multitask seamlessly
Wireless type – 5GHz radio frequency

Powerful processor – 5 GHz Core i9
No optical drive

Microphone USB issues are common
A Superfast Desktop That Offers a Memorable Video Editing Experience
HP AIO 27" Desktop with AMD Ryzen 7 8-Core Processor
Check Price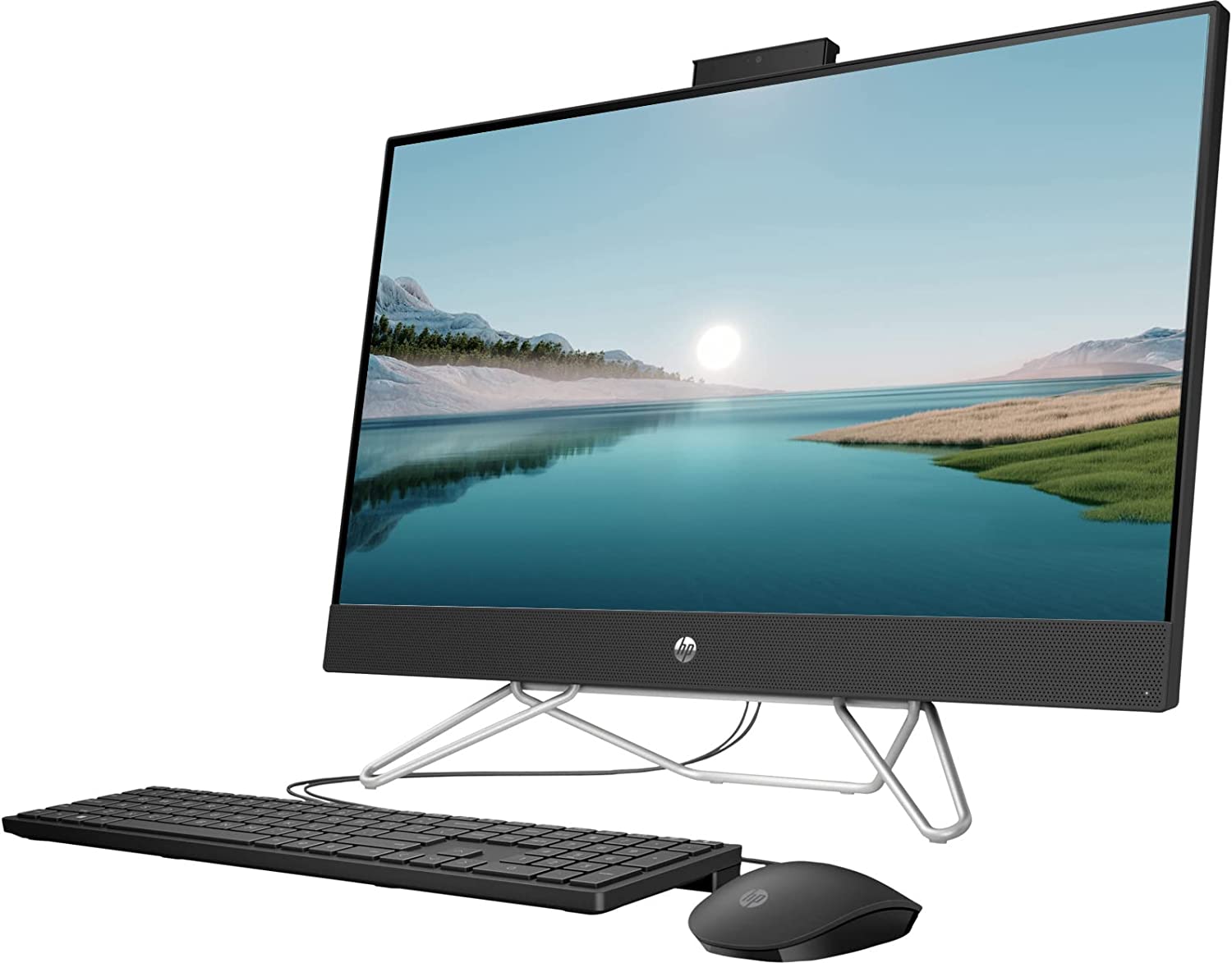 You have a super fast machine on your hands when you have Ryzen 7 and a RAM of 32 GB high-bandwidth coupled with a 2 TB Solid State Drive. The HP AIO encompasses an AMD Ryzen 7 5700U 8-core processor, which assures you of optimal performance in video editing as well as other heavy apps. Its AMD Radeon Graphics processor makes editing an unforgettable experience on the machine's striking 27" screen. With 32GB RAM and 2TB of Solid State Drive, this machine enables you to work on multiple tasks simultaneously, uninterruptedly, and flawlessly.
This machine's massive storage space, unmatched Wi-Fi, and Bluetooth connectivity enable easy data transfer of very heavy files. The operating system of Windows 11 complements the overall performance and speed of the machine's chipset. Its full high-definition (FHD) feature sets the pace for quality graphics and overall visual delight.
Why Should You Buy This?
The Ryzen 7 57000U 8-core processor boosts the machine's performance.

The 27-inch display screen makes video editing on this machine an enjoyable experience.
Pros
AMD Ryzen 7 5700U 8-core processor makes video and graphics editing an incomparable experience

Its eight ports allow you to link to other devices
Cons
No wireless keyboard or mouse

No optical or media drive
Conclusion
When buying the best desktops for video editing, it's great that you are going for a desktop with more scope for an upgrade and unparalleled performance. A compact PC saves space but may not support upgrades. While a large one can help reduce the cost associated with mini workstation setups. You can pick the one that best suits your requirements. An Nvidia Quadro card is ideal for video, audio editing, and graphic designing software such as AutoCAD. In contrast, an Nvidia GeForce card makes it a multi-purpose PC for gaming and professional video editing.