Featured in this article (opens in new tab)
With PCs under $1500, you can enjoy high-end gaming and avail yourself of top productivity and content creation features. This price range brings in desktops with high-end hardware capable of handling tasks quickly and efficiently, suitable for reasonable streaming and performance for hobbyists and professionals.
These desktops are equipped with a powerful processor clocking at more than 3.0 GHz with good RAM and hard drive speeds. The list has been compiled for desktops ranging below $1500. It can be considered midrange for high-end PCs, fit for gamers and professionals who wish to accomplish tasks like video and sound editing, coding, multimedia, and photo editing. At this price, you can enjoy good quality gaming, streaming, coding, and rendering experiences.
Buying Guide
Here is your checklist before buying a desktop under $1500:
i5 processors or higher processors can manage productivity tasks much faster.
Reduced heat production
Long-lasting battery life and large storage
Secure connection
Integrated camera
WLED backlit
Wired and Wireless keyboard & mouse connectivity
Compatible with Android apps
DVD/CD player
Touchscreen monitor
Sleek bezel design
See also: Best Desktops For Students
Best desktops Under $1500
FHD Windows 11 Desktop 16GB RAM
All-in-one HP Desktop with Realtek Wi-Fi
Check Price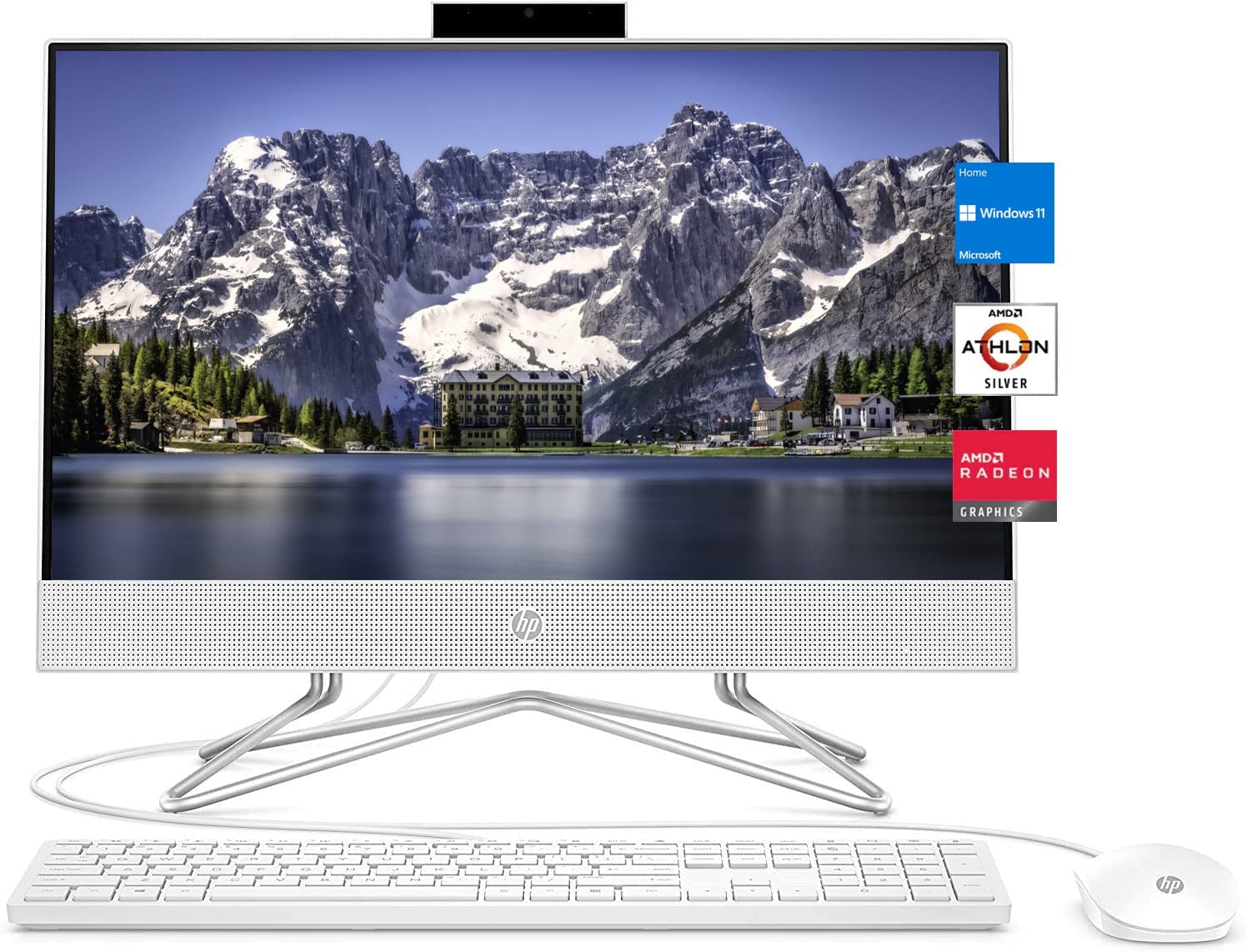 The HP desktop is powered by the AMD Athlon 3050 Series processor that offers uber-rich features to ensure speedy response and unhindered functioning for long hours. This computer comes with wide-viewing angles and a 21.5 -inch screen. Packed with the new striking features of Windows 11, its AMD Radeon graphics and FHD IPS display allow you to enjoy all your entertainment with crystal-clear visuals.
Enormous storage and high-speed RAM enable the running of multiple applications and browsers seamlessly. Its non-reflective and the low gloss anti-glare panel is soothing to the eyes.
This desktop comes with a 512 GB PCle SSD, which makes the machine function effortlessly and at a fast pace.
The Realtek Wi-Fi and Bluetooth 4.2 ensure excellent wireless connectivity.
WLED backlit
Wired keyboard & Mouse
Compatible with Android apps
Stunning window layout options
Three-sided micro-edge display
No DVD CD player
No touchscreen monitor
16 GB Desktop with Intel Turbo Boost Technology
11th Gen Dell Inspiron with NVIDIA GeForce MX330
Check Price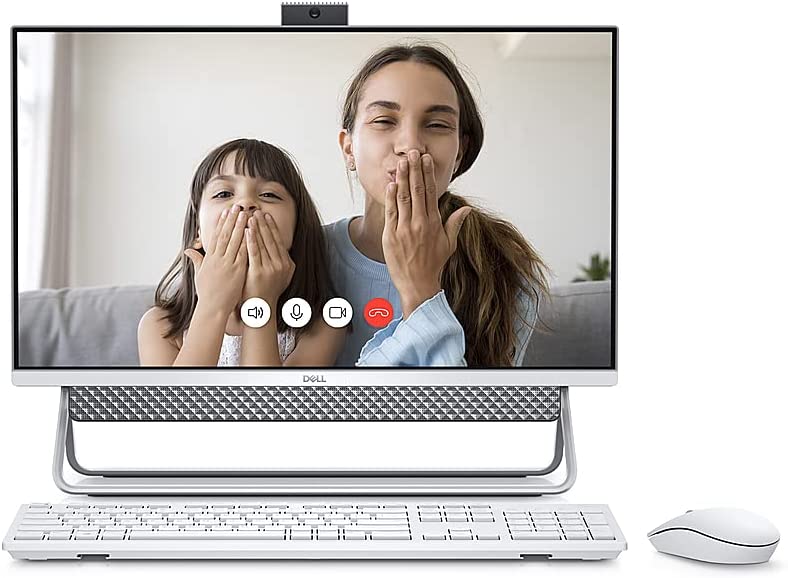 This desktop is a machine for creative geeks. This desktop comes with a 23.8-inch FHD and minimal load times. Its built-in webcam, speakers, and microphone make it the ideal machine for conference calls. This machine has a huge storage space of 256GB SSD, complementing a 1TB hard disk drive.
For those yearning to indulge in spectacular graphics, the NVIDIA GeForce MX330 is the ultimate solution to enjoy smooth gameplay. The built-in anti-glare technology minimizes mirror-like reflections and glare. The DDR4 RAM of this desktop provides a high bandwidth which facilitates the smooth functioning of graphics-heavy content. You can wirelessly transfer music, photos, and other media content without stuttering.
It comes with a touchscreen and a professionally-tuned Waves MaxxAudio Pro which offers unmatched audio quality.
Its Solid State Drive provides you with faster start-up times and data access.
Space-efficient
Reduced heat production
Long-lasting battery
Large storage
Bluetooth 5.1 interface
The integrated camera doesn't have adjustment features
All-in-one 11th Gen Desktop with 512 GB
Windows 11 Lenovo Desktop with FHD Touchscreen
Check Price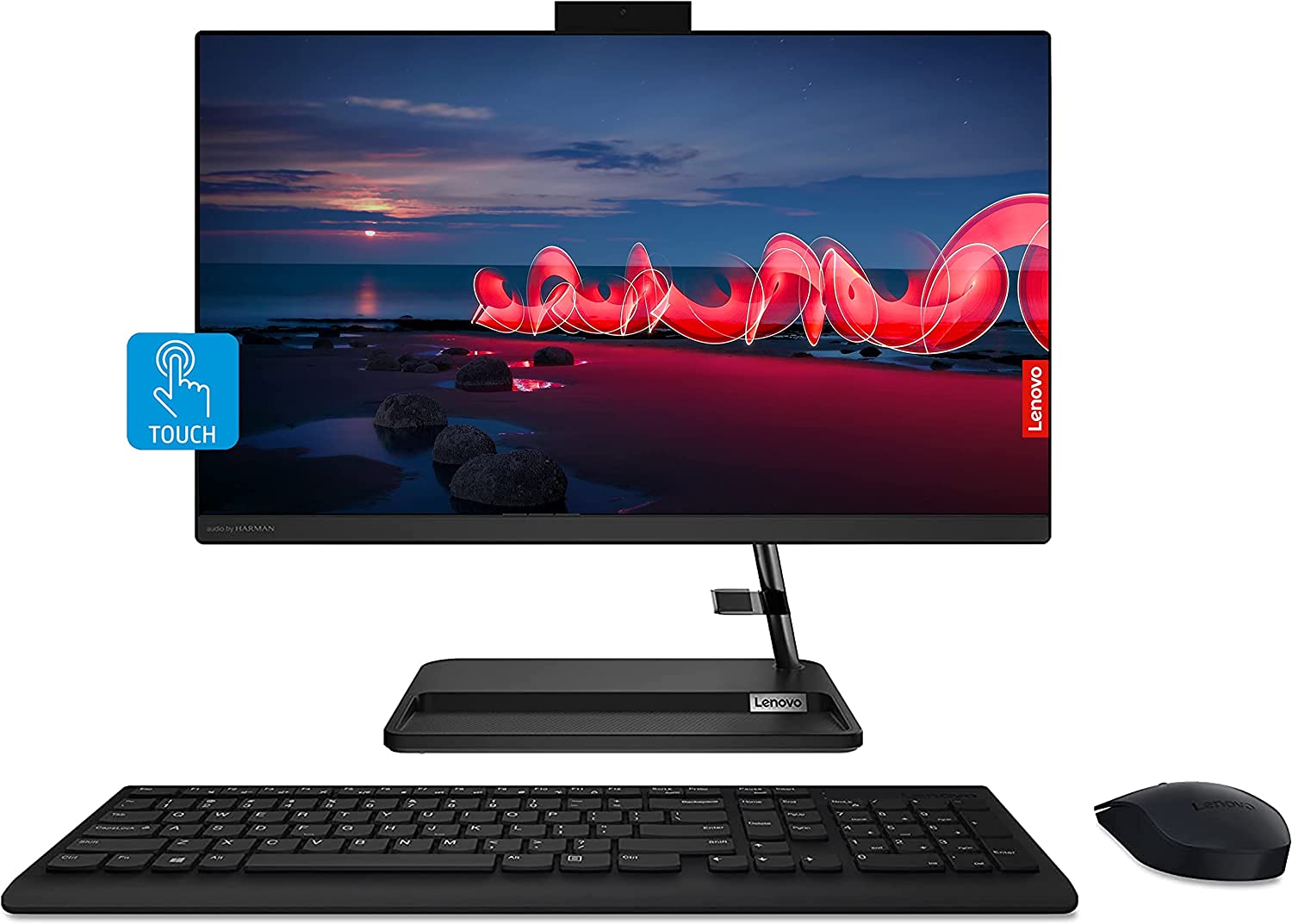 You can breeze through premium quality content on this desktop's 22" touchscreen, which comes with a multi-touch display. Its 16GB RAM and 512 GB SSD enable quick bootup of the machine and help transfer data at incredible speeds. Its high bandwidth enables you to run several applications and browser tabs simultaneously.
Equipped with an Intel Core i3 1115G4 processor, this desktop also offers a private shutter on the camera. This AiO 3i furnishes a wide-angle view on an FHD touchscreen to enjoy your content in a range of brilliant colors. Its 3-watt stereo speakers suffice to give you a soothing audio experience.
This desktop offers ample connectivity options with its various ports and enables the transfer of data at unbelievably fast speeds of 10 GB per second.
You can enjoy all your entertainment and infotainment content with a 3i wide-angle screen.
Seamless video conferencing
Wireless keyboard & Mouse
Sleek bezel design
Wi-Fi with Bluetooth 5
720P and Dual array microphones
FHD Infinity IPS Touchscreen Desktop
27-inch Dell Inspiron All-in-one with 512 GB SSD
Check Price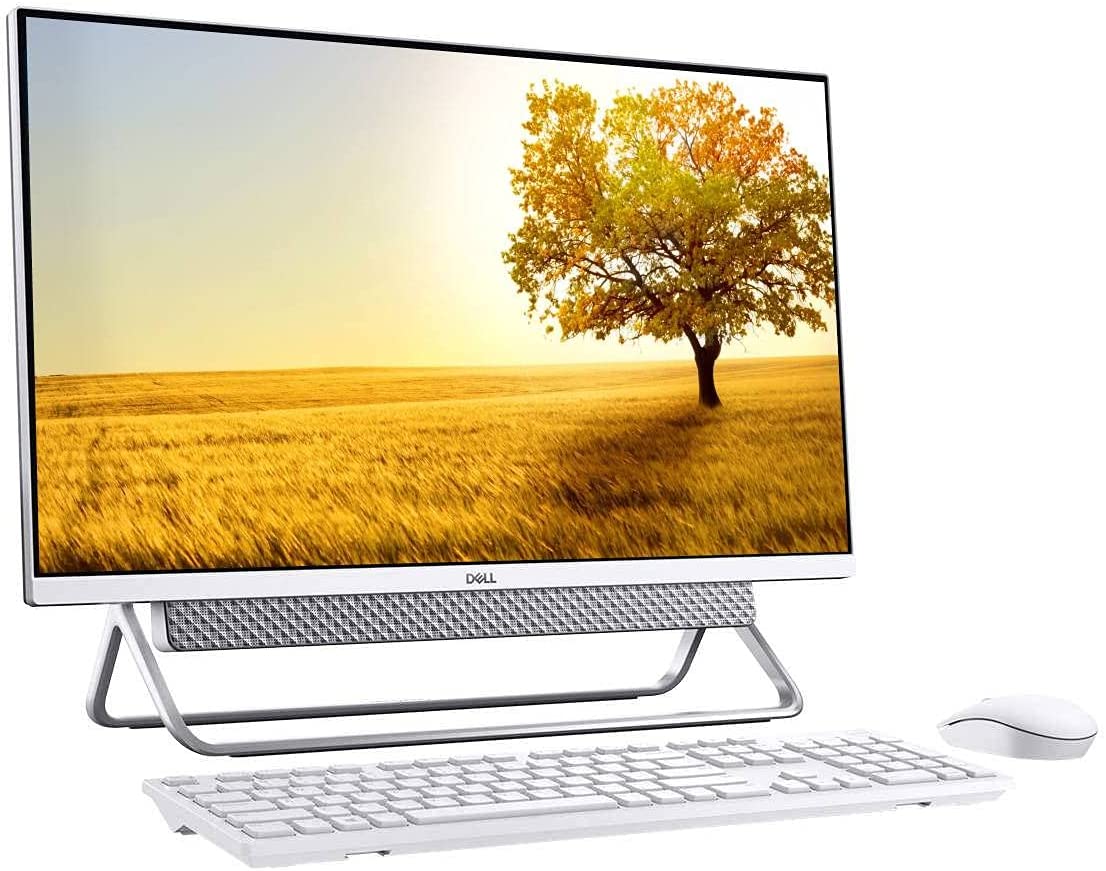 This 11th Gen Dell desktop with Intel Core i7 makes everyday tasks easy to handle because it increases the GPU and CPU clock speeds. You can enjoy additional power-packed tasks with GeForce MX 330. The desktop's anti-glare narrow border display with a wide-viewing angle indulges you with premium quality imagery.
This desktop is accompanied by a wireless keyboard and mouse, a couple of USB ports, one microphone, and a pop-up webcam. It comes packaged with 32GB DDR4 RAM and 512 GB SSD, enabling it to work on various browser tabs and applications simultaneously in an extremely smooth manner.
Why Should You Buy This?
The desktop has a modern set-up and is all-encompassing, with rich elements creating clutter-free surroundings.
The pop-up webcam appears only when you are ready to chat on video or take some selfies.
Pros
Enables multi-tasking at fast speeds
Bluetooth 5.1 for enhanced performance
Transfer files with ease
Secure connection
Cons
Stylishly designed Desktop with Intel Wireless Wi-Fi 6
Versatile Acer Desktop with Intel Iris Xe Graphics
Check Price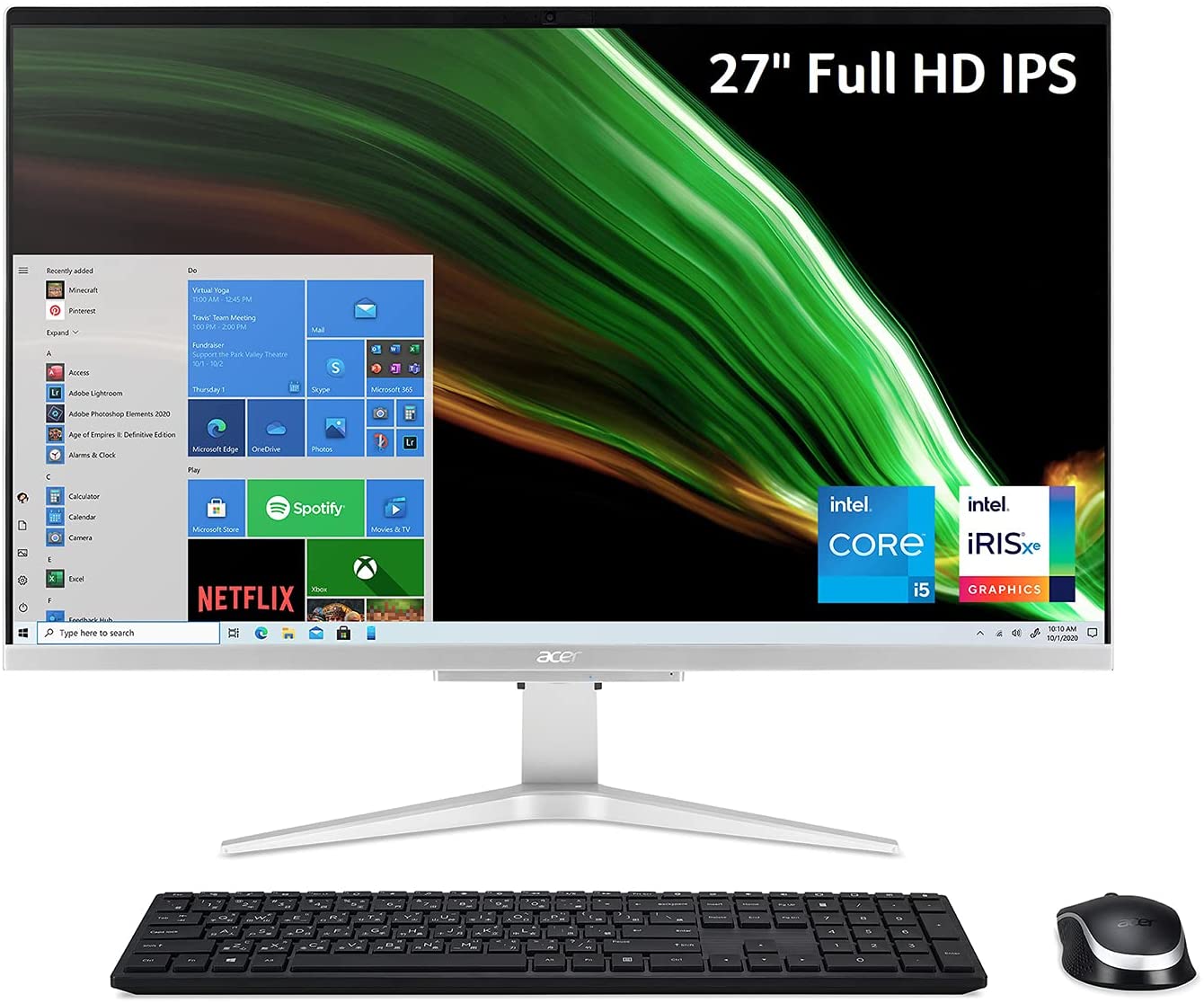 This all-in-one desktop from Acer has a compact design that includes a 27-inch Full HD widescreen and an LED back-lit screen. Its Intel core i5 processor makes everyday work effortless. The thin bezels, the V-shaped stand, and the wide display make this device indispensable for multiple tasks.
The desktop is configured to enable multi-tasking at unparalleled speed to help you enjoy your gaming and everyday, mundane tasks. Its 512 GB NVMeM.2 SSD offers a large storage facility for you to store your data in an organized manner. The webcam is designed to safeguard your privacy to the hilt. The connectivity is flawless with its Bluetooth 5.2 and MIMO technology.
This sleek machine comes with a Windows 10 desktop and can be easily upgraded to Windows 11.
It is reasonably priced and gives excellent performance at all times.
Stylish design & large screen
Excellent performance
Enhanced productivity
Configured for multi-tasking
Wi-Fi 6 connectivity
Poor display resolution
No subwoofers
Desktop with Intel Pentium Gold 6405U Processor
All-in-one HP Desktop with Rotating Full HD IPS Touchscreen
Check Price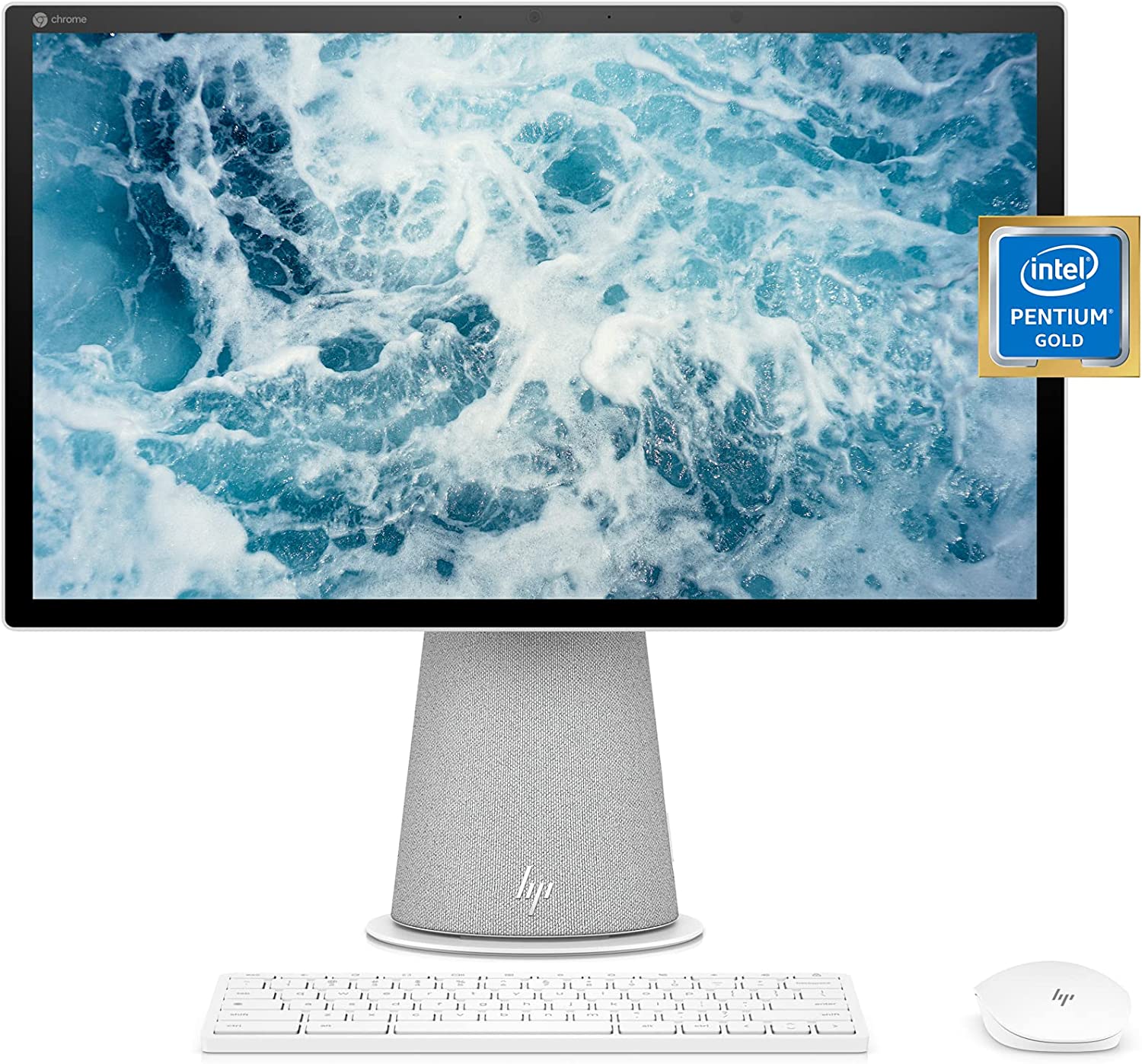 This machine's Full HD 90-degree rotating screen lets you switch between different viewing modes. This HP desktop includes Google features like the Google Everything Key on the keyboard, which makes web-search extremely easy. The three-sided micro-edge and anti-glare screen make viewing a soothing experience.
The embedded multi-media card and the 6305U processor make computing very convenient. You can video chat with a privacy camera and implement parental controls to set viewership limits for your kids. This desktop has massive storage for storing your important files, photos, music, and movies.
Why Should You Buy This?
This device lets you experience a stutter-free wireless experience with Wi-Fi 6 and Bluetooth 5.
The powerful processor helps transfer files three times faster than the normal speed.
Pros
Excellent interface and immersive viewing
Hands-free voice commands with Google Assistant
One-year limited hardware warranty
USB Type-C port with 5Gbps signaling rate
Easy to use Chrome operating system
Cons
Taking Gaming to an Unfathomable Height
iBuyPower Ultra Gaming PC Desktop Slate 9210
Check Price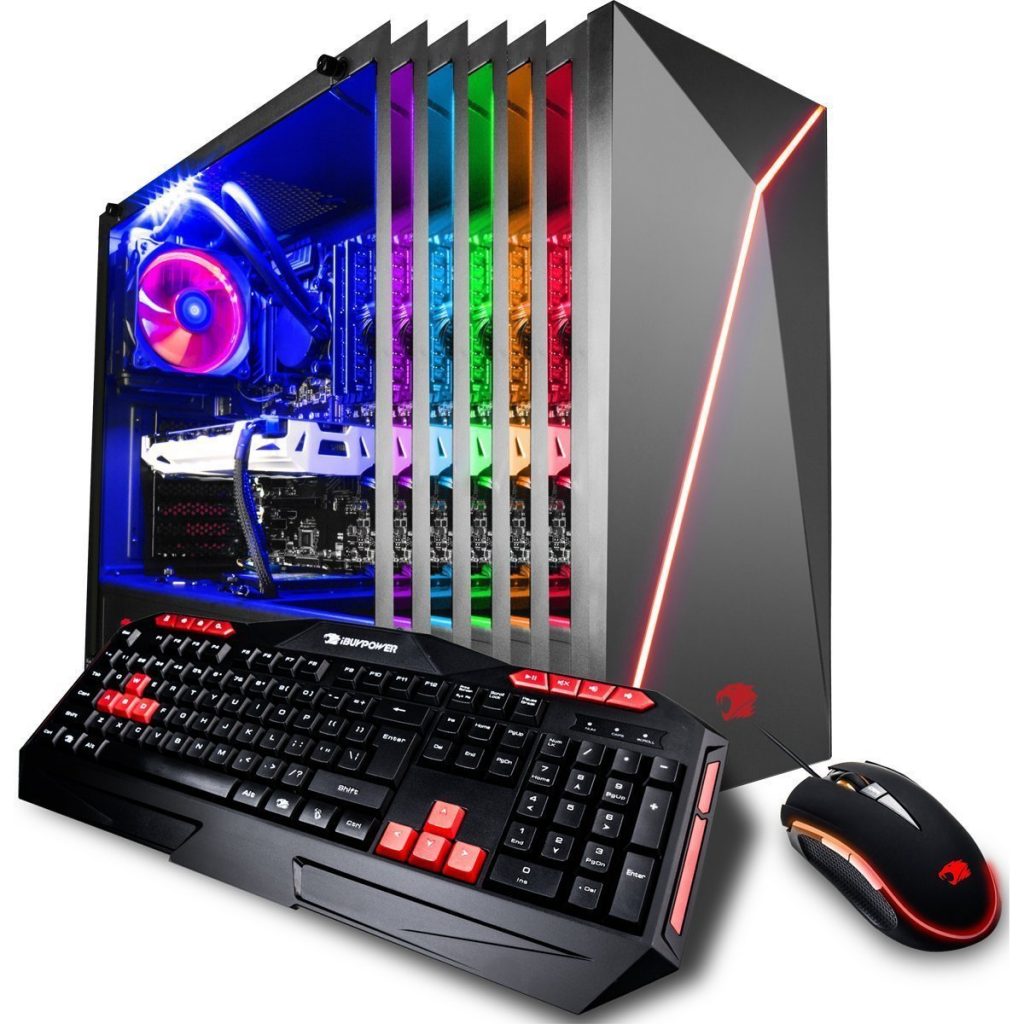 It is a regular tower case powered by an i7 8700K and six core chipsets clocking at a speed of 3.7 GHz. The dimensions are 21.38 x 12.5 x 25 inches, weighing 30 pounds. The PC comes with a RAM of 16 GB DDR4 and 1 TB HDD, with a memory of 240 GB SSD. As for the graphics card, it has a dedicated NVIDIA GeForce, GTX 1070, and Ti dedicated card of 8 GB. Connectivity options are sufficient with 4 USB 3.1 ports, 2 USB 2.0 ports, and 1 RJ 45 Ethernet. The hard drive storage is 1 TB and 7200 RPM. The OS is a genuine 64-bit Windows 10 Home. It is VR-ready and is equipped with the Oculus Rift from HTC Vive.
The special add-ons for this PC are liquid cooling and a tempered Side Glass. It also comes in a 16 Color RGB Light Case that is remotely controlled. Also included is a gaming keyboard, along with the mouse.
Recommended For:
The iBuyPower Slate 9210 has been optimized to offer an excellent gaming experience with smooth playability.
The combo of Intel's flagship i7 8700K processor with the NVidia GTX 1070 graphics card makes this PC a powerful device for gaming, as well as processing power.
An ideal PC for someone looking for a mid-range gaming PC. It has solid productivity features and delivers better performance when compared with most other mainstream desktops. Ideal for media creation and photo editing, as well as video encoding.
Checking Off all the Boxes
Lenovo IdeaCentre Y900
Check Price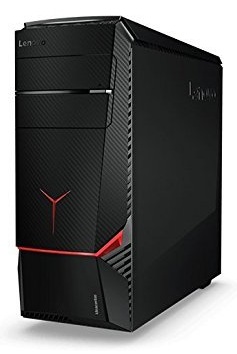 The gaming desktop checks off all boxes for modern desktop gaming. It looks as if it belongs to some Sci-Fi movie. It is powered by the Intel Core i7-6700, Quad-core, clocking at a speed of 4.0 GHz with a max of 4.2 GHz. The RAM is 16 GB DDR4 2133, and the storage is 128 GB SSD, with a hard drive capacity of 1 TB, rotating at a speed of 7200 rpm. Its graphics card is an AMD Radeon, RX 460, and a DVD RAM reader and writer drive. It is supported by the Windows 10 Home 64-bit OS. The desktop comes with a keyboard and a mouse.
The dimensions of the Lenovo IdeaCentre Y900 are 8.1 x 18.9 x 19.8 inches, and it weighs 38.9 pounds. On the front, it sports 2 USB 2.0 ports, 2 USB 3.0 ports, and an Audio Microphone Jack. At the rear, there are 2 USB 2.0 ports and 4 USB 3.0 ports.
Recommended For:
It is an ideal option for first-time desktop gamers. It packs the necessary power to play all the latest games and is easy to upgrade.
It is also suitable for handling other tasks due to the powerful Intel Core i7 6700 processor combined with 16GB of RAM.
Stylishly Simple
Dell XPS 8930 Tower PC
Check Price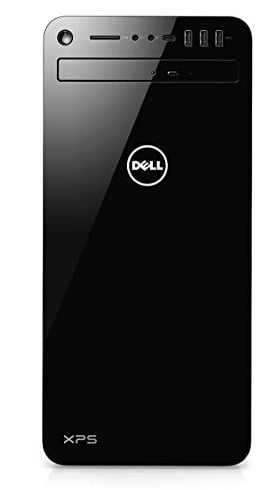 It is powered by the 8th gen Intel i7-8700, with six cores, clocking at a speed of 3.2 GHz with a max of 4.6 GHz and 12 M cache. The PC runs on Windows 10 Home, 64-bit. It has a 16 GB DDR4 2666 MHz memory and a 256 GB SSD. The 2TB hard drive rotates at a speed of 7200 RPM combined with a DVD RAM reader and writer drive.
As for the graphics card, the Dell XPS 8930 includes a dedicated graphics card, an NVIDIA GeForce, GTX 1050Ti, and 4GB GDDR5. Bluetooth 4.1 is integrated, and it comes with a Dell laser Mouse and a Dell keyboard, but no monitor. The dimensions are 14 x 7.1 x 15.2 inches, weighing 22 pounds. There are 11 USB ports, including 2 USB Type C ports and three USB A ports facing the front.
Recommended For:
The i7 6-core processor combined with the graphics card offers speed and power that is essential for video editing, playback, and gaming.
The additional cores offer enhanced performance when you want to run several apps so that multitasking is easy.
System noise is almost a whisper, and all components remain cool even under intense load.
Offers excellent connectivity of devices with several ports.
Conclusion
The Processor and the graphics card are the most important aspects when buying a gaming desktop because most games rely on them. The above pick of desktops under $1500 offer good value for money, suitable for work and games. These are some of the best builders in the industry. You can buy PCs at a lesser price than $1500, but you'd have to compromise on the processor, the graphics card, and the performance. In addition, you risk having your PC become outdated within a short time. It is easy to keep these PCs updated so you can continue to work and play the game for several years without buying another.