Technobezz is supported by its audience. We may get a commission from retail offers
X
Our Editorial Process
Each year more than 60 Million users visit Technobezz to solve a problem or research a product. Our goal is that everyone finds what they are looking for, and that is why we cover a variety of products, problems, and solutions on our website.

Writing an article that contains a lot of valuable information may seem simple. But when the article is written, the story doesn't end. We are constantly updating the content so that you can always get up-to-date and accurate information.
---
Technobezz's Editorial Guidelines
Building your own PC is such a fun and informative experience where you get to know a lot of things about the
Packard Ultra-Slim Bezel Monitor Bell Airframe
Sceptre Professional LED Display
HP M27ha Full HD Monitor
Table of Content
Building your PC is such a fun and informative experience where you get to know many things about the different parts of a Personal Computer. While hardcore PC gamers may spend weeks trying to shortlist the right components, the average person can just go with the best cheap monitors, graphics cards, and processors. They may not have to spend so much time on it.
Buying Guide
Be it buying a new monitor for your office or adding one to extend your display, or looking for a cheap one for gaming, every type of product is covered here. The ideal goal is to find the cheapest monitors in the market, but at the same time, there isn't any significant compromise made on the ones on the list in terms of hardware specs or performance.
Check whether the monitor -
is suitable for wide-angle viewing
offers HD resolution
has anti-glare feature
is made of low-quality plastic
offers immersive experience
has enough ports
comes with an integrated audio system
Apart from these, you should also have an idea about the features you will compromise on with your new monitor. Knowing this in advance is important to avoid regretting the purchase later.
See also: Best Cheap Travel Laptops
Best Cheap Monitors
Pixel-Perfect Monitor for Wide Viewing
Packard Ultra-Slim Bezel Monitor Bell Airframe
Check Price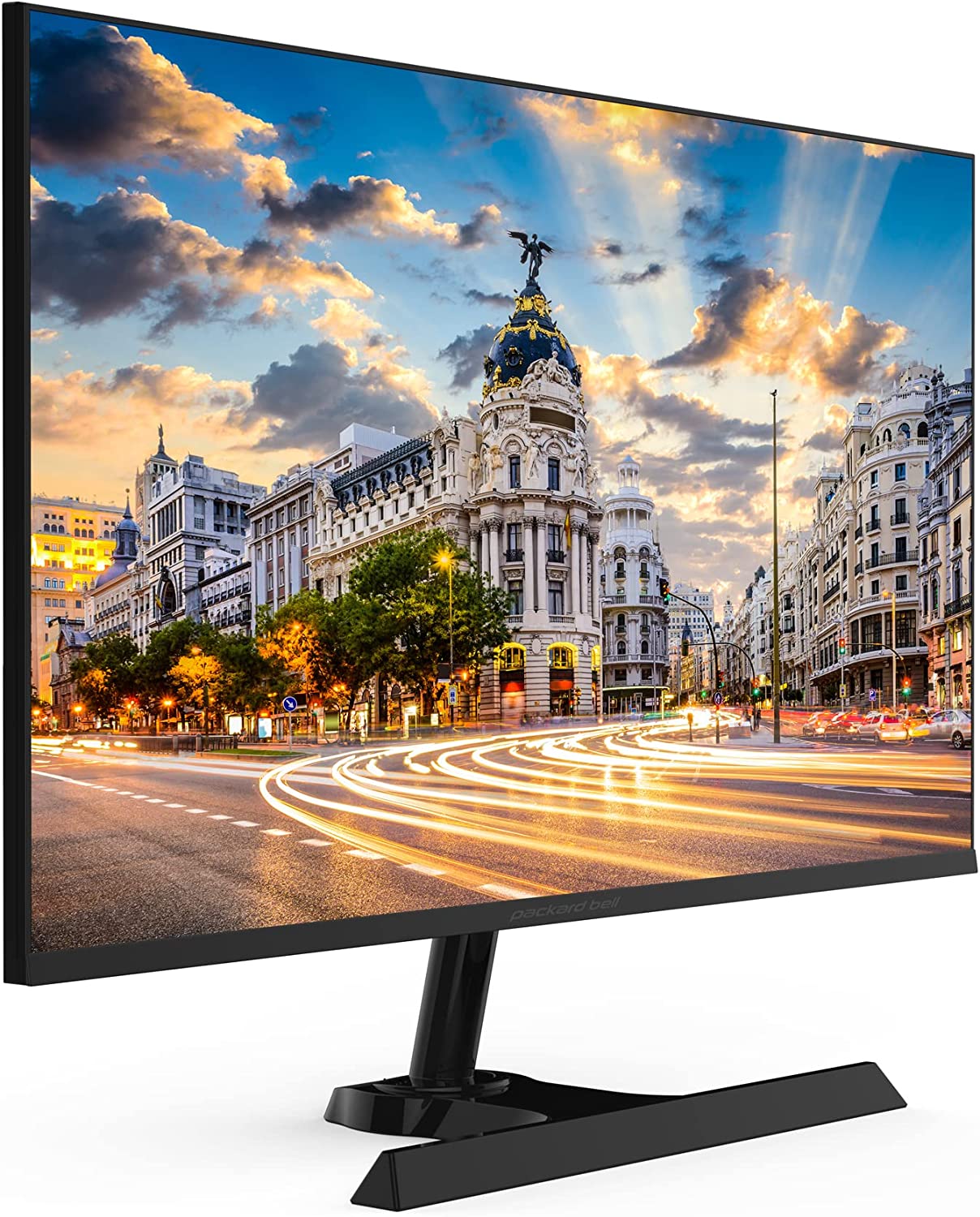 This Packard Bell AirFrame is a full HD monitor with wide display options. The monitor has a 1920 x 1080p screen resolution and can tilt as low as 178° for a wide viewing angle that gives full clarity from any angle. The monitor is pixel-perfect and features a 5ms response time which is super quick. The monitor has an aspect ratio of 16:9 that brings life to every vibrant color on-screen.
Another great feature of this monitor is the ultra-thin bezel that offers optimal screen visibility from all edges. It supports 5° forward and 15° backward tilt angles that give a flawless view. You also get a slim design allowing diverse placement in any setting.
A 5ms quick response time helps in fast-paced gaming, keeping your screen clearer and more visible.

The monitor doesn't cause eye strain even after long viewing hours.
Quick response time

Wide-angle viewing

Sleek design

HD screen resolution
Cheap plastic base

No anti-glare
Anti-Flicker Monitor for an Immersive Experience
Sceptre Professional LED Display
Check Price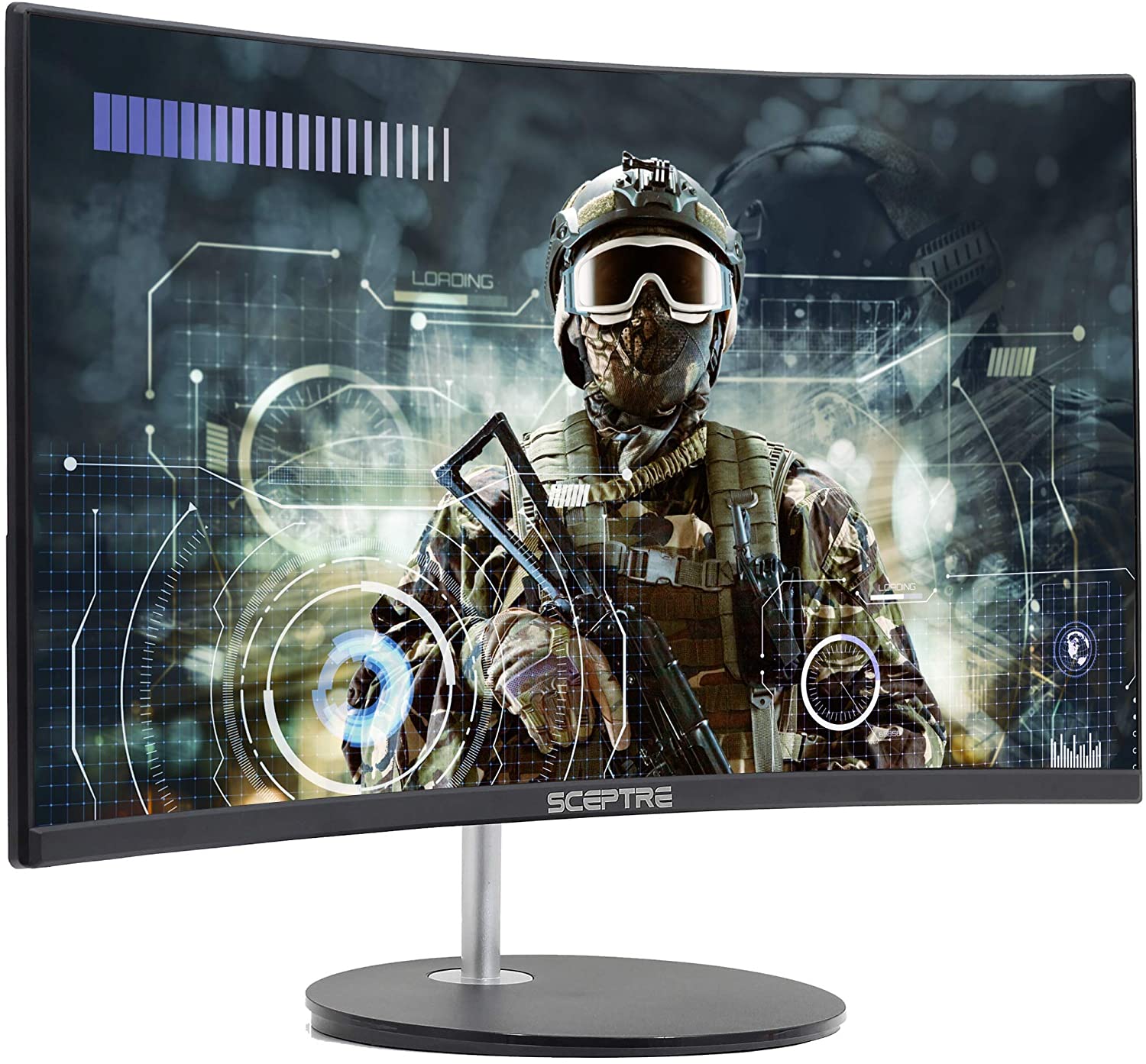 This monitor comes embedded with an anti-flicker feature that provides a super crisp picture quality by preventing flickering of the backlight. It has multiple ports to connect audio and video via the VGA Port and HDMI. It also has audio jack inputs. This monitor has tilting ability and can tilt up to 5 degrees forward and 15 degrees backward. This is super useful for long viewing hours so that you can easily adjust the monitor to find the optimum angle to view.
This monitor also has a high refresh rate, far better than the standard refresh rates of average monitors available in the market. The display is a bit curved, which delivers a legendary experience as the pictures seem to wrap from all sides, increasing the depth and giving an immersive experience.
The monitor has an anti-glare effect.

It has an anti-flicker feature and offers a high-quality display.
Immersive experience

Anti-flicker feature

Quick response time

Tilting experience
Not durable

Only one HDMI port
27-inches Full HD Monitor for an Immersive Experience
HP M27ha Full HD Monitor
Check Price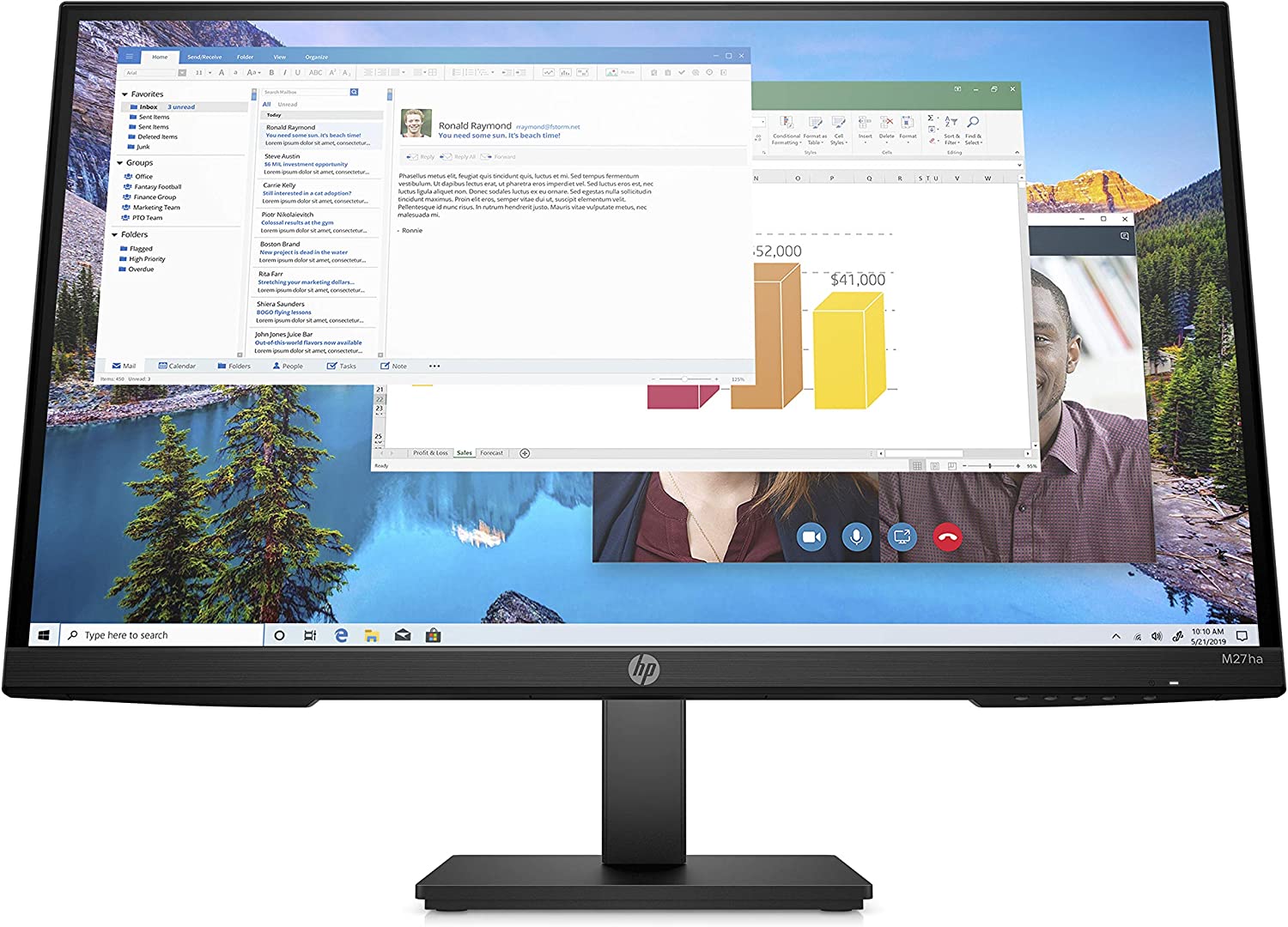 This 27-inch monitor is highly optimized for displaying full HD pictures as it comes with an IPS panel and supports ultra-wide display angles. The monitor contains inbuilt HP Low Blue Light software designed to reduce strain on the eyes during long viewing hours and impart greater comfort.
The monitor allows 100mm of height adjustment to find the optimum view angle and height with the help of a tri-sided bezel display. The monitor also comes with an integrated audio system so that you can enjoy music right from the stereo embedded on to the display. The monitor is equipped with HDMI, VGA ports, and DisplayPort, in addition to an audio input.
The monitor comes with an integrated audio system.

The monitor is engineered in such a way that it reduces eye strain.
Height can be adjusted

HP Low Blue Light software

Multiple input ports
Non-adjustable speaker volume

The picture quality is not too good
Monitor with Height Adjustment for Comfortable Viewing
HP 24mh Display for Wide-Angle Viewing
Check Price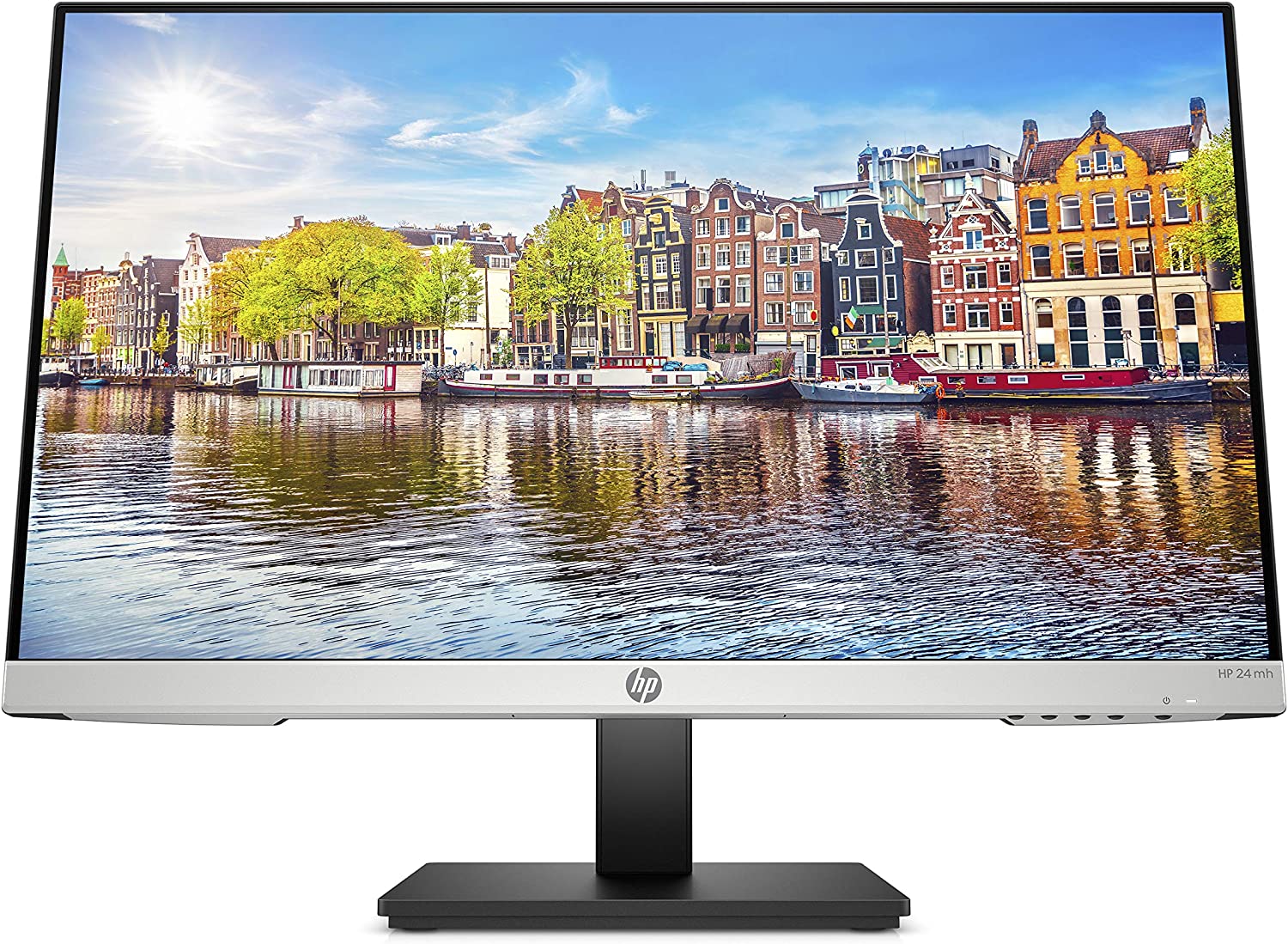 This monitor is fitted with an FHD display combined with IPS technology, giving brilliant visuals with unmatchable quality. It supports a maximum of 1920 x 1080p at 75 Hz resolution with precision and image accuracy. It offers more desk space and looks attractive because of the ultra-sleek design. It offers a panoramic view with vibrant detailing from any position you view.
The monitor can be easily connected to a PC, gaming consoles, and any peripherals like a projector with multiple ports, including DisplayPort, HDMI, and VGA ports. This one also has two 2W built-in speakers that offer an incredible sound experience and immersive entertainment. It has HD Low Blue Light which doesn't cause strain on the eyes.
Why You Should Buy This?
It gives consistent clarity and color throughout its ultra-wide 178° viewing angles.

The monitor provides a micro-edge display as it doesn't come with any bezel encircling the display.
Pros
Two 2W in-built speakers

Low HD Blue Light

Multiple ports

Immersive experience
Cons
Display issues

Discord pixels
Monitor with Adaptive-Sync/FreeSync Technology
ASUS VA27DQ Monitor with Flicker-Free Technology
Check Price
This 27-inch full HD monitor supports a maximum of 1920 x 1080p resolution and LED backlight display combined with IPS 178° for immersive wide viewing. This monitor has a refresh rate of up to 75Hz. Another great feature is the Adaptive-Sync/FreeSync technology that ensures crystal clear video playback. Multiple ports like HDMI, D-sub, and DisplayPort offer unlimited connectivity.
The ASUS monitor also features a Flicker-free technology equipped along with low blue light that reduces the strain on the eyes and ensures a super comfortable viewing experience even on long hours. The monitor is compatible with GTX, RTX, NVIDIA, and more.
The Frameless Design gives an almost seamless multi-display arrangement that further enhances the immersive viewing experience.

It comes with GamePlus Technology, which provides in-game enhancements.
Flicker-free technology

Immersive experience

Multiple ports

Wide compatibility
No in-built speaker is available

No audio jack
HD View Monitor with ComfortView Technology
Dell SE2422HX Full HD Monitor
Check Price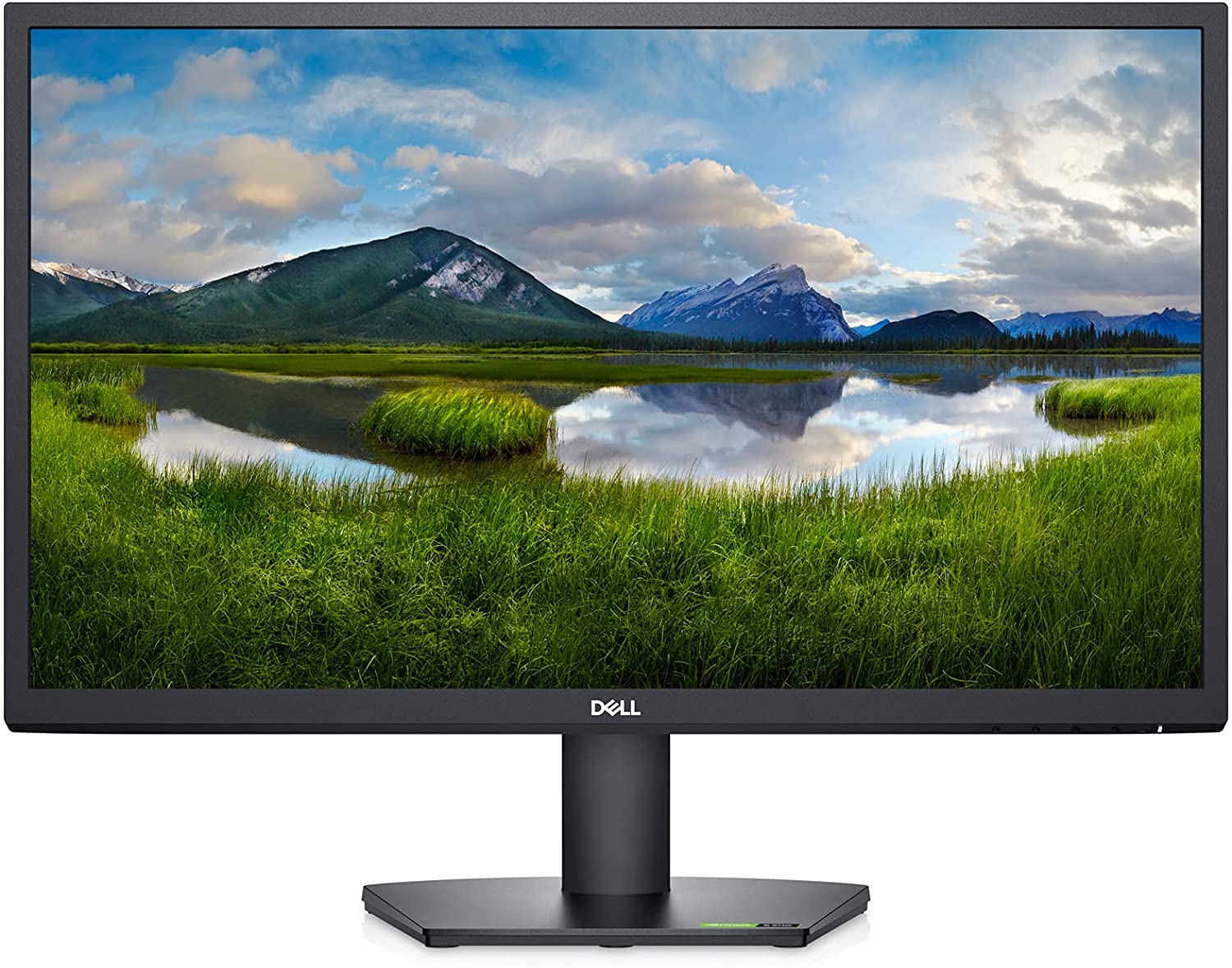 This monitor is a 23.8-inch Full HD display that supports 1920 x 1080 pixels and tilts easily to help adjust the monitor to the optimum viewing angle. The monitor has an ergonomic design and can be mounted up easily with a compatible VESA mount. Dell has embedded this monitor with TUV-certified ComfortView technology that helps to eliminate harmful blue light emissions, relieving eye fatigue.
There is also an in-built power supply unit and a cable holder that helps declutter the desk space. Another great feature of this monitor is that it can save energy when the monitor is not being used as it is equipped with PowerNap technology.
Why You Should Buy This?
PowerNap technology saves power when the monitor is not being used.

The monitor reduces strain on the eyes.
Pros
Easily mountable

In-built power source

23.8-inch full HD screen

ComfortView technology
Cons
Poor resolution

No built-in speakers