Technobezz is supported by its audience. We may get a commission from retail offers
Building your own PC is such a fun and informative experience where you get to know a lot of things about the
Building your own PC is such a fun and informative experience where you get to know a lot of things about the different parts of a Personal Computer. While hardcore PC gamers may spend weeks trying to shortlist the right components, the average person can just go with the best cheap monitors, graphics card, and processor. They may not have to spend so much time on it.
Be it buying a new monitor for your office or adding an additional one to extend your display or looking for a cheap one for gaming, every type of product is covered here. The ideal goal is to find the cheapest monitors in the market but at the same time, there isn't any significant compromise made on the ones in the list in terms of hardware specs or performance.
See also: Best Cheap Travel Laptops
Best Cheap Monitors
1080p Display and Large Tilting Screen – Everything You Need is Here
Acer G277HL 27-inch Full HD Monitor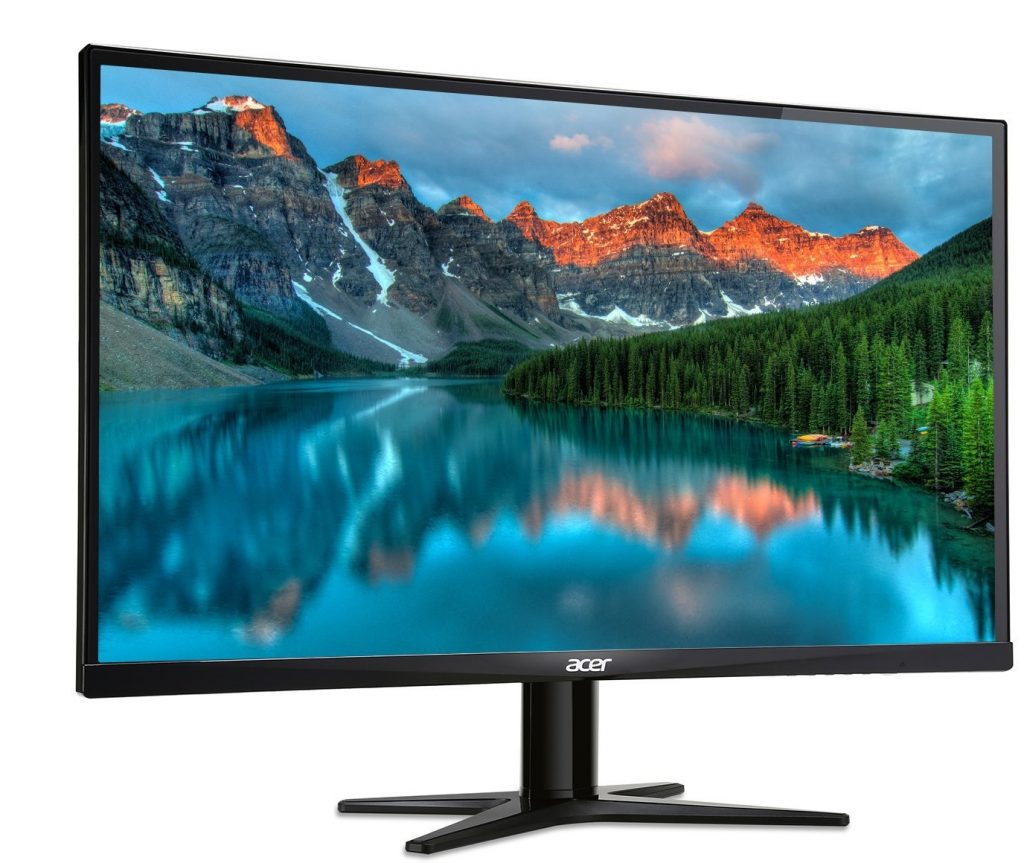 The Acer G277HL is such a competent little beast. It's actually a large one with 27-inch display size. While there are multiple variants available in the series, the best pick is the full HD model with an IPS display. If you are new to the scene, know that IPS displays are common and very handy as they reduce glare with great viewing angles.
The Acer monitor features a super-slim design with little bezels and provides a large display. The display brightness level and 1920×1080 resolution is a perfect choice for watching movies, gaming, and designing. The monitor has one DVI, HDMI, and VGA each which is adequate for connectivity. It can also tilt between -5 and 15 degrees making it a no-brainer at this price point.
Who Should Buy This Monitor?
A budget-friendly monitor with all necessary ports and IPS panel
For buyers who need tilt functionality and a large display at budget pricing
A Cheap Monitor with Height Adjustment Features
HP VH240a 23.8-inch FHD IPS Monitor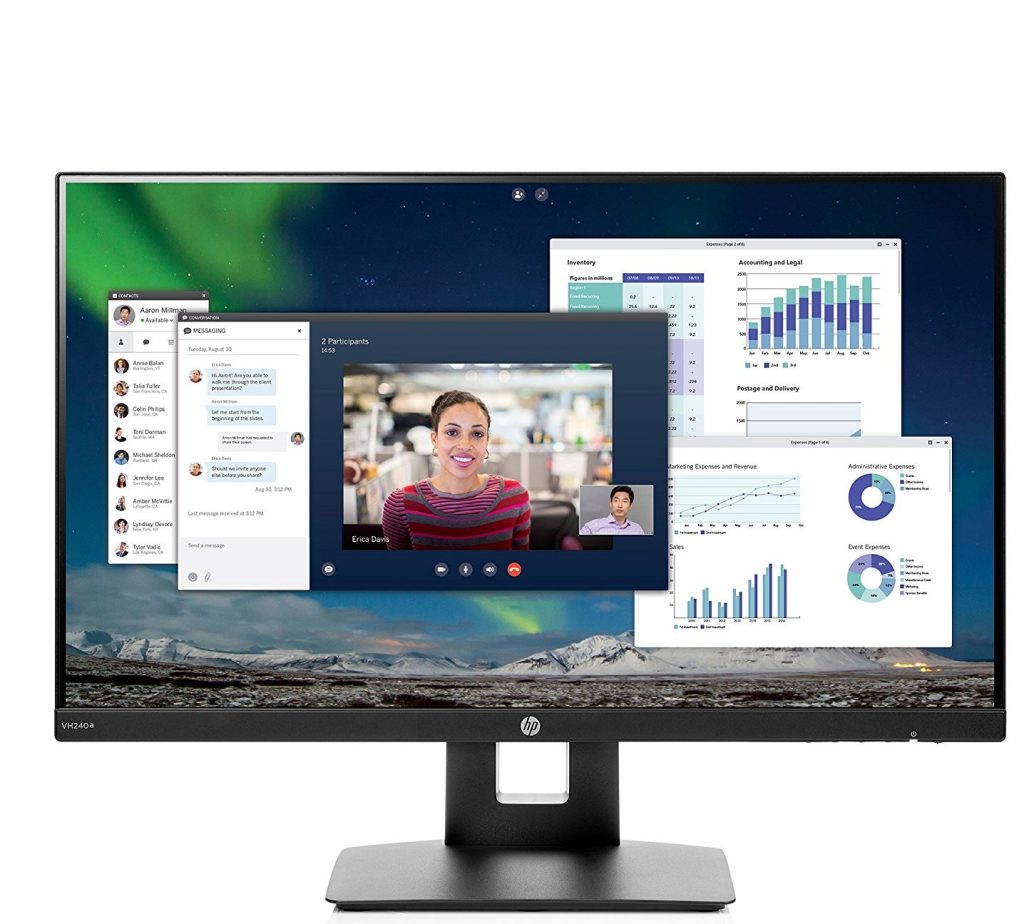 The HP VH240a 23.8-inch FHD IPS monitor uses a micro-edge design with hardly any bezels that you could spot. The display has a 1920×1080 resolution combined with integrated speakers. A surprising addition is that you can easily adjust the height of the monitor and tilt it at different angles to find a convenient position.
With everything said, you will be hard-pressed to find all these features and more at this price point. The HP VH240a monitor also has a more expensive variant with a dual monitor stand if you are looking for a dual setup for office work or even gaming. The monitor has HDMI, VGA, and HDCP port with integrated speakers.
Who Should Buy This Monitor?
You should buy this HP monitor if you need a bundled dual monitor stand setup and don't mind spending a little more
For buyers who need all-around features with integrated speakers at the cheapest possible pricing
Cheapest and Largest Budget Monitor That Offers Split Screen Experience
LG 32MA70HY 32-inch Full HD IPS Monitor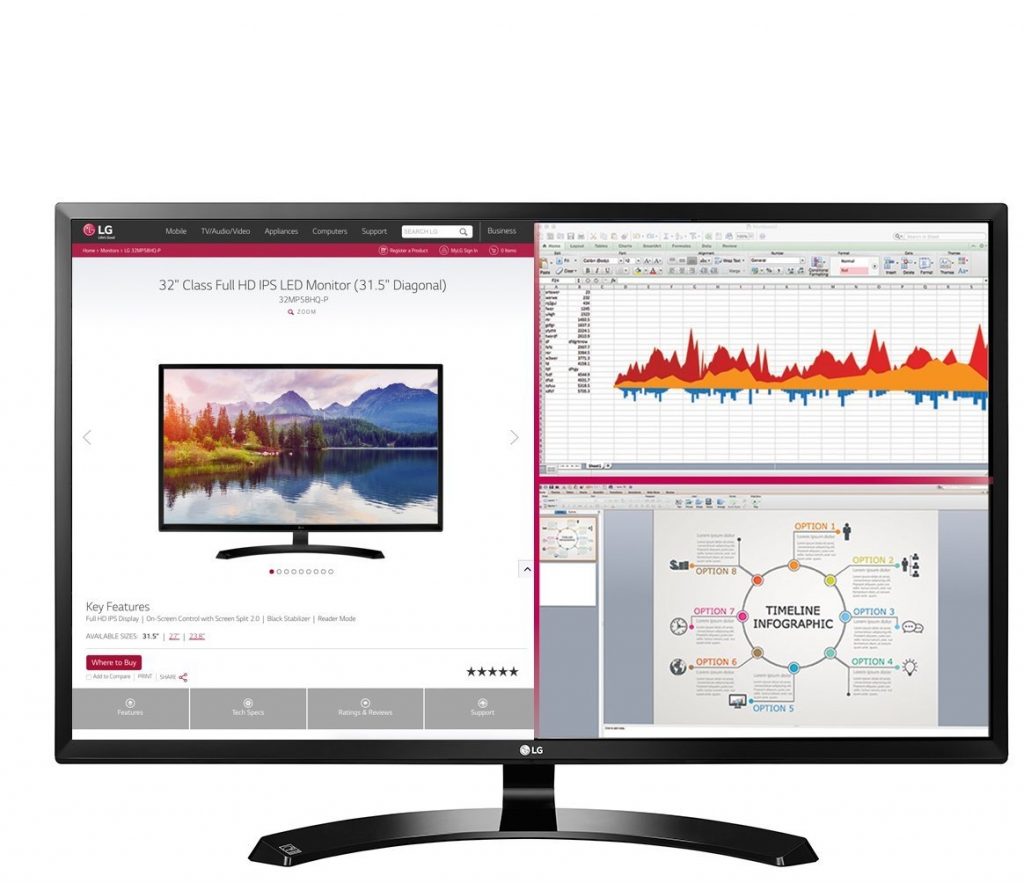 Buying large monitors is something not everyone does but if you are one of the niche lots, the LG 32MA70HY is an easy choice. The 32-inch monitor has 1920 x 1080 resolution with an IPS panel and is exceptionally sizeable for a desktop setup.
Being such a large device, it is great to see the manufacturer offering a built-in Screen Split 2.0 feature for multi-tasking and a convenient wall-mounting setup. They have also included on-screen controls because when you mount it on a wall, it may be difficult to reach those manual buttons. Watching movies and playing games should be very addictive in this display but the caveat is that it has slightly large bezels and doesn't come bundled with remote control.
Who Should Buy This Monitor?
You should if you are looking for a large 32-inch television-like experience and planning to go for a wall-mounted setup
Go for it if you spend a lot of time multi-tasking and would also enjoy watching movies, shows on your computer display
Best Cheap Monitor That's Mobile Friendly and Budget Friendly
Acer R240HY 23.8-inch Full HD Monitor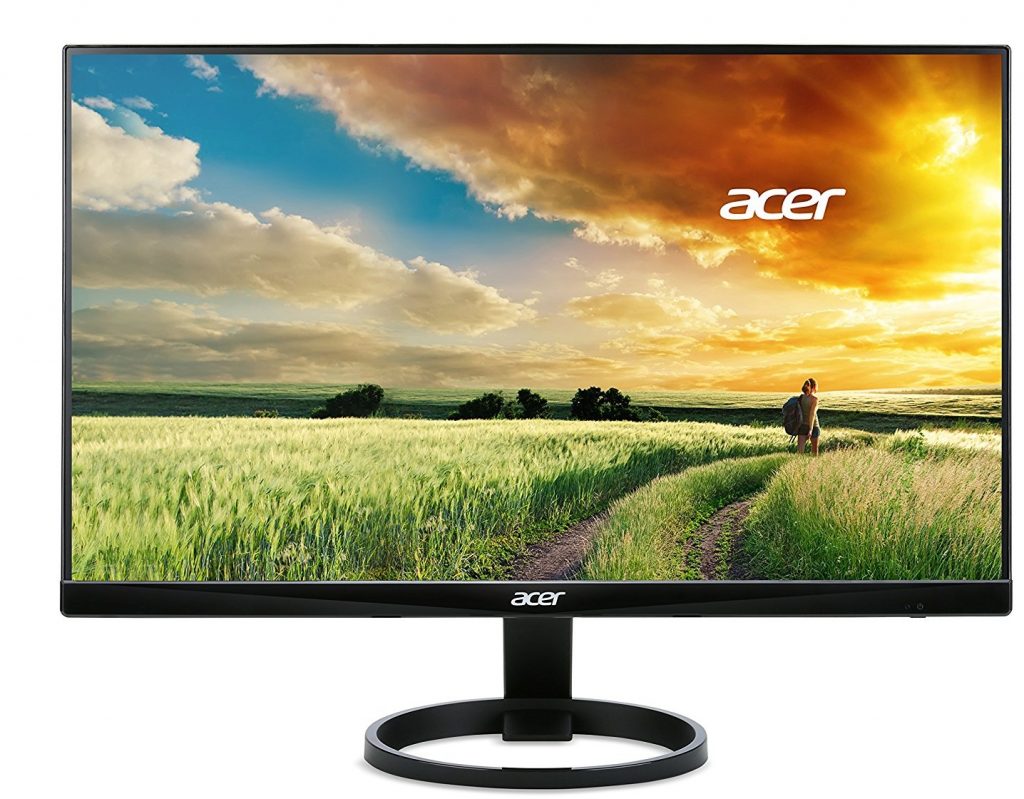 Why just go with one? The Acer R240HY is quite affordable even for someone who is very low on a budget. They can even opt for a dual monitor setup as it has an adequate 23.8-inch full HD 1080p display which also has built-in speakers. For perfectionists, there's an IPS variant at the same pricing which will reduce glare and improve contrast ratio as well as viewing angles.
The Acer monitor has multiple ports including HDMI, DVI, VGA and you can actually plug your mobile or tablet to instantly view its content on the big screen. With so many convenient features including speakers and a tiltable design, this one steals the show with its price tag and a budget-friendly option if you need a dual monitor setup.
Who Should Buy This Monitor(s)?
The pricing is cheap and the screen is large enough. If you need a dual monitor setup without breaking the bank, this one is ideal
Offers a range of connectivity ports and syncs with your mobile display seamlessly
A Large Widescreen Wall-Mount Monitor That Can Double Up as a Business/Entertainment Display
HP 32-inch Full HD Widescreen Monitor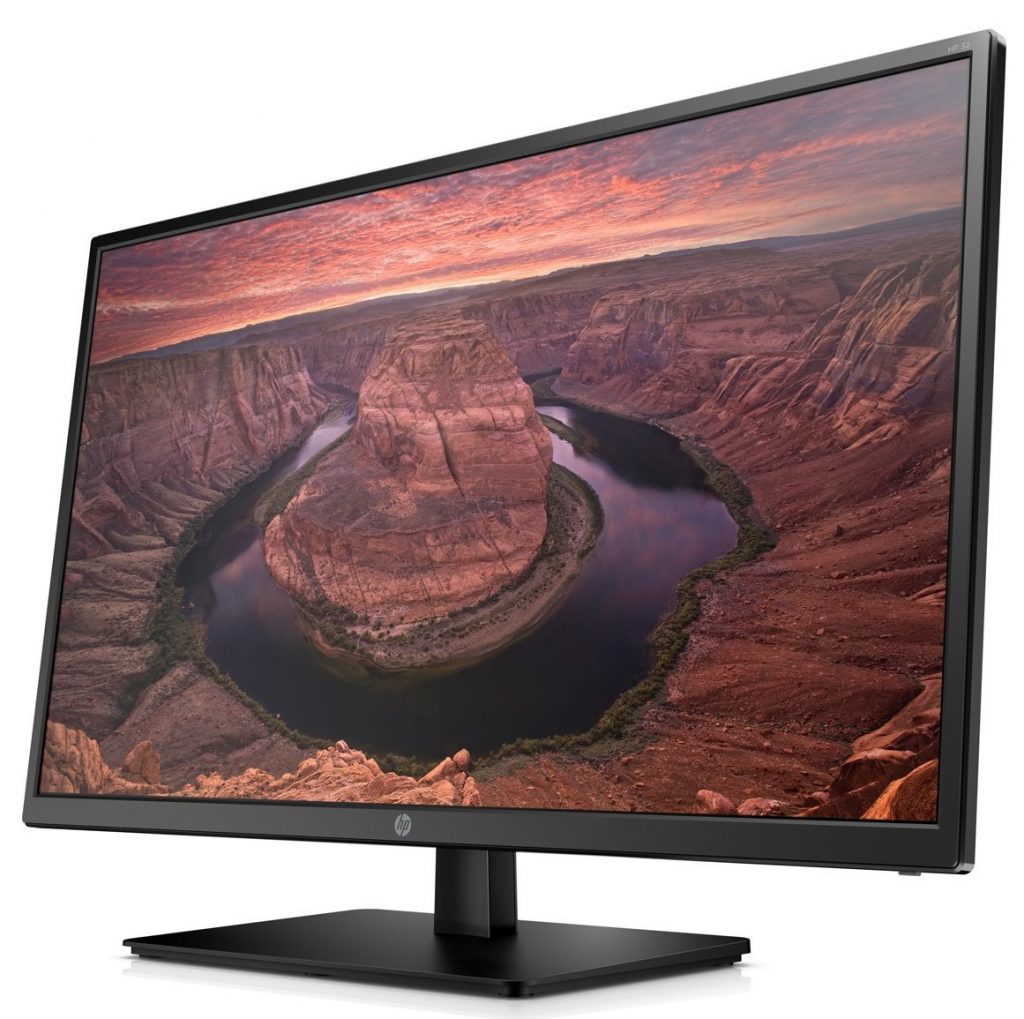 The HP 32-inch is exactly what is being advertised. You get a large monitor which looks great for PPTs, watching movies, playing games, and simply doing your business documents with some headroom. The monitor has 1920×1080 resolution with LED-backlit for great color reproduction.
The display has HDMI and VGA ports for simplified connectivity. The black matte finish will ideally suit any office scenario and it would easily impress you with its overall appearance and performance. The monitor is also equipped with a VESA mount making it easy to wall mount it and enjoy content from a distance.
Who Should Buy This Monitor?
The 32-inch display size is the biggest selling point and you can even use it to provide presentations on a large screen
The monitor is great for watching movies and games without being too expensive or focusing on any fancy features
One of the Best Cheap Monitors For Gaming Fans with AMD Graphics Card
Asus 24-inch Full HD FreeSync Monitor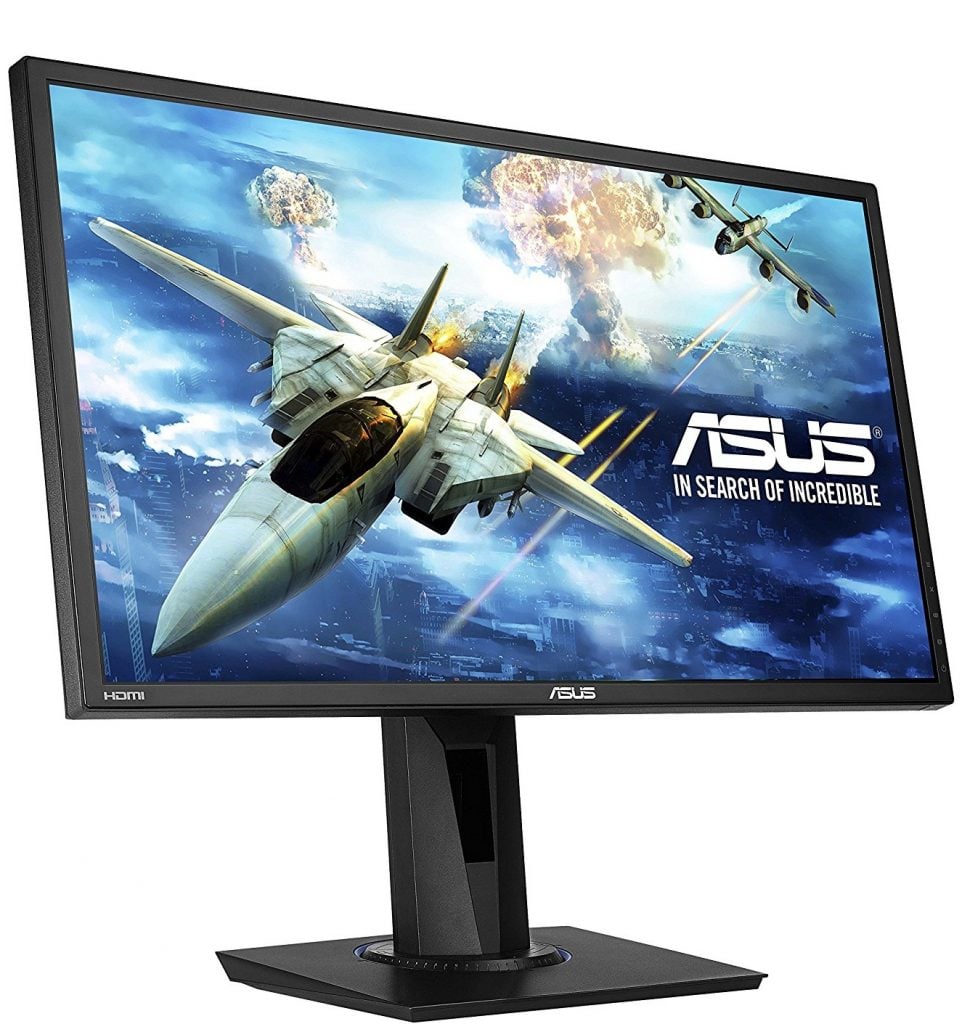 Gaming is different from regular business use. Gamers would love to have the best frame rates, tear-free experience with rich colors. The Asus 24-inch monitor with 1920 x 1080 resolution and AMD Free Sync capability ticks all the right points on a checklist.
You can tilt and swivel the monitor into the desired position as the stand provided is quite versatile. The monitor is packed with Game Visual and Game Plus functionalities. If you use an AMD Radeon GPU, you can remove screen tearing and push the device using the 75Hz refresh rate capability.
It also has a 1ms rapid response time for competitive multiplayer gaming and has received some great reviews from users. The Asus 24-inch FreeSync monitor doesn't look contemporary and has large bezels which may not appease some gamers but it's a great bang for your buck.
Who Should Buy This Monitor?
If you are looking for a gamer-friendly monitor and already own an AMD GPU
Gamers who love 1ms response time improved refresh rate and are looking for a monitor with a versatile stand that has a tilting and pivoting functionality
The Cheapest, Most Premium-looking Monitor
HP Pavilion 22CWA 21.5 IPS LED Monitor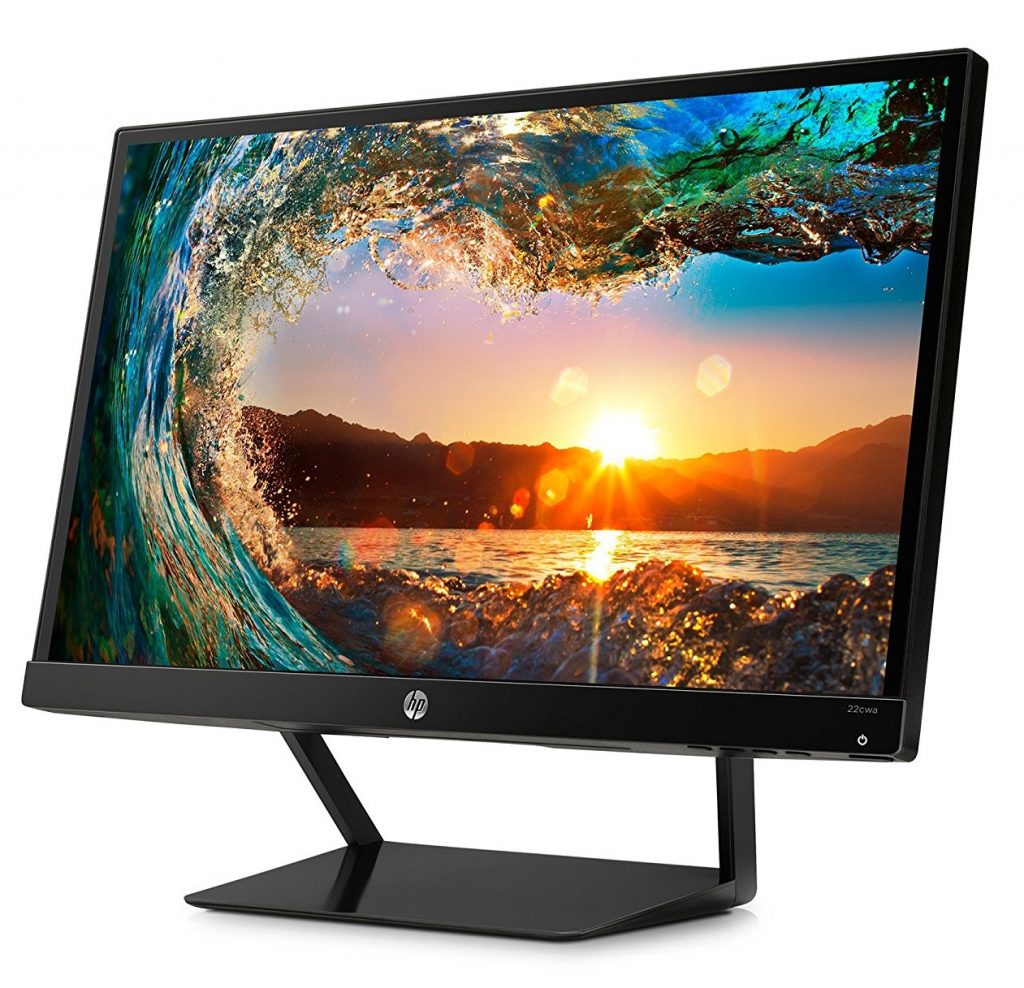 Justifying a purchase of the HP Pavilion 22CWA 21.5-inch monitor with an IPS display and a 1920×1080 resolution is easy! It's that cheap and you couldn't ask for anything more at this price point. Most importantly, the monitor looks very business-like and would easily suit an office atmosphere.
For buyers planning to buy multiple best cheap monitors for a startup or for college students, the HP Pavilion monitor is right on the mark. Getting a 1080p display for such a small screen ensures the highest pixel count and add IPS to it, it becomes glare-free and provides the best viewing angles.
The monitor has a 7ms response time and has multiple connectivity ports including HDMI, VGA, and HDCP. The flat stand is simply addictive to look at and so are the large bezels which seamlessly flow into the design aesthetics. Overall, a stunner in looks and pricing.
Who Should Buy This Monitor?
For buyers who want the best-looking business monitor for a professional environment
For anyone who needs a monitor that's very cheap yet is amazing in every respect
Best Cheap Monitor with the Lowest Response Time and An  Impressive Array of Ports
AOC e2775SJ 27-inch HDLED Monitor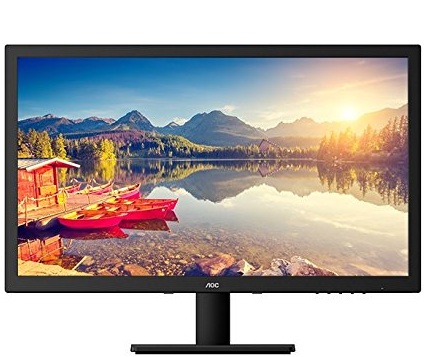 When on a tight budget, most buyers assume they should be willing to compromise. Not in this case because the AOC e2775SJ offers everything you would expect and much more. The 27-inch monitor has a 1920×1080 resolution and LED backlighting.
The monitor provides one of the highest resolutions at 300 cd/m2 with a 16:9 aspect ratio. Apart from those amazing positive reviews, you also get an array of ports including the HDMI, VGA DVI, and a dedicated 3.5mm earphone port.
The AOC monitor is large enough for an office, movies, and gaming but the 2ms response time will enhance this experience further without breaking the bank. It works with VESA standards for wall mounting. The immediate con that you might spot is the mediocre design with disturbingly large bezels but the pricing should overcome this setback.
Who Should Buy This Monitor?
Anyone who wouldn't mind large bezels but are happy to get a 27-inch full HD display with traditional ports for connectivity
If you like the 2ms response time and love to experience the smoothest motion playback in all your content
Exquisite Beauty of a Monitor with AMD FreeSync
Dell SE2717H KYKMD 27-inch LED-Lit Monitor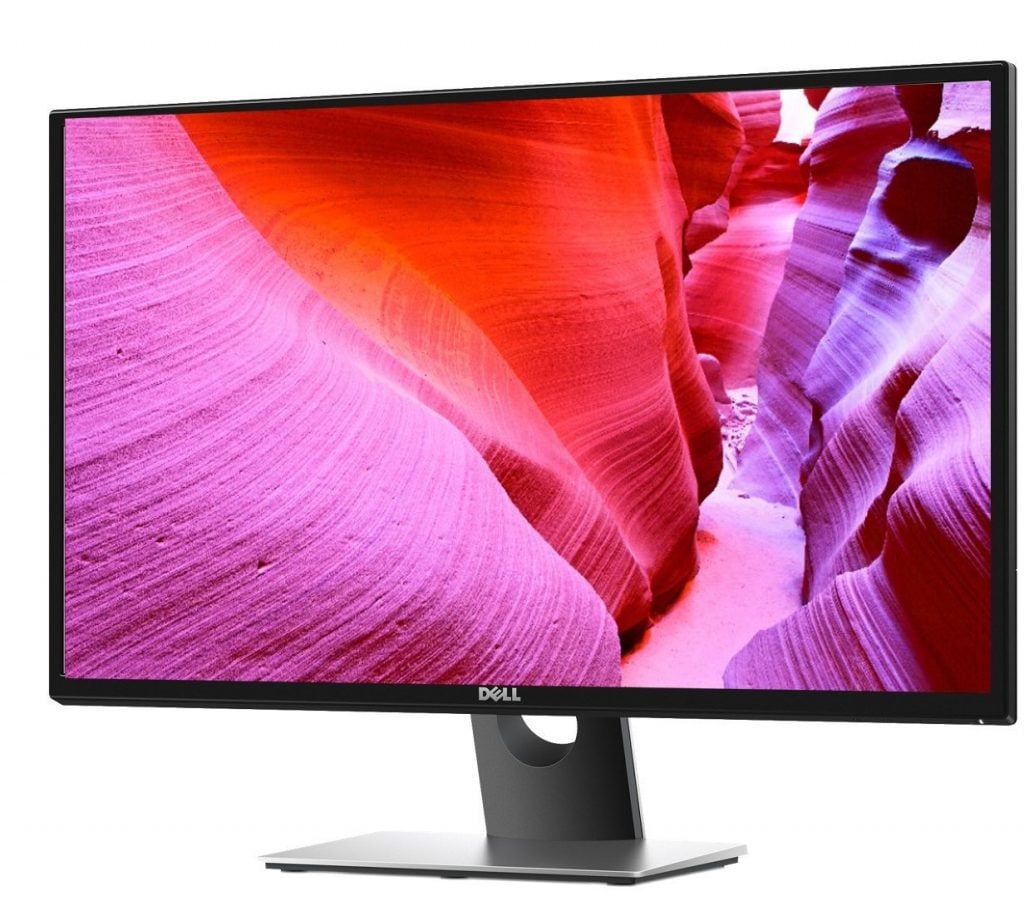 The Dell SE2717H KYKMD 27-inch LED-lit monitor would kill the competition with its killer looks. The brushed sturdy, steel base combined with slightly thinner bezels and the flamboyant Dell logo on the back adds together to give an aesthetic appeal to this product.
It's got a 1920 x 1080 resolution with a flicker-free screen to reduce eye strain and the ultrawide monitor offers the same color reproduction at every angle. The curved back and the piano finish on the rear side are sure to impress everyone.
A surprising addition is that this professionally designed Dell monitor is not only one among the best cheap monitors but is also gamer-friendly. The display has got AMD FreeSync technology in it to avoid screen tearing and frame rate issues. If you have got an AMD Radeon graphics card, want a business monitor which could also double up as a gaming display, then this is your best pick!
Who Should Buy This Monitor?
A display from a reputed brand that looks professional yet has FreeSync technology, offering the best of both worlds
If you are a professional who wants to buy a monitor within a fixed budget and own an AMD Radeon graphics card
---