Featured in this article (opens in new tab)
Do you want to upgrade the sound system in your car and purchase the best 6×9 speakers? 6 x 9 speakers are truly the best for a car if you are looking for a robust entertainment system that makes music enjoyable. If you are looking for an audio system that can reproduce the music well, look for 6 x 9 speakers that can produce good quality sound, and you will find it a lot more efficient than the subwoofers and the amplifiers. They fit snugly behind the back seat – and do most of the work regarding quality sound reproduction. The better the quality of the speakers, the more enjoyable your car audio system will be. This is why we have a list of 2023's best 6 x 9 speakers, which you must consider if you plan to upgrade your car's sound system.
Buying Guide
Before we take a look at the best 6 x 9 speakers for your car, make sure you check for the following points:
Compatibility with your car
The warranty period for the speakers
Quality of the sound
Design and appearance of the speakers
Bass and treble effects
See also: Top best lightweight laptops
The Top Best 6×9 Speakers
A Distortion-Free Car Speaker with EVC Technology
H YANKA 4-Way Coaxial Car Speaker
Check Price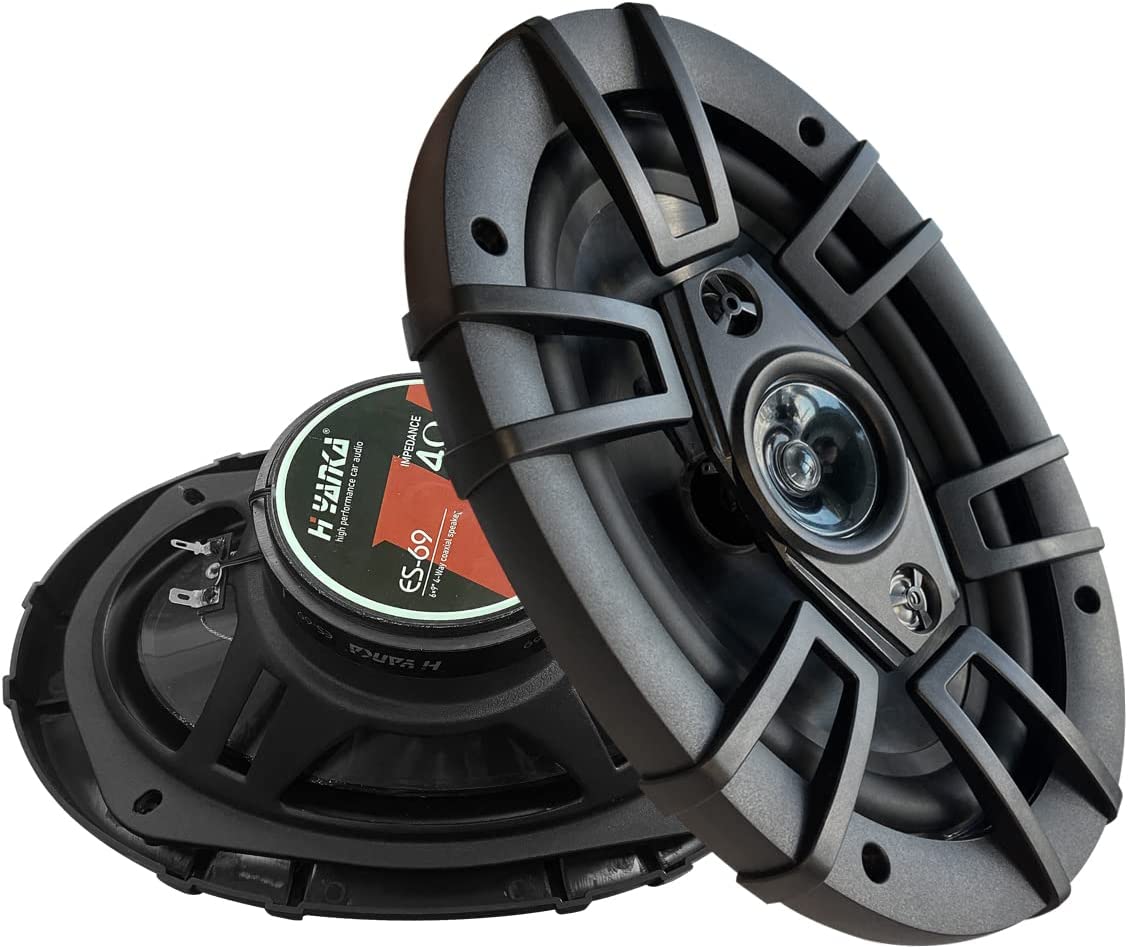 This H YANKA car speaker incorporates 0.5-inch tweeters made of N40-grade aluminum. The speaker also has a polyester UV-treated woofer with a rubber surround. The product has a maximum power capacity of 500W. Its tweeter helps to keep the volume up at a high frequency to deliver a rich and warm sound with enhanced output and sound quality.
The four-way coaxial speaker is designed to be wired onto the car's rear door. The product comes with an impedance of 4 Ohms, a sensitivity of 90dB, and a frequency of 50Hz to 200Hz. It adjusts the sound automatically according to the style of the song. The speaker is designed to suit any car model. It comes as a set of two speakers, a wiring cable, eight gaskets, and eight screws for each speaker.
The H Yanka speaker renders a solid and hard base for those who enjoy loud music on the go.
The product can be easily connected to the car door in a short time.
It comes at a price that makes it affordable for almost anyone.
Good frequency balance
Suitable for almost any car
Lifetime warranty
A Rugged and Durable Car Speaker with Shallow Mount Support
Pioneer Deep Bass Car Speaker
Check Price

This Pioneer car speaker is a 4-way speaker with 450W power capacity. The black-colored speaker supports a shallow mount fixing mechanism. The product fits well on any car door panel. It offers a wide sound range and is noted for its clear and deep bass.
The car speaker allows you to enjoy crisp sounds even when the sound level is not very high. The product helps you enjoy your favorite music while traveling without any distortion. It is an excellent replacement for factory-installed speakers in any car. The speaker has a simple installation process and comes with the necessary hardware for its mounting.
The Pioneer speaker sounds loud enough to get the feel of having an 8-inch subwoofer installed.
The bass rendered by the product is not too overpowering to cause vibrations on the door.
Its mid-high ranges are really good, and you do not have to turn the volume up very high to enjoy them.
Excellent sound quality at an affordable price
Clear vocals even when the volume is not very high
Neat and compact look and feel
No installation instructions are available
A Diamond Array Woofer Cone Car Speaker with Sound Field Enhancer
KenwoodOval Shaped Car Speaker
Check Price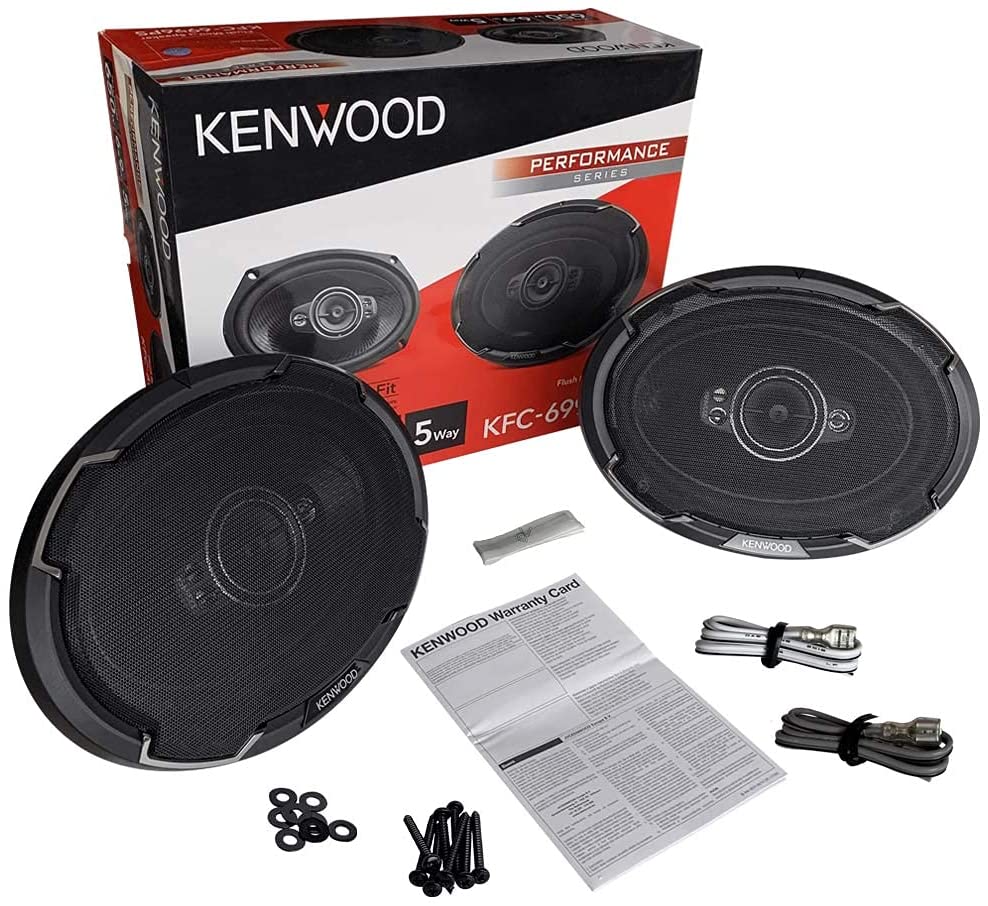 This Kenwood car speaker comes as a pair of 5-way speakers to enhance the car audio experience. The speaker has an oval shape that gives it a distinct look. The product is integrated with a sound field enhancer to render improved dispersion and good performance at frequencies of 5kHz and higher.
The speaker incorporates a polypropylene woofer cone with a diamond array pattern to reduce distortion to the maximum extent. Its drivers encompass tweeters, midranges, and two super tweeters apart from the woofer for complete sound coverage. The product has a rubber surround for overall durability. The dome tweeter and the super tweeter ensure a balanced sound. The speaker allows you to enjoy low, mid, and high frequency ranges equally well.
The Kenwood speaker produces a natural and smooth sound by controlling the frequencies passing via the holes of its tweeter panel.
The midranges and trebles generated from the product are incredibly loud and clear.
It is a good upgrade or alternative to the factory-installed speakers in most cars.
Distortion-free sound as a result of the cone design
Stylish appearance because of the oval pattern
Low tweeter height to suit most factory locations
Tendency of tweeters crackling within a week
A Steel Framework Car Speaker with Minimum Rear Reflection
Kicker Rings Boost BassCar Speaker
Check Price
This Kicker car speaker has a three-way thin profile. The coaxial speaker has a power rating of 360W, 90W RMS power, and an impedance of 4 Ohms. The product incorporates extended voice coil technology. It has a 0.5-inch dome-shaped tweeter with stiff polypropylene cones to hit low bass notes and high notes equally well, with very good variation between them. There is very little protrusion of the tweeter made of magnetic neodymium magnetic material.
The speaker has a mounting depth of 3.25 inches. The product encompasses midrange woofers, laser cuts, and UV-treated foam surrounds. It is accompanied by fast rings that isolate the speaker from the door panel and mounting surface. This isolation assures unwanted vibration and resonance from the doors when the mid-bass response increases.
Why You Should Buy This?
The Kicker speaker has a minimum rear reflection, ensuring the sound quality is not compromised.
The product features good aesthetics because its tweeter has no protrusion at all.
Its stamped steel framework prevents the polypropylene cone and foam surrounds from slipping out of place.
Pros
Minimum stress on the amplifier
Crisp highs and great bass
Peel away adhesive backing for foam surrounds
Cons
Spacers needed for installation on front doors
A Two-Color Car Speaker with Balanced Dome Tweeter
Audiobank1000 Watts Peak Power Car Speaker
Check Price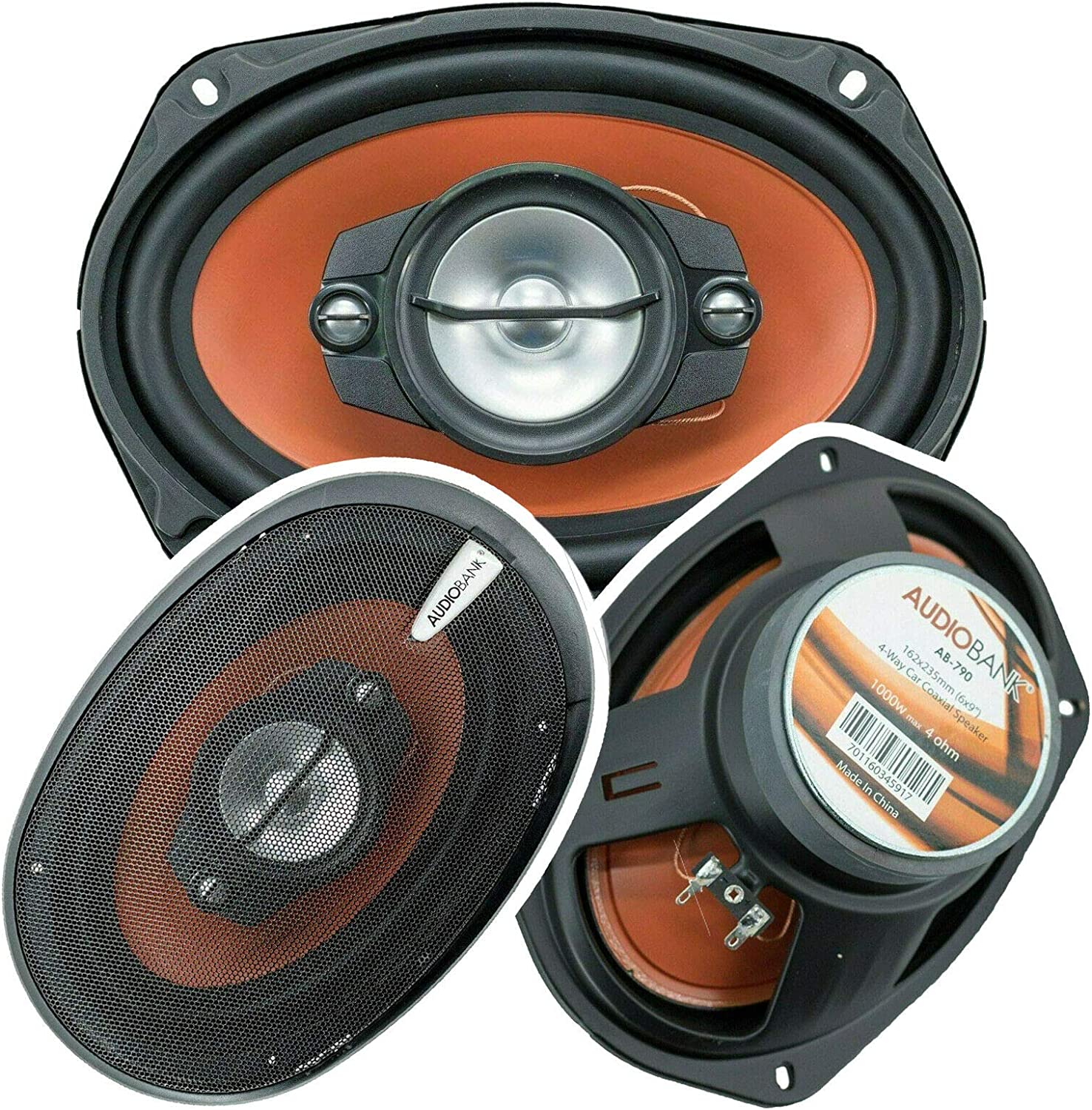 This Audiobank car speaker is a three-way speaker that eliminates the need for a subwoofer. The speaker is fitted with a 1-inch balanced dome tweeter. The product also houses a 1-inch aluminum voice coil, a 10-ounce magnet, and an injection cone woofer. It delivers 1000W peak power when operating as a pair.
The speaker incorporates mid-bass to produce high-quality sound. The product is stylish because of its black and copper color combination. It delivers uncompromised sound for its price. The coaxial speaker comes with a 35mm Mylar Dome for its mid-range. The product has enough power, good low and high bass.
The Audiobank speaker is a good option for music lovers who enjoy low and mid-bass.
The product is ideal for a factory-installed speaker alternative without breaking the bank.
It is perfect for those who want a car speaker that looks different from the standard black ones.
High peak power
Affordable by everyone
Good value for money
Wires not included for connection
A 3.5-Inch Car Speaker with Full Range Audio
BOSS Rubber Surround Car Speaker
Check Price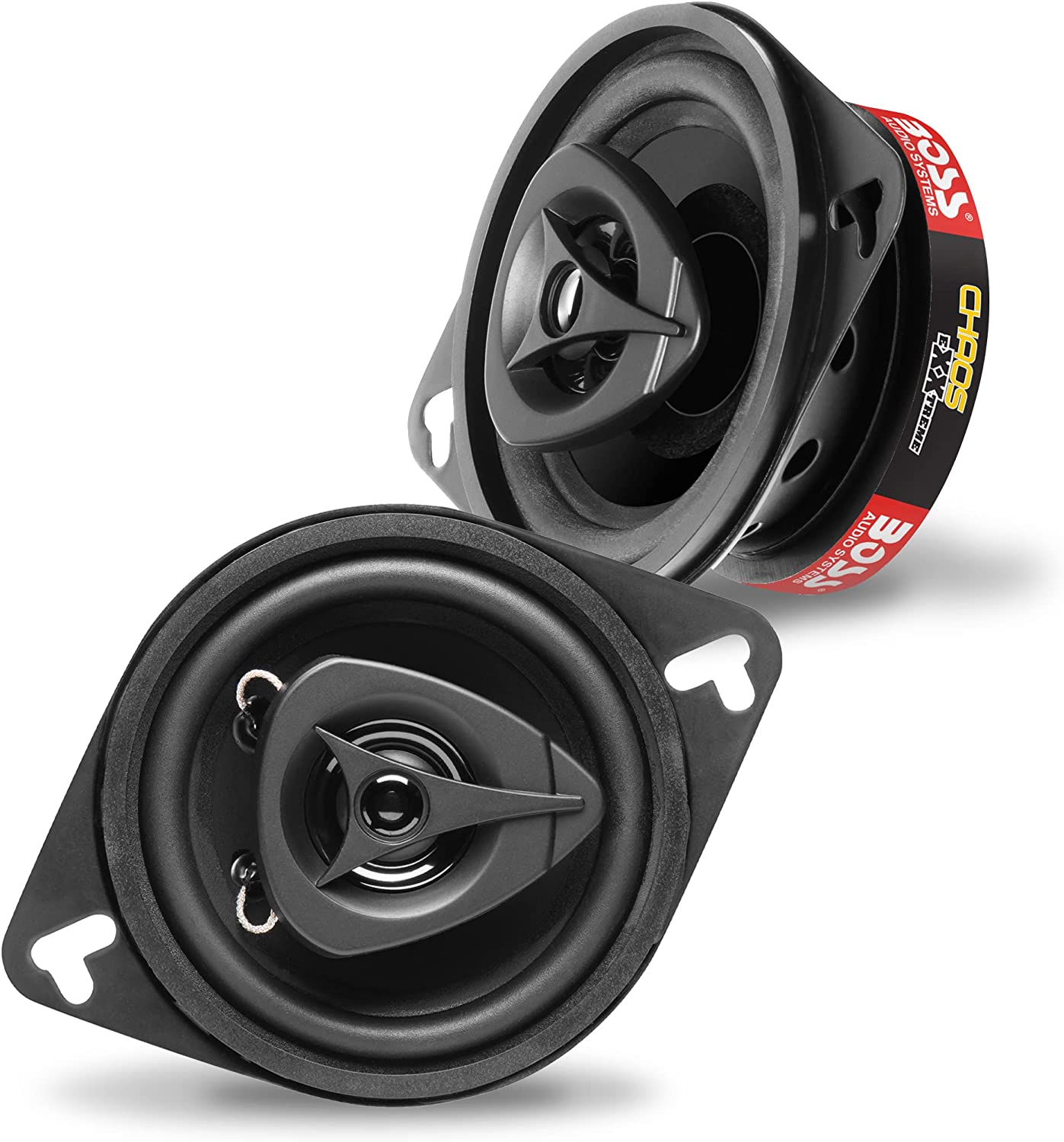 This BOSS coaxial car speaker has a diameter of 3.5 inches. The two-way speaker features a resilient and durable polypropylene cone for excellent sound and maximum flexibility. The product also incorporates a voice coil capable of withstanding high temperatures and allows the speaker to work continuously for a long time. Its stamped basket frame can transfer most of the energy generated by the speaker and also have energy absorption capability.
The speaker is encased with rubber surrounds that can prevent damage when exposed to different situations. The product comprises a piezoelectric tweeter that can be utilized without a crossover and has good resistance to overloads. It has several dedicated controls for different functions.
Why You Should Buy This?
The BOSS speaker is less prone to damage because of its highly durable rubber surrounds.
The product supports full-range audio to help you enjoy lows, mids, and highs equally well.
It is made of a rugged material that enhances its lifespan when handled properly.
Pros
Capable of withstanding overloads
Separate volume, station, and track controls
Durable voice coil
Cons
Bent metal frame in some cases
These are our top picks for 6 x 9 speakers 2023 you can buy for your car. If you are looking for car speakers with good bass, you must go through our list, and you will find a few that may be suitable for your car's audio requirements. We have included speakers from a wide price range to ensure that you will find something that suits your budget. Each of these speakers is awesome in its own way.
See Also: Top best Smartphones of 2023