Best Ringtone Apps for Android
We all love personalizing our mobile phones and setting our favorite MP3 music as a ringtone is one of the most remarkable ways to do this. On the Google Play Store, we'll find numerous ringtone applications but not all of them are effective.
We all love personalizing our mobile phones and setting our favorite MP3 music as a ringtone is one of the most remarkable ways to do this.
On the Google Play Store, we'll find numerous ringtone applications but not all of them are effective. Hence, we've curated a list of the top 7 ringtone creation applications for Android.
Here are the Best Ringtone Apps for Android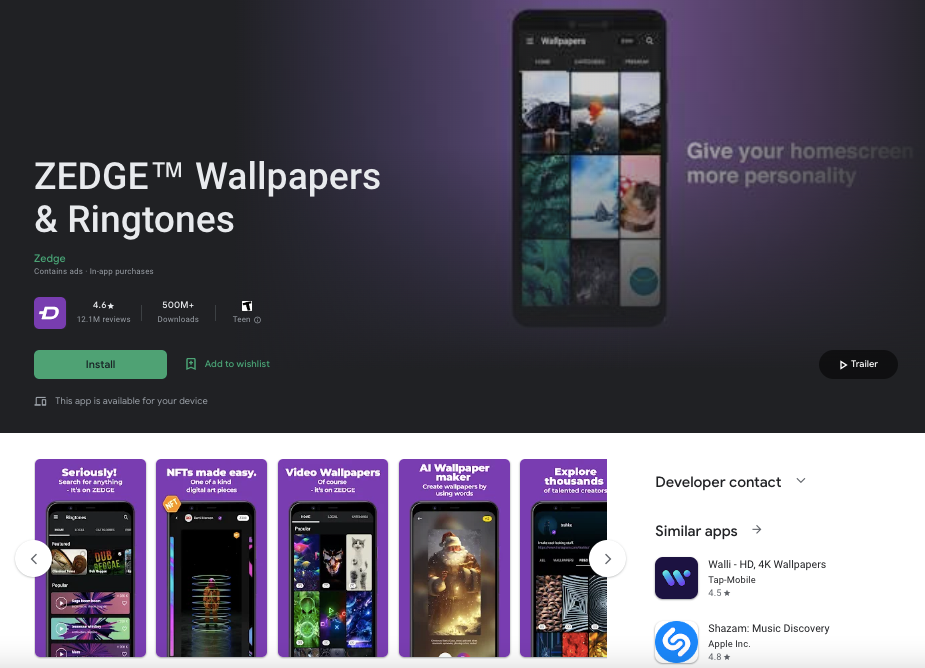 ZEDGE is one of the most popular ringtone service providers where every content is synced by the community. The user interface is pretty unique and well organized, so it won't take much time for you to discover the correct tune and set them as a ringtone.
Besides customized ringtones, ZEDGE also provides copyright-free photos, live wallpapers, icon packs, and NFTs. The app allows you to uncover high-quality tunes and HD wallpapers for free. However, this application lacks customized ringtones.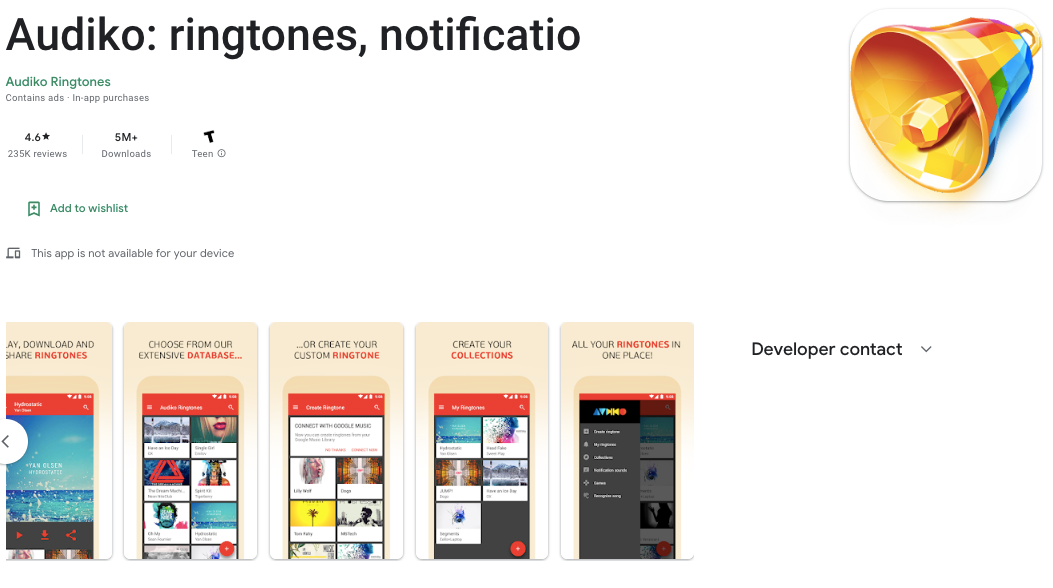 Audiko is undoubtedly one of the best ringtone apps for Android. It performs multiple functions and can help you in various ways. Audiko has an extensive music library that contains millions of tunes to convince any music taste.
It provides ringtones from various genres including classical, pop, party, hip-hop, rock, rap, and so on. In addition to downloading ringtones from their library, Audiko also lets its users create and customize their own ringtone from an existing music file.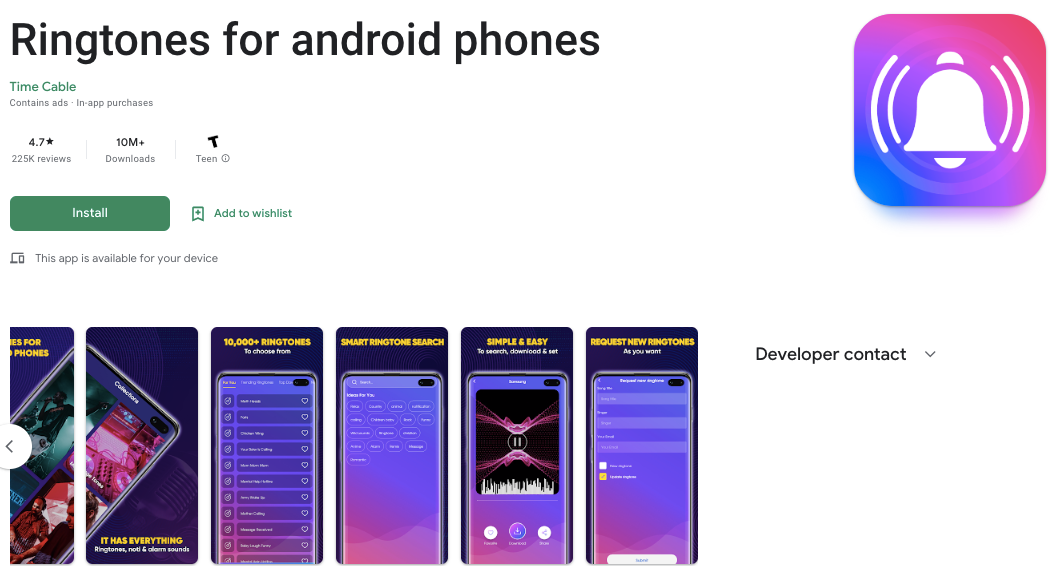 This beginner-friendly ringtone application from Time Cable allows you to quickly create ringtones in any genre for your Android phone. Next, it offers imposing editing tools like extracting audio from video files, merging multiple audio files, and converting different audio and video files into MP3 or MP4, or other formats.
Just load the file, move it to the preferred path, tweak, cut, trim, and finally, combine it to create a ringtone. The app lets you preview the tone before you save the final product.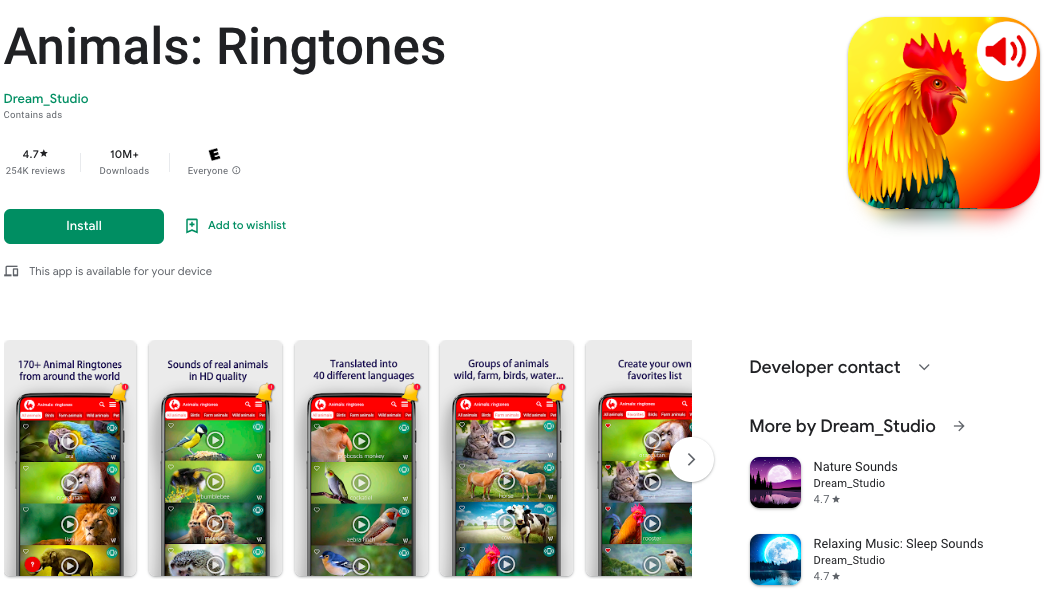 Animals is yet another free ringtone application where you can get more than 170 real animal sounds in HD quality for ringtone, notification tone, or alarm sound. The animal-themed tones are usually kept shorter so that they don't annoy anyone.
The ringtones are systematically arranged into several categories so users can easily find out their preferred tune. New and exclusive animal sounds are updated regularly on the app so you will not get bored with the same old ringer.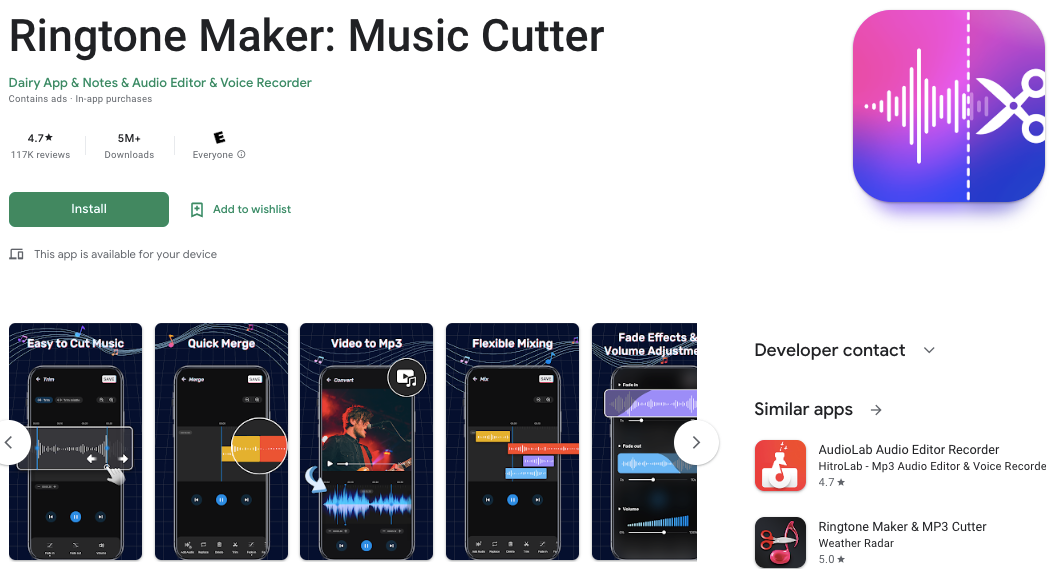 Ringtone Maker is a free audio editor and voice recorder application that generates ringtones, alarm tones, and notification sounds from your preferred 3GPP, WAV, WMA, AAC, MP3, MP4, M4A, and AMR audio file formats. You need to follow a few steps before you can set your custom ringtone.
In addition, it also allows you to record your personal audio and set the optimal fraction of it as your ringtone.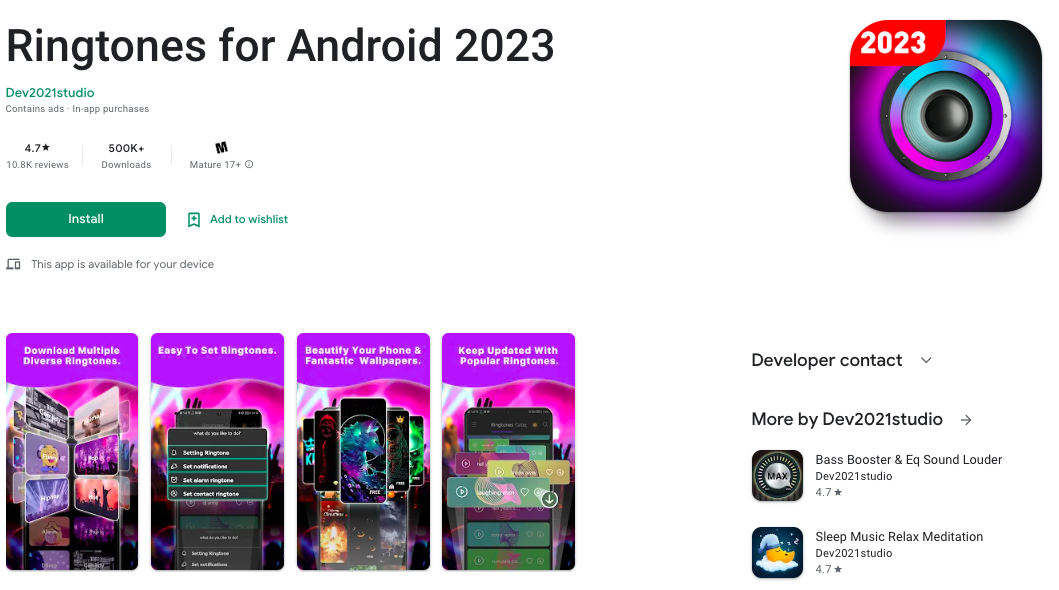 The latest ringtone application from Dev2021Studio not only offers free ringtones but also provides wallpapers for free. It has a decent interface and can be considered an alternative to Zedge or Audiko.
The app has suitably divided all its existing tunes into categories like Most Popular, Nature, Classical Music, Funny, Pop, Anime, Sports, Vintage, and so on. You can save your favorite tune and set it as a ringtone, caller, notification, alarm, or contact tone.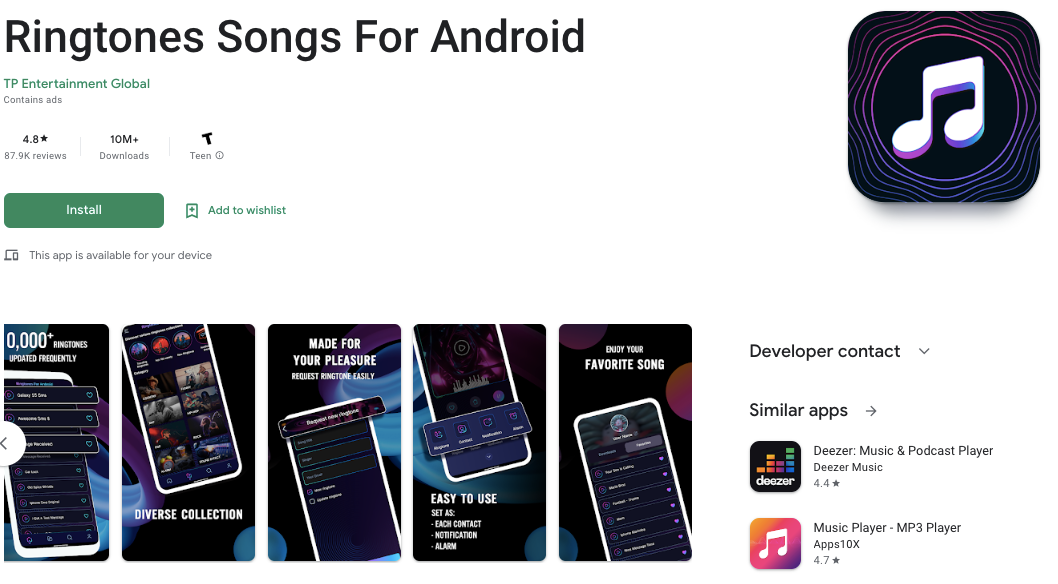 Music Ringtones for Android is one of the best ringtone applications out there, bringing more than 10000 popular ringtones to your Android phones. You can enjoy some implausible tones and trim a precise portion from it to set it as a ringtone, notification sound, or alarm tone.
The application also enables you to save and create your own sound. Moreover, it helps you to stay updated with the hottest trends.
Conclusion
Everyone knows what purpose a ringtone serves. Since the invention of mobile phones, ringtones must have been the most tailored term among tech geeks. Now that you are well acquainted with some of the best ringtone apps for Android, go ahead and select the one that will assist you in turning your favorite music into a ringtone.
ABOUT THE AUTHORS
Elizabeth
Elizabeth is your trusted Apple product expert with a wealth of knowledge and experience gained from her tenure as an Apple authorized personnel. She's also a seasoned mobile phone, Samsung, and Android expert. With a keen eye for detail and a passion for all things Apple, Samsung, and Android, she is dedicated to providing you with accurate, reliable, and up-to-date insights. Count on Elizabeth to be your go-to source for expert advice on navigating the world of Apple technology, Samsung devices, and the Android ecosystem.
Bogdana
Bogdana is your technology expert, backed by a strong foundation in consumer electronics and a range of qualifications that make her a trusted source in the tech world. With a deep understanding of the latest advancements and a passion for simplifying complex concepts, Bogdana is your go-to authority for demystifying technology and keeping you informed about the ever-evolving digital landscape. Trust her to deliver reliable insights and expert guidance to help you navigate the world of consumer electronics and beyond.