6 Best Free Weather Apps For Android With Widgets
The type of widget that you choose for your Android home screen can hint at your personality with just one glance. If you are a person concerned about the time and weather, you will need the best weather and clock widgets to customize your home screen.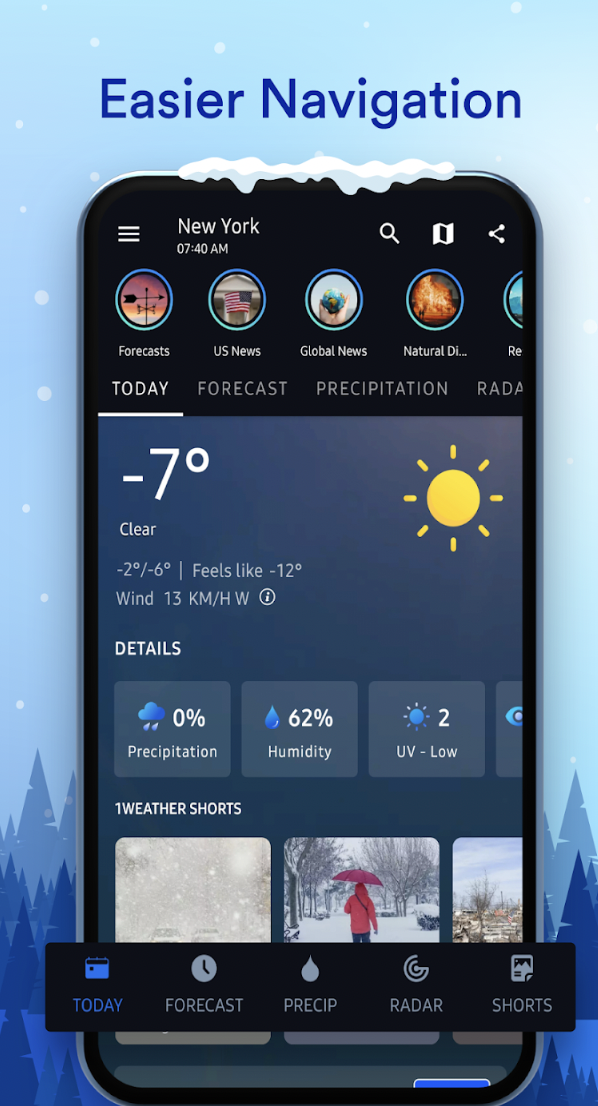 The type of widget that you choose for your Android home screen can hint at your personality with just one glance. For example, if you are a music fan, you may build a music app widget that allows you to easily play, pause, or skip the music tracks from the home screen without opening the actual music app.
Similarly, if you are a person concerned about the time and weather, you will need the best weather and clock widgets to customize your home screen.
Below are 6 of the best free weather apps for Android with widgets.
Best Free Weather Widgets For Android With Widget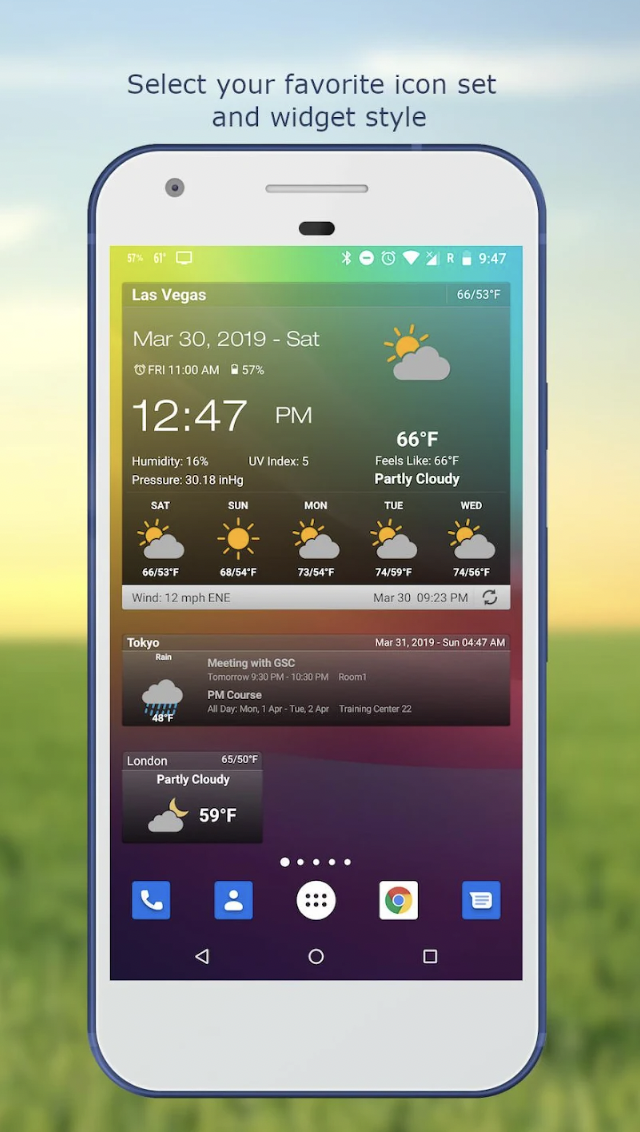 The Weather and Clock widget provides you with real-time, accurate information about the current weather in your area as well as the weather in your favorite cities.
If you are the kind of person who needs to travel a lot, you can locate the city that you are going to visit quickly, and the app will give you information on the current weather conditions, humidity, pressure, UV index, and wind speed on an hourly, 5-day, and even 10-day basis.
Weather and Clock Widget allows you to change your widget style, text color, and font. They also come with different widget sizes so you can adjust them to your style and screen size. There are 2×1, 4×1, 4×2, and 4×3 widget sizes for standard screens, and 5×1, 5×2, and 5×3 for large screens and tablets, so you don't have to worry if it does not fit your Android home screen.
They also have another exciting feature that allows you to share the weather and location information with your friends.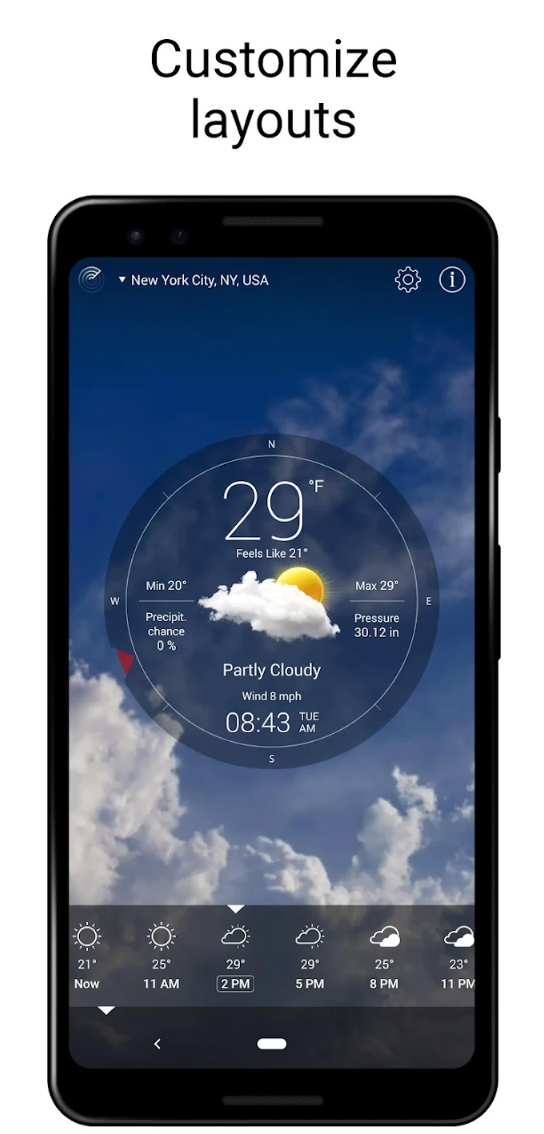 As the name suggests, this app has fabulous animated wallpaper with live weather conditions on your home screen. With an innovative technology implemented in the app called Weather Live™, the app can give users a live weather scene reflecting real-time conditions on your home screen. That's so cool!
The widget on Weather Live always includes a compass that is rarely found in other weather applications. They have a beautiful transparent widget with varying shapes.
Weather Live also gives you information about the weather with standard measurement units that you can choose, such as Celsius or Fahrenheit for Temperature and Kilometers per hour or meters per second for wind speed. If you are a fan of simple and beautiful design and details, then Weather Live fits you.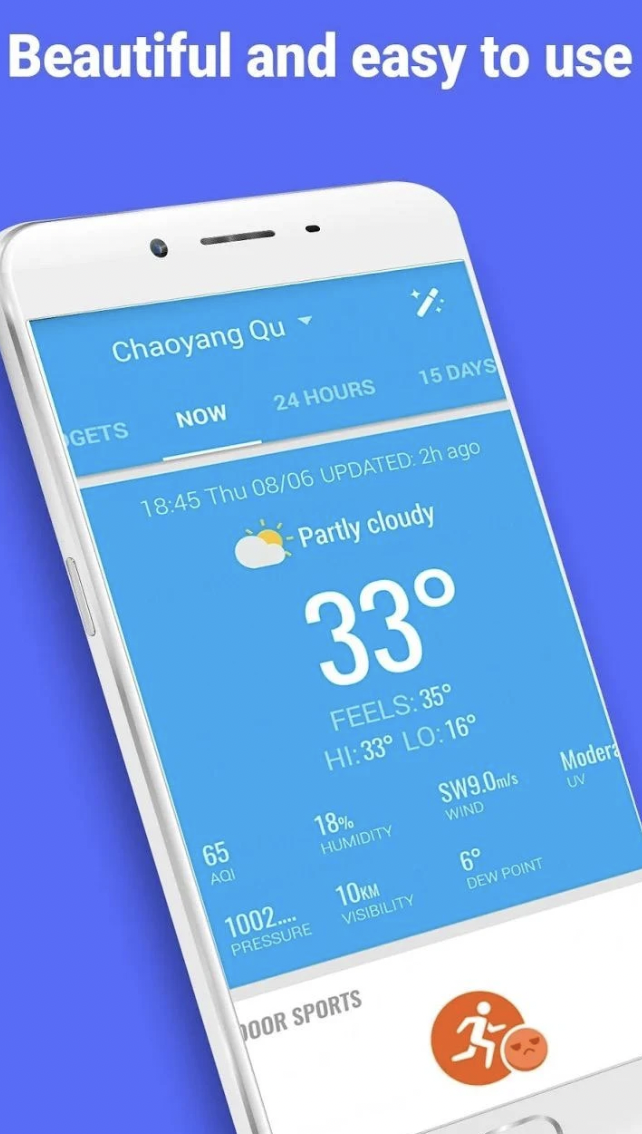 Amber Weather is a weather app for Android with full customization and personal appearance. They provide widgets with various styles and themes, including 3D weather, cartoon clock weather, and unique weather clock widgets made for particular games.
Other selections include weather clocks, weather icons, and even a different font for the widget on your home screen. Most of these themes are free. By adopting a material design, Amber Weather is seen as clean and modern.
What information will you get from them? Well, Amber Weather can automatically detect your location and give you the weather information hourly, a 7-day weather forecast, etc. You can also add a new city to the list manually to check its weather. In addition, they have automatic update intervals: 15 minutes, 30 minutes, 1 hour, 3 hours, 6 hours, 12 hours, and 1 day.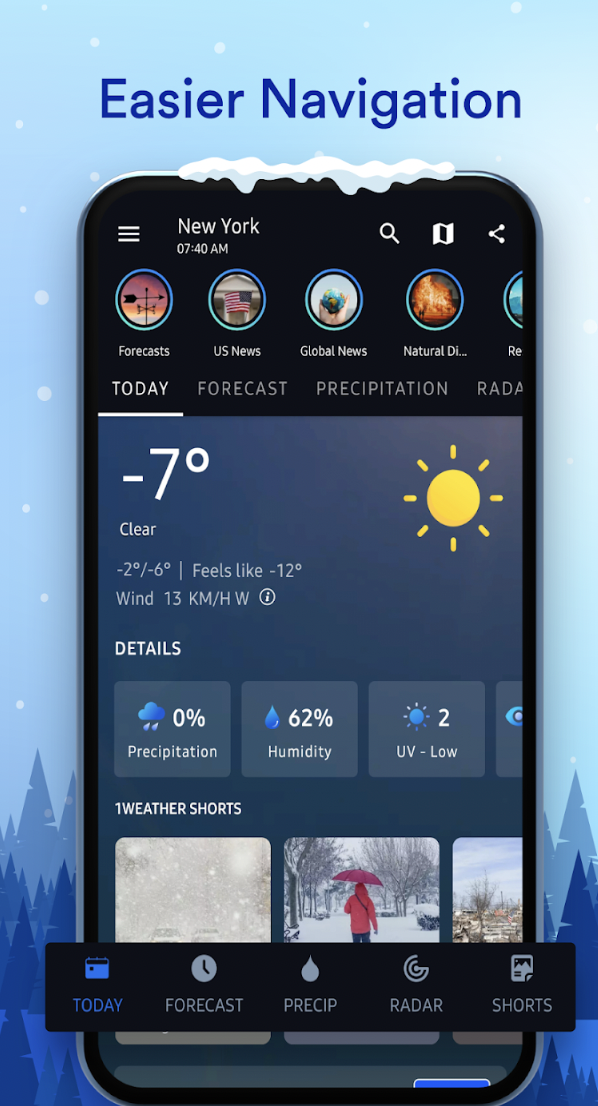 Many users agreed that 1Weather is the best weather app in terms of design. They support a Live weather background and a dynamic photo background, and you can also customize the background yourself. This weather app is suitable for those who love a simpler design.
The combination of a fabulous, minimalist, beautiful design makes them one of the best weather apps for Android. They provide you with information on current conditions and forecasts for your location and up to 12 locations hourly. If you live in the U.S., you can get Severe Alerts from the National Weather Service (NWS).
1Weather allows you to share weather information with your friends via email and social media.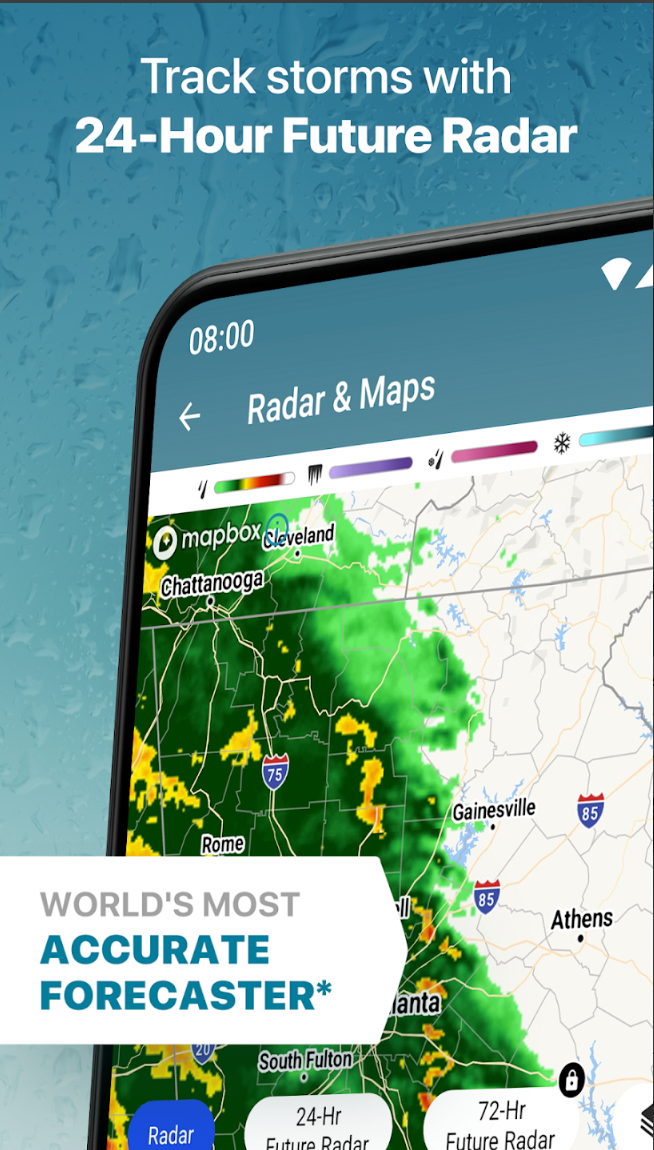 The Weather Channel app can give you forecasts hourly, 3-hourly, or 10-day. Temperatures can be obtained in Celsius or Fahrenheit, and it has a weather map with fast-loading radar maps that show you the past and future radar.
Its map layers can also show road or satellite views, water temperature, wind speeds, snow cover, etc. The weather push alert feature will always send you alert notifications for severe weather and warning issues.
This app is another app with a simple design, and it is simple to use. It has a nice and straightforward widget design dedicated to those who love simplicity. Their weather widget is available in 1×1, 2×2, 1×4, and 4×4 sizes.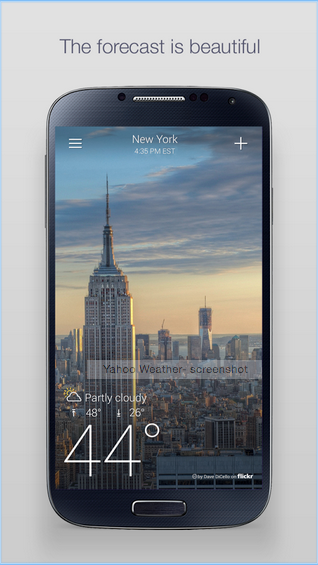 Yahoo has worked very hard on this Weather app to satisfy its users. They have been updating and improving their features and performance. With stunning Flickr photos, the forecast can have a beautiful background that you can choose and match your location.
You can get the weather information as detailed as you want. One feature allows you to browse interactive maps and track your favorite cities and destinations.
Yahoo Weather is an easy-to-use application. To get details on the weather information, you can tap the screen and scroll down. If you want to add cities, you can tap the plus sign and add up to 20 cities. To move between locations and cities, you can swipe left-to-right. You can also submit your photos to Yahoo Weather by joining #projectweather on Flickr. Interesting!
ABOUT THE AUTHORS
Elizabeth
Elizabeth is your trusted Apple product expert with a wealth of knowledge and experience gained from her tenure as an Apple authorized personnel. She's also a seasoned mobile phone, Samsung, and Android expert. With a keen eye for detail and a passion for all things Apple, Samsung, and Android, she is dedicated to providing you with accurate, reliable, and up-to-date insights. Count on Elizabeth to be your go-to source for expert advice on navigating the world of Apple technology, Samsung devices, and the Android ecosystem.
Bogdana
Bogdana is your technology expert, backed by a strong foundation in consumer electronics and a range of qualifications that make her a trusted source in the tech world. With a deep understanding of the latest advancements and a passion for simplifying complex concepts, Bogdana is your go-to authority for demystifying technology and keeping you informed about the ever-evolving digital landscape. Trust her to deliver reliable insights and expert guidance to help you navigate the world of consumer electronics and beyond.