Apple Unveils "Vision Pro" Mixed-Reality Headset: A New Era of Spatial Computing
In an exciting announcement today, Apple introduced its highly anticipated "Vision Pro" headset, marking the tech giant's foray into the world of mixed reality devices. .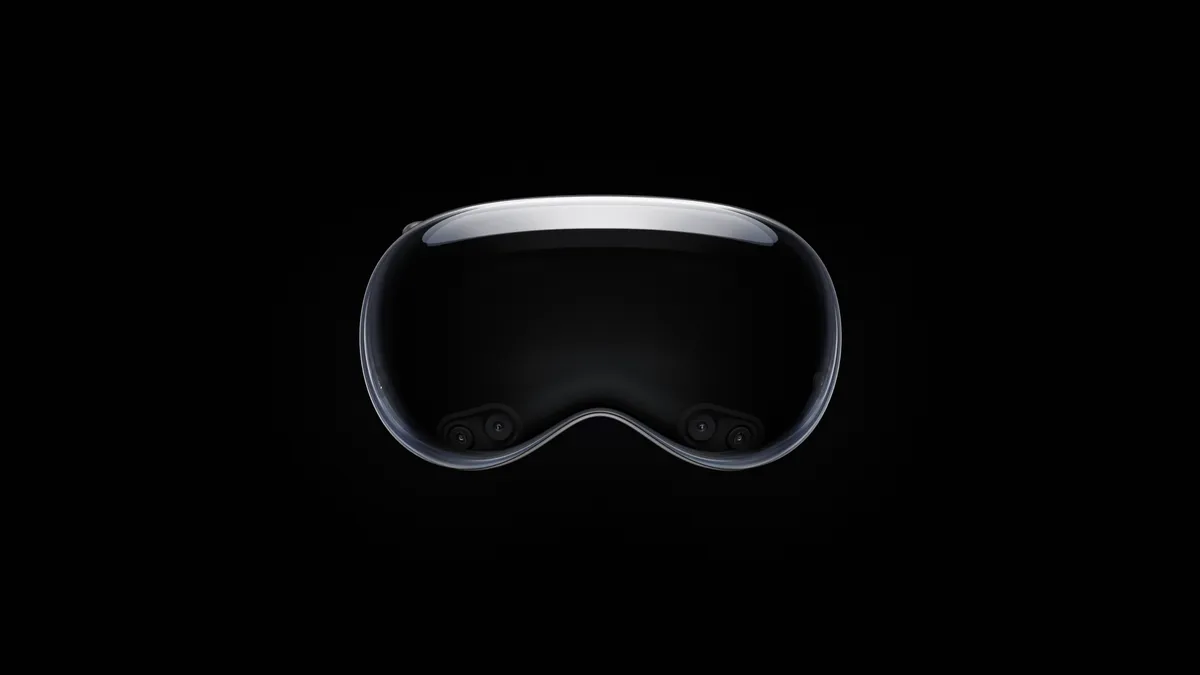 In an exciting announcement today, Apple introduced its highly anticipated "Vision Pro" headset, marking the tech giant's foray into the world of mixed reality devices. With Vision Pro, Apple aims to revolutionize user experiences by immersing them in a three-dimensional interface and breaking free from the limitations of traditional displays.
The standout feature of Vision Pro is its innovative passthrough video of the wearer's eyes, aptly named "EyeSight." This unique capability provides surrounding individuals with a glimpse of what the user is experiencing within the headset, creating an engaging and interactive environment.
To enhance user control, Vision Pro leverages a combination of eye tracking, finger tapping, and flicking gestures. The device allows users to scale apps to any desired size and position them freely in their surroundings, extending the digital experience beyond physical boundaries. Apple's spatial computing vision comes to life with the integration of a digital crown, granting users the ability to adjust immersion levels.
A captivating "Home view" floats in front of users, making them feel truly present in their own rooms. Control is achieved through the use of eyes, hands, and voice commands, facilitating seamless interaction with the device. Furthermore, Vision Pro can be connected to a Mac, expanding the display into a virtual space alongside other apps running on the headset.
Video calls on FaceTime reach a whole new level with life-sized individuals appearing on the Vision Pro headset. Optimized photo and video viewing experiences provide users with unparalleled visual quality, while the headset's impressive 3D camera captures depth and delivers spatial audio for an immersive multimedia experience. Additionally, a cinematic video viewing mode scales the screen beyond the confines of one's physical space.
Disney has partnered with Apple to create themed experiences in sports, Star Wars, Marvel, National Geographic, and more, specifically designed for the Reality Pro headset. Upon its launch, the Vision Pro will have access to Disney+, expanding the range of entertainment options available to users.
Crafted with a sleek design, the Vision Pro features a polished glass front seamlessly integrated with a lightweight aluminum frame. The top of the headset houses a button and a Digital Crown, while a modular system ensures optimal fit for users. Audiopods are located on the sides, and those wearing glasses can utilize magnetic prescription glass inserts. The headset's battery is separate and connects magnetically to the side of the device.
Under the hood, Vision Pro boasts an impressive microOLED Apple silicon backplane with two display panels, delivering an astounding 23 million pixels. The device is capable of rendering 4K video at full resolution, providing a visually stunning experience. Apple's new Spatial Audio system adds another layer of immersion by offering ambient sound and utilizing audio ray-tracing to match the sound to the environment.
Powering the Vision Pro is Apple's M2 chip, complemented by the dedicated "R1" chip, which handles real-time sensor processing, ensuring smooth and responsive performance.
Apple's Vision Pro headset promises to redefine the boundaries of mixed reality and spatial computing, offering users a captivating and immersive journey into a digital realm.
ABOUT THE AUTHORS
Elizabeth
Elizabeth is your trusted Apple product expert with a wealth of knowledge and experience gained from her tenure as an Apple authorized personnel. She's also a seasoned mobile phone, Samsung, and Android expert. With a keen eye for detail and a passion for all things Apple, Samsung, and Android, she is dedicated to providing you with accurate, reliable, and up-to-date insights. Count on Elizabeth to be your go-to source for expert advice on navigating the world of Apple technology, Samsung devices, and the Android ecosystem.
Bogdana
Bogdana is your technology expert, backed by a strong foundation in consumer electronics and a range of qualifications that make her a trusted source in the tech world. With a deep understanding of the latest advancements and a passion for simplifying complex concepts, Bogdana is your go-to authority for demystifying technology and keeping you informed about the ever-evolving digital landscape. Trust her to deliver reliable insights and expert guidance to help you navigate the world of consumer electronics and beyond.