Apple Unveils macOS Sonoma: A Productivity-Focused Update with Enhanced Widget Management and Gaming Power
Apple's latest update to its macOS has been revealed as Sonoma, introducing a range of features designed to enhance productivity, widget management, and gaming capabilities..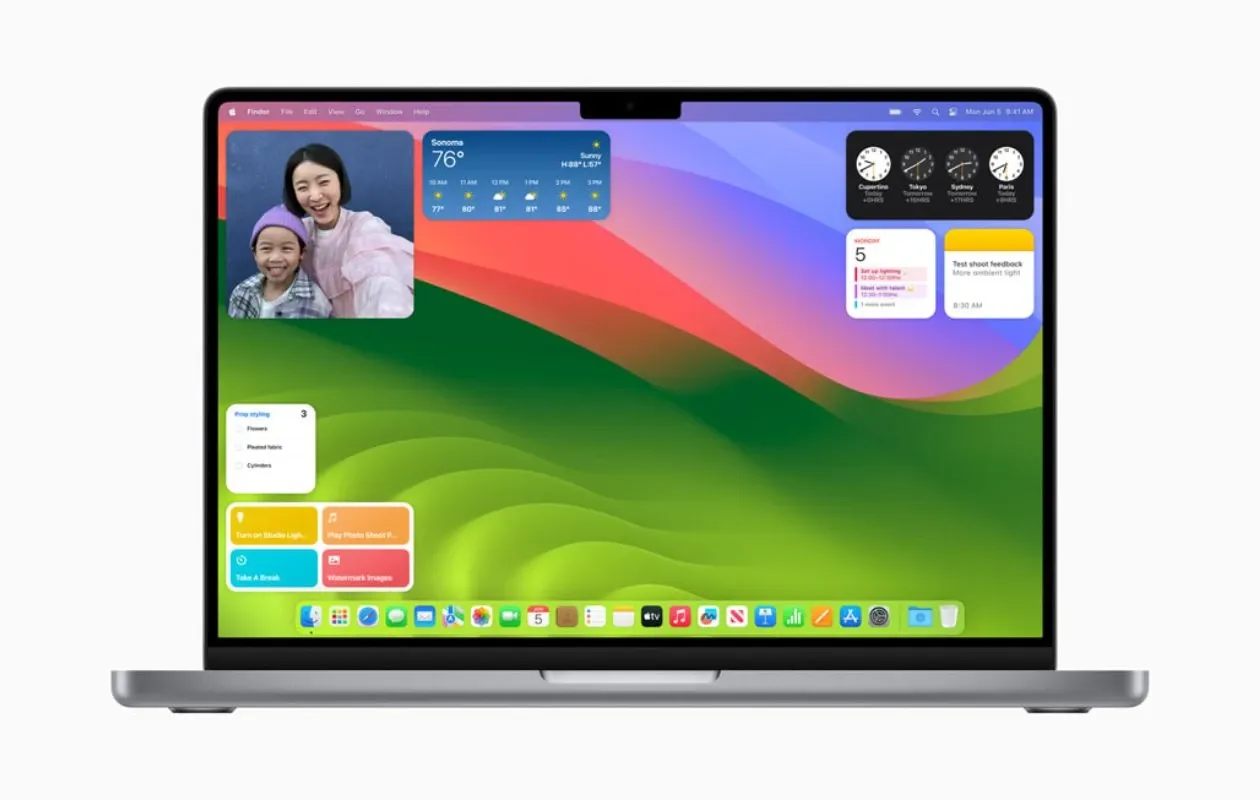 Apple's latest update to its macOS has been revealed as Sonoma, introducing a range of features designed to enhance productivity, widget management, and gaming capabilities. macOS 14, as it is also known, brings a host of improvements and functionalities to Mac users.
One of the key highlights of Sonoma is the addition of movable widgets to the desktop, allowing users to place them anywhere they prefer. As one widget is in use, others will fade into the background, providing a clutter-free workspace. Continuity, a feature that enhances the integration between iOS and macOS, enables Sonoma to communicate with widgets on iPhones. With an iOS device nearby, users can access and interact with their phone's widgets directly from the desktop, without the need for direct installation on the Mac.
Sonoma also introduces notable updates to video conferencing on Mac. The Presenter Overlay mode places the user on top of shared content during video calls, seamlessly integrating them with the background. Additionally, users can employ hand gestures to add fun video effects such as balloons and hearts to their calls. These features are compatible with popular video conferencing apps like Zoom and Teams.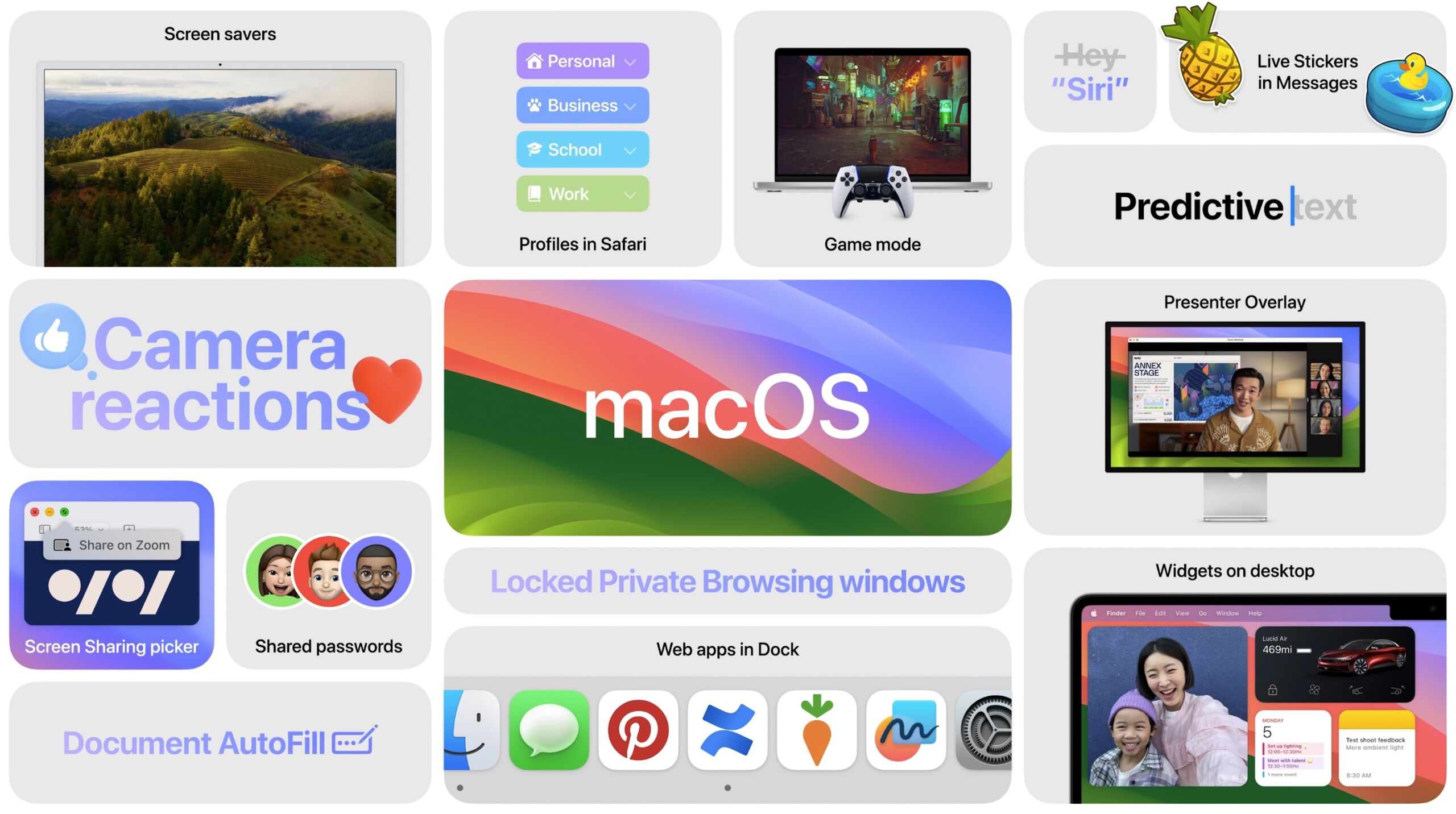 In the realm of privacy, Sonoma focuses on enhancing Safari's capabilities. The update introduces Safari profiles, which allow users to manage separate sets of cookies, history, extensions, favorites, and tab groups. Private browsing in Safari becomes even more secure with additional tracker blocking systems, and a new feature locks down private windows when not in use, adding an extra layer of privacy protection.
Alongside productivity features, Sonoma brings improvements to Mac gaming power. The introduction of Game Mode optimizes CPU and GPU performance by reducing background tasks, resulting in smoother gameplay with higher framerates. Game Mode also enhances audio latency in AirPods and input latency in gamepads by doubling the system's Bluetooth sampling rate. It is compatible with all game titles, including future releases. In exciting news for gamers, Death Stranding: Director's Cut and upcoming projects from Kojima Productions are set to arrive on Mac later this year.
Sonoma is now available as a developer beta, with a public beta scheduled for release in July. The final version of Sonoma is expected to launch in the fall as a free software update, enabling Mac users to enjoy the latest enhancements and features that foster productivity and entertainment.
ABOUT THE AUTHORS
Elizabeth
Elizabeth is your trusted Apple product expert with a wealth of knowledge and experience gained from her tenure as an Apple authorized personnel. She's also a seasoned mobile phone, Samsung, and Android expert. With a keen eye for detail and a passion for all things Apple, Samsung, and Android, she is dedicated to providing you with accurate, reliable, and up-to-date insights. Count on Elizabeth to be your go-to source for expert advice on navigating the world of Apple technology, Samsung devices, and the Android ecosystem.
Bogdana
Bogdana is your technology expert, backed by a strong foundation in consumer electronics and a range of qualifications that make her a trusted source in the tech world. With a deep understanding of the latest advancements and a passion for simplifying complex concepts, Bogdana is your go-to authority for demystifying technology and keeping you informed about the ever-evolving digital landscape. Trust her to deliver reliable insights and expert guidance to help you navigate the world of consumer electronics and beyond.