After using a BlackBerry for long time if you have recently owned a Galaxy S4 then of course you will want to transfer contacts from your Blackberry to Galaxy S4. This is the first step of replacing an old phone by a new one. But this can't be done by typing as it is really difficult if the contact list is quite long. However, this transfer is possible in just few minutes using some software. Find out the full guide on this process.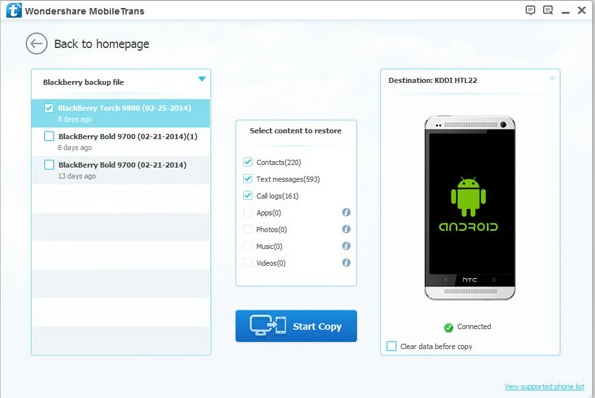 See also- How to fix Samsung Galaxy S4 not connecting to Samsung Kies
Way

to

transfer

contacts

from

Blackberry

to

Galaxy

S4
You need a computer for this process.
> First download the software called Blackberry Desktop Software by clicking here. This software is the way to link blackberry and computer to back up all the data of Blackberry phone. Once downloaded, install the software in your computer and connect the Blackberry device to store all the data on computer for future.
> Next download and install phone to phone transfer in your computer. Installation does not take long time, and the process is same as other software installations. The software will be launched automatically as the installation is completed. Click on the start button to start the phone to phone software.
> Now connect the Blackberry phone and your new Samsung Galaxy S4 to computer with the USB cable. The software will detect the devices on the computer attached after successful connection.
> Select the options that you want to transfer from Blackberry to Galaxy S4. Contacts, photos, videos and messages can be transferred by this software. If you want to transfer contacts from Blackberry to Galaxy S4 then check the contacts and make other options uncheck. Next, click on 'Start copy' to start the process.
This phone to phone software is not only useful in this case, but it is able to transfer data among all the phones like Android, iPhone, Nokia Symbian etc.
Join our newsletter 🎉
Subscribe to our newsletter and never miss out on what's happening in the tech world. It's that simple.
Latest Tech News

Exclusive Tech Deals