If you look up for eBook reader apps in Google Play Store, you'll see the choice is huge. Finding the right app can be quite challenging, and that's why we are going to share some of the best ones. All the apps listed below are offering the great experience, so no matter which one you choose, one thing is certain – you will really enjoy reading on your Android phone or tablet.
See also: Top 15 traveling apps for Android
Top Best Android Readers for magazines and Ebooks
Google Play Books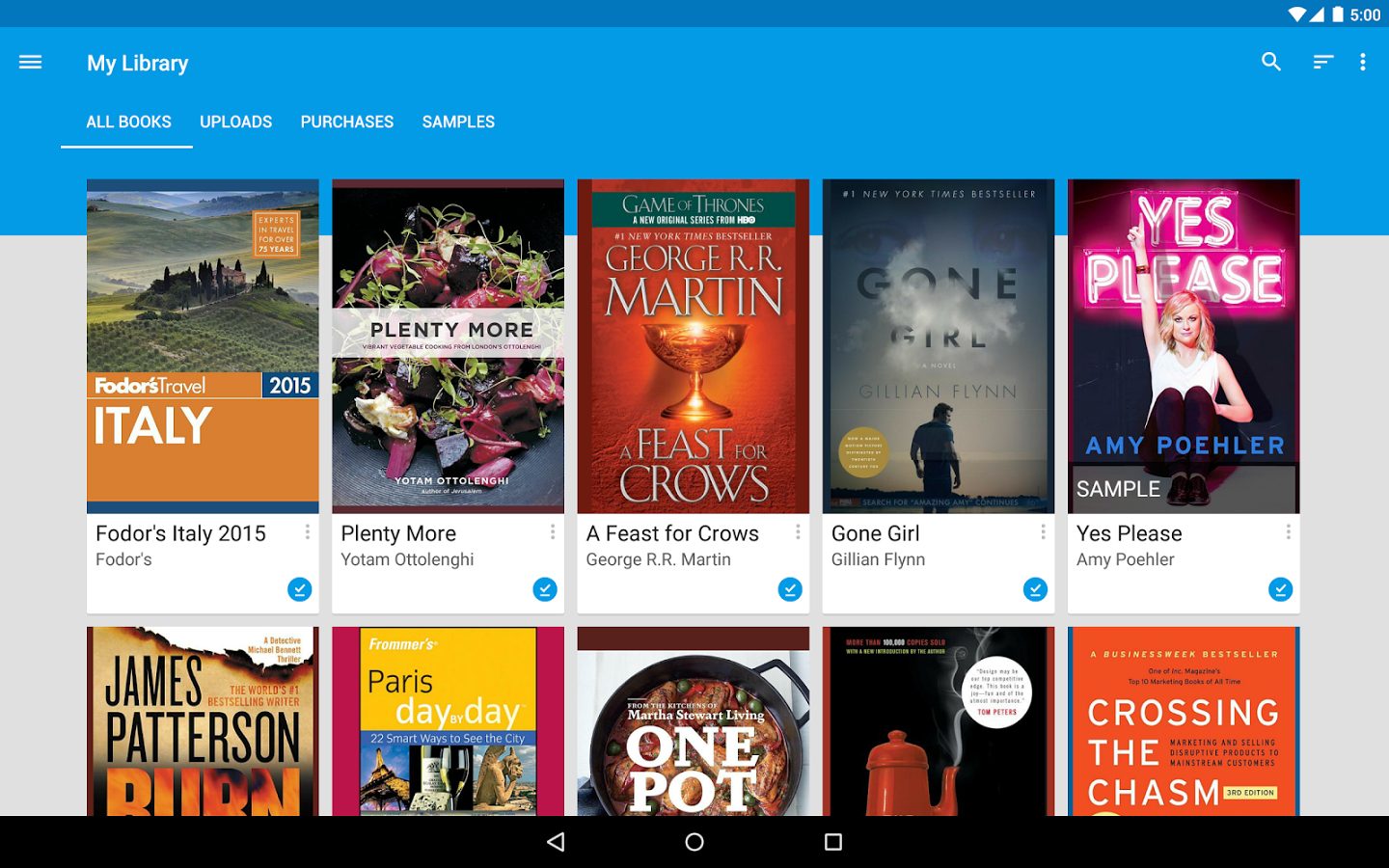 If you like the whole Google experience this is the app for you. Google Play Books provides an enjoyable reading experience and it is packed with many great things. There are millions of books, and many of them are free. You can upload EPUB and PDF files to your library, you can read offline, add notes, highlight text while reading, use dictionary and bookmark pages. There are three reading modes: day, night and sepia. You can select the fonts and font size and you can use text to speech if publisher allowed it. This app has many other interesting features, and since it's free, so make sure to try it out.
Moon+ Reader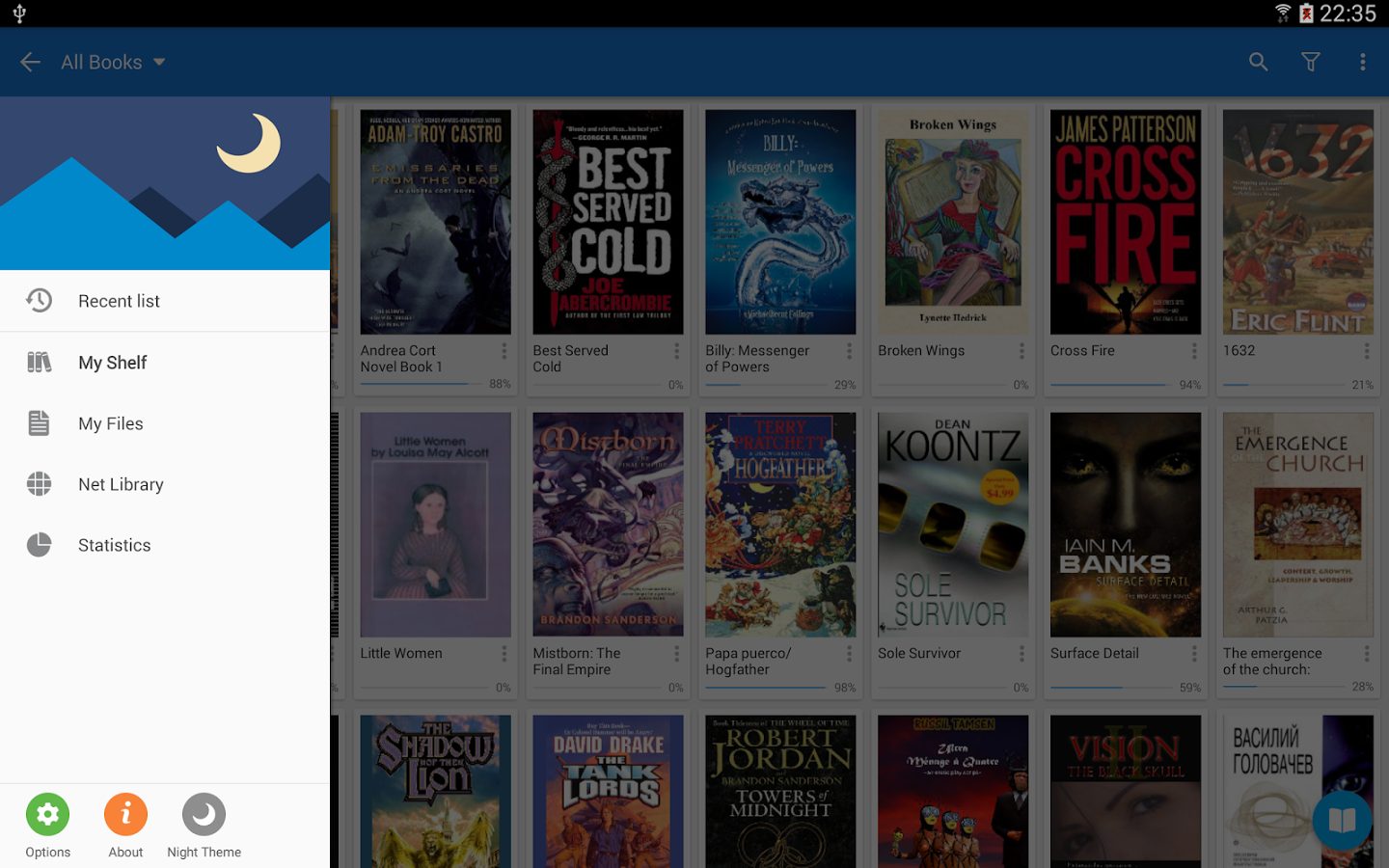 Moon+ Reader is an excellent app and to be honest, it's my favorite one. It comes with many amazing features. There are two versions of this app, free and pro ($4.99). There are many eBooks you can read for free. The app supports PDF, EPUB, cbz, cbr, HTML, zip, rar, mobi, fb2, txt, and chm. Moon+ includes day and night mode, and it allows you to set the font size, bookmark the pages, adjust the brightness when reading, and more. It is localized in 40 languages. When it comes to pro version it is ad-free and there are some additional features, such as multi-point touch support, more fonts, backgrounds and themes, headset and Bluetooth keys control, etc.
Download Moon+ Reader free version
Aldiko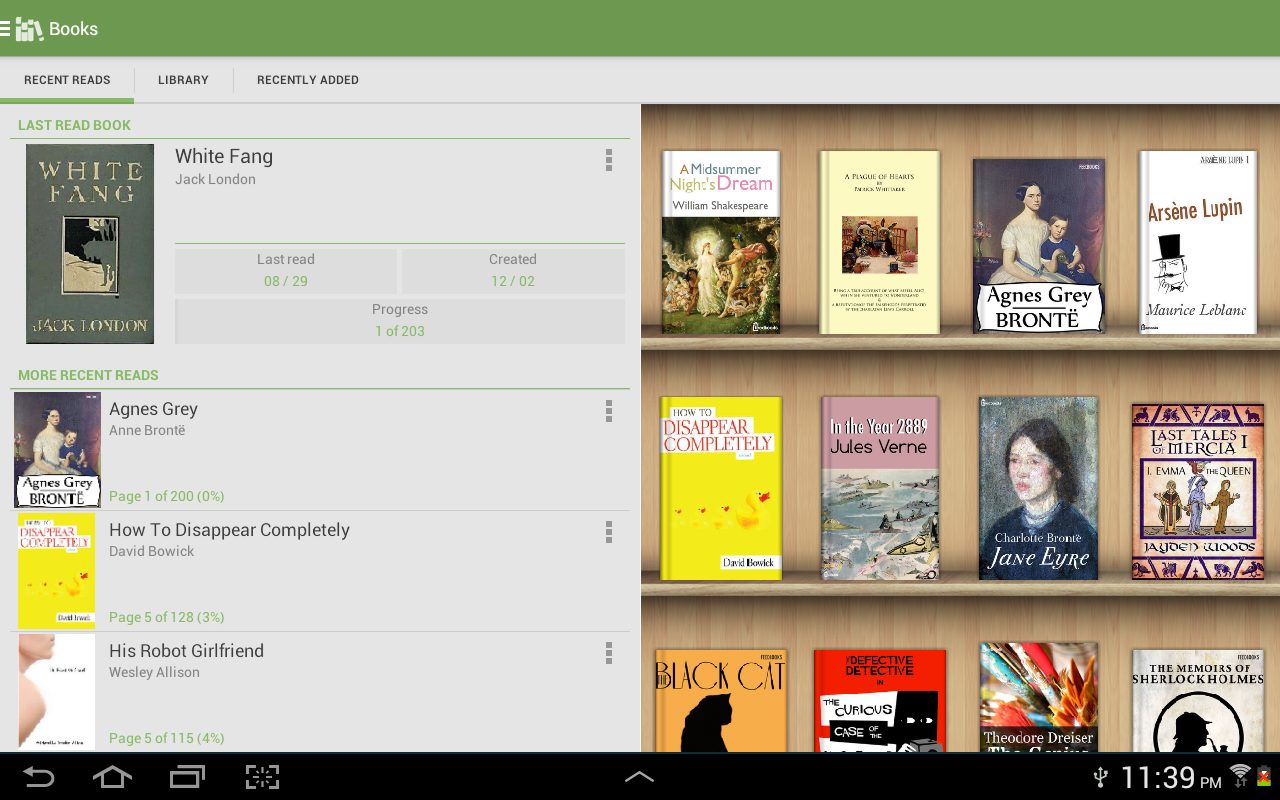 Another eBook reader app you should try out. There is a free and premium version ($2.99). Aldiko reader supports PDF and EPUB formats, and it is fully customizable. It means that you can set font type and size, line spacing, alignment, brightness, etc. according to your needs. You can organize your eBooks by collections and tags. There is also nighttime reading mode and many other options for an excellent reading experience. Premium version is ad-free, it has book cover editing, notes and highlights for EPUB files and more. You may try out the free version first, and if you like it, you can easily switch to Premium.
PocketBook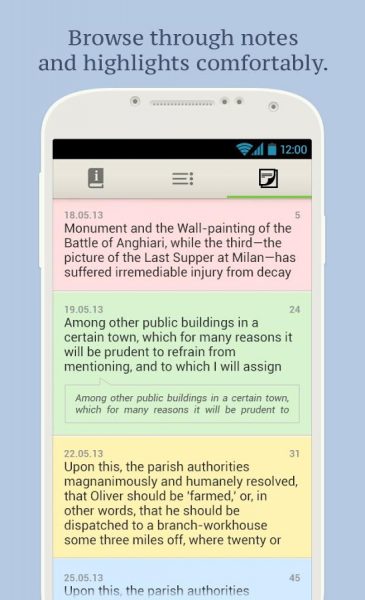 PocketBook has all the essentials for an exceptional reading experience. It supports PDF, EPUB, TXT, FB3, HTML, RTF, CBZ and more. PocketBook has user-friendly interface, and it allows the readers to customize their experience: choose the layouts, colors, text size, etc. Some of the key features of this app are single, dual and scroll viewing modes, easy book navigation, lock screen orientation, quick access to highlights, contents and notes, and so on. This eBook reader is free.
Download PocketBook
FBReader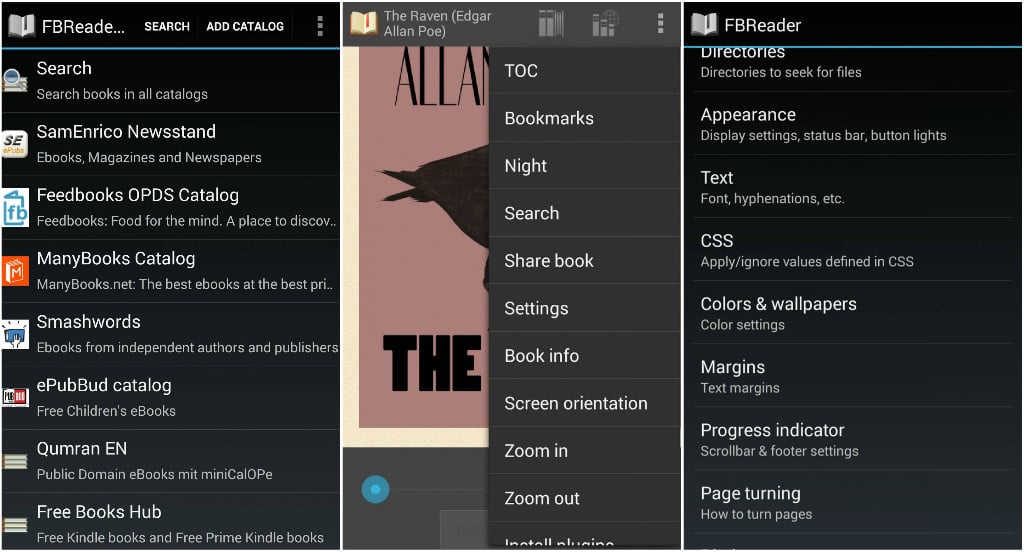 This is another free eBook reader that supports various formats, such as EPUB, fb2, RTF, html, doc, etc. You can easily access eBook stores and catalogs. It is localized for 34 languages. FBReader is customizable, so you can adjust the screen brightness, choose fonts and their size, set custom backgrounds, use day or night mode when reading, and more. The app is free.
eReader Prestigio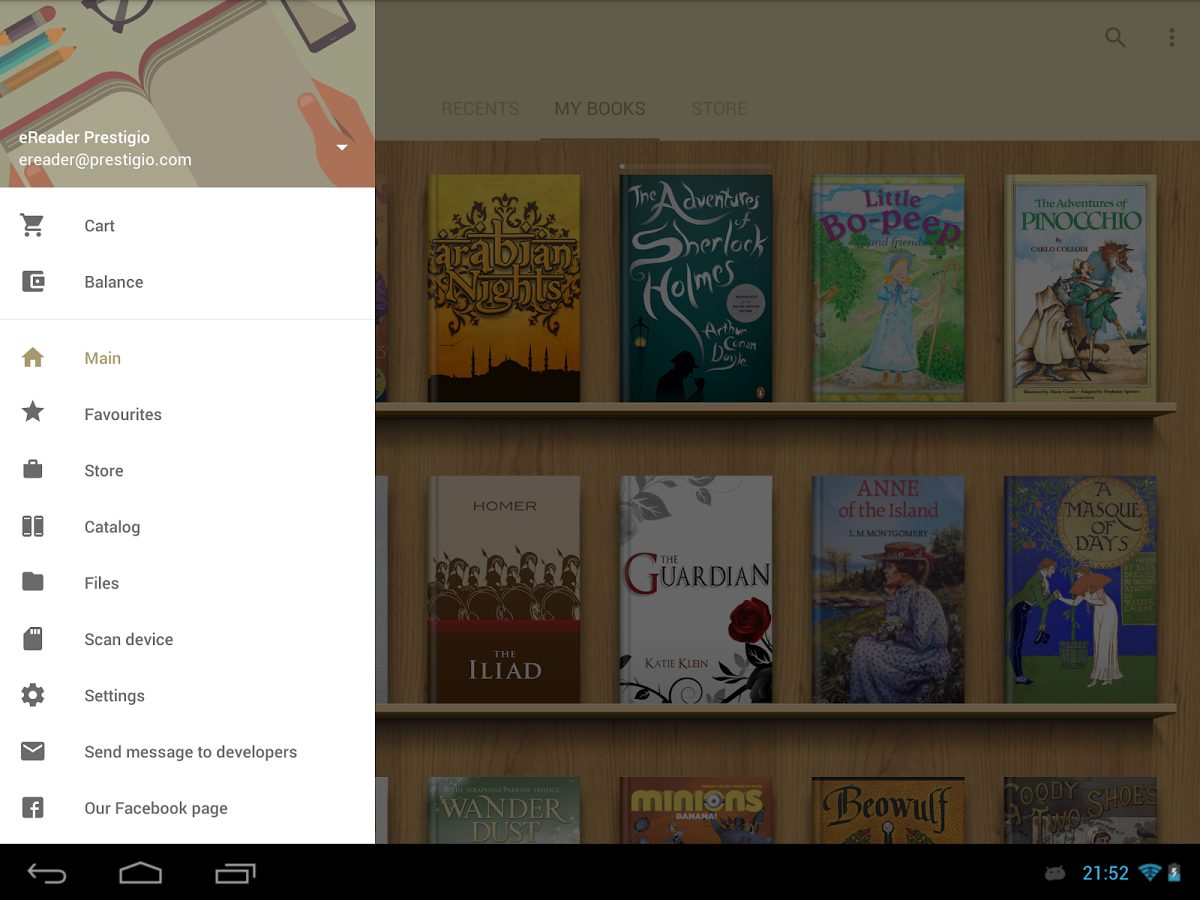 This app definitely deserves to be on the list of the best eBook readers for Android. The app allows you to read text files in several formats: PFD, EPUB, HTML, fb2, MOBI, DJVU, EPUB3, and more. The app supports MP3, AAC, and MB4 format. Text to speech functionality is included as well. You can personalize your experience with ease, you can create wish lists, buy new books, download free ones, read using night mode, etc. The app is free, but if offers in-app purchases.
Download eReader Prestigio: Book Reader
Mantano Ebook Reader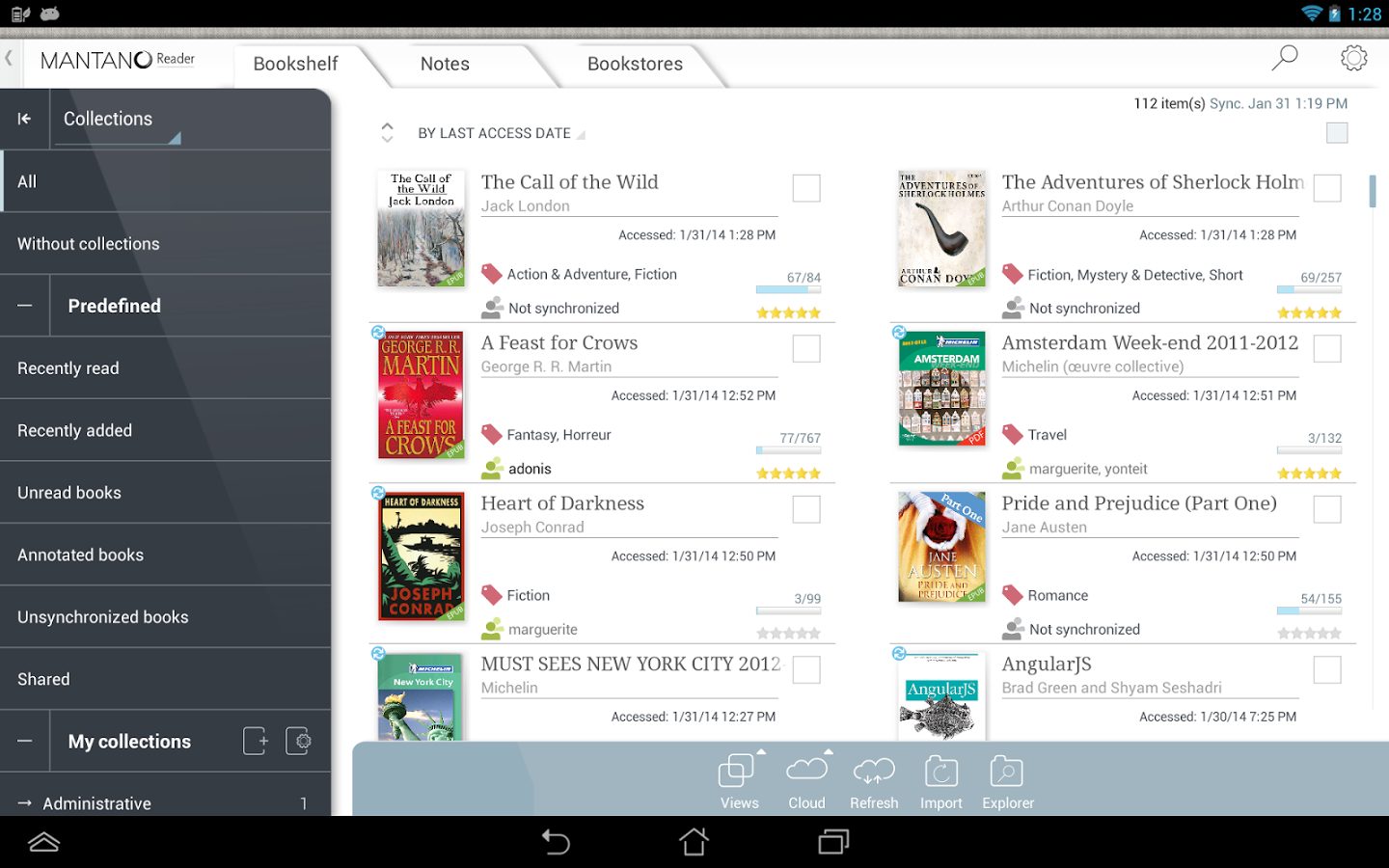 Same as Moon+ Reader and some other apps we've mentioned here, Mantano eBook Reader has two editions: free and premium ($5.66). Free edition comes with ads, but it is fast and user-friendly. It supports most common formats. When reading, you can customize the display, access notes, bookmarks, and highlights with ease, use night mode, filter the books by tags, authors, and collections. You can access many bookstores to buy eBooks and download free ones. Premium edition includes additional features and text to speech function.
Download Mantano eBook Reader free edition
Download Mantano eBook Reader Premium
eBook Droid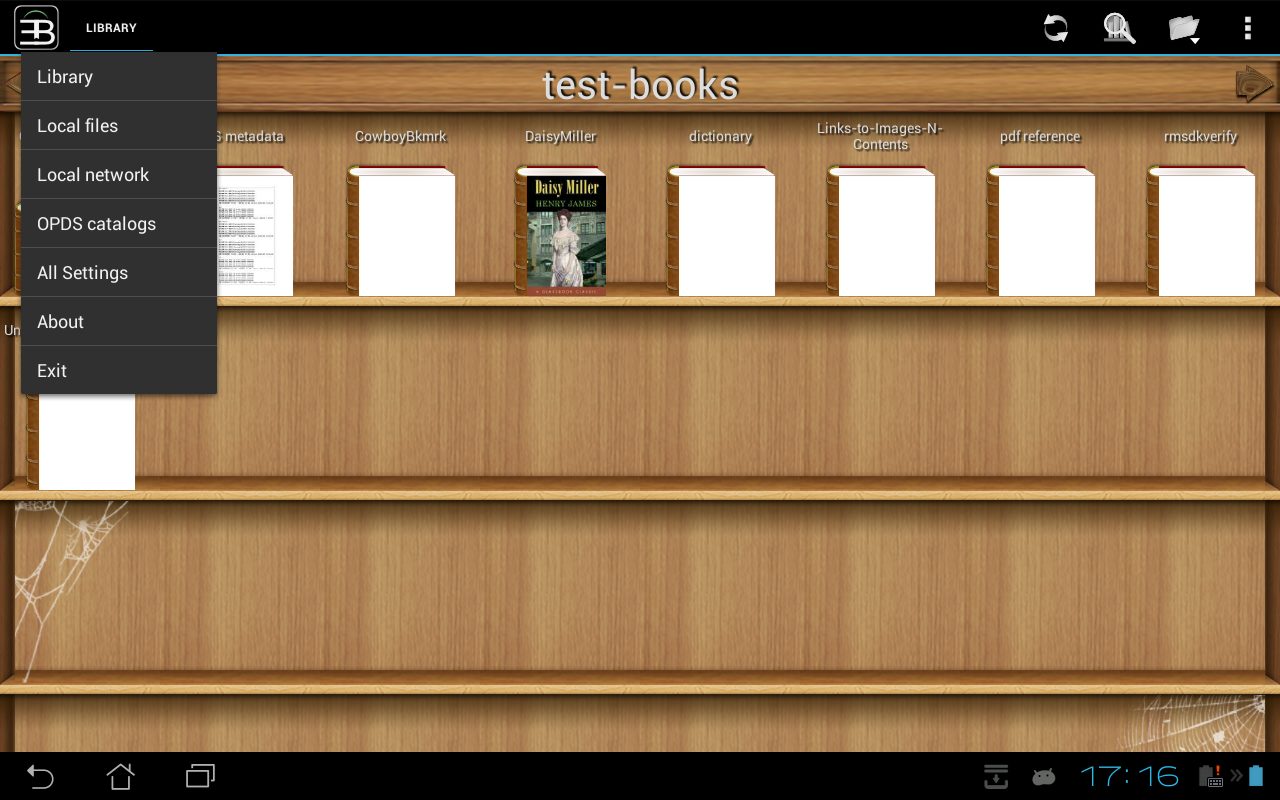 eBook Droid is one of the most popular eBook reader apps in Google Play Store. It supports various document formats, including PFD, EPUB, comic book formats such as cbz, and more. This app offers numerous options: text highlighting, external dictionary support, text selection, free-hand annotations, zoom, and so on. It is highly customizable, so you can adjust just about everything for outstanding Android reading experience.
Amazon Kindle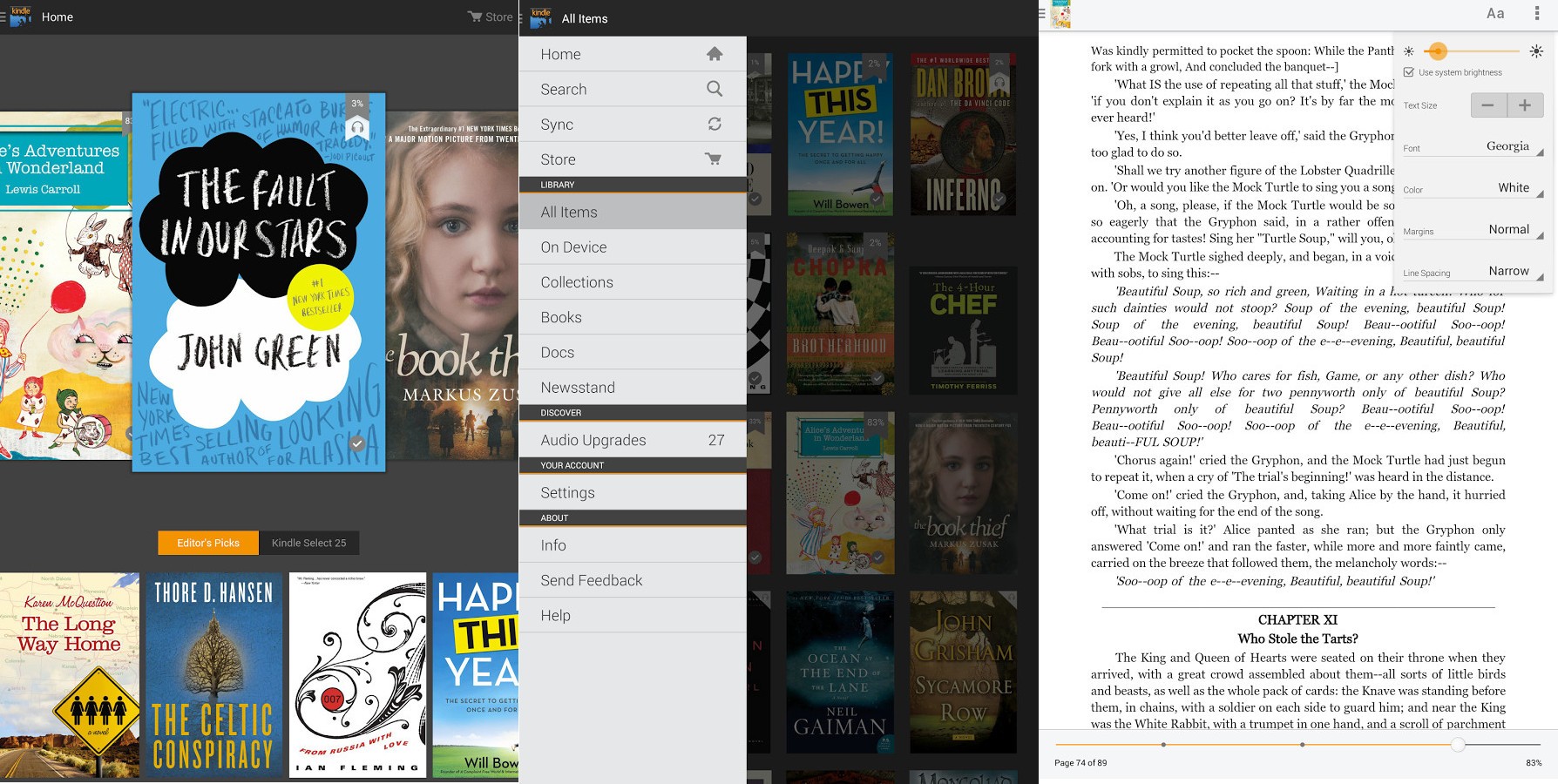 With Kindle, you can enjoy reading your favorite books, but you can also shop for books with ease, including New York Time best sellers and new releases. Before you decide to purchase a book, you can read the first chapter. There are many free books as well. The app comes with the built-in dictionary, and the option to sync your eBooks across devices. You can customize your reading, by adjusting the screen brightness, choosing fonts and their sizes, and more.
Nook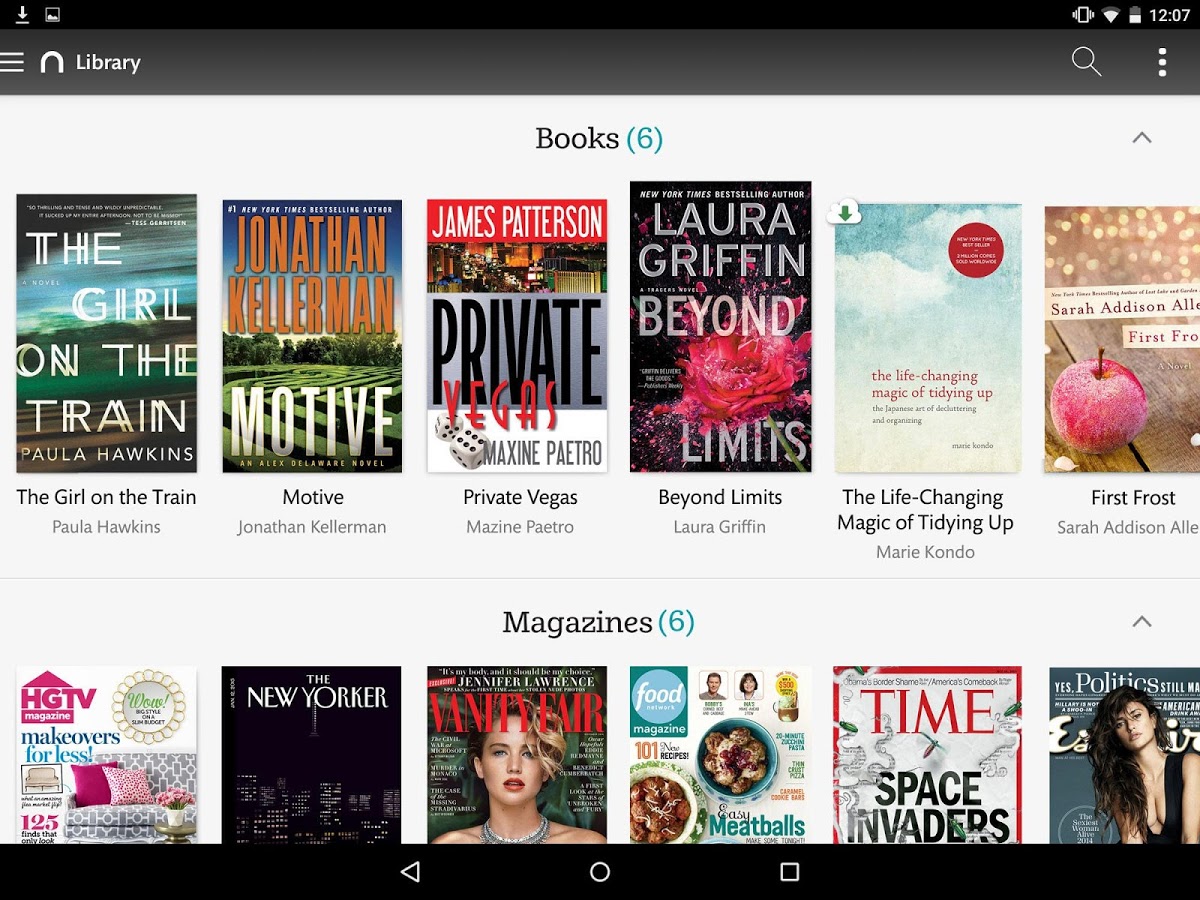 With Nook, you can read books, newspapers, magazines, comics, and more. You can access more than four million books, including one million books which are completely free. Nook has some great features: bookmarks, notes, the option to create several profiles for your entire family, adjustable fonts and font sizes, night mode, and more. The account and credit card registration are required. The app is free.
Dailyhunt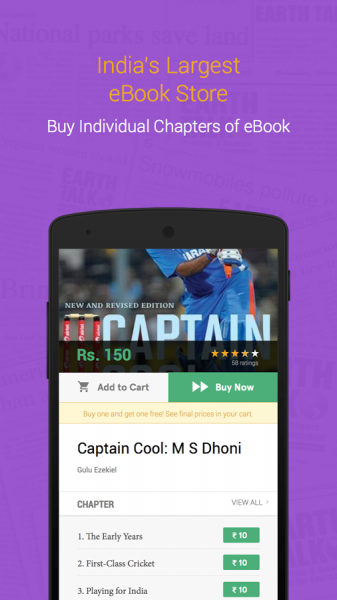 Dailyhunt application, formerly NewsHunt, provides the latest news and study materials, but it has a bookstore as well and it comes with the reader features. You can browser and download the books and choose from various genres. If you don't want to purchase the entire book, you can buy individual chapters. You can also read the magazines and magazine singles.
Download Dailyhunt 
Wattpad – Free Books and Stories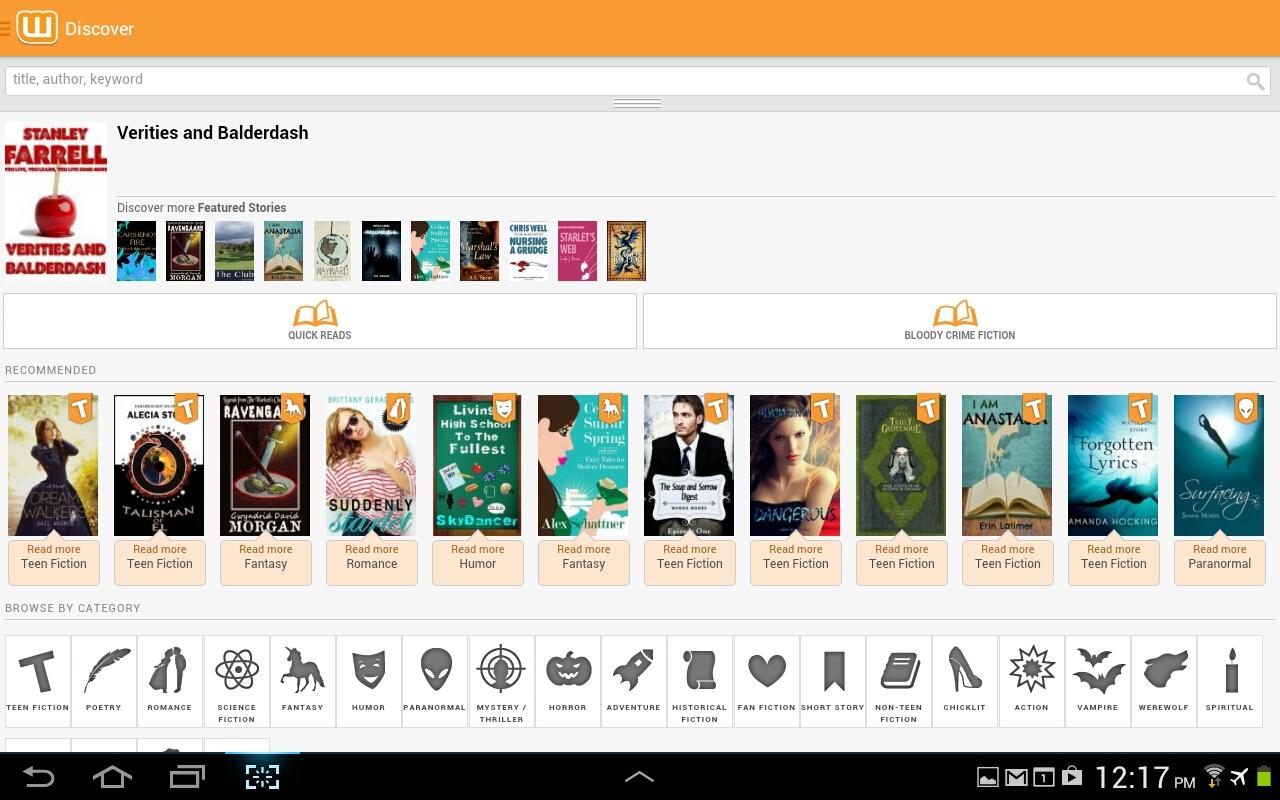 Wattpad app comes with tons of free books and stories. It allows you to connect with other passionate readers and writers. Search popular genres and find stories and books that will inspire you and write your own stories. Sync stories and eBooks between your Android smartphone, tablet, and your computer. Wattpad is a free app with in-app purchases. Try it out! It's awesome and you will love it!
These are some of the best eBook readers for Android. Which app do you use?
You may also read: Top Best Tower Defense Games On Android
Join our newsletter 🎉
Subscribe to our newsletter and never miss out on what's happening in the tech world. It's that simple.
Latest Tech News

Exclusive Tech Deals