Samsung has launched a big tablet last week, called Galaxy View. It has a 18.4-inch display size and full HD resolution (1920 x 1080 pixel), 119 PPI of pixel density. Samsung claims this resolution as the best optimized for movies and games. With a lower pixel density, you will see the pixel when you see the screen in a very close distance. However, with a display size this big, you don't have to put the screen too close to your eyes, and Samsung also claims this device fits to replace your digital media.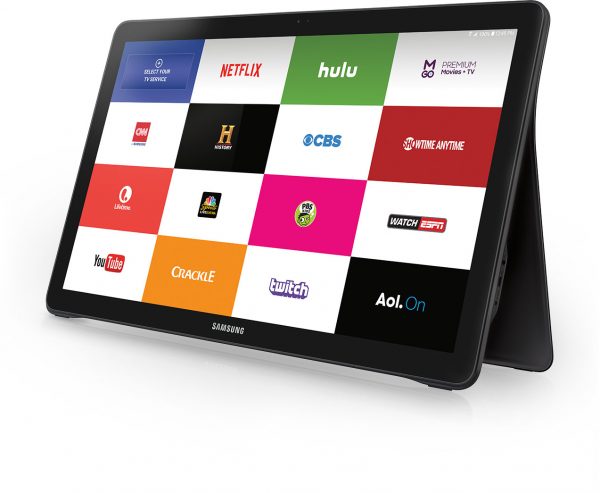 With its dimension, 17.79″ x 10.86″ x 0.47″ and 5.84 lb of weight, it doesn't fit to be use as a mobile tablet. Samsung designed this tablet to be placed on the table statically, with its non-removable handle and stand on the back side. It has an Octa core Exynos 7580 processor with 1.6 GHz of speed with 2GB of RAM memory and 32GB of internal storage. For all technical specification, the Galaxy View is equipped with 5700 mAh battery capacity with the music play time up to 299 hours, video play time up to 8 hours and Internet use up to 8 hours.
For its connectivity, Galaxy View is only provided with WiFi and Bluetooth 4.0. When it comes to camera, you will get the 2.1 megapixel resolution and f/2.2 for the front facing camera, which can record 1080P FHD camera. Galaxy View uses Android 5.1 Lolipop UI TouchWiz, the same OS that they use for Galaxy Tab. In the U.S, the biggest Android Samsung tablet is priced $599 with one color option: black.
Source: Samsung
The other news: Gogoro Smartscooter Is A Future Scooter
Join our newsletter 🎉
Subscribe to our newsletter and never miss out on what's happening in the tech world. It's that simple.
Latest Tech News

Exclusive Tech Deals