Finally, Samsung Galaxy S7 and S7 Edge were introduced in Samsung Unpacked 2016 at Mobile World Congress, yesterday. The Stage of the Unpacked event this year was surrounded by the attendances like a boxing match, with 4 giant screens in each corner. The attendances were also provided by Samsung Gear VR so that they could see the Virtual reality introduction video of Galaxy S7 and S7 Edge.
The Senior Vice President Product Strategy, Justin Denison was in the state to convince the media that these devices are not the "S" version of Galaxy S6. With the similar design as its predecessor, Galaxy S7 and S7 Edge come with some new features, which are missed in the previous version.
Two things need to be highlighted from S7 and S7 Edge: the Availability of SD card slot and waterproof IP68 feature. These 2 important features are not adopted by Galaxy S6 and S6 Edge. For the color options, they provide it with 4 favorite colors: black onyx, gold platinum, pearl and silver titanium.
Design
Regarding the design, Justin didn't explain  the significant design changes of Galaxy S7 and S7 Edge, but as we can observe, its protruding rear camera is thinner that its prior. For the screen size, S7 has a 5.1-inch, while S7 Edge has a 5.5-inch. These devices are also provided by the latest Super AMOLED display with an 'Always On' feature, which can show the status and notification without the need to turn on the phone and only takes 1% of battery life per one hour. Samsung opens their door to developers to provide the interesting contents to be applied on the Always On display feature.
Camera
When we talk about the new camera, Samsung compares it with their biggest rival, iPhone 6S Plus, and they claim the victory over it.  Their focus discussion in this area is a low light photography and a better camera quality. It started with the adoption of 1.7 aperture, the largest aperture of any smartphone, as it was claimed by Justin. The bigger aperture allows the camera to capture more light, so it's also equipped with a bigger pixel to absorb 30% more light than iPhone 6S Plus. They also showed the comparison of a photography in a low light condition between S7 and iPhone 6S Plus.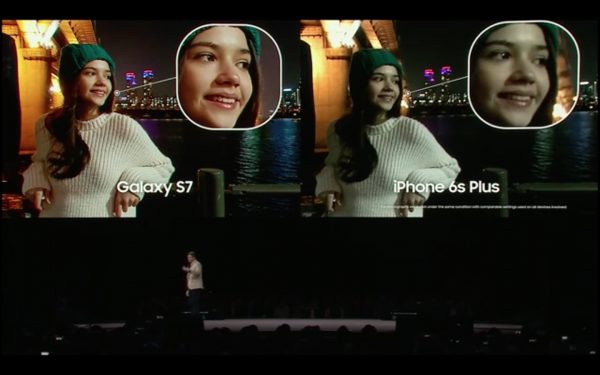 The hardware of new camera also has the new pixel technology, called a dual pixel. This thing gives a faster focus response as well as human eyes. 100% pixel on S7 camera is used to focus, while on iPhone 6S Plus, it's only 5%. They prove this fact through a short video that shows the focus comparison between S7 and iPhone 6S Plus, and S7 is much faster.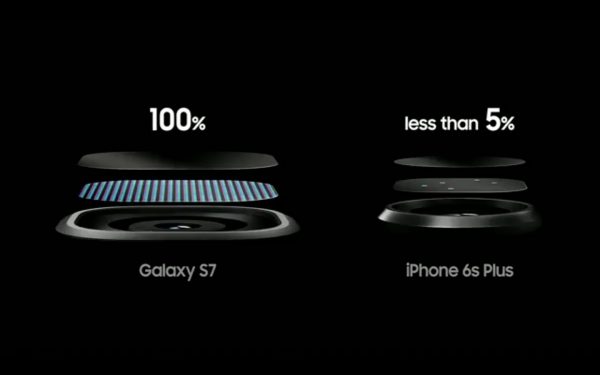 Samsung introduces the other feature related to software, that is, a motion panorama. The feature allows a panorama picture that we have taken to show a slide show video. This feature is similar to Live Photos on the iPhone but in panorama format. The last interesting thing is the back case with lens cover accessory for the next level photography need. It's a potential feature from a smartphone camera.
Performance
On the performance side, S7 and S7 Edge offer the faster CPU up to 30% and 60% faster for GPU. Moreover, they also bring a cooling system trending to these Galaxy series. They claim that their cooling system technology is also used on the current rocket and satellite. The Samsung cooling system is a small pipe contains liquid to cool down the processor and make it cooler when a smartphone performance is high. A 3000mAh (S7) and 3600mAh (S7 Edge) battery capacity with a thinner profile complement its high performance. Justin also claims that in once charge, you can watch the game of throne for 1 season.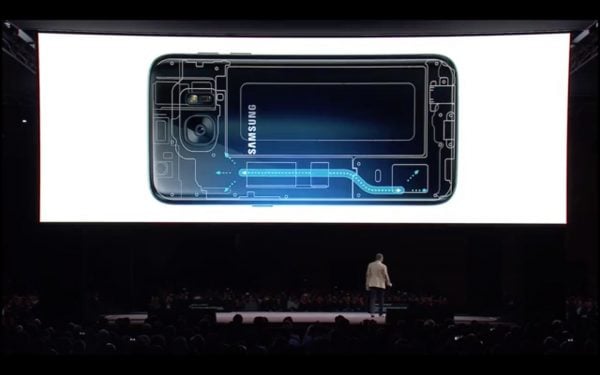 For gamers, the good news is, they adopt vulkan API, which makes it as the first smartphone to adopt this technology. Vulkan API is the next generation of graphic core API that uses a great hardware resource to get a very good graphic and gaming render quality. This is a cooperation between Samsung, Google, and Chronos group. Vulkan can bring a PC gaming experience if the developers are interested in using it. Samsung equipped a gaming tool to capture moments, records, lock the Recents and Back keys from accidentally pressed and more. The company presents a $200 Galaxy game pack in every purchase.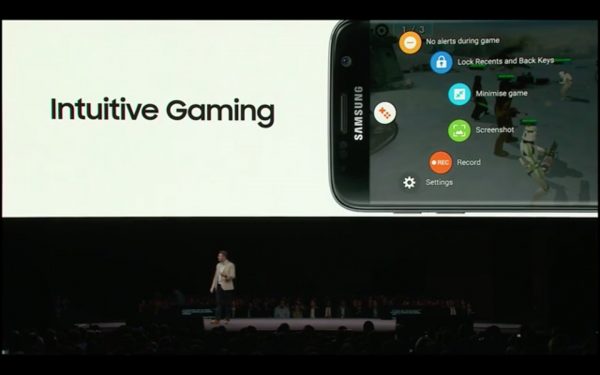 The other supporting features are, Samsung Pay, Samsung Knox for security encryption, and more make the devices better and ready to be used as a part of their service and partnering.
Galaxy S7 and S7 Edge will be available on March 11, 2016, in the US, Europe, and the other selected countries. If you want to pre-order one of these devices, you will get a Galaxy VR as a gift. You can do a pre-order between February 23 and March 18.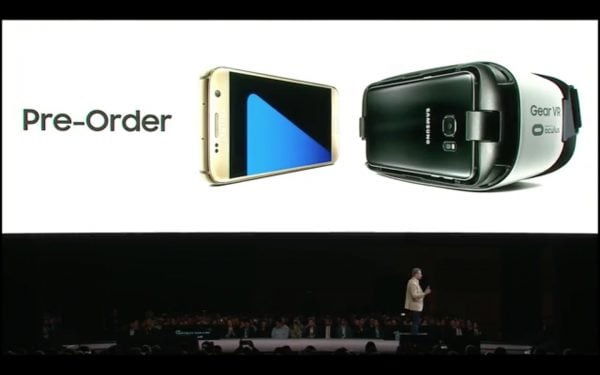 Here is the pricing list for Galaxy S7 and S7 Edge for US area:
Samsung Galaxy S7 for 32GB model, 24 next plan
AT&T $23.17/month
T-Mobile $27.91/month
Sprint $27.09/month.
Samsung Galaxy S7 edge for 32GB model, 24 next plan
AT&T $26.50/month
T-Mobile $32.50/month
Sprint $31.25/month
The carriers will offer both devices in Black Onyx and Golf Platinum color options, while a silver titanium color option is only available for the Galaxy S7 Edge.
We don't know yet the off contract price for these devices, but it's predicted that it will be around $600 for the Galaxy S7 and $799 for Galaxy S7 Edge.
So, these are the latest products and innovations from Samsung for their flagship phones until 2016. A flagship that will be re-challenged by iPhone in September. The missing trends on Galaxy S7 and S7 Edge are, 3D Touch like technology, USB Type-C, a dual camera feature, a dual speaker, and better LED flash.
The other news: Jony Ive's Statement About "Swiss Watch Is In Trouble", Is True
Join our newsletter 🎉
Subscribe to our newsletter and never miss out on what's happening in the tech world. It's that simple.
Latest Tech News

Exclusive Tech Deals