Microsoft's developers worked hard to make Windows 10 easy to use. But, as with any OS from Microsoft, it has numerous problems.
If you use Skype on Windows 10, perhaps there was a time when your conversation was interrupted. You can blame the internet for it, but your microphone is the main reason for lousy output sound quality. We will show you how to increase microphone volume in Windows 10.
You may also read: What To Do If Windows 10 Not Recognizing Headphones.
How To Increase Microphone Volume In Windows 10
If your friends or family live far away, Skype is the best way to contact them. But, if the sound quality is poor, then the conversation will not go smoothly, so you need to increase the microphone's volume. If you want to enjoy talking with your loved ones all day without interruptions, you need to improve the sound quality.
The steps below will solve your problem:
With the right mouse button, click on the speaker icon on the Windows 10 taskbar. In the small menu, click on the "Recording devices" menu.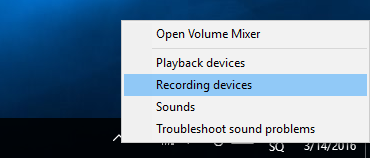 In the new window, you will see the active microphone and that it is selected with a green tick mark.
Then, double click on "Microphone," and you will be directed to the "Properties" window. There you will see five tabs, select "Levels."
When you open the tab, you will see two options: Microphone and Microphone Boost.
You will need to modify these settings.
Moving the slider to the right can increase the Microphone boost up to +30 dB. After you have made the changes, don't forget to click "Apply" and "OK."
Join our newsletter 🎉
Subscribe to our newsletter and never miss out on what's happening in the tech world. It's that simple.
Latest Tech News

Exclusive Tech Deals