iQOO Neo 7 Pro Officially Announced, Global Release Set for July 4
In an exciting revelation made on Twitter, iQOO India CEO Nipun Marya confirmed that the iQOO Neo 7 Pro will be launched globally on July 4..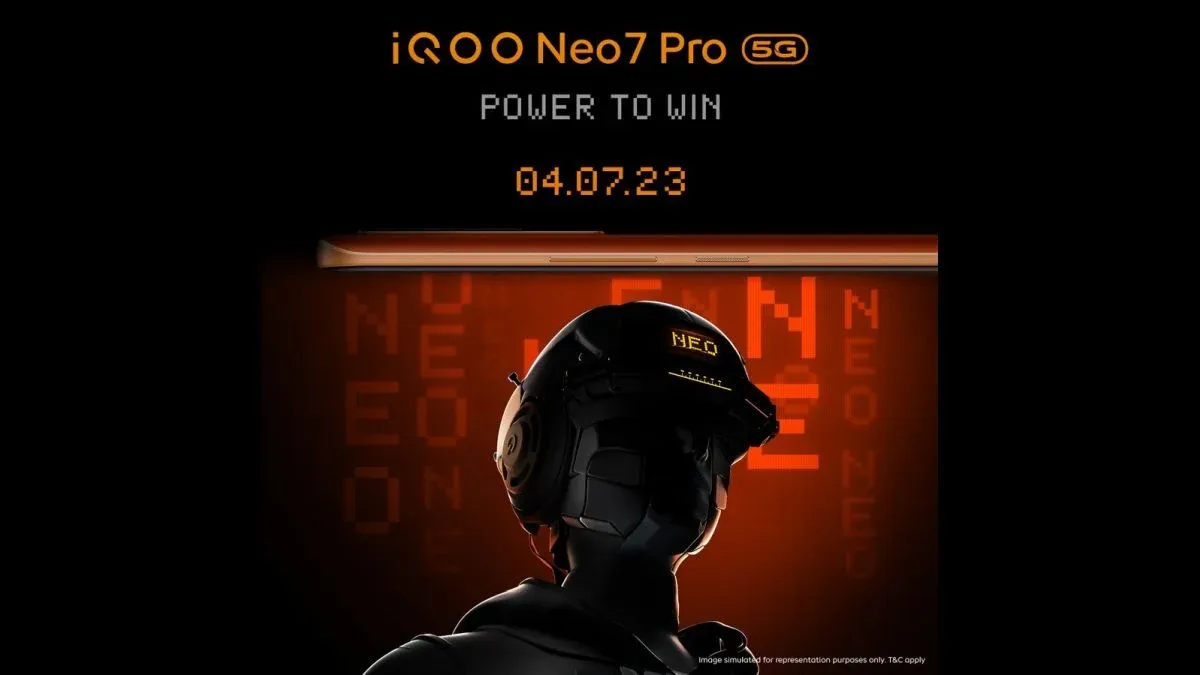 In an exciting revelation made on Twitter, iQOO India CEO Nipun Marya confirmed that the iQOO Neo 7 Pro will be launched globally on July 4. As an international variant of the China-exclusive iQOO Neo 7 Racing, the upcoming smartphone is anticipated to boast impressive specifications and features.
The iQOO Neo 7 Pro is set to showcase a spacious 6.78-inch AMOLED display with a resolution of 1080x2400 pixels, ensuring vibrant visuals and a smooth user experience with its 120Hz refresh rate. Powering the device is a robust 5,000mAh battery, complemented by 120W fast charging support, ensuring that users can quickly recharge their device and continue their activities without interruption.
Photography enthusiasts will appreciate the iQOO Neo 7 Pro's impressive camera setup. The smartphone is equipped with a 50MP f/1.9 primary camera, guaranteeing high-quality images in various lighting conditions. Additionally, the device features an 8MP ultrawide camera and a 2MP macro lens on the rear, providing versatile photography options. On the front, users can capture stunning selfies with the 16MP front-facing camera.
Geekbench has already confirmed that the iQOO Neo 7 Pro will be powered by the Snapdragon 8+ Gen 1 chipset, ensuring exceptional performance and smooth multitasking capabilities. With this powerful processor, users can expect a seamless experience while running demanding applications and playing graphically-intensive games.
Vivo is expected to offer two storage options for the iQOO Neo 7 Pro: an 8GB RAM with 128GB storage variant and a higher-end option featuring 16GB of RAM and 256GB of storage. The smartphone will run on Funtouch OS 13, a custom interface developed by Vivo, based on the latest Android 13 operating system.
With its impressive specifications and anticipated global release, the iQOO Neo 7 Pro is poised to captivate smartphone enthusiasts worldwide. The device promises to deliver a delightful user experience, combining powerful performance, stunning visuals, and an exceptional camera system.
ABOUT THE AUTHORS
Elizabeth
Elizabeth is your trusted Apple product expert with a wealth of knowledge and experience gained from her tenure as an Apple authorized personnel. She's also a seasoned mobile phone, Samsung, and Android expert. With a keen eye for detail and a passion for all things Apple, Samsung, and Android, she is dedicated to providing you with accurate, reliable, and up-to-date insights. Count on Elizabeth to be your go-to source for expert advice on navigating the world of Apple technology, Samsung devices, and the Android ecosystem.
Bogdana
Bogdana is your technology expert, backed by a strong foundation in consumer electronics and a range of qualifications that make her a trusted source in the tech world. With a deep understanding of the latest advancements and a passion for simplifying complex concepts, Bogdana is your go-to authority for demystifying technology and keeping you informed about the ever-evolving digital landscape. Trust her to deliver reliable insights and expert guidance to help you navigate the world of consumer electronics and beyond.