X
Our Editorial Process
Each year more than 60 Million users visit Technobezz to solve a problem or research a product. Our goal is that everyone finds what they are looking for, and that is why we cover a variety of products, problems, and solutions on our website.

Writing an article that contains a lot of valuable information may seem simple. But when the article is written, the story doesn't end. We are constantly updating the content so that you can always get up-to-date and accurate information.
---
Technobezz's Editorial Guidelines
Amazon saves all the items you have previously ordered so that you can access them with ease. The order history can't be deleted, but you can archive your past orders. The whole process is simple, and once you archive the order, it will be hidden from your order history, but you will be able to find it in the Archive section.
We are going to show you how to archive the orders, but not just that. We are also going to show you how to view Amazon archived orders, so keep reading.
What are Amazon archived orders?
Each time you purchase something on Amazon, the item will be placed in your order history. If for some reason you want to keep some of the items you've bought hidden, you can archive the order. The process is quite simple and is explained below. You may need the items you archived later. If that happens, there's nothing to worry about. You can always view the archived orders and the process to access such items is explained below as well.
How to archive Amazon orders
First, we are going to show you how to archive the orders that you no longer want to have listed on your purchase history. Follow the steps below:
Go to Amazon and log in
In the top-right corner, find Returns & Orders and click on it

Find the order you want to archive
Next, click on "Order details"
Click Archive order
Finally, click Archive order to confirm your action.
That's it. You have successfully archived an order on Amazon.
How to view Amazon archived orders
If the time comes and you need to view the archived order, here is how you can do just that:
Go to Amazon and log in
Find Accounts & Lists in the top-right corner and hover over it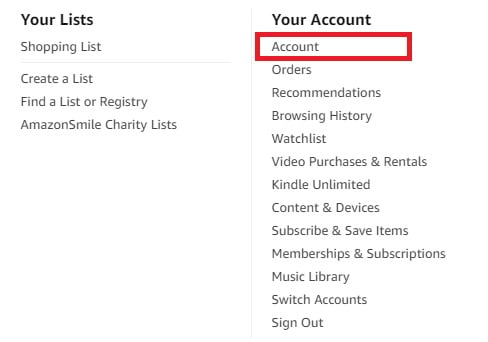 Next, click on Account
Find the Order and Shopping preferences section
Click on Archived orders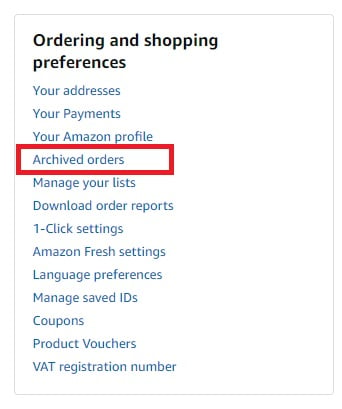 There it is. All your archived orders will be listed there. If you want to put one of the orders you previously archived back into the regular orders section (where all the other orders are), just click on the "Unarchive order" option.
Was this article helpful?
This helps us improve our website.