Google records everything that you search through the search engine. It does not matter which device you are using. If you are logged in to a Google service on the device, your search history is being recorded and will be used to enhance your search on Google and tell you about your most recent searches.
This is an excellent feature to help you quicken your inquiries and give you a general idea of your search habits.
If you do not enjoy Google's feature of telling you what you have searched for or keeping track of what you do on Google, then you can turn off the Google Search History. This means that Google and its services will not prompt you about your search habits. Anyone with access to your computer and your Google login will be unable to view your search history and find your search habits.
Read also- How to find a song by sound with the help of Google Now.
Follow these steps to learn how to turn off recent Google Search History in Google Chrome:
Log in to the Google history page. You can follow this – www.google.com/history. You will be asked to enter your Google login ID and password. Once you log in, you will find a screen that says "My Google Activity".
On this page, you will be able to view Google search history, and you can delete any searches that you want.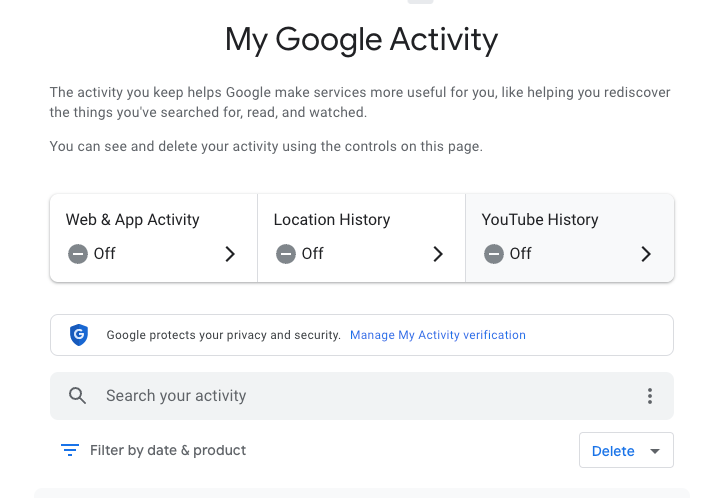 To turn off Google history tracking, click "Web & App Activity" and tap the Turn Off button.
You will find yourself on a page that allows you to pause your search and browsing activity.
Once you turn it off, you can start using Google without seeing your recent search results on the search engine.
You must understand that turning off the Google Search History does not mean that Google does not record your activities. The search giant continues to log every single search query and links the query to your IP address. This is done so that Google can improve its services.
You can also disable Google history by going to the following link – https://www.google.com/settings/accounthistory/search.
Once you log in on the above page, you have to click the Turn Off button and Pause History in the window that pops up.
By turning off Google tracking, you can ensure that others will not be able to see what you have searched for on Google if they access your computer while you are logged in to Google. For those concerned about the privacy of their internet usage, this is a great option to keep your searches confidential.
While this does not guarantee that Google will not continue to track what you are doing online, it helps you sheath your searches, at least from the public. Another way of ensuring anonymity with your searches is by going incognito on Google Chrome. Using the incognito window allows you to search Google without leaving your footprints about what you have searched for.
You can access websites and search engines without the browser recording your activities. This is helpful for those who do not like to be tracked.
The next time you see Google prompting your recent searches, you do not have to fuss over privacy concerns. All you need to do is follow the steps to pause your search and browsing activity and use Google without the search engine telling you what your search habits are.
You may also read- How to sync Google calendar with Outlook
Join our newsletter 🎉
Subscribe to our newsletter and never miss out on what's happening in the tech world. It's that simple.
Latest Tech News

Exclusive Tech Deals